Discovering Vietnam and Cambodia in 12 Days
Hanoi – Halong bay – Hoian – My Son – Coconut Jungle- Bana Hills - Ho Chi Minh city – Mekong delta - Siem Reap - Angkor Wat - Angkor Thom - Great Tonle Sap Lake
12 days 11 nights

Hanoi

Siem Reap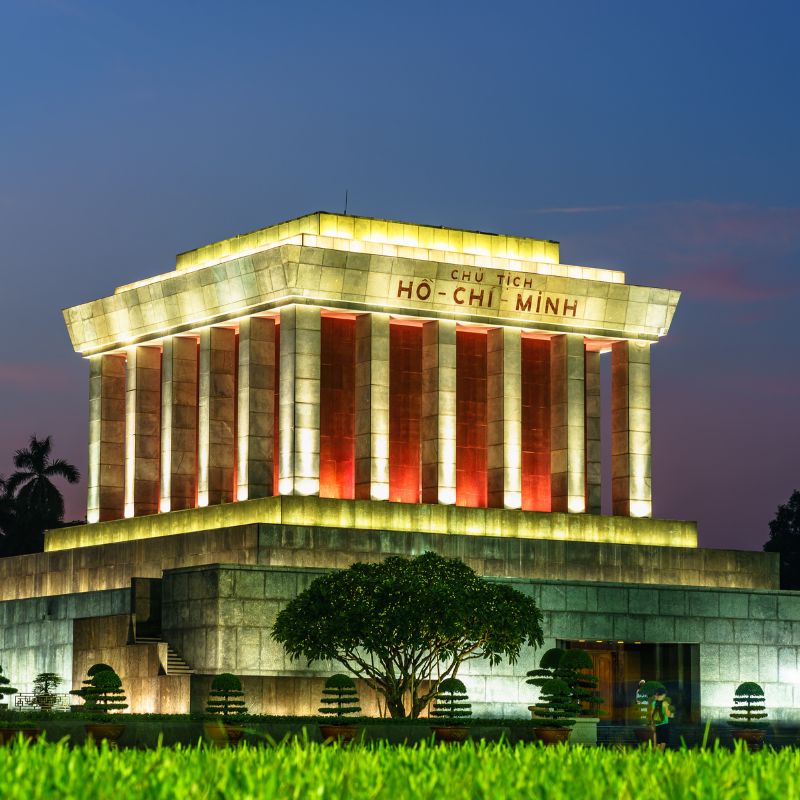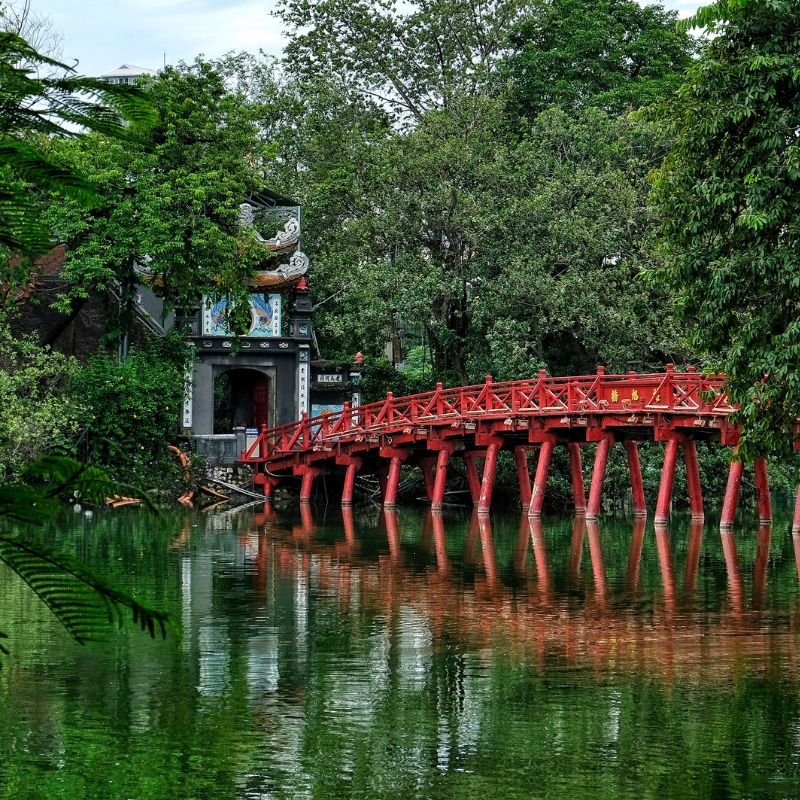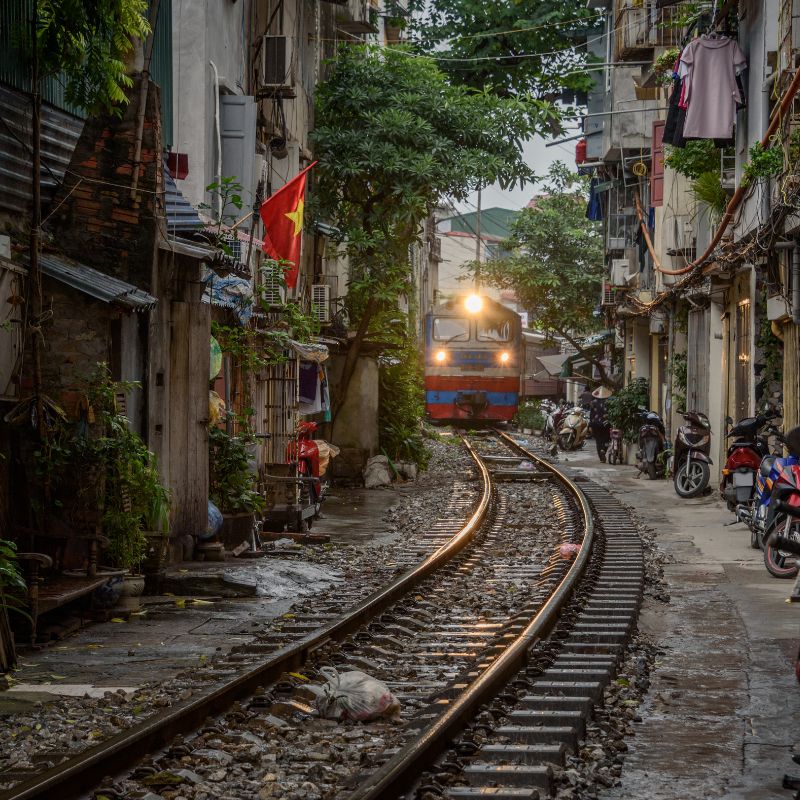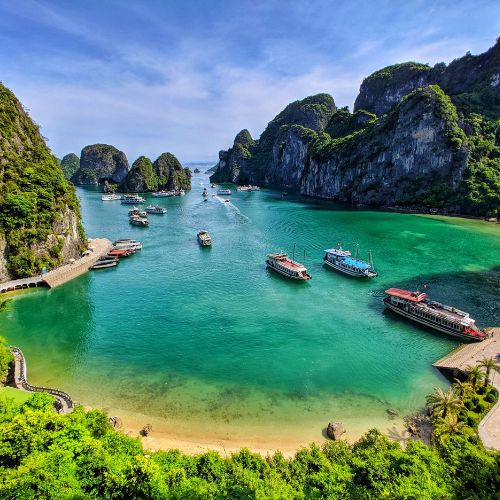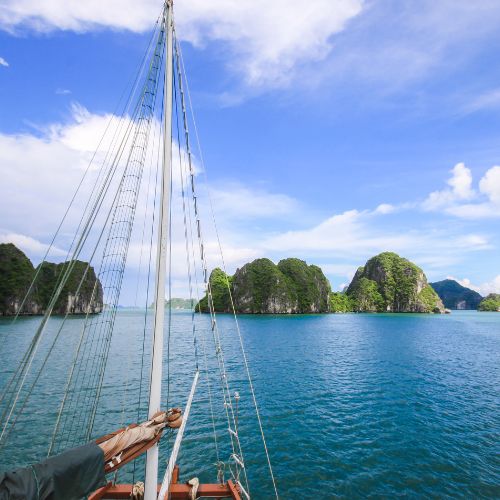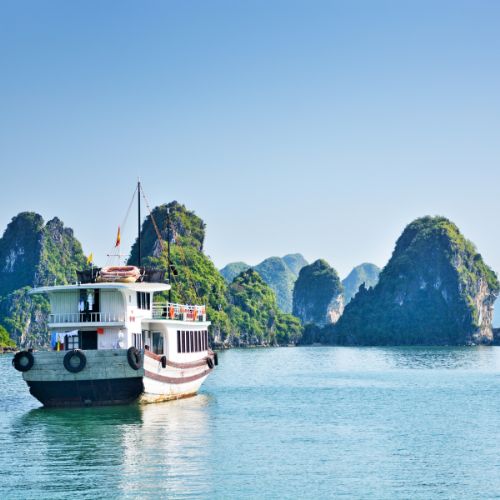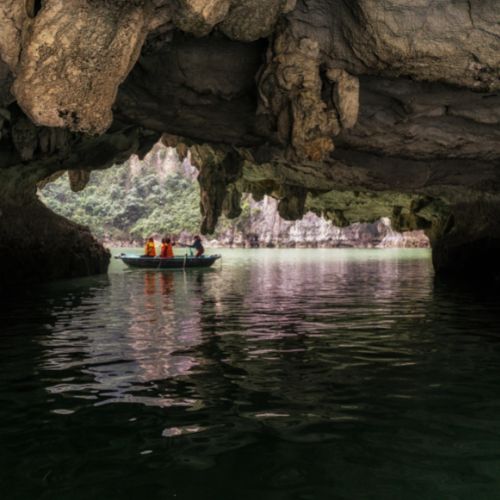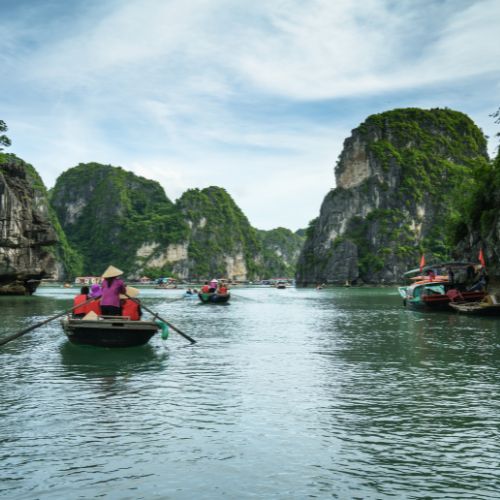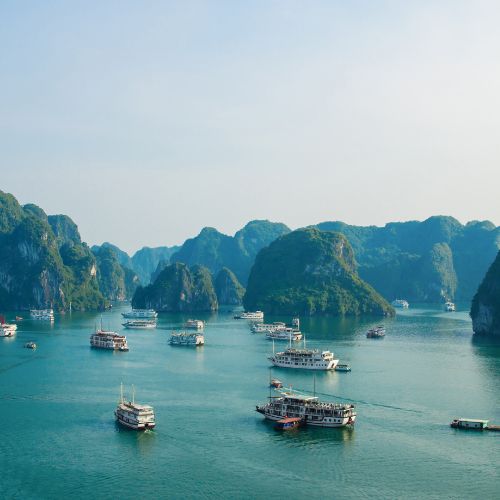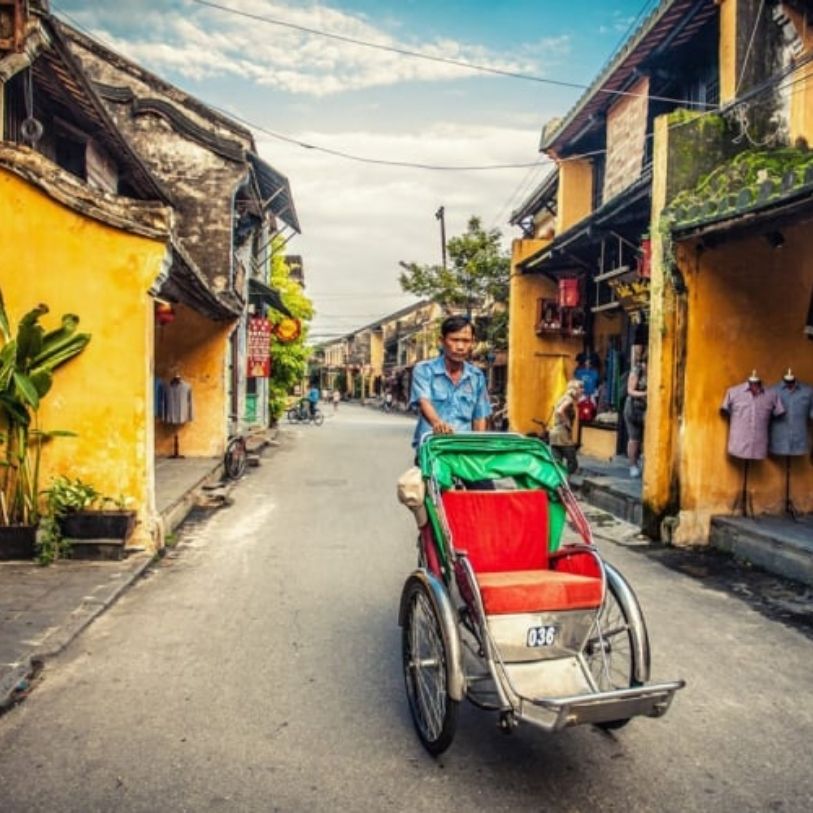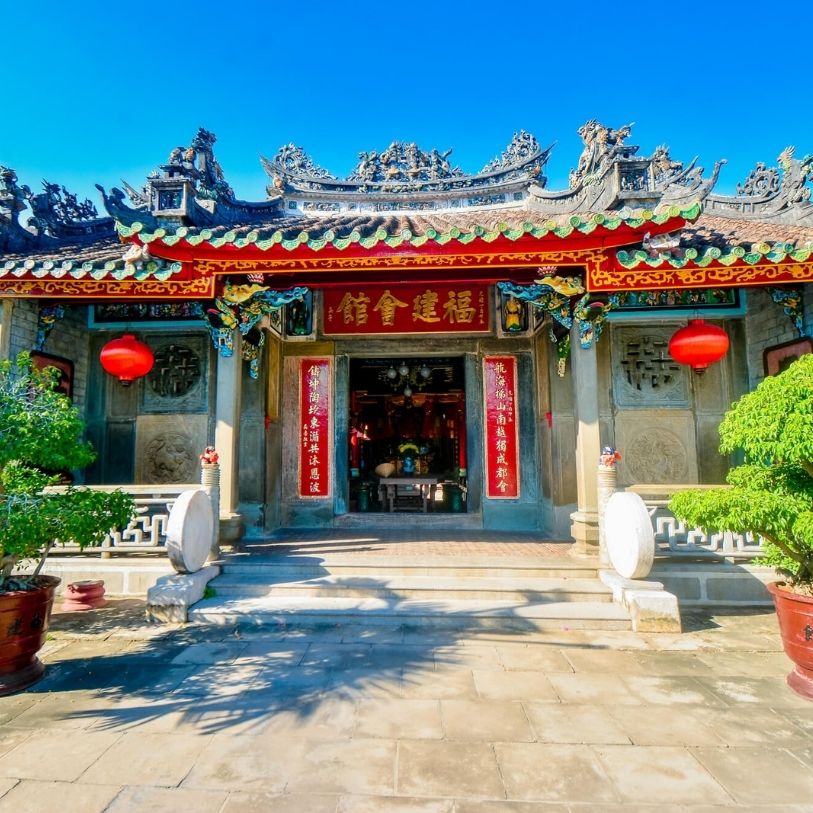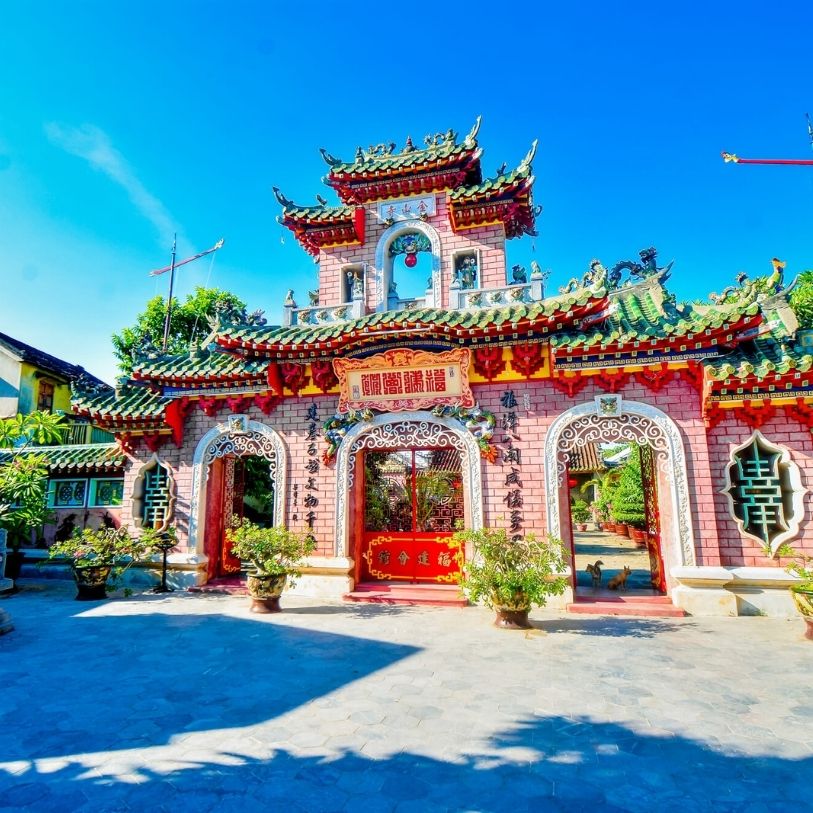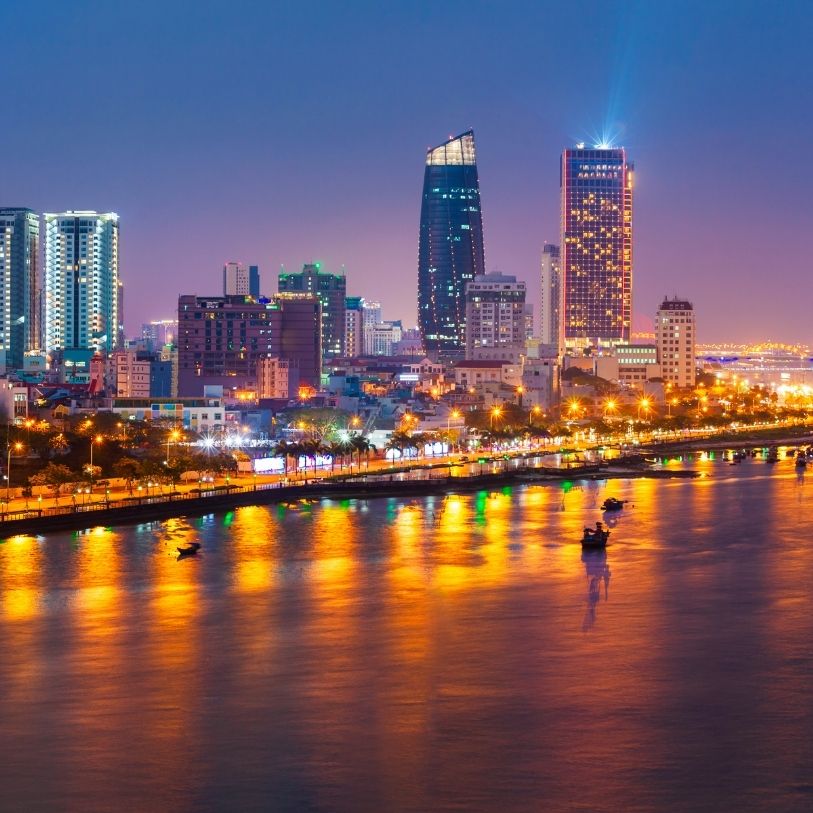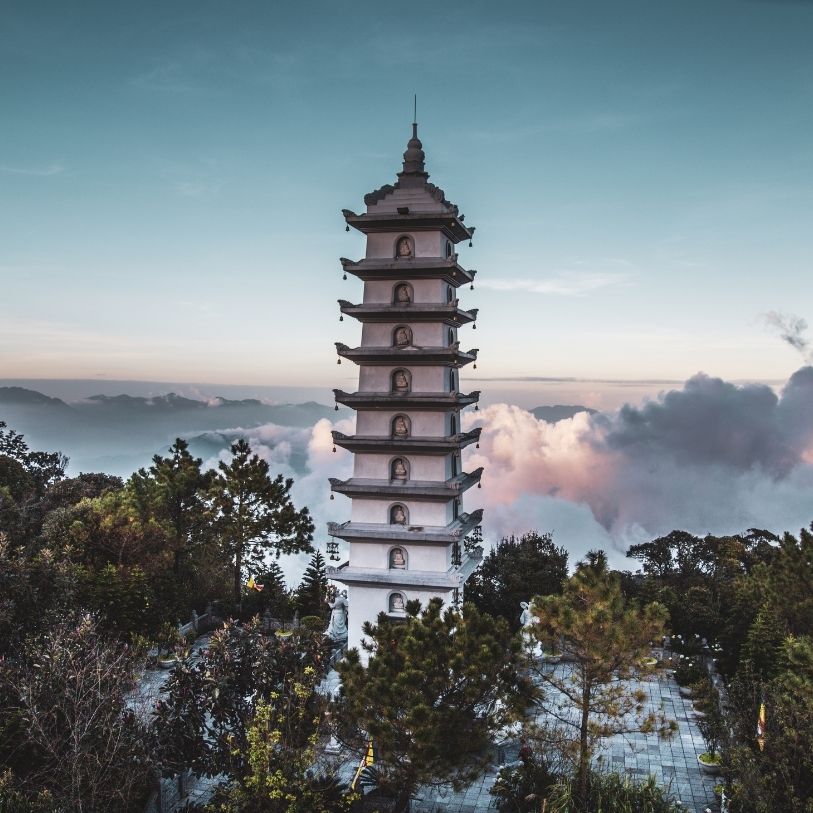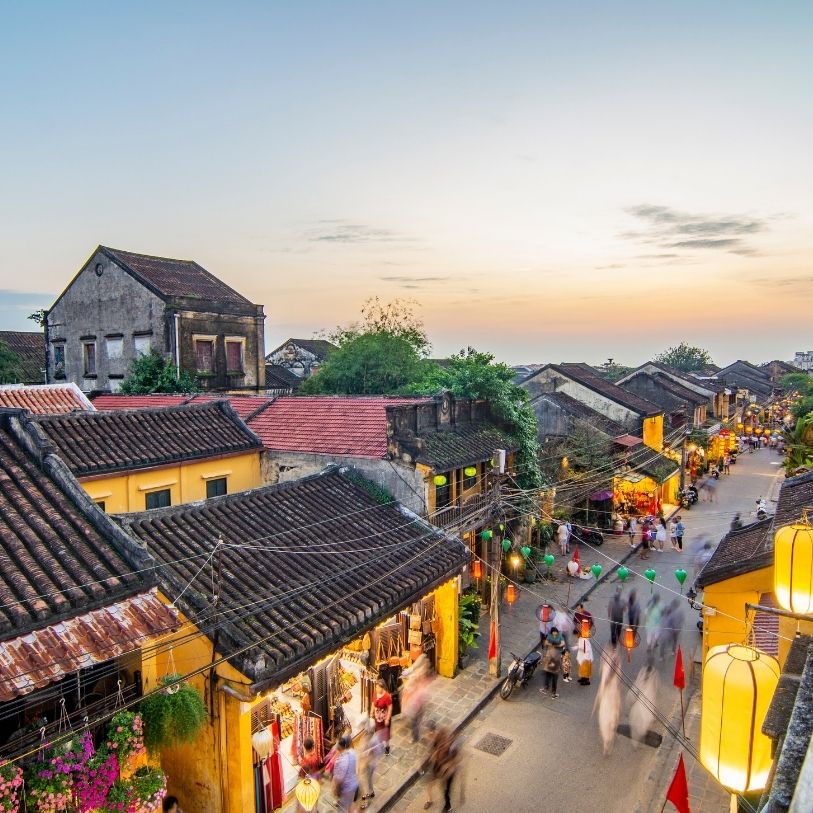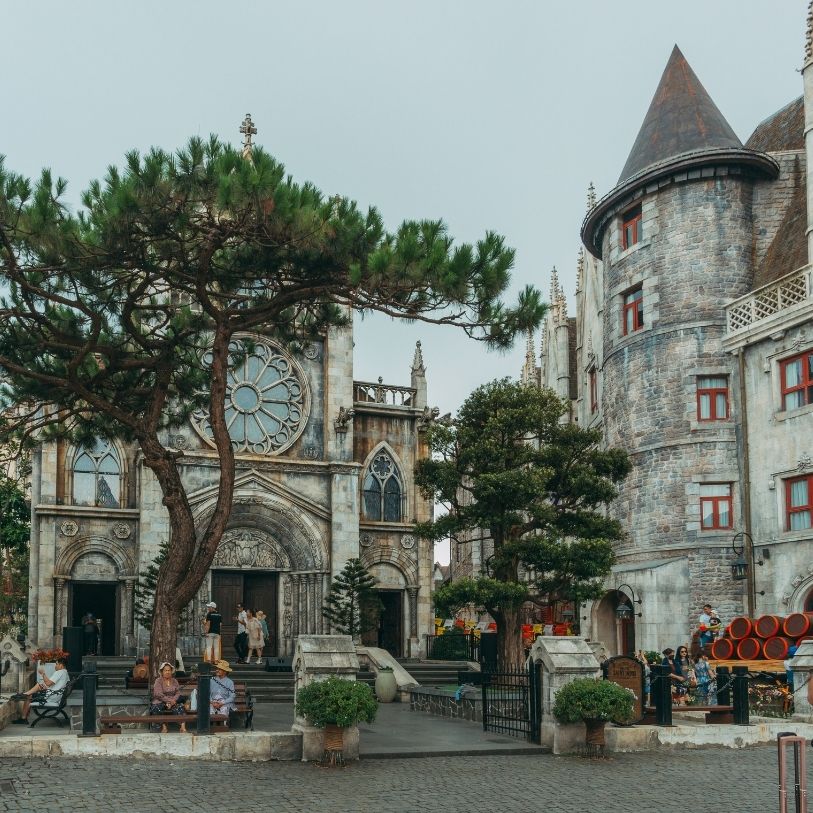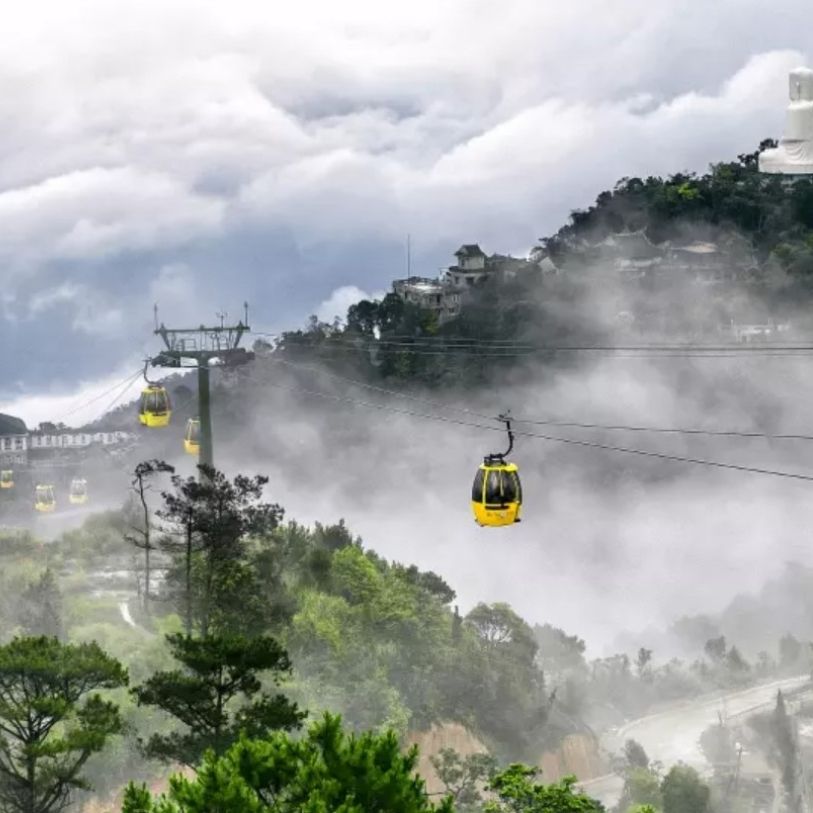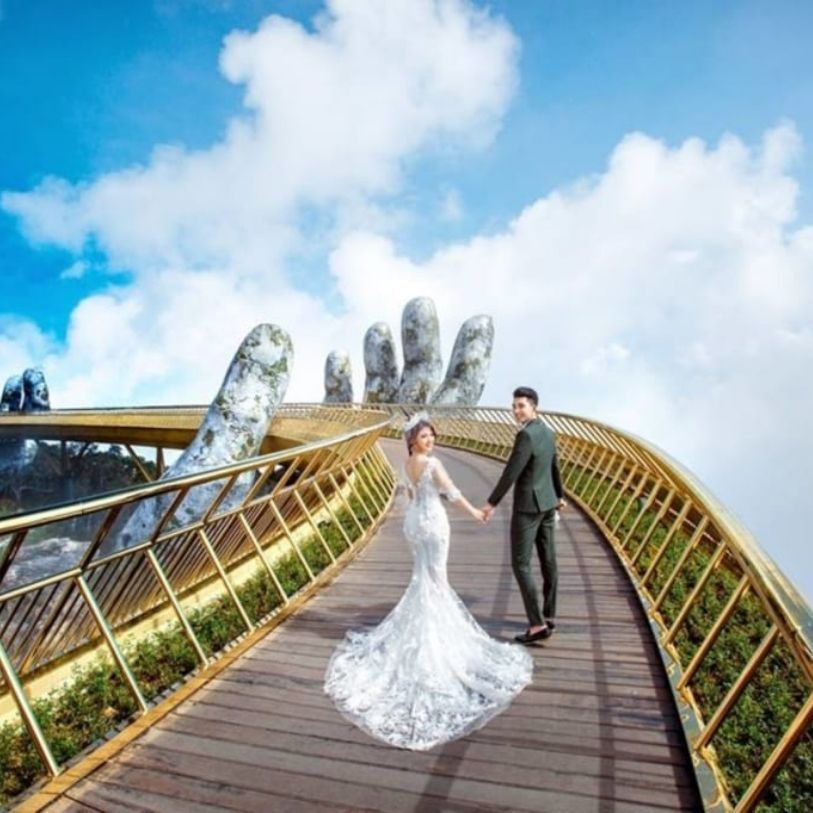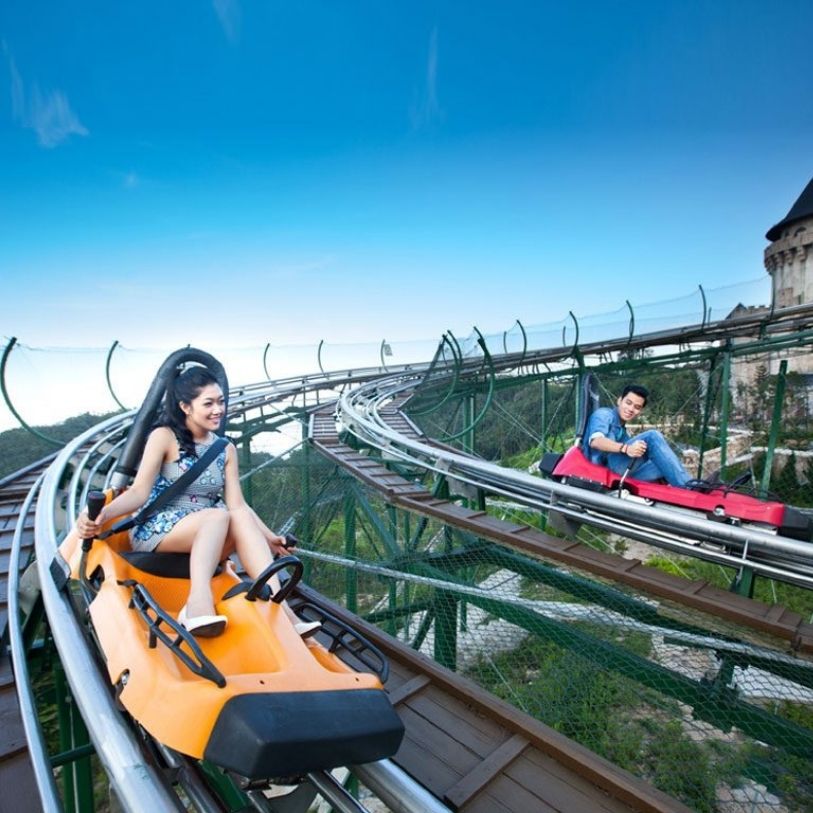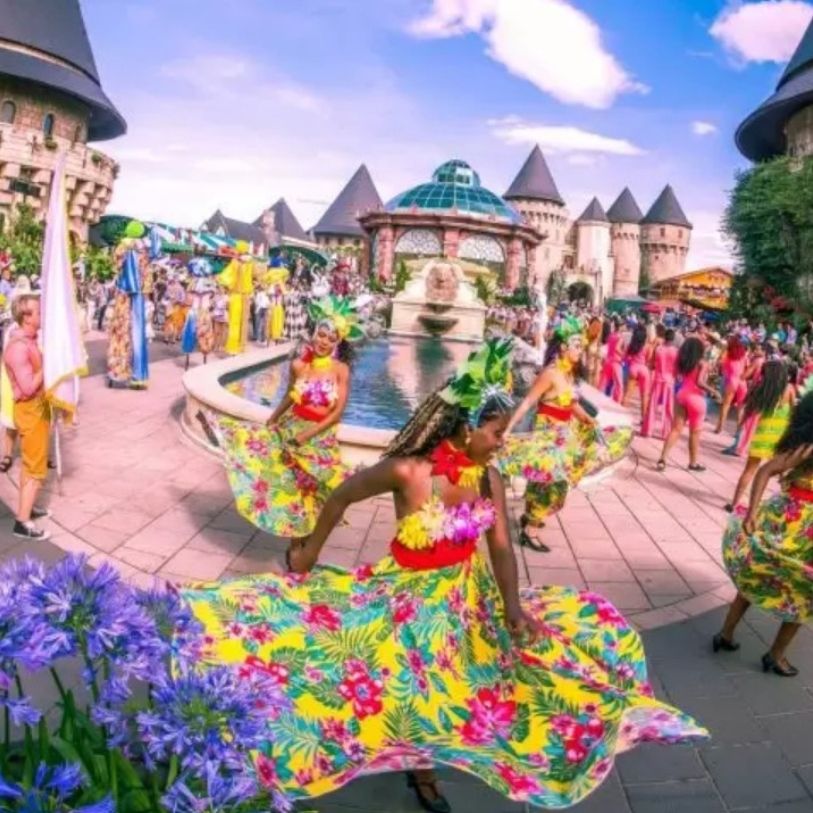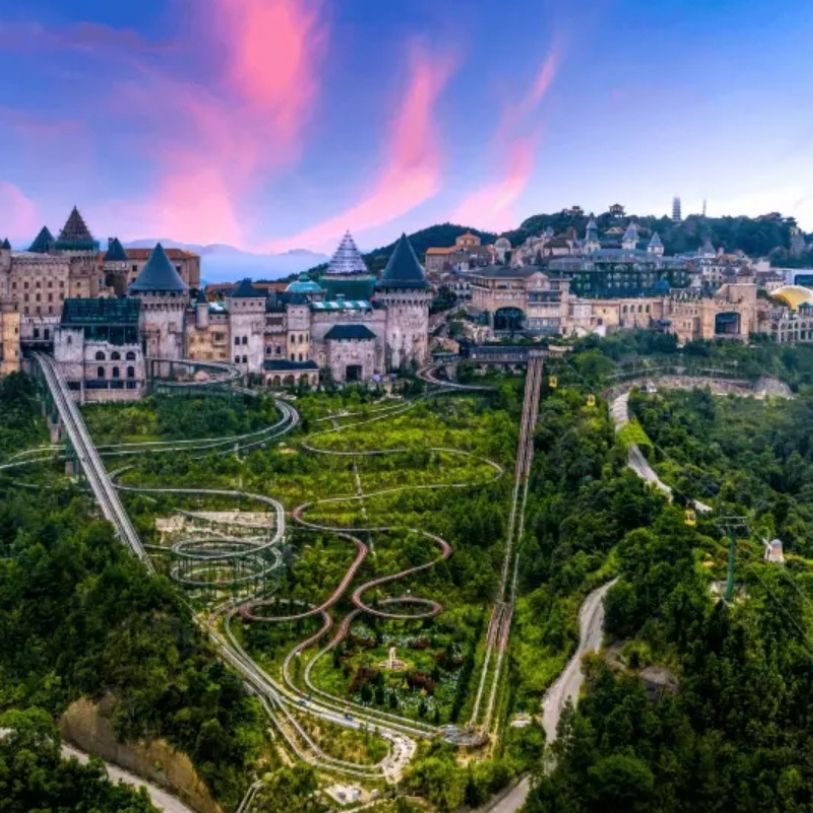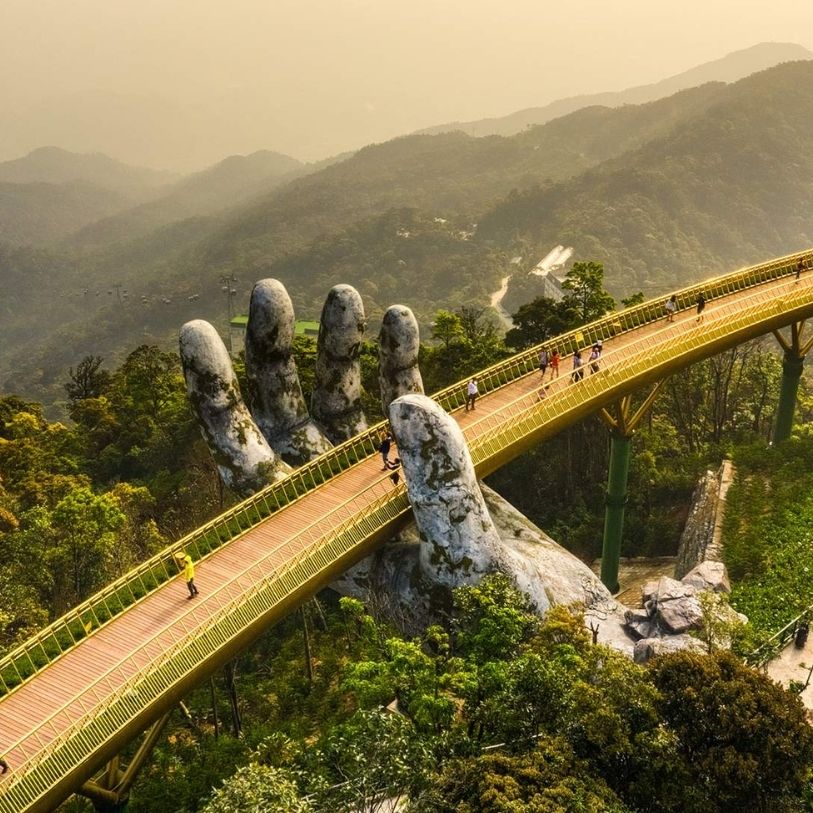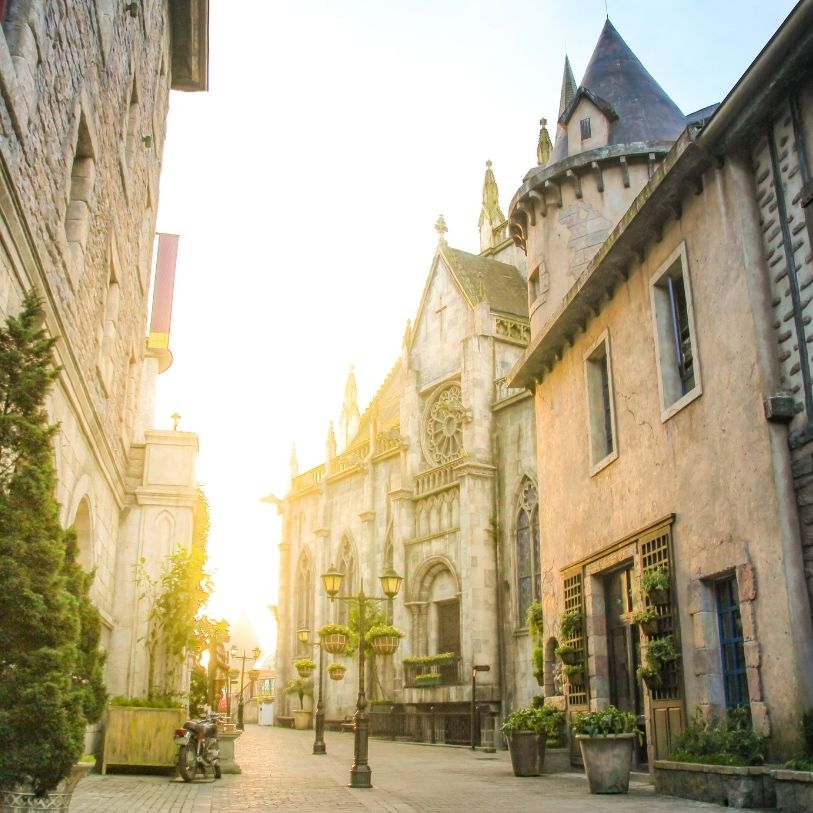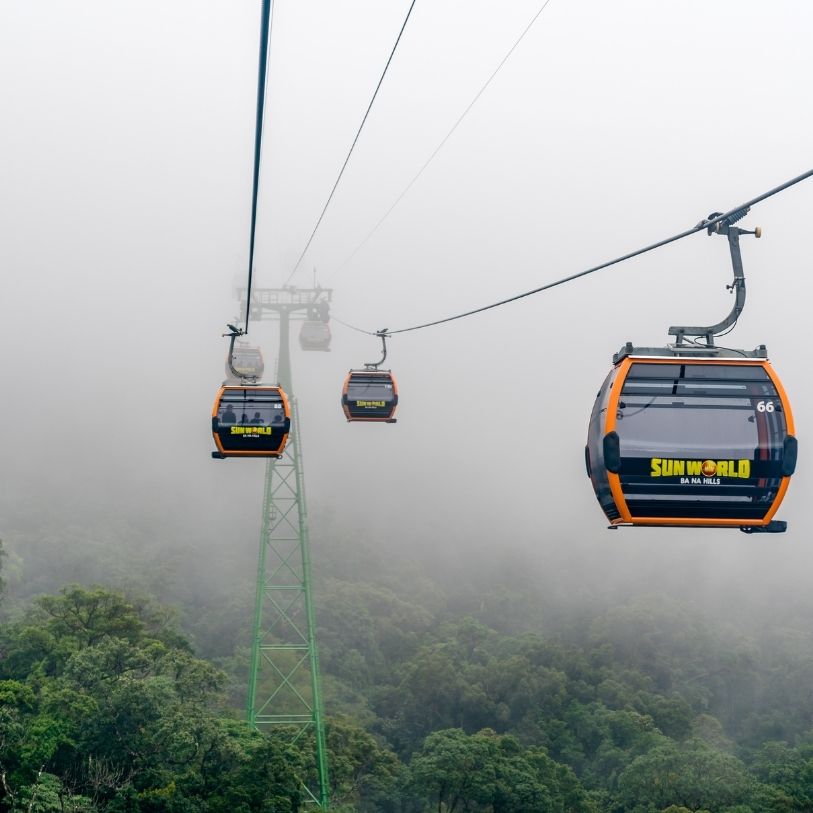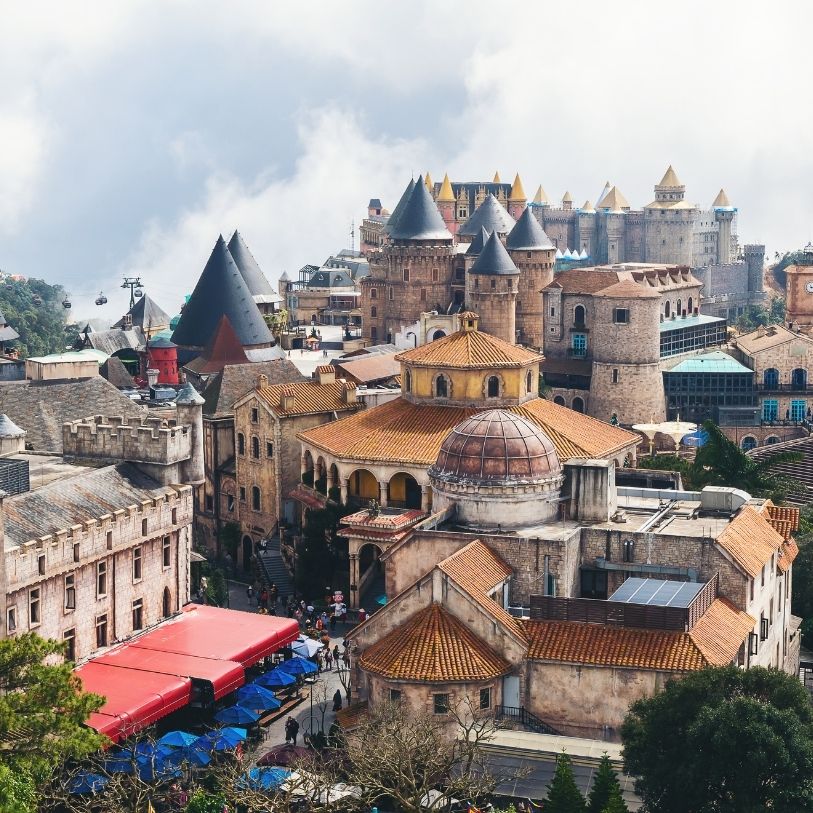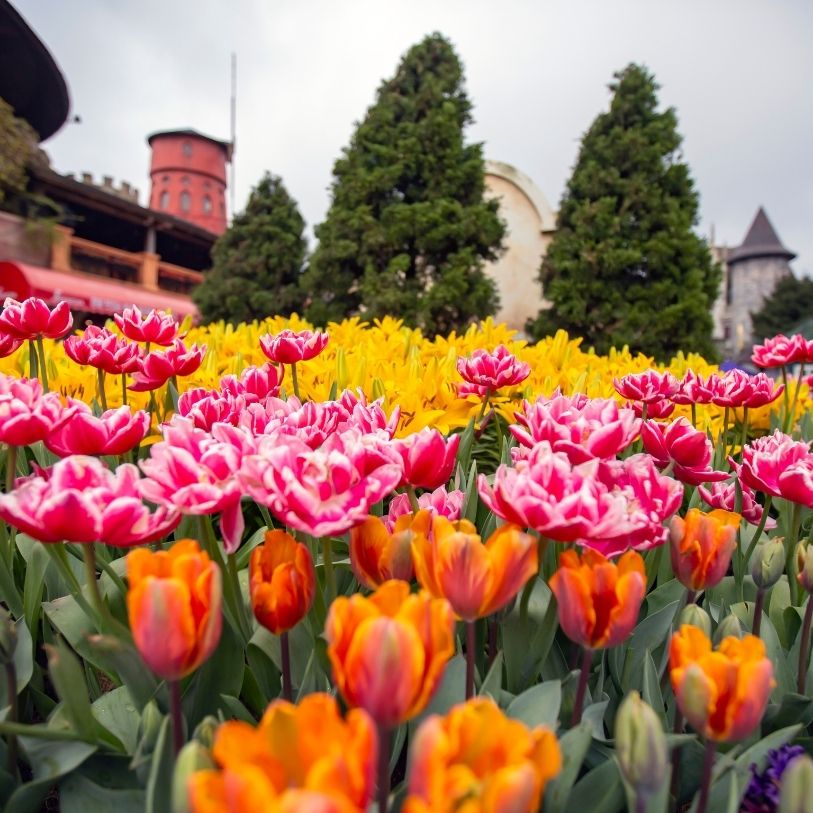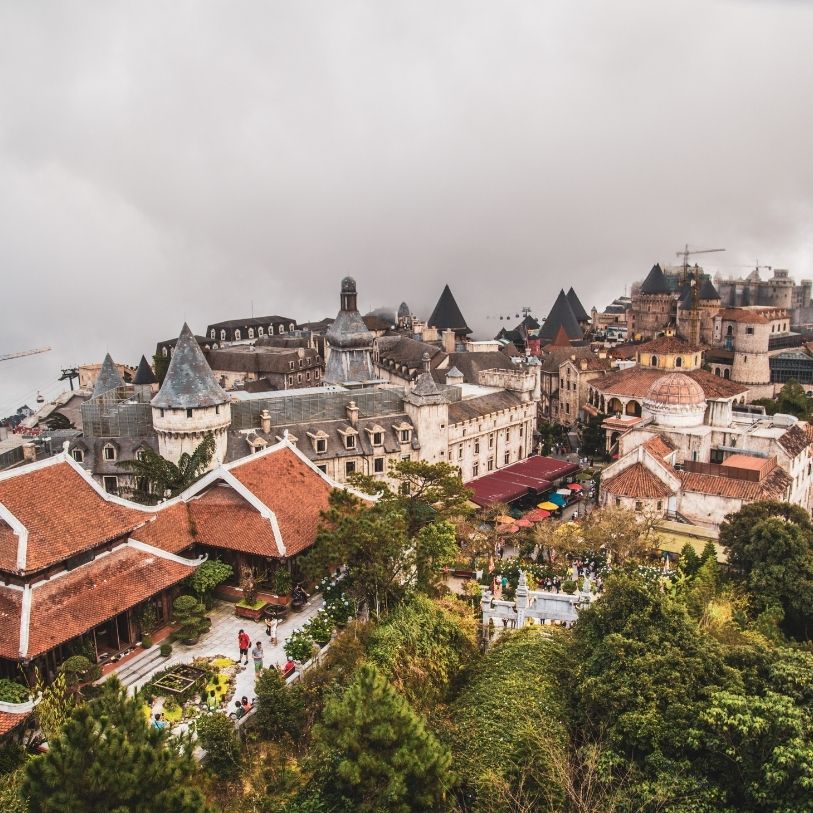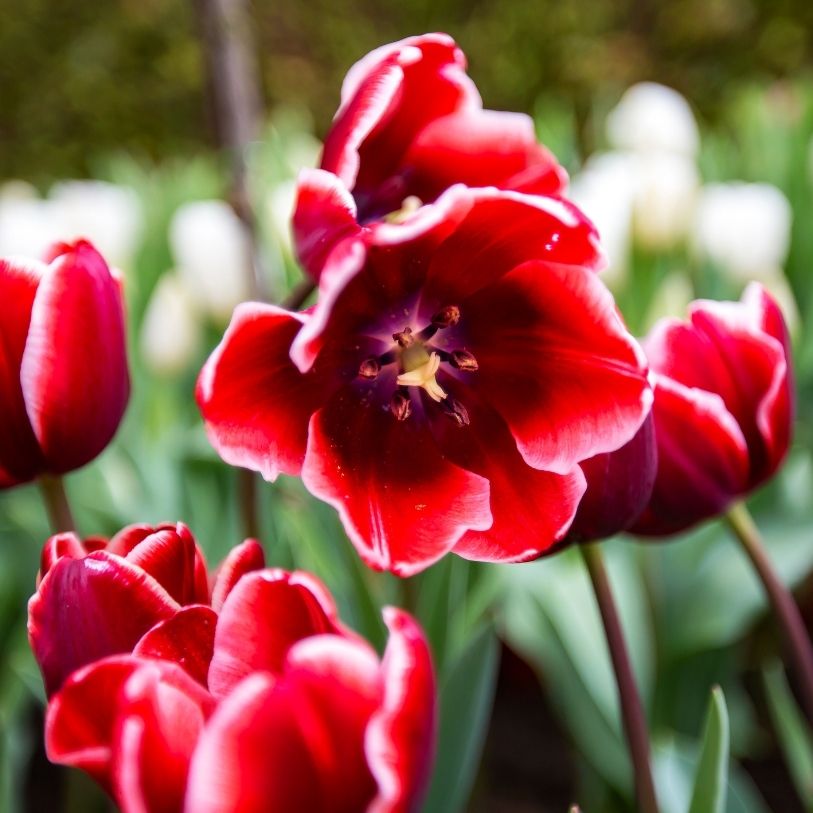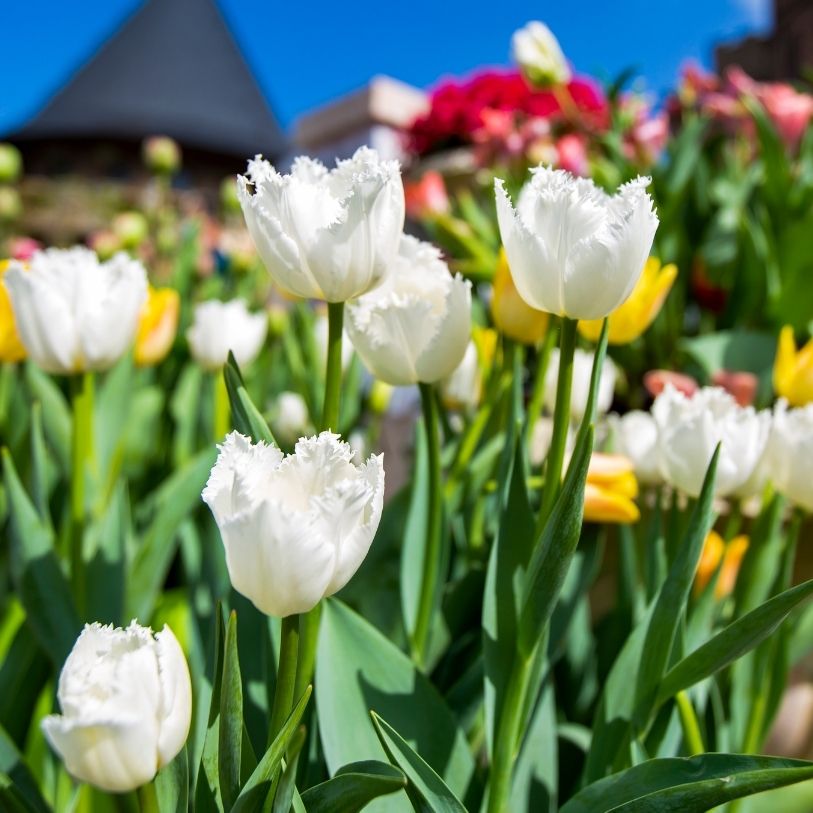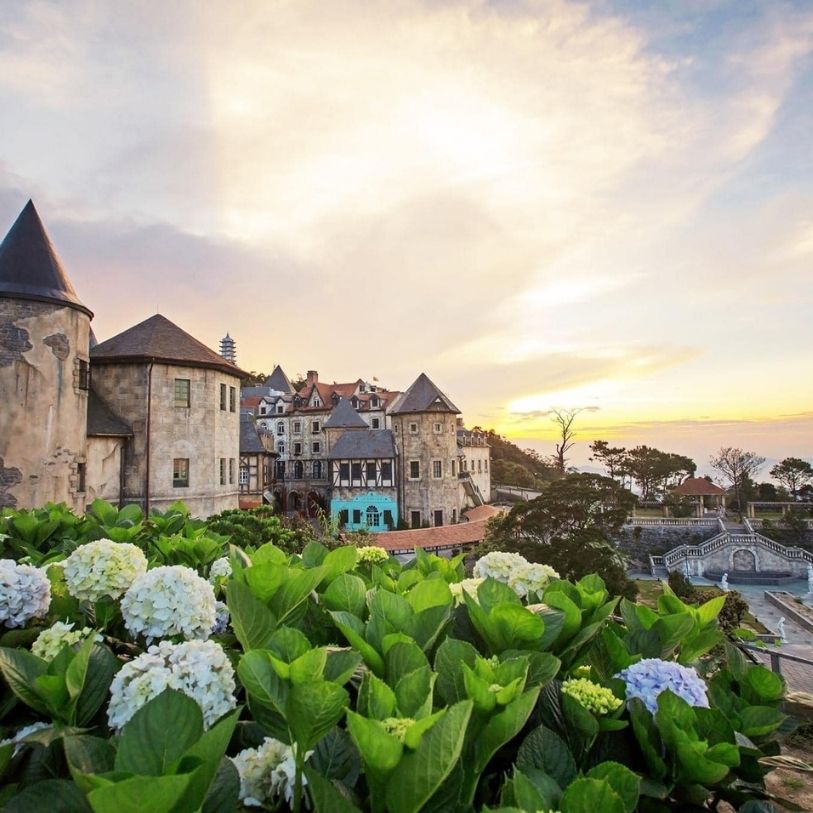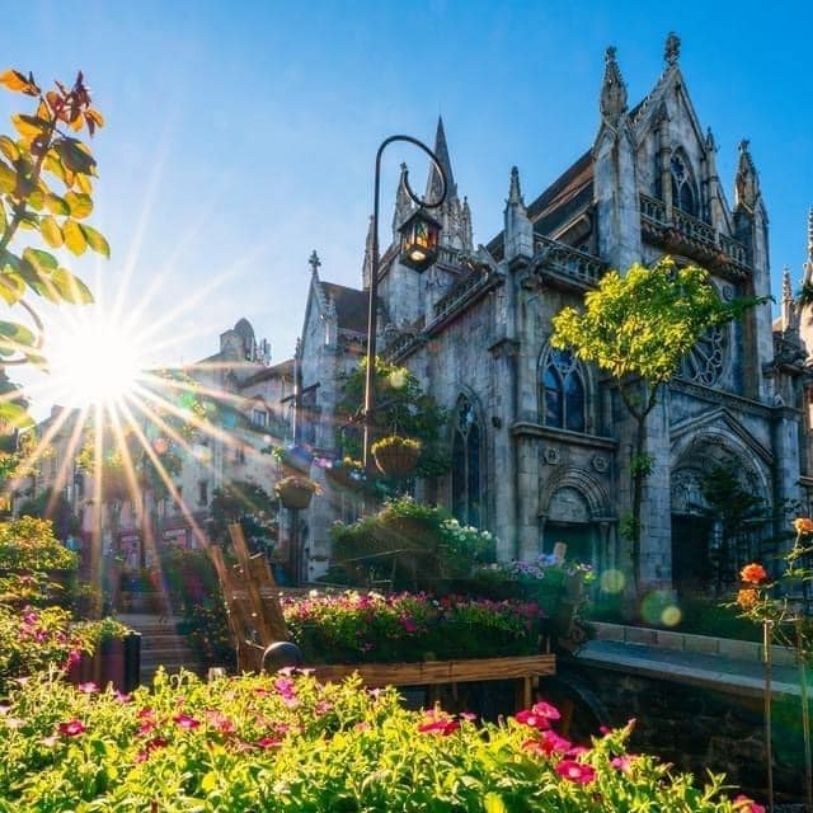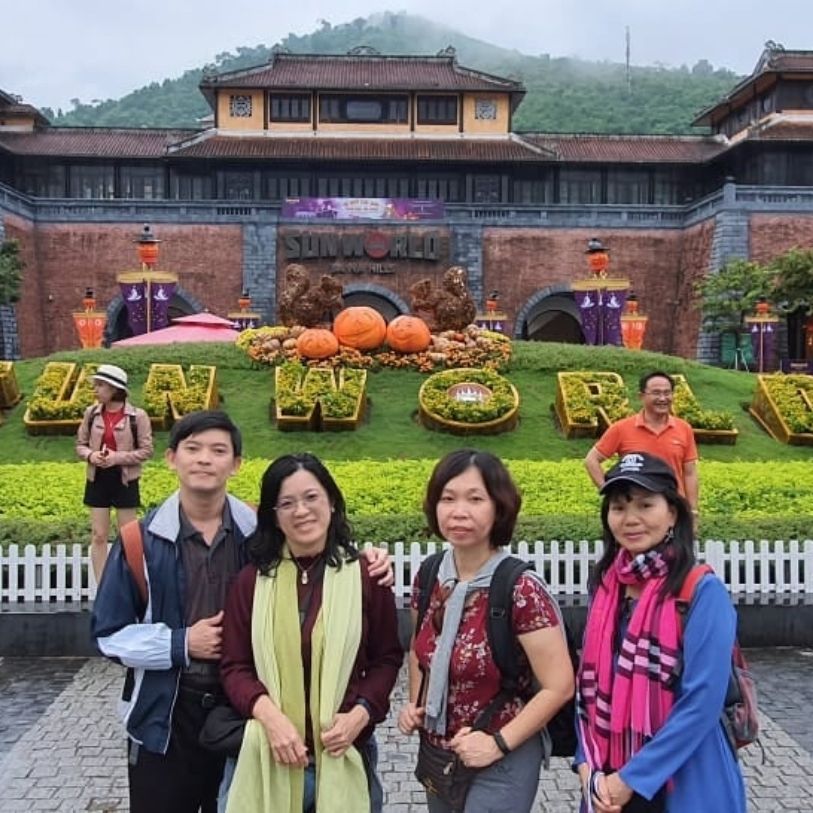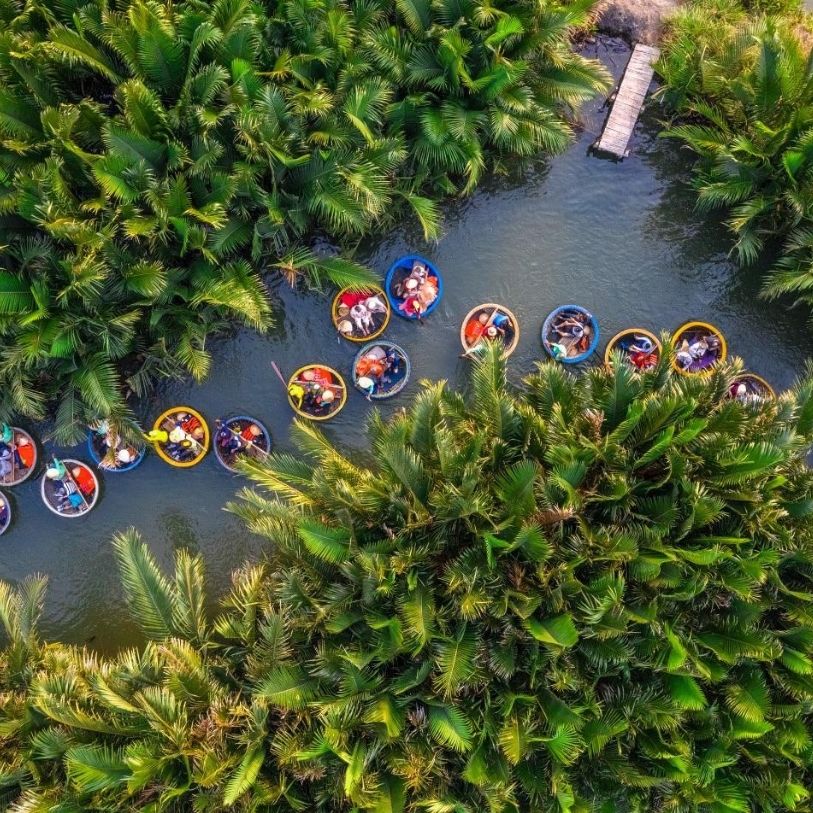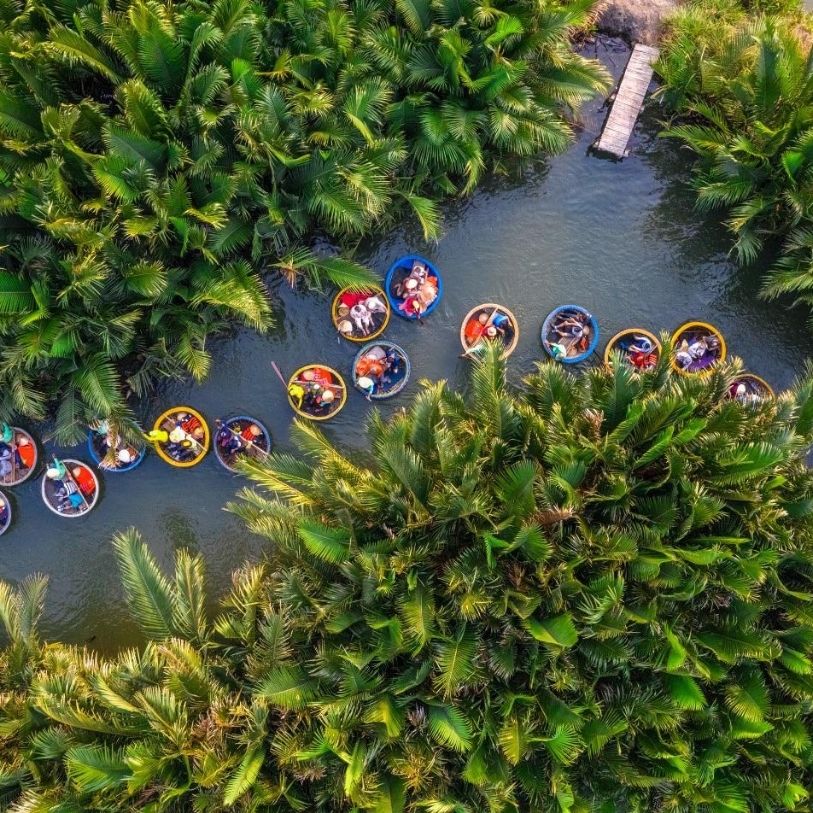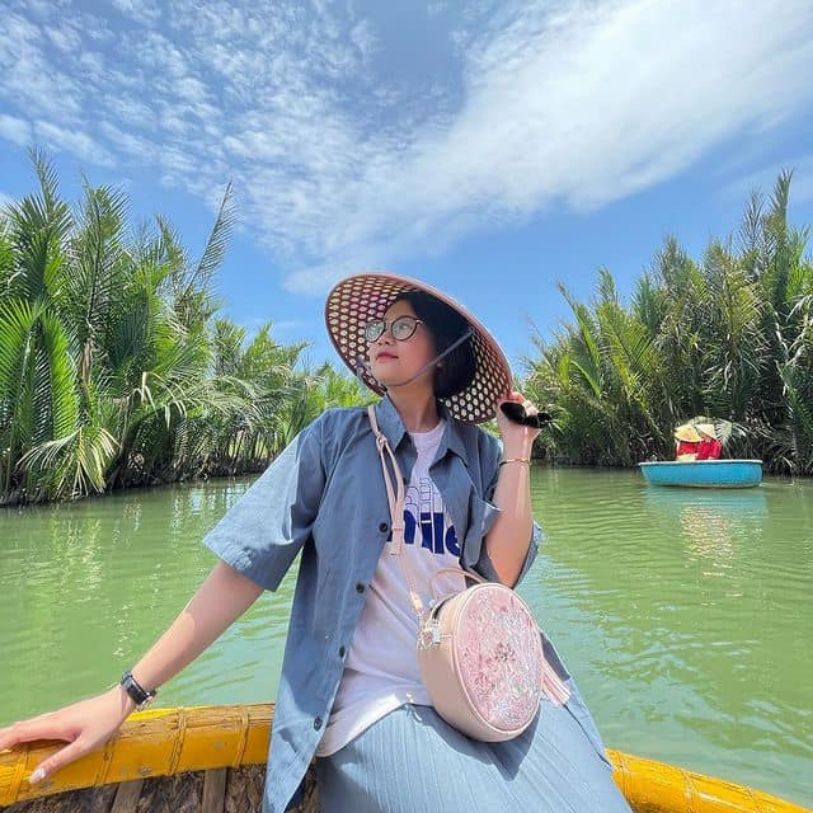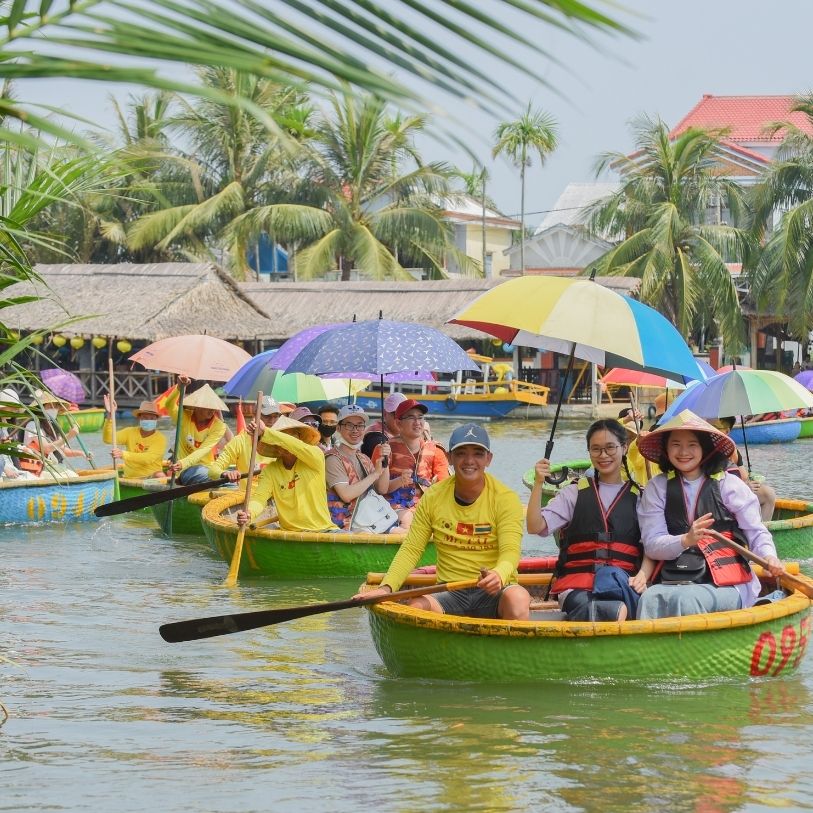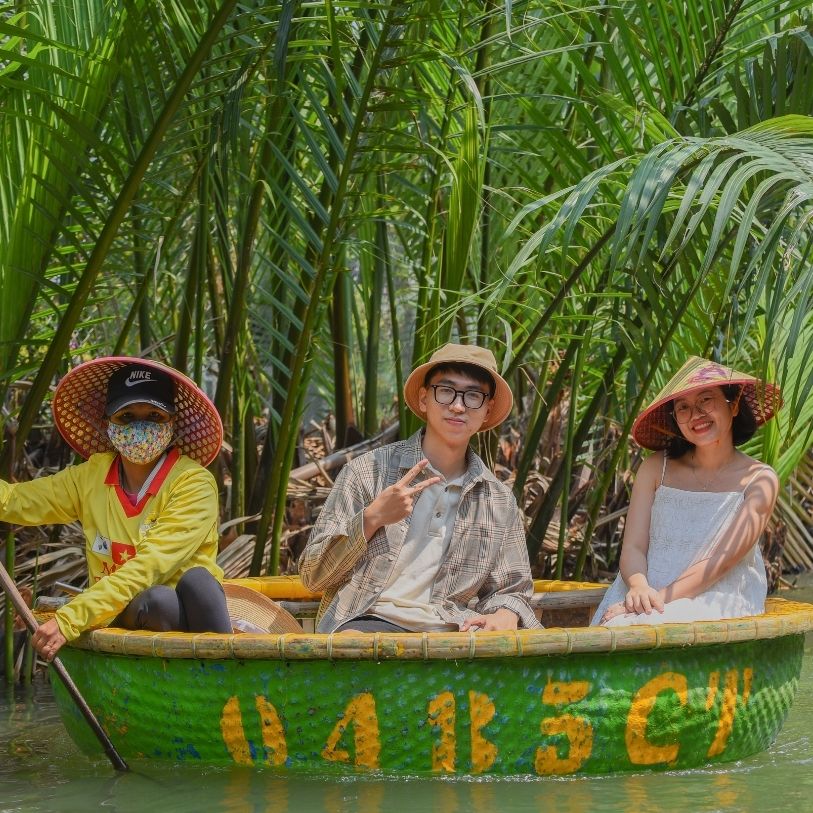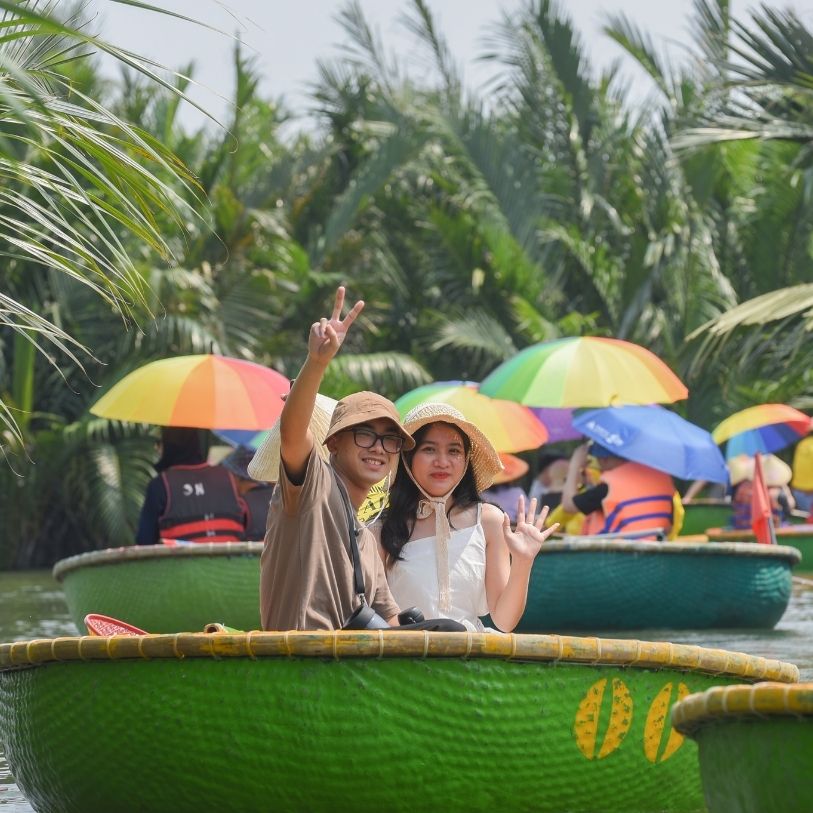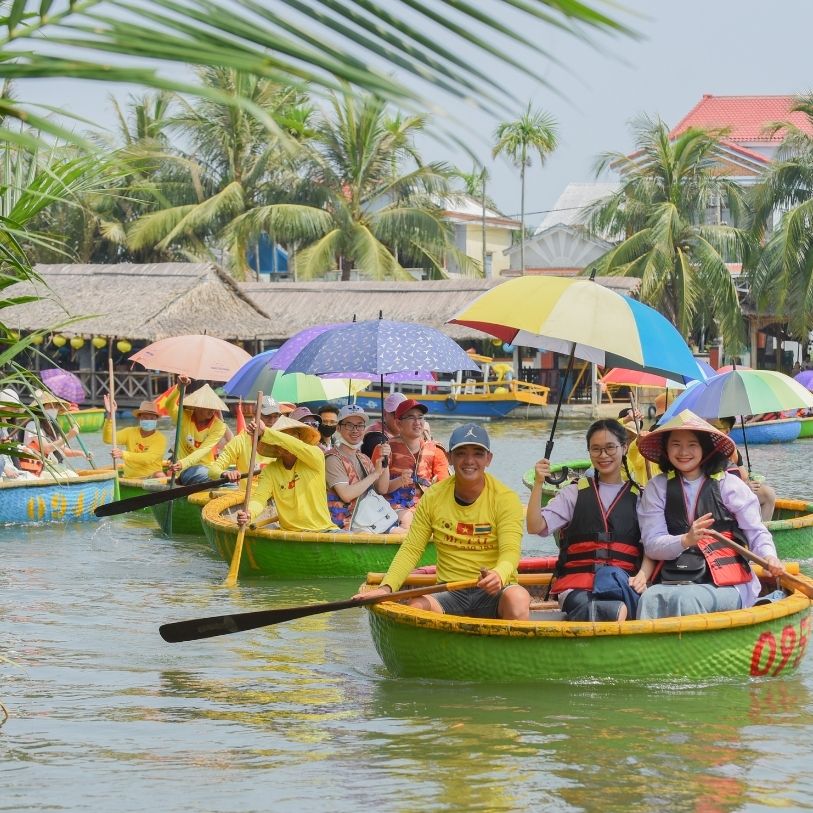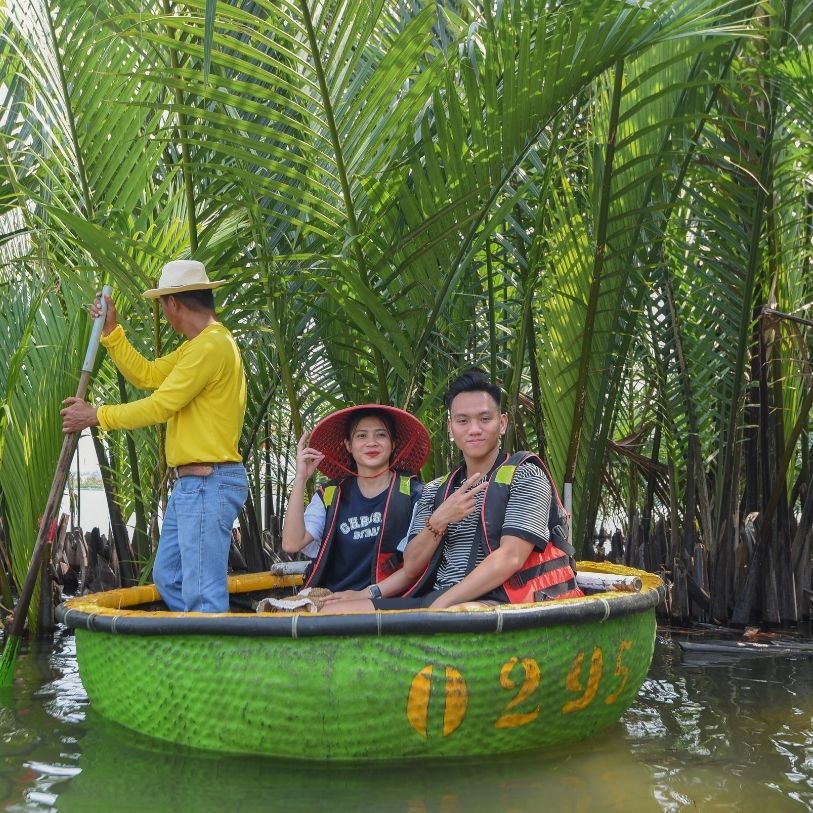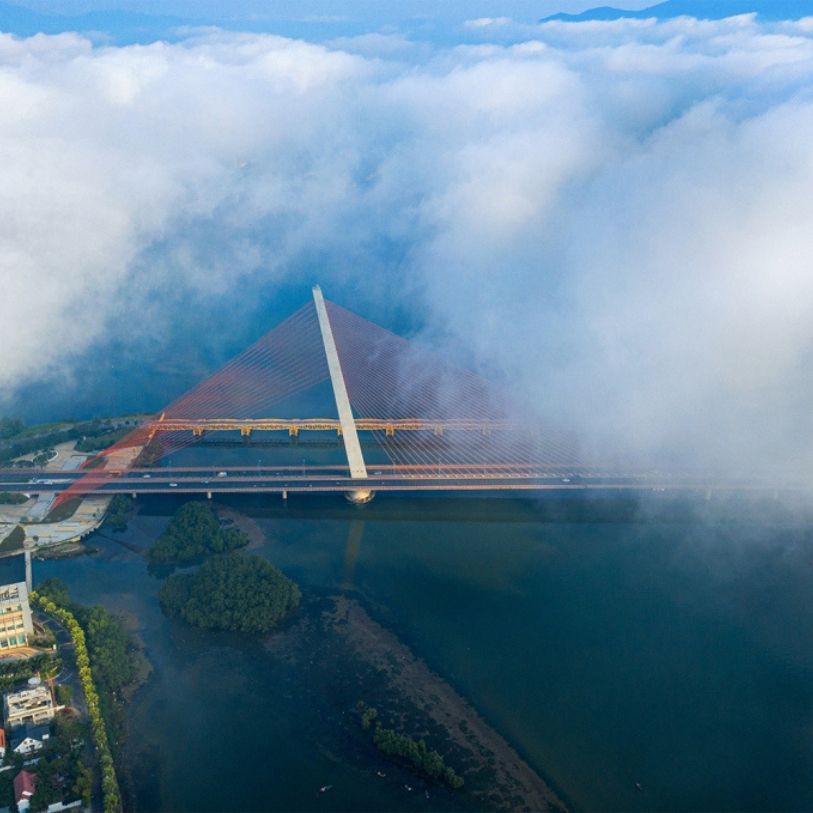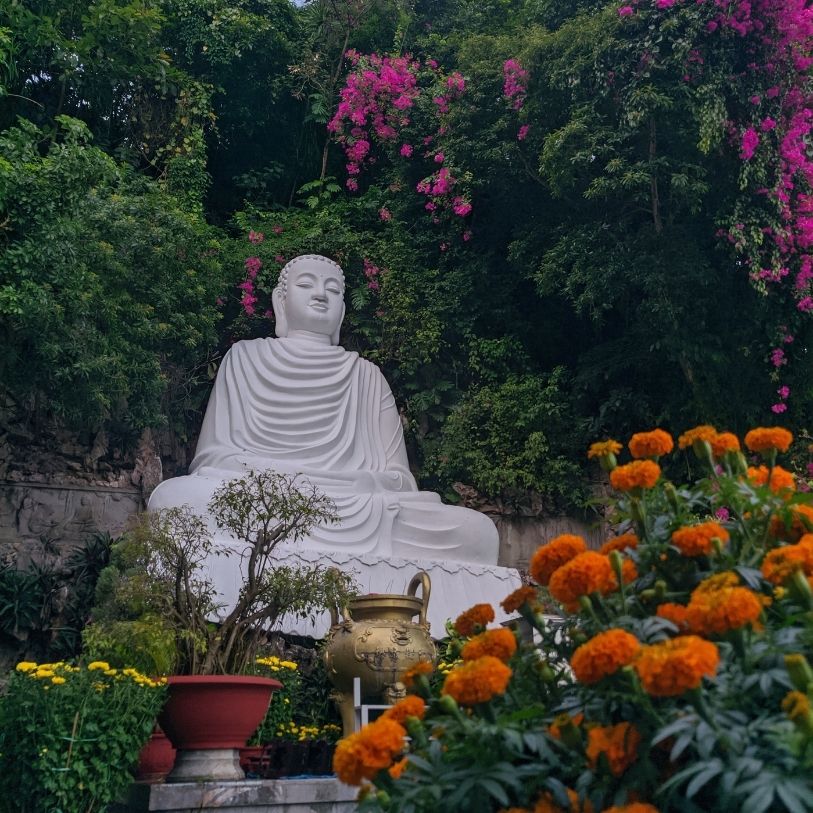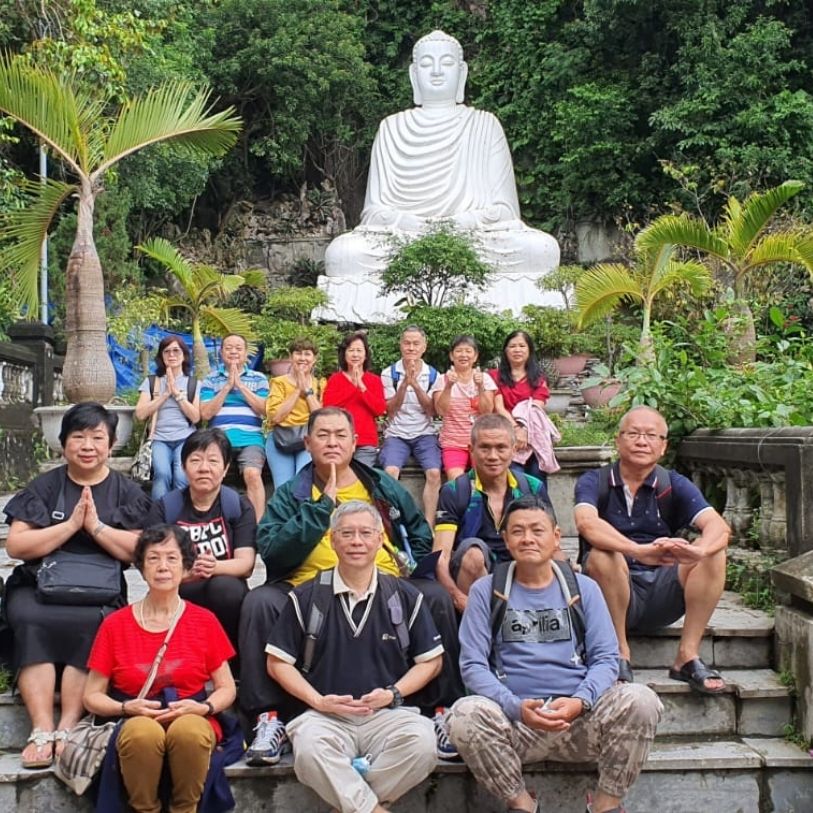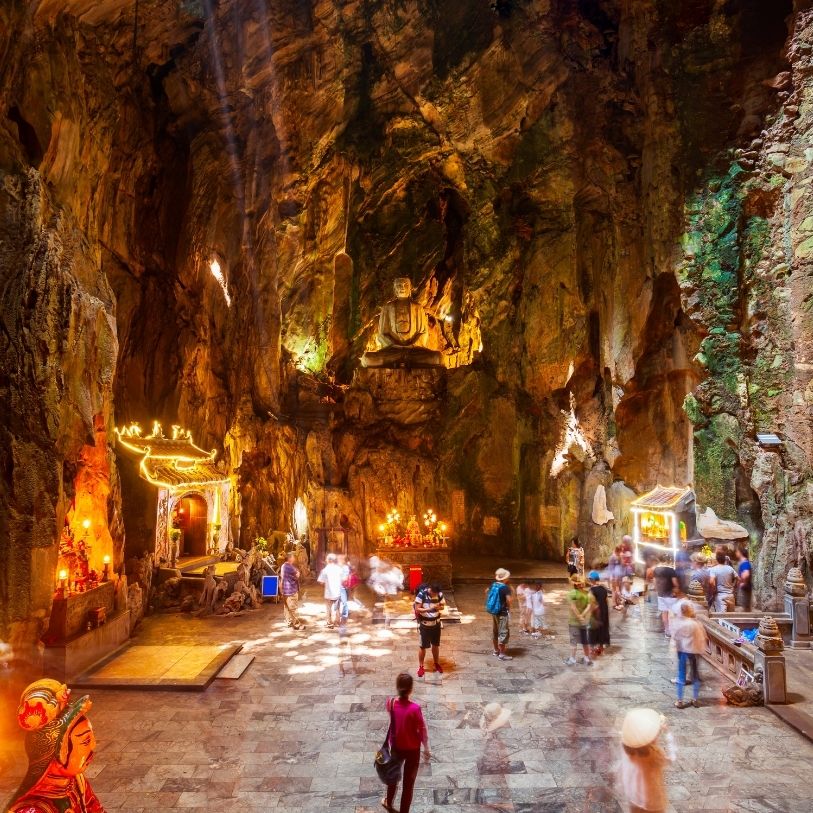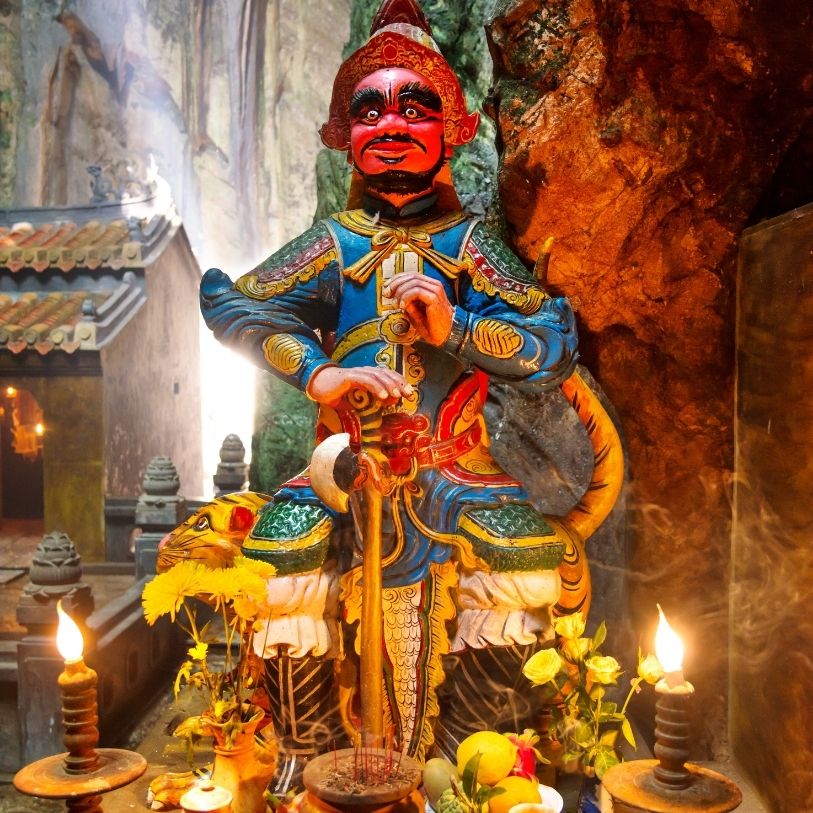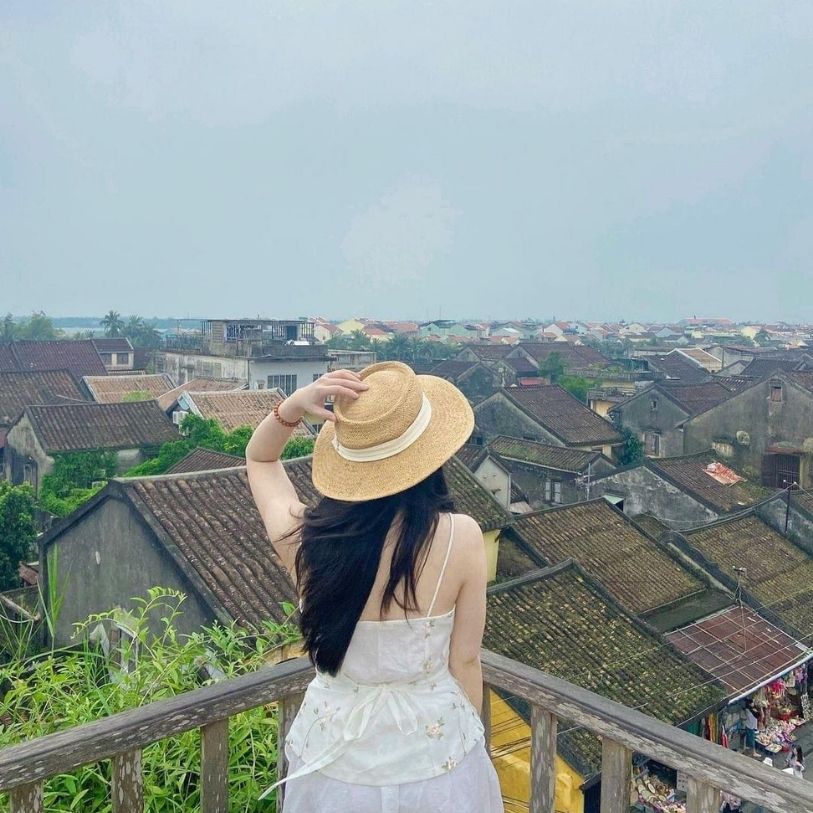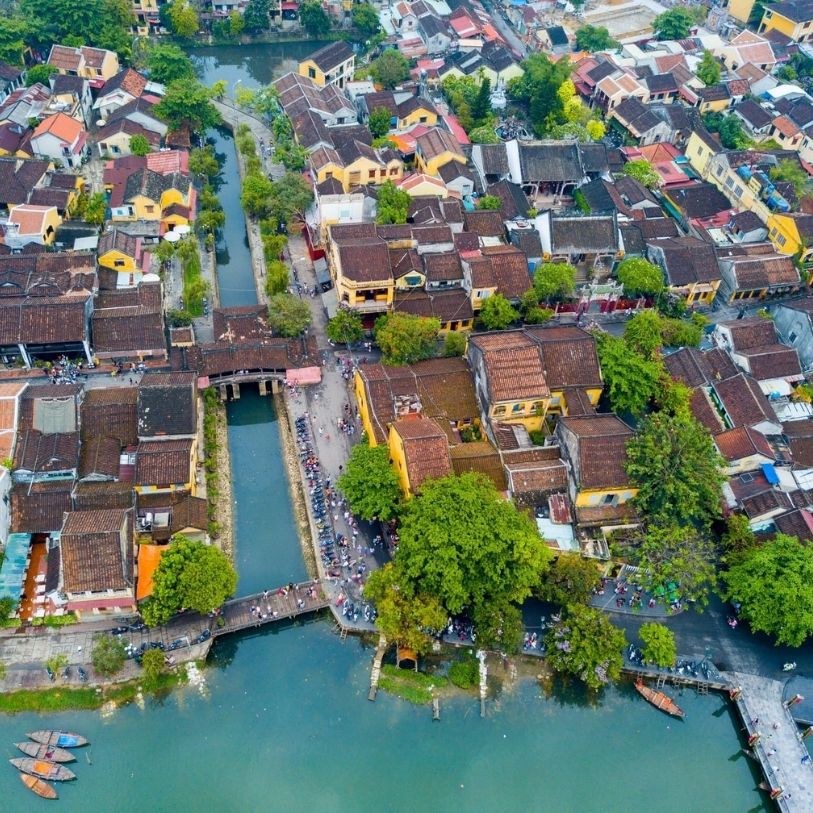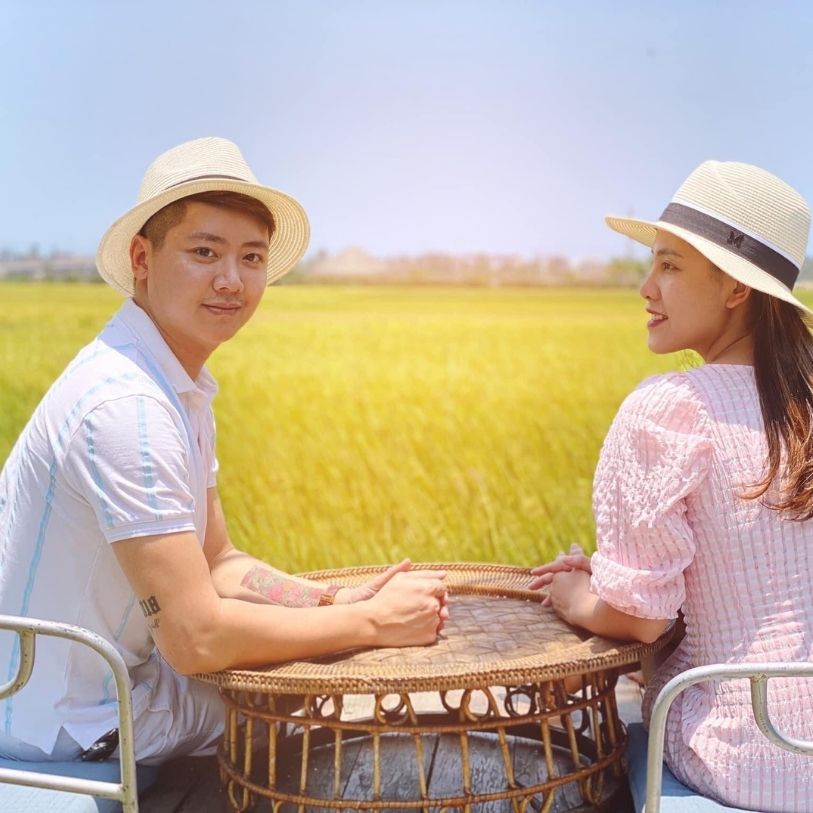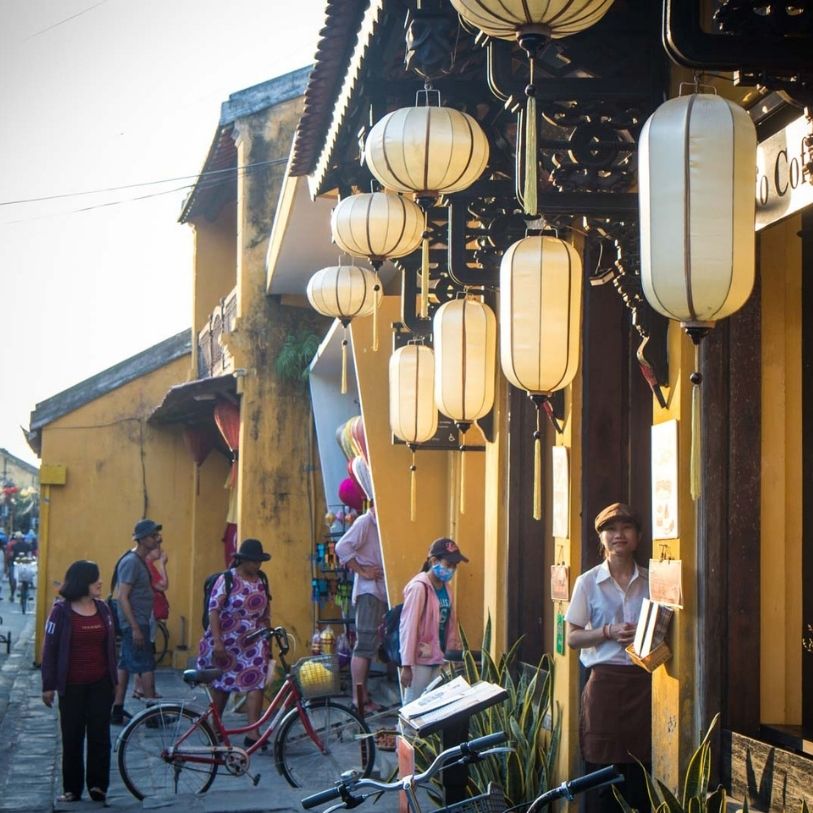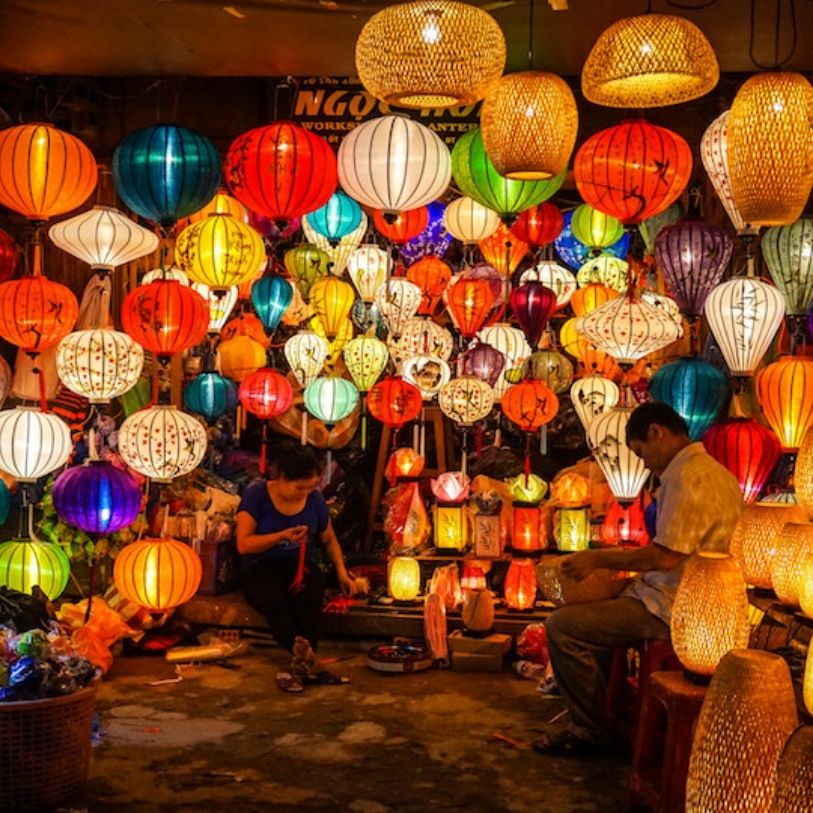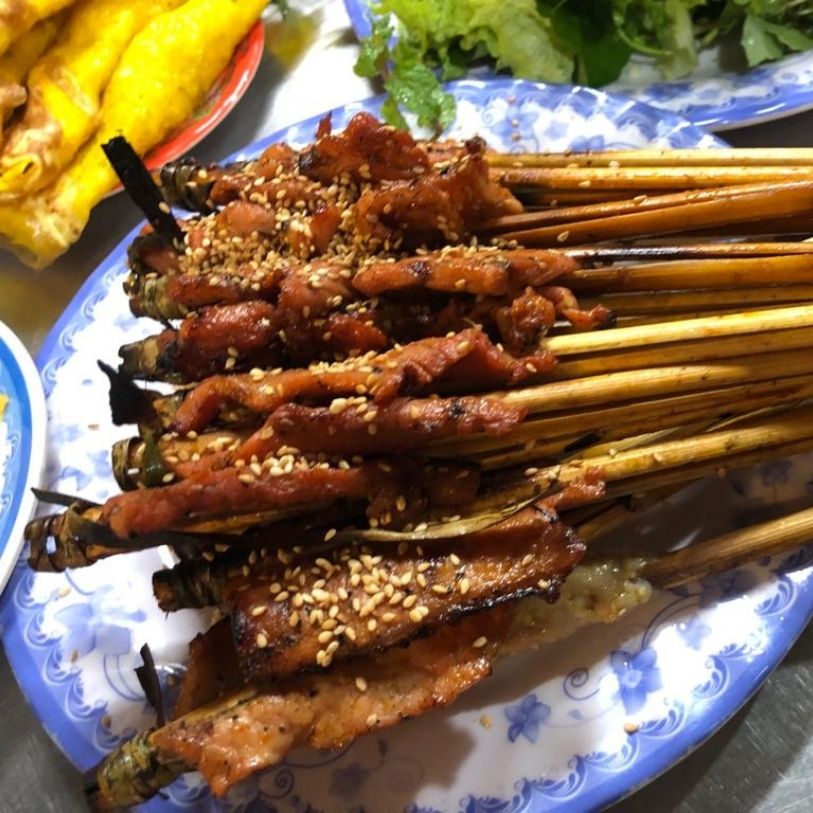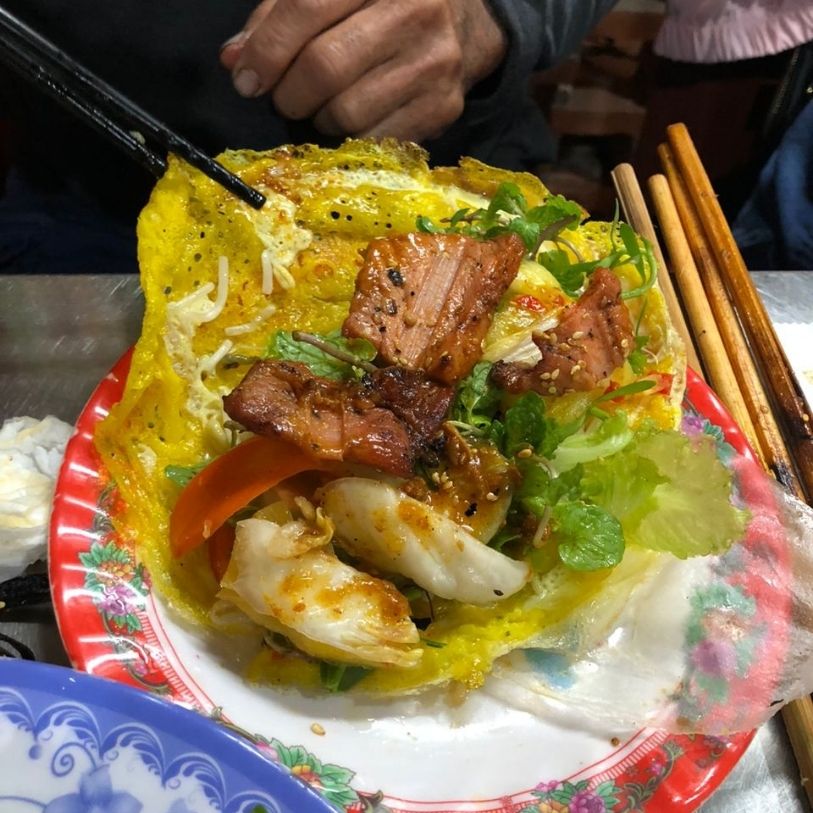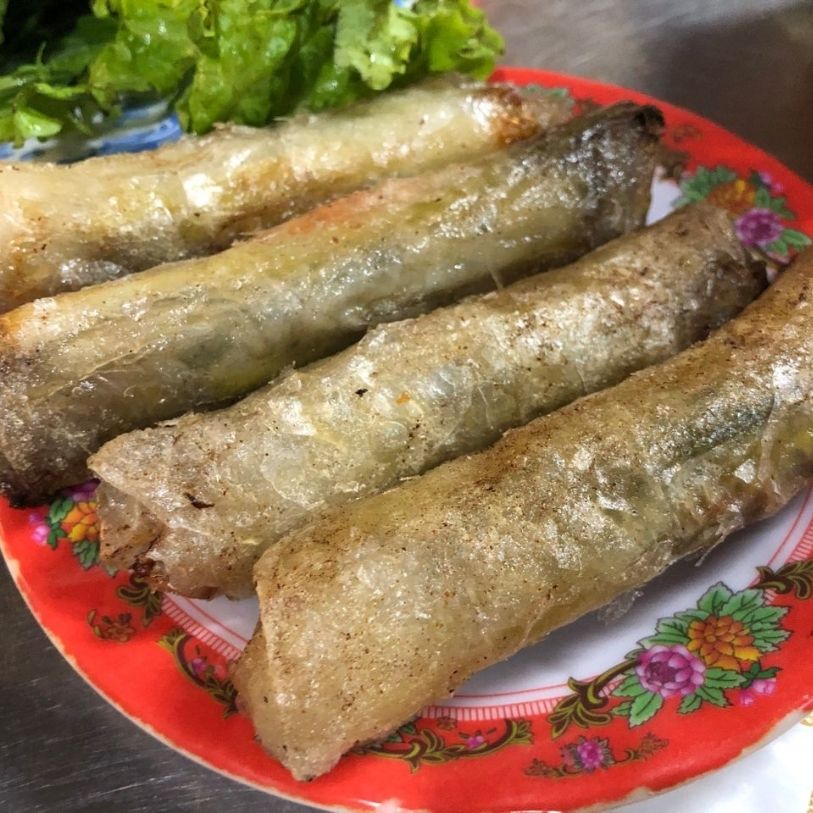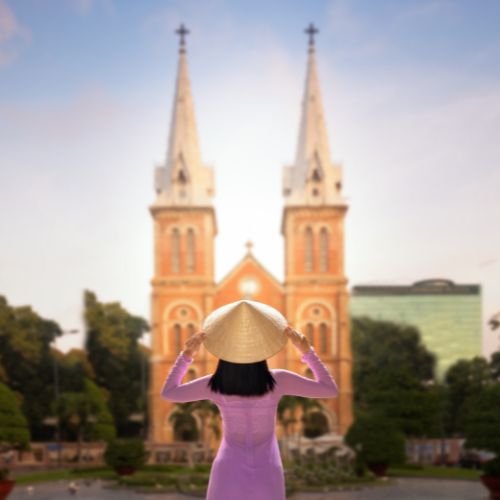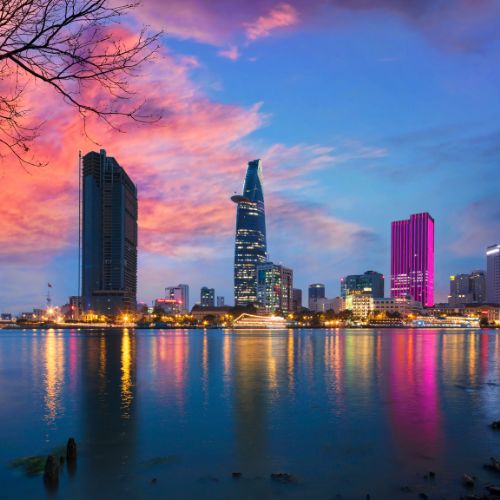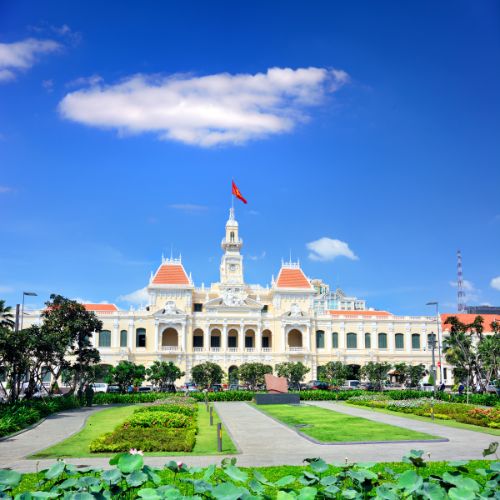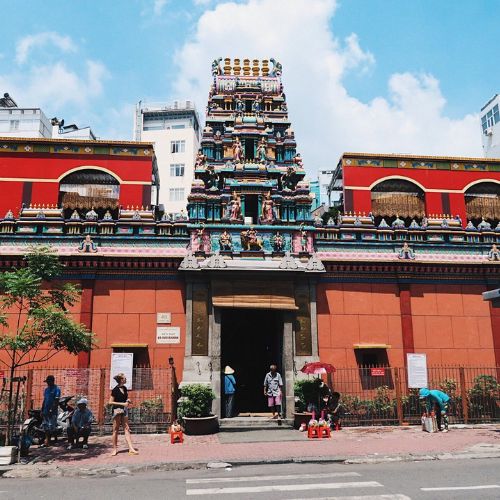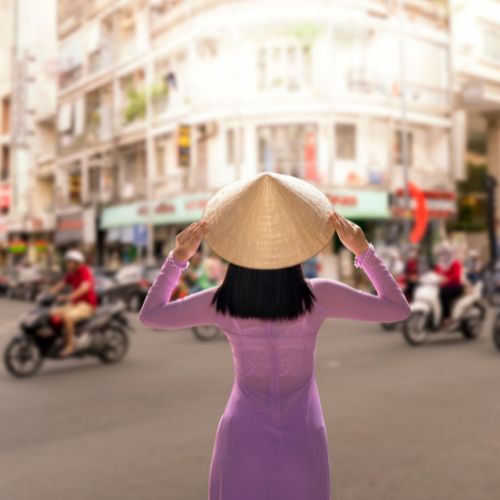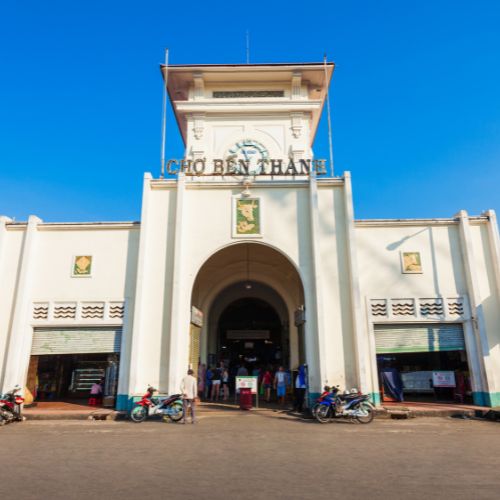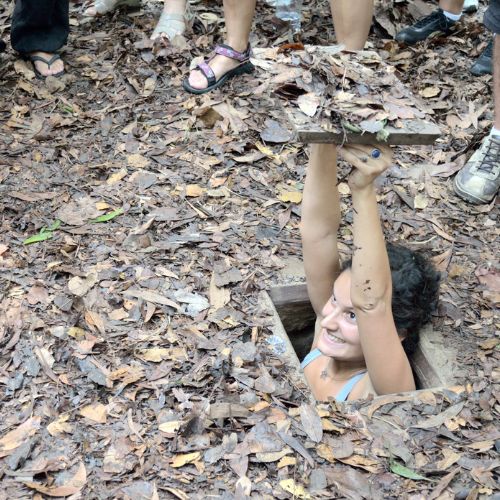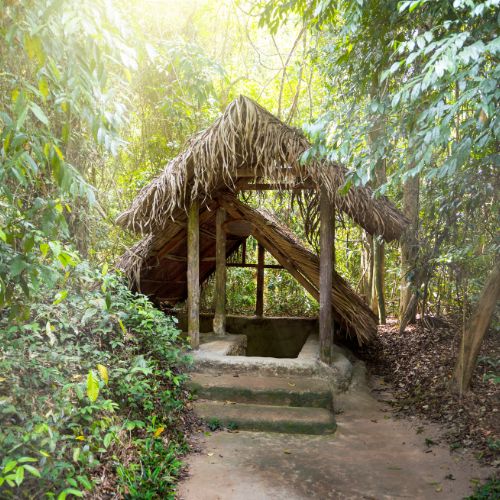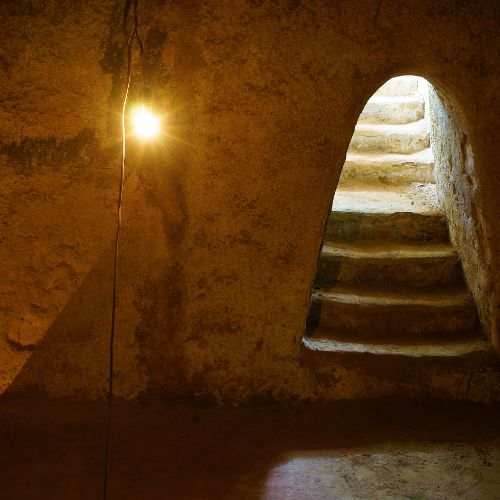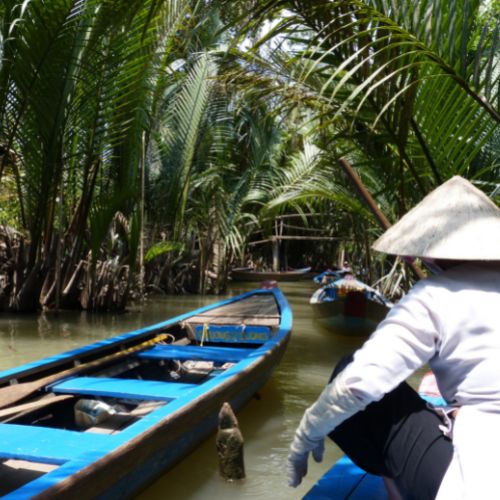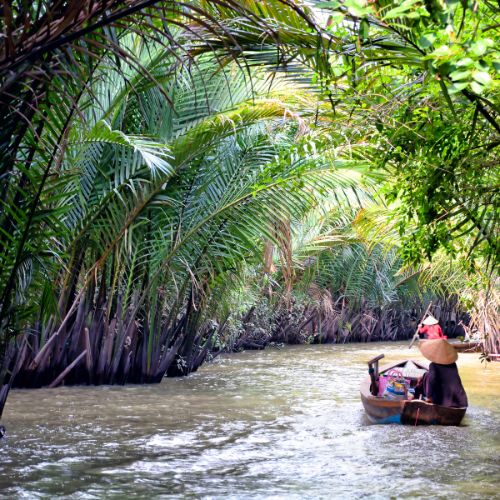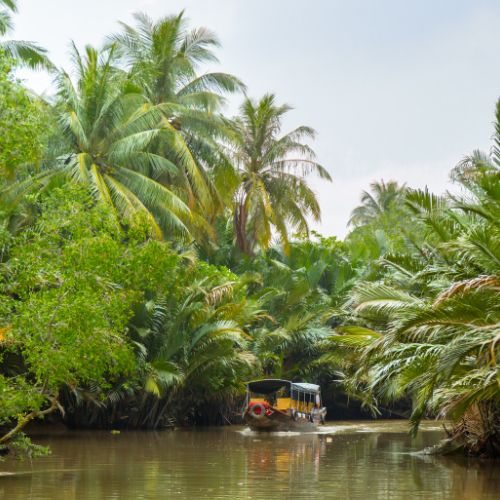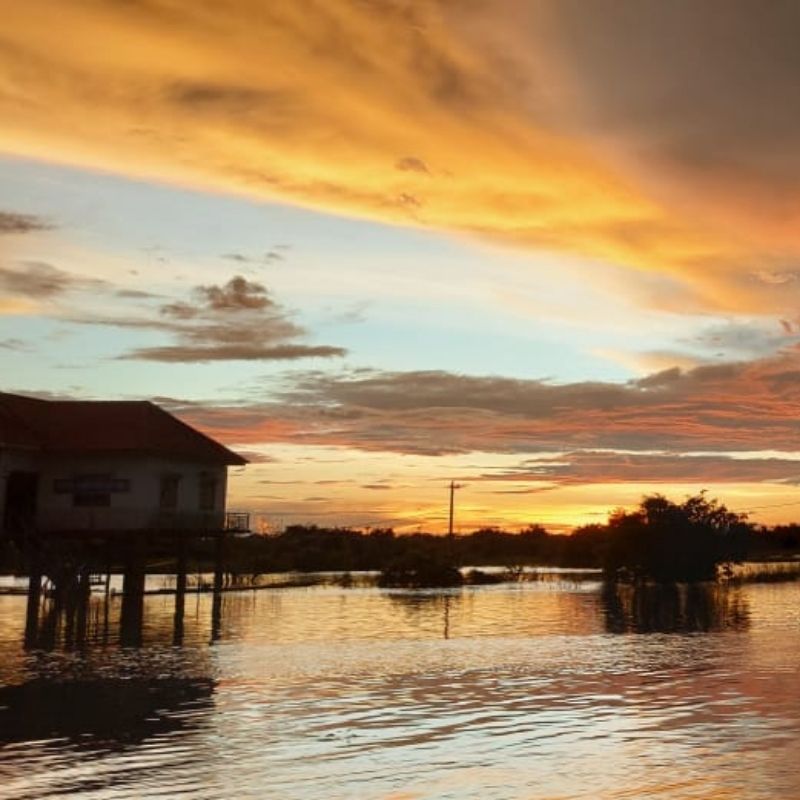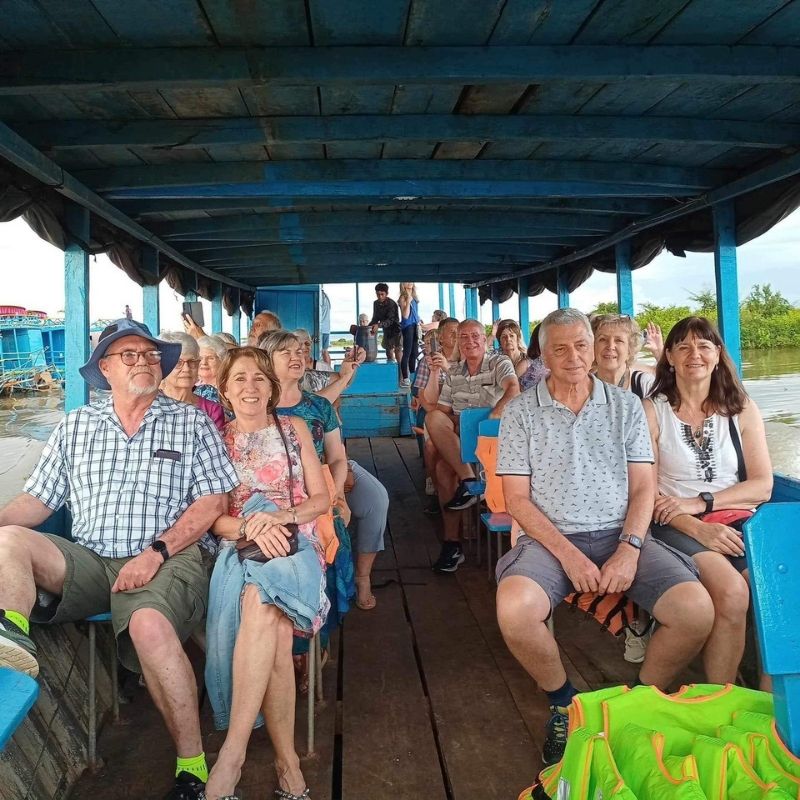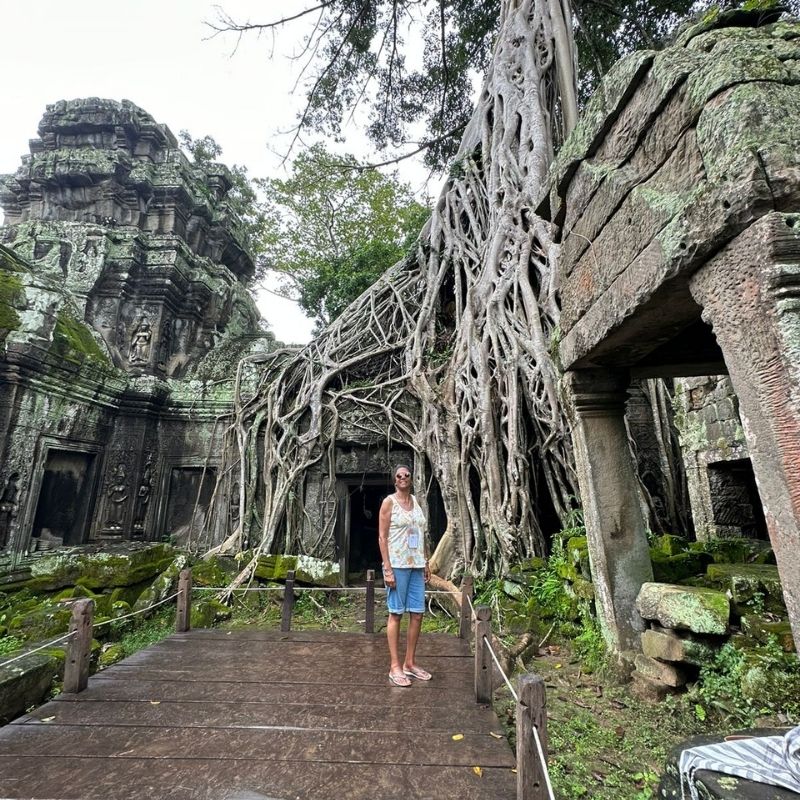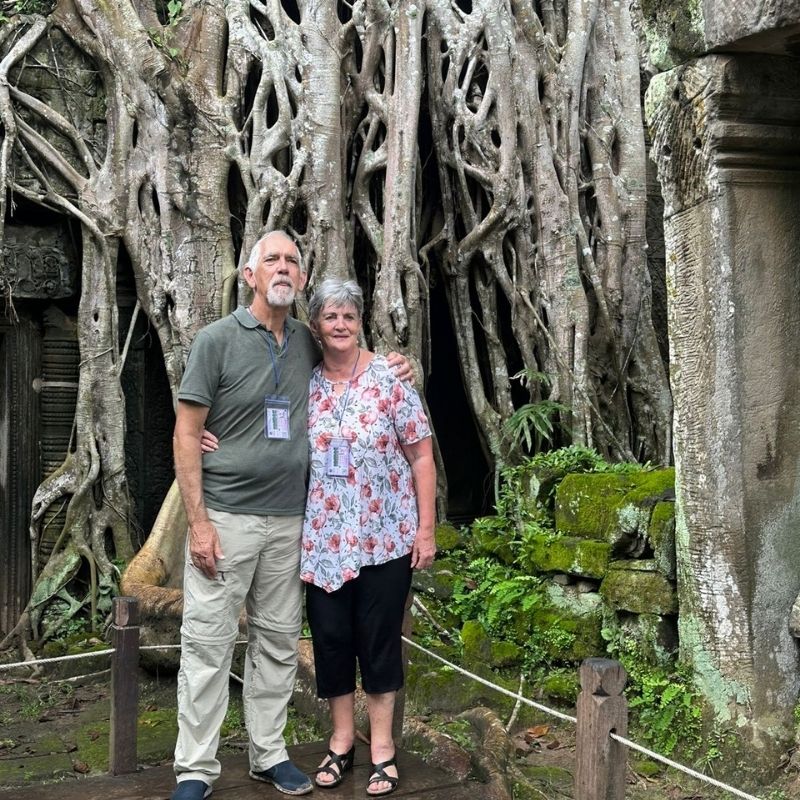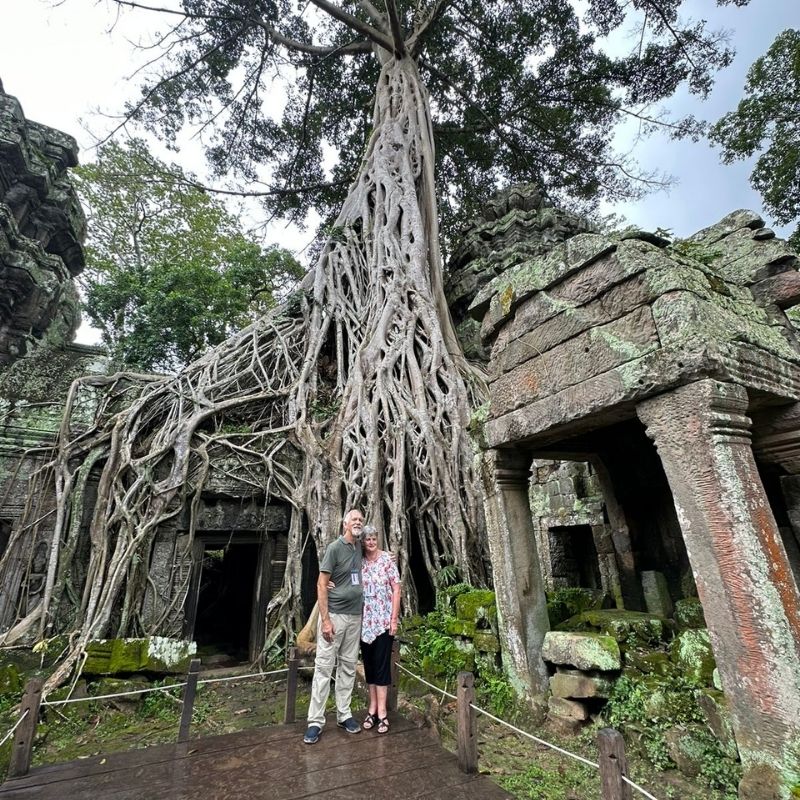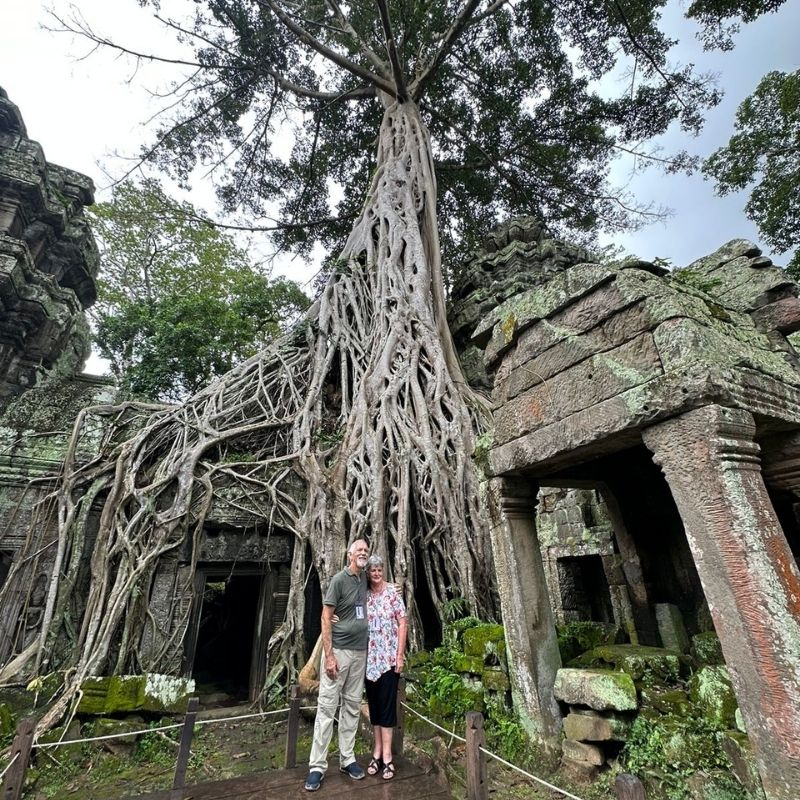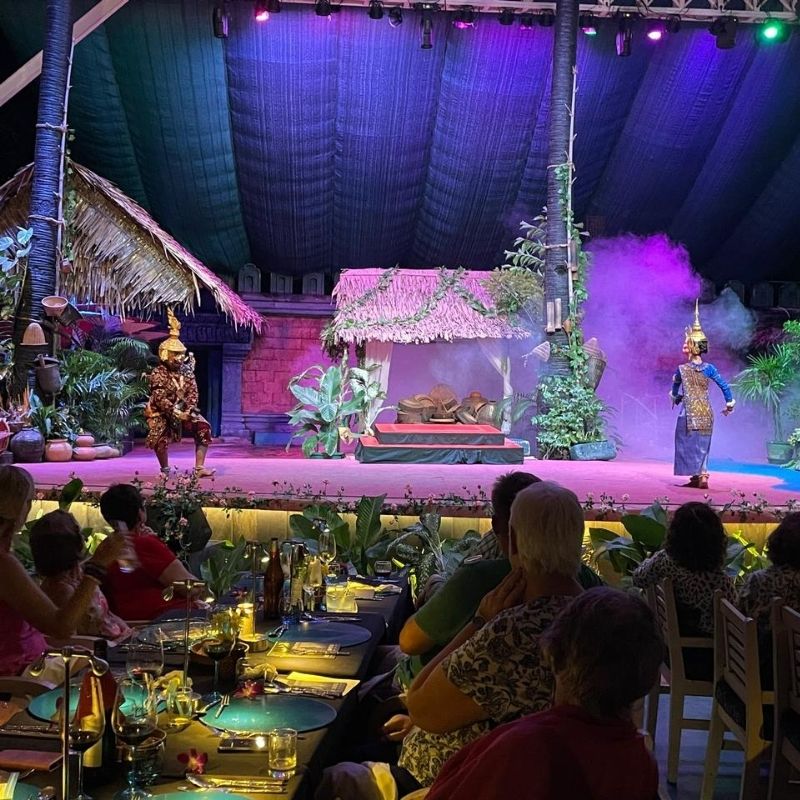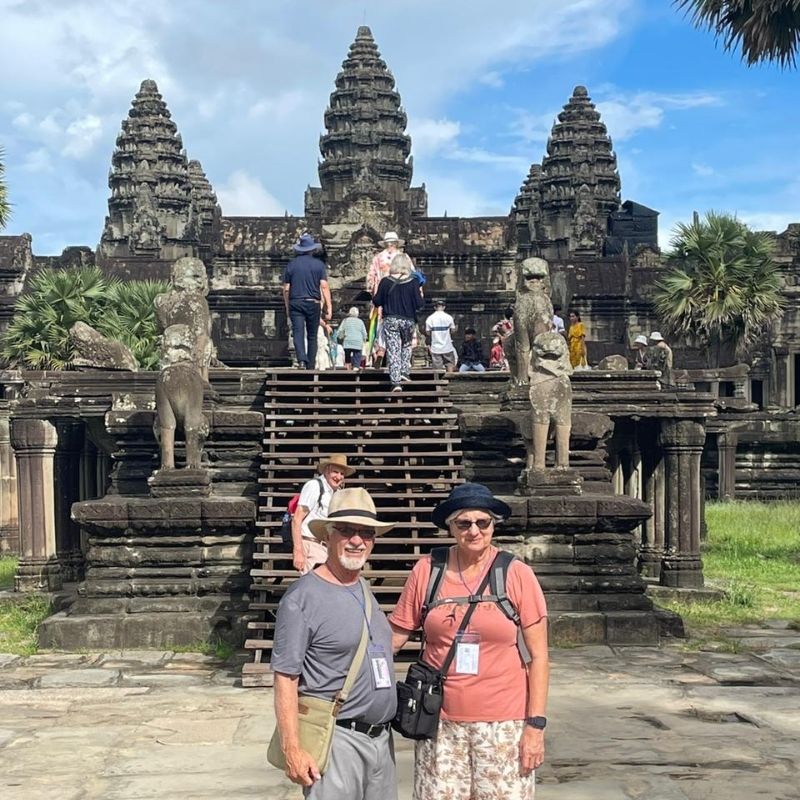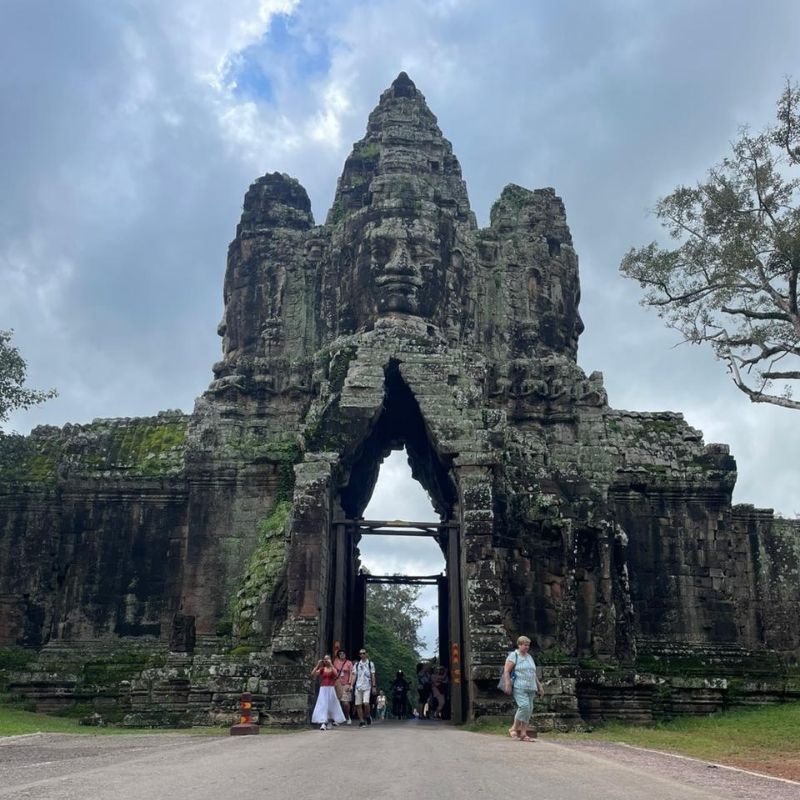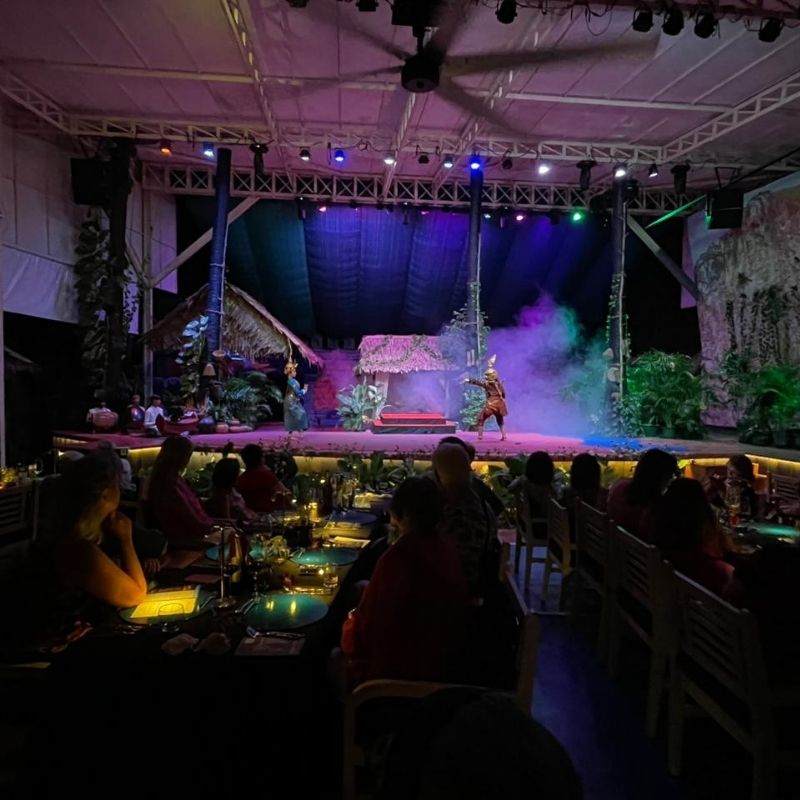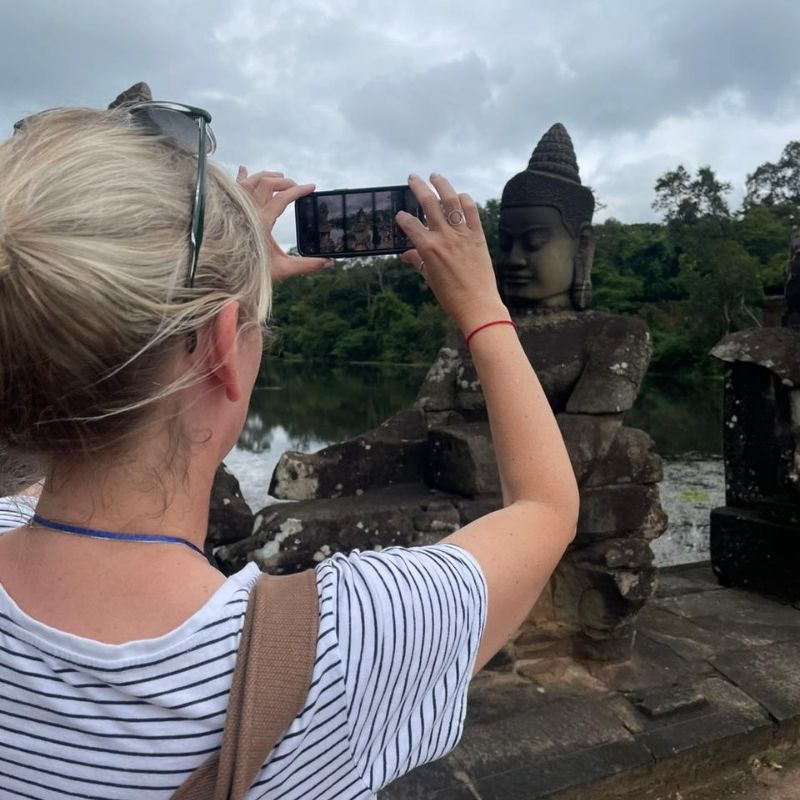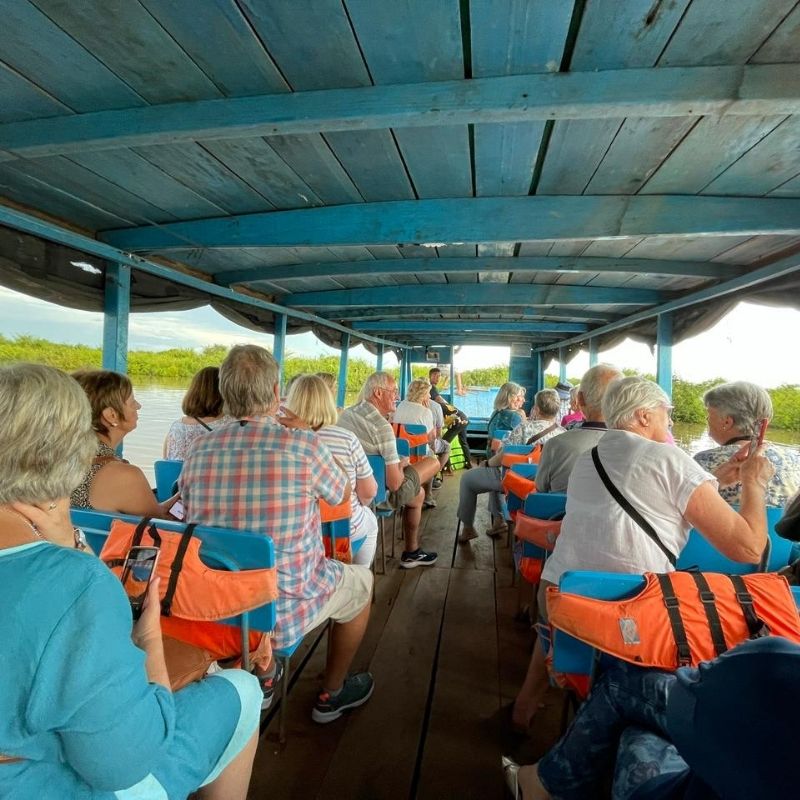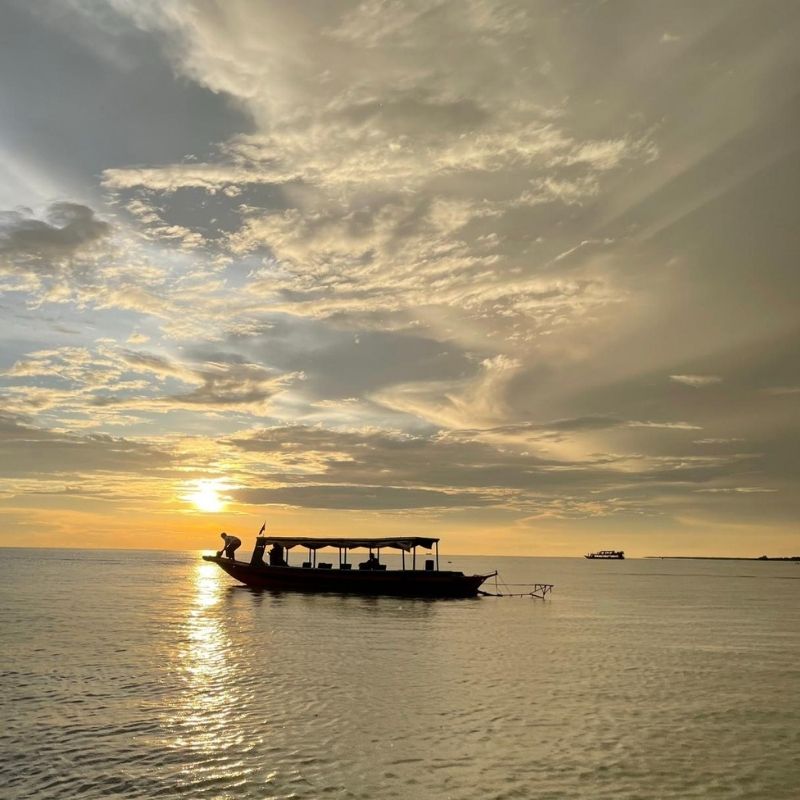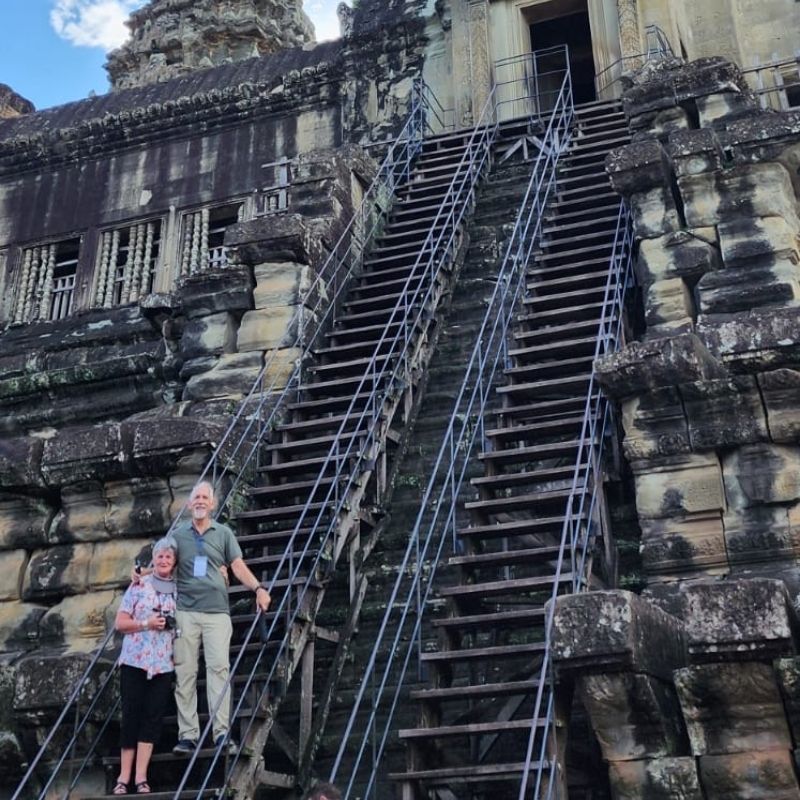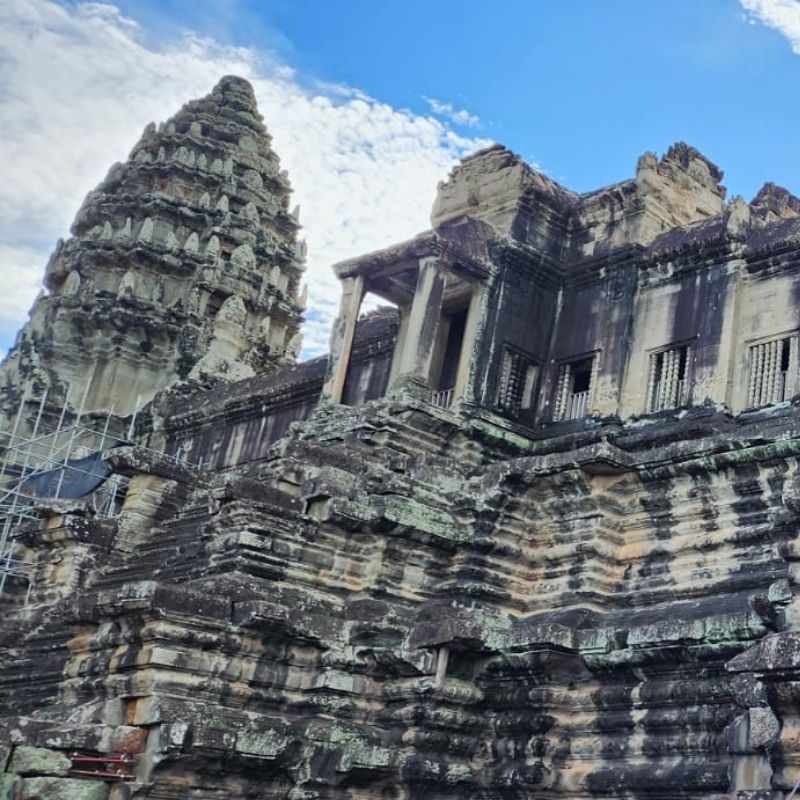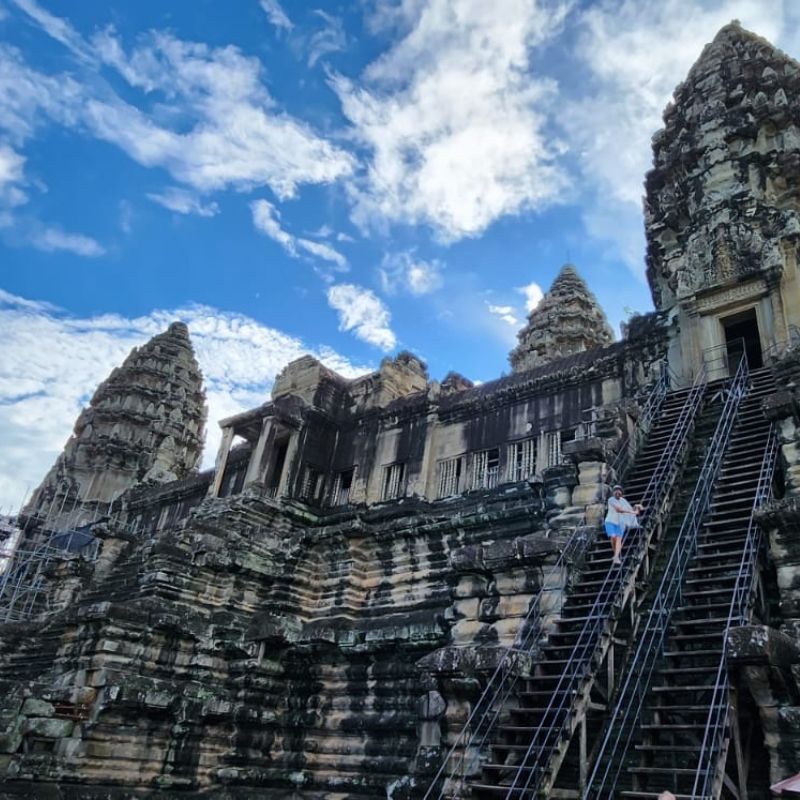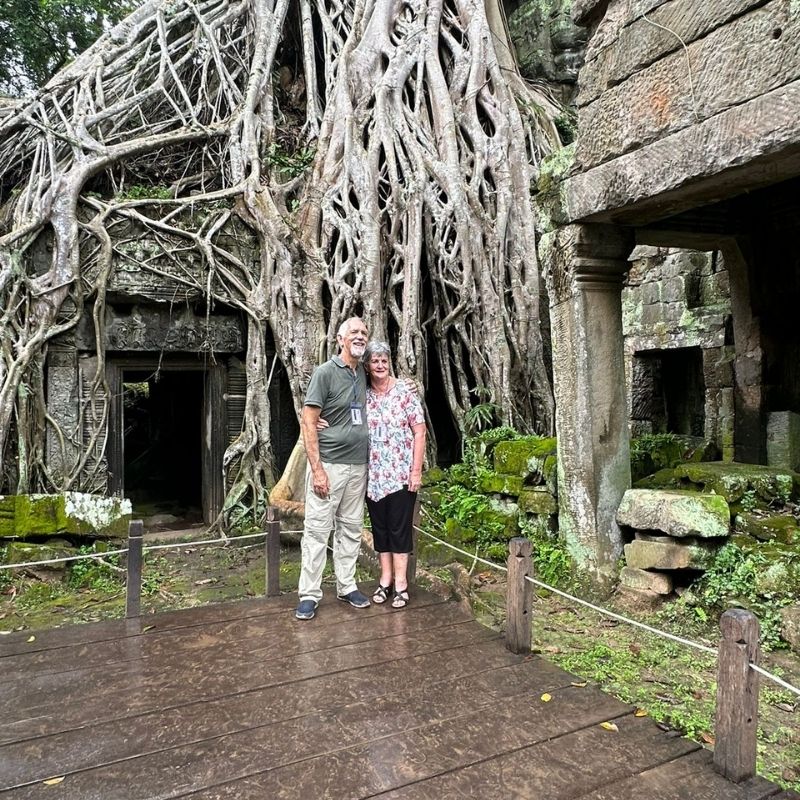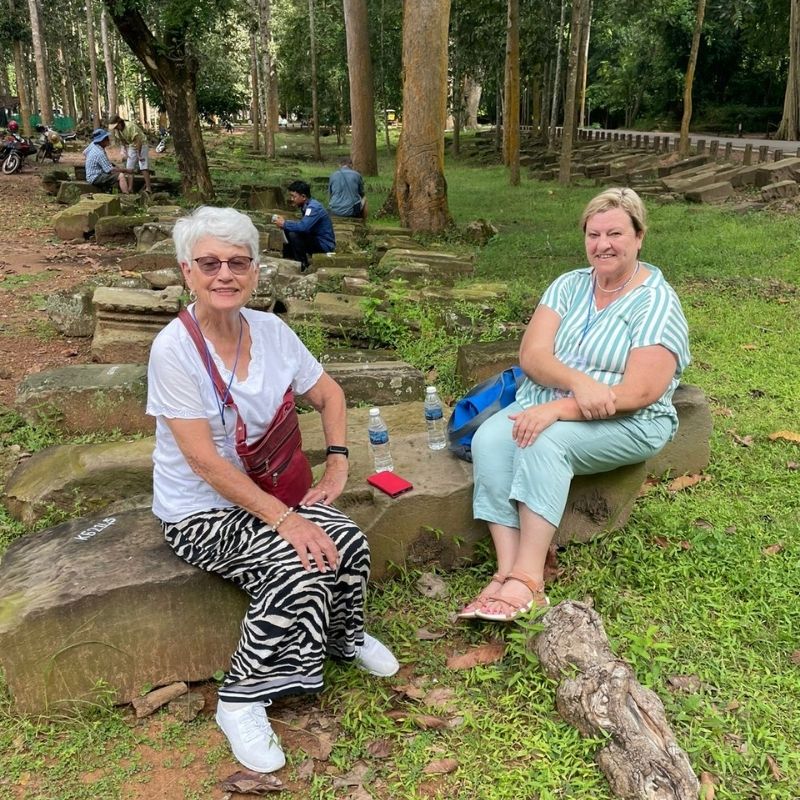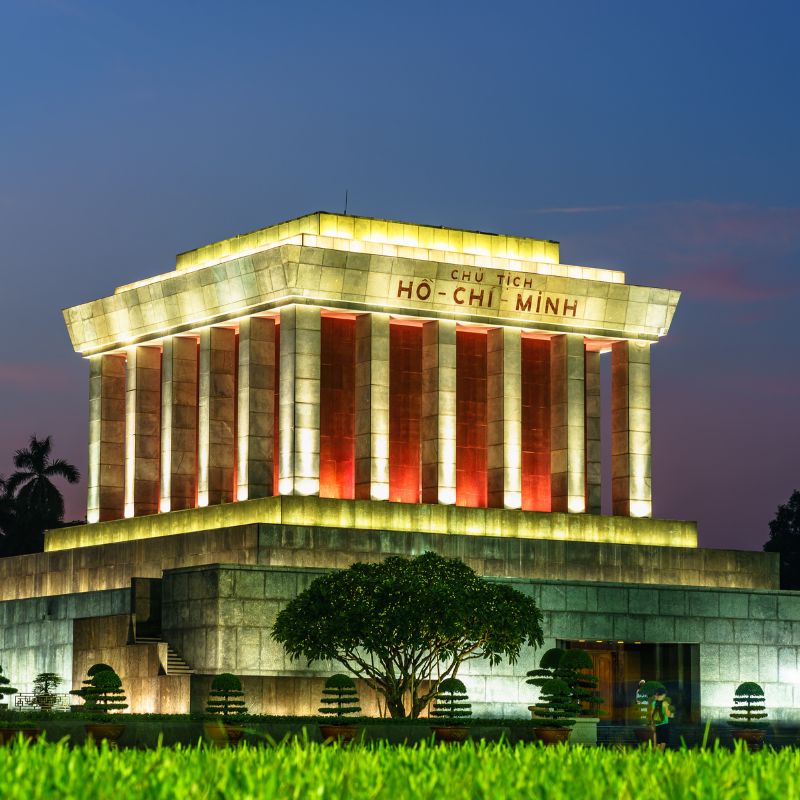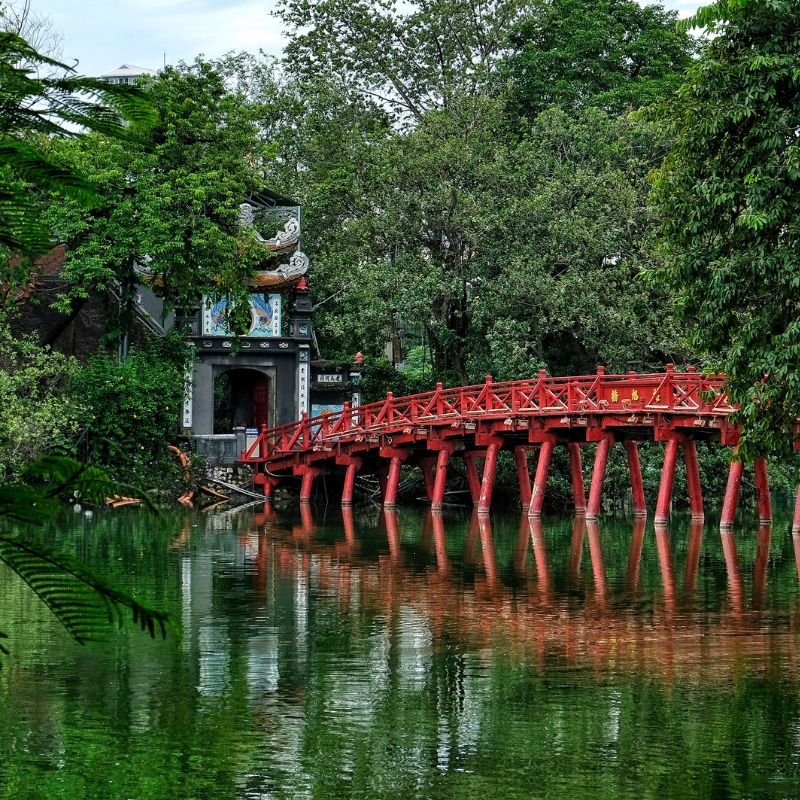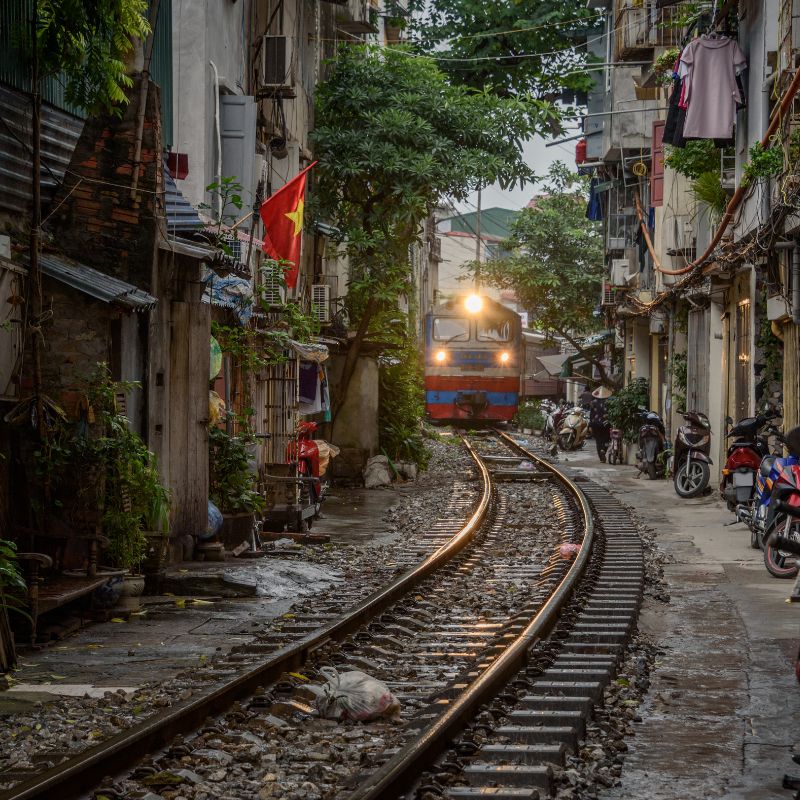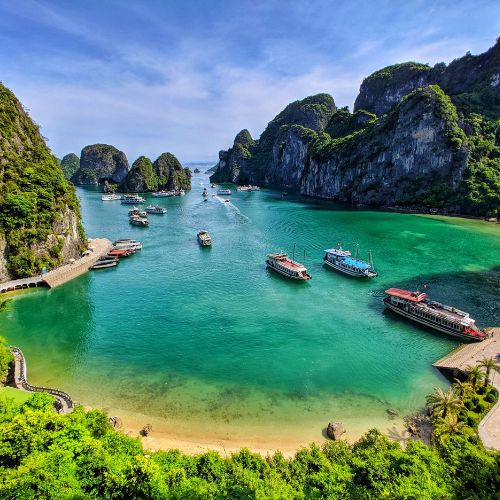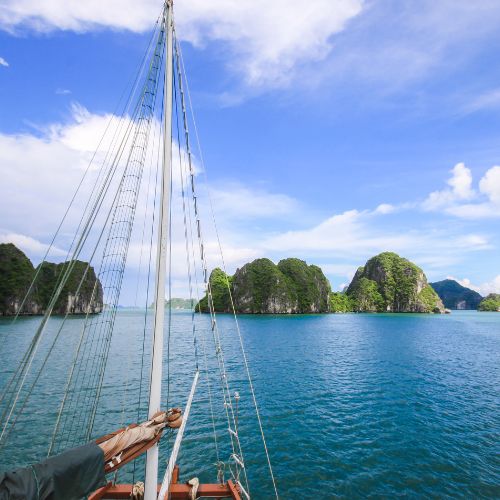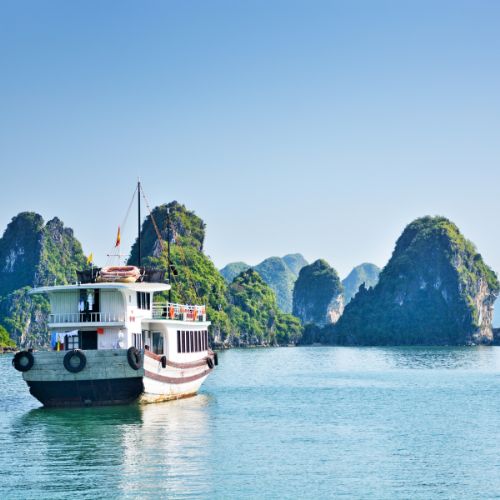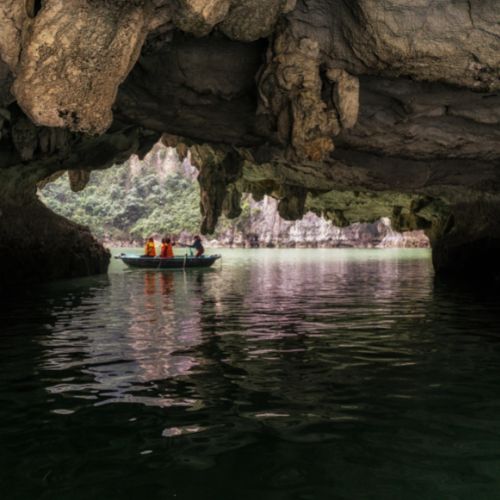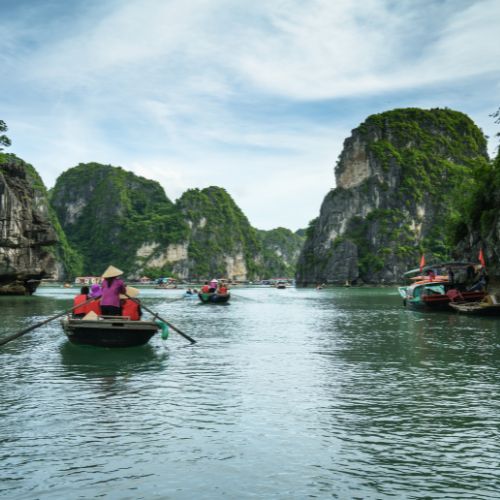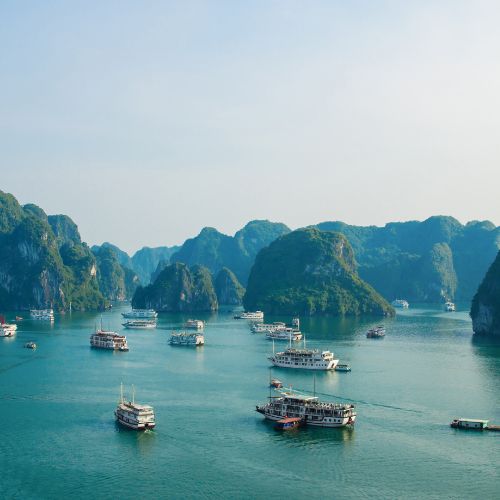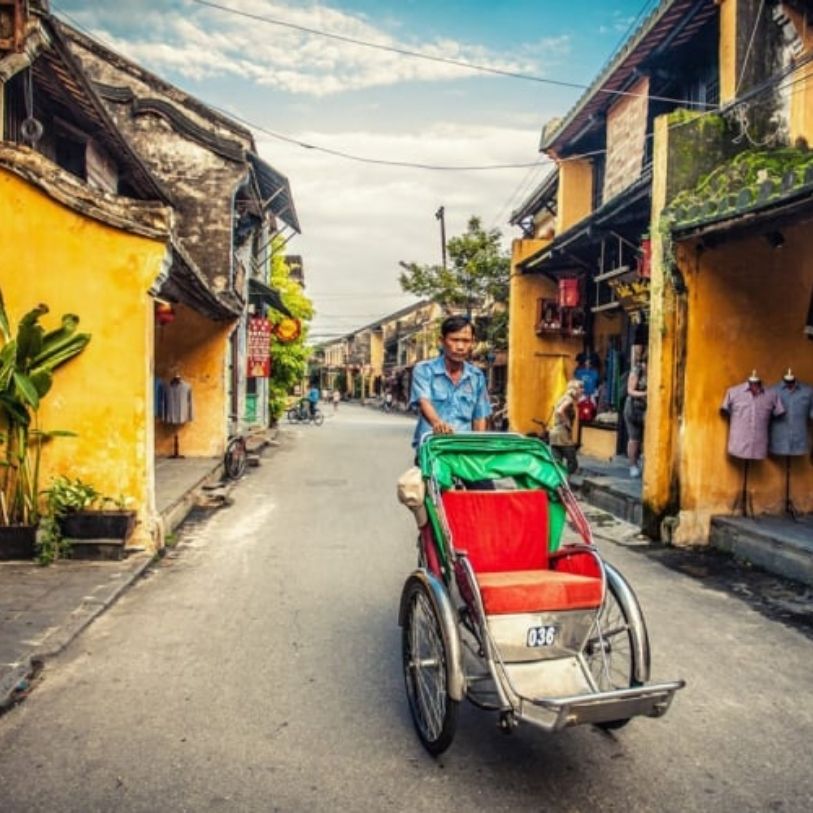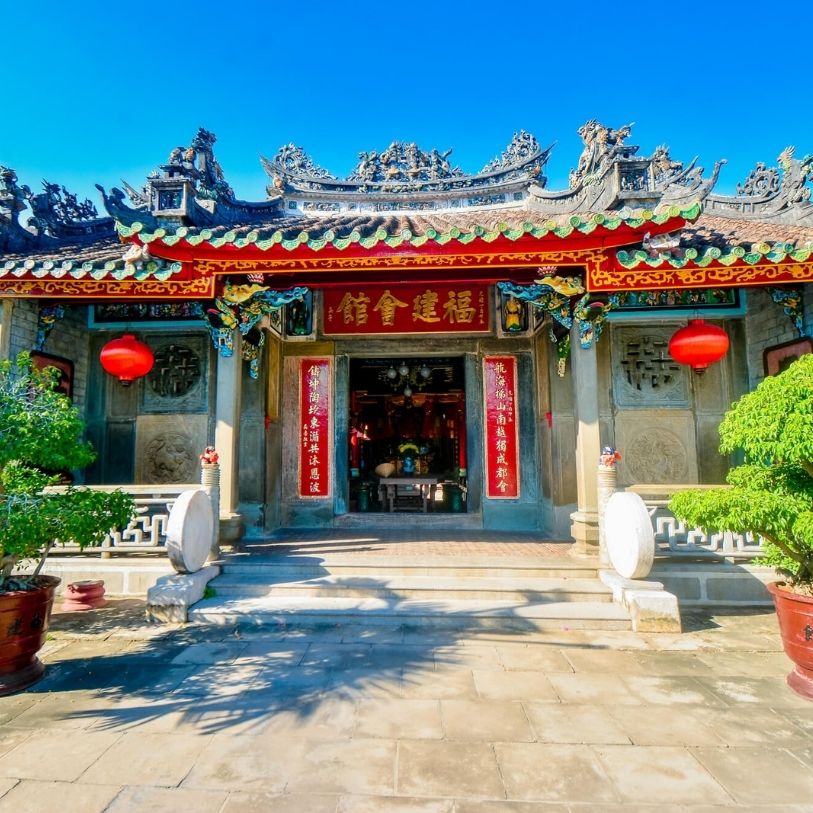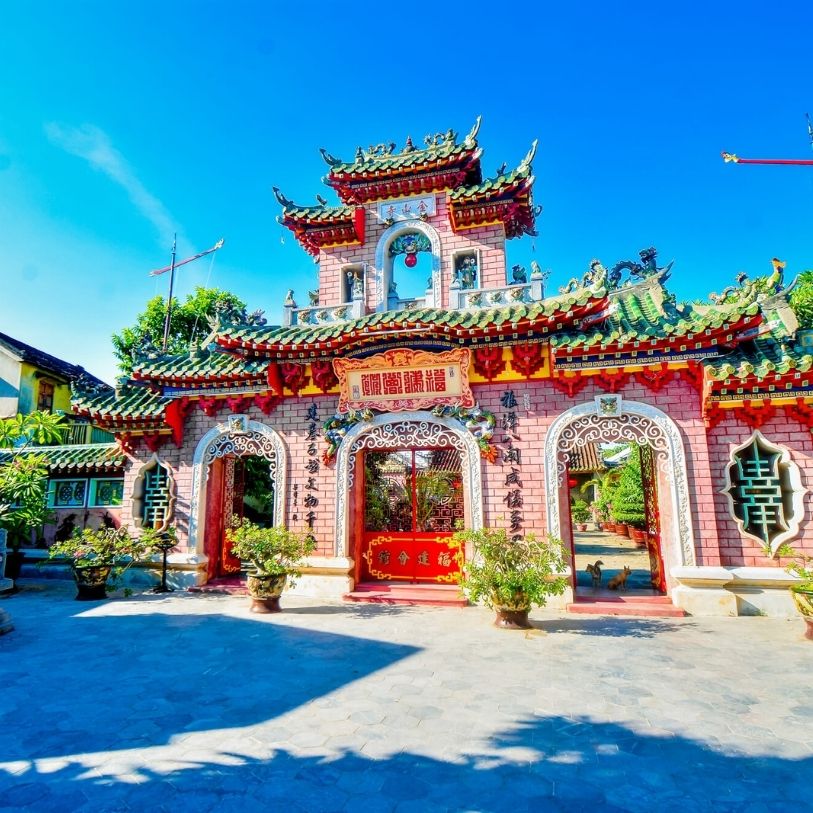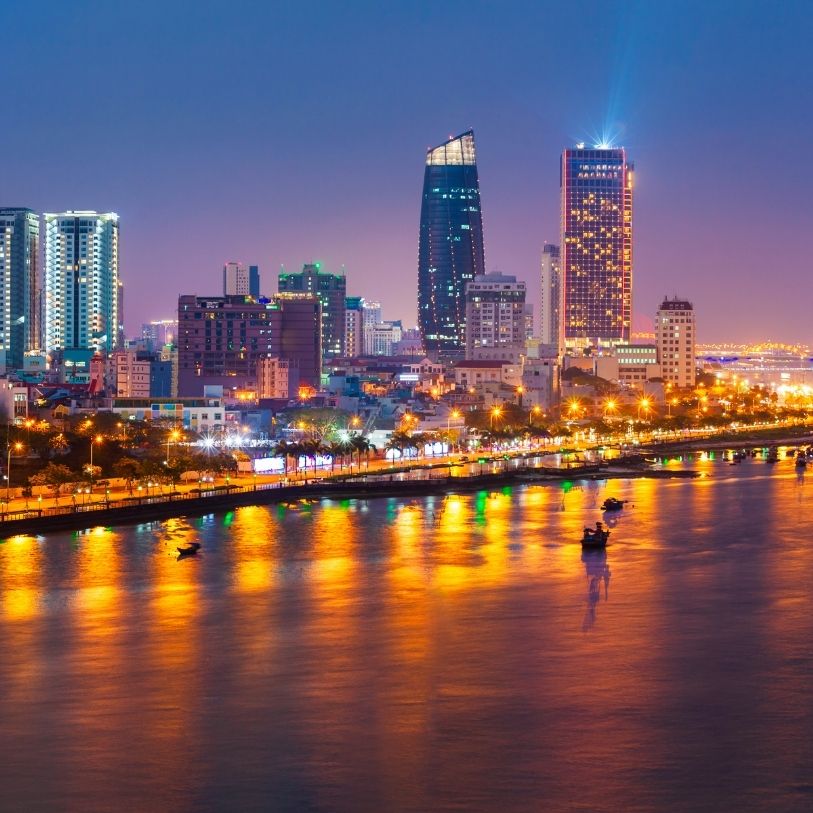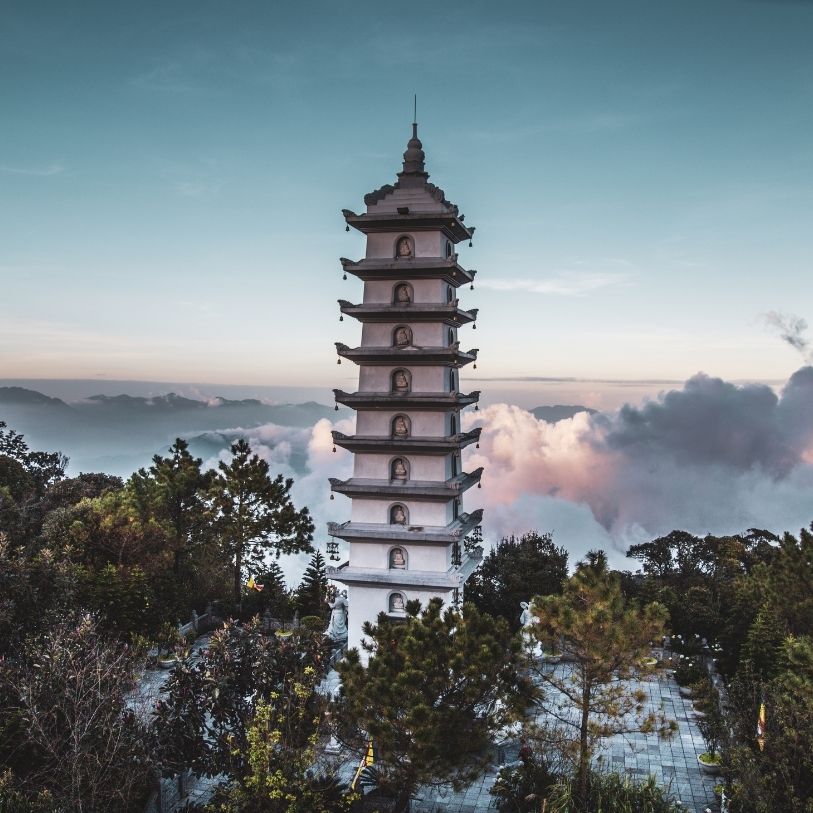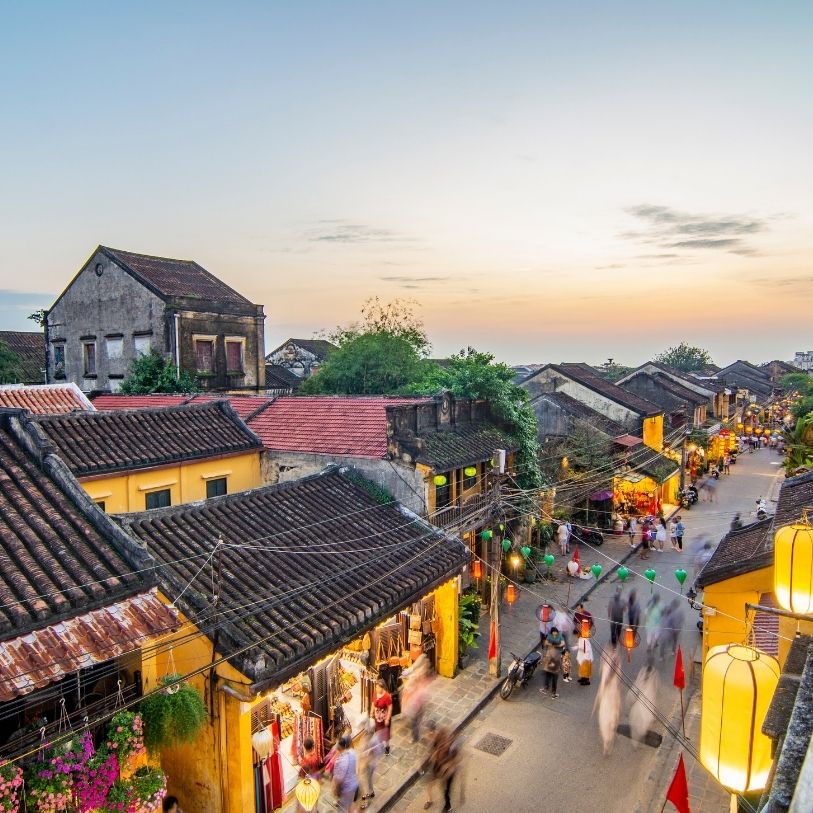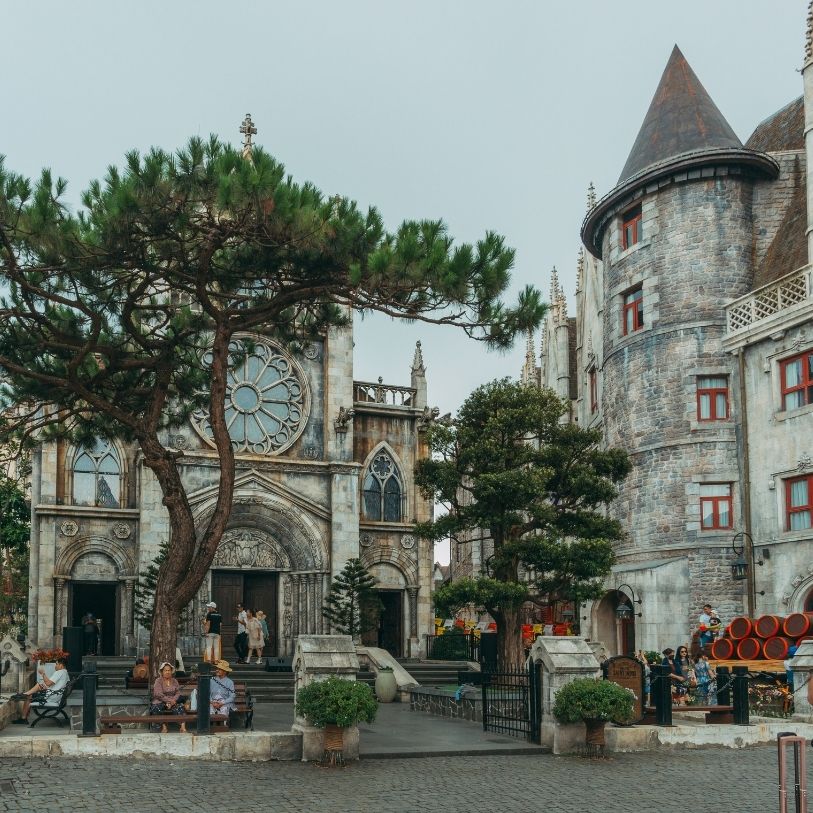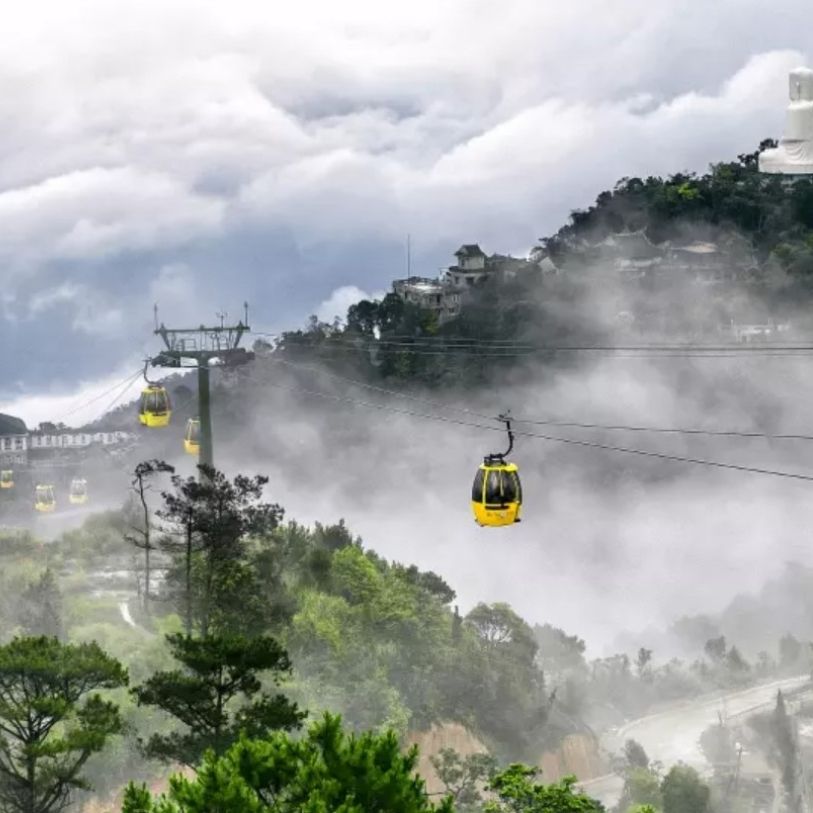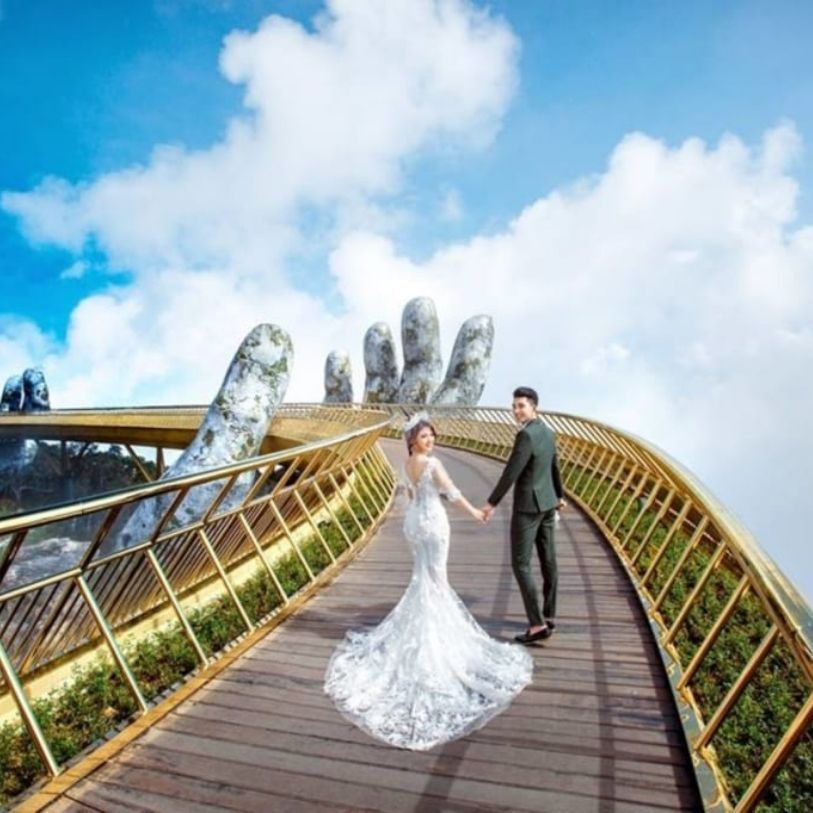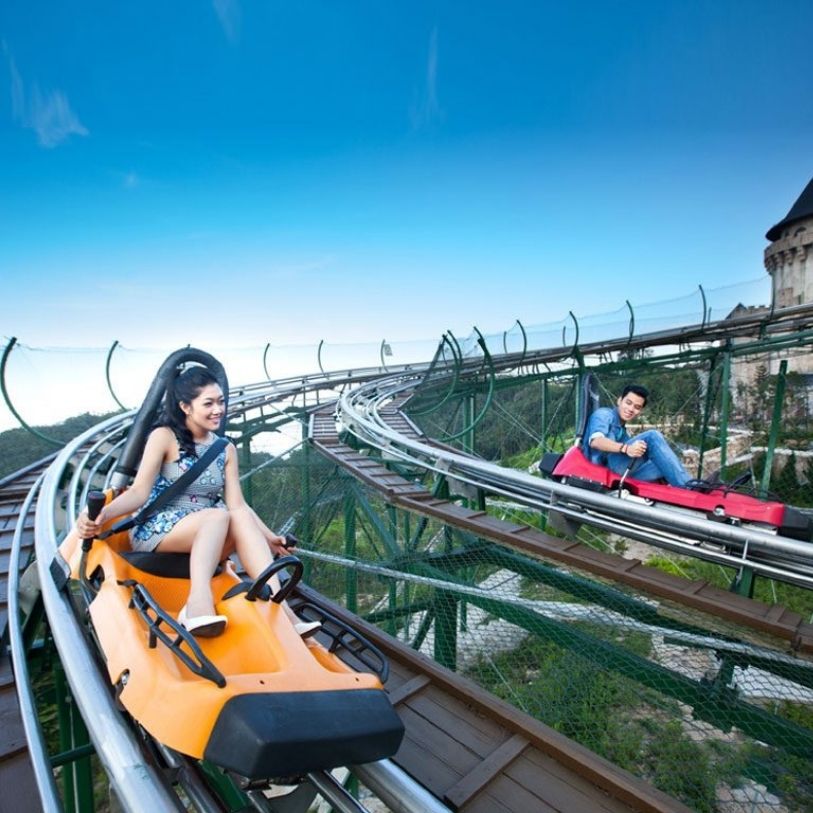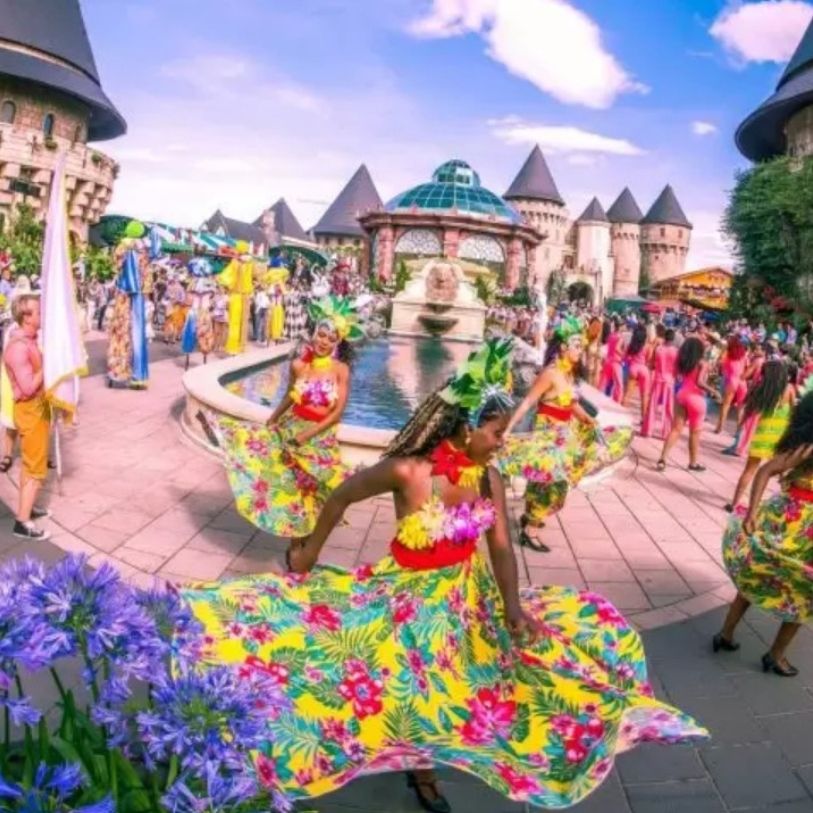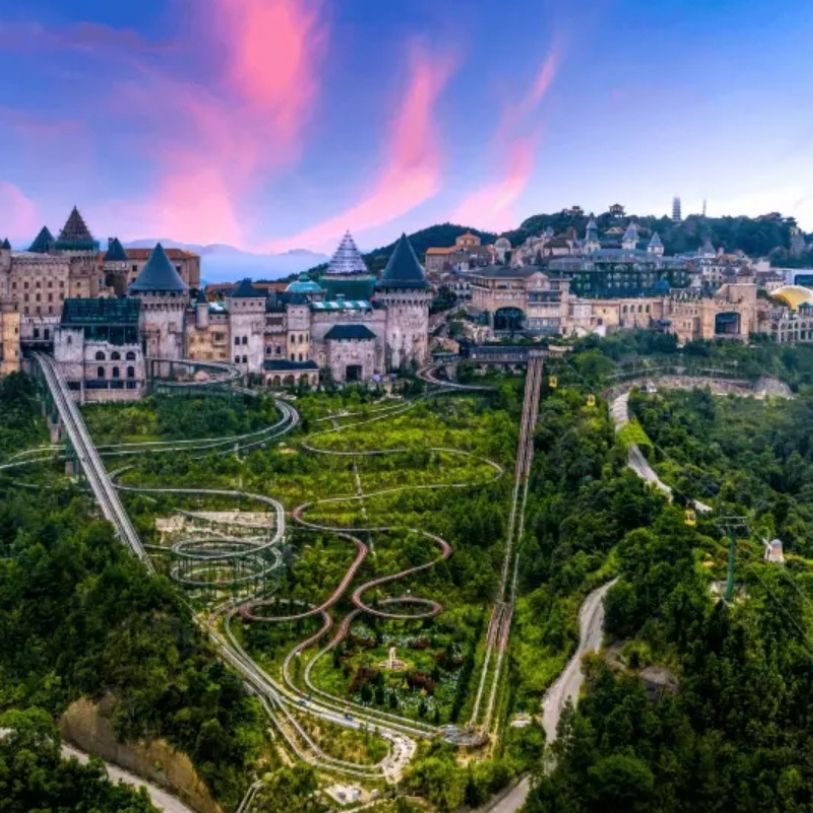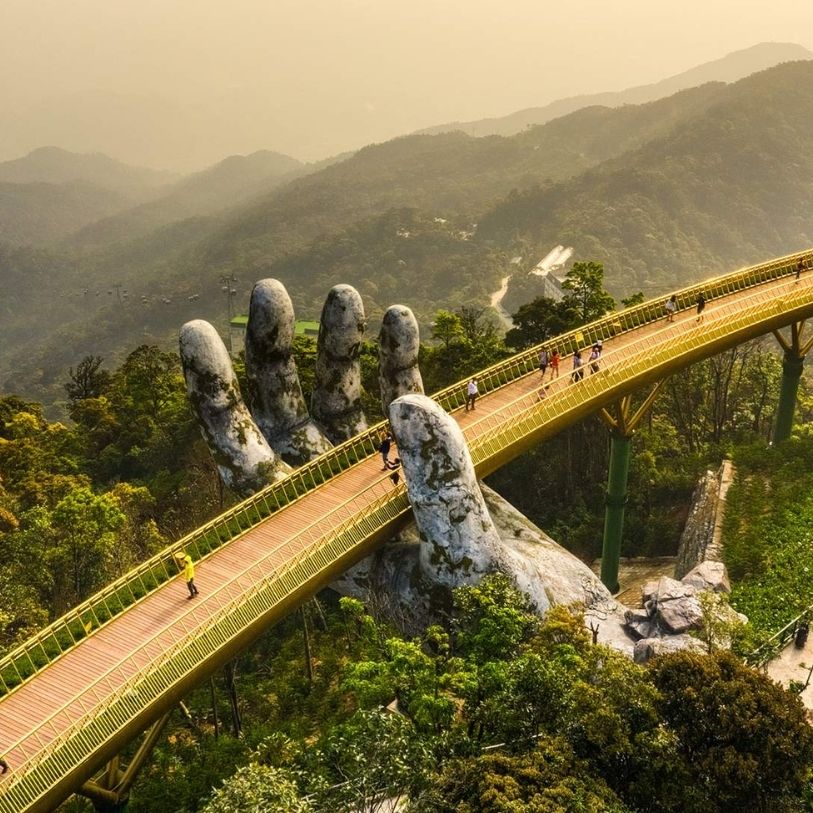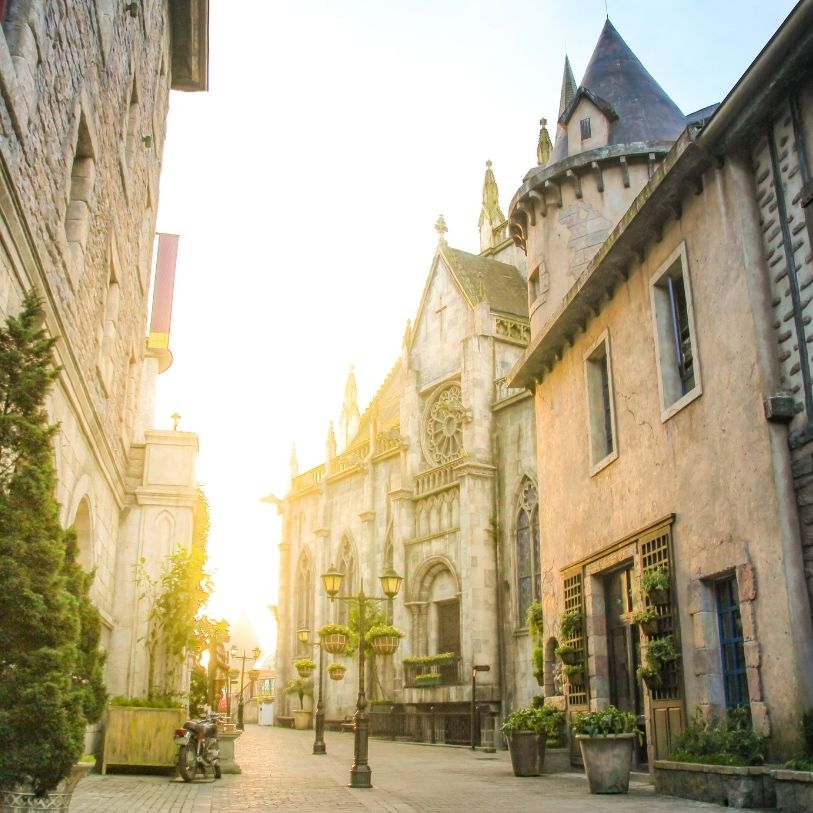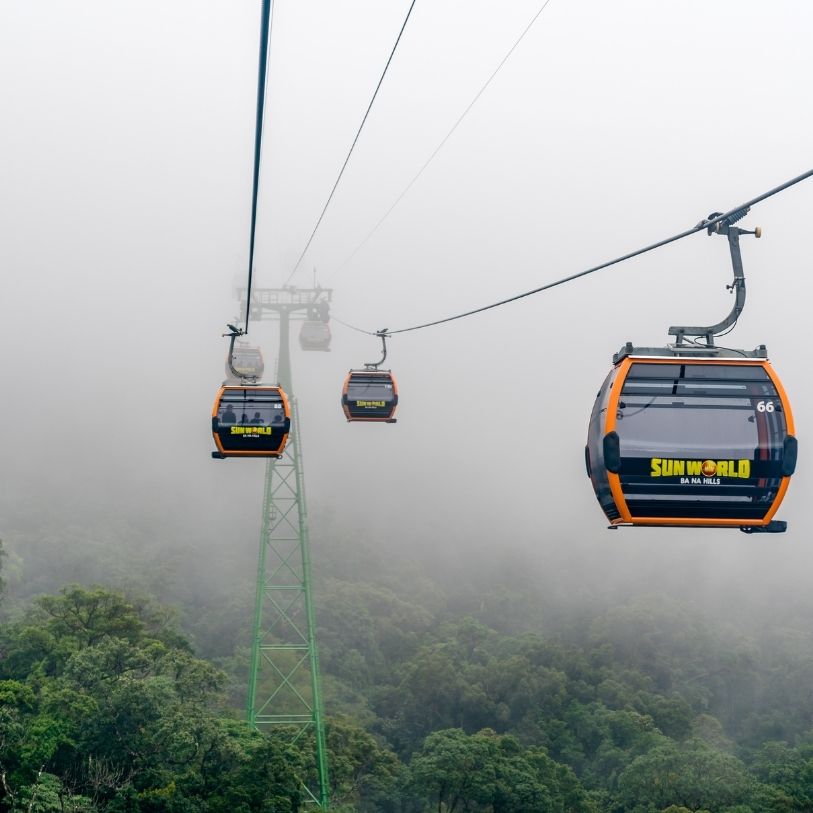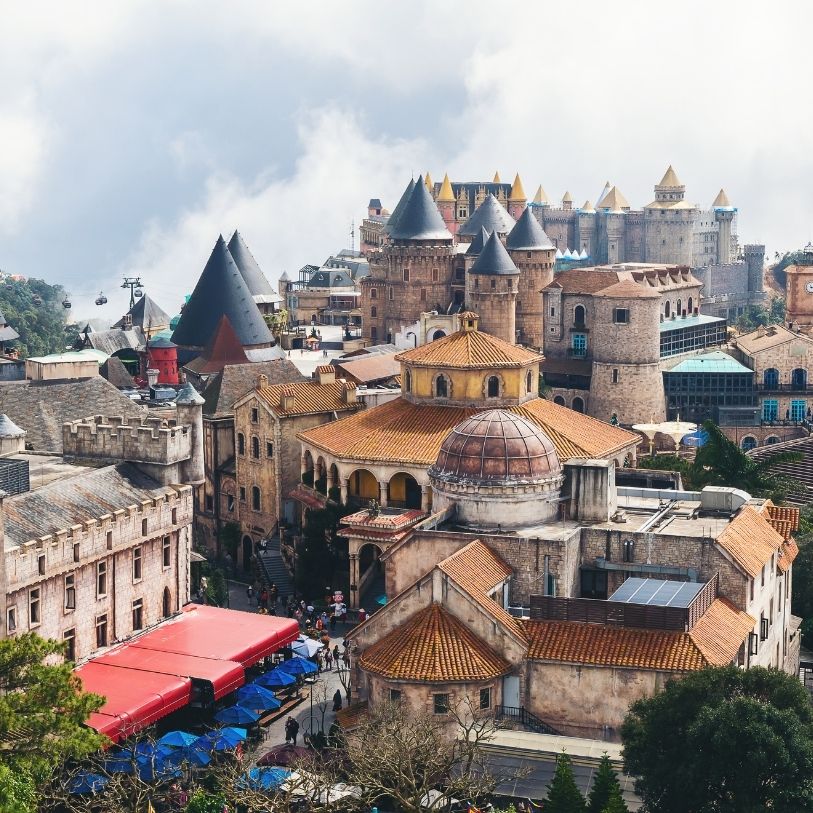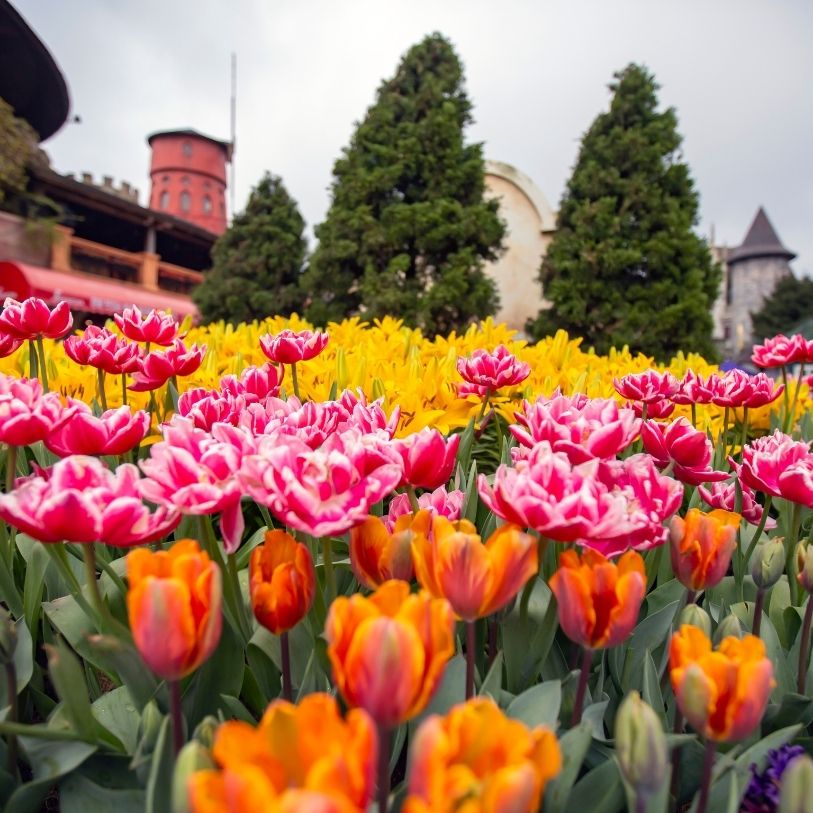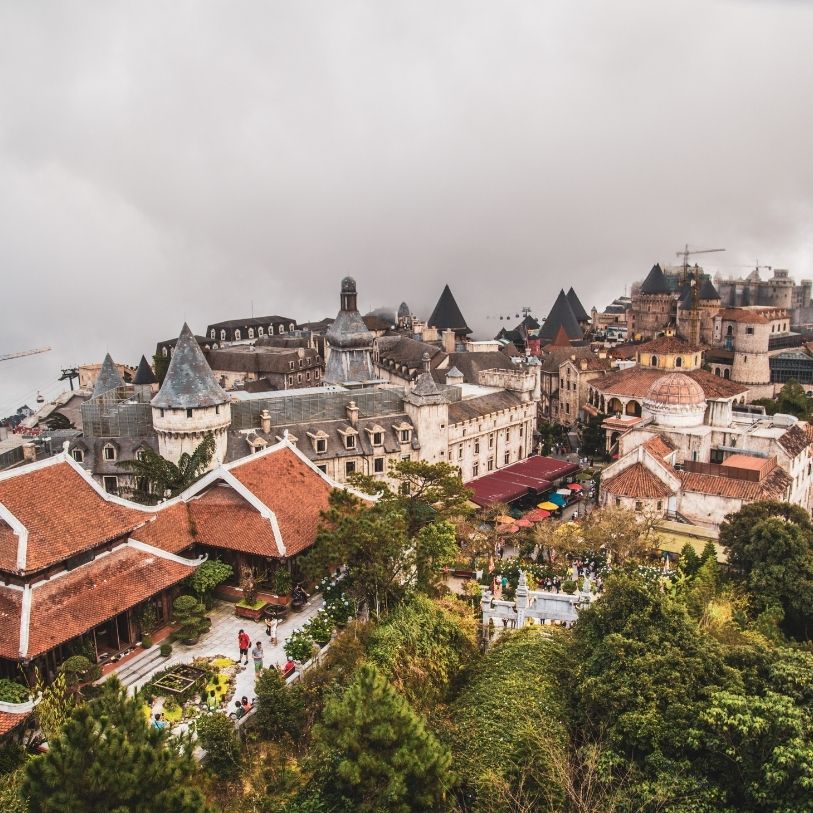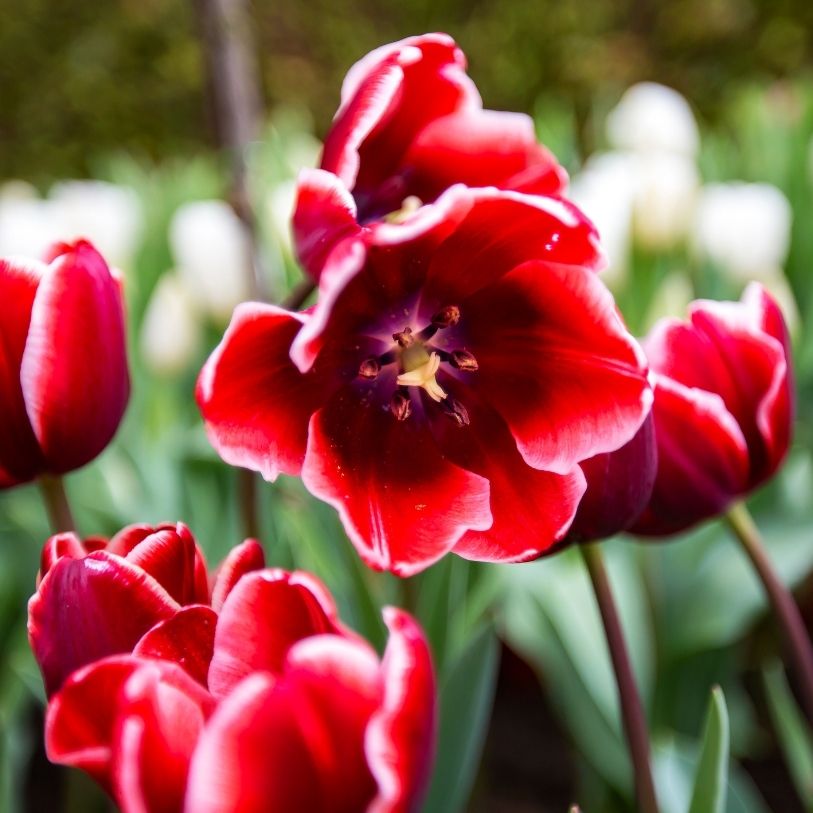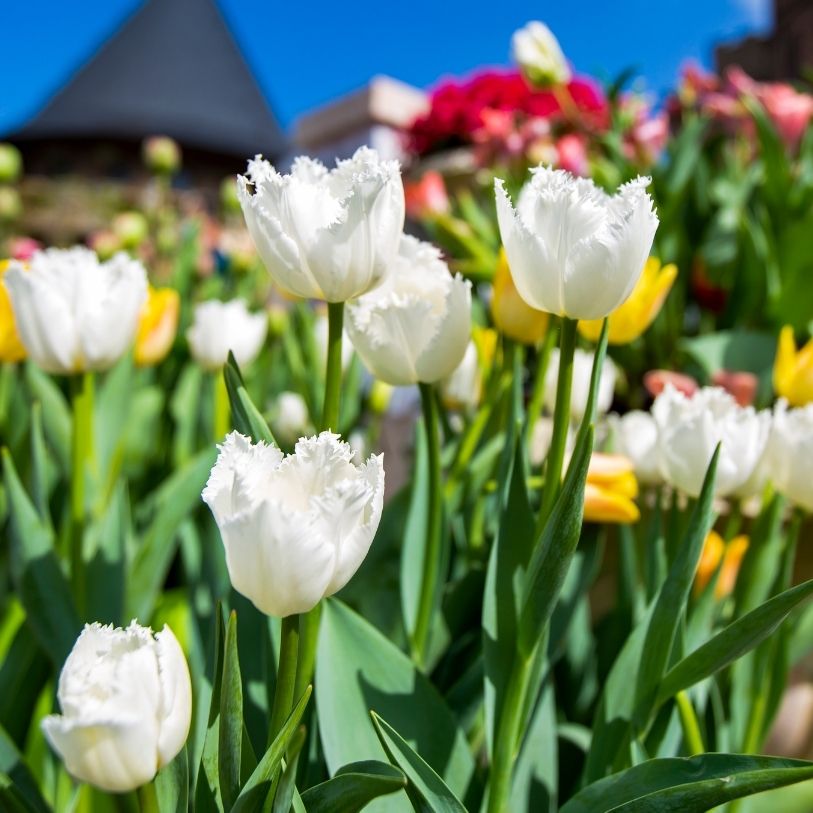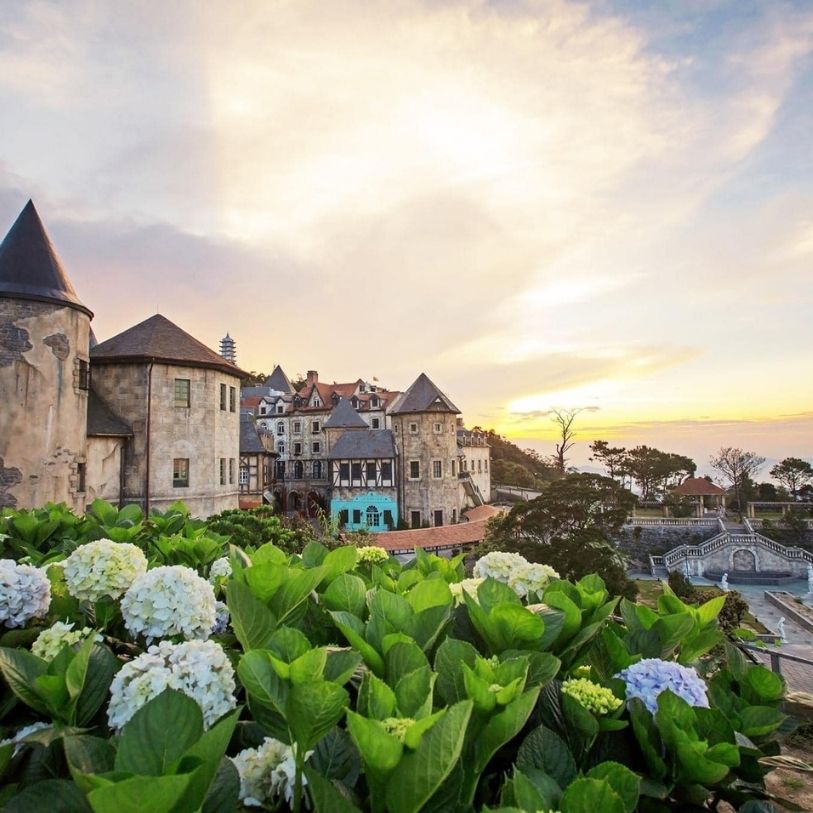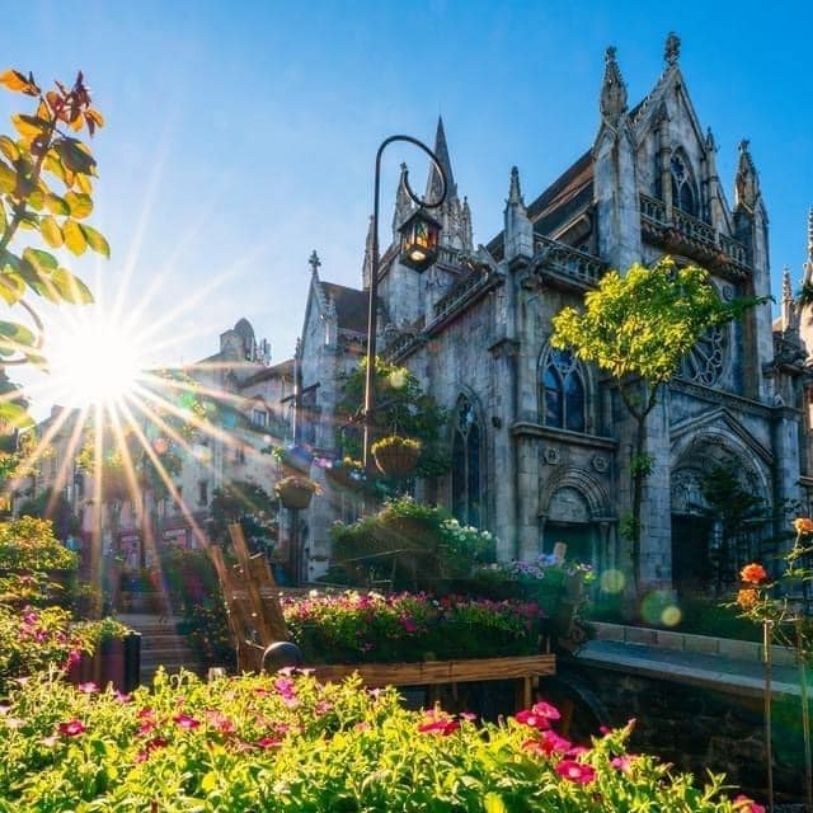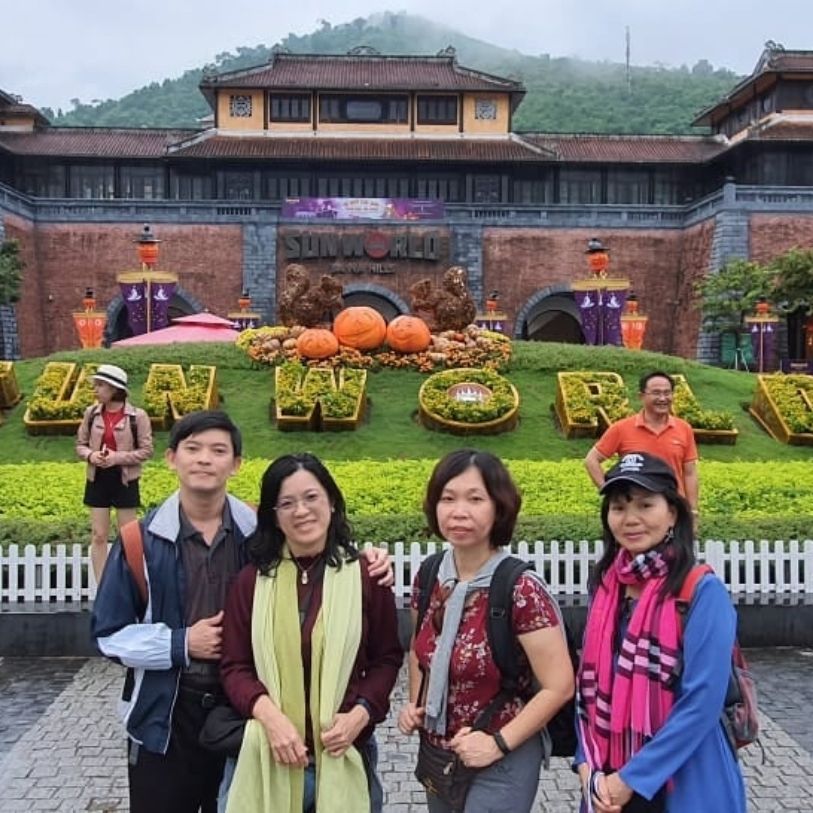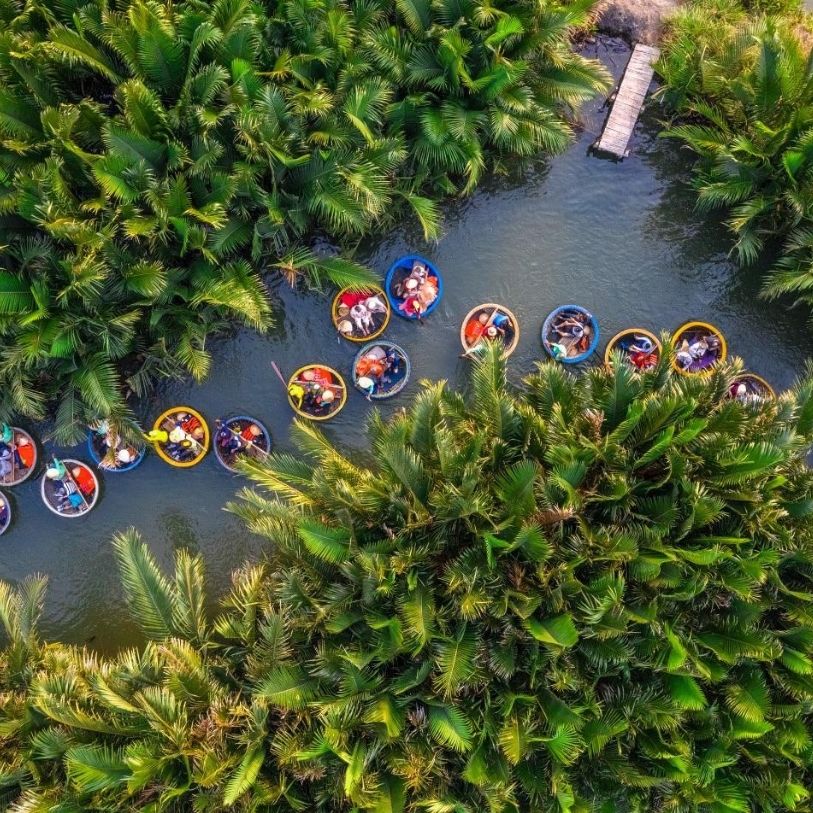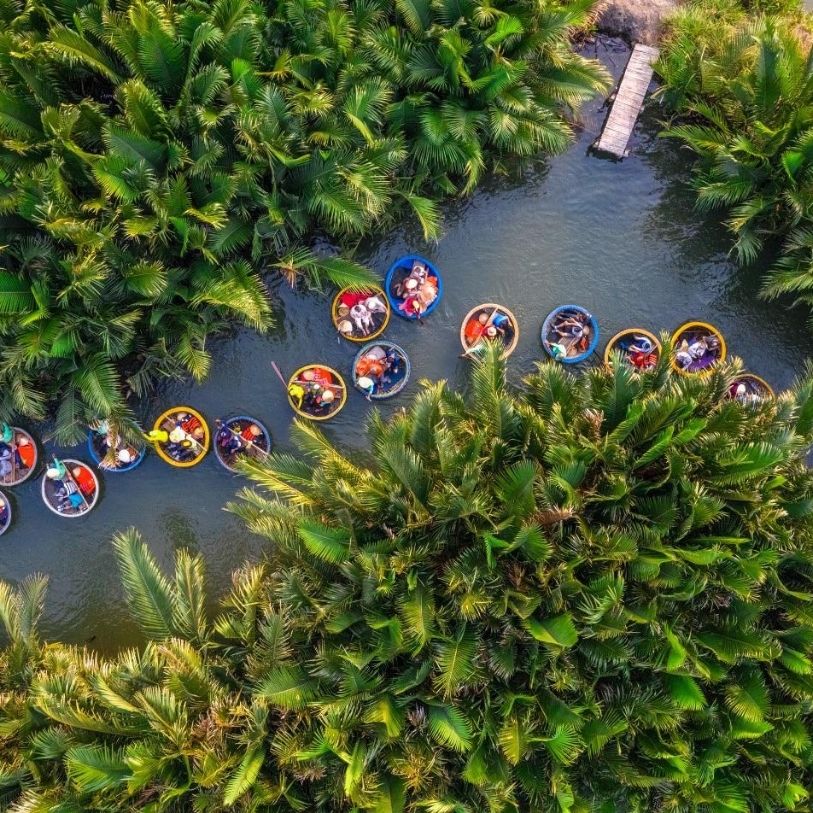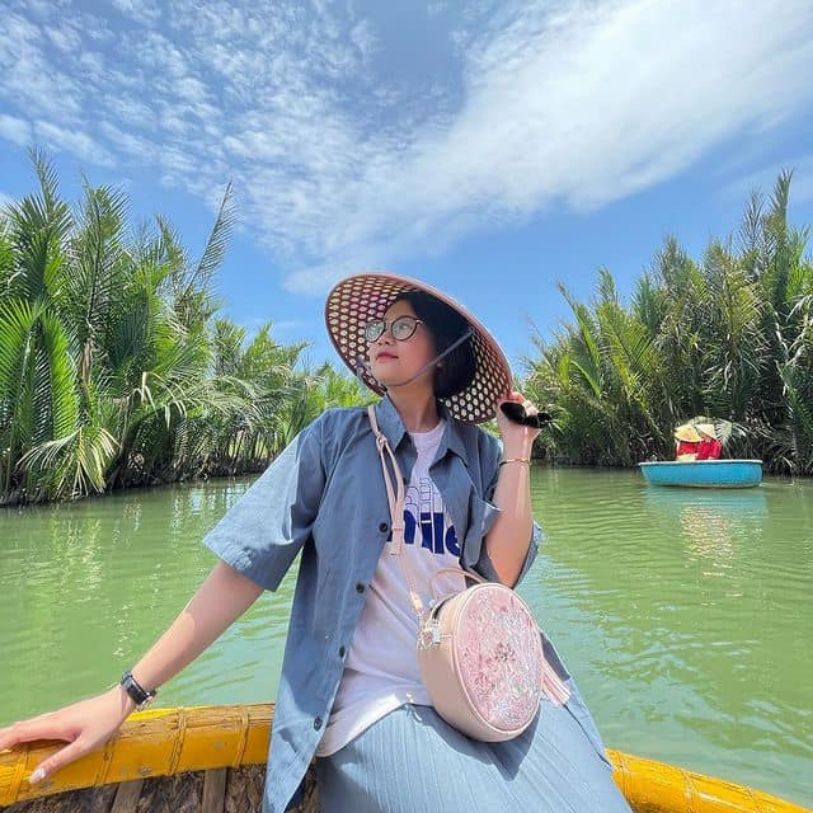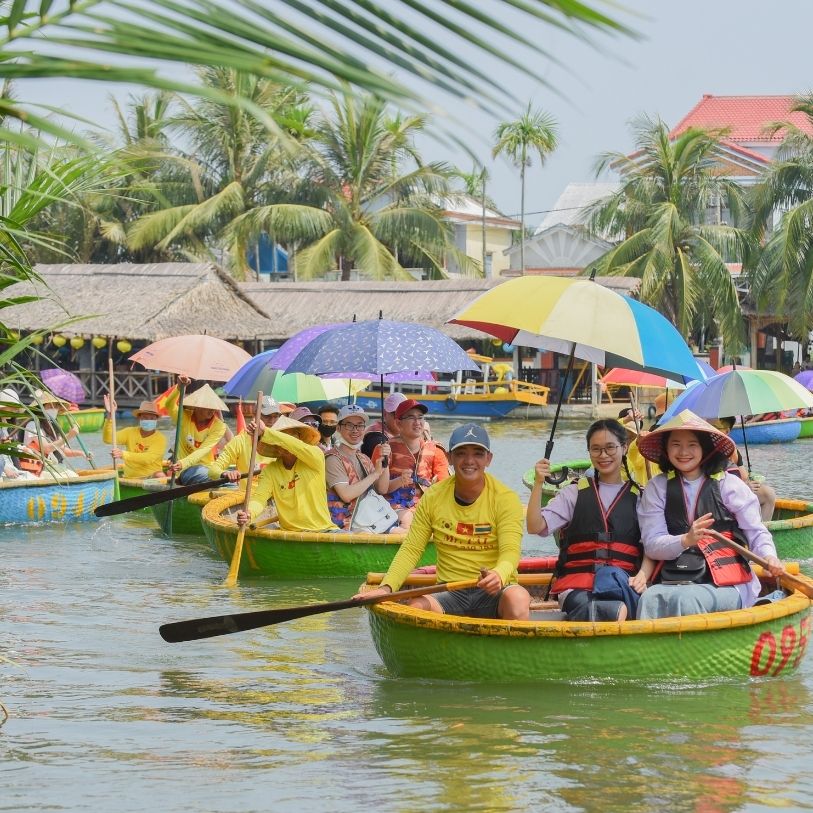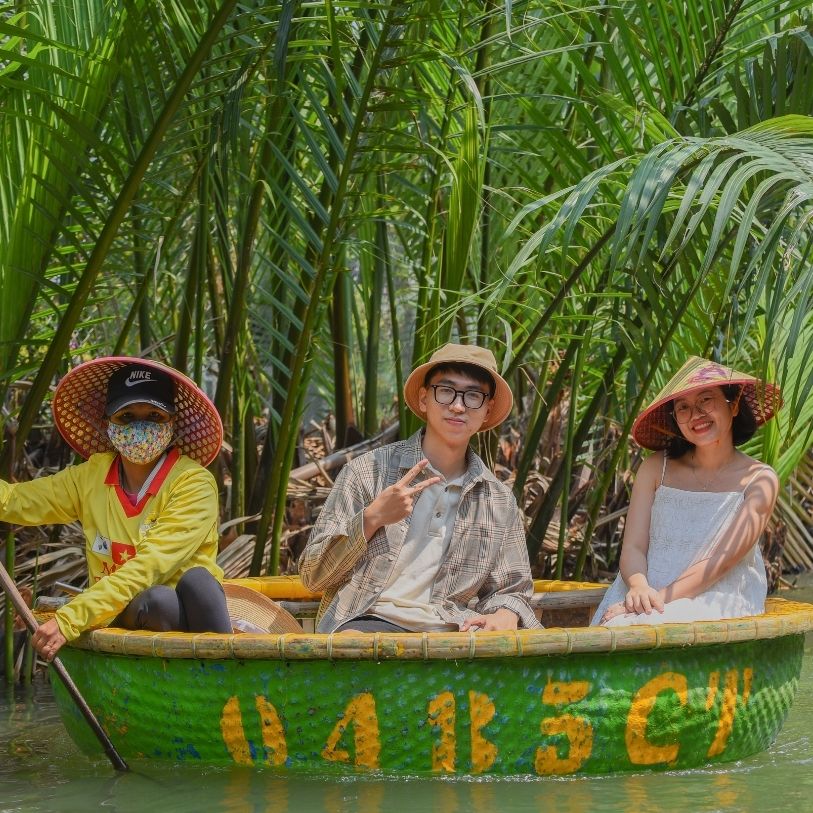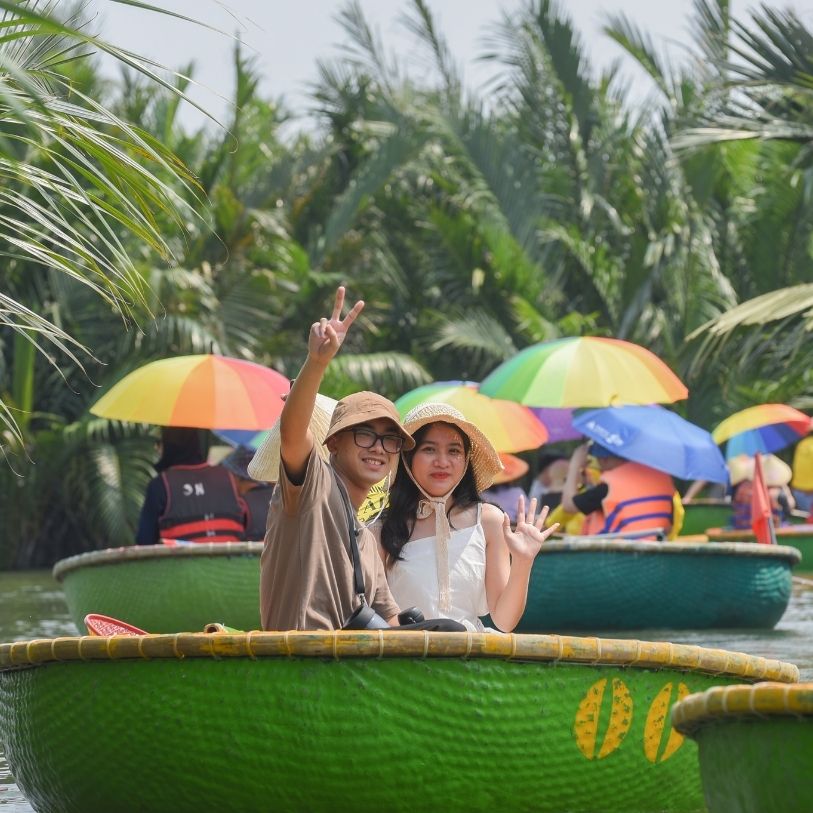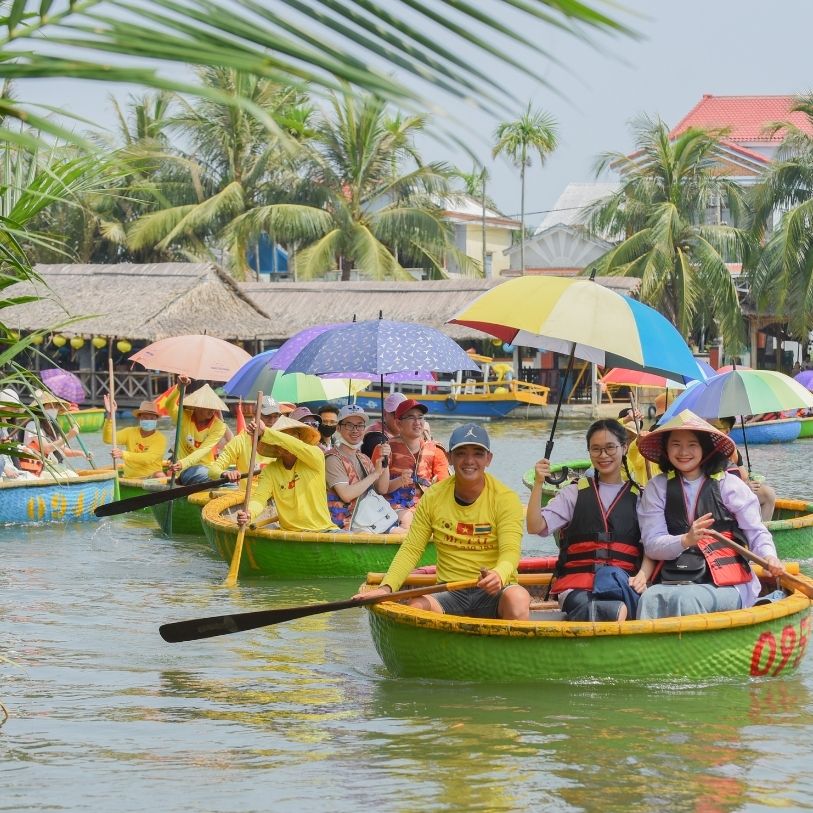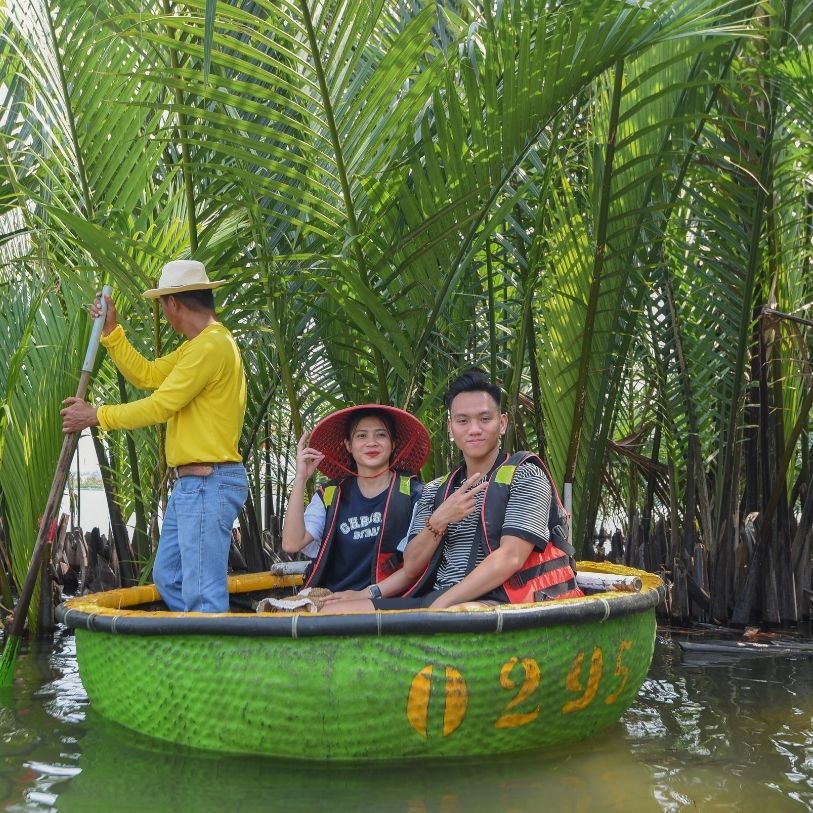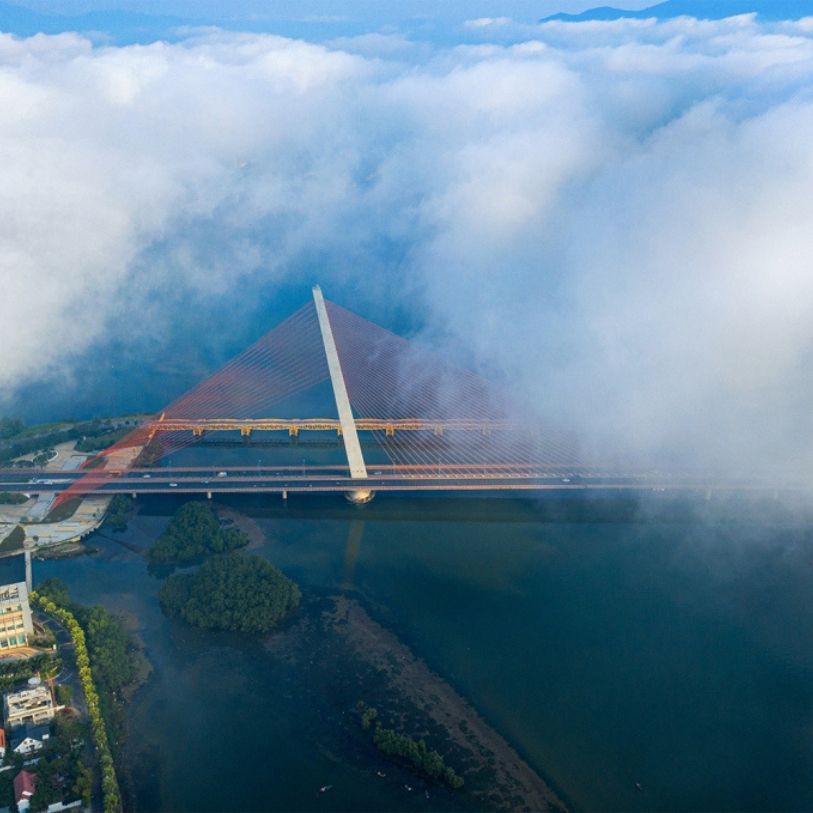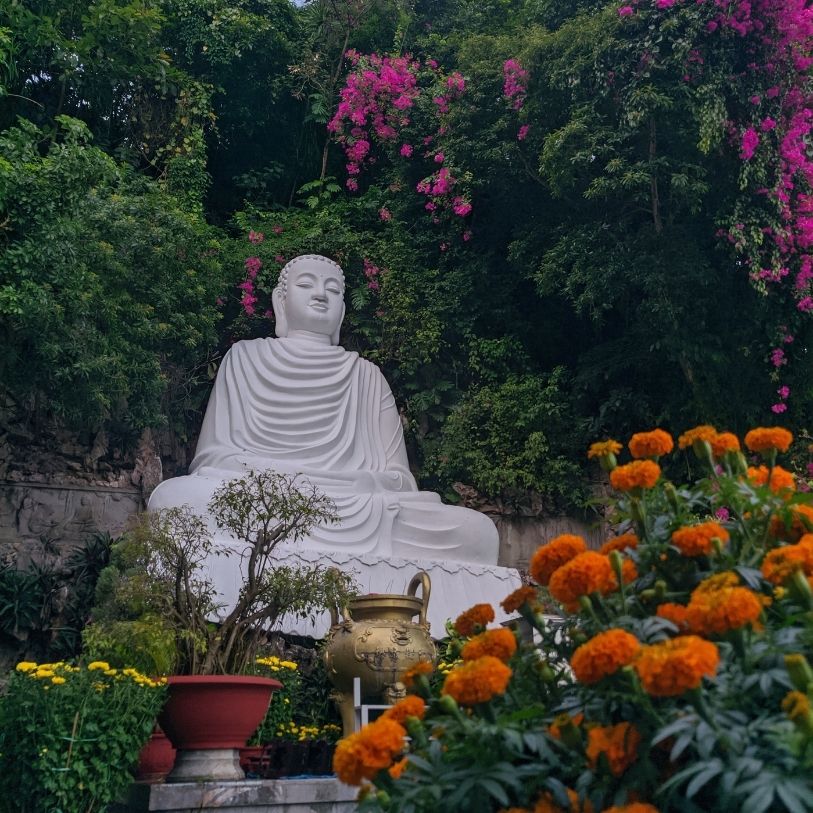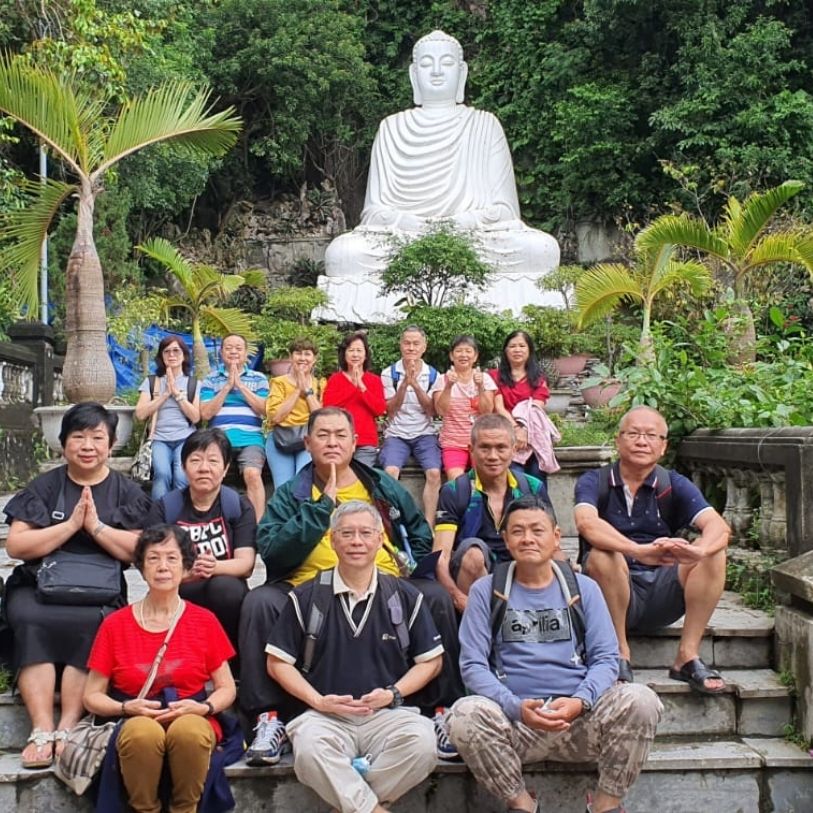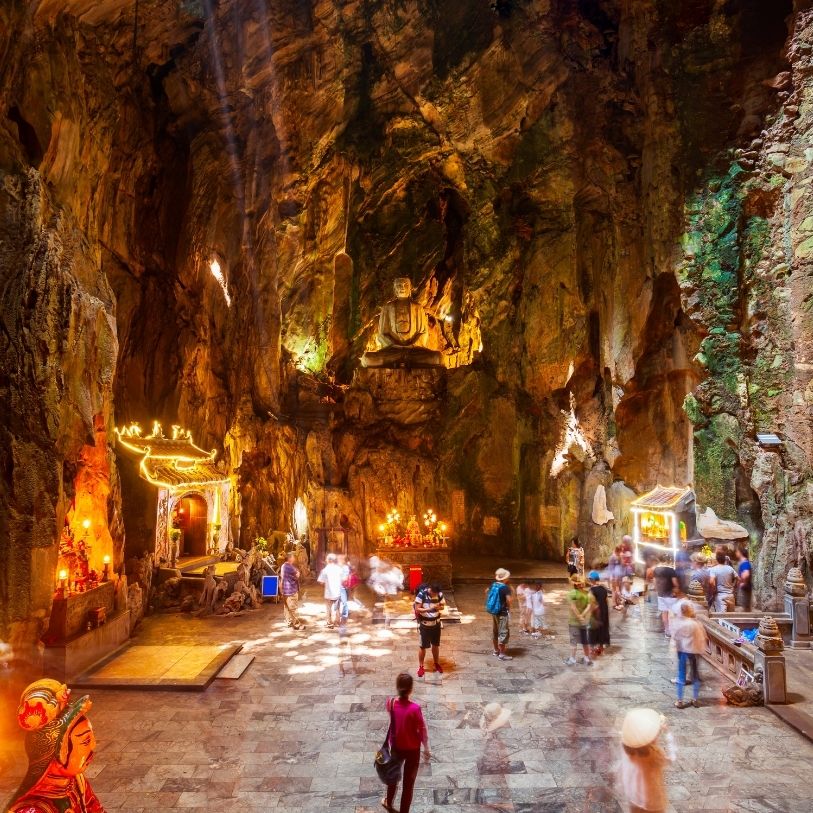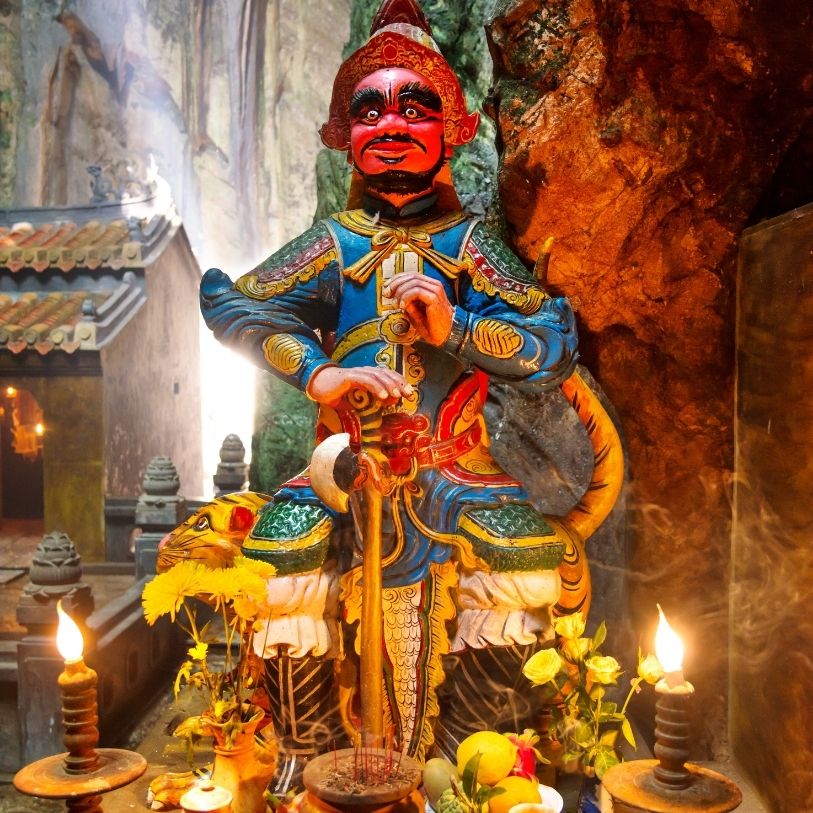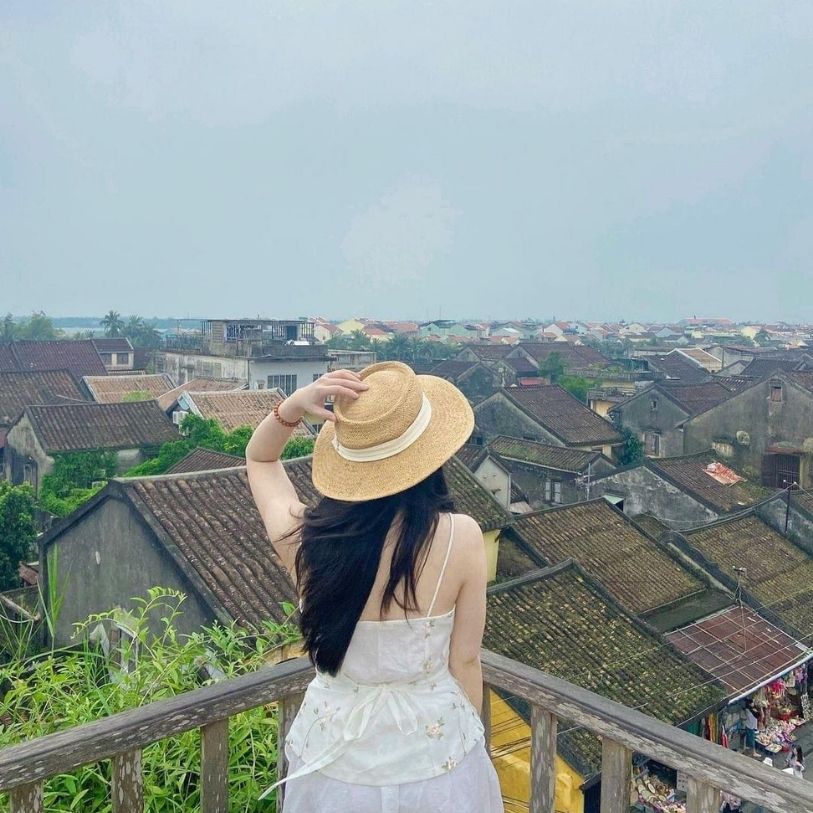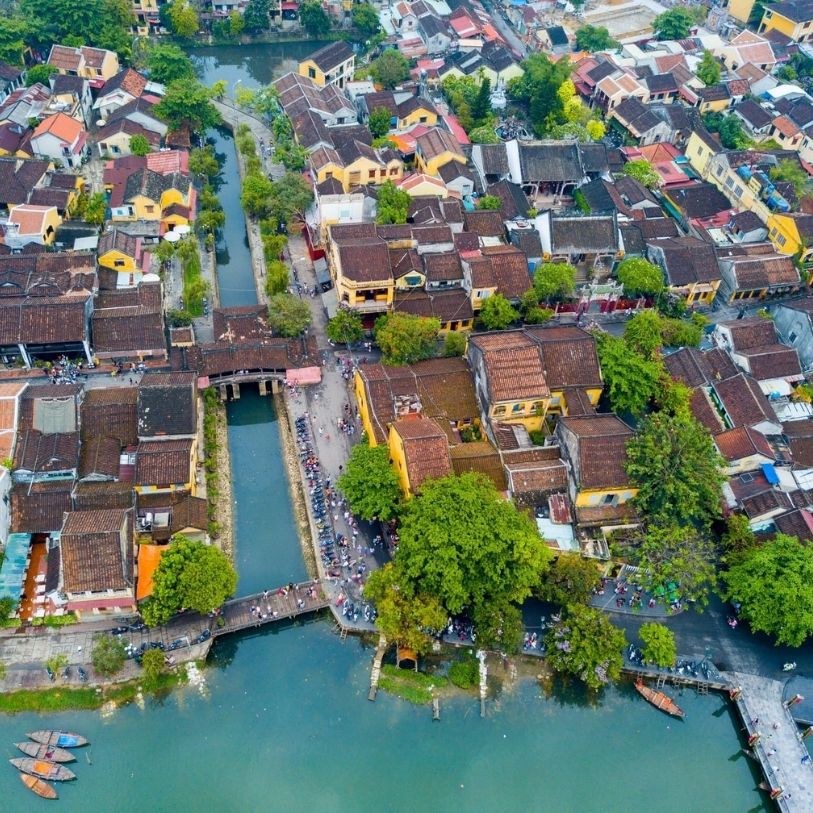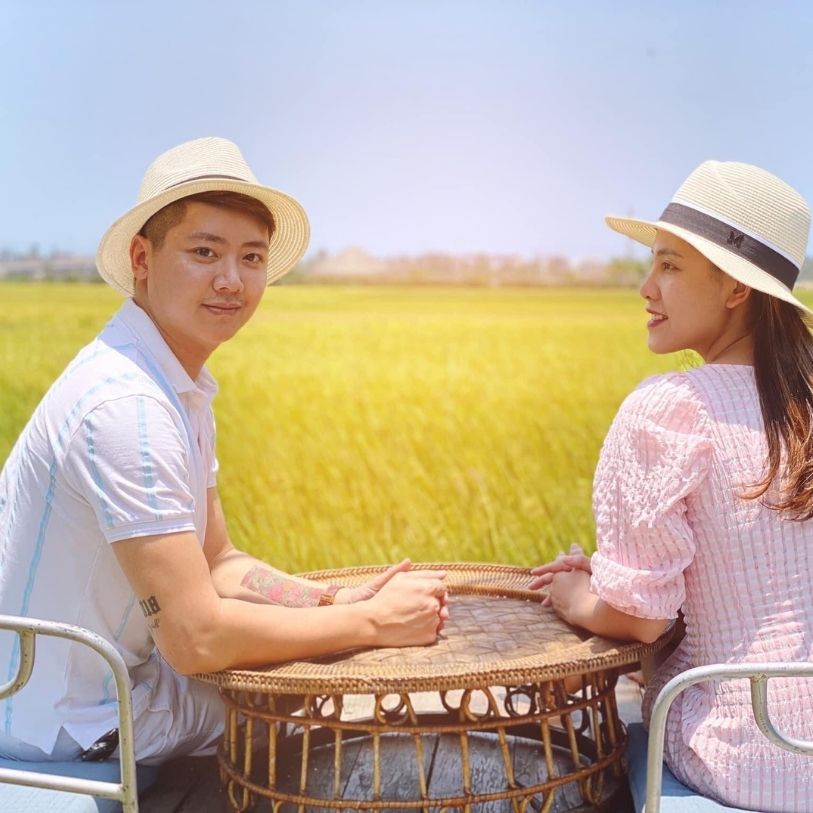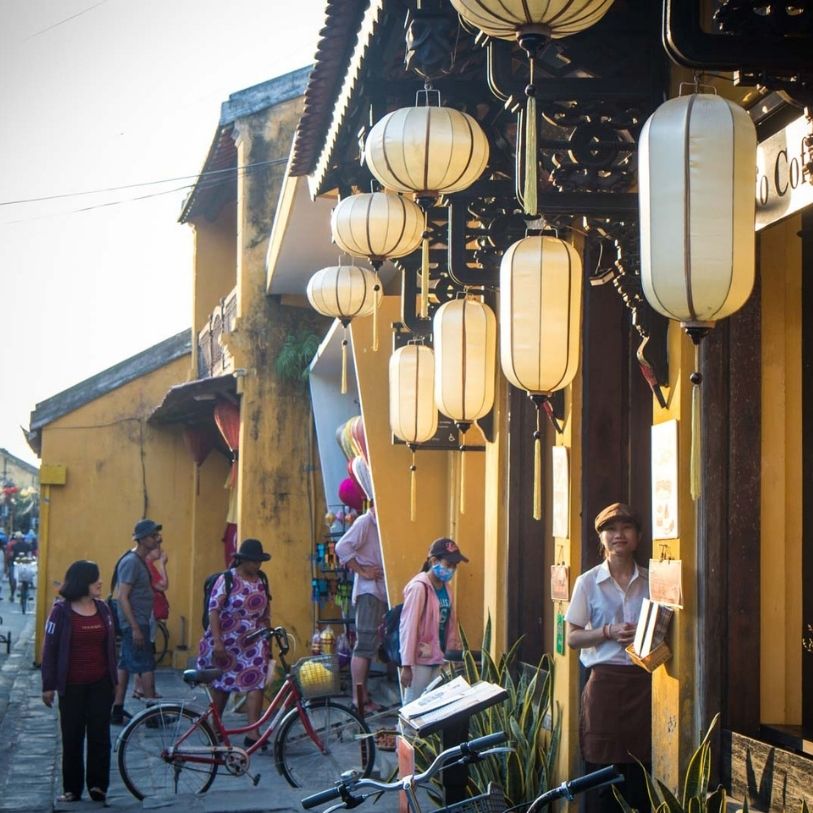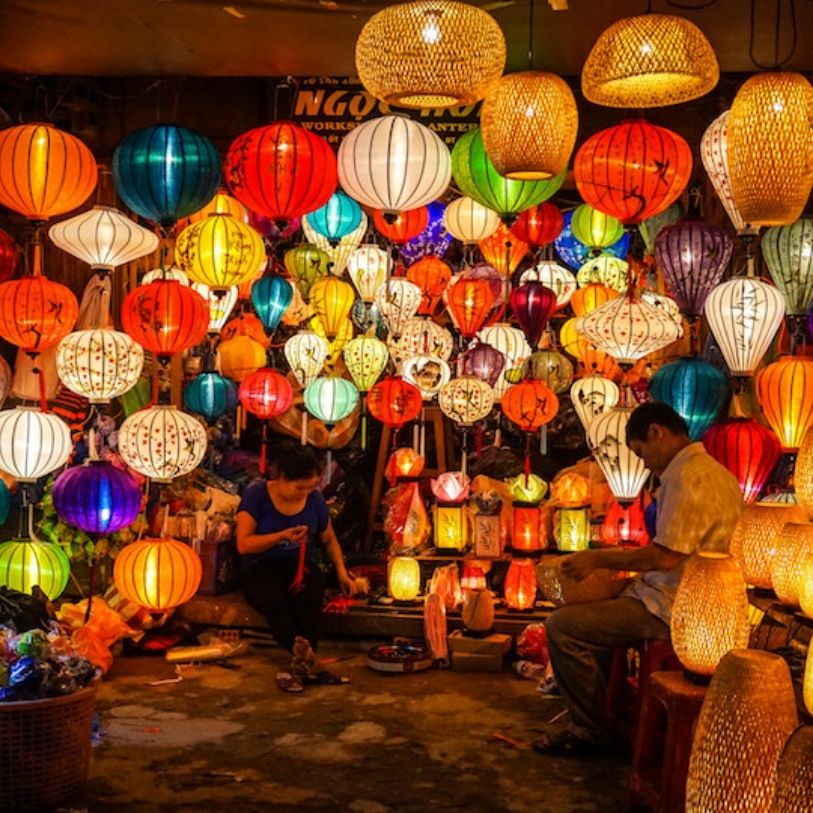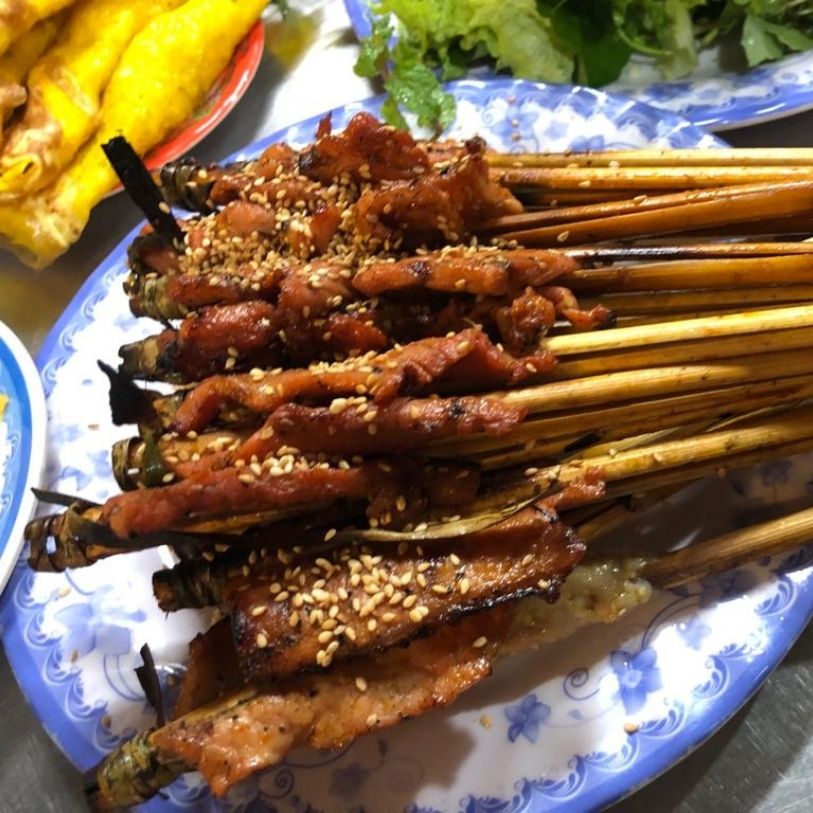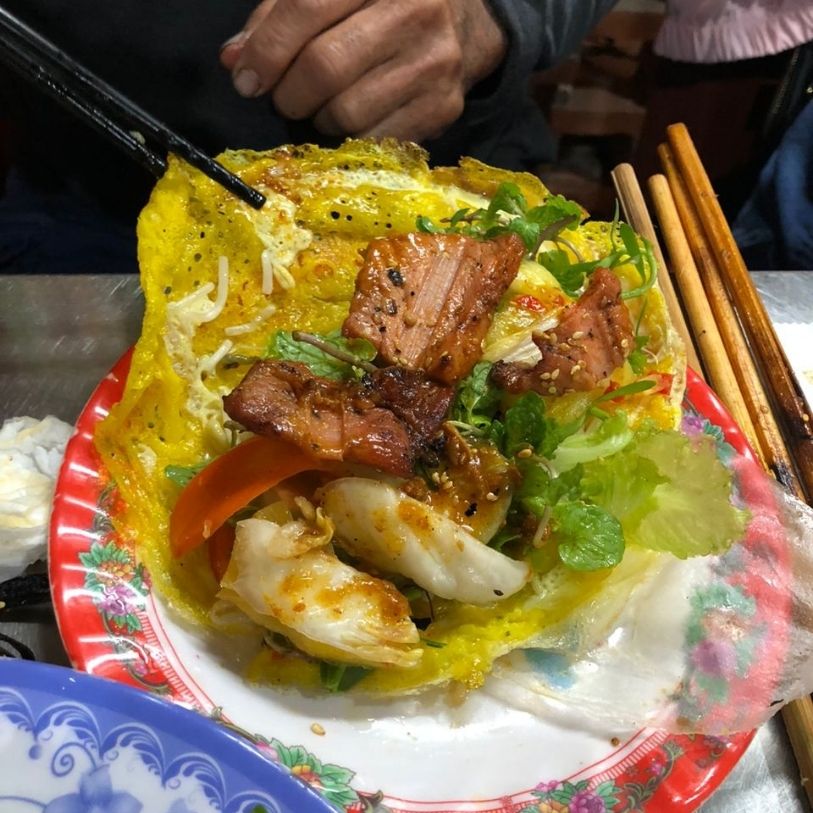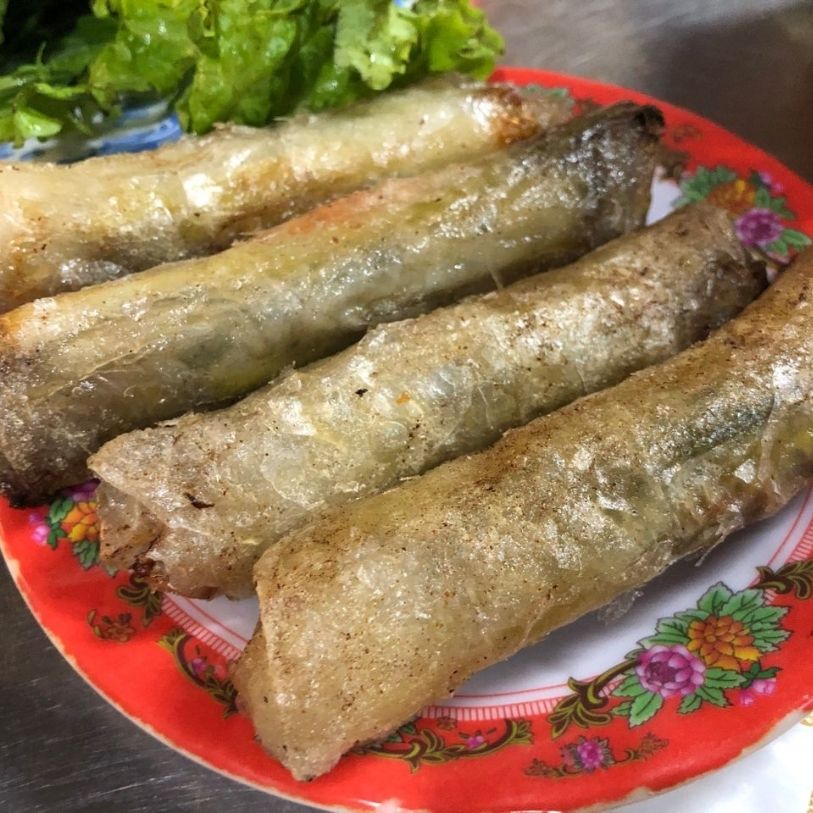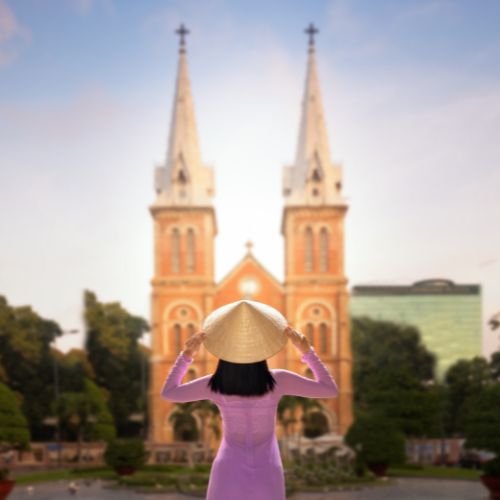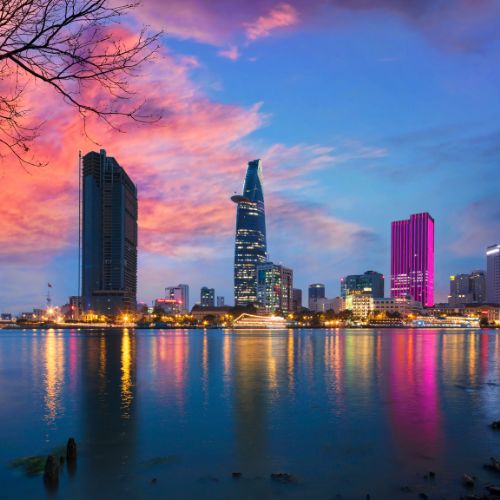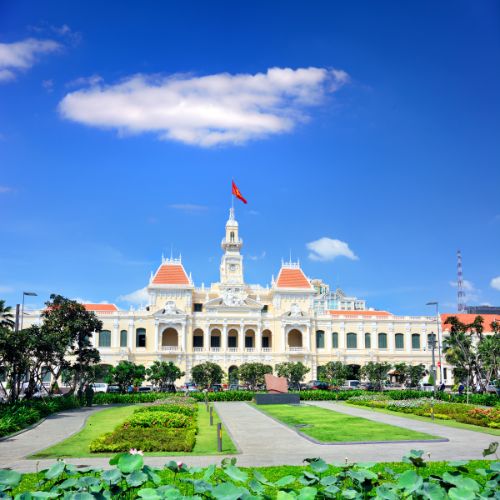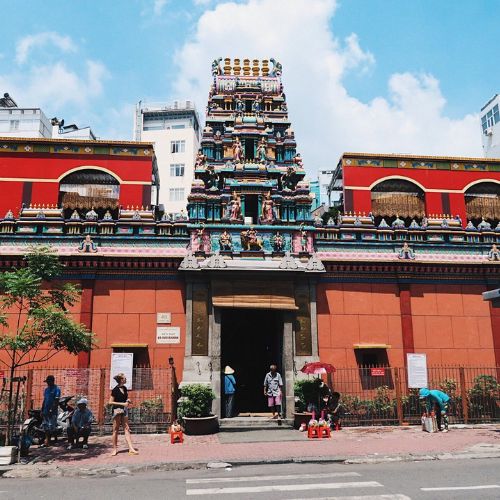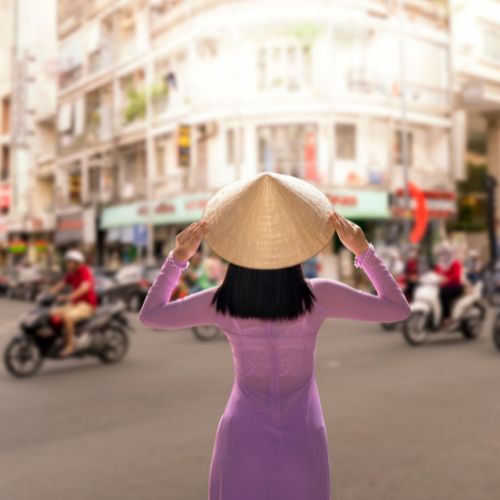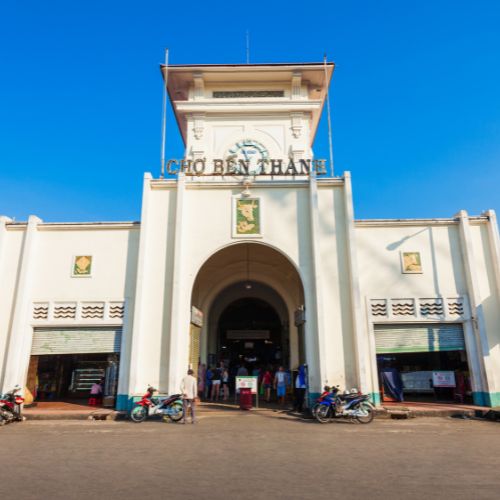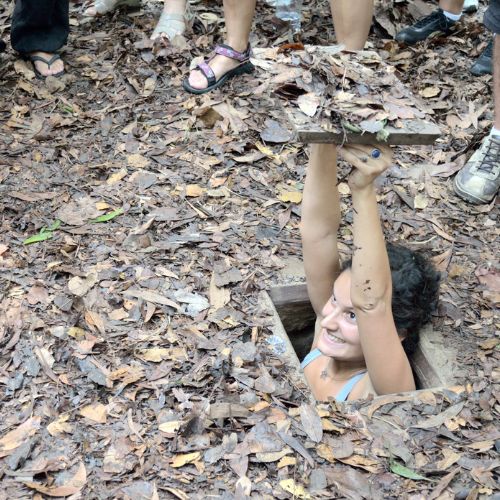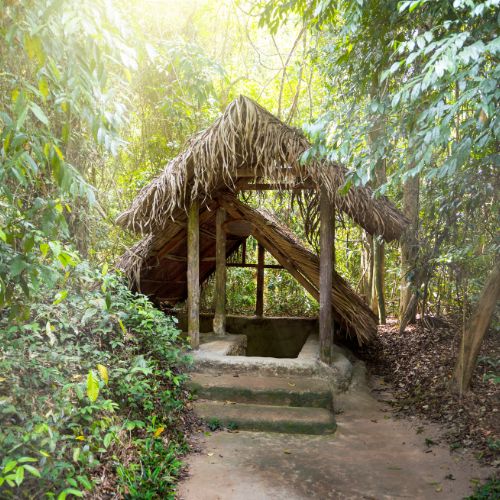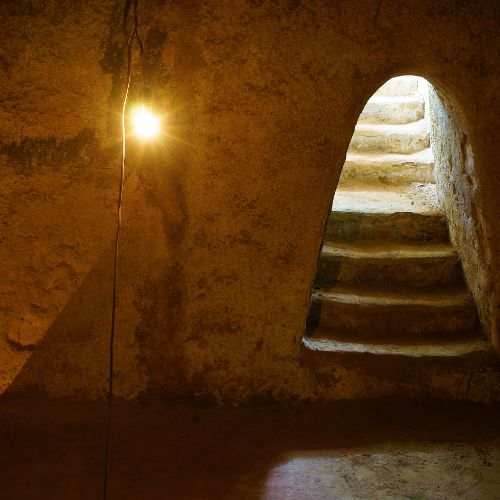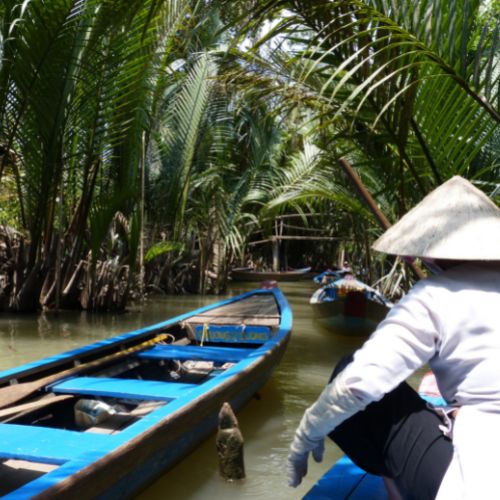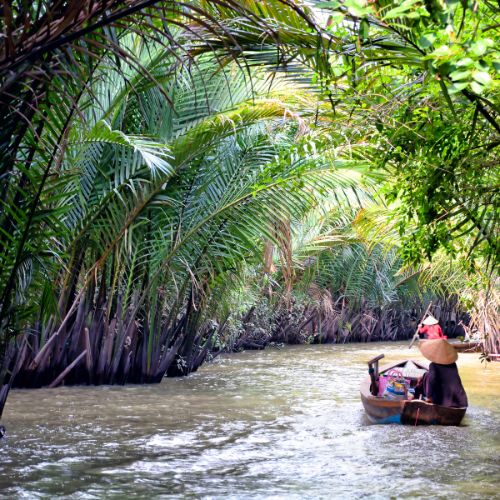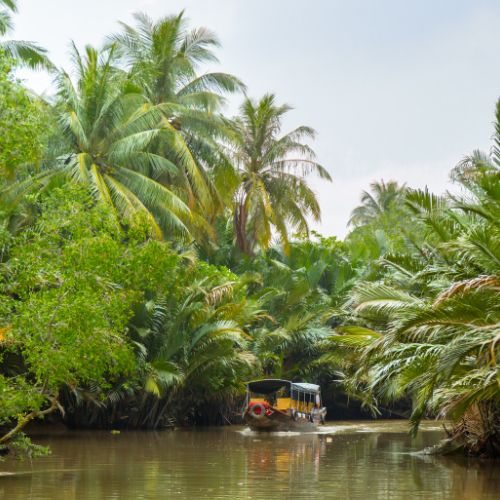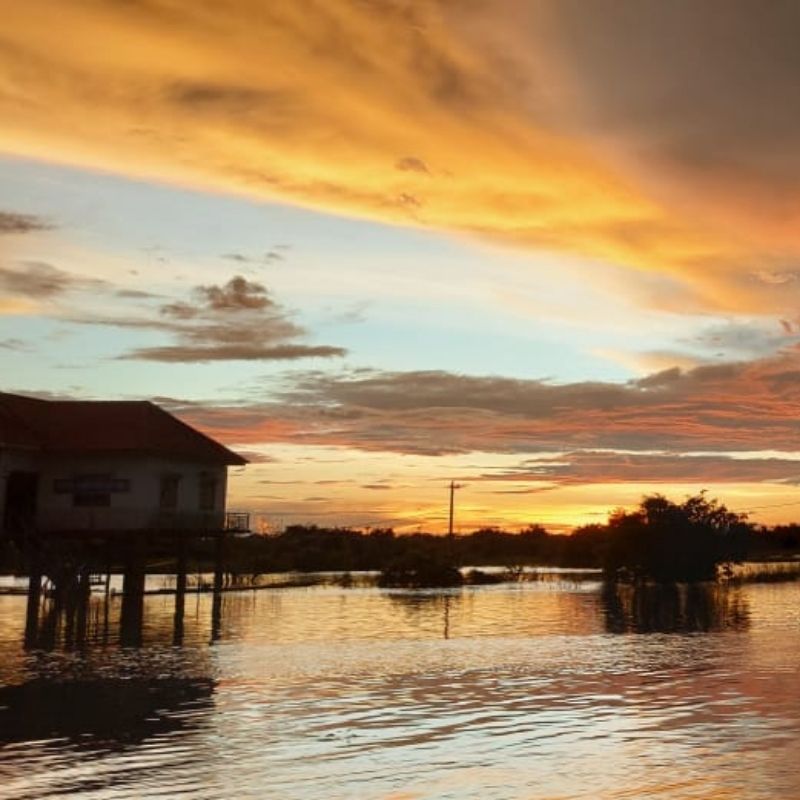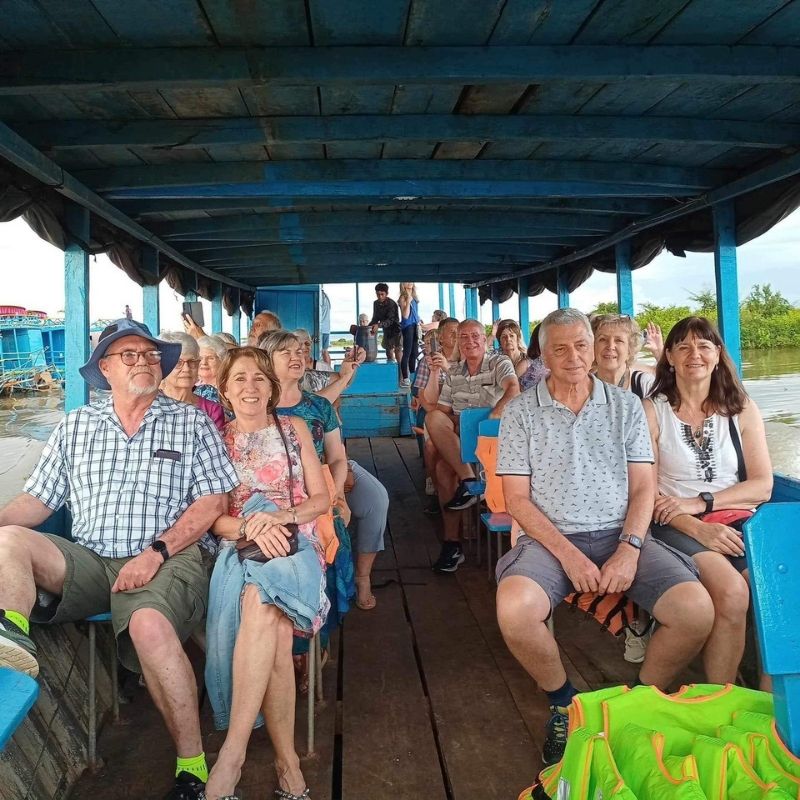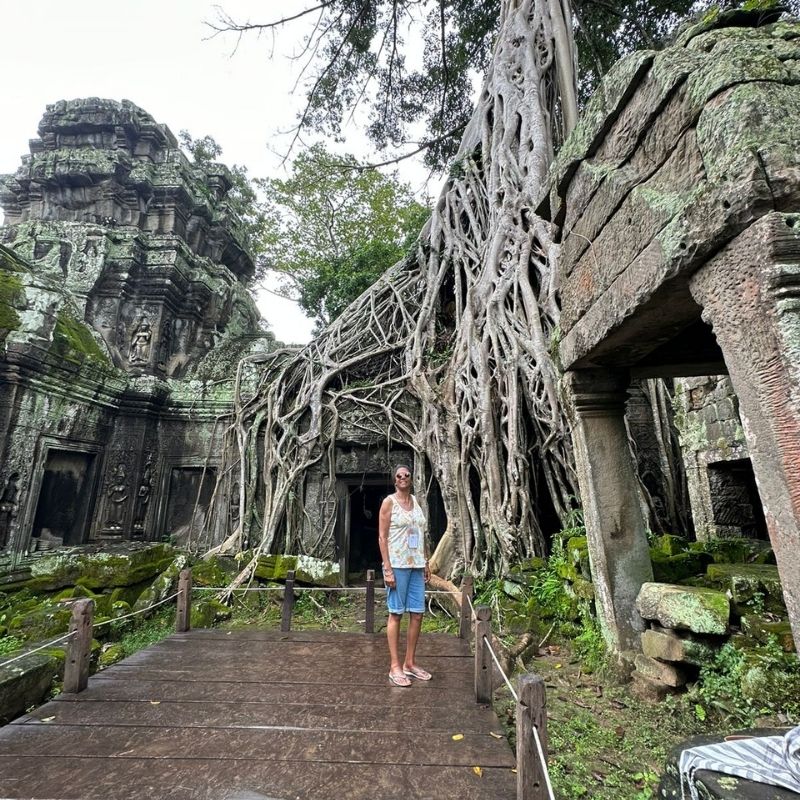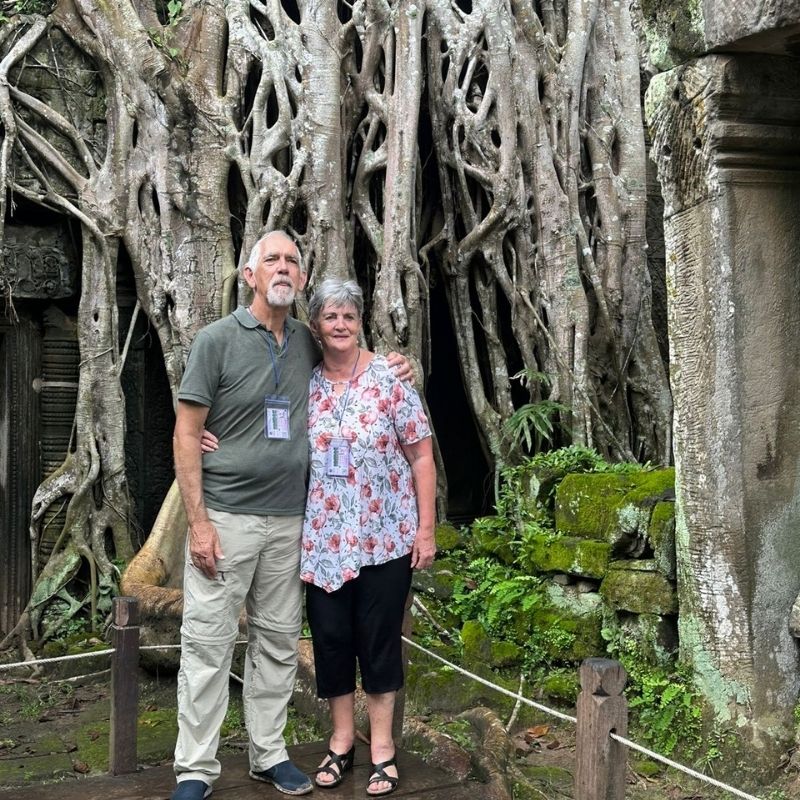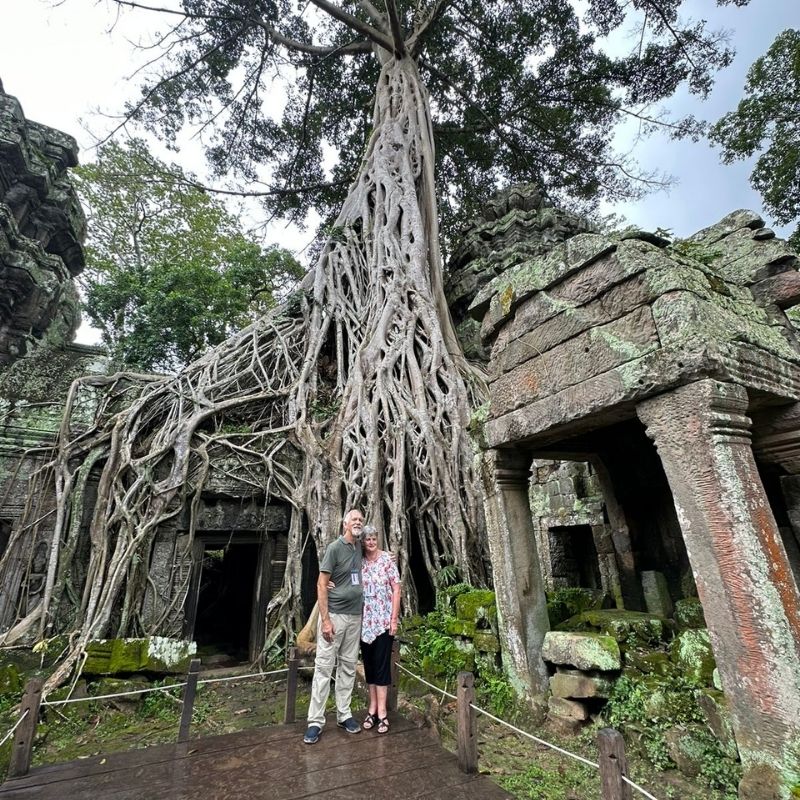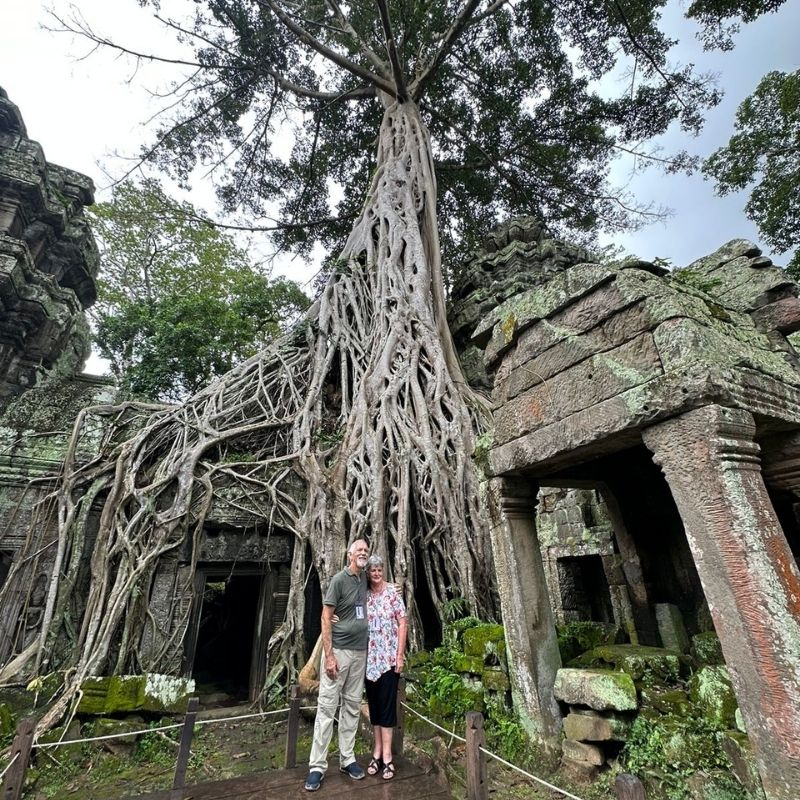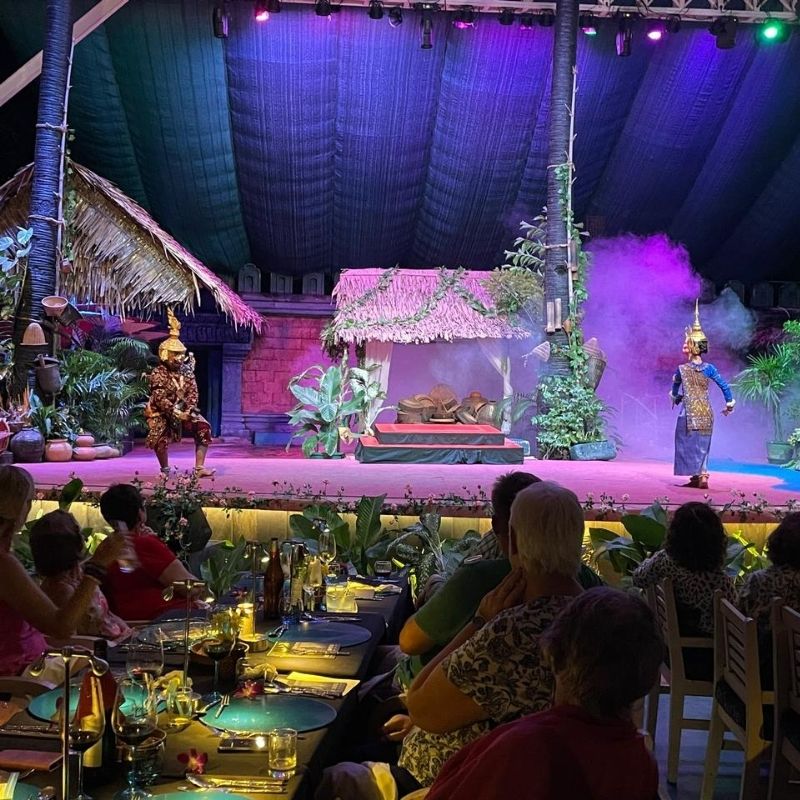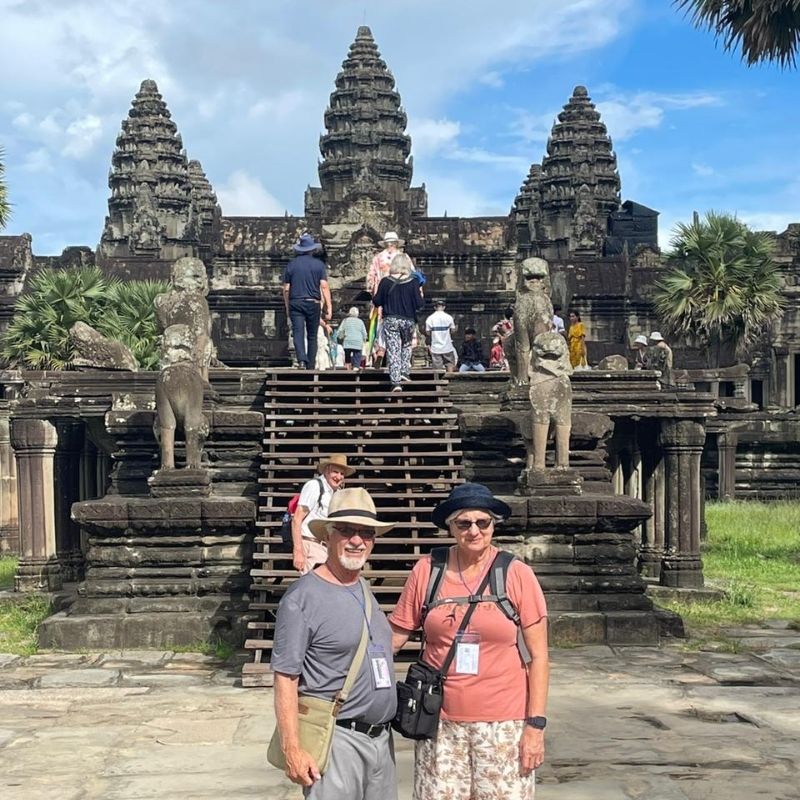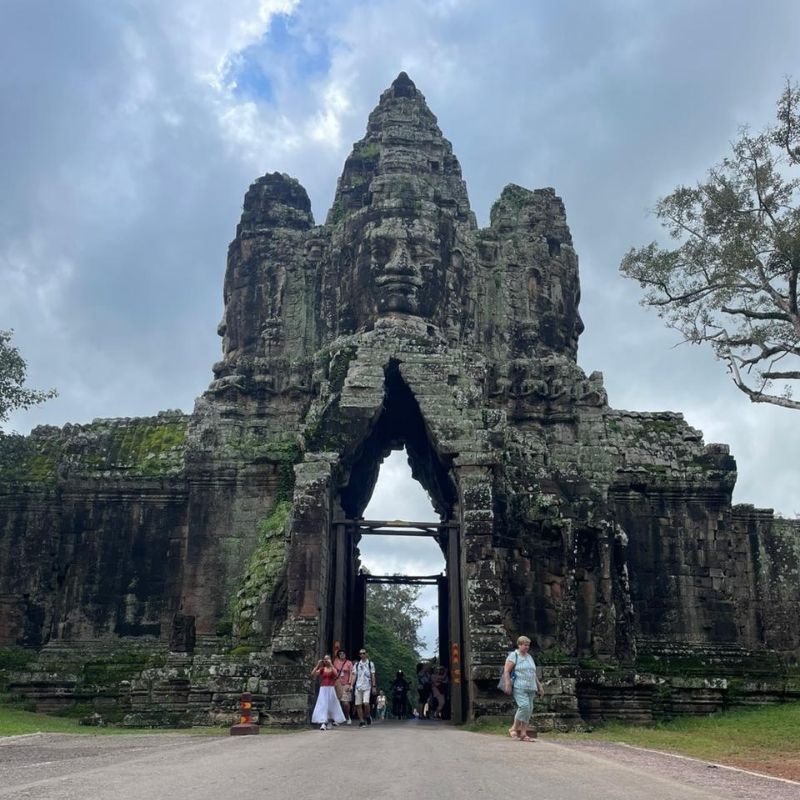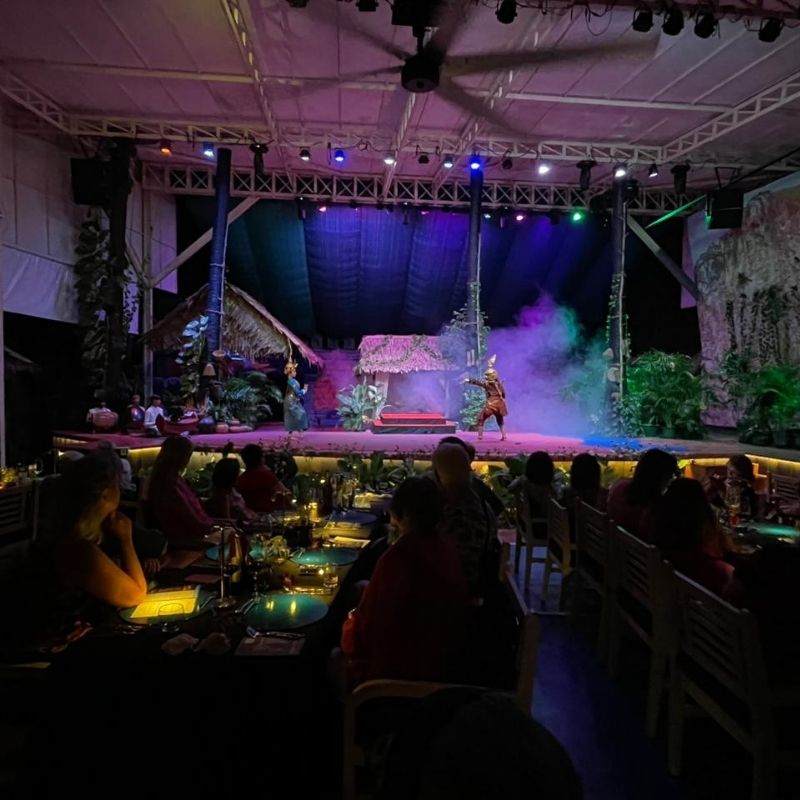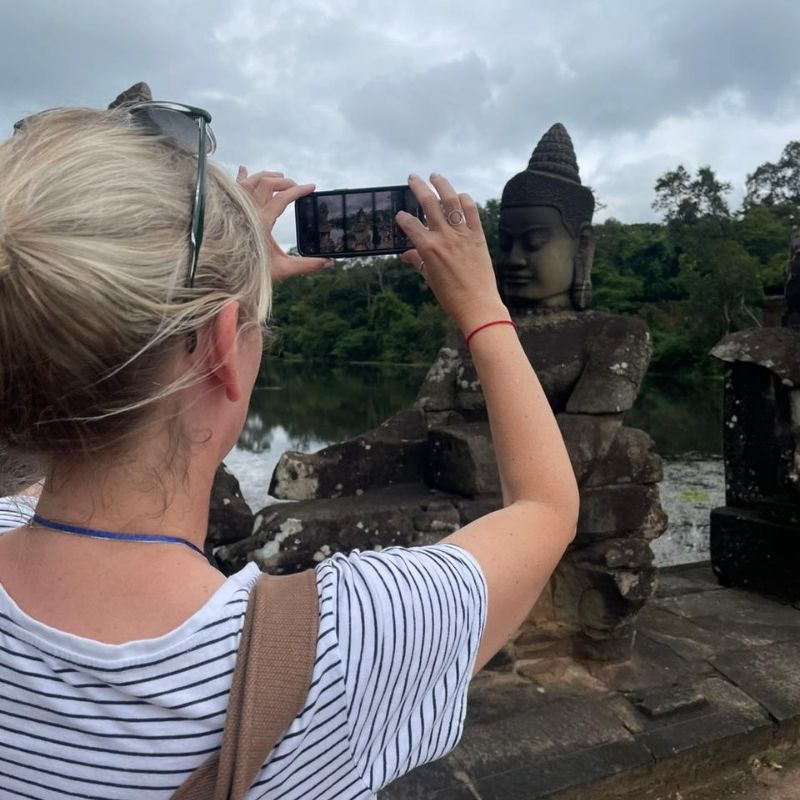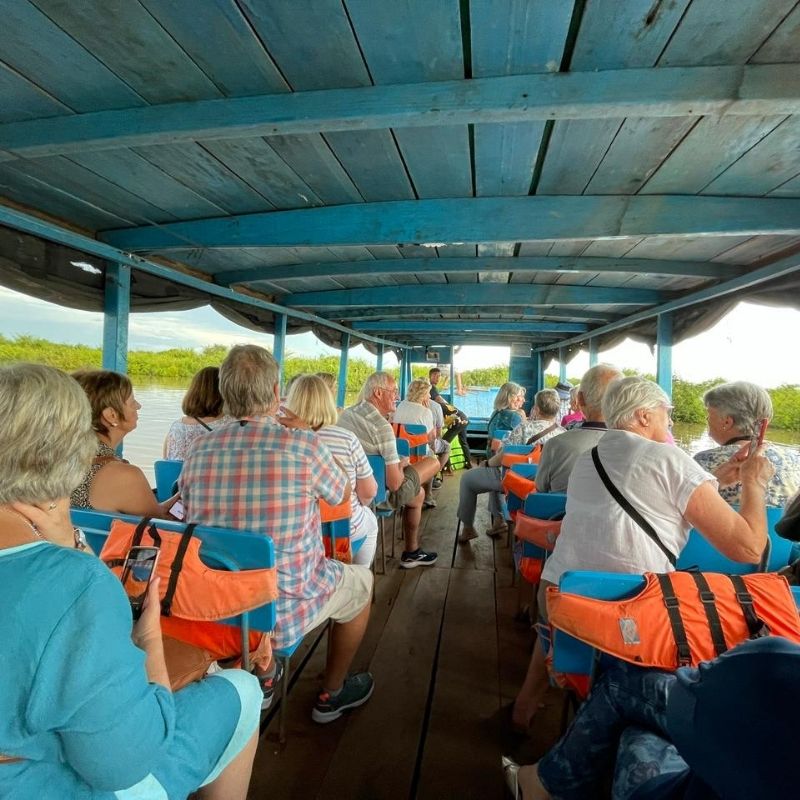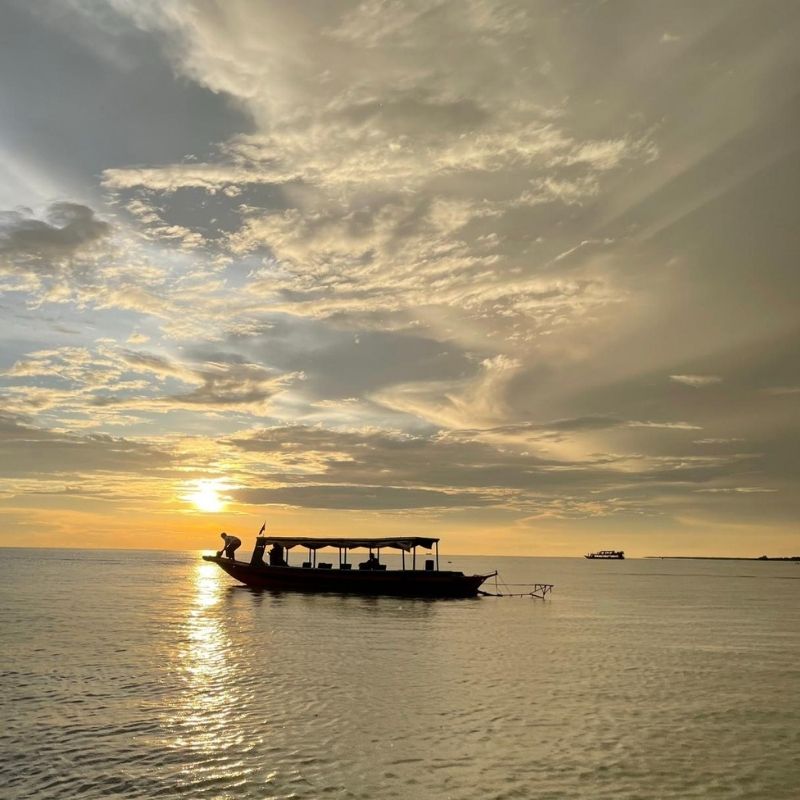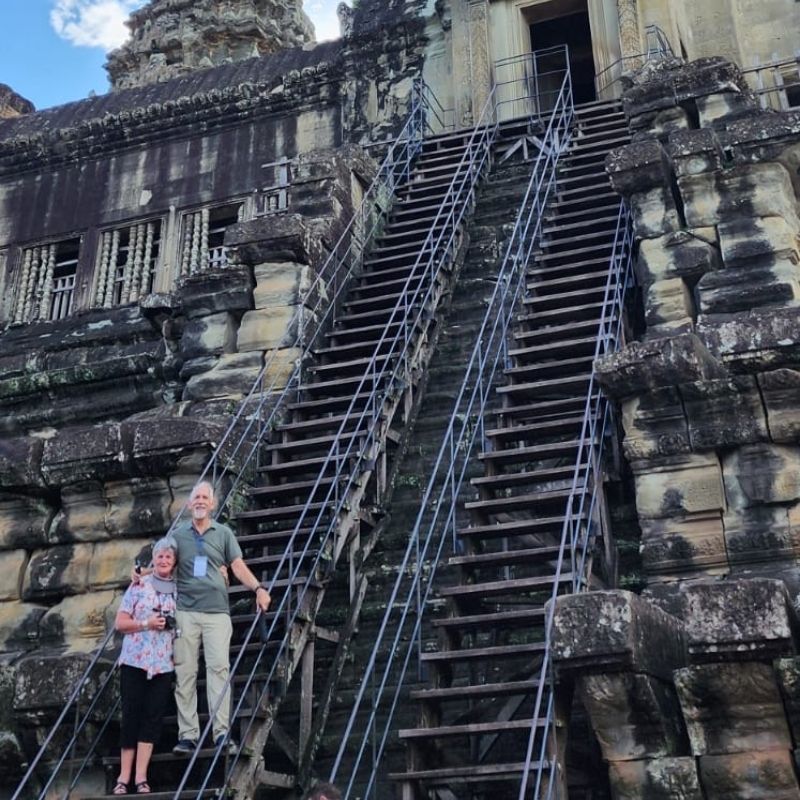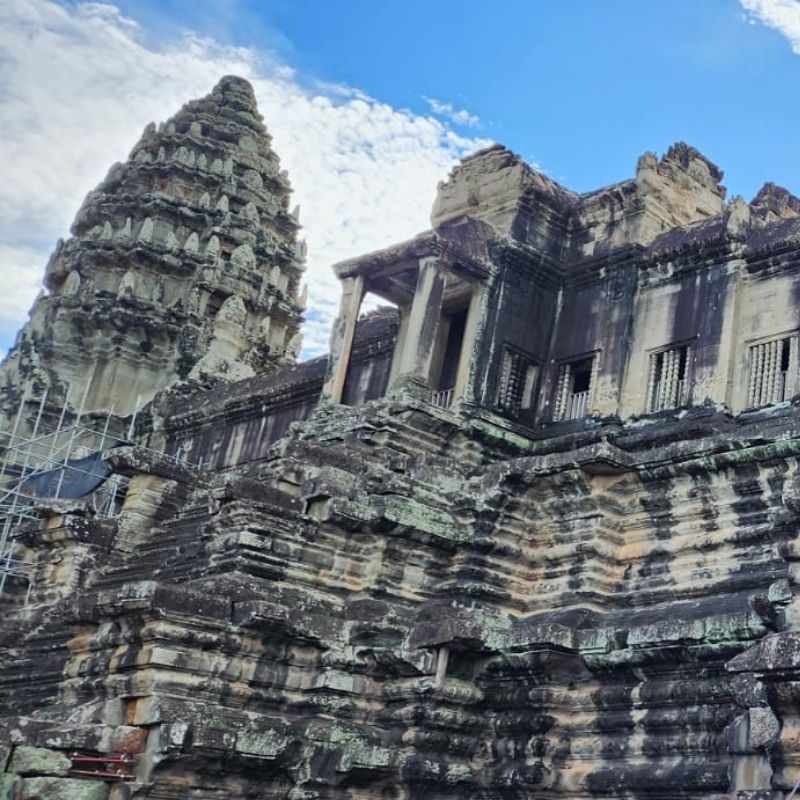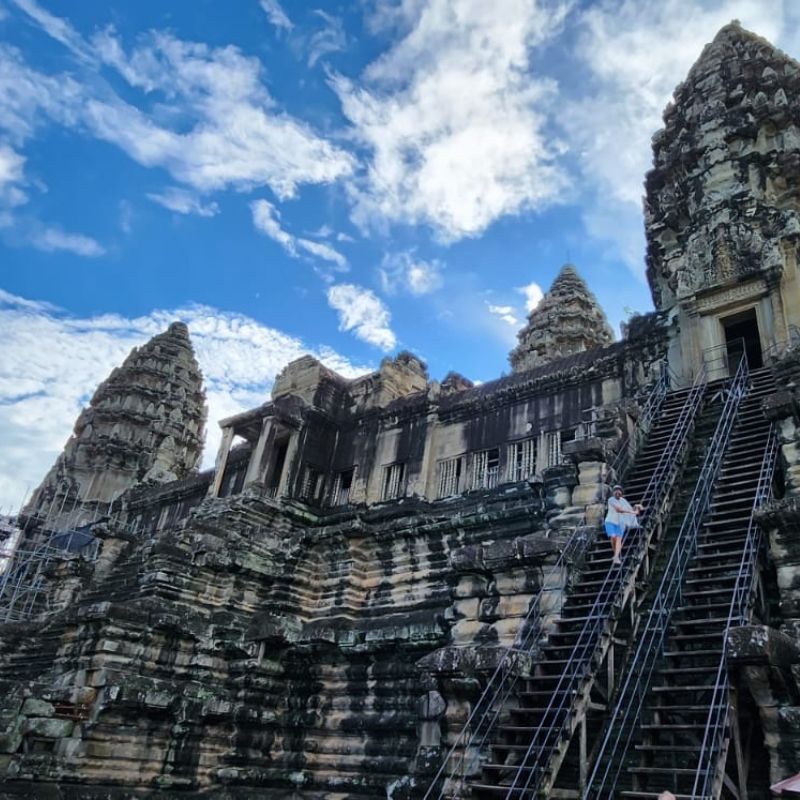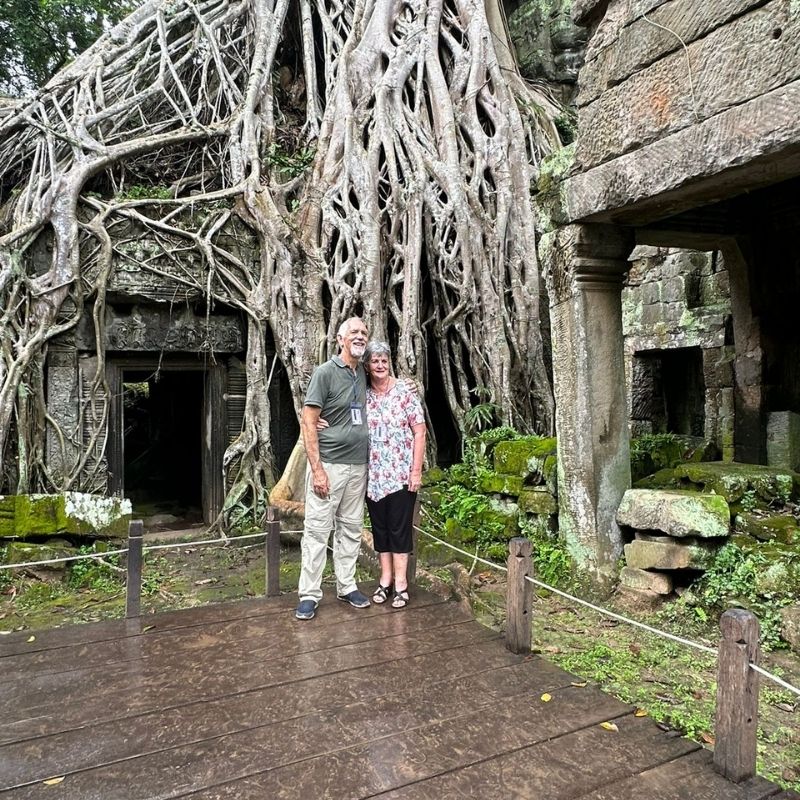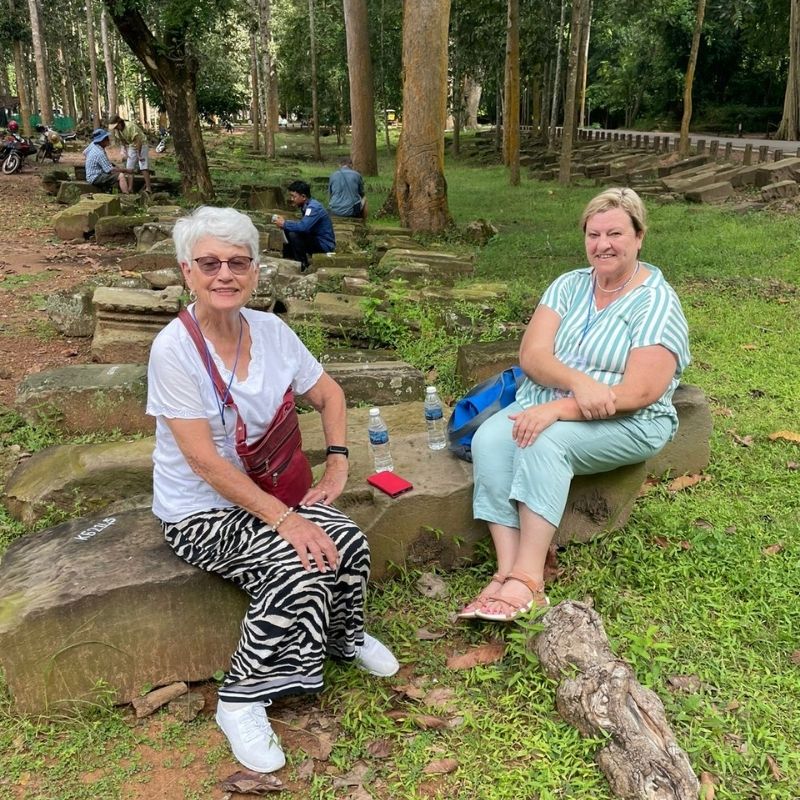 Overview
Explore Vietnam and Cambodia in 12 Days - Discover the best of both countries with our immersive tour, covering iconic destinations from Hanoi to Angkor Wat as Hanoi, Halong bay, Hoian, My Son, Coconut Jungle, Bana Hills, Ho Chi Minh city , Mekong delta , Siem Reap, Angkor Wat, Angkor Thom, Great Tonle Sap Lake
Arrival/Departure Locations
Service Included
Accommodation : you will share triple room ( Twin or Double) . If have odd number , we will use triple room for 3 pax
Transfer by private air-conditioned vehicle with good condition as per program.
English speaking guide except during time at leisure.
Entry fees for all sightseeing as mentioned on the program.
Boat in Halong bay & Mekong Delta
Meals as mentioned on the program: daily breakfast at the hotels, 3 meals on Halong bay ( 1 lunch, 1 dinner and 1 brunch) , 1 lunch at Bana hills
Drinking water: 2 bottles/ per day / per tourist
Service Excluded
Visa for Vietnam
International flights, Domestic Flight
Single Supplement if take single room ( 01 person / per room)
Drinks, personal expenses and all services not clearly mentioned.
Tipping for tourguides and drivers ( Should be : 3 usd / per tourists per day for group from 10 pax , 5 usd / per tourist / per day for group under 10 pax)
Early Check in ( Before 2.00 p.m) and Late Check Out ( after 12.00 p.m)
Room Surcharge for Vietnam, Cambodia National holiday, New Year
Tour highlights
Bus
Beach
Trekking
Night Life
Cruise
Mountain
Shows
Plane
Caves
Temple
Historical sites
Tour details
Day 1: Hanoi arrival. Overnight in Hanoi ()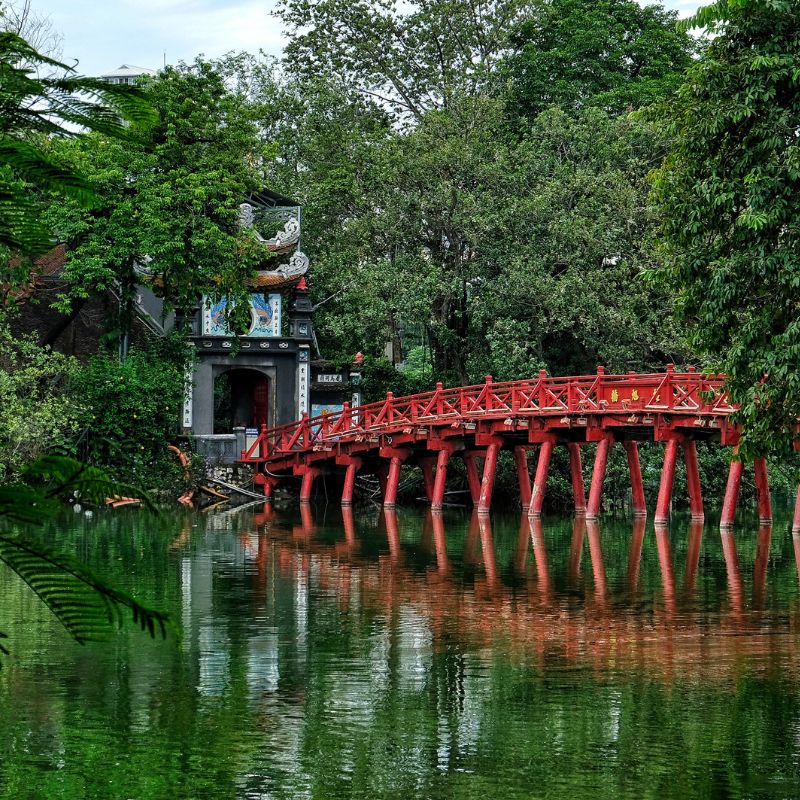 Pick up at the airport, Transfer to the hotel for check in (Check in time before 2.00 PM). Spend time to discover the old quarter , Hoa Kiem Lake and St Joseph Cathedral. Overnight in Hanoi
Day 2: Hanoi – Trang An – Mua Cave ( Breakfast)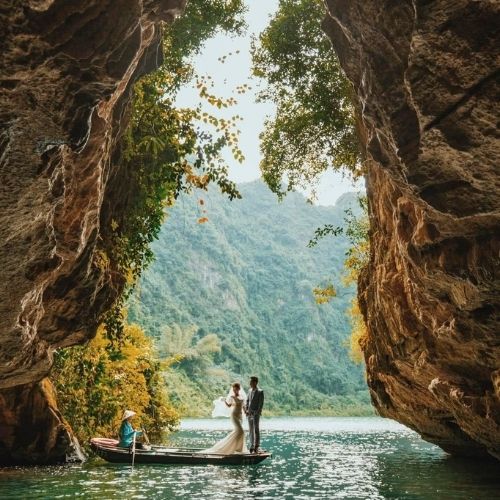 After enjoying a delicious breakfast at your hotel, it's time to embark on an exciting journey in a private coach. Our destination is the beautiful Trang An tourist attraction, located approximately 100 kilometers away from Hanoi. As we make our way through the Red River Delta, known for its picturesque landscapes and rice fields
Trang An is a remarkable site with a diverse ecosystem, boasting more than 310 species of higher plants, algae, and fungi. This area is particularly notable for its rare and valuable woods, many of which have medicinal and culinary uses. Prepare to be enchanted as we embark on a boat trip to explore the captivating cave complex, including Sang Cave, Toi Cave, Ba Giot Cave, and Nau Ruou Cave. Each cave offers a sense of mystery and wilderness, and you will be captivated by the breathtaking views of the mountains and rivers, reminiscent of the famous Ha Long Bay.
After the boat trip, we will savor a delightful lunch ( be paid by clients ) at a local restaurant, enjoying the flavors of the region. Our journey continues to Explore the enchanting Mua Cave (Hang Mua) in Ninh Binh, where nature's beauty meets history. Ascend the 500 steps to the peak for breathtaking views of lush landscapes, a historic past, and a stunning dragon statue. This iconic spot offers an invigorating adventure and an unforgettable panorama.
As the day comes to an end, we will make our way back to Hanoi and relax at our hotel. Overnight in Hanoi.
Day 3: Hanoi – Halong bay. (Breakfast /Lunch / Dinner)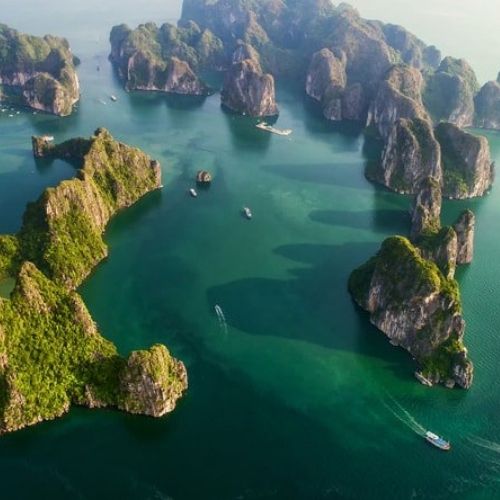 (Note: The below itinerary is subject to change without prior notice, depends on specific cruise and weather condition)
Enjoy breakfast at the hotel, check out and then will be transferred to amazing halong bay (around 2 and half hour driving from Hanoi to Halong bay). With its jutting limestone islands and sparkling turquoise waters, Halong Bay is among the most popular tourism destinations in Vietnam. It is also voted as one of seven World Natural Wonders and UNESCO World Heritage Site. Upon arrival, embark and being welcomed by our cruise team. Check-in your private cabin and get relaxing before enjoying an amazing lunch at the crew restaurant by the bay. The lunch served with fresh seafood onboard as we sail out into the New 7 Wonders of the World, Halong bay. In the afternoon, we sail around some thousand limestone islands of the bay Halong. Along the way we will stop to visit one of the most beautiful caves on the bay and enjoy swimming on sheltered white-sand beach by the island. Return to the cruise and sail somewhere in the middle of islands for sleeping. Relax and enjoy sunset falling down to the world heritage site Halong from the sundeck of the cruise. Have dinner and overnight on board.
Day 4: Halong bay – Hai Phong – Flight to Danang( Breakfast /Brunch )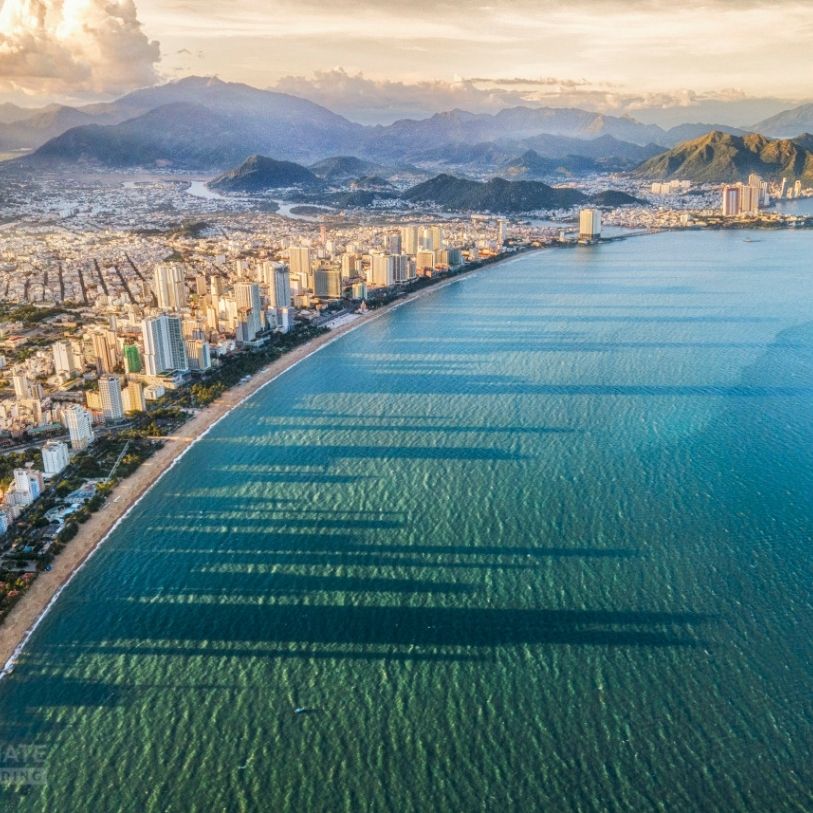 Wake up in the morning for Tai Chi on the sundeck or simply enjoy the sunrise over the bay's towering islands. Enjoy a light breakfast with a cup of tea or café before taking sampan or Kayaking to visit Luon Cave. Return to the cruise for check out your cabin as you navigate back to Halong City. It's time for you to take advantage of the sundeck and admire the amazing rock formations of the bay. Have brunch on board the boat before returning to Halong harbor. Our driver will pick you up and transfer to Hai Phong for flight to Danang. Check in the hotel. Overnight in Danang
Day 5: Danang – Coconut Jungle - Hoian ( Breakfast)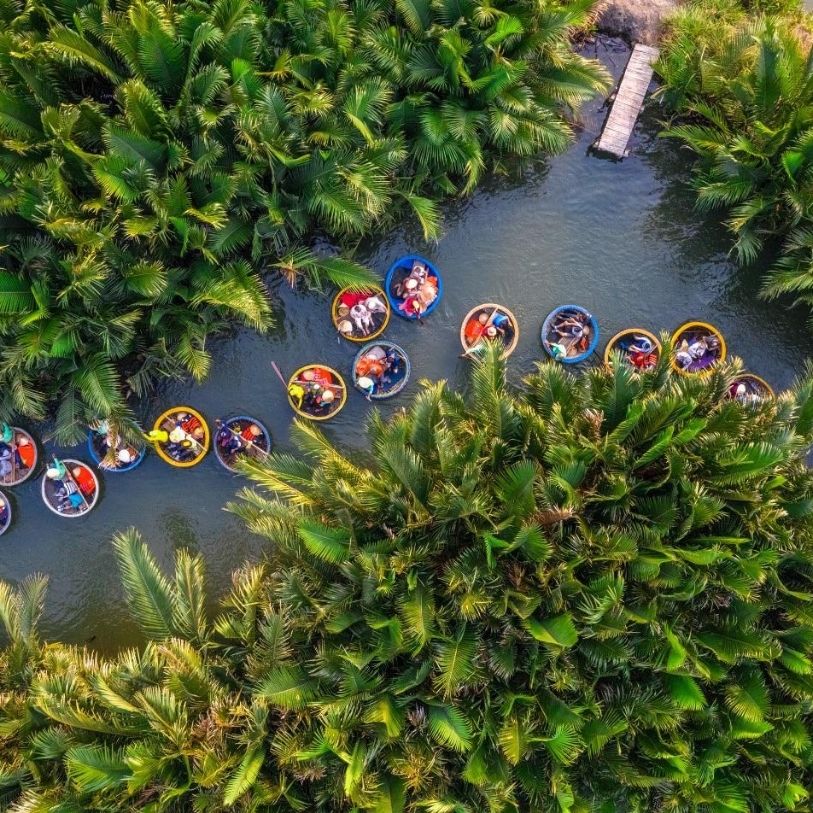 After breakfast, we will visit Linh Ung Pagoda , Marble Mountain and Stone Carving village and then transfer to Hoian.
In the afternoon , we will proceed to Cam Thanh Village for Basket Bout Cruise. Here you will be enthusiastically welcomed by the local people, they will lead you to visit the creeks in the water coconut woods by basket boats and you will see the performances of rowing basket boats by the local rowers. You will walk to visit ancient tiny town Hoi An. The visit includes Japanese covered bridge, some Chinese Assembly Halls, and some typical Vietnamese houses of 18 century. Return to the hotel for relax. Overnight in Danang
Day 6: Bana Hills – Flight to Ho Chi Minh city ( Breakfast/Lunch)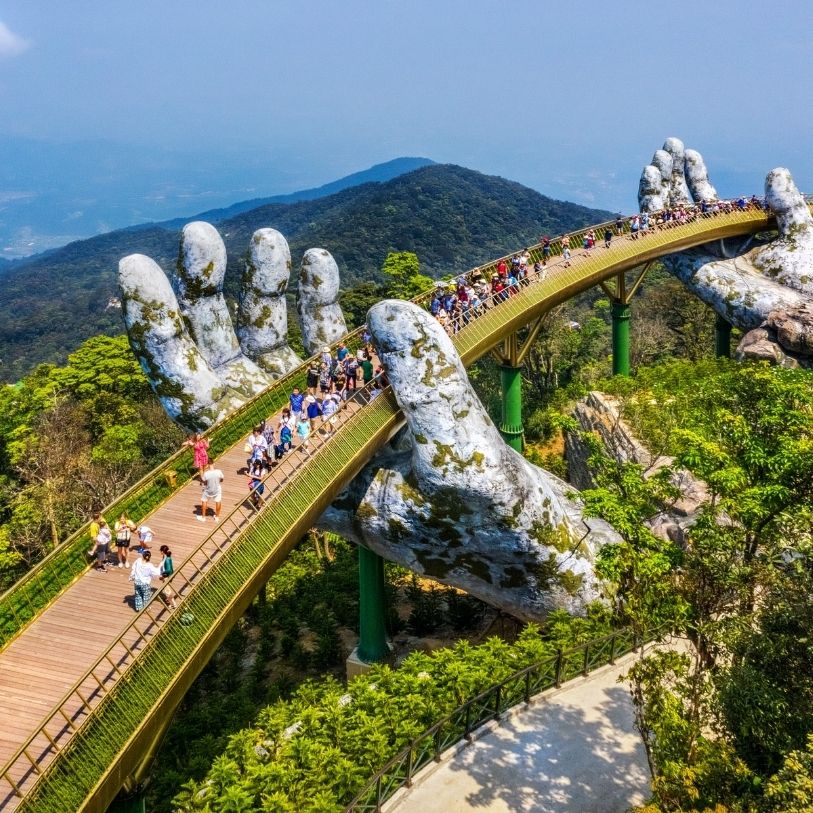 Breakfast at the hotel, check out and head out to Ba Na hills. Take Cable Car which gains 5 world scores to Ba Na hills station. Check in the hotel if the room available ( check in time at 2.00PM) . We will start to visit Vong Nguyet hills, Linh Ung pagoda, The Old Villas of French. Continue moving up by cable car to the Nui Chua Mountain – the top of Ba Na range, visiting Nginh Phong top, Le Nim Villas, Orchid Garden… Experience hill climbing train (first and unique funicular in Vietnam) and visit an old French cellar (Debay Ancient Wine Cellar), flower garden Le Jardin D'amour and Linh Ung Pagoda.
You should not miss walking on the Golden Bridge amid the foggy hills of the mountain, enjoy the gorgeous view of Da Nang City. Have lunch at restaurant.
Afternoon: Free for joining games in Fantasy Park – the third biggest indoor games zone in Vietnam with series of interesting games: 4 – 5D film, skiver, The death race, dinosaur park… (2 hours).
We will spend time dancing show from all dancers from Western Countries and then spend time to take pictures of French villages before taking the cable car down the hill and transfer to Danang airport and take flight to Saigon. Upon arrival, we will pick you up and transfer to the hotel. Check in the hotel. Free and easy. Overnight in Saigon
Day 7: Mekong Tour. Overnight in Ho chi minh city ( Breakfast)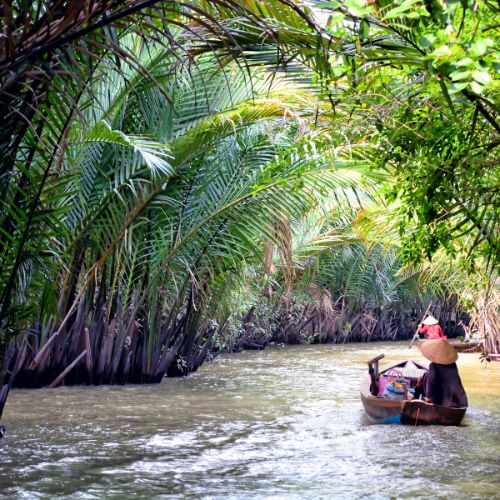 After breakfast, you will be transferred to Ben Tre for Mekong Boat Trip. It takes 2-hour drive to a lush green area in the middle of the Mekong Delta called Ben Tre. Stop en route to visit Vinh Trang pagoda, an ancient southern architectural gem. Built in 1849, the structure is a mixture of Asian and European architecture including elements from the Renaissance period, Romanesque style, French decorative flowers and Japanese enameled tile. Upon arrival in My Tho jetty, get on local motorized boat trip to Ben Tre, visit a small coconut-candy workshop, just to get a glimpse of typical family run business in this area. Another 30min bobbing on the waves brings you to deeper parts of agriculture life. Disembark your boat, walk around sleepy villages and picturesque orchards until you reach Vuon Dau rest stop, sample freshly picked fruit at the invitation of friendly local farmers. Savor tasty lunch ( be paid by clients ) with Mekong Delta specialties at a local restaurant. Then enjoy a fun rowing boat in the shadows of water-coconut palms along idyllic tiny canals. Goodbye to the boat rowers and drive back Ho Chi Minh City. Overnight in Ho Chi Minh City.
DAY 8: Ho Chi Minh city tour – Cu Chi Tunnel ( Breakfast)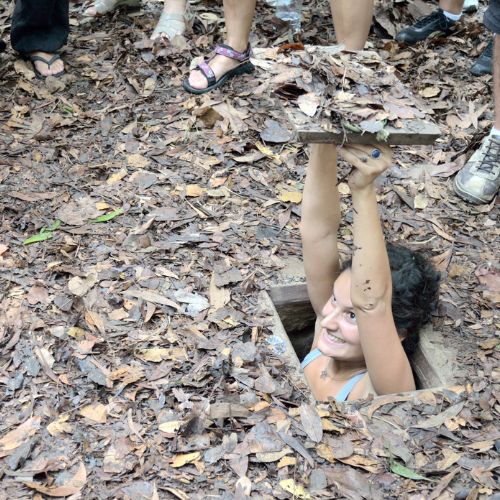 After breakfast, Check out and transfer to to Cu Chi tunnel, visit the incredible underground tunnel network constructed by Vietnamese fighters during the long struggle for independence. Back to Ho Chi Minh City for lunch ( be paid by clients ) and short city tour passing Reunification Palace, Notre Dame Cathedral and Ben Thanh Market. We spend time for shopping at Ben Thanh Market or Saigon down town. Overnight in Ho Chi Minh city.
Day 9: Ho Chi Minh city - Siem Reap ( Breakfast)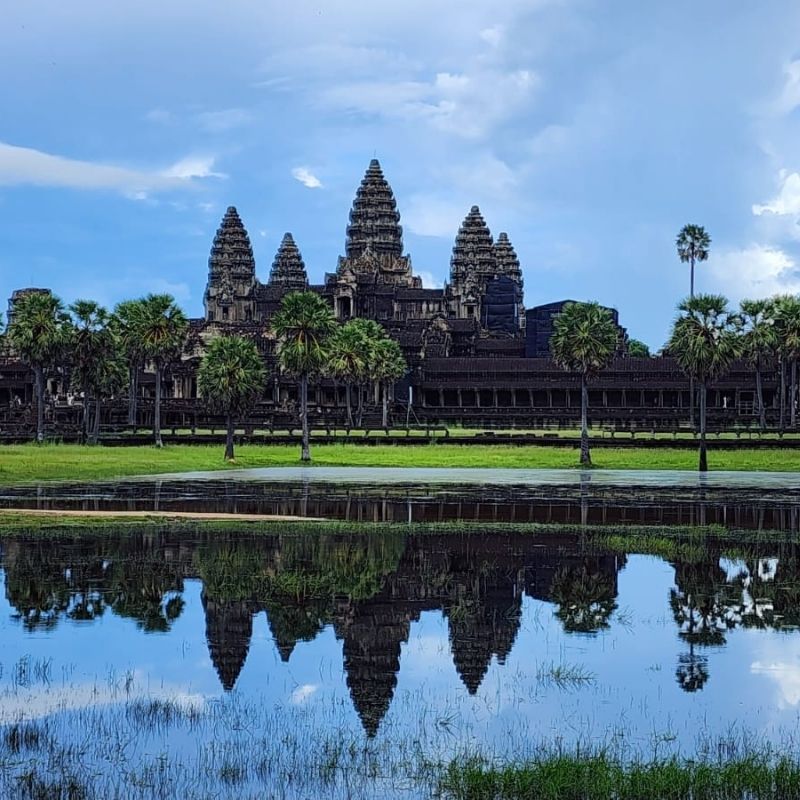 Breakfast at the hotel, check out , Free and easy until transfer to the airport for flight to Siem Reap. Arrival in the city of World Heritage, Angkor Wat. Our car and guide will pick you up at the airport then transfer to the hotel for check-in. Overnight in Siem Reap
Day 10: Siem Reap – Angkor Wat ( Breakfast)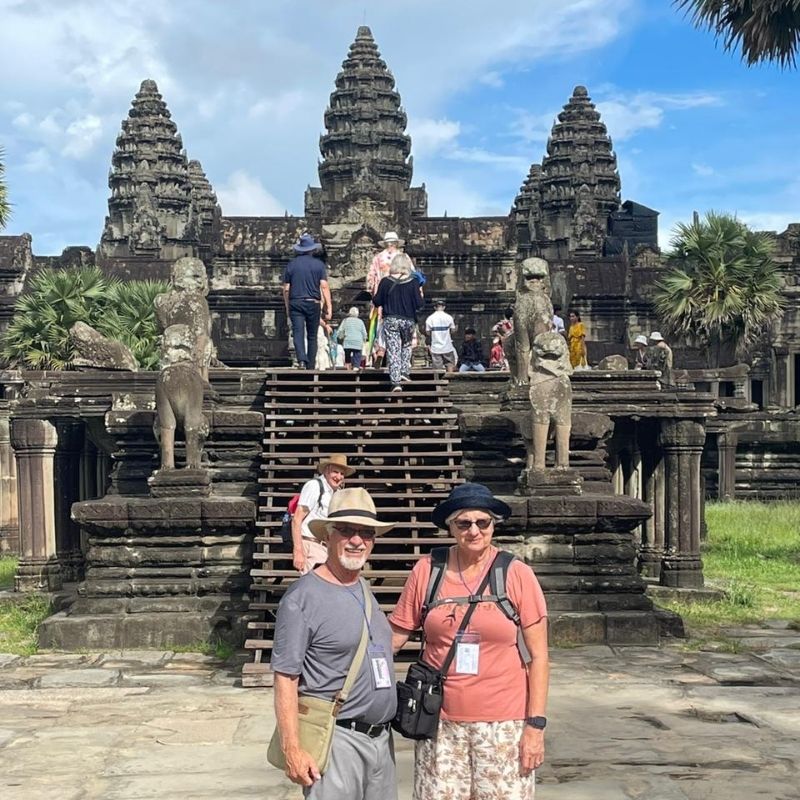 AM: We will start the day with the infamous and treasured legacy of Angkor Wat. The masterpiece and holy grail of the temples of Angkor, Angkor Wat is the world's largest religious building and an insurmountable legacy left by Suryavarman II. Believed to be the world's largest religious building, there is almost one kilometer of exquisitely detailed carvings which depict the intricacies of the Khmer empire through dramatic and humorous stories of love, life, war, religion and mythology, before accessing the inner complex to experience the powerful energy that this sublime temple inspires. Marvel at the quincunx of towers, admire the carvings and architectural detail of the complex as a whole, as it seemingly defies with its beauty and symmetry the fact that it's a man-made creation almost 1000 years old.
We shall continue our visit Ta Prohm. Of Tombraider fame, Ta Prohm is an Angkorian treasure, and it's going to stay that way. One of the most fascinating things about Ta Prohm (except for its size, beauty and pleasantly eerie atmosphere) is that today it can be appreciated perfectly as it would have been in its day, a mere 900 years ago, as it has been 'left as it was found' by the French explorers who discovered it in the 19th century. Ta Prohm is a sight to behold, a veritable maze with gigantic golden trees strangling the stone foundations at every juncture, fine carvings, prominent galleries and a layout that will bring out the explorer in you.
PM: After lunch we commence our exploration of Angkor Thom. Known as the 'Great City', Angkor Thom was Jayavarman VII's ultimate creation, his true expression of design excellence. Angkor Thom was an entire city built in the 12th century which at one point was believed to house up to 150,000 people across an area of nine square kilometers and which thrived upon a complex system of agriculture and waterways. 5 magnificent gates which stand 23 metres high and are spiritually guarded by faces reminiscent of the Bayon, and we will enter through the Victory Gate, complete with a causeway with two emanating rows of Devas and Asuras, both of which are wrestling a powerful Naga. From here we will converge upon the centre of this extraordinary city, and begin to explore its elements, starting with the Elephant Terrace, a royal platform used as a viewing gallery for grandiose royal spectacles, decorated wonderfully with statues of elephants and perfect carvings. Adjacently sits the Terrace of the Leper King, decorated in much the same way but unique for possessing the statue of Yama (the Leper King), god of Death. From here we will proceed through the forest to Preah Palilay. Guarded by a large Buddha this is a small but beautiful temple from the 13th century. Afterwards we will proceed to Phimeanakas, a 10th century largely uncarved but beautifully constructed pyramid temple affording terrific views, before Baphuon, an imposing 50 metre tall temple dedicated to Shiva which houses one of the world's largest reclining Buddhas. And finally to Bayon, arguably the most stunning of all the Temples of Angkor, adorned with 37 towers decorated with wonderful giant stone faces and beautifully decorated carvings throughout.
Finally we will proceed to Bakheng Hill, an iconic temple setting where we will admire the sun set over this ancient land, with views across the great Tonle Sap Lake, the West Baray, and of course, Angkor Wat. O/N in Siem Reap
Day 11: : Siem Reap – Tonle Sap Lake (Breakfast)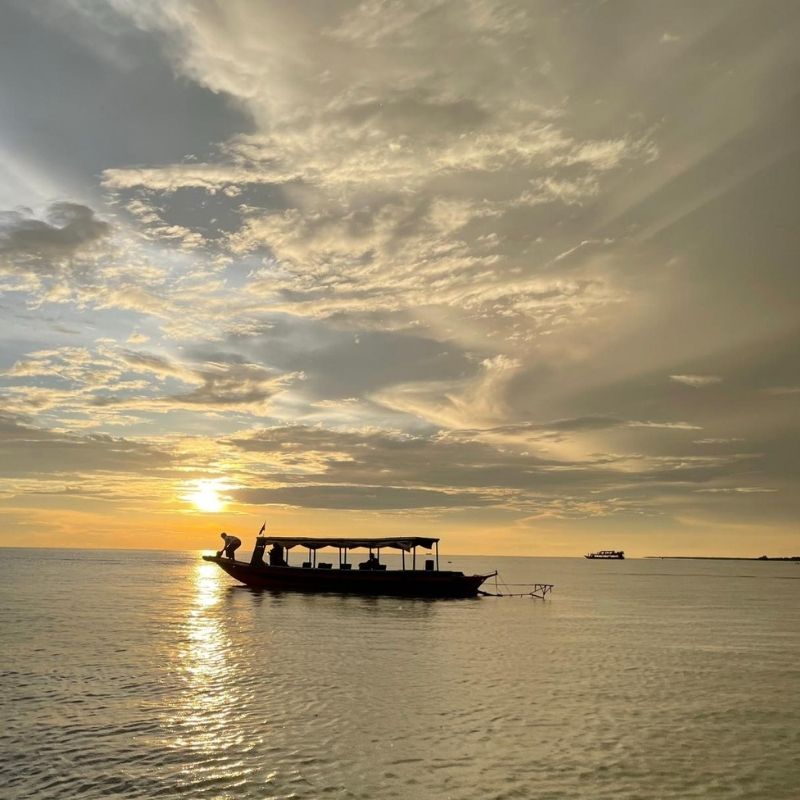 AM: Visit to the Great Tonle Sap Lake, the largest lake in Southeast Asia. After travelling through beautiful countryside to reach the water's edge, we will transfer to our boat and proceed to sail through mangroves, visit floating and stilted villages, and experience a fascinating, traditional and unique way of life. This lake with an area of 16000 square kilometers during the height of the wet season is an astonishing place, so significant to Cambodia and Southeast Asia as a whole, and it's home to great number of rare species of wildlife and some of the most resourceful communities on this earth. On the way back stop at very nice Local Temple Wat Artvea where you will know how Cambodia monks are living.
Afterwards we'll visit Chantier Ecole-Artisan d'Angkor, a museum and vocational centre dedicated to the revival of Khmer art. Founded on the idea that Cambodia must endeavour to keep its heritage of skilled craftsmanship alive despite the loss of a large body of expertise during Cambodia's recent history, Artisans d'Angkor was set up by CEFP (Chantiers-Ecoles de Formation Professionnelle) to provide instruction and employment to some of the poorest members of the community in such art. Visitors can observe modern day professionals employing ancient techniques in the production of metalwork, stonework, lacquer and silk. Return to hotel for relax. Overnight in Siem Reap
Day 12:Siem Reap – Departure (Breakfast)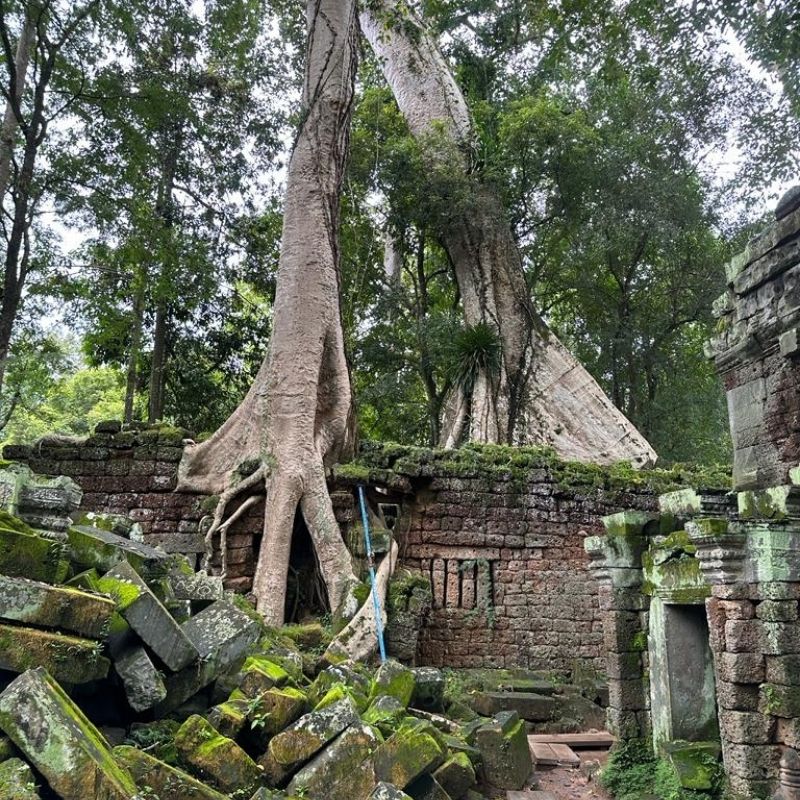 Breakfast at the hotel, check out , Free and easy until transfer to the airport for flight home sweet home. End of our 12 day Vietnam Cambodia Tour
Children Policy:
Under 2 years ( Parents will pay if anywhere request for fee):

free of charge

Child from 11 years (Share Room with 1 Adult):

100% adult fare

Child from 2-10 years (Share Room with 1 Adult):

100% adult fare

Child from 2-10 years (with extra bed):

90% adult fare

Child from 2 - 10 years ( without extra bed):

75% adult fare