If you have some research for , you might impress that despite being a tropical country, Vietnam has different types of weather across our country. You can find a unique shade of climate from the North to the South. If in the North, tourists could examine a typical cool winter, the South indicates warm weather all year round.
However, Da lat city is a wonderland I bet you will never find it anywhere else. Da Lat city has 4 seasons per day. In other words, in Da Lat, you can enjoy spring in the morning, summer in the noon, autumn in the afternoon, and winter at night and early morning.
The specialties of Da Lat city make it become the resort destination of the old Vietnamese royal family. Today, Dalat Travel is still attractive to travelers from Vietnam and foreigners. In this article, World Mate Travel shows you details of this unique city in our country regarding travel taste.
Dalat Travel: Welcome to flower Heaven
Da Lat city is located in the highland of Central Vietnam, where the climate is suitable for farming or cultivation. Regarding what to do in Dalat, you can find many suggestions on the internet indicating the flower Heaven. Due to its great weather, Da Lat city is the flower garden of Vietnam, growing thousands of flowers for both tourism and commercials.
The most famous attraction of Da Lat is obviously its breathtaking landscape with beautiful natural scenery and palatial resorts. Let's find out what are the most intriguing things about Da Lat city.
Featured tours:
Da Lat city and what makes it become specials
Da Lat travel owns thousands of miracles to surprise tourists that I can not mention all in only one article. Here are the top 4 unique attractions you have never found anywhere else.
Say no to Traffic lights in Hanoi or Saigon, the two busiest cities in the country, are also very annoying because of the chaotic traffic. Basically, traffic light systems are responsible for ensuring traffic order for vehicles.
However, Dalat pretends to be different. The traffic here is not moderated by red and green light poles. The traffic flows always move leisurely on the roads, which is as cool and pleasant as the city's weather.
1. Lavender field in the Da Lat city center
With Da Lat travel, you can be lost in the immensity of flower fields. As the flower capital of Vietnam, what to do in Dalat is to see lavender flowers similar to the ones in the Provence region of France.
The lavender field of over 1000m2 wide is grown all year round in the Van Thanh flower village. However, visitors should also be warned about the torrential rains in July and August, making the fields muddy.
2. Maple forest alongside Da Lat city
No need to travel to Canada, the maple forest of Da Lat will give you a romantic paradise setting, which is next to Tuyen Lam Lake. It is considered a beautiful paradise garden in the flower town. A vast space with beautiful scenery of over 2000 maple trees in all colors will surprise you.
Maple forest Dalat owns 2000 Shan tea trees, 500 cherry trees, and over 20,000 pine trees. Each type of tree has its own characteristics and has the oldest age. There are also rare herbs and conifers. If you have time, visit here in the fall. To experience the cool air full of life in Da Lat maple leaf forest.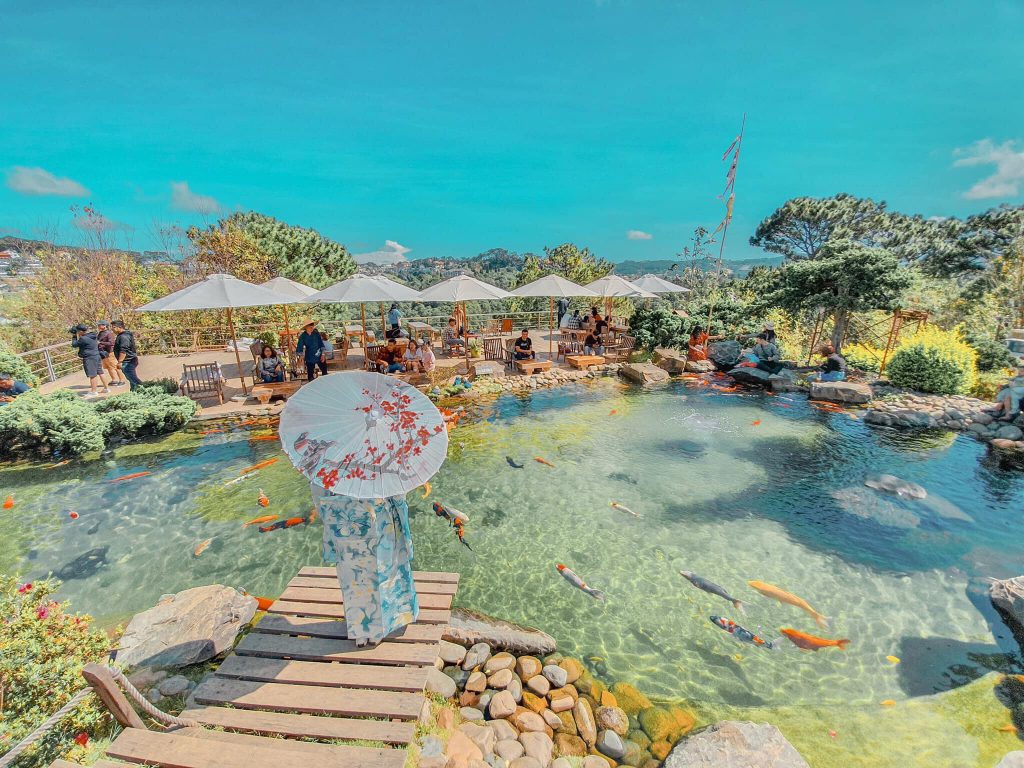 3. Fairy Pumpkin like lost in Cindrella world
Addicted to flower gardens and beautiful scenery, you might have missed the giant pumpkin garden in Da Lat. Visiting here, you can have an impressive check-in da lat with giant pumpkins only found in fairy tale stories.
This pumpkin garden is for sale in the Suoi Tien tourist area for display on festivals of Da Lat. These days, the best and most giant pumpkins here are manually selected to display. This type of pumpkin is not only for garniture but also used for cooking.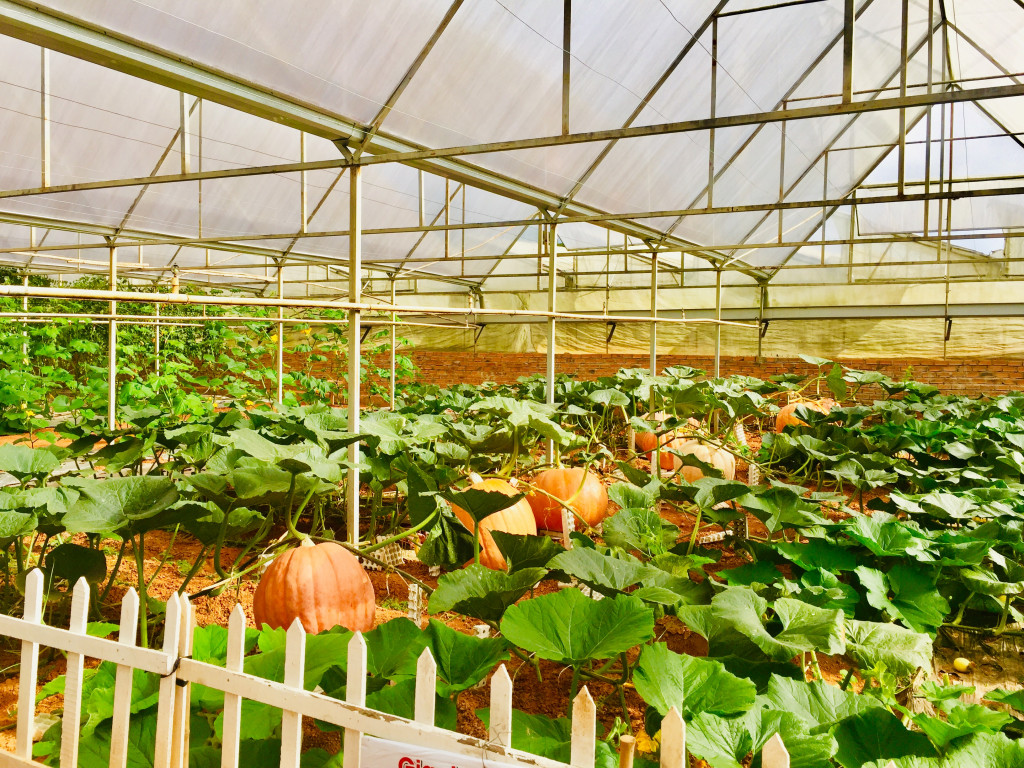 Perfect time for Dalat Travel
| | |
| --- | --- |
| 4 Seasons of Dalat | Speacial things |
| Dalat travel from Jan to March | Cherry Bloosom and Mimosa |
| Dalat travel in March to May | Purple phoenix flowers |
| Dalat travel from Jul to Sep | Persimmon fruit |
| Dalat travel from Aug to Oct | Unexpected rains |
| Dalat travel from Oct to Dec | Wild sunflowers |
You will enjoy pleasant weather and romantic scenery when traveling to Da Lat city from January to April, especially on the colorful road of blooming cherry blossoms.
Cherry blossom is the remarkable gift of Da Lat, offering an unforgettable memory for tourists when they arrive. It is the ideal time to travel for devotees of love and romance in Dalat.
The significant activities of What to do in Dalat this time is exploring beautiful cherry blossoms on Tran Hung Dao Street, along the old Cadasa villas. You can also visit Le Dai Hanh Street in the city center, the road along Xuan Huong Lake, and Truc Lam Zen Monastery, which are also ideal places to admire and take pictures with cherry apricot blossoms.
As a travel experience, the most beautiful time for Da Lat travel is from March to May, when Da Lat is filled with the colors of purple phoenix flowers to welcome summer. This time, Da Lat is a poetic space full of romance.
In the summer, from August to October, Da Lat city often has heavy rains adversely influencing your trip. It is hard to find what to do in Dalat under the rain. However, if you love the romantic feeling, it is the ideal time to find unique Dalat and what to do on rainy days. Sitting and sipping a hot cup of coffee while looking out the window at the romantic rain is an unforgettable experience in your journey.
From October to December, Da Lat city is characterized by the cold of early winter. The air is cool and fresh. Moreover, it is time to watch wild sunflowers bloom beautifully. The ideal roads to see wild sunflowers such as the road to Ta Nung, Suoi Thong flower, the road to Ham Thuan (Bao Loc, Lam Dong), and the Phu Hiep roadway
Featured tours:
What to do in Dalat
Ca Phe Da Lat: Taste the landscape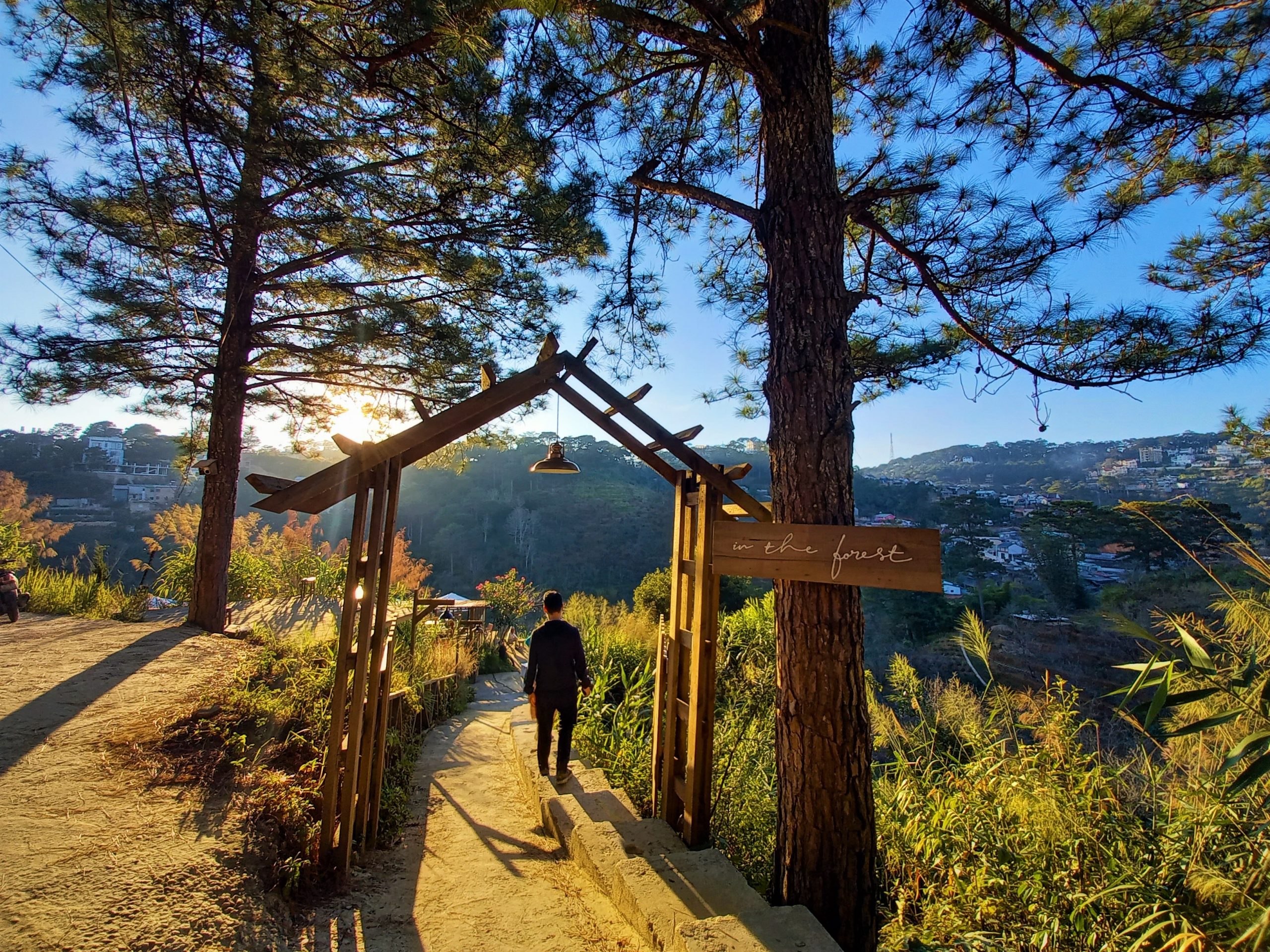 The top attraction of Da Lat city is its scenery. That is why on top of what to do in Dalat is finding a special place to enjoy the natural gift. In the flowers land Dalat, tourists will love to chill in Da Lat cafes with super views to check-in. Most tourists travel here to take exceptional pictures, and creating your own album is one of the top Dalat to-do lists.
Choosing the best one among the thousands of coffee shops surrounding here might not be an easy task. Most of the cafes in Da Lat city are also very focused on the interior, designing the best possible check-in corner for customers. Those cafes are not beautiful for enjoying the atmosphere but also intimate spaces for lovers and friends.
However, Ca Phe Da Lat is also a good gift delighting even c the most fastidious coffee lovers apart from the scenery. Ca Phe Da Lat is made from the famous coffee variety of Vietnam, cultivated with sun and wind. It is voted to be one of the best Coffee in the world.
Here is the list of some outstanding Ca Phe Da Lat you can try:
The Leaf Coffee
Garden of Love – Jardin D'amour Villa, Coffee, and Bistro
May's Tea Shop
Green Box Cafe
Purple Heaven
Rainy Coffee Dalat – Coffee shop in Dalat
Midway Tea & Coffee
Him Cafe
Kombi Land Coffee Da Lat – The most popular virtual living cafe in Da Lat
Check in Dalat: Explore the top 10 attractive direction
DaLat travel is the time for you to explore the miracle of nature. Here, you might feel lost in the fairyland. Check in with wonderful places should be added to every page of your Dalat itinerary.
1. Tourist places in the suburbs of Da Lat
Temporarily staying away from the hustle and bustle of Da Lat city, visitors will enjoy new and more special spaces in the suburbs to feel the peace at some places below:
Famous places to visit in the suburbs of Da Lat such as:
Cau Dat Tea Hill
Da Lat Railway Tunnel
Datanla Waterfall tourist area
Sculpture Tunnel
Thuy Thuan tourist area Dalat
Linh An Temple
2. Check in da lat in the direction of LangBiang
If you want to explore Da Lat in the direction of Langbiang, you can visit more places, such as:
Linh Son Pagoda
Domaine De Marie Church
Da Phu Hill
Thien Phuc Duc Hill
Thang Thinh Strawberry Garden
Langbiang tourist area
3. check in da lat in the direction of Prenn Pass
Prenn Pass is considered one of the most beautiful passes in Da Lat. If you choose Prenn Pass as the main sightseeing direction, you can refer to places such as:
Bao Dai Palace 2
La Phong tourist area
Bali Heaven Gate – Green Hills
Robin Cable Car Hill
Datanla waterfall tourist area
Prenn Waterfall
4. check in da lat on the way to Tuyen Lam Lake
Da Lat tourist destinations in the direction of Tuyen Lam Lake are as follows:
Crazy House - Crazy House
Bao Dai Palace 2
Truc Lam
Tuyen Lam Lake
Datanla Waterfall
Lavender Dalat tourist area
Sculpture Tunnel
5. Check in da lat in the downtown area of Da Lat city
The famous tourist attractions in the central area of Da Lat:
Da Lat Market
Dalat City Flower Garden
Dalat Railway Station
Lam Vien Square
Da Lat Chicken Church
Domaine De Marie Church
6. check in da lat on the route to the Valley of Love
If you want to visit the Valley of Love, you should combine visiting the following places:
Van Hanh Monastery
Lumiere Garden of Lights
Dreamy hill
XQ History of Da Lat city
Valleys love
7. check in da lat in the direction of Cu Lan Village
On the route to Cu Lan Village, you can visit famous places such as:
Fresh Garden Dalat tourist area
Van Thanh Flower Village
Dalat Fairytale Land
Puppy Farm cún
Golden Valley
Lonely Pine Tree
Forest Ghost Lu Quan
Cu Lan Village
8. Check in da lat on the same route to Zoodoo
If you go to Zoodoo, you can combine visiting more places such as:
Dalat Railway Station
Two grave hill
Thai Phien Flower Village
Dalat Animal Hill
Zoodoo Zoo
9. check in da lat in the direction of Cau Dat tea hill
Fun places in Da Lat are located on the same route in the direction of Cau Dat tea hill, such as:
Lam Dong Museum
Palace 1 Dalat
Ve Chai Temple
Carnation Flower Garden
Tiger Cave Waterfall
Cau Dat tea hill.
10. Check in da lat on the route to Linh An Pagoda
On this route, there are many beautiful places to take pictures, such as:
Fresh Garden Dalat tourist area
Van Thanh Flower Village
Dalat Fairytale Land
Hoa Son Dien Trang eco-tourism area
Thuy Thuan tourist area
Ta Nung flower field
Cafe Me Linh
Elephant Waterfall
Linh An Temple
In the Forest Dalat: Chill with the nature
Regarding what to do in Dalat, exploring the romantic pine forest is an outstanding option. The beauty of the pine forests throughout the highlands has become the iconic image associated with Da Lat city. That's why chilling in the Forest Dalat cannot be missed in your Dalat itinerary.
The pure energy from the pine forests of Da Lat is the golden key that keeps visitors coming back. Tourists will be addicted to the cool air in every breath and the sound of pine chirping in the wind creating joyful music.
You can find pine trees anywhere in the city. However, to make sure to get good angles and move safely, we give you some options to make your Da Lat travel unforgettable:
1. Pine Forest in Prenn Pass
For those of you who love backpacking, Prenn Pass is an amazing destination located at the southern gateway of Da Lat city. Prenn Pass is known as the most beautiful pass in Da Lat, with a winding road flanked by pristine green pine forests.
The most beautiful time in the Forest Dalat is around 3 pm to 5 pm when the surrounding landscape becomes more shimmering and fanciful. To check in Dalat in pine hill here, you can follow the footpath leading to the forest. However, only a few vehicles are moving on the road, so be careful.
2. Pine forest of Tuyen Lam lake
Located at the foot of Phung Hoang Mountain, Tuyen Lam Lake is known for its beautiful scenery, made up of many small oases and surrounding pine forests. It makes you come to a wonderland.
Pine forest in Tuyen Lam lake grows naturally, becoming an ideal camping and picnic spot for tourists finding what to do in Dalat
3. Pine forest in Cu Lan Village
Cu Lan village is located in the middle of the primeval forest at the foot of Langbiang mountain. It is also the place where you will get lost in the endless pine forest. You can explore the breathtaking scenery of the pine trees and the golden lake with iridescent flowers, surrounded by the sound of nature. The nature here will make you feel relaxed and comfortable.
4. Golden Valley Pine Forest
Golden Valley is an eco-tourism area located by Dankia Lake with thousands of green pines, flowers, and bonsai stones, which can make you fall in love at first sight. Coming to the Golden Valley, you will be surprised with pine species from 5m - 15m high, covering a whole hill next to green meadows. Accordingly, it is why people think about Camping in Golden Valley when deciding what to do in Dalat.
offers a high level of customized , and Dalat travel is not an exception. In case you are planning your Dalat itinerary, let us become your travel mate.