Amazing Northern Adventure Tour 16 Days
Hanoi - Mai Chau - Moc Chau - Son La - Dien Bien Phu - Lai Chau - Sapa - Bac Ha - Ha Giang - Cao Bang - Ba Be - Halong Bay
16 days 15 nights

Hanoi

Hanoi
Overview
The Amazing Northern Adventure Tour ( 16 days) through the northwest and the northeast Vietnam let you touch almost remoted destinations in the north Vietnam. This Adventure Tour in the northern area Vietnam introduces you all rice paddy terrace fields, beautiful nature sceneries, spectacular rock plateau, stunning valleys and rich cultures of ethnic minority groups along the way you travel. You will spend 2 last days of the trip to relax on the cruise of Halong bay, enjoying sunrise , sunset or swimming on the white sand beaches of the UNESCO World Heritage site Halong Bay
Arrival/Departure Locations
Service Included
3 star accommodations with daily breakfast and Homestays in some distances in the northwest and northeast of Vietnam
Meals as mentioned in the itinerary
Services of a private driver and air-conditioned vehicle
Service of a private tour guide (English/ French speaking)
Halong Bay cruise (2 days/ 1 night package)
Entrance fees, performances, boat trips & excursions.
Service Excluded
International flights into and out Vietnam
Meals other than those mentioned in the itinerary
Early check-in and late check-out at hotel
Personal expenses (such as laundry, telephone, drinks, etc.)
Tips for tour guides and drivers
Travel insurance
Vietnam Visa fee.
Tour highlights
Beach
Trekking
Car
Cruise
Mountain
Shows
Caves
Temple
Historical sites
Tour details
Day 1: Hanoi Arrival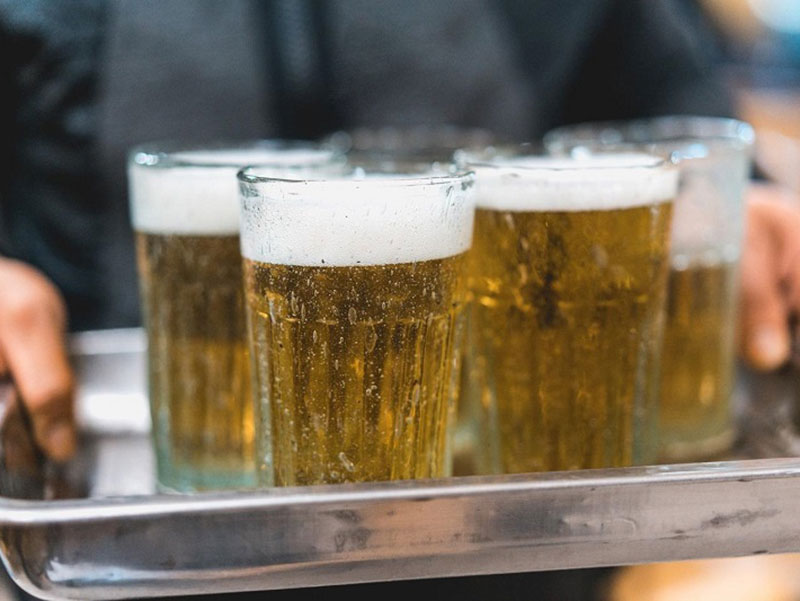 Upon arrival at the international airport Noi Bai, Our tourguide and driver will welcome and pick you up at the airport and then transfer to Hanoi for the hotel check-in. Take time to relax.
At night, You will have a great chance to discover the real Hanoi city at the old quarter. Spend time for awalk and stop at the local bar by the street for some glasses of Hanoi beer - one of the best traditional beers in Vietnam from the French time. Have dinner at local restaurant.
Meals: Dinner.
Accommodation: Hotel in Hanoi.
Day 2: Hanoi Full Day City Tour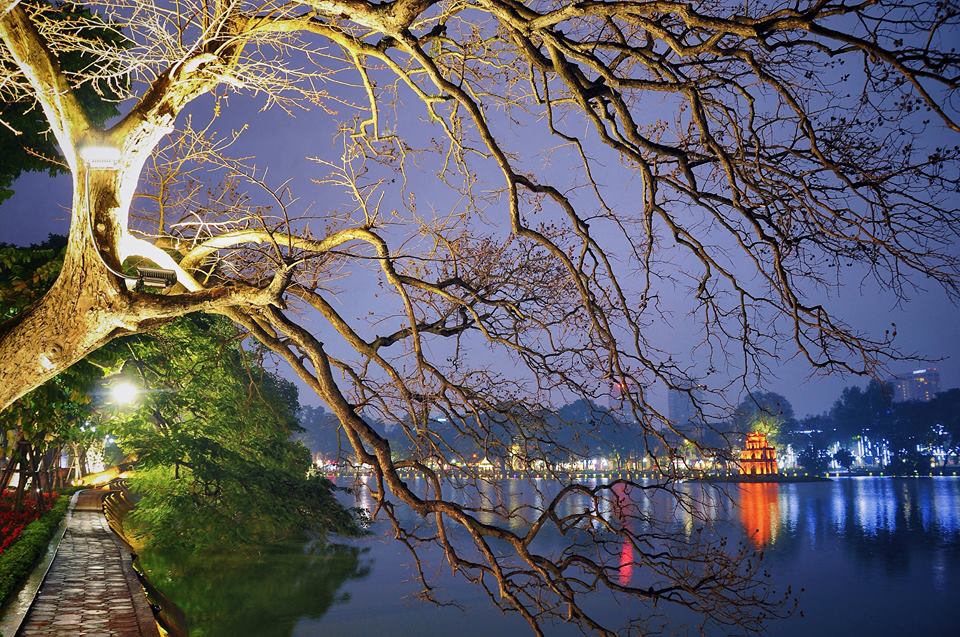 Today you have a full day to explore Vietnam's charming capital. With its wide tree-lined boulevards, French colonial architecture, peaceful lakes and ancient oriental pagodas, Hanoi is an eclectic mix that offers something for everyone.
Start with a visit to the Temple of Literature that was built in 1070 and best known as the First National University. Follow it with one of the city's museums (a choice between the History Museum and the Ethnology Museum) before your lunch. This meal offers you unforgettable experience of the famous Hanoi specialty cha ca -- fried fish with turmeric and dill and vermicelli noodles - at Cha Ca Thang Long.
In the afternoon, transfer to the Ba Dinh Square where stands the Mausoleum of President Ho Chi Minh who led Vietnam to independence from French colonial rule. This site has become an important city landmark and a perfect place to learn more about Vietnam's rich history. From there, wander through the beautiful surrounding gardens toward the One Pillar Pagoda and Presidential Palace, where a replica of Ho Chi Minh's simple working space is on display.
Conclude the day with a traditional Water Puppet Performance – a unique Vietnamese Art form hailing from Southeast Asia's wet-rice culture.
Meals: Breakfast & Lunch.
Accommodation: Hotel in Hanoi.
Day 3: Hanoi - Mai Chau Valley - Homestay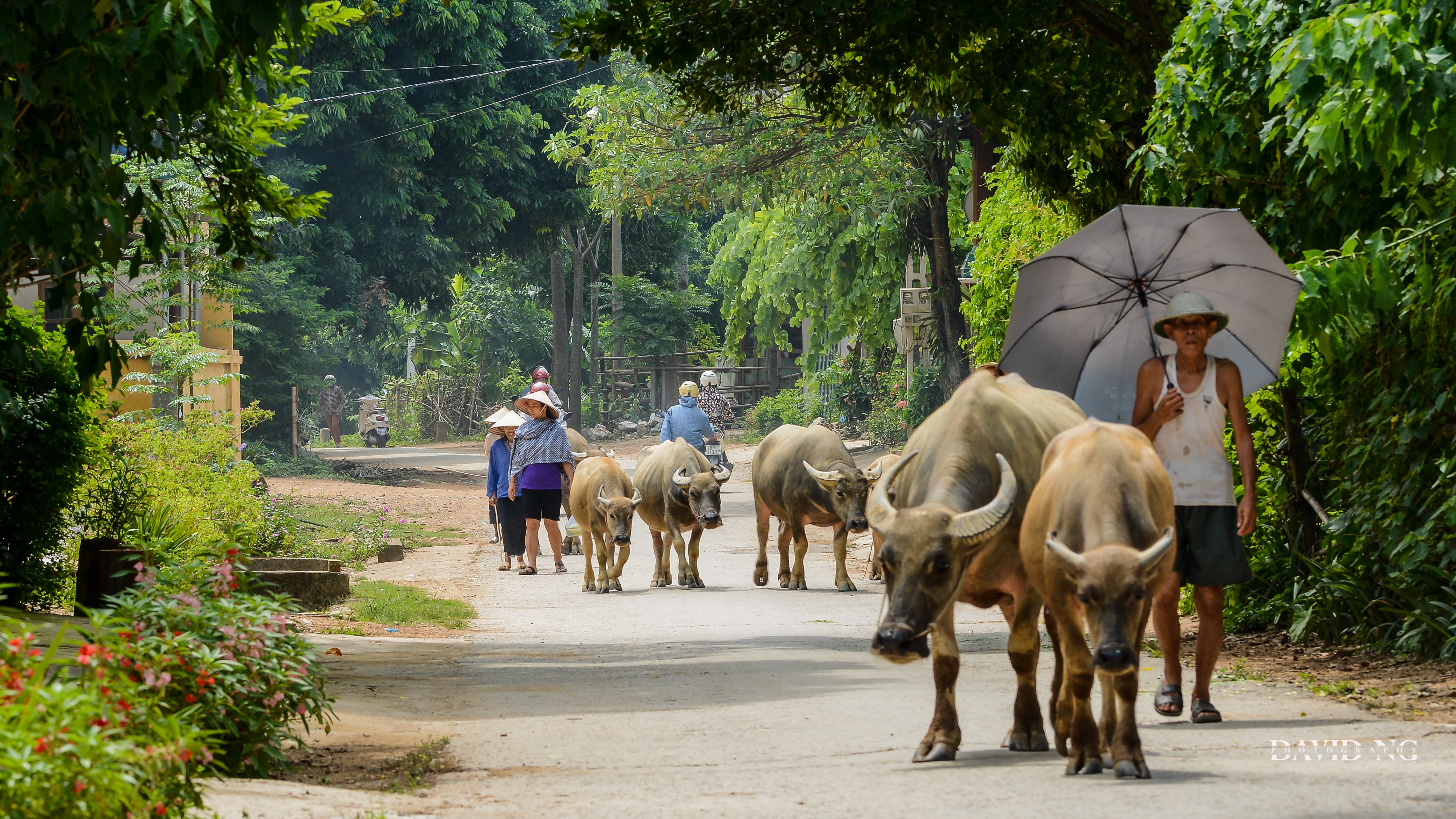 Wake early and enjoy breakfast at the hotel, before setting off on your drive to Mai Chau – a yawning valley, cradling picturesque rice paddies and boarded by looming karst rock formations. The journey offers an excellent opportunity to observe rural Vietnam up-close. Upon arrival, walk around to get acquainted with the village where you will stay overnight.
After lunch, spend the afternoon trekking off the typical tourist track. Trek through terraced rice paddies and small villages, discovering the natural beauty of the valley and encountering the culture of the White Thai people, living in the region. Stop at a Thai village for the night, having dinner with a local family and enjoying a homestay in their long house.
Meals: Breakfast, Lunch & Dinner.
Accommodation: Homestay in Mai Chau.
Day 4: Mai Chau Valley - Moc Chau Plateau - Homestay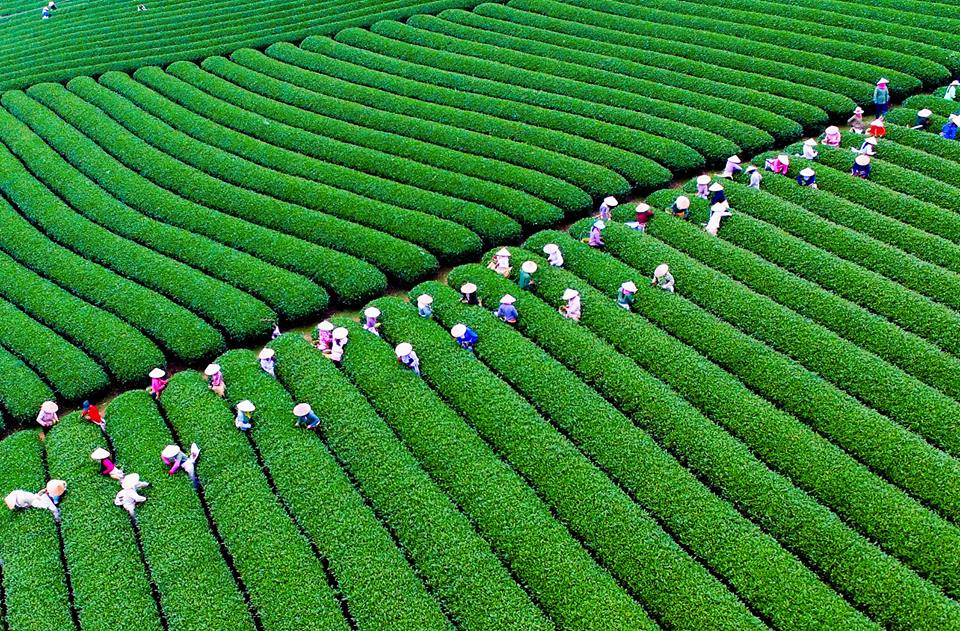 Have breakfast at the homestay before embark on a beautiful drive north to Moc Chau. This good stretch of road is filled with stunning scenery; you will make frequent photo stops and visit to the minority villages.
Lunch is served at a local restaurant en-route. Upon arrival in Moc Chau, you will start the cycling tour to visit Thai and H'Mong Villages. From Chieng Di Hamlet, ride a bike through Moc Chau tea plantation hills as well as take visit to Moc Chau dairy farm and several hamlets with hundreds of fruits and flowers species on the way. Take rest for half an hour and jumped on the bikes again to discover the "Dai Yem" waterfalls. Dinner and stay overnight in Moc Chau.
Distance: 100 km or 63 miles.
Meals: Breakfast, Lunch & Dinner.
Accommodation: Homestay.
Day 5: Moc Chau Plateau - Son La - Dien Bien Phu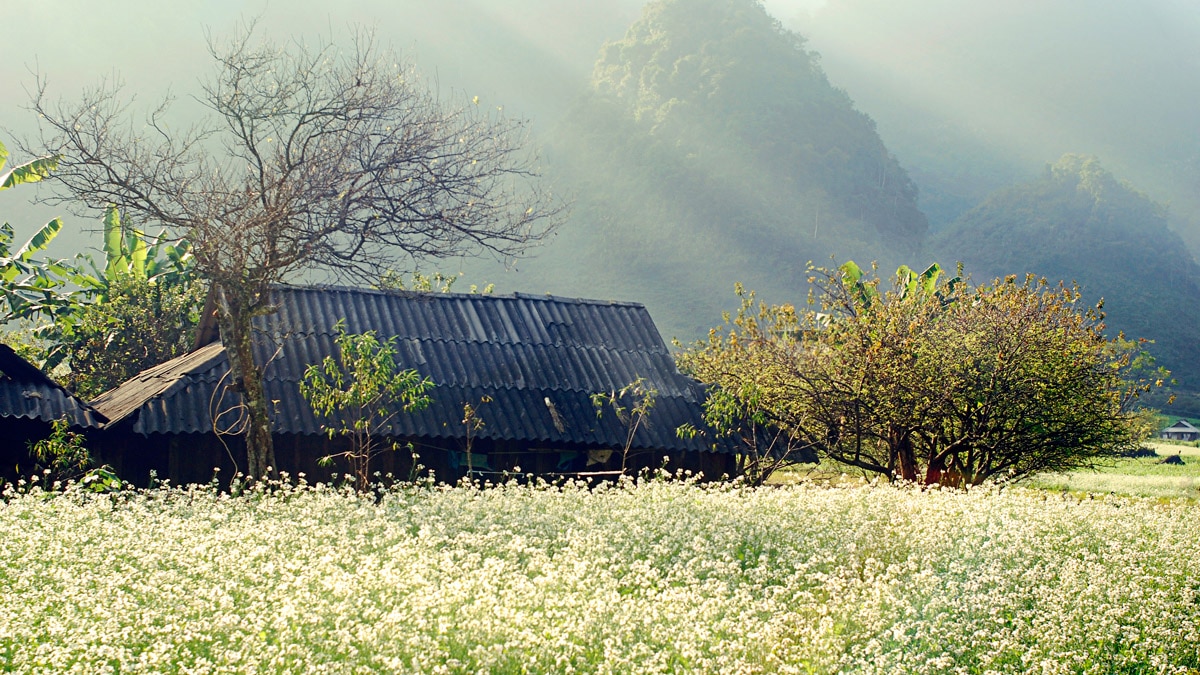 Today you will travel Northwest on more winding & stunning roads, longer passes and see more colorful minority groups. Just as previous days, you may want to stop more often for pictures and visits the villagers to learn more about their rich culture.
The path from Moc Chau to Dien Bien Phu with typical stunning sceneries of Northwest Vietnam will surely leave you unforgettable experience. On the way, you will pass the expansive terraced fields of corn, bean or banana along with colorful souvenir booths of the locals along the road sides. Continue your way through the impressive Pha Din Pass at the height of 1,500m, admiring a fantastic panorama of the charming valley encompassed by the cloud all year round, and passing roads of colorful wild flowers, you finally reach Dien Bien – the land of rich history in the late afternoon. Upon arrival, check in your hotel and relax.
Meals: Breakfast, Lunch & Dinner.
Accommodation: Hotel in Dien Bien.
Day 6: Dien Bien Phu City Tour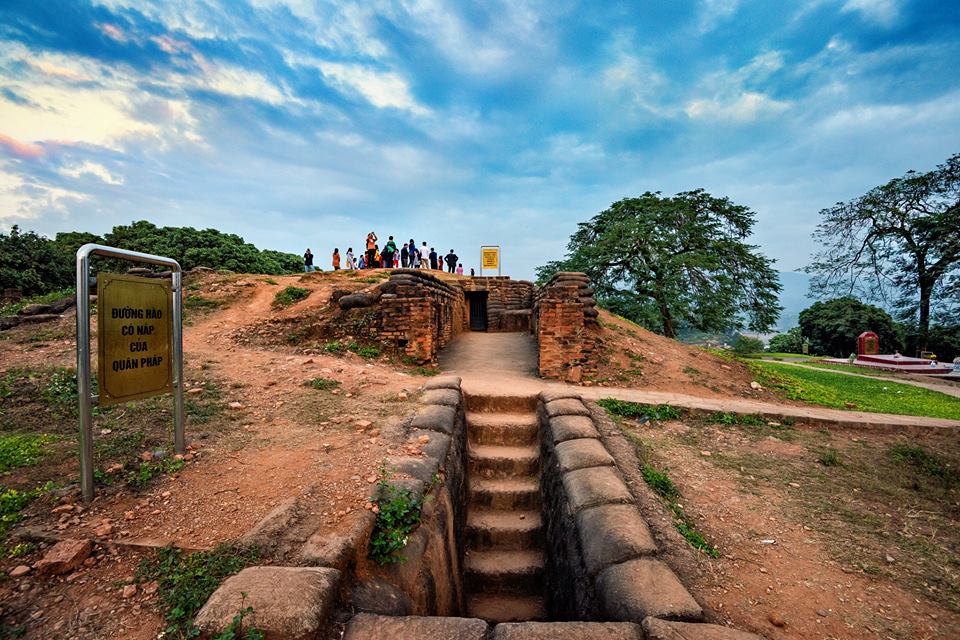 Nestled in a heart shaped basin near the border with Laos, lies Dien Bien Phu, the famous historical battleground, where the Vietnamese successfully defeated the French, marking the end of French colonial occupation.
Begin your day with breakfast at your hotel before exploring former battlefield sites scattered around the city with your guide. Discover where the French forces — after nearly 100 years of colonial rule and nine years of war — were defeated by forces under the leadership of Ho Chi Minh. Next, travel to the countryside of Muong Phang, an approximately 11-mile (17-km) drive from town. Visit the military headquarters of General Vo Nguyen Giap, used during the Dien Bien Phu campaign during the First Indochina War. At the re-created command center, learn about the network of tunnels and bunkers the troops used to advance toward victory.
Have lunch on your own account and back to your hotel for a short relax.
In the afternoon, take a walking tour around town. View wartime gravesites at Dien Bien Phu's cemetery, located on the banks of the Ron River, and hear your guide discuss the 1954 defeat of the French by the Viet Minh. Then explore the Dien Bien Phu Victory Museum (aka Vietnam Military History Museum), which features an eclectic collection of photographs, war documents, weaponry and other items commemorating the 20th-century battle. Following a visit to a central market to browse among the vendors and conclude the day by enjoying dinner in a local restaurant.
Meals: Breakfast, Lunch & Dinner.
Accommodation: Hotel in Dien Bien.
Day 7: Dien Bien Phu - Tram Ton Pass - Sapa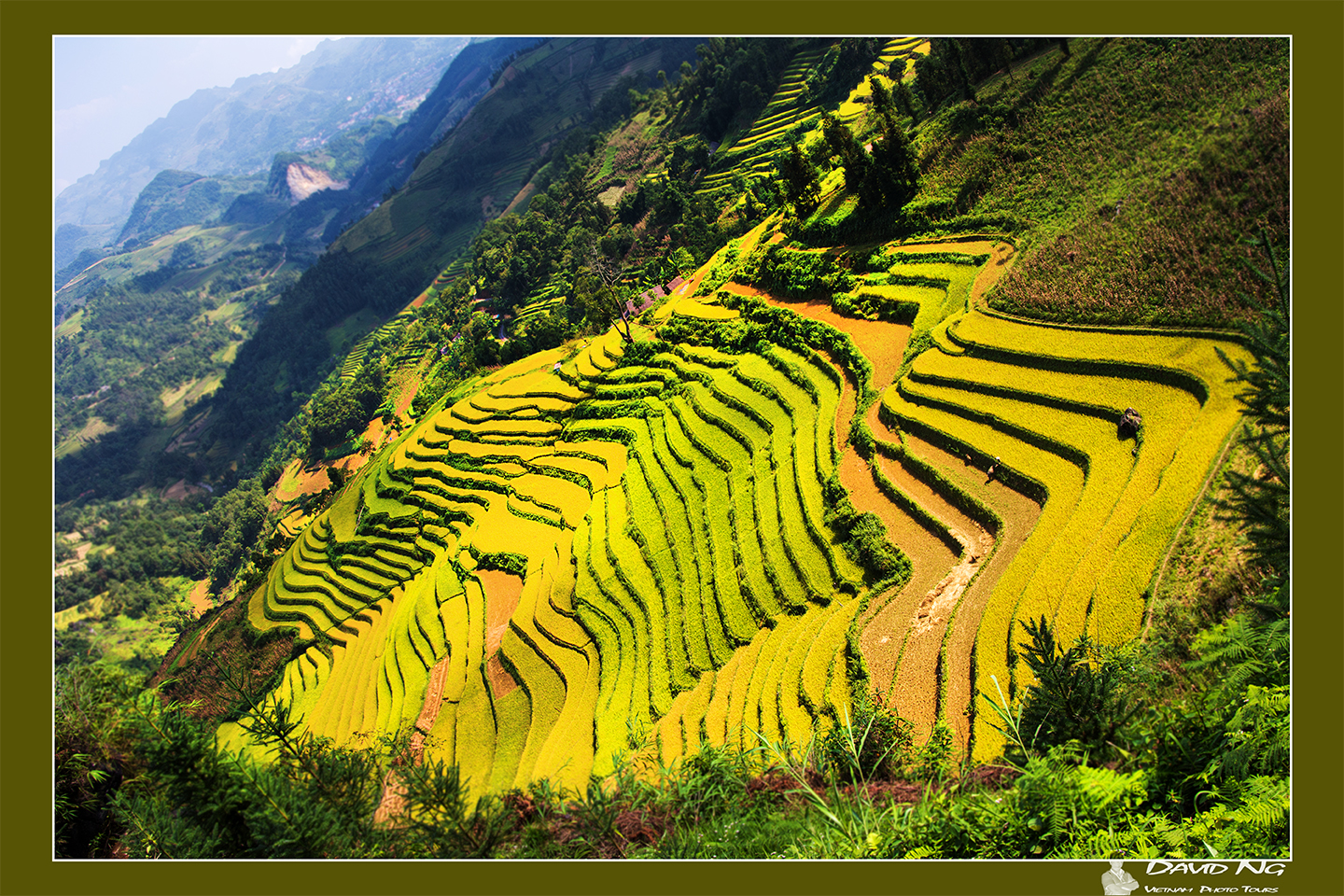 This morning, leave Phong Tho for Sapa. The road is a bit bumpy at times, but the rough route is quickly compensated by the magnificent scenery: yawning valleys, winding rivers, and canonical mountains – a photographer's dream. The drive to Sapa takes you up Tram Ton – the highest pass in Vietnam – and views of the Fansipan Peak, known as "the roof of Indochina". Stop en route to visit Heaven's Gate and the Silver Waterfall. You arrive in Sapa in the afternoon. Nestled in a sweeping valley near the Chinese border, Sapa is Northwest Vietnam's premier travel destination. Built in 1922 as a French colonial hill station, this quaint town is now a trekker's paradise, offering hiking routes through terraced rice fields and enchanting hill tribe villages. Upon arrival, you will check-in the hotel and take a break. Then you'll walk down streets for the orientation guided tour that endures one hour and the tour includes all the key sites such as the Old Church, local market and the dining & shopping streets.
Meals: Breakfast, Lunch.
Accommodation: Hotel in Sapa.
Day 8: Sapa Full Day Trekking Tour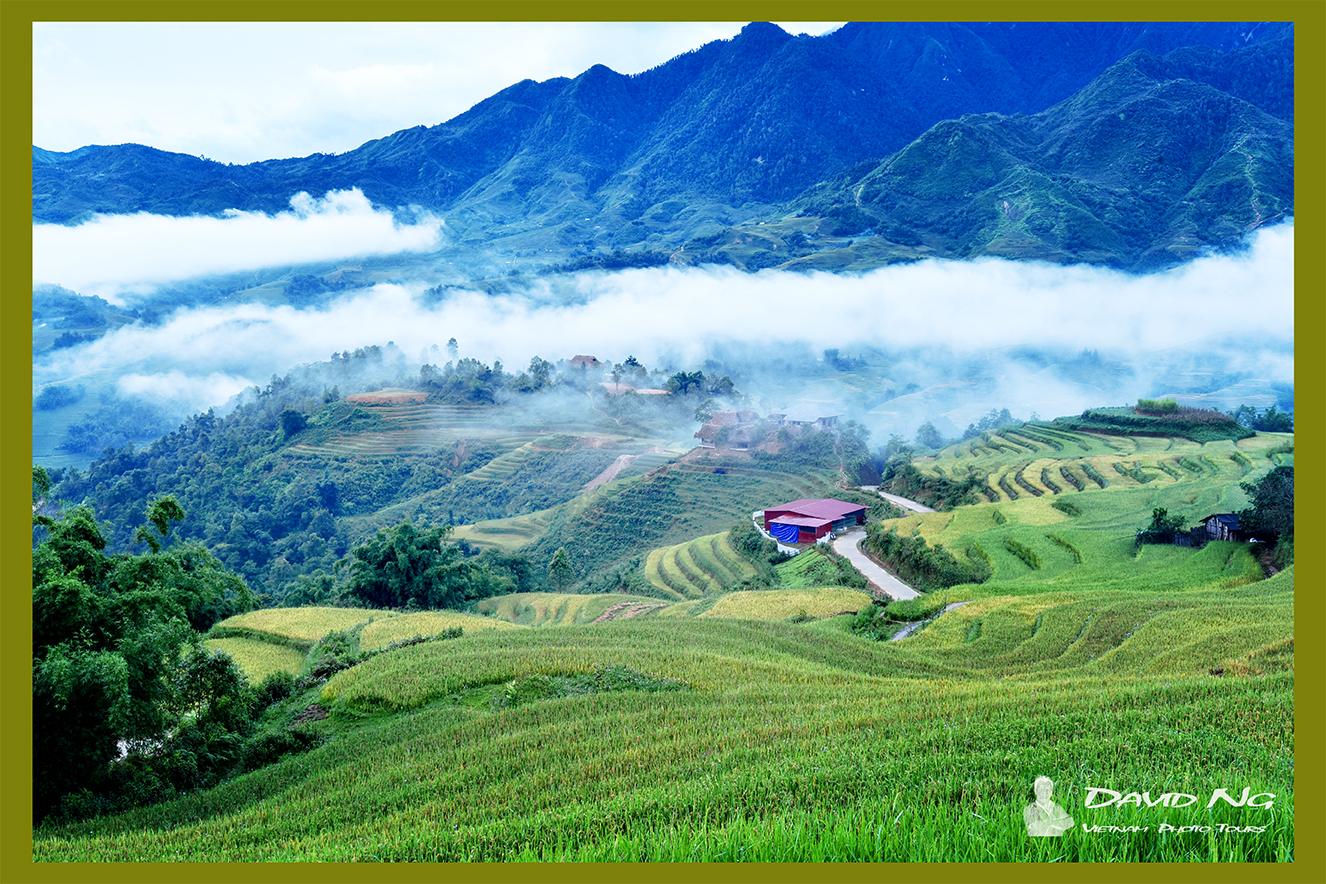 Surrounded by plunging valleys, terraced paddy fields and towering mountains, Sapa is home to a lively central market where hill tribe people from outlying villages, resplendent in their traditional headdresses, gather to buy and sell their wares, meet with friends and catch up on the latest gossip.
Enjoy breakfast in the hotel while breathing fresh mountain air.
At 10:00 A.M, leave Sapa by car toward Lao Cai City, after a 3 km drive you will ascend a hill to a remote ethnic minority village of Sa Seng, where you will be able to see how the Black H'mong's daily life is. This community has recently shifted from a migratory lifestyle. Notice the traces of past villages with stone wall foundations that would have been seasonally used. Enjoy lunch in Sa Seng before trekking uphill along the side of Den Thang Mt. Take in the breath taking view of the Muong Hoa Valley at Hang Da Village at the elevantion of 1,800m. The next 30 minutes are level walking before descending through Hau Chu Ngai village. Continue descending into Hong Den Hamlet, consisting of only a few homes scattered on a rocky point. Take a moment to enjoy some of the best scenery in the area. Keep trekking down the trail to Ta Van Bridge, where you will walk along the stream leisurely to your homestay in the village of Zay ethnic. Enjoy dinner with a local family in their long house.
Meals: Breakfast, Lunch, Dinner.
Accommodation: Homestay in Ta Van.
Day 9: Sapa - Hilltribe Market Ba Ha - Ha Giang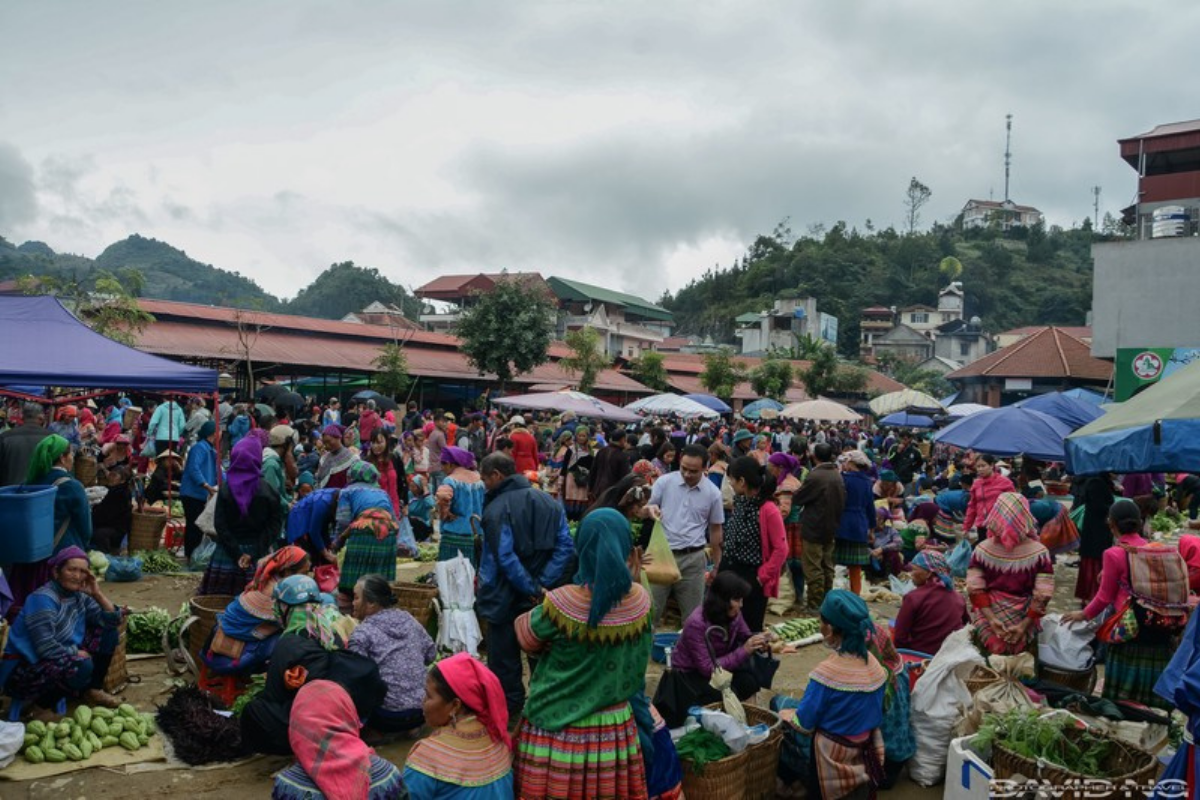 Have early breakfast at the homestay. Farewell Sapa then drive to Bac Ha. Opened every Sunday at the center of Bac Ha Township, this is the biggest ethnic market in Lao Cai Province and probably among some most interesting ones in the northern mountains. Some thousands of people from ethnic groups including Black Zao, Tay, Phu La and Flower H'mong wear their best traditional clothes to attend the market and turn it into a kind of festival. Commodity sold at the market is varied from embroidered clothes, handicraft, farming produces, food… to poultry and cattle such as vegetable, spices, chili, chicken, cat, piggy, doggy… At the market place, after finishing their shopping, people gathered into groups at footstalls or restaurants enjoying "Thang Co" a kind of H'mong traditional specialty, drinking corn wine and talking cheerfully. Visit Hoang A Tuong Castle (another name – H'Mong King Palace) then take a long journey of 5 hours to Ha Giang, which is located at the highest latitude in Vietnam. Have your camera at the ready, because the road features a unique and beautiful landscape.
Meals: Breakfast, Lunch & Dinner.
Accommodation: Hotel in Ha Giang.
Day 10: Ha Giang - Dong Van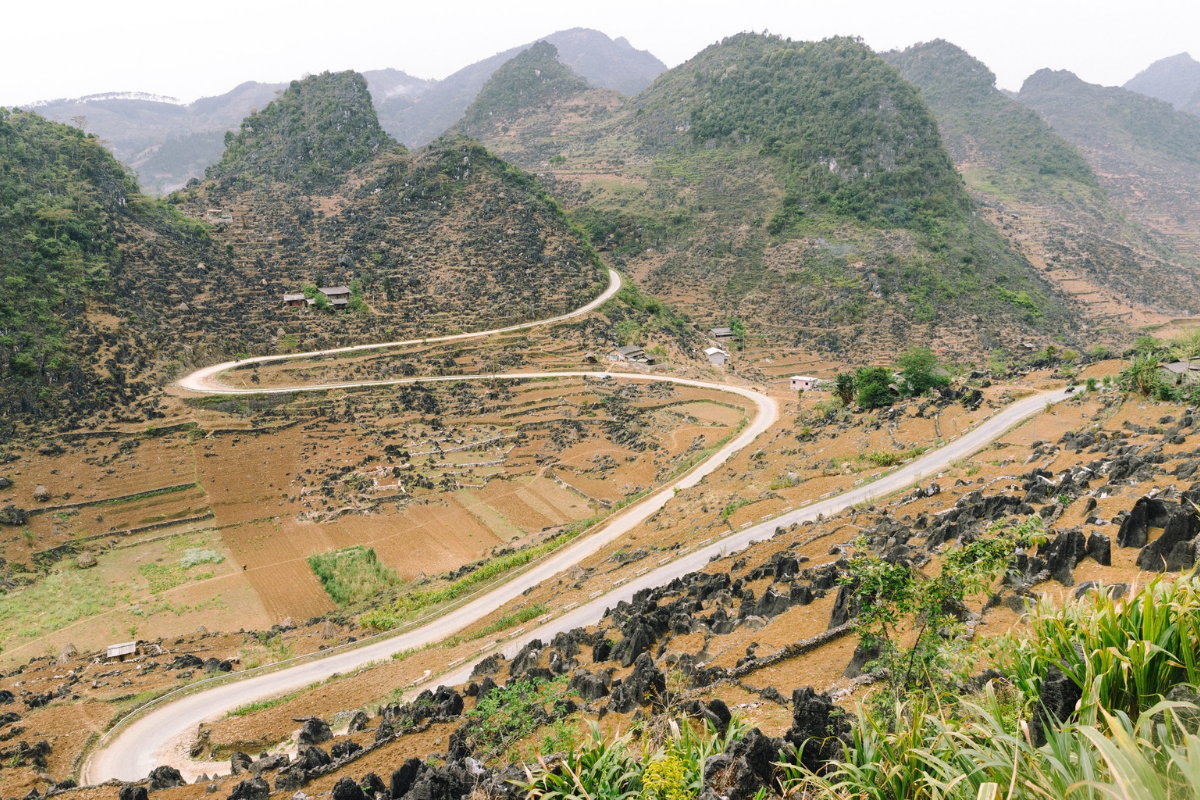 Rise and shine for a few hours' drive over an endless winding road to the most northern town of Vietnam, Dong Van. You'll travel through many of the Heaven Gates such as Quan Ba, Yen Binh, and Dong Van. They are so called because one gets the feeling of touching the sky, the heaven gates. This is the best time and place to enjoy the wonderful sightseeing of the vast limestone mountain range and perpendicular rock walls which give a feeling of adventure while being lost in a magic land where we are surrounded by many rocks of all shapes and sizes. Then continue your trip to visit the infamous Palace of Vuong, a H'mong high-rank family during French colonial rule. This palace attracts keen interest from architecturally minded visitors due to its mixed style of European and Chinese architecture. The more you go north, the further "normal" Vietnam seems to vanish and most people you'll see wear their traditional, extremely colorful clothes. But you won't be the only one who is amazed, so are Ha Giang's inhabitants who seldom see a foreigner.
Meals: Breakfast, Lunch & Dinner.
Accommodation: Hotel in Dong Van.
Day 11: Dong Van - Cao Bang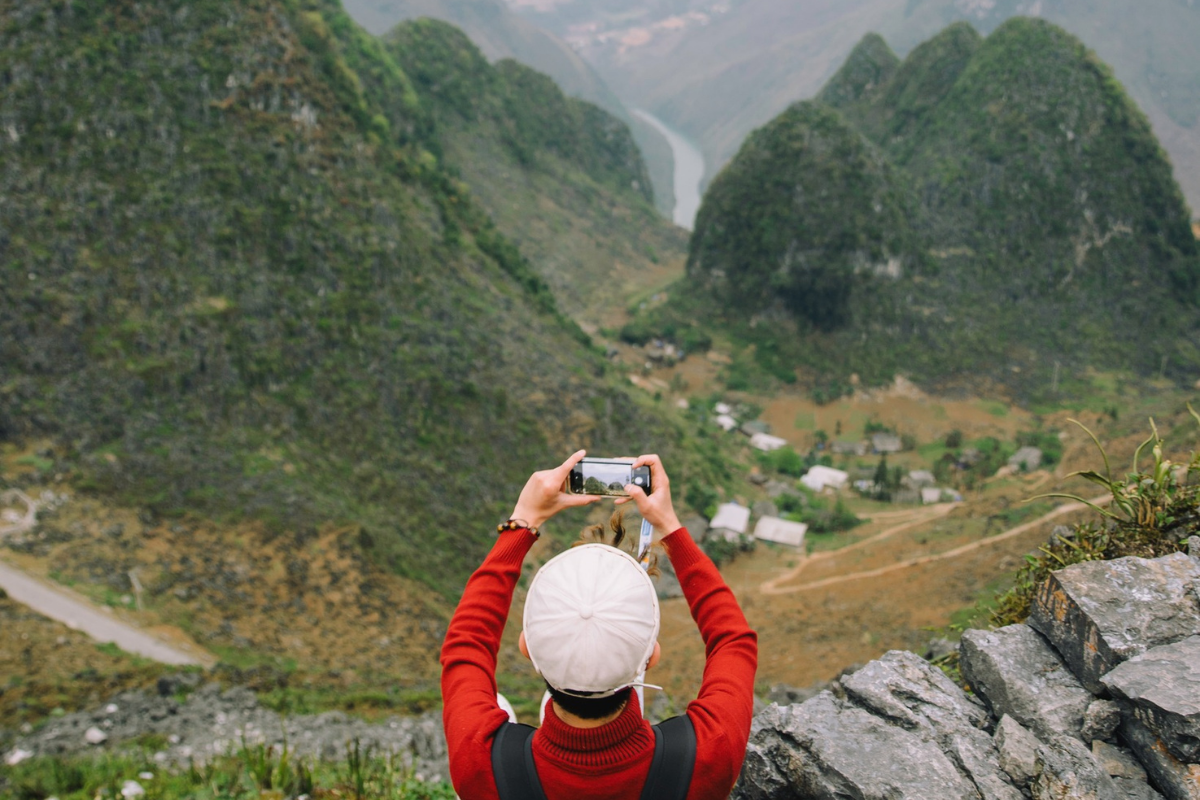 The trip from Dong Van to Meo Vac is one you'll never forget: along a steep, hundreds of meters deep abyss the road will take you through a spectacular mountain area with on your left side China. Meo Vac is conquered by the Lo Lo and Pu Peo ethnic minority people. They still retain their age old cultural traditions and are recognizably distinct from each other by their dress. The remoteness and the simple lifestyle of local people are a highlight of Meo Vac although conditions are very basic. Miles and miles before you'll reach Cao Bang.
Meals: Breakfast, Lunch & Dinner.
Accommodation: Hotel Cao Bang.
Day 12: Cao Bang - Ban Gioc Waterfall - Nguom Ngao Cave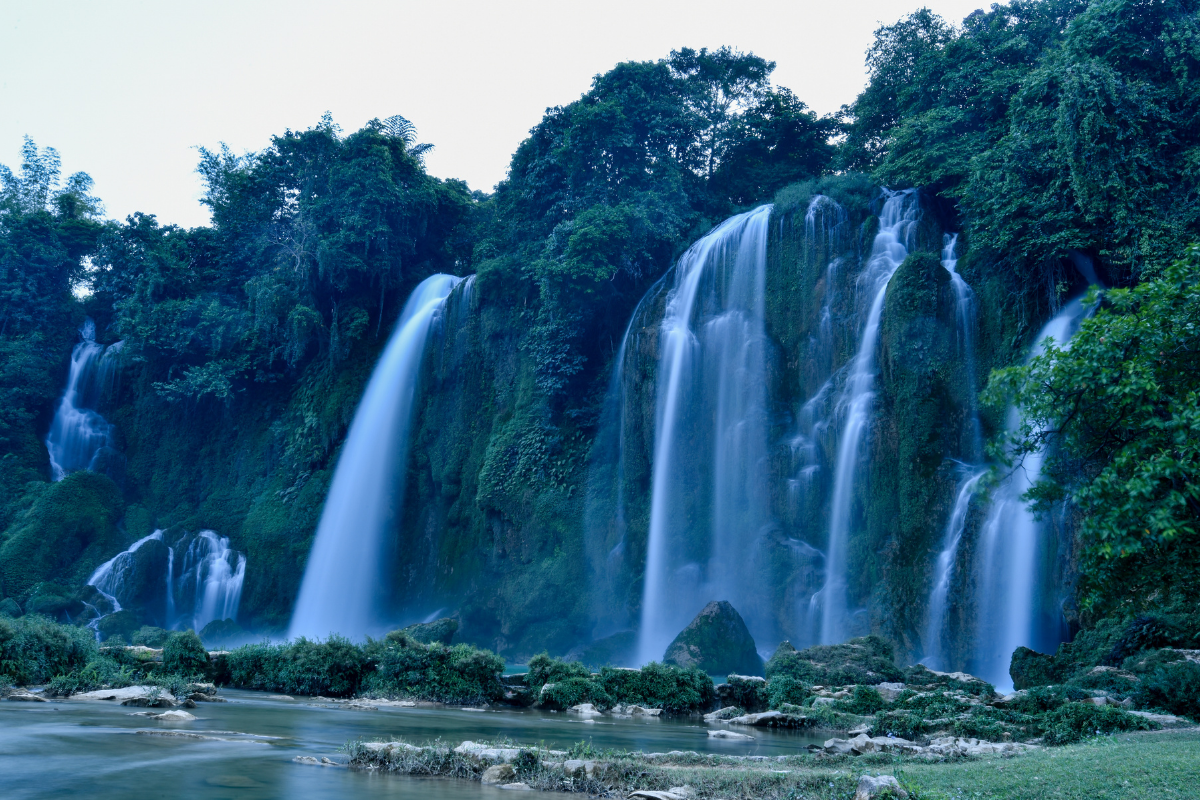 An eighty kilometers long road will take you to the Ban Gioc Waterfalls. Half way you'll visit a village of the Nung minority. Close to the Chinese border you'll make a short walk to the falls which are 300 meters wide and 50 meters high. In winter, the dry season, it's possible to take a boat to the falls. On a short distance from the falls are the Nguom Ngao caves. The local guides will take you for a trip to underground rivers and lakes and sinter caves. Late in the afternoon you'll return to Cao Bang.
Meals: Breakfast, Lunch & Dinner.
Accommodation: Hotel Cao Bang.
Day 13: Cao Bang - Ba Be Lake - Homestay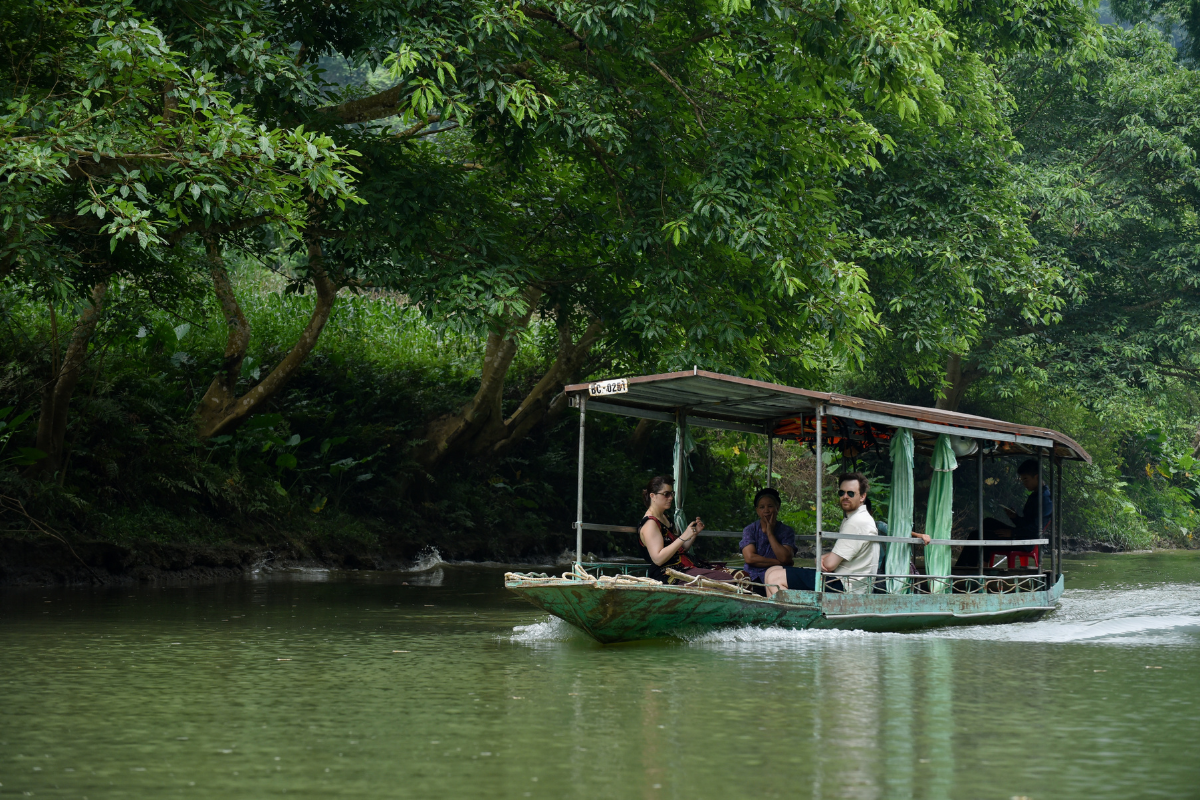 An early morning start to drive through the rolling hills and the picturesque scenery to Ba Be. You will have a chance to meet the Hmong, Dao, Tay and Nung ethnic minorities who make for the main population of this region.
The legendary lake of Ba Be is just one continuous water body although the name means three lakes. Today embark on a boat cruising down the Nang River which is the main water source of the lake. This exciting river trip will give you a taste of the tranquil countryside and an enjoyable exploration of the Ba Be National Park. Traverse the Poong Grotto en route before stopping at some nearby hill tribe villages and getting off the beaten track to the scenic Dau Dang Waterfalls. In one of the desolated villages near the water you'll spend the night in a traditional Tay house.
Meals: Breakfast, Lunch & Dinner.
Accommodation: Homestay in Ba Be.
Day 14: Ba Be Lake - Hanoi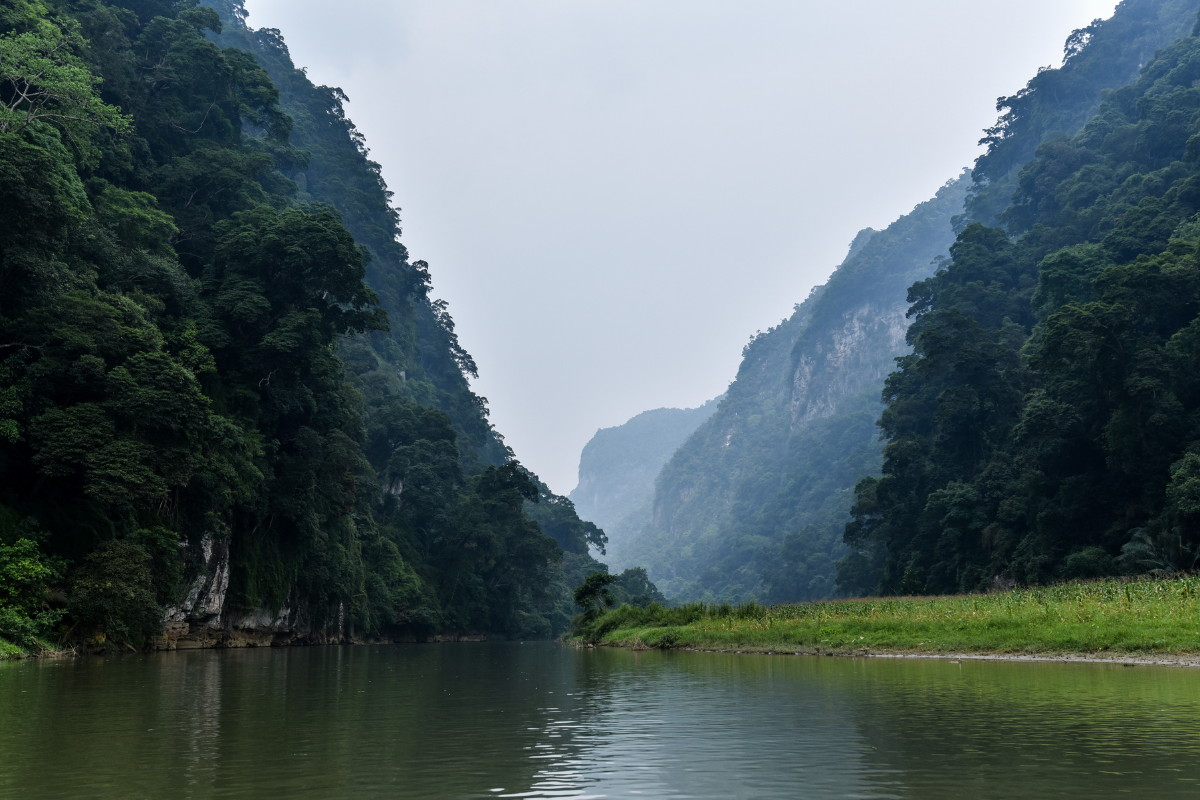 After breakfast, visit Cho Ra market. Then head back to Hanoi, stopping for sightseeing and taking photographs and having lunch en-route. Rest of the day, relax at your hotel or enjoy spa treament to recover your energy.
Meals: Breakfast.
Accommodation: Hotel in Hanoi.
Day 15: Hanoi - Halong Bay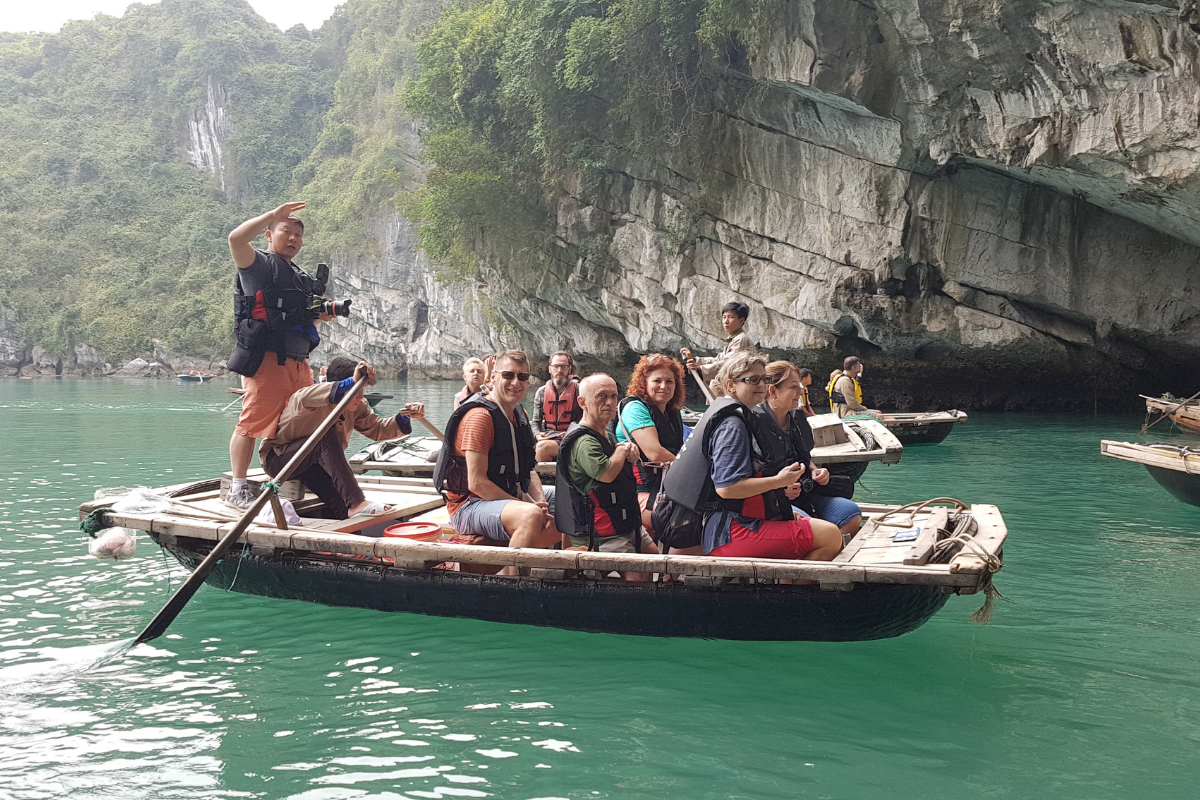 Note: The below itinerary is subject to change without prior notice, depends on specific cruise and weather condition.
Enjoy breakfast at the hotel, then set out on a 2.5 hour drive to the UNESCO World Heritage site: Halong Bay. Spend nearly 24 hours on a traditional junk cruise in the amazing bay: a natural wonderland composed of jutting limestone islands and sparkling turquoise waters. Arrive at the dock around noon and board your junk. Savor a gourmet lunch of fresh seafood onboard as we sail out into the mystical bay. In the afternoon, cruise around some of Halong's many islands, including Dinh Huong and Ga Choi. Along the way visit one of the bay's 3 largest caves (Thien Cung, Dau Go or Sung Sot). Stop at an island cove with a sheltered white-sand beach and take a dip in the warm waters of the Tonkin Gulf (weather permits). Pass the night on your junk, lulled to sleep by the gentle rocking of calm waters.

Meals: Breakfast, Lunch, Dinner.
Accommodation: on cruise.
Day 16: Halong Bay - Hanoi - Departure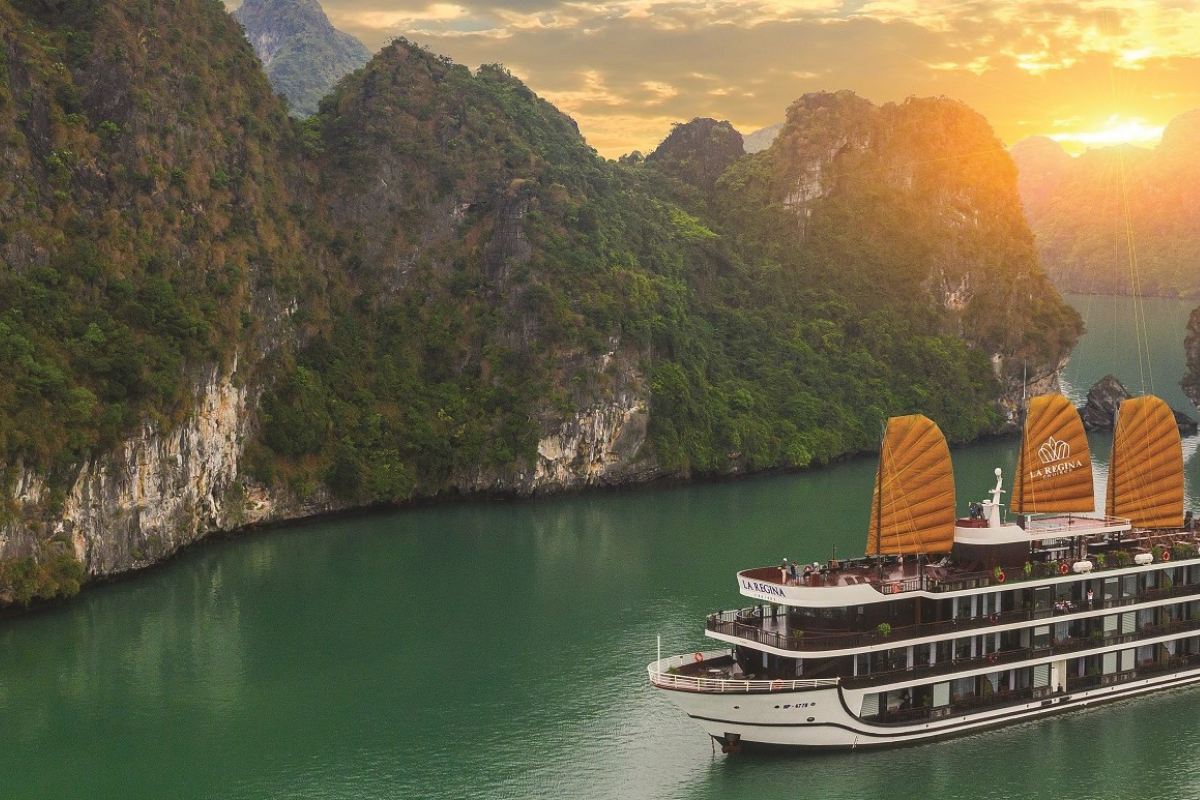 Awake early and participate in Tai Chi on the top deck or simply relax and enjoy the sunrise over the bay's towering islands. Enjoy a morning cup of coffee or tea, before setting out to explore nearby islands by rowboat. Return to the junk for breakfast then take advantage of the sundeck and admire the amazing rock formations of Bai Tu Long Bay as you navigate back to Halong City. Have brunch on board the boat before returning to Halong pier. Your driver will meet you at the dock and take you to Noi Bai Airport of Hanoi for your departure flight.
Goodbye & Safe travels!
Meals: Brunch.
Accommodation: None
Children Policy:
Under 2 years ( Parents will pay if anywhere request for fee):

free of charge

Child from 11 years (Share Room with 1 Adult):

100% adult fare

Child from 2-10 years (Share Room with 1 Adult):

100% adult fare

Child from 2-10 years (with extra bed):

90% adult fare

Child from 2 - 10 years ( without extra bed):

75% adult fare