Ho Chi Minh City (Commonly called Sai Gon) is one of the biggest metropolitan of Vietnam that tourists might not want to miss when traveling to Vietnam. As a modern and vibrant urban, when night falls, the truly Sai Gon life begins. The charm of Ho Chi Minh City's nightlife is attached to tourist attractions such as walking streets, shopping malls, skyscrapers, and bars.
The color of Ho Chi Minh city nightlife with bars and club
Regarding , traveling to Ho Chi Ming city show its own attraction thanks to impressive destinations for enjoying a unique lifestyle. Capturing the huge potential of the tourism industry, many corporations and companies invest in constructing infrastructures of amusement zones in Ho Chi Minh city.
Accordingly, bars and pubs are two favorite places attracting young generations. Enjoying dancing, singing, hanging out, communicating, and drinking are some things attracting you to come to bars.
From attractive drinks and loud music following modern dances, you will forget your daily fatigue. The eye-catching light gives you an awesome view and a great virtual living angle. The beauty of the best bars in Ho Chi Minh comes from the source of inspiring excitement and enthusiasm among young people.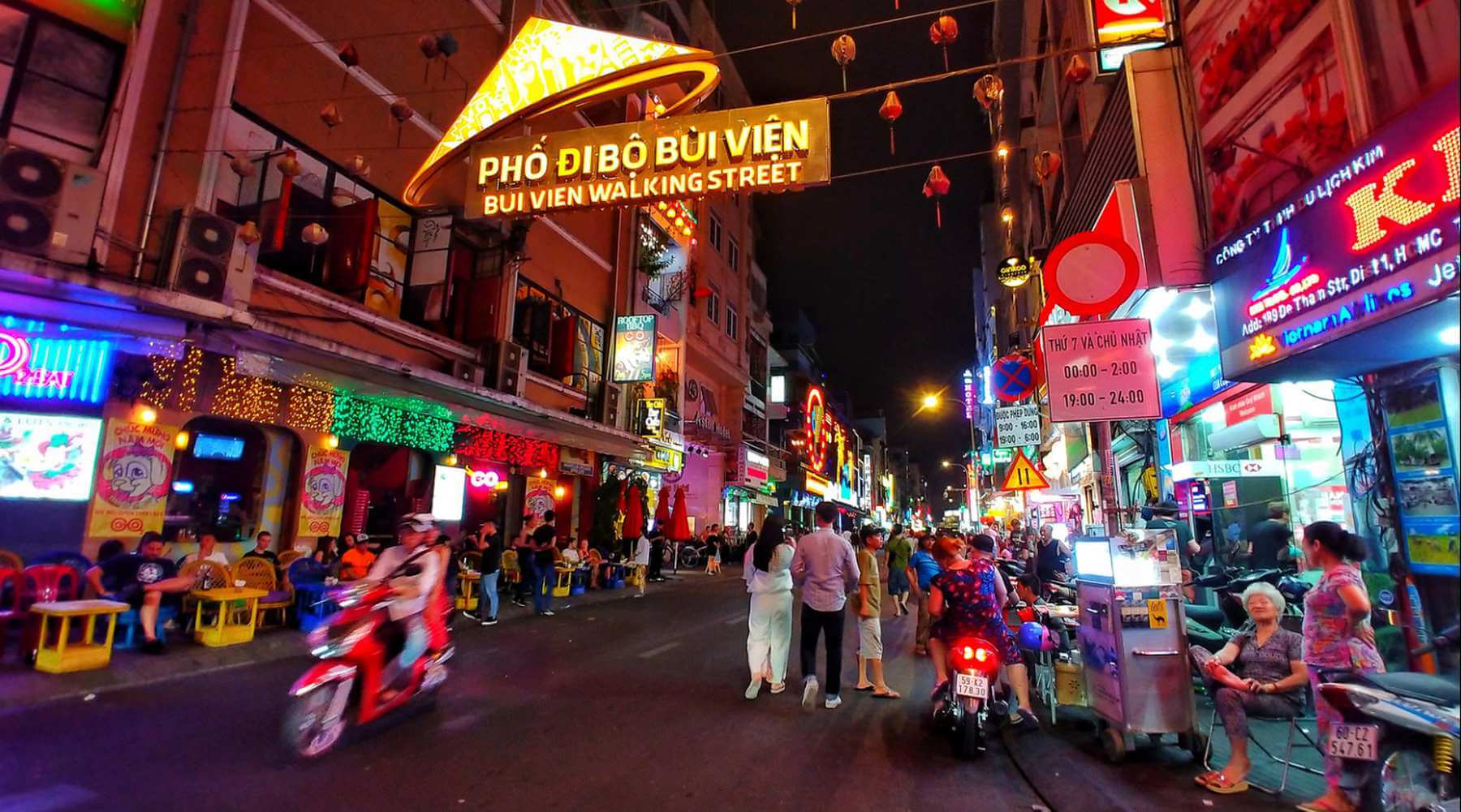 The best things in rooftop bars Ho Chi Minh city
The best rooftop bars Ho Chi Minh have it owns charming city views and offer a romantic feeling to visitors.
The rooftop bar model is derived from Europe, suitable for all customer generations, especially young people. A rooftop bar is on the top floor of a building. Visiting here, you will relax to feel the fresh air, enjoy drinks, and admire the romantic view.
Saigon lights up brilliant beauty. That beauty will be more complete when viewed from above. Rooftop bars Ho Chi Minh city are born to bring wonderful vision experiences to meet the need for relaxing and admiring the city's beauty at night. According to reports from , rooftop bars are on top of the most attractive place for young travelers exploring the beauty of Sai Gon's night.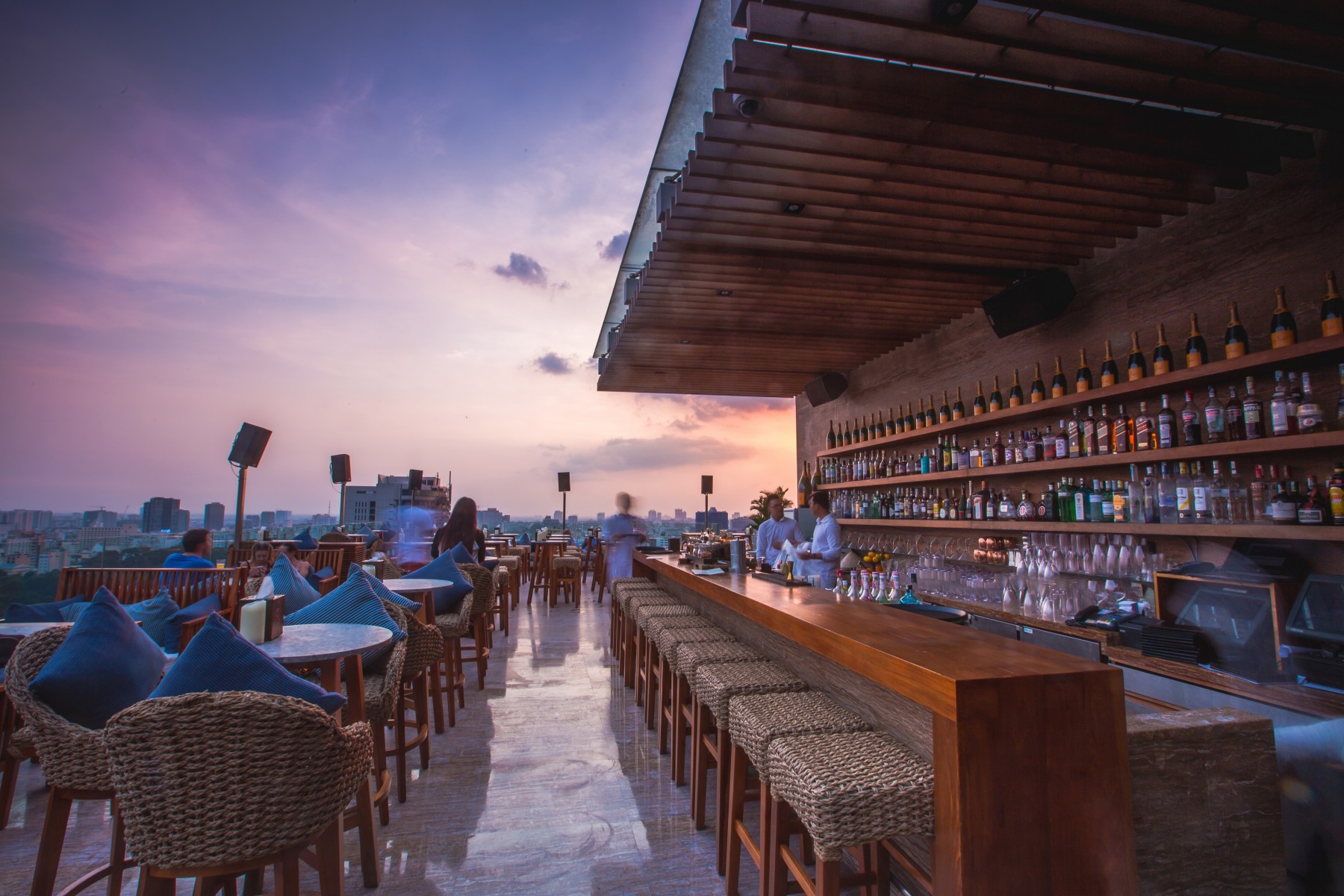 Best bars in Ho Chi Minh
With many different addresses and options for the best bars in Ho Chi Minh, You still find it hard to choose the suitable one. Where is the place that is worth your relaxation? Which best club in Ho Chi Minh gives you the most enjoyable experience?
We give you some suggestions below.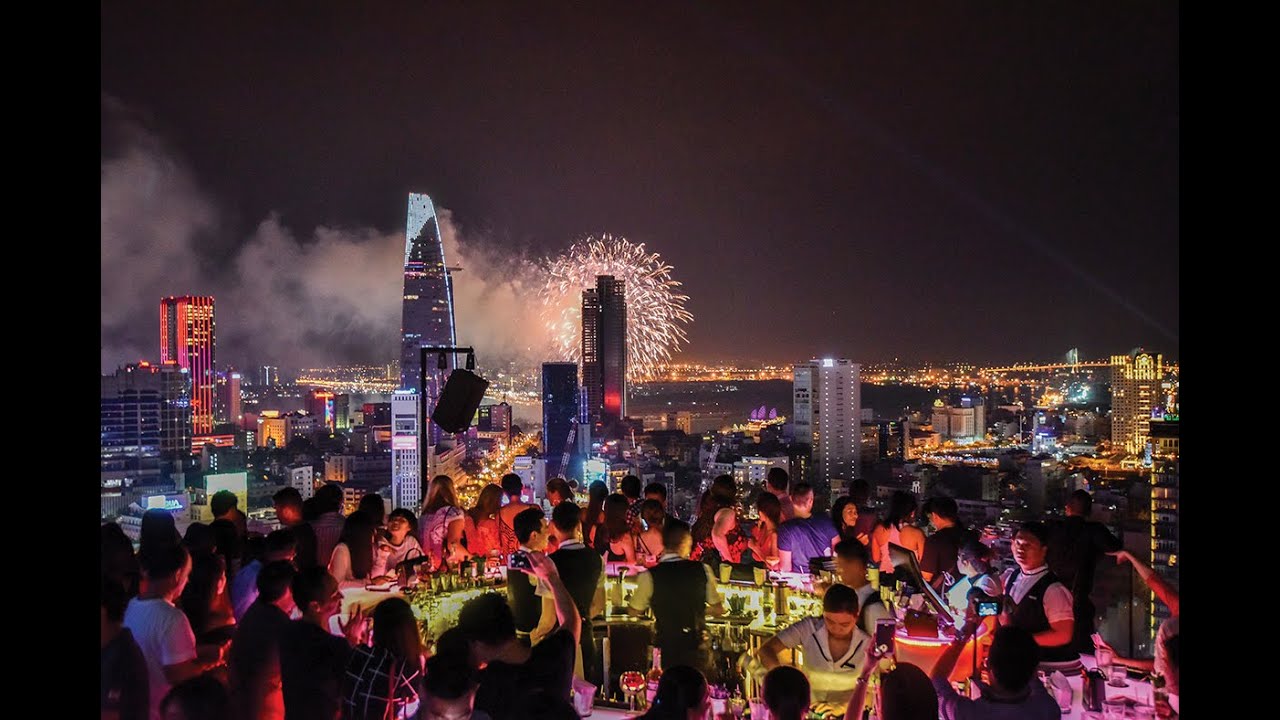 Best rooftop bars in Saigon
1. Chill Sky bar
Chill Sky bar is one of the best rooftop bars in Ho Chi Minh City, located at the top of AB Tower in central District 1. It impresses visitors with a space of 3,000 m2, including an outdoor entertainment area, an extremely vibrant Lounge, and the most luxurious Fine Dining restaurant in Saigon.
It is the convergence of style, taste, fashion, and gourmet cuisine belonging to the Saigon elite. Chill Bar is also a destination for international partners and friends who want to experience endless party nights, enjoying the fresh air. The architectural beauty of Saigon is shimmering and fanciful at night.
Address: AB Tower, 76A Le Lai, District 1.
2. Air 360 Sky Lounge
Air 360 Sky Bar is the only rooftop bar Saigon with a 360-degree open space with an overflowing swimming pool of 120 m. Visitors coming to Air 360 Louge enjoy the panoramic view of magnificent Saigon at night. Here, you can experience high-class culinary service, sip excellent cocktails, chat with friends and partners or enjoy the performances of the hottest DJs.
Air 360 Sky Bar is a relaxing destination mixing modern Bar and Lounge service. It puts on a splendid outfit from luxurious and cozy designed with hundreds of sparkling lights. The unique open bar following the sophisticated world trend made it more impressive.
Address: 136-138 Le Thi Hong Gam, Nguyen Thai Binh, District 1
3. Zion Sky Lounge
Zion Sky Lounge is one of the best rooftop bars Saigon offering a must-have experience for visitors traveling to Ho Chi Minh city. Here is the best place to enjoy the sunset in the city in a spacious zone and romantic atmosphere.
Located right next to Sai Gon Bitecco, the iconic building, travelers could easily travel to Zion Sky Loughe to have a drink. It is a place for you to emerging live music from famous singers and artists.
Address: 87A Ham Nghi, District 1
4. Sai Gon Rooftop Bar
Not only a typical rooftop bar Ho Chi Minh city but Sai Gon Rooftop Bar is also known as a historical destination. Its architecture and furniture were designed in black and white theme of wooden.
Coming to Sai Gon Rooftop Bar, guests will enjoy an attractive view of SaiGon's Opera house. Moreover, the air here is full of ambient lighting and Latin music, which makes you delightful hours surrounded by a seductive atmosphere.
Address: 19-23 Lam Son Square, Ben Nghe, District 1
5. The Lighthouse
The lighthouse rooftop bar makes a big difference with the above option, attracting visitors with its quiet and personal zone. It is suitable for dating or for those enjoying tranquil drinks.
The Lighthouse is also known for its affordable drink and chilling music, which can keep you enjoying personal time until 5 a.m. Coming to Lighthouse to have a good drink and enjoy 360-degree panoramic views of Ho Chi Minh City's central zone would be a good idea for ladies or friend groups.
Address: 104 Nam Ky Khoi Nghia, Ben Nghe, District 1.
Best club in Ho Chi Minh
1. Habibi Lounge
Habibi Lounge is a Hidden Bar, owning the breath of Marrakech, known as the Red city. Covered with enchanting red shades and attractive Arabic architecture, visitors will feel lost in the mysterious world of fairy tails. Every little corner in Habibi has been meticulously cared for in decoration. If you are concerned about privacy, Habibi will love Habibi since it offers intimate conversation space.
In addition to the space, bartenders will also satisfy you with the delicate taste of the cocktail menu updated daily. After a long tiring day, enjoying chilling moments in Habibi will be a wonderful experience
2. Siha café and bar
If you and your friends have different entertainment tastes, don't worry SIHA - Cafe, Bar & Eatery can rescue you from trouble. This one of the best clubs in Ho Chi Minh gathers many types of entertainment such as billiards pool, air hockey, PlayStation zone, or challenge the bartender. You will have a non-stop night in Siha.
Siha makes yous "wow" with its impressive design through the mixture of eye-catching neon colors and the spacious room, divided into 4 zones: outdoor area, private area, bar area, and game area.
Address: 158 Nguyen Đinh Chinh, ward 8, Phu Nhuan District.
3. Chin Chin Bar
With a prime location on Ho Tung Mau Street, which is the busy center of District 1, Chin Chin owns a charming spotlight. It is decored with different colors, luxurious but no less cozy with an Indochine direction. The uniform style, from the cocktail utensils to the décor, makes Chin Chin bar a relaxing beauty.
Address: 75 Ho Tung Mau, Ben Nghem District 1.
4. Republic club
One of the best clubs in Ho Chi Minh called Republic Club will get you a night out. With a modern design, Republic Club formed a stage right in the middle of the bar. You can easily immerse yourself in vibrant music while sipping a drink, enjoying a talented DJ and dancer, sound system, and dim lighting.
The price of drinks at Republic Club is pretty high compared to other bars. High price comes up with good quality and experience. It deserves to have a position among the list of best bars in Ho Chi Minh.
Address: 19 Do Quang Dau, Pham Ngu Lao, District 1
Best cocktail bars Saigon
1. Habit Hole- Explore the unique felling
Rabbit Hole is a hidden cave for cocktail lovers, located in the middle of Saigon, opposite the Independence Palace. It offers classic cocktails, typically Ramos Gin Fizz. It is a cocktail more than 100 years old, including orange blossom water, heavy cream, and egg whites.
This cocktail bar has indicated a different design style, with surreal paintings by Rene Magritte. Moreover, the L-shaped bar is decorated with the Alice in Wonderland theme.
Address: 138 Nam Ky Khoi Nghia, District 1
2. Firkin Bar- the legend among Best cocktail bars Saigon
The Firkin Bar managed by the founder team of Racha Room and Stoker Woodfired Bar & Grill made a splash in the bartender world of Saigon.
Whiskey at Firkin is served at 1 dram and a half or in a tray of three glasses. You can try some typical cocktails like Four Pillars Negroni and Bronze Bullet.
Address: 20 Mac Thi Buoi, Ben Nghe, District 1
3. Two Lam Son Bar- Best cocktail bars Saigon with luxury space
2 Lam Son is located inside the luxury hotel Park Hyatt. Although it has become a familiar place for Saigon people, it always knows how to refresh itself with delicious cocktails inspired by local ingredients and ideas.
The best-sellers can be the classic lychee Martini or the Negroni bitter melon. In addition, another section of the menu specializes in serving recipes created by guest bartenders.
Address: 2 Cong Truong Lam Son, Ben Nghe, District 1
In conclusion, we hope the above suggestion will inspire the most for your Vietnam trips, exploring the most vibrant city in our country.