Eco Tourism in Vietnam become more exciting in attracting tourists exploring the beauty of Vietnam's natural landscapes. Vietnam is a country with a rich culture and diverse natural resources, making it an ideal destination for eco-tourism. From the lush green forests to the pristine beaches, Vietnam offers a unique experience for travelers who want to explore the beauty of nature while also preserving it.
Join us on this journey as we discover the hidden gems of Vietnam and learn about the importance of sustainable tourism. Let's break the boundaries of traditional tourism and embrace eco tourism in Vietnam!
Eco Tourism in Vietnam: Seamless Experience for Expats
Ecotourism in Vietnam fosters a mutually beneficial connection between individuals and the environment, instilling a sense of accountability for safeguarding the natural world. The popularity of eco tourism ideas is gaining momentum as a sustainable approach to tourism development, both domestically and internationally within South East Asia.
Explain Eco-friendly practices for ecotourism
Since tourism encompasses the various interactions between tourists, tourism industry professionals, host governments, and local communities, it significantly impacts the local community.
The industry creates job opportunities, boosts incomes, and enhances the quality of life for residents. Additionally, the unique customs, cultural identity, and hospitality of each community are attractive factors for tourists. Therefore, it is crucial to develop tourism while preserving the natural environment, enriching the local ecosystem, and promoting the distinct cultural characteristics of the region. This approach is essential to ensure the sustainability of the industry.
When it comes to sustainable tourism, eco tourism in Vietnam refers to a critical practice. To explain eco-tourism here, Vietnam enjoys a wealth of natural resources, making it an ideal destination for ecotourism. Our country is home to numerous stunning beaches, including Vung Tau, Tra Co, Nha Trang, Mui Ne, Mui Ngoc, Bai Chay, Sam Son, and Cua Lo, as well as various islands.
Additionally, Vietnam has 164 special-use forests covering almost 2.3 million hectares, many of which feature breathtaking landscapes, unique ecosystems, and cultural significance. These forests offer great potential for eco-tourism and scientific research. The Mekong Delta is also home to a variety of fruit heaven, featuring delicious fruits like mangoes, rambutans, dragon fruit, longan, oranges, tangerines, jackfruits, and coconuts. However, effectively developing tourism while preserving the environment requires careful consideration of the impact of Eco Tourism in Vietnam.
Featured tour:
Types of ecotourism
As Eco Tourism ideas continue to grow, Eco tourism in Vietnam becomes more dynamic. Coming to Types of ecotourism available these days, based on popular activities within the Eco Tourism tour, you can find some popular below:
Eco-friendly travel with camping and picnicking.
Travel by river, lake, or sea excursions.
Countryside Eco Tourism in Rural villages.
, including cave exploration, scuba diving, and mountain climbing.
Ecotourism examples - Ecotourism destinations
1. Cat Tien National Park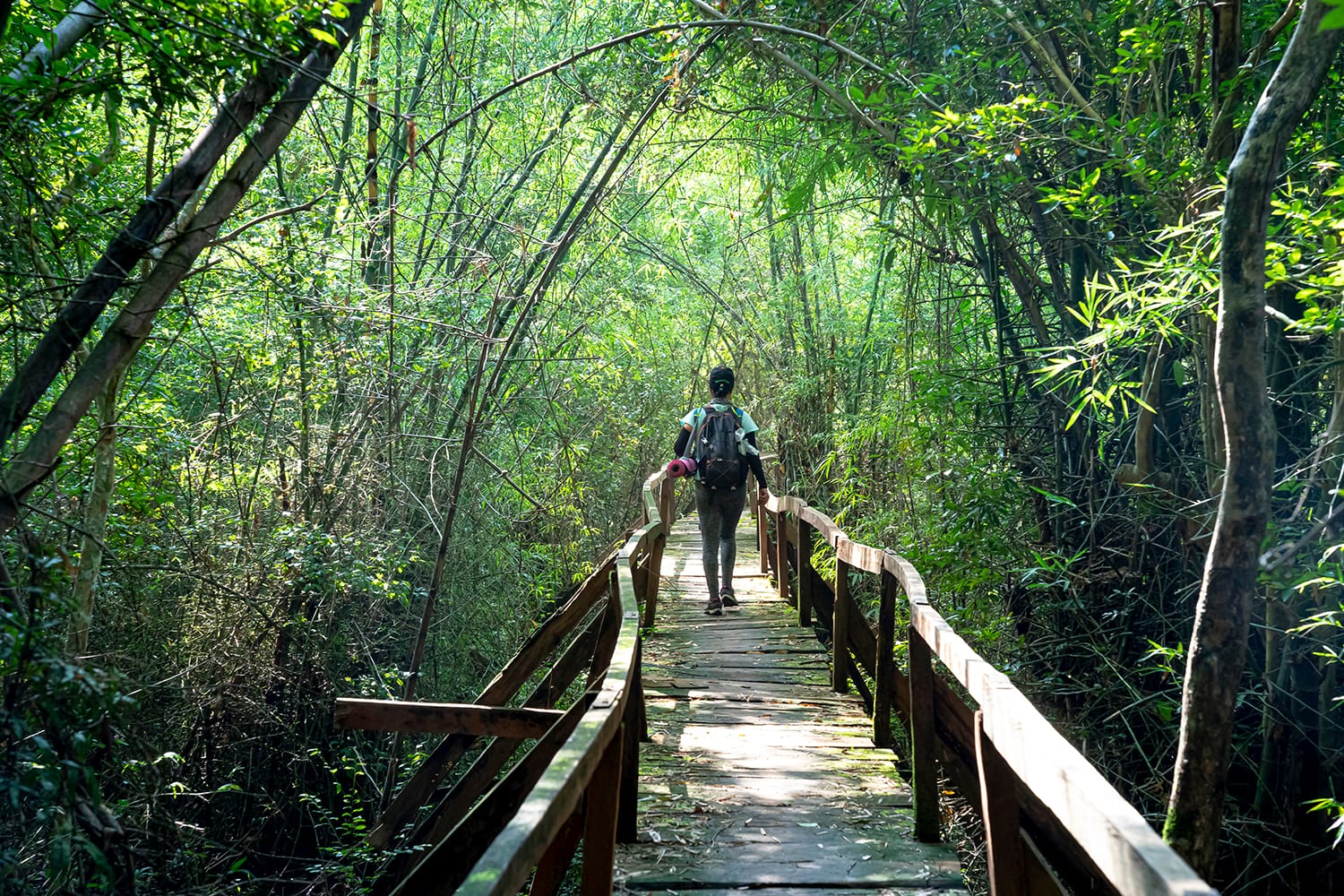 Cat Tien National Park is a renowned eco tourism in Vietnam, recognized by UNESCO as one of the six biosphere reserves in the world. It offers an exceptional opportunity to explore the forest ecosystem and discover its many treasures. The park boasts a wide range of flora and fauna, including precious trees, medicinal herbs, orchids, and rare birds.
Tourists can embark on a , take a leisurely walk to explore the national park and marvel at the giant old trees. It is recommended to hire a tour guide who can lead you to the most beautiful spots and prevent you from getting lost.
Featured article:
2. Ham Rong - ecotourism destination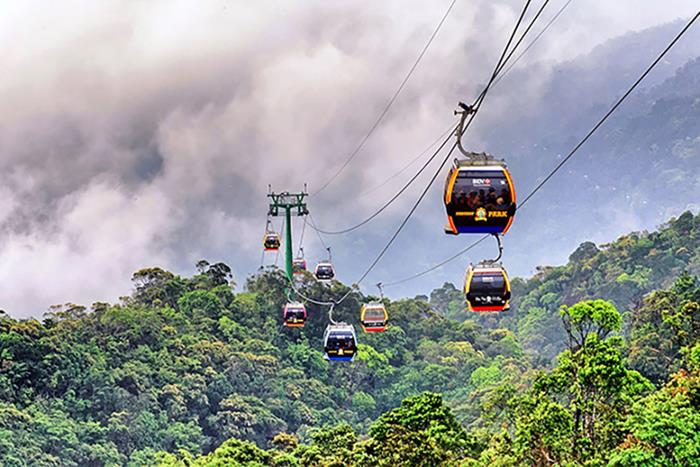 If you're looking for an eco-tourism destination in Sapa, look no further than Ham Rong Eco-Tourism Area. This natural masterpiece boasts a stunning mountain town and is located just 3km from the center of Sa Pa town, behind Sa Pa Stone Church.
The peak of Ham Rong Mountain is a popular check-in spot for tourists at over 1,850m in height. To reach it, you'll need to climb a series of stone steps, but along the way, you can also explore other attractions within the Ham Rong tourist area.
3. Ba Na Eco Tourism in Da Nang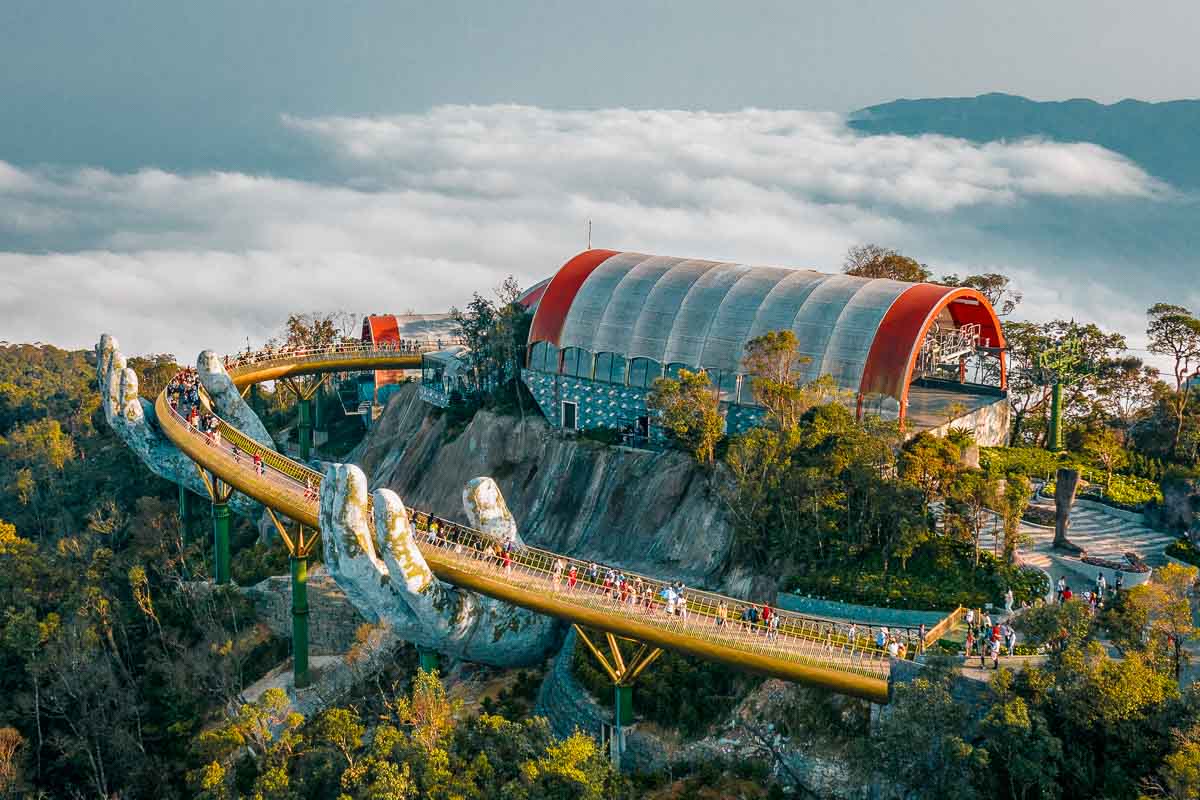 The Ba Na-Suoi Mo eco-tourism area is situated in the Hoa Vang district of Da Nang and is home to a vast expanse of primeval forests that house hundreds of rare animal and plant species. The peak of Ba Na Mountain, which stands at almost 1,500m, boasts a refreshingly cool climate and clean, pleasant air. Visitors to this area will feel as though they are walking through cool, yet clear clouds.
Currently, the peak of Ba Na Mountain is being developed into a top-tier resort in the country. Tourists can reach the mountain top via a cable car system that spans over 5km.
4. Cu Lao Cham Eco Tourism Destination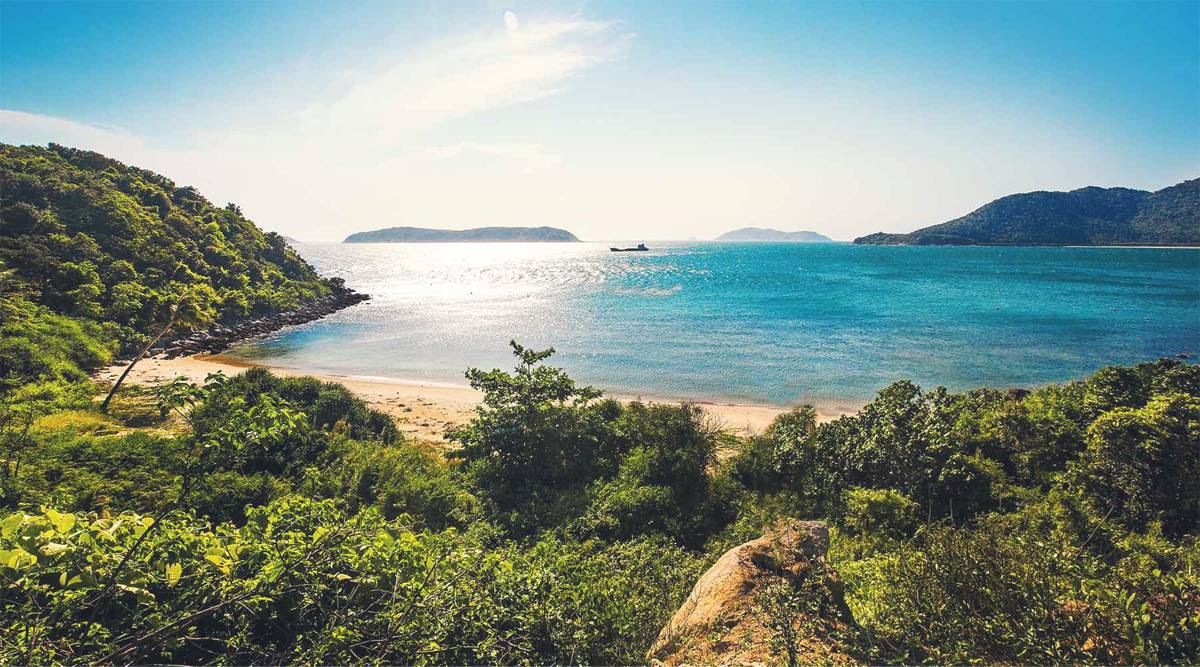 Cu Lao Cham Biosphere Reserve is a pristine area that boasts of its natural beauty. The island is predominantly covered by forest, which is home to a diverse range of vegetation in terms of size and species. Apart from its rich natural ecosystem, the Cu Lao Cham eco-tourism in Vietnam offers a plethora of exciting activities on the sea that cater to the needs of visitors.
One of the most popular spots on the island is Eo Gio, which is surrounded by blue mountains and the vast sea. This location is perfect for viewing the sunrise and sunset, making it a favorite check-in destination for tourists.
5. Western Vietnam Eco Tourism Destination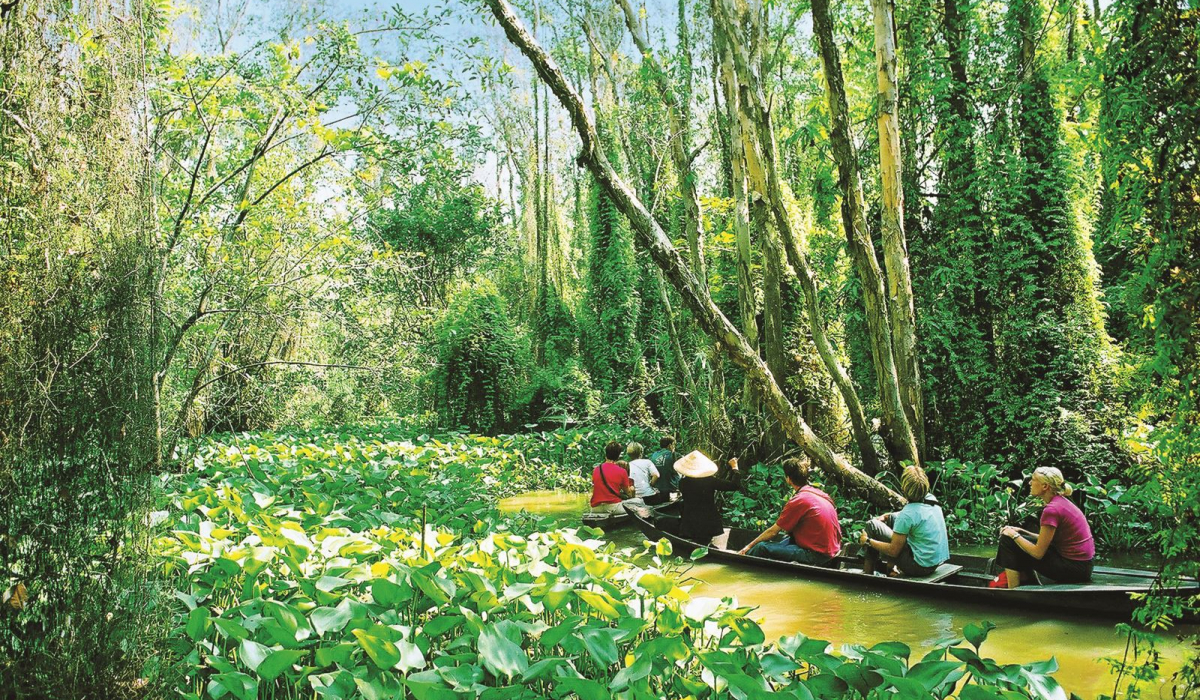 Vietnam's Western Region offers a plethora of delectable specialties and breathtaking river views that are both poetic and picturesque. The region's climate and natural features make it an ideal destination for eco-tourism. Tourists are drawn to the region's orchards, bird sanctuaries, and mangrove forests, which are always popular attractions for Eco Tourism in Vietnam
6. Ba Be National Park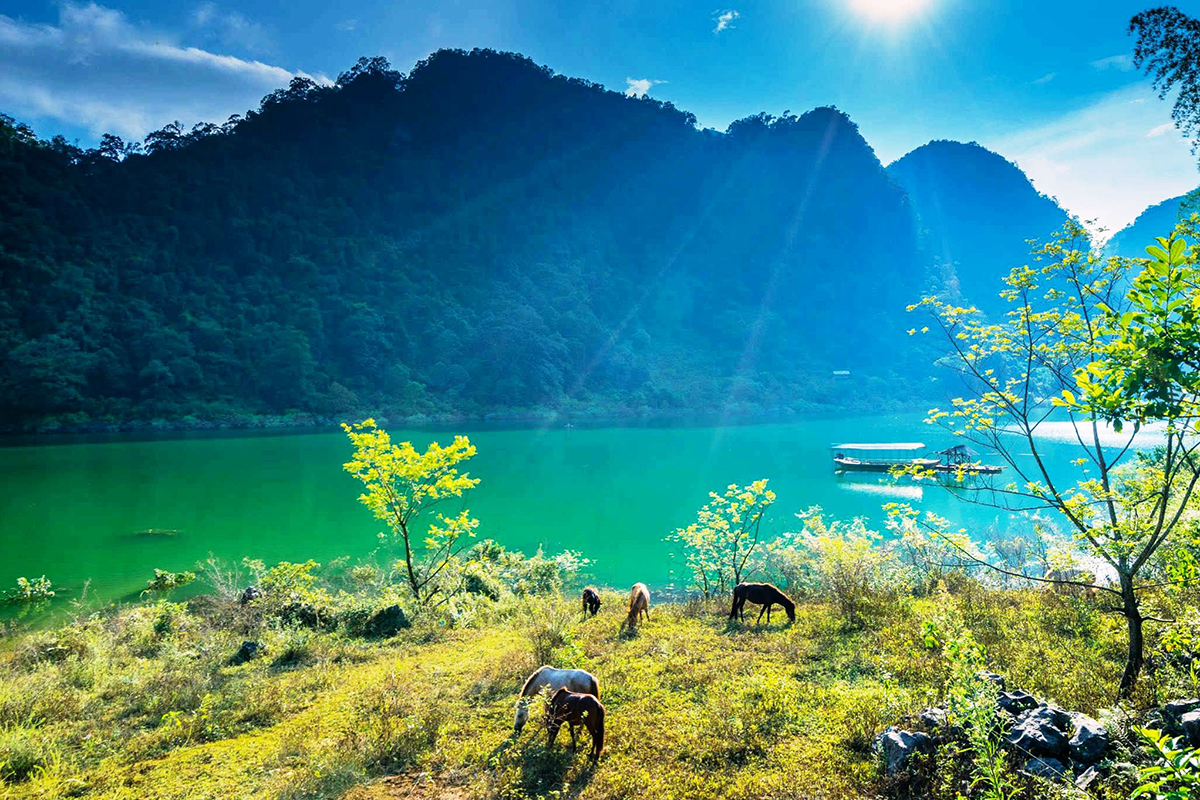 Ba Be National Park is a popular Eco-tourism destination in Bac Kan, known as the "precious treasure" in this area. This special-use forest boasts over 1000 plant species and 80 rare animal species, preserving a unique and wild ecosystem. To fully appreciate the area's beauty, renting a sightseeing boat is an exciting experience for tourists. This allows visitors to take in the stunning scenery of the serene blue Ba Be Lake and hear fascinating stories about the lake's legend from experienced boaters.
7. Trang An- North Vietnam Best Eco Tourism Destination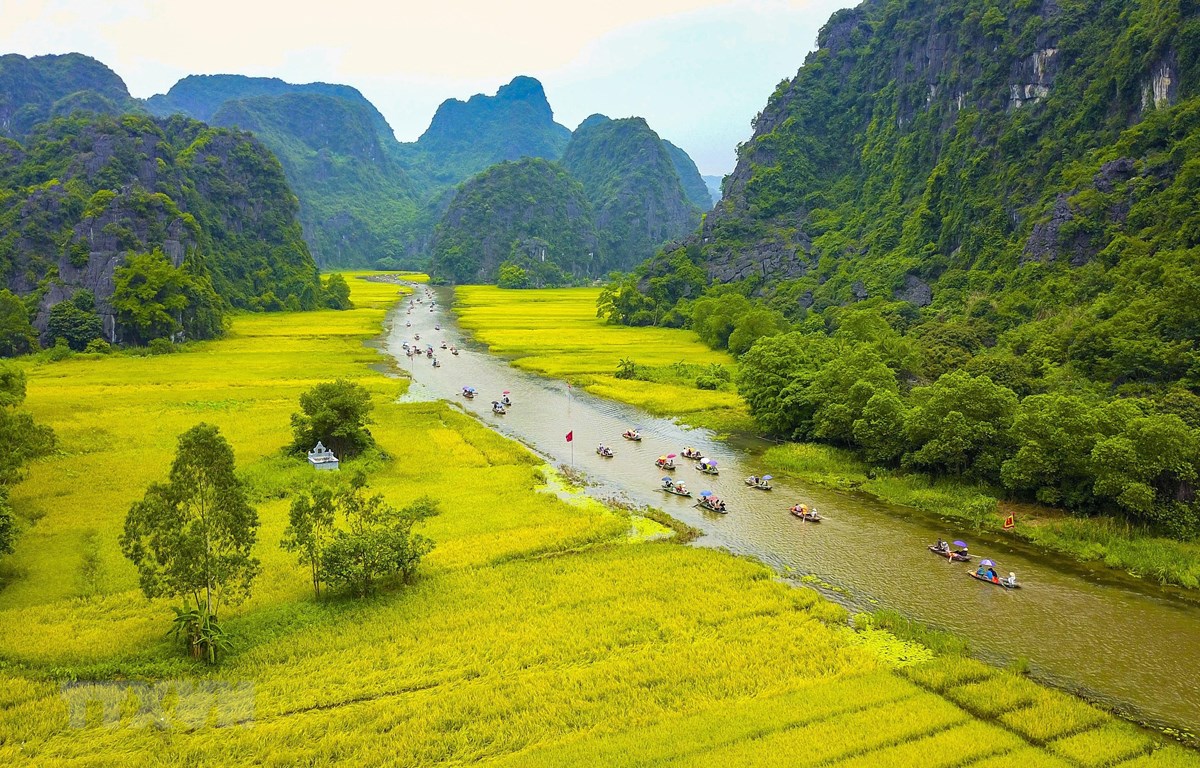 Ninh Binh's Trang An eco-tourism area is a picturesque natural habitat that boasts a diverse range of flora and fauna, including various species of plants, birds, mammals, and reptiles. Additionally, Trang An is home to a plethora of caves that house numerous antiques, historical relics, and archaeological sites.
Trang An is closely linked to the Hoa Lu Ancient Capital relic, where King Dinh Tien Hoang ingeniously connected the limestone mountains with artificial walls. Beneath these mountains lye a network of interconnected limestone caves, which served as the foundation for a robust and distinctive capital.
Ecotourism activities in Vietnam
Trying eco tourism in Vietnam should involve many activities to explore the natural beauty and diverse ecosystems.
One of the most popular eco tourism ideas for activities in Vietnam is trekking. Our country is home to several national parks and nature reserves, including the famous Sapa region in the north, where visitors can hike through terraced rice fields and meet local ethnic minority communities.
Otherwise, popular ecotourism activity in Vietnam is birdwatching. We reserve over 900 species of birds, including several endemic species that can only be found in Vietnam.
For those who prefer water-based activities, Vietnam's coastline offers plenty of opportunities for snorkeling, diving, and kayaking. The Con Dao Islands, located off the southern coast of Vietnam, is a popular destination for snorkeling and diving, with crystal-clear waters and a diverse range of marine life. Ha Long Bay, a UNESCO World Heritage Site, is also a popular destination for kayaking, with its stunning limestone cliffs and calm waters.
In conclusion, the future of eco tourism in Vietnam is supper glowing since it also attacks the demand to develop sustainable tourism. Catching the attention of the whole society, Eco tourism tourists would be the most beneficial ones enjoying better tourism in Vietnam. World Mate Travel, as a , helps you arrange memories and enjoyable eco-tours, exploring the secret of nature