As Explorers, you know that capturing unique and authentic moments is key to your adventure. While guidebooks and blogs may suggest popular tourist destinations, there is so much more Vietnam travel destination that can offer opportunities to capture truly unique and breathtaking shots.
Traveling off the beaten track can provide the chance to explore hidden gems and lesser-known locations overlooked by the masses. By venturing off the typical tourist route, you can discover new perspectives and experiences.
So, next time you plan a trip, consider stepping outside of the usual tourist hotspots and exploring the lesser-known areas. You never know how much awesome Vietnam the beaten track you may uncover.
Off the beaten Track and Travelling: What makes it attractive?
Stepping out of your comfort zone can lead to incredible experiences and unique photo opportunities. Immersing yourself in the local culture and learning about the country and its people can add depth and meaning to your photos. By avoiding tourist hotspots, you can capture the off beaten path of Vietnam. Don't be afraid to go off the beaten path and make your litter world more open.
The meaningful of off the beaten track
Off the beaten path travel involves discovering unconventional, remote, or lesser-known destinations that are not commonly visited by tourists. It entails going beyond the usual tourist attractions and discovering the hidden treasures of a region. In which, you can immerse yourself in the genuine and distinctive aspects of a location.
If you're looking for a unique travel experience, consider venturing off the beaten path. This means exploring places that haven't been overrun by mass tourism and discovering hidden gems that aren't listed in guidebooks or blogs.
By traveling off the beaten path, you'll have the opportunity to immerse yourself in local culture and see how people live when tourists aren't around. You'll gain a deeper understanding of the country and its people and come away with a richer awareness of the world.
This type of travel is purposeful and mindful, allowing you to expand your horizons and grow as a person. If you're a Worldpacker, you'll love the chance to explore new places and connect with locals in a meaningful way. So why not step off the beaten path and see where it takes you?
Who loves off the beaten path vacations?
For those who love Experiencing authentic culture: By exploring lesser-known destinations, you'll have the chance to engage with locals and witness their customs, traditions, and way of life. This immersive experience will provide you with a deeper understanding of the world and its diverse inhabitants. Don't miss out on this invaluable opportunity to broaden your horizons and enrich your travels.
For those who love Less crowded destinations: If you're looking to escape the crowds and experience something unique, off the beaten path travel is the way to go. You'll have the opportunity to breathe in the fresh air, take in the stunning scenery, and truly appreciate the sights without feeling overwhelmed by the masses. Additionally, you'll have the chance to immerse yourself in local culture by participating in activities like cooking classes or cultural events that may not be available in more popular tourist destinations.
For supporting More sustainable travel: As a traveler, you have the power to make a positive impact on the places you visit. Opting to discover lesser-known destinations not only allows you to have a unique and authentic experience but also promotes sustainable travel practices. The negative effects of mass tourism, such as environmental damage and cultural erosion, can be mitigated by exploring off the beaten path. By doing so, you can help distribute tourism revenue more fairly, support local communities, and encourage responsible travel. So, why not choose to be a responsible traveler and explore the hidden gems waiting to be discovered?
Vietnam off the beaten track: Top 5 unusual destinations to watch
If you're planning a trip to Asia, Vietnam should definitely be on your list of must-visit countries. With its bustling cities, stunning golden sand beaches, and lush mountains, it's no wonder that Vietnam is a popular destination for tourists from all over the world.
However, the downside of this popularity is that some of the country's most popular attractions can be overcrowded and lose their natural beauty. That's why many travelers are now seeking out Vietnam off the beaten track. World Mate Travel suggests with top 5 destinations:
Explore the Tea Land: Moc Chau High Land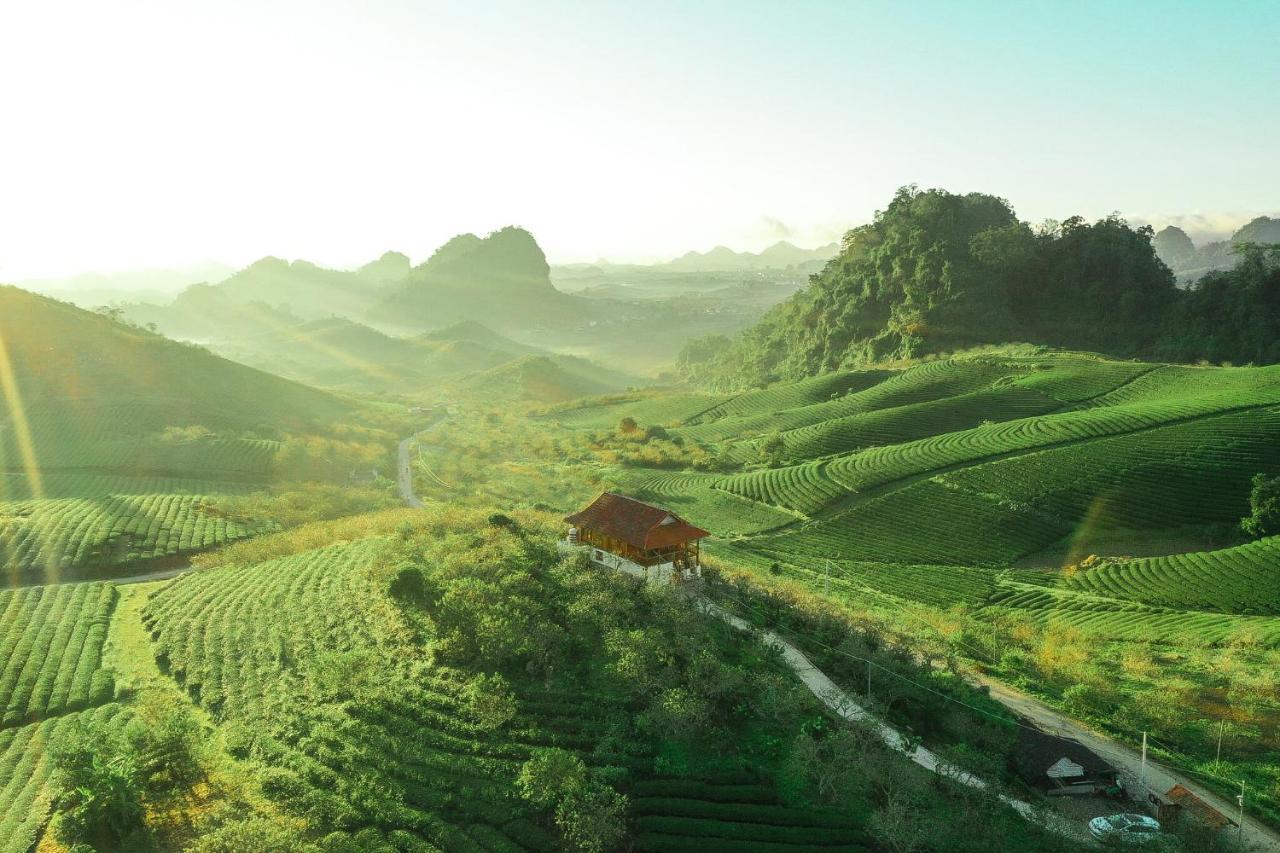 If you're in search of a serene and tranquil destination for Vietnam off the beaten track, choose Moc Chau Plateau. This picturesque plateau, located 200 km from Hanoi, boasts cool temperatures, tea hills, and ethnic villages, making it the perfect place to unwind and relax. One of the most popular activities here is visiting the tea hills, which cover nearly 3000 hectares of green and black tea gardens. The stunning hills, especially under the morning sunlight, are a photographer's dream come true.
But that's not all! You can also explore nearby Hua Tat village, which offers an authentic local culture and breathtaking scenery. Otherwise, you can take in the romantic beauty of the Dai Yem waterfall. If you're lucky enough to visit during Lunar New Year, don't miss the chance to see the cauliflower village called Ba Phach, where you can witness the spectacular sights of plump and peach flowers blooming and experience the rich customs and traditions of the H'Mong and Thai people. And for those seeking , be sure to try trekking Pha Luong mountain, which offers a moderate level of difficulty and wild natural beauty. Moc Chau Plateau truly has something for everyone!
Off the beaten path travel in Hai Van Pass
Have you heard of the Hai Van Pass, also known as the Ocean Cloud Pass? This short but stunning route winds around a mountainside above the South China Sea and is an off the beaten path to Vietnam. Not only is it a climatic divide, but it also holds historical significance as a strategic military post and a geographic and political boundary among ancient kingdoms.
Nowadays, the Hai Van Pass is a popular road that links Danang, Hoi An, and Hue. While it may not be the best road in the country, it still offers a thrilling ride with light traffic, breathtaking views, and easy access from several cities. As you drive through the pass, you'll experience a mix of fear and amazement - fear of the dangerous bends and amazement at the stunning views of the sea below.
So, if you're up for a challenge and want to test your driving skills, the Hai Van Pass is worth a visit. Don't miss out on this unforgettable experience!
Mu Cang Chai – Color of rice field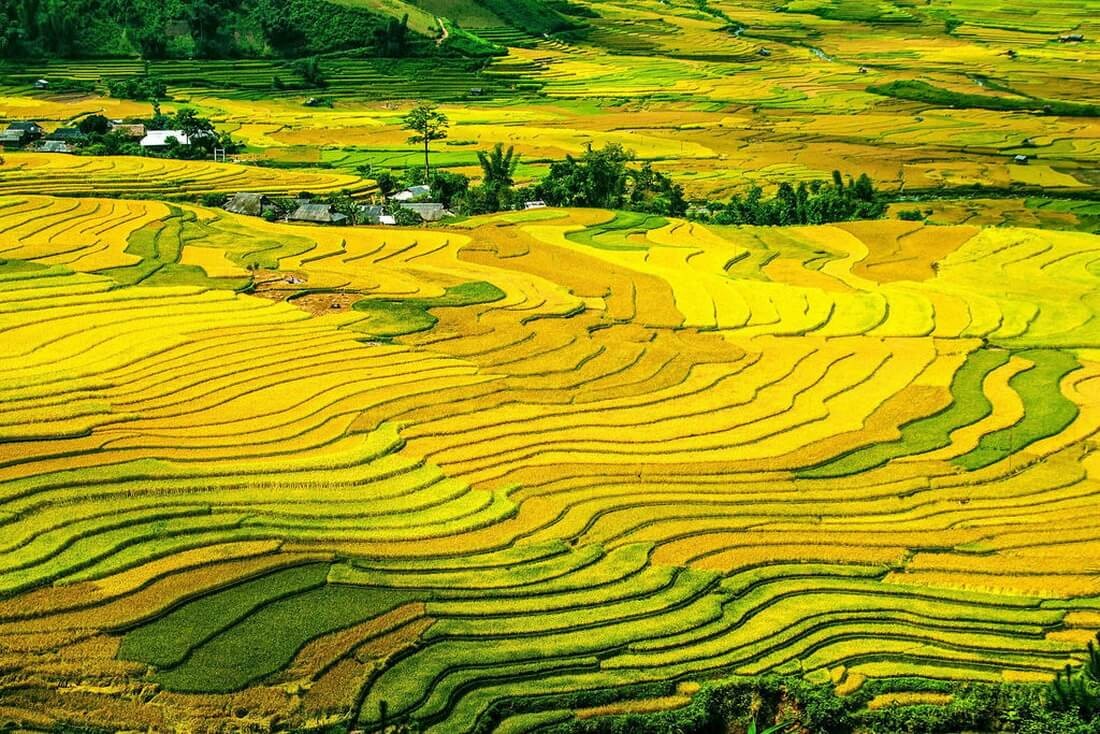 Despite being 300km away from Hanoi, Mu Cang Chai continues to captivate visitors with its stunning beauty. It's no wonder why it's one of the most sought-after places to visit in the Northwest Mountains, attracting both domestic and international tourists alike.
If you're planning a trip to Mu Cang Chai, make sure to catch the ripe rice season from September to October. The best spots to witness the "golden season" are Mong Horse Hill (Sang Nhu village), Tu Le commune, La Pan Tan, and more. From above, you'll be greeted with a breathtaking view of the valley below, adorned with vibrant fields that seem to stretch endlessly towards the sky, complemented by charming brown roofs and serene streams.
Aside from the terraced fields, Mu Cang Chai is also a trekking paradise in Vietnam. Embark on a journey through Khau Pha Pass, traverse the Hang Sung bamboo forest, and conquer the majestic Pu Nhu waterfall. You'll feel a sense of accomplishment like no other as if you've surpassed your limits.
Don't miss out on the opportunity to experience the wonders of Mu Cang Chai. Plan your trip now and immerse yourself in the beauty of this "golden town".
Phu Luong- Green field paradire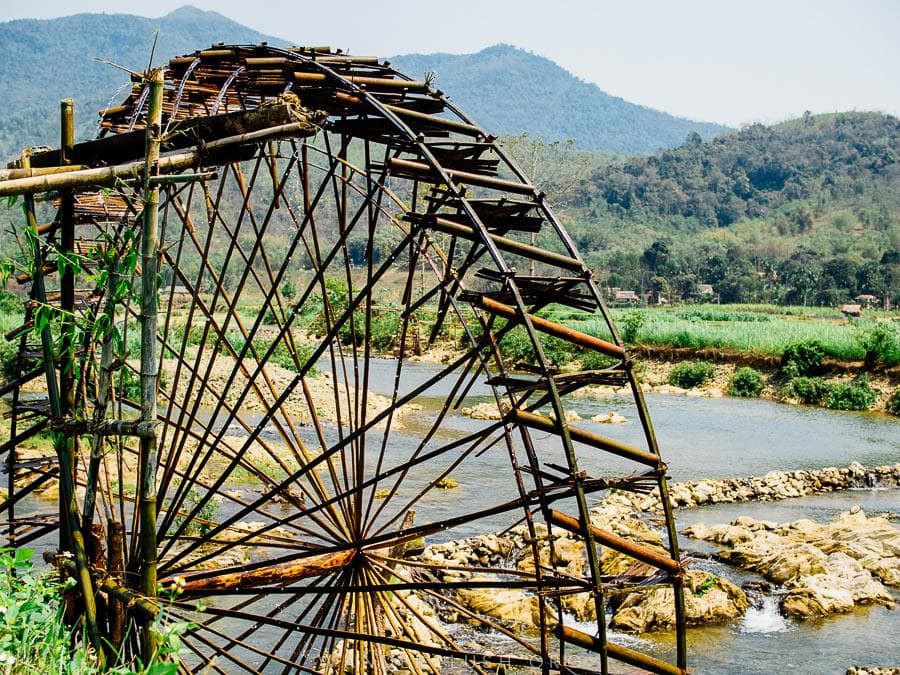 Travelers going off the beaten path from the Northwest to the South should make a stop at Pu Luong in Thanh Hoa. Don't be fooled into thinking that Vietnam's only check-in spots are the terraced fields of the Northwest - Pu Luong offers a unique experience.
Visit during mid-summer to witness the green rice fields just beginning to sprout, surrounded by the stunning Pu Luong nature reserve. Trek through the forest or rent a hotel in Ba Thuoc for a breathtaking view of the terraced fields.
For a deeper understanding of the local culture, visit Kho Muong village and immerse yourself in the simple stilt houses, taste traditional dishes, and explore the fields and waterfalls with the local children. And don't miss the sky gate in Ba Thuoc district for an unforgettable photo opportunity above the clouds.
Out of the beaten track: An Bang Ghost Town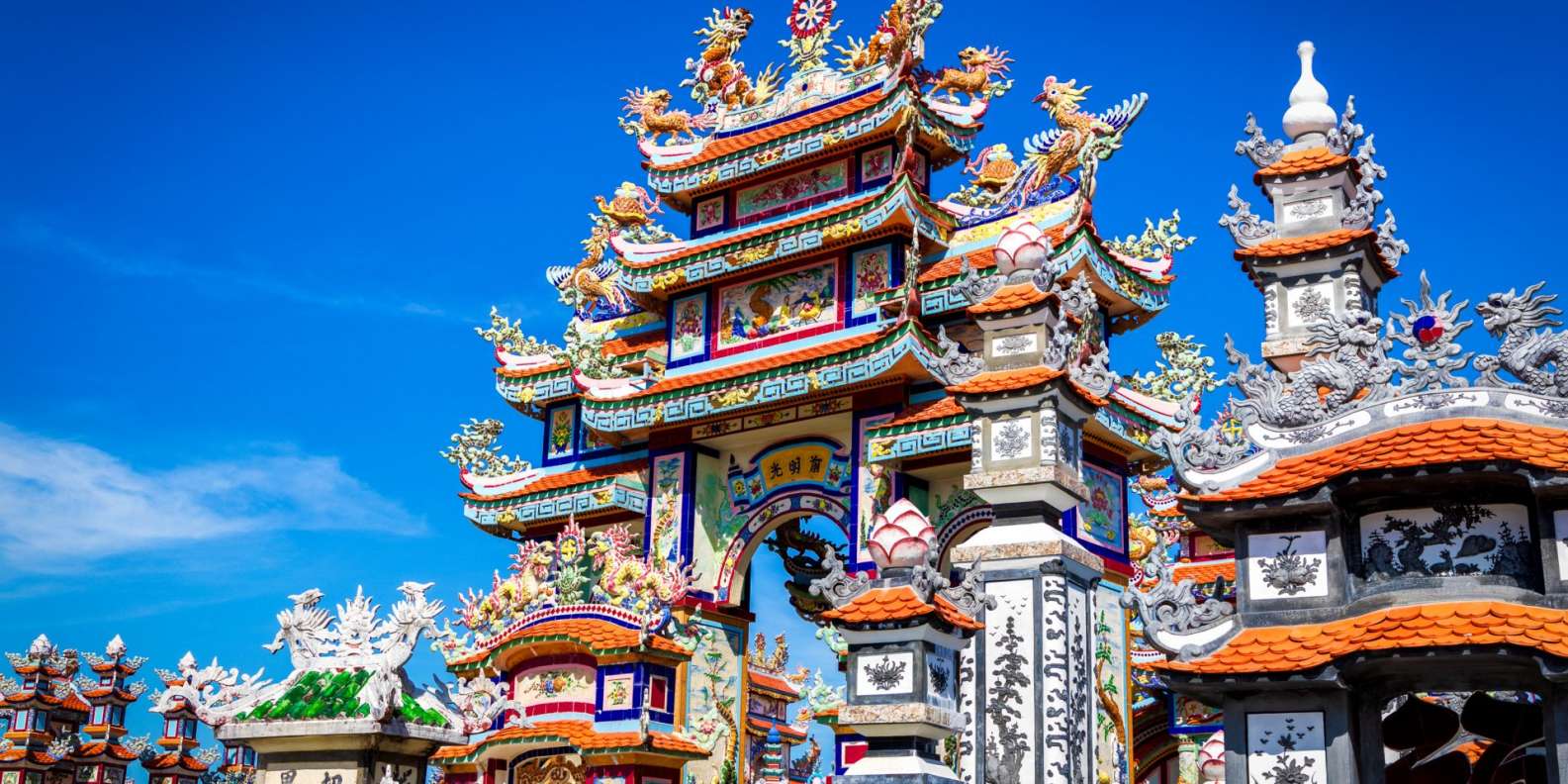 Welcome to An Bang Ghost Town, a fascinating off the beaten track located in the village of An Bang in Phu Vang district, Thua Thien Hue province. As you travel along the 49B provincial road, you'll be greeted by hundreds of colossal and colorful tombs in all shapes and sizes. These tombs were built by villagers to honor their ancestors and sometimes even for family members who have not yet passed away. The cemetery stretches for 3 kilometers and features tombs in various styles, including Catholicism, Buddhism, Taoism, Vietnamese, Chinese, and Western.
It's worth noting that a tomb in An Bang Ghost Town can cost anywhere from 25,000 to 50,000 USD, providing a luxurious resting place for the deceased. Some of the tombs are so grand that they could be mistaken for mansions, complete with regal stone lions and glittering mosaic dragons adorning the roof-ridges. Many of the tombs are modeled after the Hue Royal Citadel and Kings' graves, featuring intricate designs such as glazed terra cotta or pottery walls adorned with images of dragons and phoenixes. Come and explore this unique and awe-inspiring destination for yourself!
Featured article:
In conclusion, Vietnam is a country that offers an off the beaten track beyond the typical tourist destinations. From the stunning natural beauty of Ha Giang to the cultural richness of Hue, there are countless hidden gems waiting to be discovered. By venturing off the beaten track, travelers can gain a deeper understanding and appreciation for the country's diverse history, culture, and people. So, if you're planning a and looking for , don't hesitate to reach out to . Among experienced , we help you design amazing adventures and unforgettable memories await you.