In Laos, food and meals are the most essential activities throughout the day. You can imagine that food is always the topic of daily conversations, especially when locals eat and share dishes with friends and family. Another fact is that Lao people like to share traditional Laos cuisine with travelers.
Laos food culture is quite similar to Thailand and Vietnam, in particular the flavor and diverse ingredients. Like other Southeast Asian countries, Laos takes a passion for using fresh herbs, spices, noodles, and rice in their Laos dishes. However, there is little difference between them. Explore the Laos food culture to understand more about sophisticated Lao dishes.
Featured tours:
Laos food culture: Distinctive from other Southeast Asian countries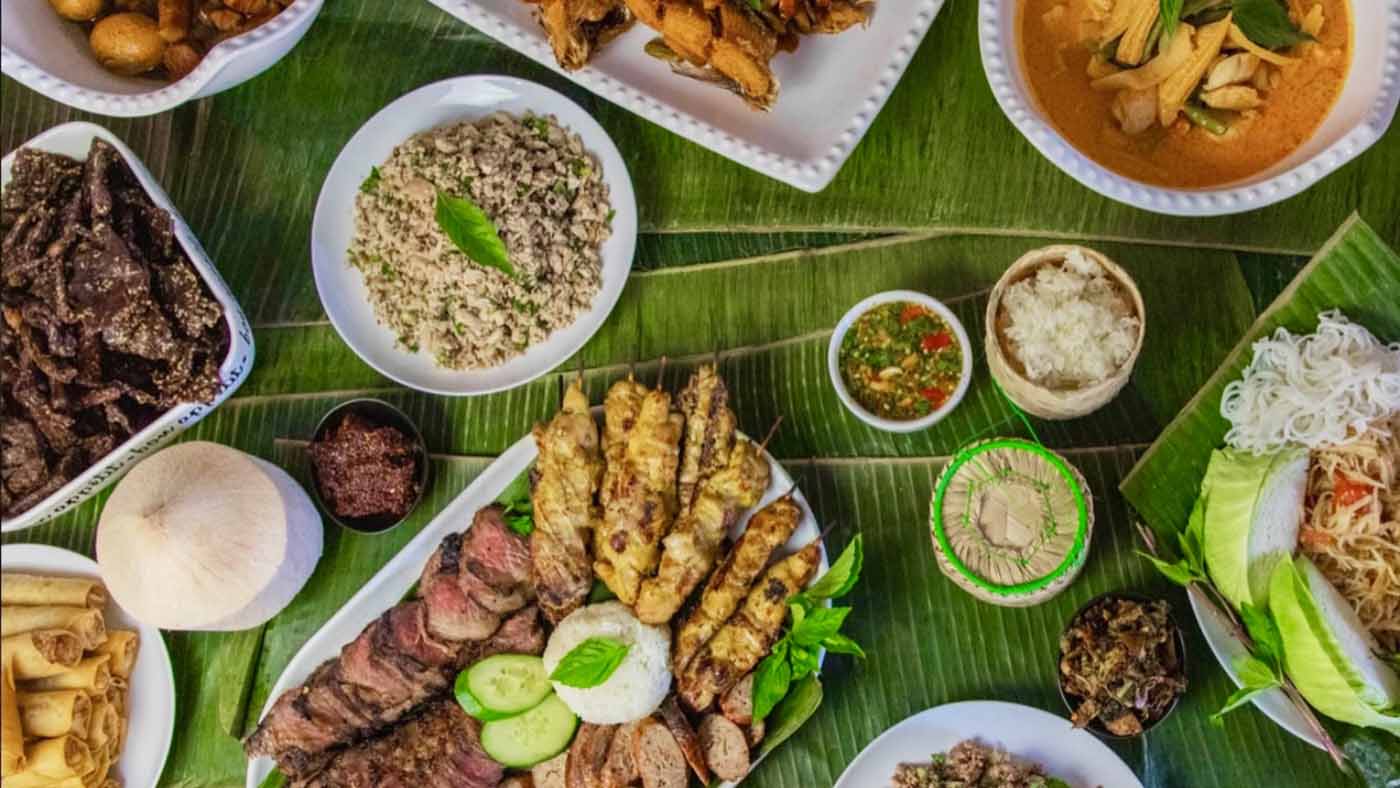 Regarding Laos food culture, there are lots of things to discover. The traditional manner is communal. It means that diners sit on a mat on the wooden floor around the platform, called a ka toke. Laos dishes are set up on the ka toke. Each ka toke has one or more baskets of sticky rice shared by all eaters on the ka toke.
Recently, the custom of eating at a ka toke remains. However, at the temples, each monk will have his meal on a ka toke. In modern homes, locals prepare a table for a meal, called taeng pha kao, or prepare the phah kao.
Laos food culture is special compared to other countries. Traditionally, locals use spoons only for soups and white rice while they use chopsticks for noodles. Most Laos dishes are eaten by hand since sticky rice can be easily eaten by hand.
A typical meal in Laos includes a soup, a grilled dish, a sauce, greens, and mixed dishes, called koy or laap. Locals often use the greens such as fresh raw greens, herbs, and various vegetables.
Thinking of the beverages, it includes water which is not a typical part of every meal. When families have guests, they prepare food in quantities sufficient for twice the number of guests.
Laos food recipes: Explore Laos cuisine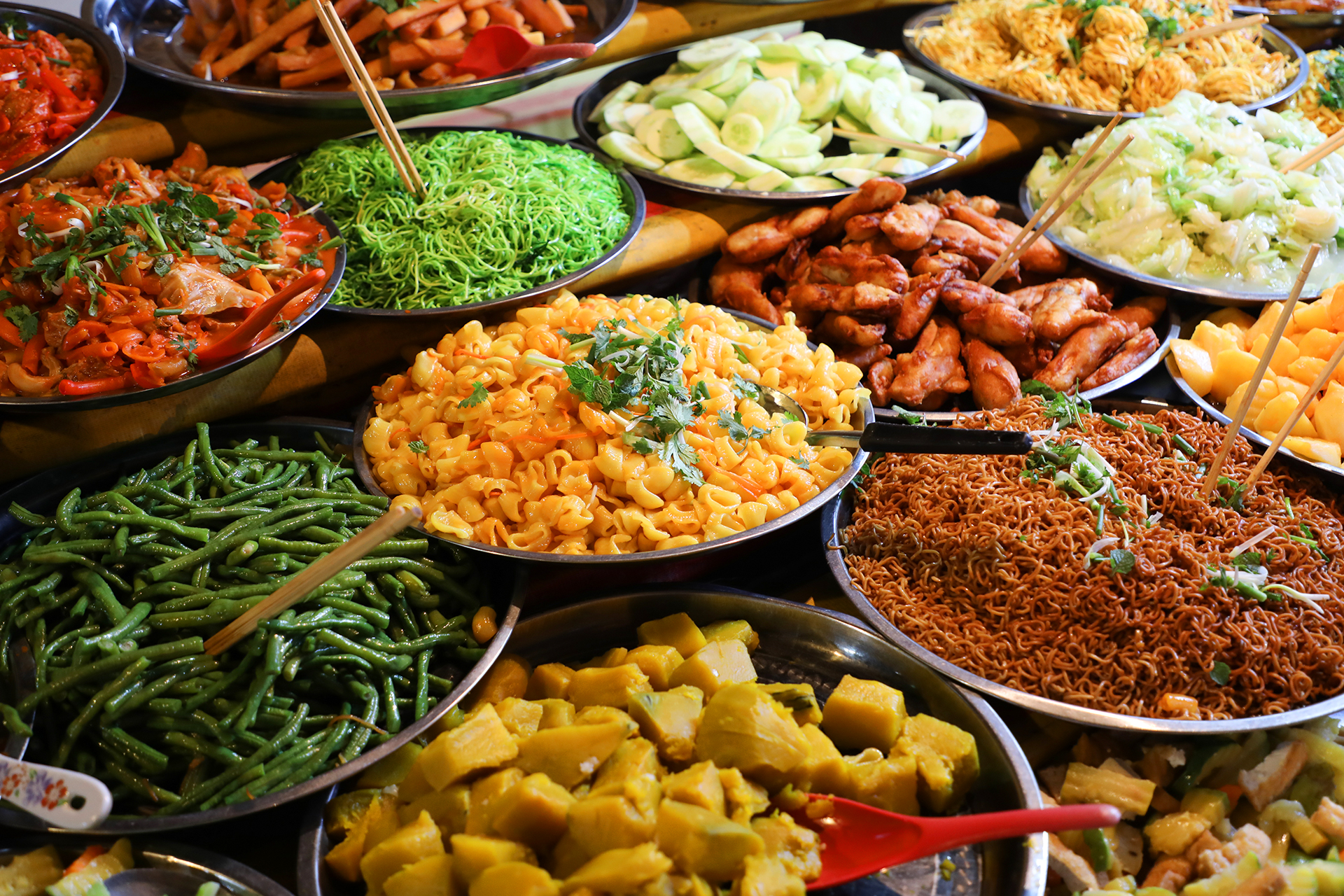 Main ingredients of Laos cuisine
Laos food culture is an impressive thing on earth, especially for food lovers. As a leading international travel agency, WorldMate Travel has experience creating in discovering new land in Southeast Asian countries. Explore the outstanding Laos food recipes
Laos features mountainous geography, close to the Mekong Delta, contributing to the rich biodiversity reflecting Laos food culture. Local people live close to nature and the ingredients for cooking they use are fresh and diverse. They can use everything to make a meal, such as tree trunks going to the pot. You can see Sakhaan, which is a critical ingredient for the Or Lam Soup.
Laos people use meat and other ingredients from animals in most Laos dishes. They can be fish, chicken, duck, pork, buffalo, bats, and insects as well. If you want to see more, you can take a walk in the local market.
Flavors of Laos dishes
Compared to other Southeast Asian countries, the flavors of Laos dishes are strong. The Laos dishes are spicy, a little sweet, and bitter. To sum up, there will be three flavors to distinct Laos food culture:
Padaek: a strong fermented fish sauce that gives salt to Laos dishes.
Lemongrass: a basic ingredient for most Laos dishes.
Charcoal: every Laos ingredient is grilled and smoked is a constant flavor.
Laos cuisine: Top 6 Lao dishes that you should try
Sticky rice (Khao Niaw)
Among Laos cuisine, sticky rice is typical throughout Laos. Lao people eat sticky rice more than anyone else in the world. You can imagine that sticky rice is something that has to have on the Laos food culture.
Minced Meat Salad (Larb)
If you want to explore Laos food culture, you should try minced meat salad (larb) on your trip here. The minced meat salad is considered the national dish of Laos. Locals can make this dish from chicken, beef, duck, fish, and pork.
It is served with fish sauce, lime juice, fermented fish juice, ground rice, and fresh herbs. Besides, locals can mix the minced meat salad with chili peppers. Tourists can avoid eating too many chili peppers if they cannot eat such spicy food.
Green Papaya Salad - The best Laos dishes
Among famous dishes in Laos, green papaya salad is something that defines Laos food culture for most travelers. It is made with shreds of unripe papaya. Throughout Laos, the green papaya has many shapes and versions. It is quite similar to the Som Tom dish of Thailand. However, it does not contain peanuts and is made with fermented fish sauce.
Steamed fish (Mok Pa) - Must-try Laos dishes
Steamed fish, also called Mok Pa, is a special dish wrapped up in banana leaves and tied with bamboo string. Locals make steamed fish with lemongrass, kaffir leaves, green onions, shrimp paste, and fresh dill.
Making the Mok Pa is easy. You need to mix all these ingredients with steamed fish. Interestingly, Mok Pa should not be served dry. You should eat steamed fish with sticky rice, making it typical of Laos food culture.
Wet noodles - Lao chicken soup (Khao Piak Sen)
Another dish that creates Laos food culture is Khao Piak Sen, also called wet noodles. This Khao Piak Sen is a chewy noodle soup that is similar to Udon. However, it is made with rice instead of wheat. The dish is often made with pork or chicken, lemongrass, galangal, shallots, and bean sprouts, and served with freshly sliced limes. So it is also called the Lao chicken soup in some regions.
What makes wet noodles special is the broth. Since the dish should be slowly cooked with bones for the mouth-watering flavor. In many restaurants, you can add a small amount of sugar, chili sauce, chili powder, and fish sauce if you want. Wet noodles will be one of the best Laos dishes that create special
Nam Khao recipe - Crispy Rice Salad
Last but not least, Nam Khao - crispy rice salad is well-known for its crunchy rice and aromatic ingredients. With its taste and textual sensation, Nam Khao has created uniqueness in Laos food culture.
Tourists are blown away by its sophisticated taste and texture, intense and fragrant. This Lao dish is served with a big pile of crunchy lettuce and fresh herbs to wrap around the crunchy rice salad. Crispy, soft, and aromatic in every single bite and let's enjoy one of the best Laos dishes in many restaurants in Laos.
Featured Tours:
Come and enjoy the sophisticated Laos food culture with us, the leading international travel agency in Vietnam
After all, come and enjoy the Laos dishes. Lao people are generous about sharing their meals and laughter with travelers. Food is all life in Laos. So you must be surprised at the complex and unique Laos food culture.
As the leading international travel agency in Vietnam, WorldMate Travel has lots of experience creating tour packages that are specific to your needs. If you want to learn more about the role food plays in Laos food culture, there is no way than going and exploring in-fingers first. WorldMate Travel, a , helps you to arrange hands-on Lao cooking classes in Luang Prabang, Vientiane.