Located in Ninh Binh, Nort of Vietnam, Mua Cave tends to be a profoundly captivating destination, particularly enchanting to tourists from every part of the world. It offers the perfect backdrop for admiring the wonders of nature and striking check-in photos.
Mua Cave is an intentional creation, thoughtfully incorporated into a multifaceted complex featuring resorts and entertainment activities. In this article, we will guide you on a virtual tour visiting the Hang Mua viewpoint and prepare all essentials for a great trip to Mua Cave Vietnam
Mua Cave Ninh Binh: Unmissable Tourist Gem
Prepare to be captivated by an extraordinary experience that goes beyond your expectations! Mua Cave isn't just your ordinary cave; it's a mesmerizing tourist haven that boasts a symphony of stunning landscapes. Often referred to as the mini "Great Wall of China", visiting Mua Cave promises you an unforgettable adventure.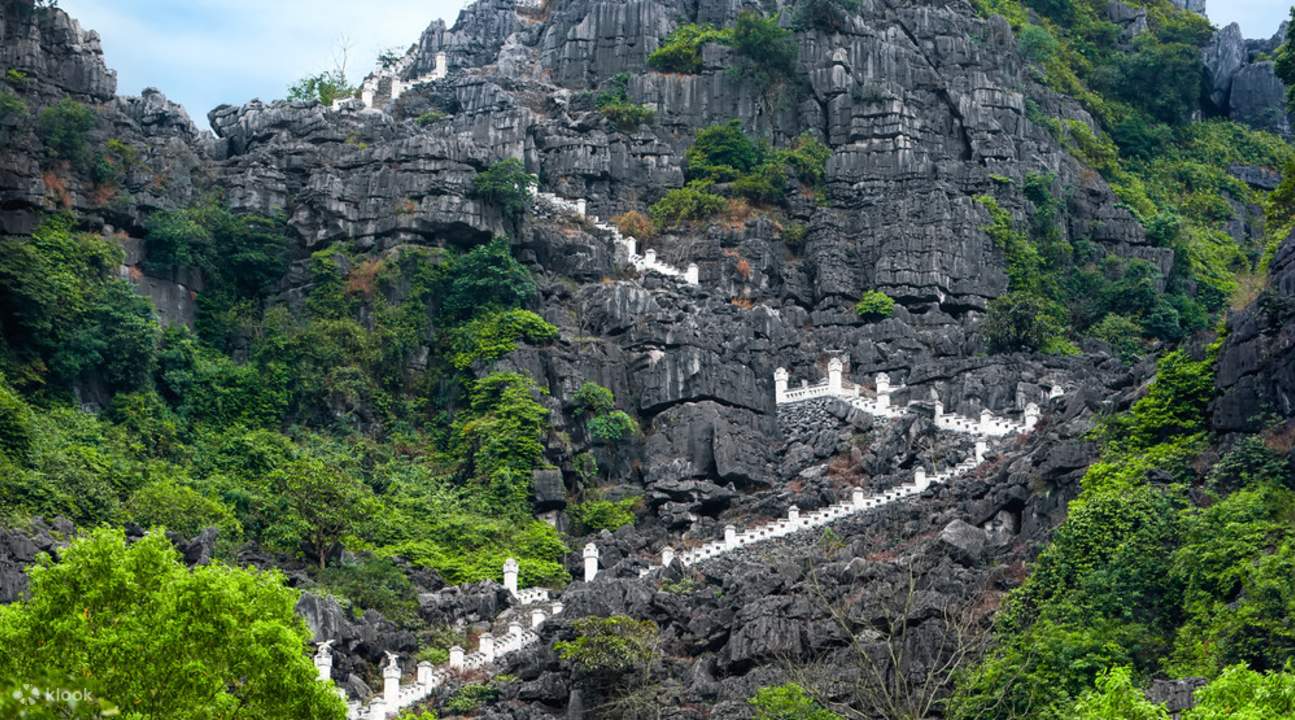 Where is Mua Cave Vietnam?
Mua Cave situates a mere 10 kilometers away from Ninh Binh City and a mere 100 kilometers from the bustling capital, Hanoi. Here you can admire the crown jewel of the Trang An Scenic Landscape. Nestled within this breathtaking complex, Mua Cave gives you freedom, emerging into a realm of natural beauty and wonder.
The Vietnamese name "Hang Mua" draws its essence from a petite cavern nestled within the limestone embrace of Mua Mountain's base. This enchanting tourist attraction is located in the Khe Dau Ha village within the Ninh Xuan commune of the illustrious Hoa Lu district, embraced by Ninh Binh province. Ascend to the summit of Mua Mountain, greet a majestic dragon statue, lending the peak its alternate name – Ngoa Long, or Dragon's Crest.
For those venturing to Trang An, a seamless journey to Mua Cave and Tam Coc awaits, seamlessly weaving these three extraordinary destinations into an unforgettable day of exploration. Experience the convenience of immersing yourself in the rich history and natural splendor of Hoa Lu's ancient legacy, all within the embrace of a single, immersive culture and .
Unveil the hidden stories of Vietnam's past as you uncover the mysteries of Hoa Lu's ancient capital and its interconnected wonders. Embark on a journey that seamlessly connects history, nature, and exploration in one extraordinary package.
Featured Tours:
Mua Caves entry fee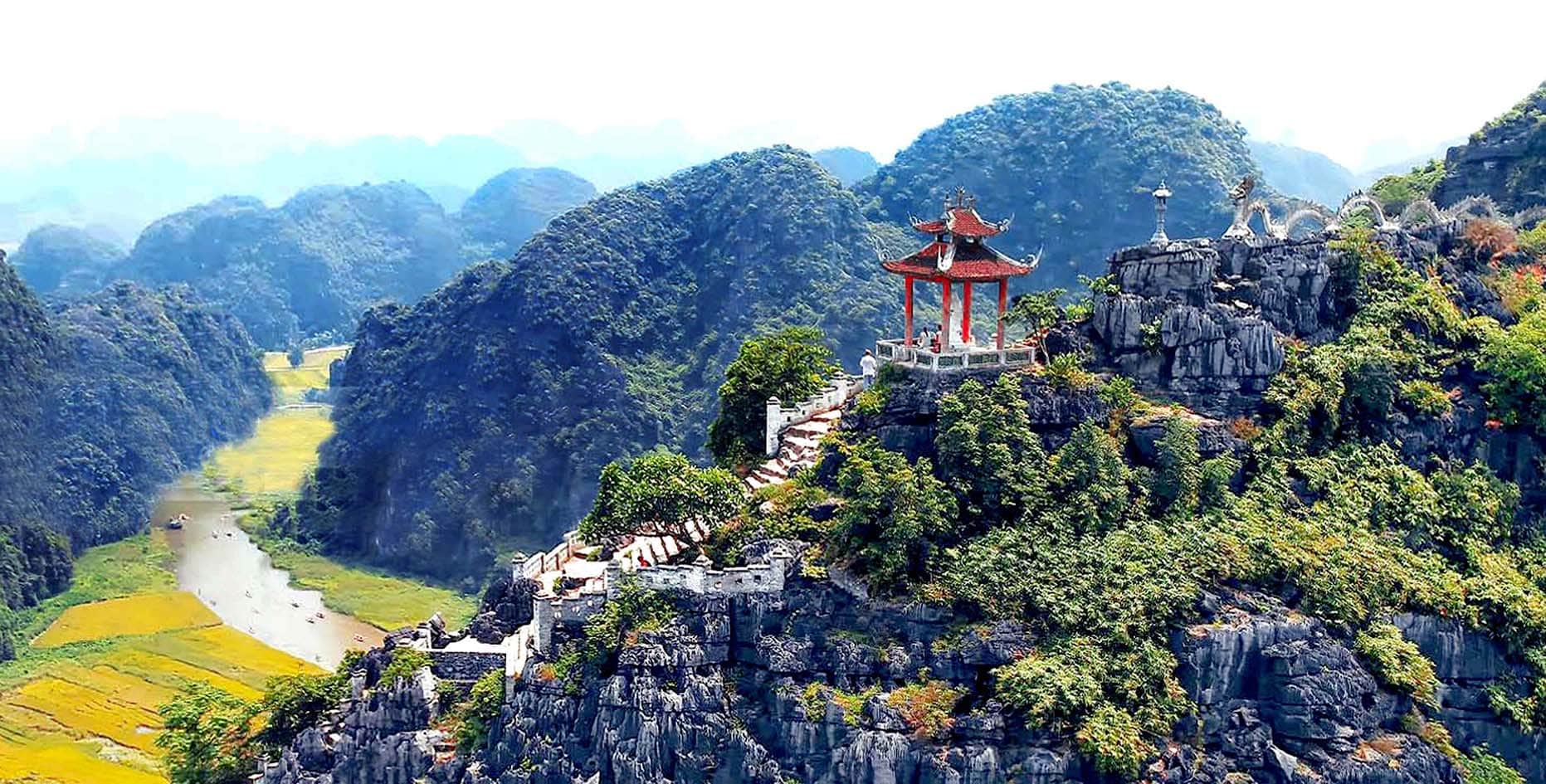 Indulge in the captivating allure of Ninh Binh's Dance Cave, where the ticket price belies the immense value. At first glance, one might raise an eyebrow at the 100,000VND/person entrance fee to Mua Cave, deeming it a steep investment for a handful of snapshots (Latest update for 2023). However, the Ninh Binh Mua Cave is an unmissable gem, truly embodying the essence of "value for money."
Hang Mua Tour Transportation option
Bus Journeys: A mere 2-hour bus ride from Hanoi takes you to Ninh Binh's doorstep, whisking you away to a realm of wonders. While the bus gracefully transports you, it stops at the Ninh Binh bus station. To reach the famed Hang Mua, a short ride by a motorbike taxi or taxi completes your journey, costing between 50,000VND to 100,000VND per trip. The extra leg of the voyage is a small price to pay for the breathtaking vistas that await.

Motorbike Treks: Embark on an exhilarating motorbike adventure, tracing a trail that weaves through nature's masterpieces. As you traverse the path to Ninh Binh Dance Cave, you will explore captivating sights like Trang An, Tam Coc, and Bich Dong. Embrace the suggestion from : make these splendid spots your first stops, then continue your journey towards the majestic Mua Cave. The road you travel becomes a part of the experience, allowing you to absorb the enchantment at your own pace.

Car Expeditions: Opt for the convenience of a car ride to Ninh Binh Dance Cave, a choice favored by many intrepid explorers. Venture with tour groups or gather your friends for a road trip brimming with memories waiting to be made. The car becomes a vessel of anticipation, carrying you through lush landscapes, urban enclaves, and the promise of adventure.

Train Escapes: journeys unfold as a tranquil prelude to your Ninh Binh escapade, departing from Hanoi train station. The route meanders through the picturesque canvas, eventually arriving at Ninh Binh station. Here, your voyage takes a new form – whether a taxi or a motorbike taxi, both eagerly await to take you to Mua Cave.
Also Read:
Mua caves Ecolodge: Guide to Emerge the Nature beauty
Discovering a sanctuary where every footstep is a dance with nature, the captivating allure of Mua Caves Ecolodge becomes the canvas upon which you paint your unforgettable journey.
Hang Mua peak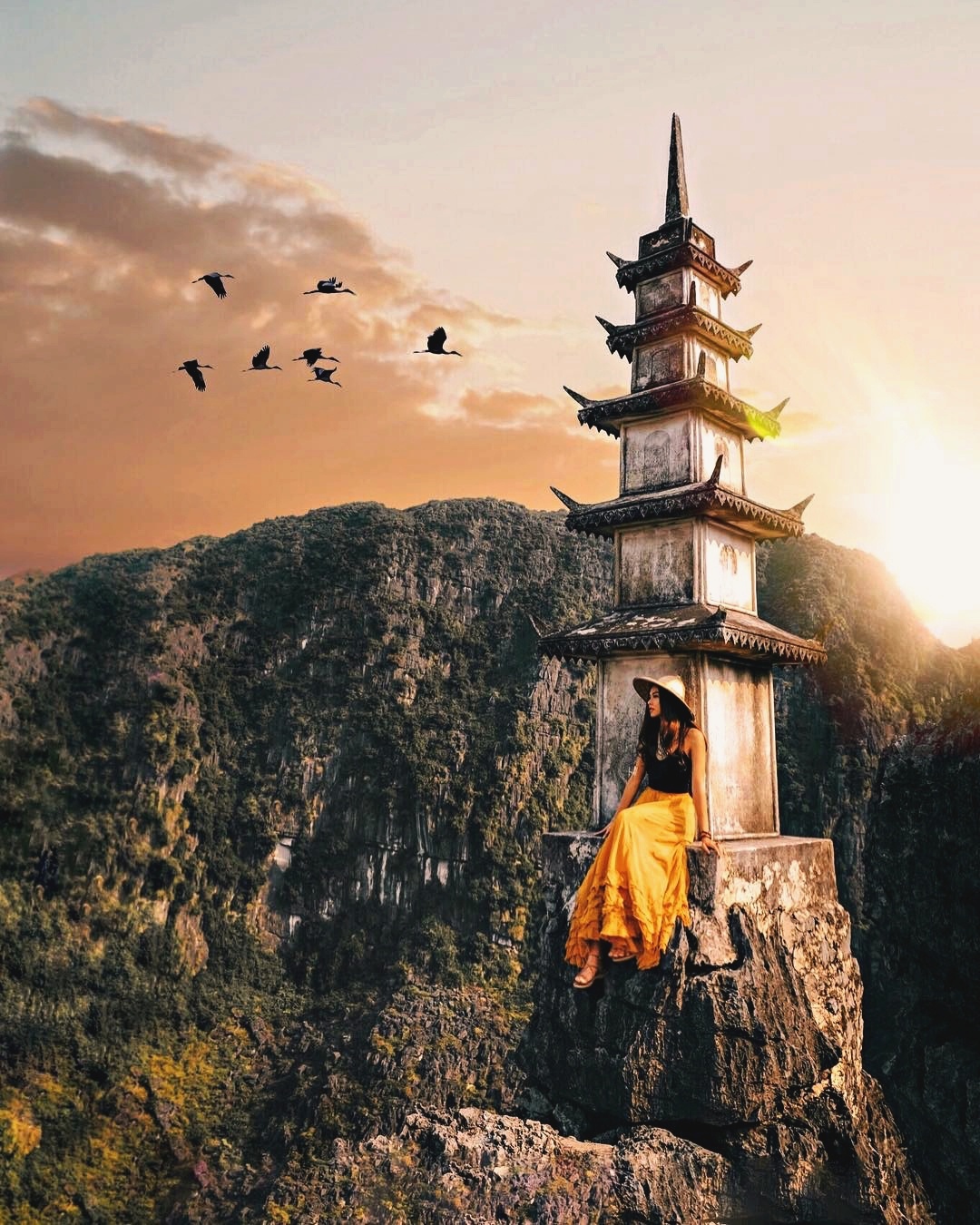 Mua Cave's allure doesn't rest solely upon its captivating caves and peaks. This tourist attraction proudly showcases two distinct Hang Mua Peak, each adorned with picturesque and unique check-in points that have become a sensation among the youthful adventurers who flock here.
Ascending Hang Mua peak, you can unlock a breathtaking panorama that unfurls before your eyes. Gaze downward to witness the expansive tapestry of Tam Coc - Bich Dong fields, where lush greenery and tranquil waters converge, creating a scene of natural harmony. As your eyes trace the curves of the Ngo Dong River, you'll spot bamboo boats gently ferrying travelers.
Also Read:
Mua caves steps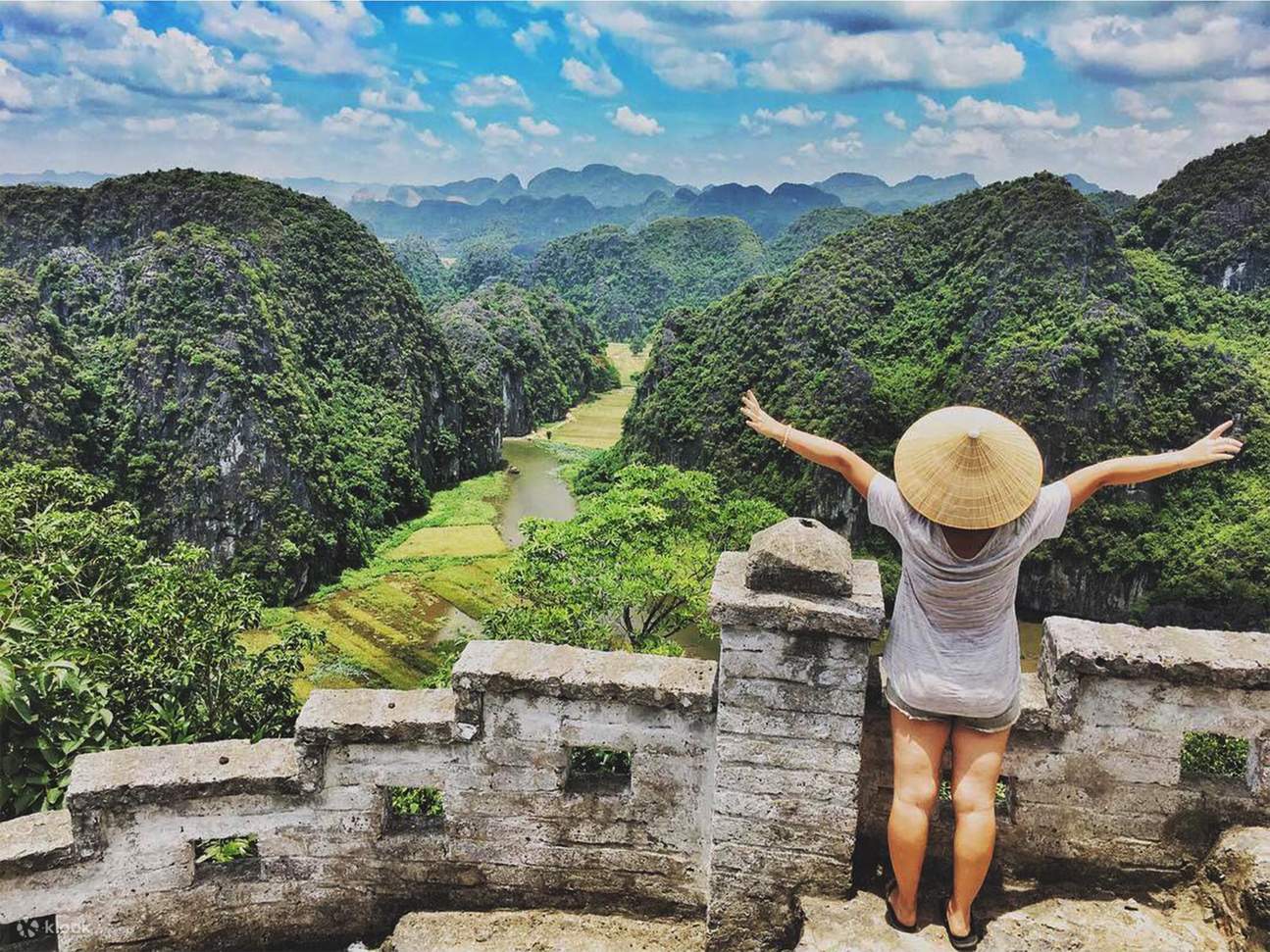 As you stand atop the mountain, gazing upon the sprawling golden sea of rice fields in Tam Coc, it's a reward reserved for those who dare to ascend. Are you ready to embrace the challenge of conquering 486 stone steps adorned by the captivating presence of ancient dragon and phoenix reliefs?
Taking pictures with the featured outfit on top of Mua Cave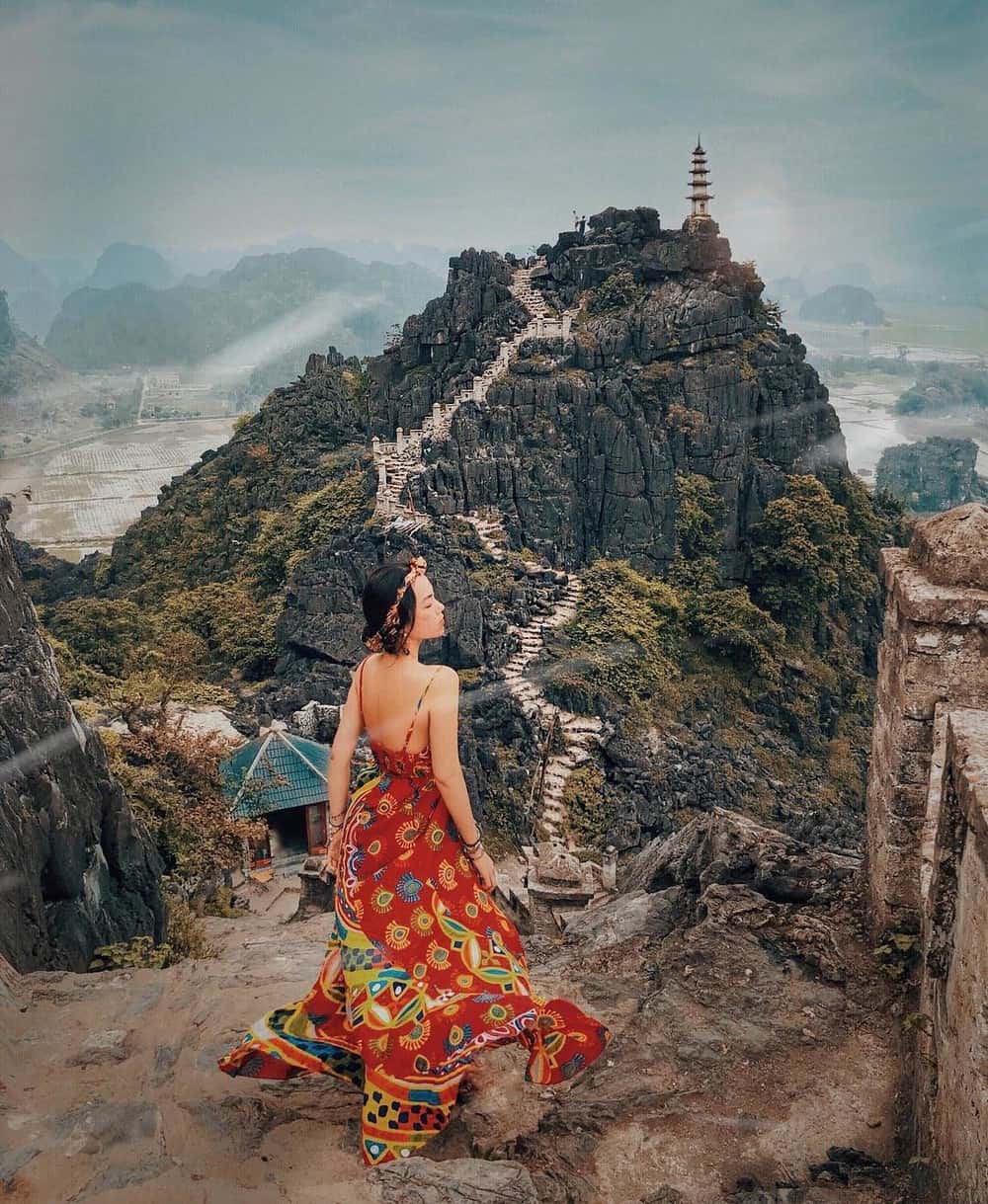 Unlock the true potential of your photos with the magic of a meticulously chosen dress. Your attire becomes an essential piece of the artistic puzzle, enhancing the backdrop provided by nature's grandeur. As you step into the spotlight of Mua Cave's breathtaking vistas, an impressive outfit becomes your partner in creating flawlessly memorable snapshots.
Around the Mua Cave enclave, a realm of possibility awaits. Imagine stepping into a world where makeup and photo shoot rental services are at your disposal, each touch enhances your innate beauty. It is time for you to become the protagonist of your own story, set against the backdrop of Ninh Binh's natural wonder.
Explore Hang Mua's viewpoint
At Hang Mua Viewpoint, every horizon is a story waiting to be told. Whether you're an intrepid traveler or a seeker of serenity, this journey promises to leave an indelible mark on your heart and soul
Best time to travel to Mua Cave Vietnam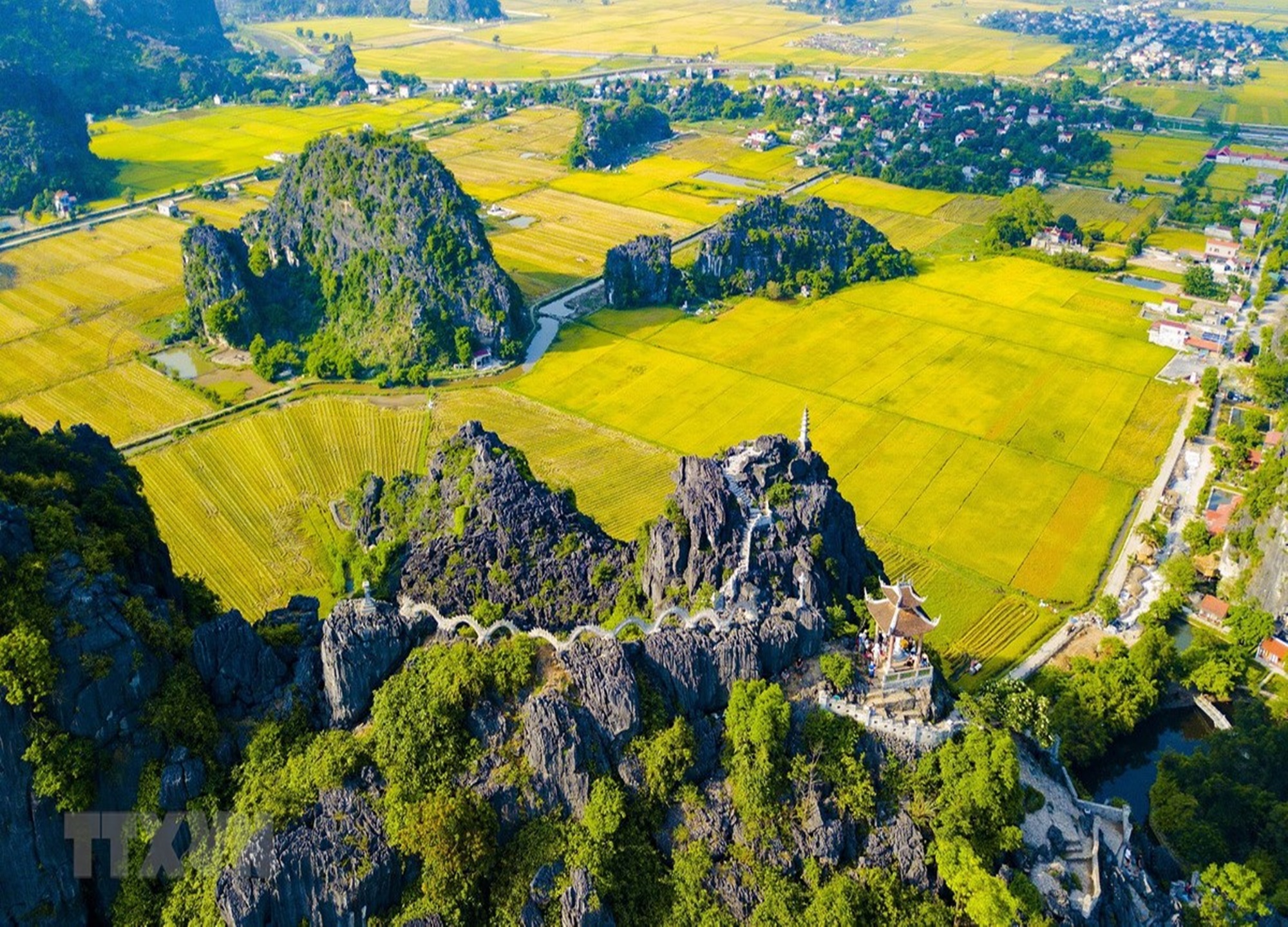 Embark on an enchanting journey to Ninh Binh's captivating Hang Mua viewpoint, where nature's masterpiece unfolds between the months of May and June. As the rice fields burst into vibrant hues, it truly captivates the senses. Picture-perfect landscapes come to life, with every step revealing the beauty of ripe rice swaying gently in the breeze.
Discover a weather paradise during these months in Ninh Binh. The sun graces the sky with its warm embrace, casting a golden glow that enhances the allure of the surroundings. The weather would be refreshingly mild, making it the perfect time for both adventurers and leisure seekers. Whether you're scaling the heights of Mua Cave or simply reveling in the tranquility, the weather is your steadfast companion, ensuring an unforgettable experience without extreme heat or fatigue.
For those who cherish serenity and seek to escape the crowds, a trip during the early months of the year beckons. In January, as the new year dawns, Ninh Binh unveils its quieter side, a respite from the bustling throngs that gather to capture the rice fields' splendor. It is your chance to immerse yourself in the allure without the rush, allowing you truly connect with its essence.
Scenic Stopover atop Ngoa Long Mountain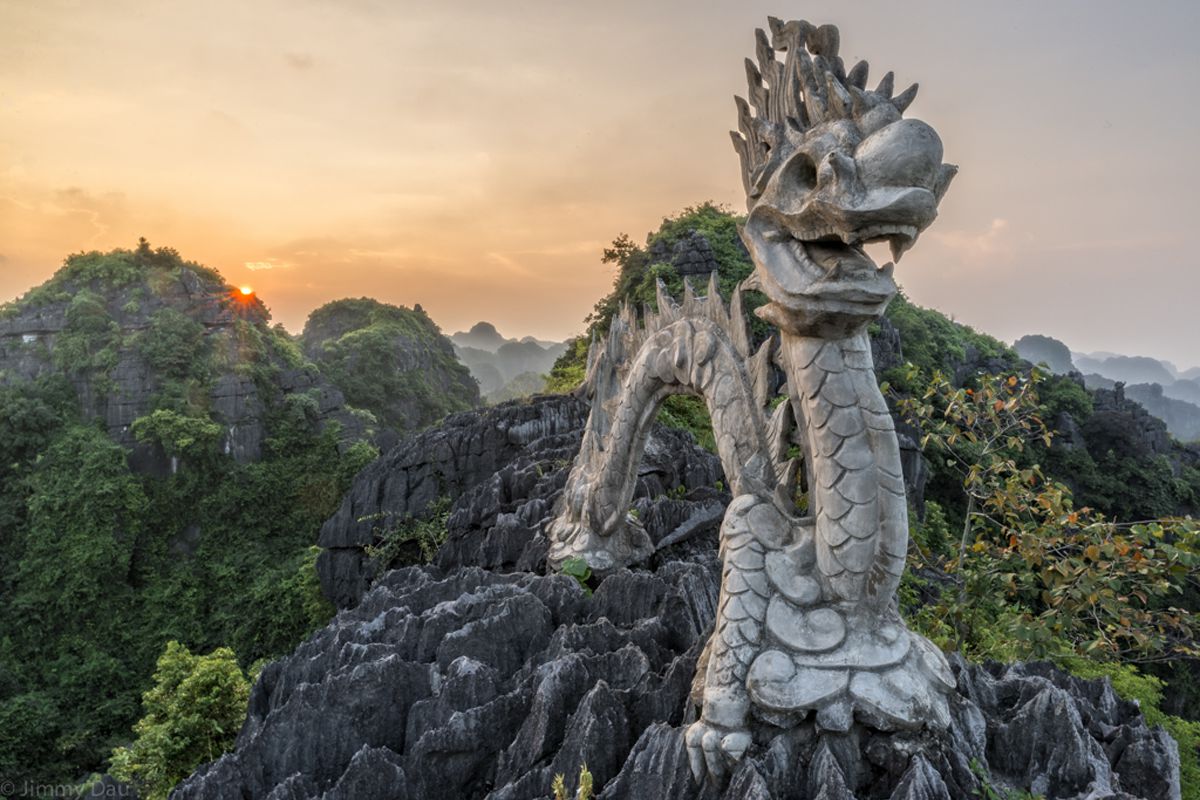 At the heart of this extraordinary destination stands the iconic Ngoa Long Peak, an emblematic feature distinguished by its long and steep stairway snaking up the mountainside. Ascend to the peak of Hang Mua viewpoint, greet a majestic dragon statue, lending the top an alternate name – Ngoa Long, or Dragon's Crest.
This Hang Mua peak beckons to the intrepid traveler, offering a panoramic reward that leaves you breathless for its marvelous beauty.
Hang Mua Lotus Pond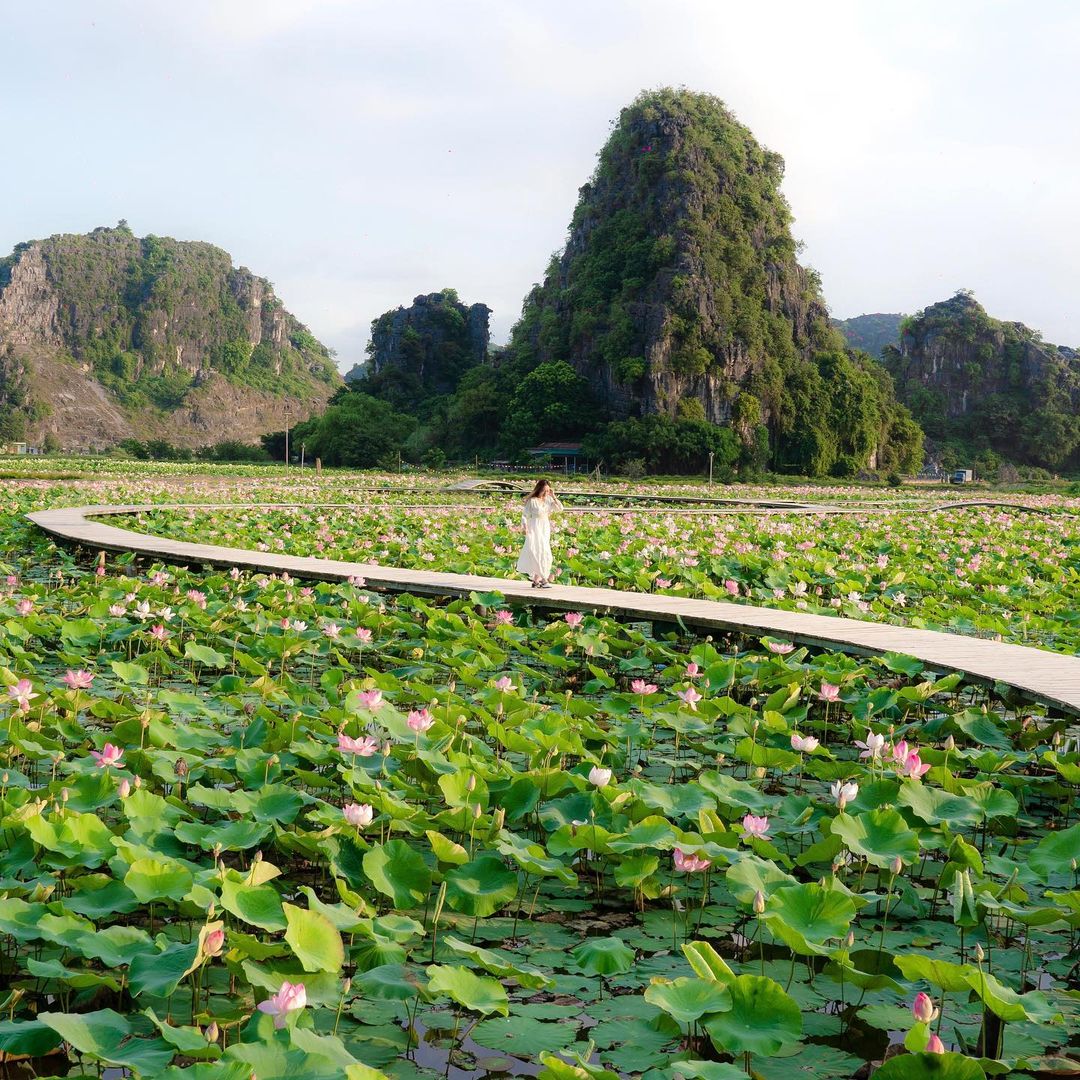 When the end of May and the beginning of June cast their spell, Ninh Binh's lotus season blossoms into a breathtaking display of nature's artistry. While Hang Mua's viewpoint is as an emblem, the enchantment is not confined to its peak. Discover the ethereal charm of lotus blooms in other revered locations such as Tam Coc, Bich Dong, and Trang An. Along the paths of your journey, these delicate petals decorate watery expanses, painting a serene backdrop to your exploration.
Unveil the magic of the lotus season through your camera, capturing moments that linger in your heart. The prime hour for photography enthusiasts is the early morning, from 5 am to 6 am, when the lotus flowers glisten with dewdrops. This time, the first rays of the sun gently embrace Mua Mountain. As the light bathes the surroundings in a warm glow, your photographs will reflect a surreal realm of tranquility and grace.
In conclusion: Mua Cave is not just a destination; but an immersive journey into a realm of beauty, history, and awe-inspiring vistas. Embark on an expedition to this mesmerizing haven and unravel the layers of enchantment that await at every turn. Whether you seek adventure, cultural immersion, or simply a respite from the ordinary, Mua Cave beckons – ready to leave an indelible mark on your travel to Vietnam. Contact World Mate Travel, the to for exploring incredible tours
Featured Tour: