Before boarding any airplane, it is mandatory to undergo an airport security screening. Familiarizing yourself with the guidelines can assist you in preparing for the security scanner.
Going through airport security screening might be annoying and time-consuming for most travelers. When waiting in line, it is critical to hand over your IDs, provide possessions into a basket and then walk through a metal detector.
These processes often require a little time; however, it can be challenging if you do not have any information about them. Since you cannot avoid airport security screening, check the guide below to understand airport security check rules.
Airport security screening: an overview
TSA precheck documents needed to help accomplish transportation security purposes. The airport screening measures when you arrive at the airport. Besides, TSA precheck documents work with the intelligence and law enforcement communities to get information. In addition, the airport security screening will take place when you arrive at the airport to reach your destination.
TSA helps adjust airport security screening processes to define the threats and to obtain the highest levels of transportation security at the airport. Besides, you can see changes in the processes from time to time.
Moreover, TSA reports unattended packages and individual belongings of any threat and identifies suspicious activities at airports and train stations. Airport security screening at airports is part of TSA precheck procedures, which ensures your safety while traveling.
Featured Article:
Airport security check rules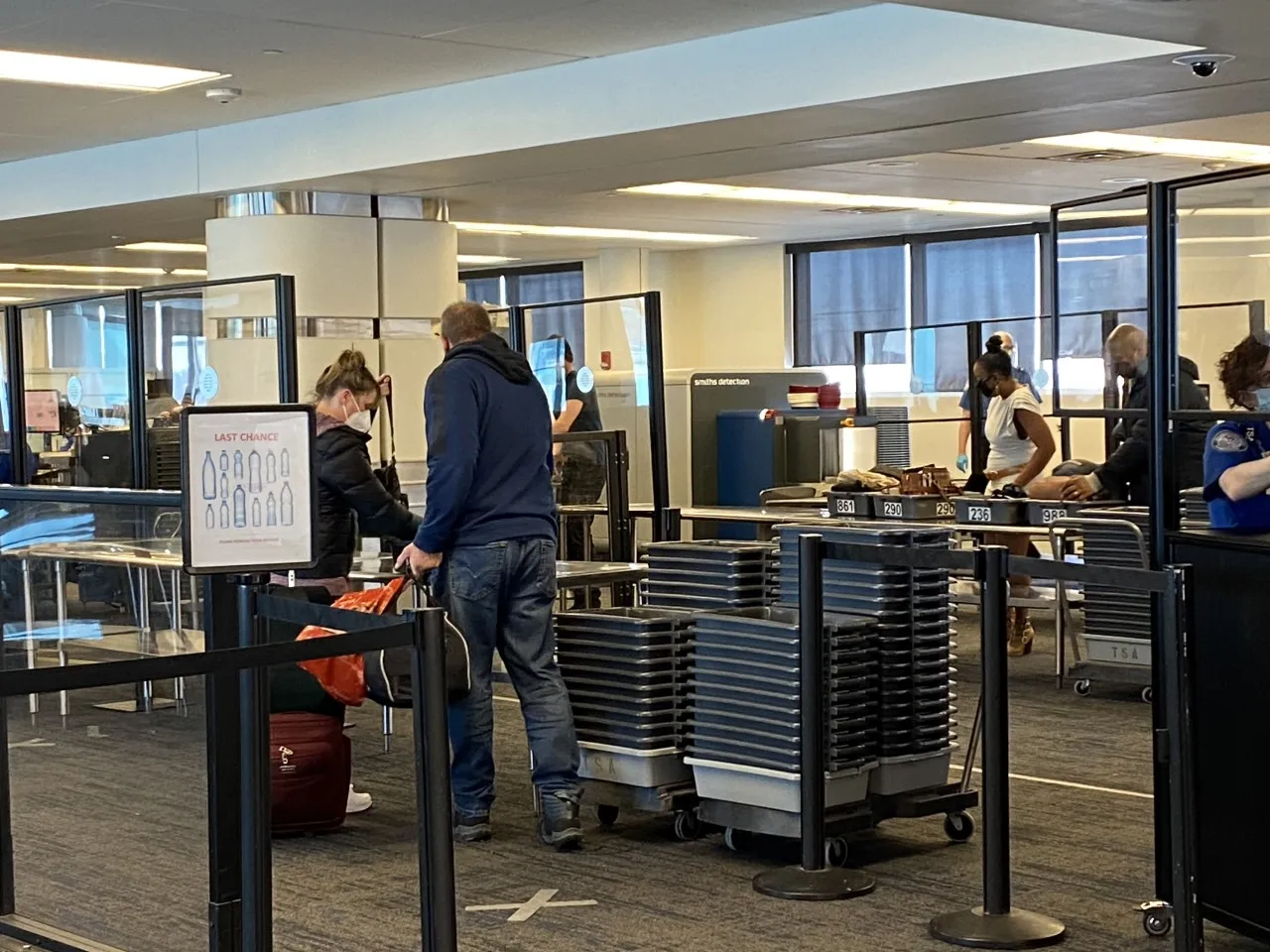 Put on little metal
Wear shoes and clothes without any metallic embellishments. Besides, you should remove your metal jewelry pieces and move them out of your carry-on packages.
Wear shoes that can easily remove
At the airport security screening, you are asked to leave your shoes and put them into a plastic basket. It is better to wear clothes, shoes, or socks that are easily removable. It helps you complete the airport security screening processes.
Put any liquid or gel into a plastic bag
All liquids must be contained in 100 milliliters (equally 3.4 ounces) or slightly smaller containers. Please ensure liquid and gel product that meets requirements and fits into a zip-closure plastic bag.
Bring larger containers of liquid, gel medications, and medical supplies separate from others.
Passengers bring liquid medications through airport security screening. Besides, passengers can carry medically-necessary water and other liquid nutrition. Prosthetics and medical things are also accepted. It is essential to tell the airport security scanner what medical and disability-related products you carry on the plane.
Airport screening: prepare laptops and cameras
Passengers have to take their laptops and cameras out of the package if it is not in a TSA precheck documents needed. It is critical to pack cameras carefully. In particular, if you bring undeveloped film, you should ask the airport security scanner to check it by hand.
Keep IDs in hand
Since you need to show your ID to the airport security screening, for example, your driver's license or passport and the boarding pass. Therefore, remember that you should keep them in hand.
Duty-free things still need to be secured.
Preparing two bottles of rum in any duty-free shop can save money for you; however, you might not save time if you change planes. Mind putting those bottles into a checkable bag since the liquids in the packages can not be larger than 100 milliliters (3.4 ounces).
Make empty for pockets while going through an airport security scanner
Passengers should empty their pockets, such as placing things on the scanner belt and going through the airport security scanner. If you do not empty your pocket, then you have to do it again until your pockets are empty.
Be ready to take off the belt
If passengers carry a belt that has too much metal, they might be asked to remove and put it on the scanner belt.
Best ways to prepare for TSA precheck for international flights
Whether you seldom fly or are a seasoned road mover, you probably get something in common: Here are the best ways to prepare for TSA precheck. Spending time in the airport security lines may be worse. In particular, traveling around the post-pandemic periods, the prospect of waiting in lines at the airport can be longer.
TSA precheck for international flights is a context in general traveling, which is billed as one of the best airport time-savers. As passengers arrive at the airport, a quick airport security screening process is more important than ever.
● How does TSA precheck work?: TSA Precheck for international flights is operated by the Transportation Security Administration of a Federal Government Agency. The TSA Precheck is the ticket for a fast pass through the airport security screening.
● Which airlines take part in TSA precheck? It is one of the biggest concerns related to TSA Precheck since signing up for PreCheck does not mean you always get through the Precheck at the airport. Most large domestic airlines and many U.S. carriers participate in the TSA Precheck programs. More and more international airlines are taking part in the program every year. The number is over 80 airlines to join PreCheck.
● Will passengers get to use TSA precheck before flights? The answer is NO. The TSA Precheck membership does not guarantee that passengers can access the PreCheck lane.
TSA precheck documents needed: How to get them?
The TSA PreCheck program is now open only for U.S.A residents, for example, U.S.A nationals and lawful enforcement. Passengers, who are interested in the TSA PreCheck, have to apply online for pre-approval. Thus, passengers are required to submit an unexpired photo identification and proof of U.S. citizenship. The TSA PreCheck documents needed include a passport, a driving license, and a birth certificate. According to a , the fee for TSA PreCheck costs $78 for a membership for 5 years.
Differences in Asia Airport security
Asia-Pacific areas lead the world regarding passengers and air traffic volumes, which is forcing to increase investment in aviation security. As passenger traffic increases, the pressure on the airport providers is clear. Airlines need to invest in modern technologies which will automate airport security screening, surveillance, and control. Innovative technologies such as the SmartGate passport, IP-based surveillance, and facial recognition are all set up in international airports in Asia. Bukalla states that Asia-Pacific airports not only adopt the latest technologies, but level up them by introducing cargo screening based on X-ray radiography, fiber Bragg grating (FBG), and so on.
World Mate Travel - a leading international travel agency in Vietnam
The airport security screening procedures do serve an aim despite being an annoying and a little bit time-consuming process. Before going onboard, every passenger needs to know the airport security check rules to speed up his/her airport security screening. Remember that the TSA has confiscated guns, bullets, knives, and others from passengers. As a leading , World Mate Travel advises you to plan for the airport security screening, which helps minimize any issues before going on board.