Vietnam is a country that offers a unique blend of natural beauty, rich culture, and thrilling adventures. From exploring the bustling cities to a hiking tour through the jungles, Vietnam adventure has something for travelers.
In this article, we will take you on a journey through some of the most exciting and unforgettable Vietnam adventure vacations. Whether you are a seasoned traveler or a first-time adventurer, we hope to inspire you to embark on your own adventure holidays in Vietnam. So, sit back, relax, and let us take you on a virtual tour of this incredible country.
Vietnam Adventure: Introduction
Adventure tourism encompasses a wide range of activities, which are typically categorized based on their level of difficulty, ranging from easy (soft adventure) to challenging (hard adventure). The following chart displays various adventure tourism activities, classified according to ATTA ratings:
| | |
| --- | --- |
| Soft adventure activities in vietnam | Archaeological Exploration, Backpacking (backpacking), Bird watching, Camping, Canoeing, Ecotourism, Education program, environmentally sustainable activities, Go fishing, Hiking and climbing, Ride a horse, Hunting, Kayaking, Diving, Volunteer travel |
| Hard adventure activities in vietnam | Cave exploration, Climbing (rock/ice), Trekking |
| Other adventure activities in vietnam | Participate in local festivals/fairs, Cruise (cruise), Cultural activities, get to know the locals, Learn a new language, Walking tour, Visit friends/family, Visit historical sites |
Vietnam adventure tour in numbers
Vietnam is a popular destination for adventure tours, with a wide range of activities available, such as trekking, cycling, kayaking, rock climbing, and motorbiking.
According to the Vietnam National Administration of Tourism, Vietnam's adventure tourism accounts for about 10% of the country's total tourism revenue.
The average duration of a Vietnam adventure tour is around 7-10 days, although some tours can last up to 3 weeks.
The cost of a Vietnam adventure tour varies depending on the activities, accommodation, and transportation included, but it typically ranges from $500 to $2000 per person.
Vietnam are suitable for all ages and fitness levels, as there are different levels of difficulty and intensity available. However, it's important to choose a tour that matches your interests and abilities and to prepare well for the physical challenges and cultural differences.
2. Planning Your Vietnam Adventure Vacation
The best time to visit Vietnam: The best time to go on an adventure tour in Vietnam is from September to April, when the weather is dry and cool in the north and central regions, and warm and sunny in the south.
3. Packing essentials
Lightweight and breathable clothing
Comfortable shoes
Sunscreen and insect repellent
Hat and sunglasses
Rain gear
Power adapter
First aid kit
Camera
Cash and credit cards
Travel documents
4. Respecting local customs and traditions:
By showing respect for these traditions, travelers can deepen their understanding and appreciation of Vietnamese culture, while also fostering positive relationships with the local community.
Featured tours:
Top Adventure Activities in Vietnam
Hiking tour Vietnam: Trekking in Binh Thuan, Ninh Thuan, Lam Dong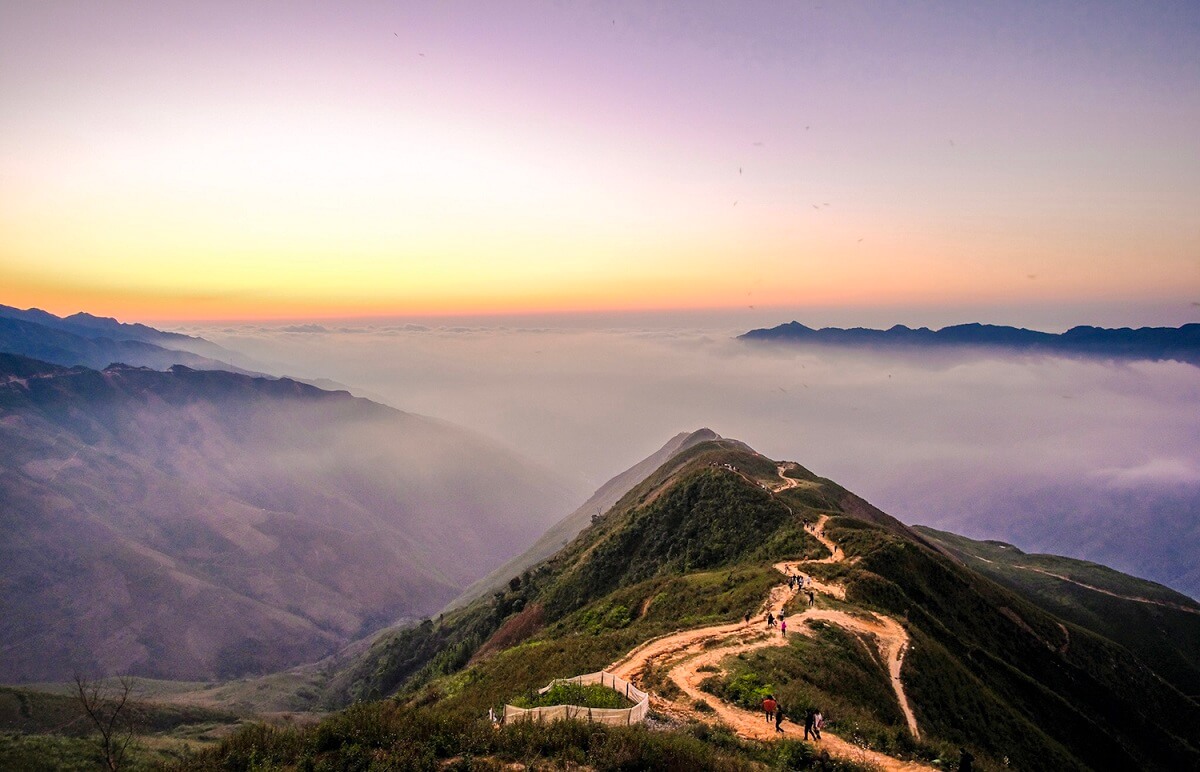 Trekking is one of the popular outdoor activities in Vietnam that involves hiking, climbing, and traversing challenging terrain while immersing oneself in nature. The journey can be lengthy and heavily influenced by natural conditions such as weather and terrain.
The hiking tour in Vietnam takes you on a journey through the stunning landscapes of Binh Thuan, Ninh Thuan, and Lam Dong, which are famous for breathtaking forests. The trekking adventure tour is perfect for nature lovers and outdoor enthusiasts who want to explore the beauty of Vietnam's countryside.
You can choose a Vietnam adventure tour in Binh Thuan, where you will hike through the sand dunes of Mui Ne and explore the local fishing villages. You will also visit the Fairy Stream, a beautiful natural attraction with red and white sandstone formations.
Heading to Ninh Thuan, where you will trek through the rugged terrain of the Nui Chua National Park. This park is home to a diverse range of flora and fauna, including rare species of birds and reptiles. You will also visit the Po Klong Garai Cham Temple, a UNESCO World Heritage Site.
Exploring the stunning landscapes of Lam Dong, you can visit picturesque Dalat City and Langbiang Mountain. You will hike through the pine forests and tea plantations and visit the Elephant Waterfall and Pongour Waterfall.
Throughout the tour, you will be accompanied by experienced guides who will share their knowledge of the local culture and history. You will also interact with the local communities and learn about their way of life
Vietnam adventure vacation: Camping in Dalat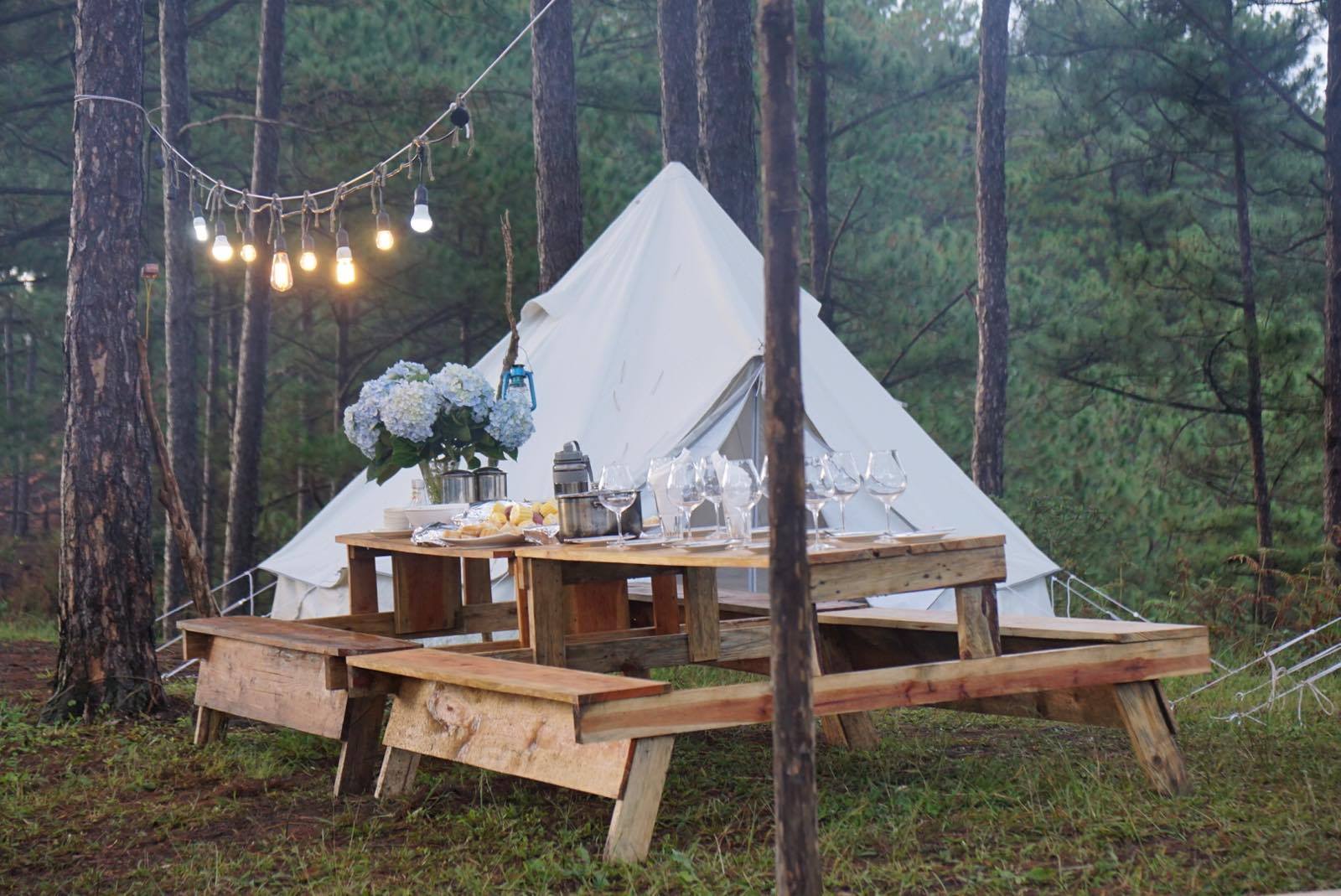 A Vietnam adventure vacation experiencing camping in Dalat is an exciting and unique experience for travelers who love the great outdoors. Dalat is a picturesque city located in the Central Highlands of Vietnam, known for its stunning natural beauty, cool climate, and diverse outdoor activities.
Camping in Dalat offers visitors the chance to immerse themselves in the region's natural beauty and experience the thrill of sleeping under the stars. The camping sites are usually located in lush forests or near scenic lakes, providing a serene and peaceful environment for travelers to relax and unwind.
With Camping adventure activities in Vietnam, visitors can explore the surrounding area by hiking, biking, or kayaking. In the evening, travelers can gather around a campfire and enjoy a delicious barbecue dinner while sharing stories and making new friends. The cool climate of Dalat makes it the perfect place to enjoy a hot cup of tea or coffee while admiring the starry night sky
Motorbiking in Ha Giang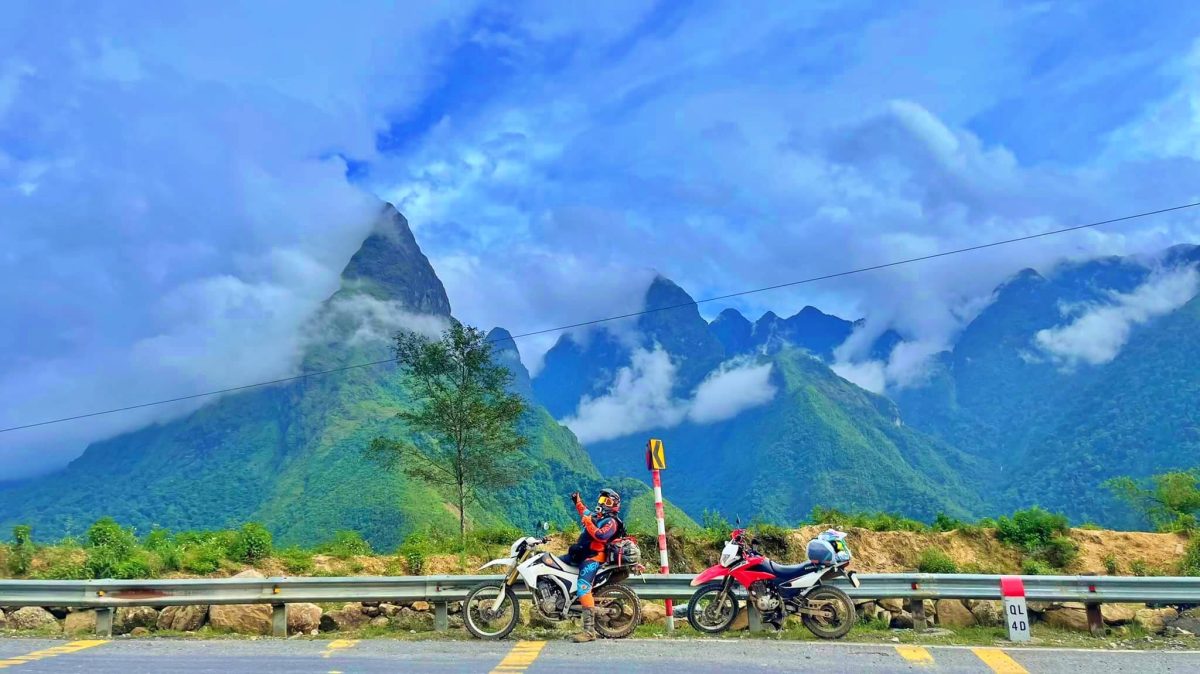 Motorbiking in Ha Giang is an exhilarating experience that takes you through some of the most stunning landscapes in Vietnam Adventure. Ha Giang is a mountainous province in the northern part of the country, known for its rugged terrain, winding roads, and breathtaking scenery. The best way to explore this region is on a motorbike, as it allows you to get up close and personal with the natural beauty of the area.
As you ride through Ha Giang, you'll encounter towering mountains, deep valleys, and winding rivers. The roads are narrow and winding, with steep inclines and hairpin turns that require skill and concentration to navigate. But the effort is well worth it, as you'll be rewarded with stunning views at every turn.
One of the highlights of motorbiking in Ha Giang is the chance to visit the many ethnic minority villages that dot the landscape. These communities have preserved their traditional way of life for centuries, and you'll have the opportunity to learn about their customs, traditions, and daily routines. You can also sample local cuisine, which is often made with fresh, organic ingredients grown in the surrounding hills.
Kayaking in Halong Bay, Lan Ha Bay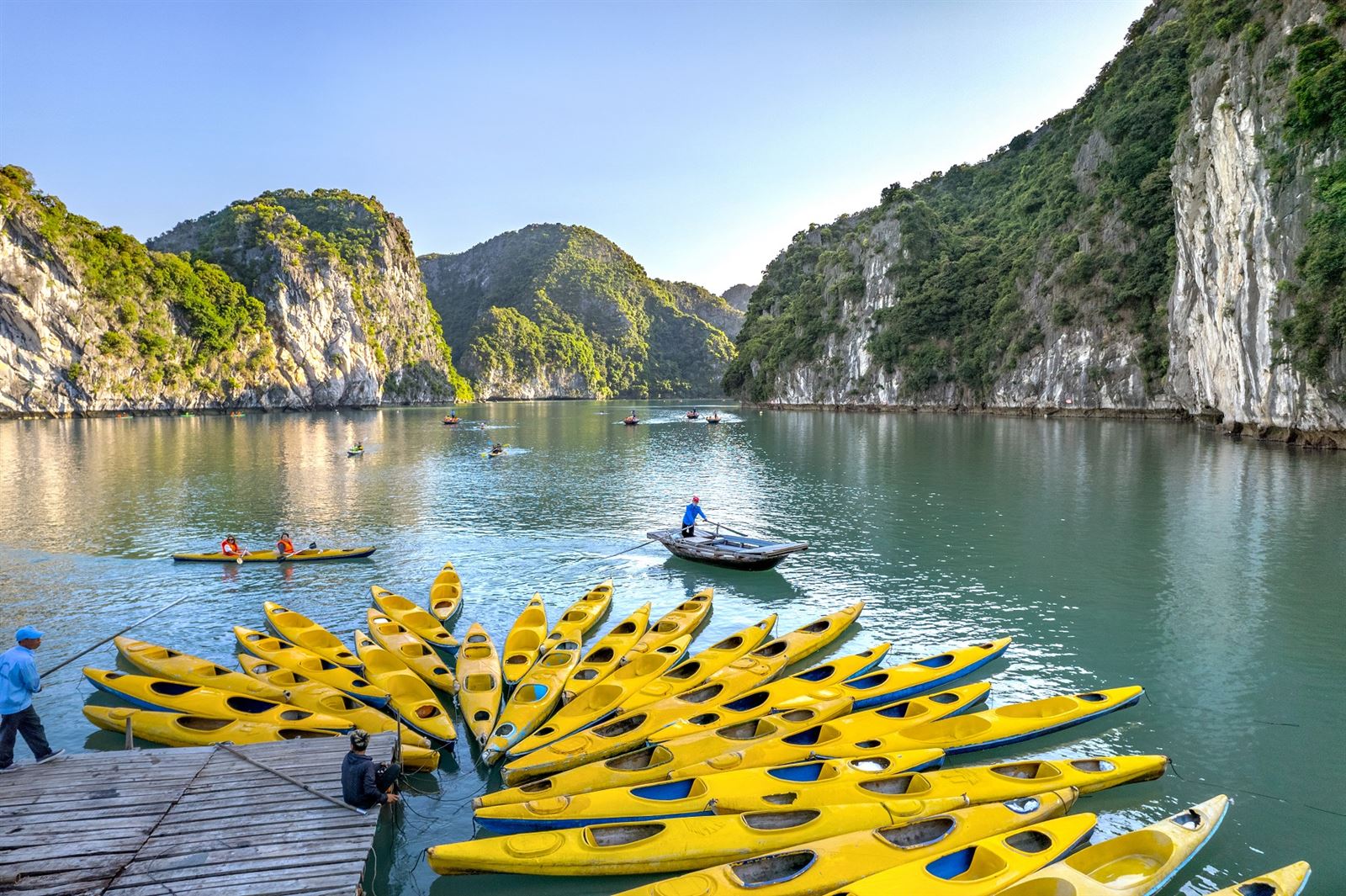 Kayaking in Halong Bay and Lan Ha Bay is a thrilling and unforgettable adventure activity in Vietnam. The crystal-clear waters of the bay are perfect for kayaking, allowing you to explore the stunning limestone cliffs, hidden lagoons, and secluded beaches that make this area so famous.
As you paddle through the calm waters, you'll be surrounded by towering karst formations, lush greenery, and an abundance of marine life, including colorful fish, crabs, and jellyfish. The peacefulness of the surroundings and the gentle sound of the water lapping against your kayak will make you feel like you're in a different world. Whether you're a seasoned kayaker or a beginner, this is an adventure travel Vietnam that you won't want to miss.
Featured Tour: Unique Hanoi And Amazing Halong Bay
Diving in Kien Giang, Binh Dinh, Binh Thuan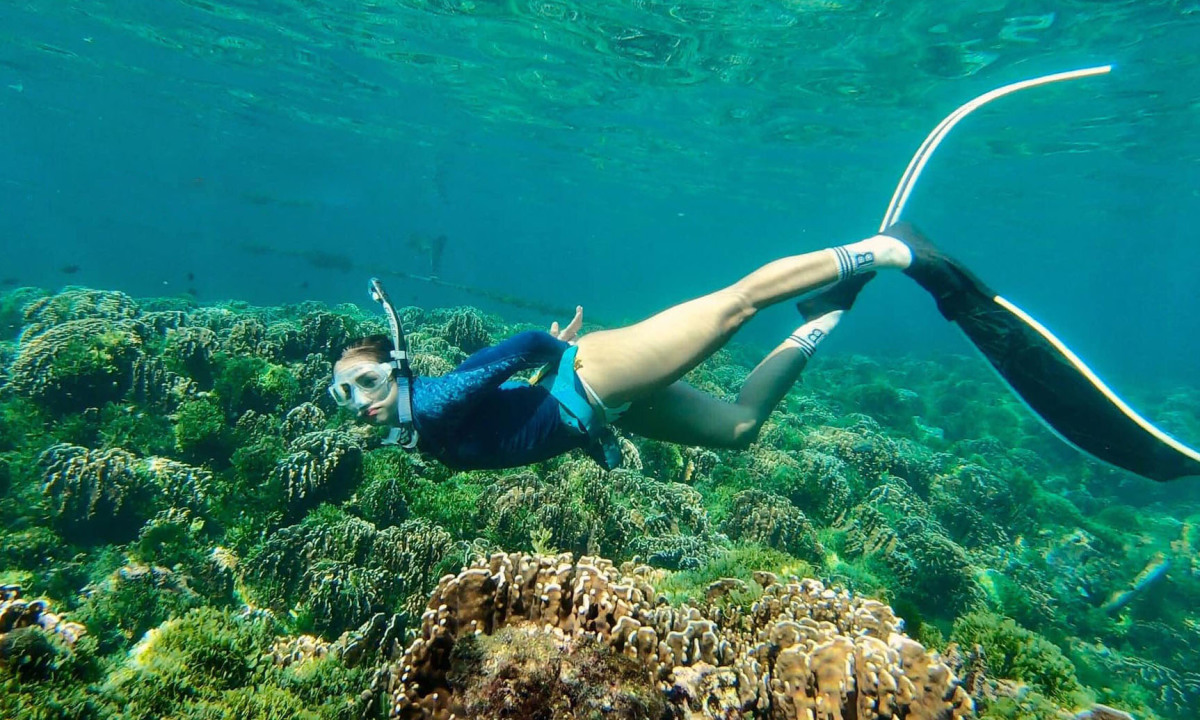 Kien Giang is a province located in the southern part of Vietnam, known for its beautiful islands and beaches. The waters around Kien Giang are home to a diverse range of marine life, including colorful coral reefs, tropical fish, and sea turtles. As exciting outdoor activity in Vietnam, Diving in Kien Giang offers the opportunity to explore these underwater wonders, with popular dive sites including Hon Tre Island, Hon Son Island, and Hon Dat Island.
Binh Dinh is another coastal province in central Vietnam, with a long coastline and numerous offshore islands. The waters around Binh Dinh are known for their clear visibility and abundant marine life, making it a popular destination for diving enthusiasts. Some of the best dive sites in Binh Dinh include Cu Lao Xanh Island, Hon Kho Island, and Eo Gio Reef.
Binh Thuan is a province located in the southeastern part of Vietnam, known for its stunning beaches and turquoise waters. The diving Adventure tour in Binh Thuan is characterized by its colorful coral reefs, underwater caves, and diverse marine life, including whale sharks, manta rays, and sea turtles. Some of the top dive sites in Binh Thuan include Hon Cau Island, Phu Quy Island, and Ke Ga Reef.
Caving in Quang Binh, Ninh Binh, Quang Ninh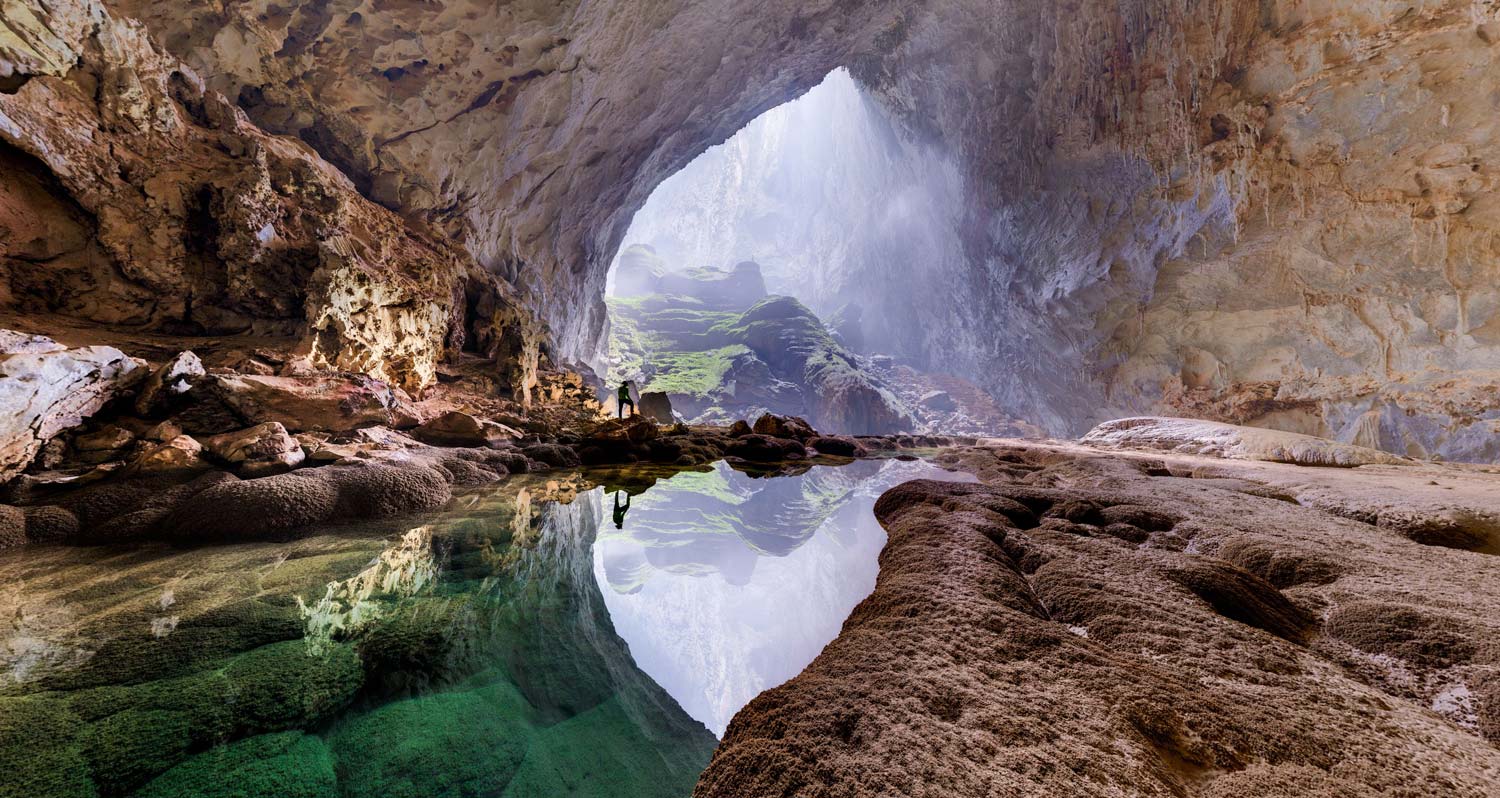 As a supper exciting Vietnam adventure, caving in Quang Binh, Ninh Binh, and Quang Ninh is an exhilarating adventure that takes you deep into the heart of Vietnam's stunning karst landscapes. Quang Binh is home to the world-famous Son Doong Cave, the largest cave in the world, while Ninh Binh boasts the stunning Tam Coc and Trang And cave systems. Quang Ninh is home to the mystical Halong Bay, where you can explore hidden caves and grottos by boat.
Caving adventure holidays in Vietnam are challenging and rewarding experiences that will take you off the beaten path and into the heart of Vietnam's natural wonders. Whether you're an experienced caver or a first-time adventurer, these regions offer some of the most spectacular and unforgettable cave experiences in the world.
Featured tours: Culture and landscape tours
Rock Climbing in Cat Ba Island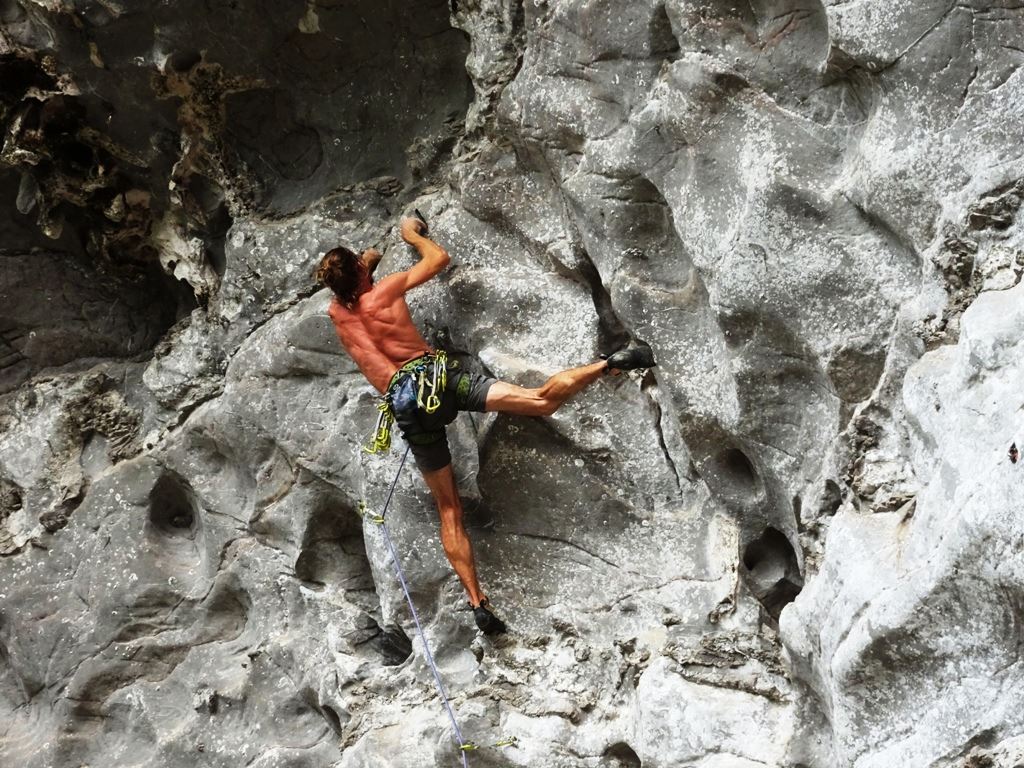 Rock climbing on Cat Ba Island is an exhilarating Vietnam adventure tour that offers breathtaking views of the island's stunning landscape. The island is home to a variety of limestone cliffs and crags that provide a challenging and exciting climbing experience for both beginners and experienced climbers. The climbing routes vary in difficulty, ranging from easy to extremely challenging, and are suitable for climbers of all levels.
The climbing season in Cat Ba Island runs from September to May, with the best time to climb being from November to March when the weather is cooler and drier. The island's warm and humid climate can make climbing challenging during the summer months.
Hiring a local guide
For those who are addicted to Vietnam Adventure tours in terms of a personalized and immersive experience, hiring a local tour guide would ensure a safe and smooth journey. , as a trusted , helps you navigate language and cultural barriers. We would enhance your travel experience and leave you with unforgettable memories of Vietnam.