Within the enchanting complex of Trang An - Tam Coc - Bich Dong, Bich Dong Pagoda Vietnam holds a revered historical and cultural treasure for Vietnamese people. This pleasing destination attracts travelers into the serene realm of Buddhist spirituality inside stunning mountain landscapes.
The Bich Dong temple's aura draws a blend of devout Buddhists and eager tourists who seek solace and awe-inspiring natural beauty in one unforgettable visit. In this article, let us guide you on a virtual tour of Bich Dong Pagoda.
Bich Dong Pagoda: A Majestic Spiritual Haven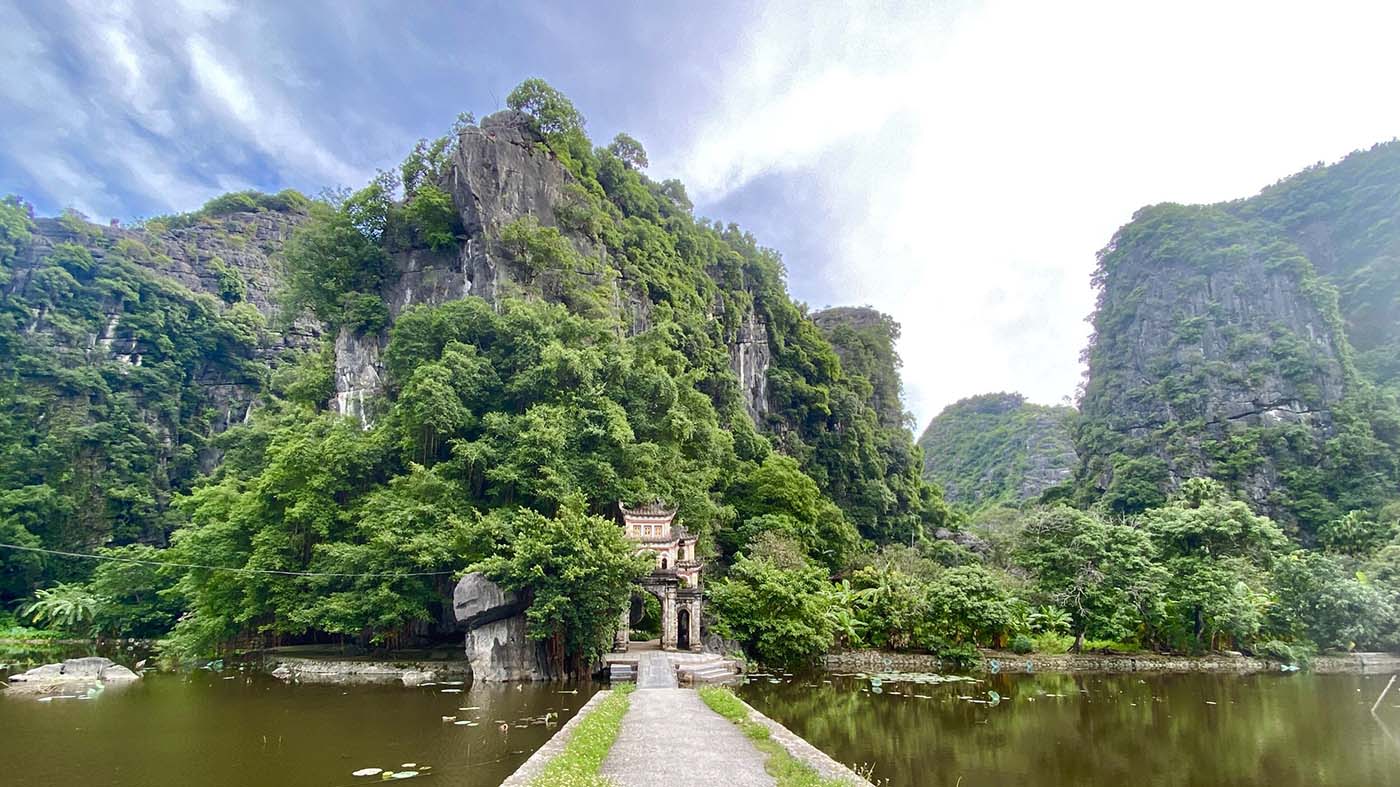 Ninh Binh is a treasure of natural beauty and ancient architectural wonders in the North of Vietnam. In this enchanting destination, Bich Dong Pagoda emerges as a star attraction. As a spiritual sanctuary, Bich Dong Pagoda provides a serene escape, inviting pilgrims and tourists together to embark on a peaceful journey into the sacred world of Buddhism.
Tam Coc Bich Dong
Tam Coc Bich Dong in Ninh Binh is a hidden gem waiting for you to discover. Located just 100 kilometers from the south of Hanoi, this enchanting destination covers about 350 hectares of breathtaking natural wonders and peaceful village scenery.
Its remarkable blend of limestone cave systems and idyllic rural landscapes sets Tam Coc Bich Dong apart. Moreover, it boasts the captivating Bich Dong Pagoda, a testament to traditional architecture and a repository of historical relics harkening back to the illustrious Vu Lam palace of the Tran dynasty.
Also Read:
Bich Dong pagoda history
With nearly six centuries of existence, Bich Dong Pagoda holds a storied repository of rich historical and cultural treasures. Today, it presents the prestigious status of an exceptional national relic and has earned UNESCO recognition as a world cultural and natural heritage site. This sacred Bich Dong temple in Ninh Binh attracts incense-bearers and tourists, drawing them back again and again.
Also Read:
During the reign of King Le Du Tong in 1705, an intriguing chapter in the history of Bich Dong Pagoda unfolded. It was a time when two devoted monks (Tri Kien and Tri The) crossed paths. One came from Vong Doanh, and the other from Dong Xuyen in Nghia Hung district, Nam Dinh province. God brought them together, forging a bond of brotherhood rooted in their unwavering faith.
United by a shared mission to spread Buddhism and construct temples, these two monks embarked on a spiritual journey, leading them to the enchanting Bich Dong mountain. Here, they discovered not only breathtaking natural beauty but also a temple. Inspired by the surroundings, the monks resolved to make a lasting contribution. They chose to renovate the old temple and transform it into three distinct ones: the Lower Temple, the Central Temple, and the Upper Temple, each dedicated to spiritual enlightenment.
In 1707, the two monks cast a resounding bell, which still graces the depths of Dark Cave. Just two years later, in the lunar August, they inscribed the name of Bich Dong Pagoda in elegant kanji, forever marking their dedication.
Forward to 1774, Lord Trinh Sam paid a visit to this mesmerizing sanctuary. Perhaps captivated by the panoramic spectacle of mountains, river caves, fields, and trees, with the pagoda seemingly nestled amidst a lush emerald backdrop, Lord Trinh Sam bestowed upon it the name "Bich Dong." In this way, the pagoda became forever intertwined with the natural beauty that surrounds it, creating a legacy that endures today.
Also Read:
Outstanding Things in Bich Dong Pagoda: a religious magnet for travelers
1. Bich Dong Pagoda: The Lower Temple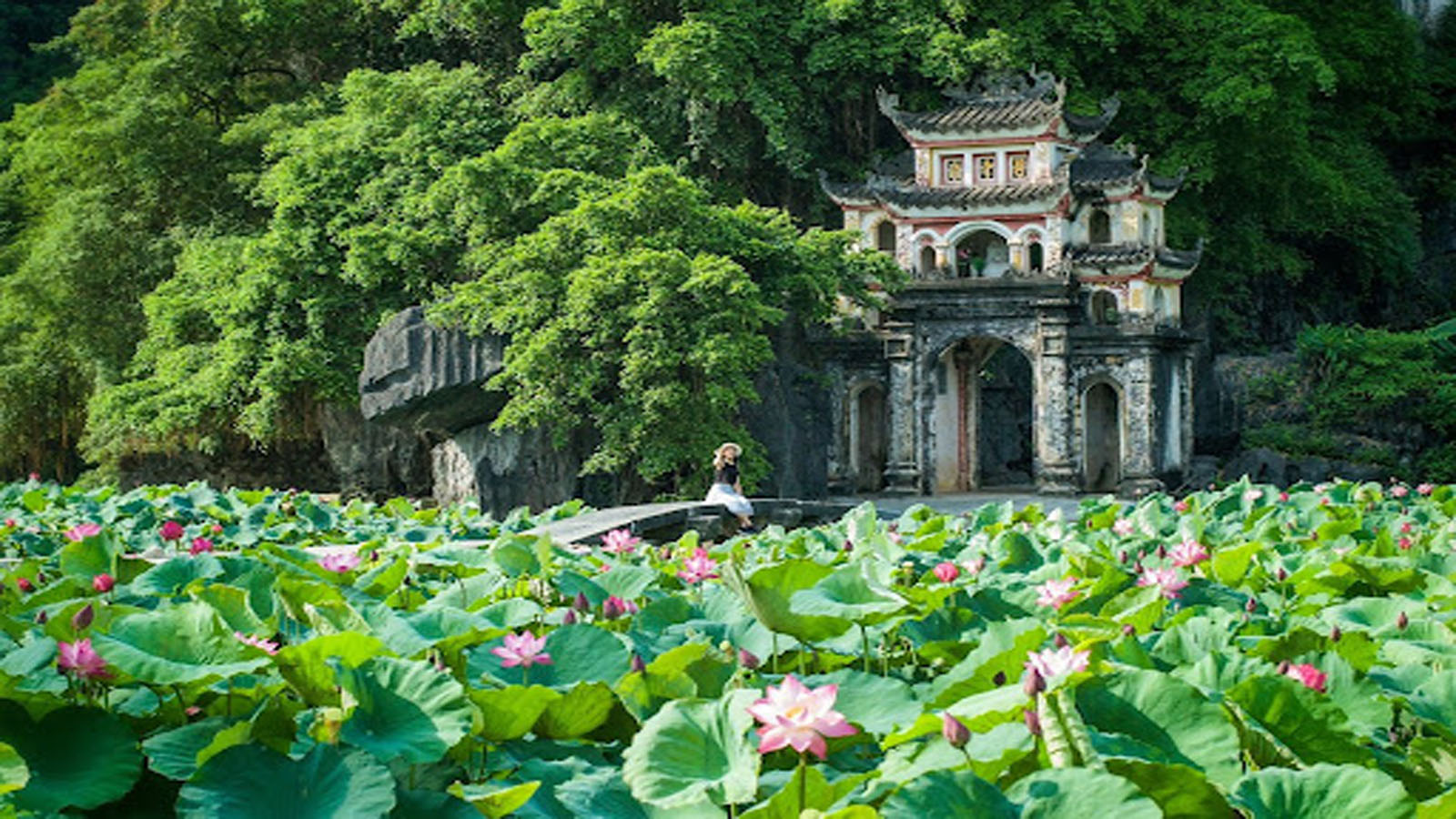 A sense of serenity washes over you when you step into Bich Dong Pagoda. Your path is a graceful stone bridge crafted from verdant stones, guiding you through the Tam Quan gate. It is your gateway to the Lower Pagoda.
On the foot of the mountain, you will find the Lower Temple, a structure that stands on a high platform. Its architectural design follows the elegant Dinh style, characterized by a roof with two graceful curves, boasting eight layers in total. What truly captivates the eye are the majestic stone columns, each hewn from a single, towering piece, standing over 4 meters tall—an incredible feat of craftsmanship for its time.
Upon entering, the central nave of Tien Duong welcomes you with a grand depiction in Chinese characters: "Mao Co Than Thanh," signifying the sacred aura enveloping this ancient temple. The upper hall is a sanctuary dedicated to the worship of Buddha, adorned with pedestals hosting Buddha statues and revered objects like lamps and incense peaks.
Featured Tour:
2. Bich Dong Pagoda: The Central temple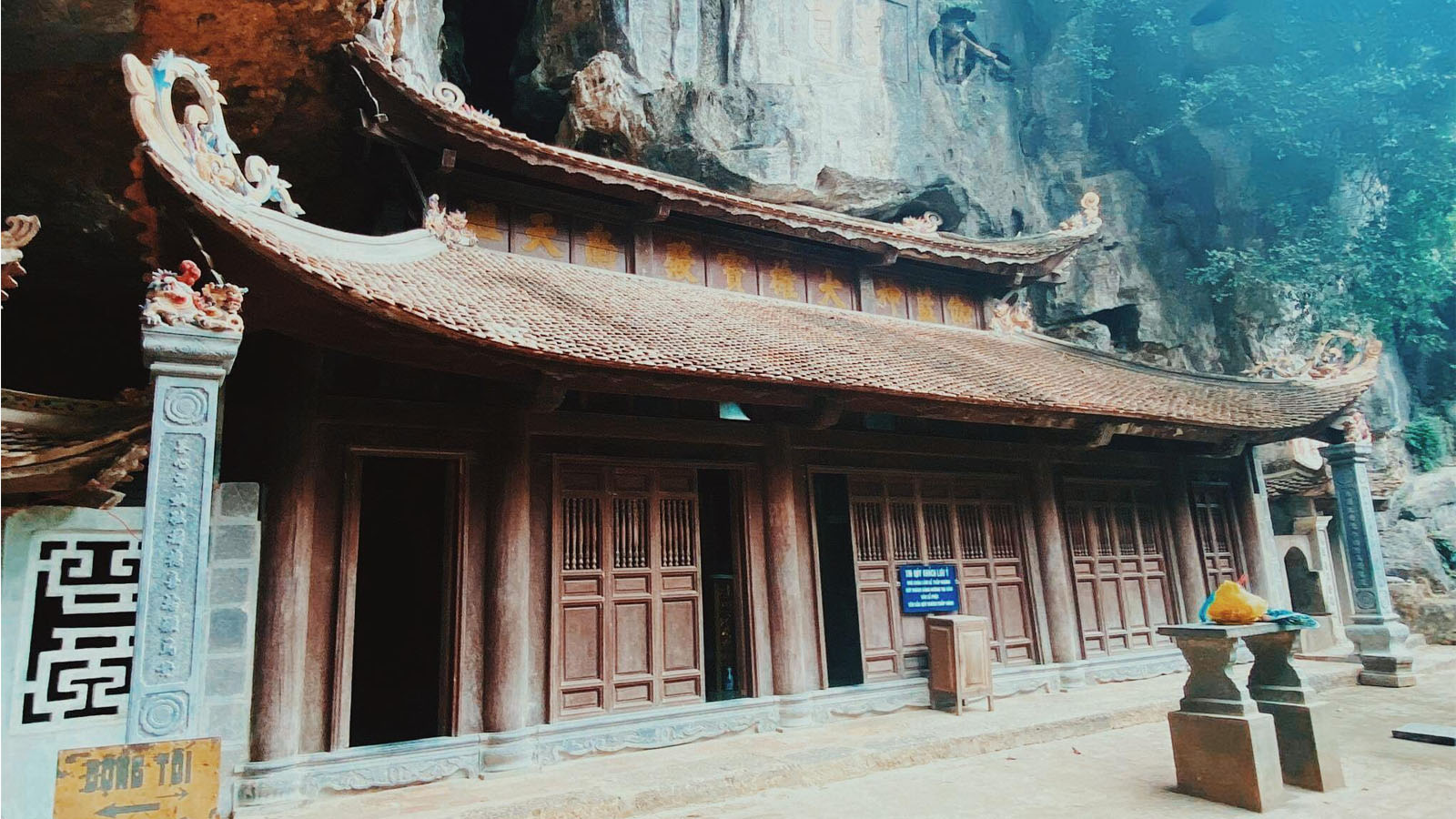 After your visit to the Lower Temple, return to the courtyard and head North. Here, you will encounter a path leading you up the mountainside via 80 stone steps, guiding you to the Trung Pagoda. Unlike its lower counterpart, the Trung Pagoda boasts a semi-roofed exterior.
This temple is truly unique; only the door and roof are exposed to the elements, while the rest of the architecture resides within a mountain cave. The Trung Pagoda comprises three compartments dedicated to the veneration of Buddha. On the roof, you'll find two Chinese characters, "Bich Dong," carefully placed according to Lord Trinh Sam's order. To the left of the Trung Pagoda lies a space devoted to the worship of the Holy Mother.
3. Dark Cave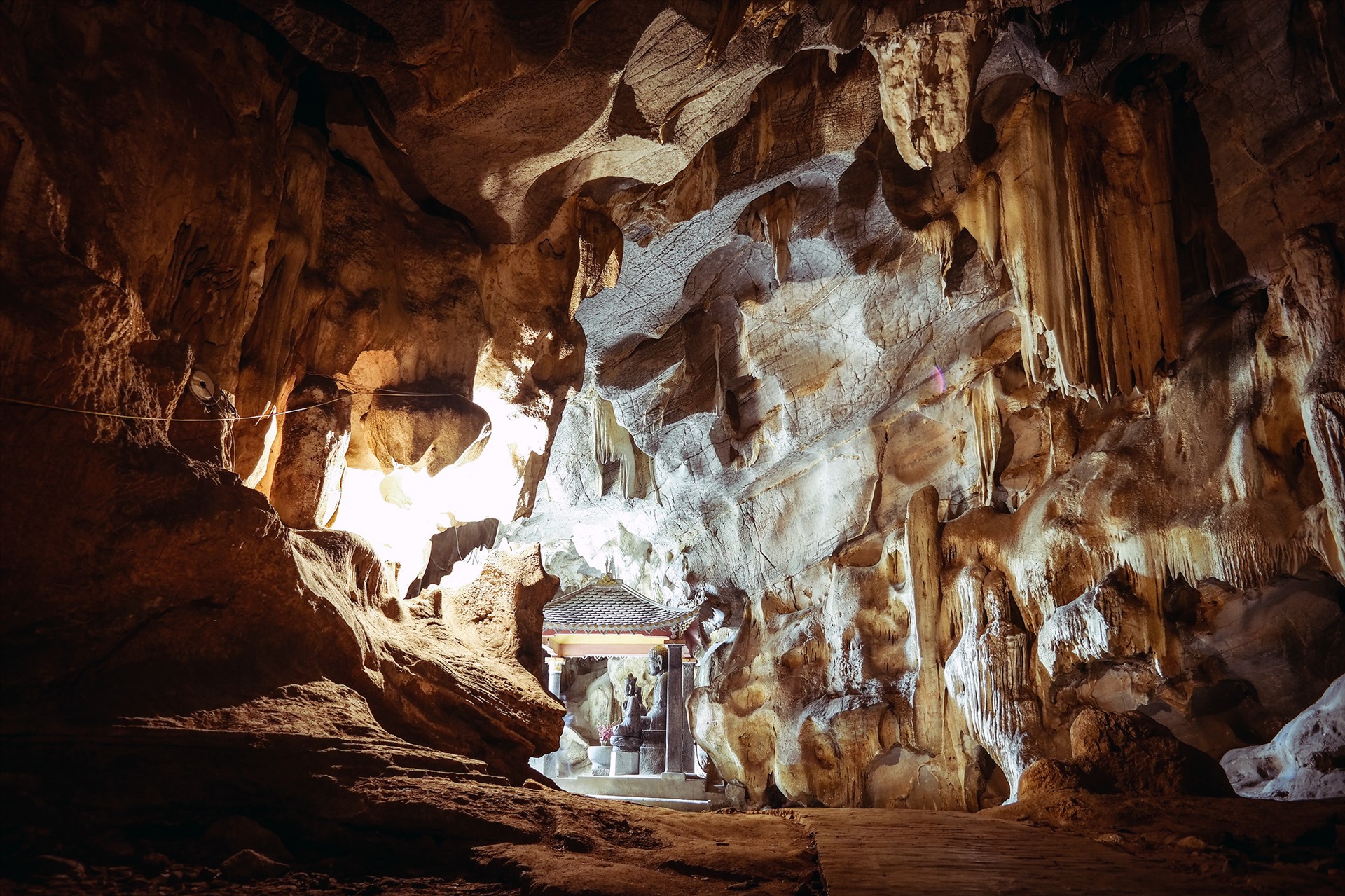 Having paid your respects to Buddha at Thuong Dien, ascend 21 more stone steps to reach Dark Cave. Suspended above its entrance is a grand bronze bell, a testament to the craftsmanship of monks Tri Kien and Tri The, cast in 1707.
Dark Cave is a mesmerizing space, illuminated for your viewing pleasure. Inside, you'll encounter a massive, almost otherworldly construction bathed in electric light. Here, stone images of fairies, dragons, and celestial beings come to life with meticulous detail, creating a petrified fairyland for your eyes.
Near the cave's entrance on the right, three imposing stone Buddha statues stand tall, symbolizing majesty and eternity. At the center is Amitabha Buddha, flanked by Van Thu Bodhisattva on the right and Quan Am Thi Kinh on the left, alongside a stone representation of Lao Tho.
4. Bich Dong Pagoda: The Upper Temple
To reach the Upper Pagoda, ascend roughly 40 more stone steps along the mountainside. Perched at the highest point, near the summit of Bich Dong mountain, you will findThuong Pagoda. This small pagoda faces Southeast and venerates Ba Quan Am Buddha. Adjacent to the temple, you'll find two shrines: Tho Dia and Duc Son Than. Nearby, a watertank named "Cam Lo," is devoted to Quan Am Bodhisattva.
From the Upper Temple, a breathtaking sight unfolds before your eyes—the view of five separate mountains adorning Bich Dong like delicate lotus petals. Ngu Nhac Son encompasses Tam Sang Mountain, Gia Dinh Mountain, Con Lon Mountain, and Dau Cau Mountain.
Spiritual Travel: Bich Dong pagoda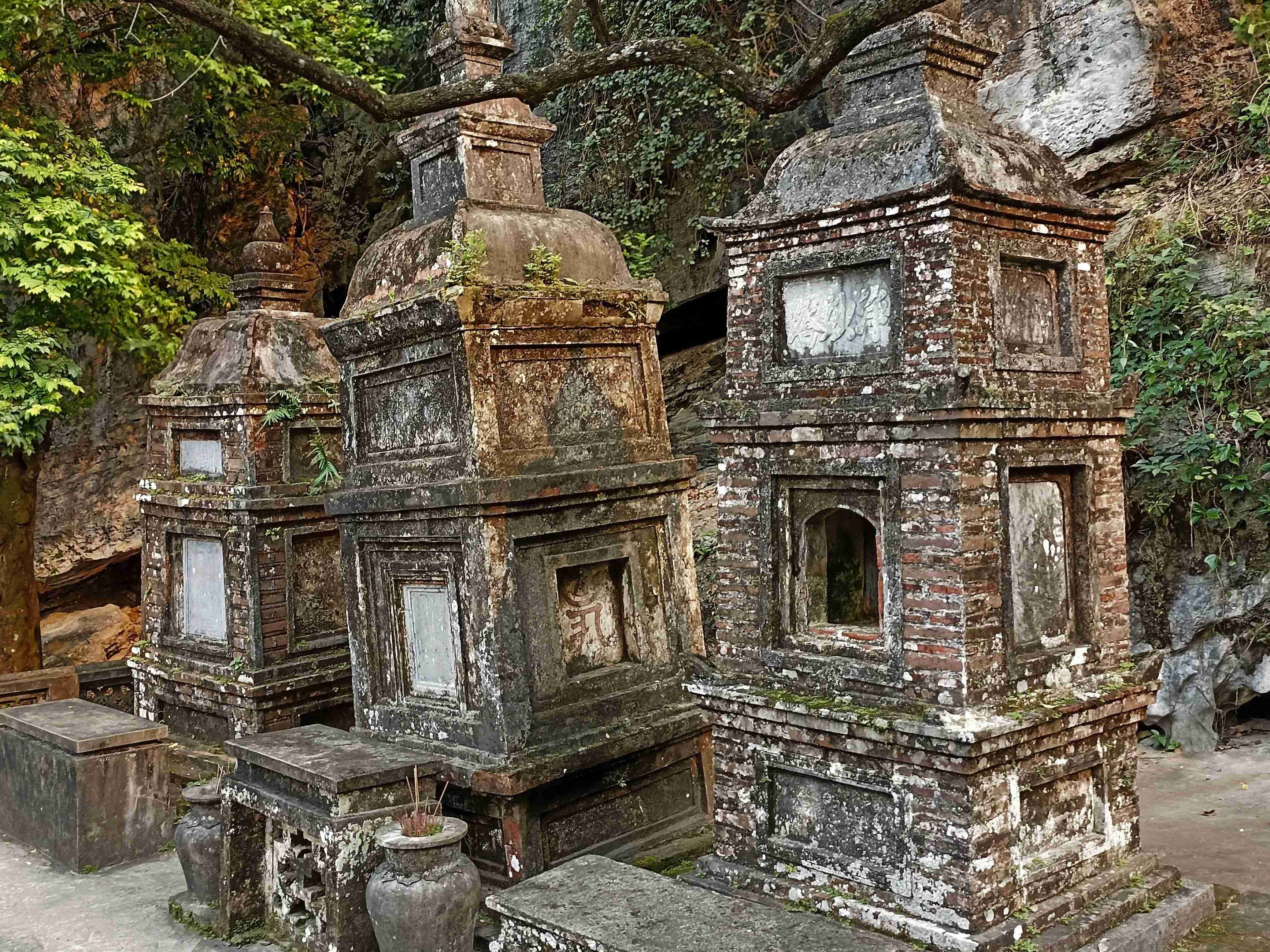 Bich Dong pagoda opening hours
Bich Dong Pagoda welcomes visitors, ensuring you can immerse yourself in its serene ambiance at any time that suits your schedule. This round-the-clock availability grants you the freedom to choose the perfect moment to discover the spiritual and natural wonders of this ancient site. Whether it's the tranquil dawn, the vibrant midday, or the enchanting twilight, Bich Dong Pagoda is ready to offer its timeless beauty whenever you decide to pay for entrance.
Bich Dong pagoda entrance fee
Your ticket to explore the enchanting Tam Coc - Bich Dong complex awaits, priced at just 120,000 VND for adults and a discounted rate of 60,000 VND for children. In contrast to the bustling crowds of Tam Coc, Bich Dong Pagoda offers a serene escape with fewer tourists. Local restaurants cater to this more intimate setting, so it's advisable to come prepared with all the essentials, you will need for an unforgettable excursion.
The best time to visit Bich Dong
Your Perfect Time for Bich Dong Pagoda Exploration: Consider planning your visit to this around April, when the weather is typically drier. Glide along the gentle waters to Tam Coc without discomfort, ensuring an enjoyable journey.
Traveling to Bich Dong Pagoda: The transportation
Bich Dong Pagoda invites you to embark on a remarkable journey, blending with your exploration of Tam Coc. Opt for a scenic train ride or a cozy bus journey from Hanoi to Ninh Binh, a gateway to Tam Coc Bich Dong. The train ride takes approximately 2 to 2.5 hours, offering you picturesque views along the way. A train ticket from Hanoi is priced at around VND 110,000, while bus tickets range from VND 70,000 to 210,000, making it an affordable and accessible option for travelers of all budgets.
The only way to reach Bich Dong pagoda is by boat, as you gracefully flow in the Ngo Dong River. Start your adventure at the communal house area of Van Lam village, the most convenient launching point for your aquatic voyage. As the boat gently carries you through the picturesque waterways, you will admire the natural beauty here.
Upon arriving at Tam Coc, you could explore further by bicycle, motorbike, taxi, or on foot. Each mode of transportation opens up a unique perspective, allowing you to soak in the captivating scenery that lines both sides of the road.
As we conclude our exploration of Bich Dong Pagoda, we find ourselves not at the end of a journey, but at the beginning of a lifelong connection to a place of sublime beauty and profound tranquility. Bich Dong isn't just a pagoda; it's a sanctuary for the soul, a testament to the rich tapestry of Vietnam's history and culture. For a comfortable and exciting journey, you can trust us- World Mate Travel, the .