Da Nang's tourism landscape is experiencing rapid growth, propelled by its abundant natural assets and strategic infrastructure investments. Beyond the well-planned cityscape, what truly captivates visitors is the warm hospitality and stunning landscape from nature wonders.
Warm sands, crystalline waters, and a vibrant coastal cityscape await you on an unforgettable journey to Da Nang. As the sun dips below the horizon, casting a golden hue over the South China Sea, you will be immersed in a world of breathtaking beauty and cultural richness.
This travelogue promises to be your compass through this coastal wonderland, uncovering the secrets and serenity that await every traveler seeking solace in the sea. So, let's set sail on this visual and narrative odyssey, discovering the wonders of Da Nang Beach in 5 mins.
The charming of Da Nang Beach:
Da Nang Beach holds an unforgettable charm that tourists will never disappointed when choosing the Da Nang tour to explore the Eden of Sunkissed shores and azure horizons. We are here to reveal the best thing about the Da Nang tour for beach lovers.
What makes Da Nang Beach attractive?
Da Nang Beach, a gem along Vietnam's central coast, attracts travelers with its irresistible blending of natural beauty, cultural richness, and vibrant seaside allure. Here are some of the significant factors that make this Da Nang coastal haven an absolute must-visit:
Pristine Shorelines: Da Nang Beach is one of the most exquisite beachfront stretches in Southeast Asia. From the powdery sands of My Khe Beach to the unique rocky formations of Bai Rang Beach, each shoreline exudes its distinctive charm, providing an idyllic setting for relaxation and adventure.
A Feast for the Senses: The symphony of sights, sounds, and scents that embrace Da Nang Beach is enchanting. The gentle waves lapping at the shore, the vibrant hues of the sea, and the fresh sea breeze that carries the aroma of salty air - all come together to create an immersive sensory experience.
Rich Cultural Tapestry: Da Nang is steeped in history and culture, offering the chance to explore ancient temples, pagodas, and archaeological sites. The nearby Marble Mountains and the Cham Museum showcase the city's rich heritage, presenting a captivating glimpse into its storied past.
Culinary Delights: From street food stalls to upscale dining, Da Nang's culinary scene is a wonderful journey for the taste buds. Fresh seafood, regional specialties, and innovative fusion cuisine await those eager to savor the flavors of the coast.
Adventure at Every Turn: For thrill-seekers, Da Nang offers a set of activities, from parasailing and jet-skiing to exploring underwater wonders through scuba diving. The adventurous spirit of the city permeates every inch of its shoreline.
The warmth of Hospitality: The people of Da Nang are renowned for their warmth and hospitality. The genuine kindness of locals creates an inviting atmosphere, making visitors feel right at home.
Featured tour:
Featured Article: Da Nang Travel: Exploring The Myth Of Tourist Attractions
Best Beaches in Da Nang
Those pondering which Da Nang beaches to explore consider the curated list below. Each destination boasts its own unique allure, promising to leave visitors pleasantly astonished.
My Khe Beach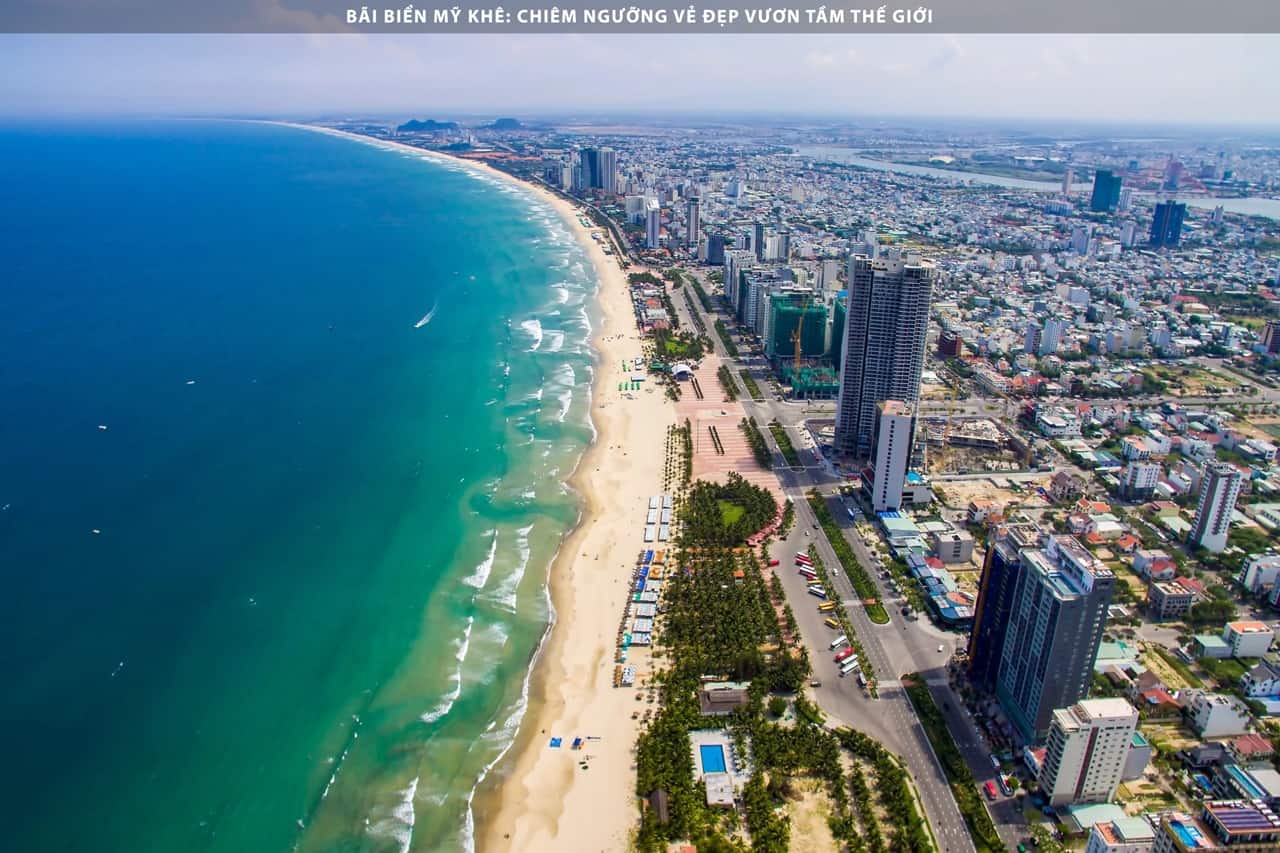 On top of the Best Beaches in Da Nang, My Khe Beach is located around 10 kilometers to the east of Da Nang city center. It stands as a quintessential destination for many travelers venturing to Da Nang. Its claim to fame lies in the poetic expanse of white sands, complemented by the gentle embrace of cerulean waters, inviting enthusiasts of various water sports. Nature in My Khe Beach has adorned this coastal haven with a sprawling poplar forest and perfectly aligned coconut palms, painting a picturesque panorama.
The accolades bestowed upon My Khe beach are nothing short of illustrious, finding its place on the coveted lists of the world's most exquisite beaches by both Forbes and the Sunday Herald Sun. Its charm doesn't stop at its aesthetics; the beach is cherished for its diverse ecosystem and pristine, pollution-free environment.
Tourists can bask under the sun on the powdery white shores or embark on leisurely strolls along the coastline. My Khe Beach offers several thrilling sports activities for adrenaline-seekers and water enthusiasts. Here's a breakdown of the prices for your next aquatic adventure:
Water Skiing Motorbike:
15 minutes: 650,000 VND (1-2 people)

20 minutes: 800,000 VND (1-2 people)

30 minutes: 1,100,000 VND (1-2 people)
Windsurfing Canoe:
30 minutes: 1,200,000 VND

60 minutes: 2,000,000 VND
Canoe Pulling Parachute:
1 round/1 person: 650,000 VND

1 round/2 people: 950,000 VND
Scuba Diving to See Coral: 250,000 VND per session
Bac My An Beach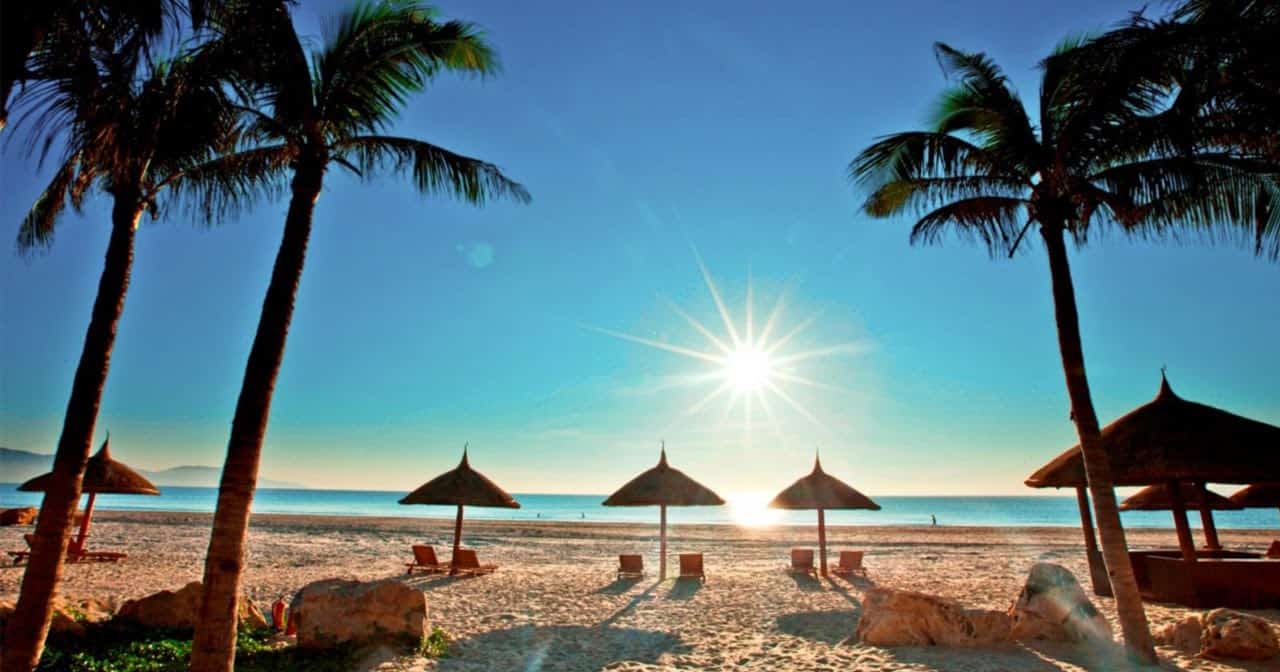 Located in Bac My An ward, Ngu Hanh Son, just 7 kilometers from the heart of Da Nang city, Bac My An Beach offers a haven of serenity easily accessible by motorbike, taxi, or bus.
This coastal gem is adorned with powdery white sands and embraces the clear azure waters of the sea, stretching for 4 kilometers. Hiding along the shores are numerous resorts, perfect for those seeking a relaxing escape. The beach unveils its true splendor at the break of dawn and the fall of dusk, painting a majestic and tranquil natural tableau that should not be missed.
Adventure-seekers will find their haven at Bac My An Beach thanks to a plethora of activities to choose from. Whether it's windsurfing, coral diving, canoe rentals, or the exhilarating challenge of paragliding, there's something for everyone. Some of the beloved beaches in Da Nang include My Da Dong 2 - 3 and T18.
Swimming and Scuba Diving: Approximately 250,000 VND - 350,000 VND
Water Skiing Motorbike:
Paragliding Over the Sea:
1 round/1 person: 500,000 VND

1 round/2 people: 800,000 VND
Bai Rang Beach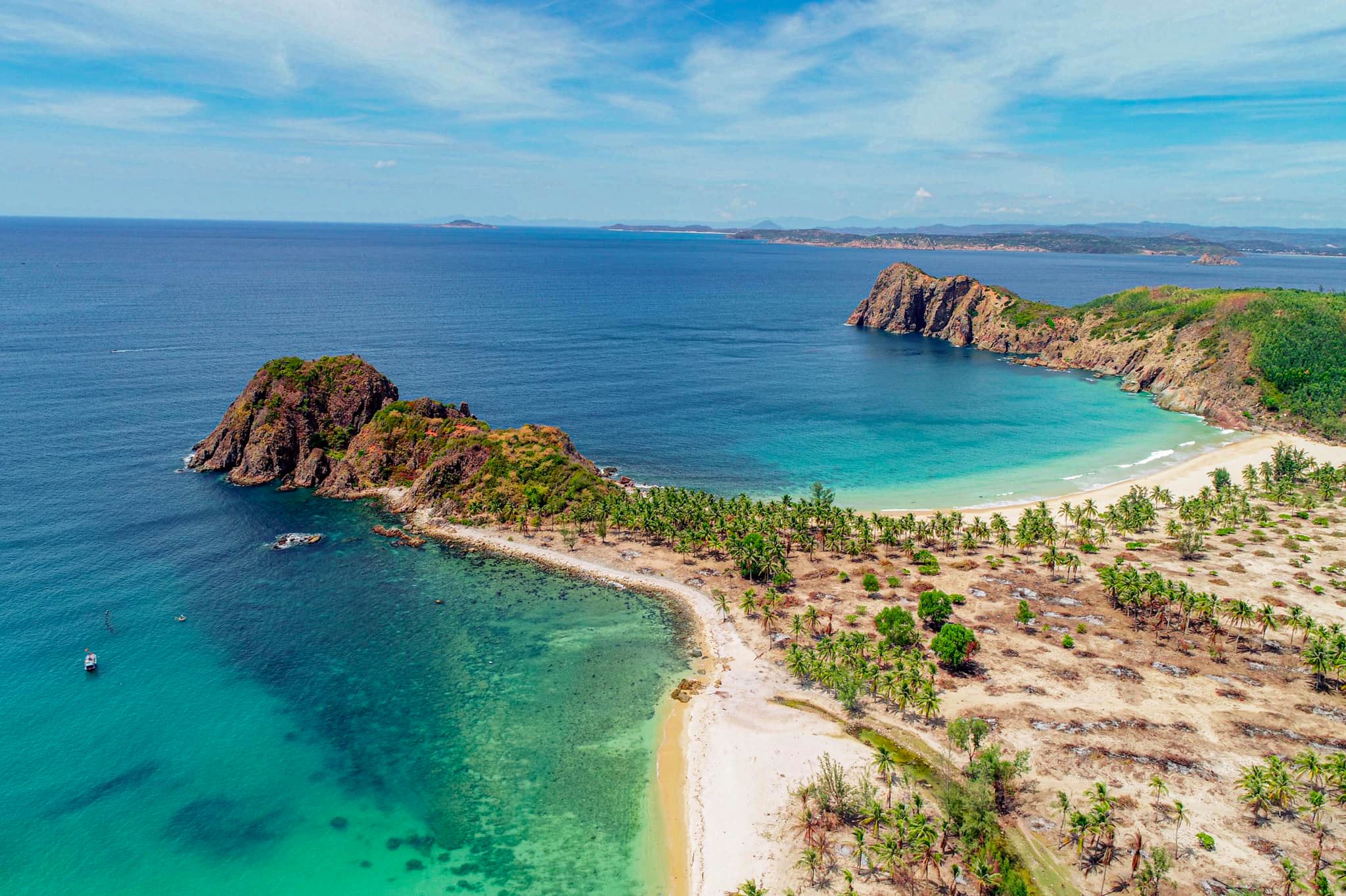 Nestled on the rugged Son Tra peninsula, approximately 15 kilometers from the heart of Da Nang, Rang Beach is an unspoiled marvel that beckons all seekers of untamed beauty. Easily accessible by motorbike, the journey takes a mere 15 minutes, promising a swift escape to this coastal haven.
Stepping onto Rang Beach, you will be impressed by an expanse of unique, rocky shores, each formation boasting its own captivating form, while gentle waves caress the coastline with a soothing rhythm.
This Da Nang treasure invites you to revel in its tranquil embrace. Lounge on the velvety white sands, or dive into the vibrant spirit of summer with an array of water sports activities. For those seeking a different adventure, why not organize a beachside camping expedition or a delightful BBQ gathering with friends and family? The sea-kissed breeze carries a refreshing coolness, momentarily banishing the memory of scorching summer days.
Nam O beach

Situated 15 kilometers from the city center, Nam O Beach, also known as Nam O Reef, stands as a pristine sanctuary, largely untouched by time. Its most enchanting feature lies in the emerald-hued rocks adorned with a delicate tapestry of moss that gracefully line the coast.
Yet, Nam O Beach is more than just a picturesque landscape. It has earned a reputation as one of the premier "dawn hunting" spots cherished by the young and spirited souls who grace Da Nang's shores. For a deeper immersion, coral diving offers an opportunity to glimpse the hidden treasures of this maritime realm. And if you find yourself lingering into the night, consider joining the local community in a time-honored tradition of fishing or squid hunting.
At Nam O Beach, you can expect a range of services taken care of by well-trained guides to ensure your safety. To truly savor the essence of this coastal haven, indulge in the sumptuous offerings of fresh seafood prepared with a touch of local culinary magic.
Non Nuoc Beach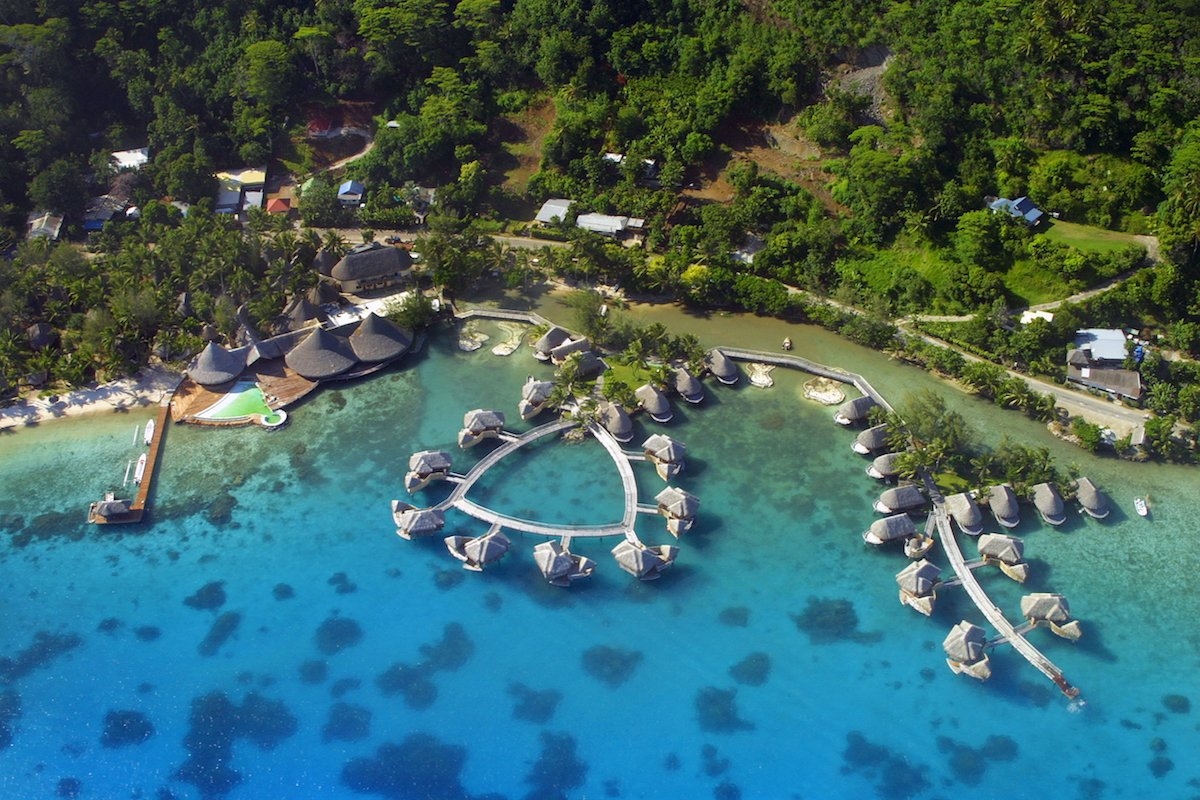 Non-Nuoc Beach, located around 8 kilometers from the heart of Da Nang, was voted one of the most stunning beaches worldwide, recognized by Forbes. Its distinctive charm lies in the Non Nuoc shoreline, nestled at the base of the majestic Ngu Hanh Son mountain. Nature graces this coastal haven with powdery white sands and waters.
For those seeking an adrenaline rush, you can choose some of the activities below:
Paragliding: unveils the beach's beauty from a bird's-eye view, especially the graceful curve encircling the base of Ngu Hanh Son mountain
500,000 VND/ round/ person

800,000 VND /round/ 2 people
Thrilling water slide adventure
500,000 VND for 15 minutes

900,000 VND for 30 minutes.
Featured Tour:
Featured Tour:
Da Nang Beach tour: Review the best activities for an exceptional beach tour in Da Nang
1. Discover the Charms of Da Nang's Beaches
Embrace the Cool Waters of My Khe Beach: When the sun beats down, there's no better place to be than My Khe Beach. With its crystal-clear waters and velvety smooth sands, Da Nang beaches are the sanctuary for those seeking respite from the heat. The neat rows of swaying coconut trees offer a natural canopy, creating the perfect haven for relaxation.

Tranquil Oasis at Bac My An Beach: For a more serene experience, head to Bac My An Beach. You will find the same pristine waters as My Khe but with fewer crowds. The picturesque coconut tree-lined shoreline provides an idyllic backdrop for your beachside escapade and offers plenty of space to soak in the sea's rejuvenating embrace.
2. Witness the Dawn's Spectacle Over the Da Nang Beach:
Early mornings at Da Nang's beaches offer a tranquil spectacle worth waking up for. Picture yourself on the soft, white sands, witnessing the sun paint the horizon with its golden hues. It's a romantic moment where time seems to stand still. Take a refreshing dip in the morning sea or engage in invigorating beach sports.
3. Unwind with Camping and Fishing Adventures:
Experience the magic of a night under the stars with a camping excursion, or you can try fishing like a seasoned pro. Renting fishing gear is a breeze, and you'll have all the necessary equipment in your hand. Consider organizing a beachside barbecue or an overnight camp with friends, though be sure to seek permission from the management.
4, Thrills and Spills:
Adventures on the Waves: Da Nang offers an array of exhilarating water sports. Hop on a Moto water ski for an exciting ride atop the rolling waves, guided by seasoned instructors. If you're at My Khe beach, don't miss the chance to experience the thrill of parasailing by canoe, soaring high above the bustling shoreline.

Group Excitement with Canoeing and Sliding: Gather your friends for an exhilarating group adventure on the water. Clad in life jackets, you will sit on a banana float boat tethered to a speedboat. Tightening as the canoe accelerates, reaching around 50km/h - 80km/h, guaranteeing screams of excitement and pure exhilaration.
Guide to Da Nang Beach tour
Da Nang Beach Accommodation
Coming to Da Nang Beach, you might consider staying at Da Nang beach hotels or Da Nang beach resorts. Each accommodation option brings a different experience and serves different expectations.
In Da Nang City, you might find it hard to book a homestay since the hospitality here is pretty much affordable. The price of Da Nang hotels is relatively reasonable. The hotel locations have many advantages since you can easily find some options closed on the coastal line or behind the Han riverside.
Da Nang Beach Hotel: Perched along the stunning coastline of Da Nang, our beachfront hotel offers a seamless blend of comfort and convenience. With panoramic views of the azure sea from every room, guests can indulge in the soothing sounds of waves and breathtaking sunsets. Our spacious and elegantly appointed rooms provide a tranquil retreat after a day of exploration. The hotel boasts a range of amenities, including a relaxing spa, a rooftop restaurant showcasing local and international cuisine, and a pristine swimming pool. Whether you're here for business or leisure, our attentive staff is dedicated to ensuring a memorable stay.

Da Nang Beach Resort: Da Nang beach resorts amidst lush tropical gardens are a haven of tranquility. They are just stepping away from the pristine sands and crystal-clear waters. Each meticulously designed villa and suite exudes luxury and captures the essence of coastal living. Guests can unwind in private pools, indulge in spa treatments inspired by ancient wellness traditions, and savor exquisite culinary delights in our beachfront restaurant. For those seeking adventure, a range of water sports and outdoor activities await. With unparalleled views of the sea and a commitment to impeccable service, our resort promises an unforgettable retreat for discerning travelers.
2. Da Nang Beach tour: the transportation
Getting to Da Nang is a breeze! For those covering longer distances, consider booking a flight for an even more comfortable experience. A swift one-hour flight from Noi Bai or Tan Son Nhat Airport will have you touching down in Da Nang.
From Hanoi, flight tickets range from 0.8M VND to 1.5M VND, ensuring a quick and efficient 1-hour and 20-minute journey. Similarly, departing from Tan Son Nhat Airport offers ticket prices between 0.6M VND and 1.2 M VND for the same travel duration.
Navigating Da Nang is a delight, especially given its proximity to the city center from the beaches. Renting a motorbike for self-guided exploration allows you the flexibility to embrace your journey on your own terms. Additionally, car rental services in Da Nang come up with reasonable rates for day rentals, making them a popular choice for many visitors.
For those looking to explore additional beaches, hopping on a bus is a cost-effective and convenient option. Taxis are readily available for those seeking a more direct mode of transportation. And if you're traveling in a group of 4-7 people, consider hiring a car for the utmost convenience and comfort.
In conclusion, Da Nang Beach Travel is one of the most attractive destinations for coastal line lovers addicted to natural beauty and exciting beach activities. World Mate Travel, the , is ready to offer to fit your unique expectations. We create Da Nang tailored to your timeline and expectations.