Da Nang city is located in the central region, evenly dividing the distance between the capital Hanoi, and Ho Chi Minh City. Da Nang is also the center of three world cultural heritages: Hue Ancient Capital, Hoi An Ancient Town, and My Son Sanctuary.
From now on, Da Nang is promoting itself as a developed tourist city across all . From our successful experience operating Da Nang tour as a , we walk you through the most incredible things when talking about Da Nang travel in this article.
Related article:
Related article:
Da Nang Travel: Touching the city soul
The modern Da Nang is innovating to bring visitors new and impressive experiences. Coming here, beyond exploring the scenic sightseeing in Da Nang, visitors freely enjoy entertainment areas or eco-tourism areas within the city. In fact, Da Nang is a tourist city worth visiting at least once in your life.
Da Nang Travel from tourist eyes
Regarding the achievement of Da Nang travel, the first event was in 2005 when Da Nang entered the list of the most beautiful beaches on the planet by Forbes business magazine. Forbes' reviews and ratings are considered the most reputable and valuable review sites of the time.
Da Nang travel owns the most attractive factors for the beach beauty, such as Long and flat sandy shore, abundant sunshine for sunbathing, moderate waves, and waves for playing coastal sports. Therefore, it meets most of the criteria outlined by Forbes and satisfies the diverse requirements of global travelers.
In 2012, at the 44th Asia-Pacific Cooperation (APEC) energy conference in Washington, Da Nang was officially recognized as one of the best 20 cities in the world. The world has the cleanest air due to the lowest carbon footprint. It was a gift to help Da Nang successfully execute the project called Da Nang – Environmental City.
In 2013, Smart Travel Asia magazine voted Da Nang travel as one of the top 10 most attractive destinations across Asia.
In 2014, Da Nang continued to be one top of the most attractive destinations for international tourists ranked by TripAdvisor. Throughout the year, Da Nang still retains its attraction for attracting millions of visitors every year. Along with the constant innovation in Da Nang Travel, Da Nang will still be a charming pear of Vietnam.
Da Nang travel guide
The weather in all Da Nang tourist attractions follows 2 distinct seasons, including the rainy and dry seasons. Da Nang Travel attracts visitors all year round.
The perfect time to visit Da Nang attractions (i.e. beaches, Ba Na hill, and other sightseeing in Da Nang) is from March to August.
The weather at this time is a good fit for travel and tourism activities.
December to March: The weather in da Nang is cool and pleasant, which is ideal for spring trips. The prices for hotel services and food here are the most stable. Visitors should bring their coats since it can be slightly cold in the evening.
April to September: is the peak season for summer tourism in Da Nang. Traveling expenses is relatively expensive due to the highly crowded volume of visitors. April is the time forest trees change their leaves to yellow and red. It is suitable to capture the charm of the Son Tra peninsula.
September to December: It is no longer hot and sunny in Da nang. The rain might be encountered sporadical but does not last long. Air tickets, accommodation services, and meals are back to reasonable prices since the peak season has passed.
For traveling in Da Nang, visitors should rent motorbikes or cars to transport flexibly. You can purchase this service with an average price of 100,000 VND for motorbikes and about 1,000,000 VND for a car per day. Da Nang travel offers the best reasonable travel cost compared to other cities.
Da Nang travel develops rapidly then visitors can easily find hotels with different price levels along the coastal road. Depending on your budget and needs, you can choose the right one. You should book accommodation in advance to reserve rooms on weekends and peak seasons.
You can enjoy by choosing resorts and hotels in Da Nang. Here are some famous options you can try: InterContinental Danang Sun Peninsula Resort, Hyatt Regency Danang Resort, and Spa, Pullman, Furama Resort Danang, Four Points by Sheraton Danang, Novotel, Hilton, Fusion Suites, Danang Golden Bay Hotel. The booking price in a 5-star resort ranges from 1,200,000 to 10,000,000 VND per night.
Da Nang tourist attraction: Explore the outstanding sightseeing in Da Nang
Da Nang travel refers to the favorite destinations of both expats and local travelers. This city is favored by nature, owning extraordinary landscapes from Mountains to . These days, capturing the immense potential of Da Nang Travel, many corporations invested in promoting Da Nang tourism by enhancing tourist attractions and sightseeing. Ba Na hill Danang and French Villages are the two representatives.
Ba Na hill Da Nang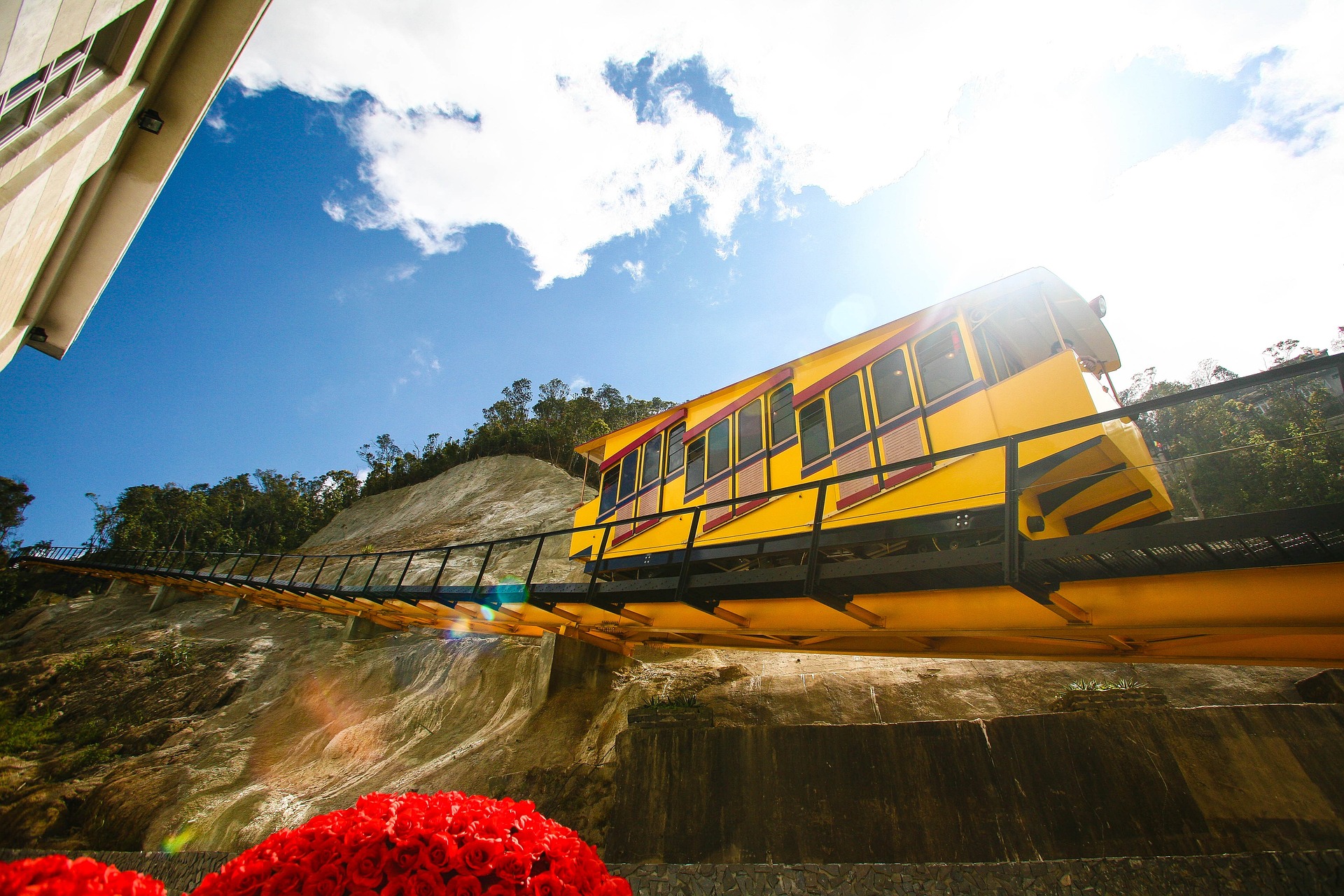 Ba Na hill in Da Nang, Vietnam, is located on Chua Mountain with an altitude of over 1,000m. Visitors could travel by cable from the foot to the top of the mountain. They will see a significant temperature difference, with pretty cold air feeling like Autumn in Hanoi. This resort deserves the name "Another Da Lat of Vietnam".
Visitors can experience the pleasant air and 4-season weather in a day when visiting outstanding attractions in BaNa hill DaNang, which are Linh Ung Pagoda, Debay Wine Cellar, Le Jardin D'Amour flower garden, and Golden Bridge.
Da Nang french village- gem inside Ba Na hill Da Nang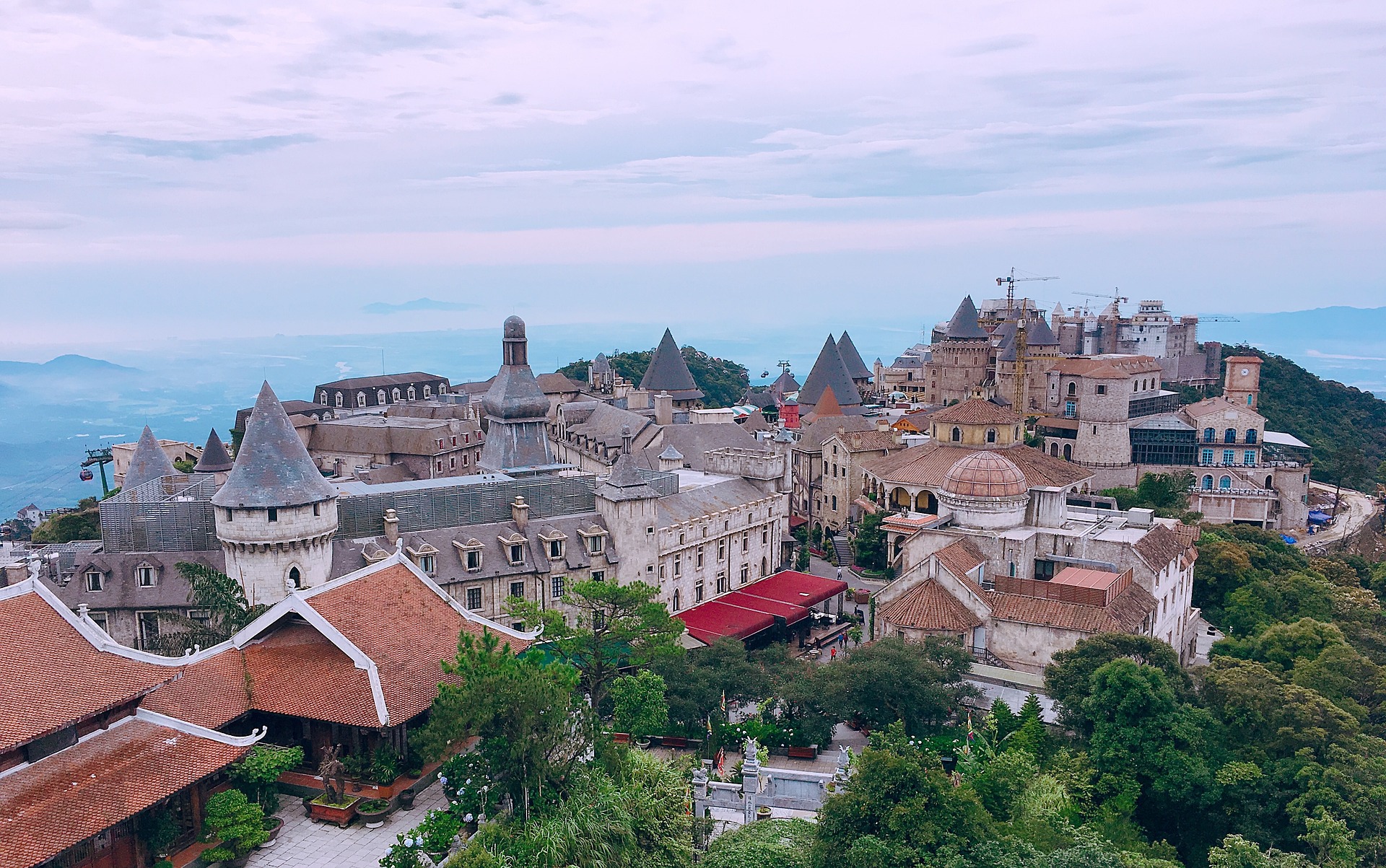 French Village is one of the favorite destinations of many tourists when staying in Ba Na hill in Da Nang, Vietnam. The village has ancient gothic architecture, surrounded by white clouds, making visitors seem to lose in a beautiful fairy paradise as in Europe countries.
The highlight of the Da Nang French Village is the magnificent castles with arched doors. The inside of the castle is delicately carved according to the European Royal architectural style. Although modern and luxurious, Da Nang French Village still exudes a classic and romantic look. It is the Destination you never want to be missed when it comes to Da Nang travel.
Da Nang beaches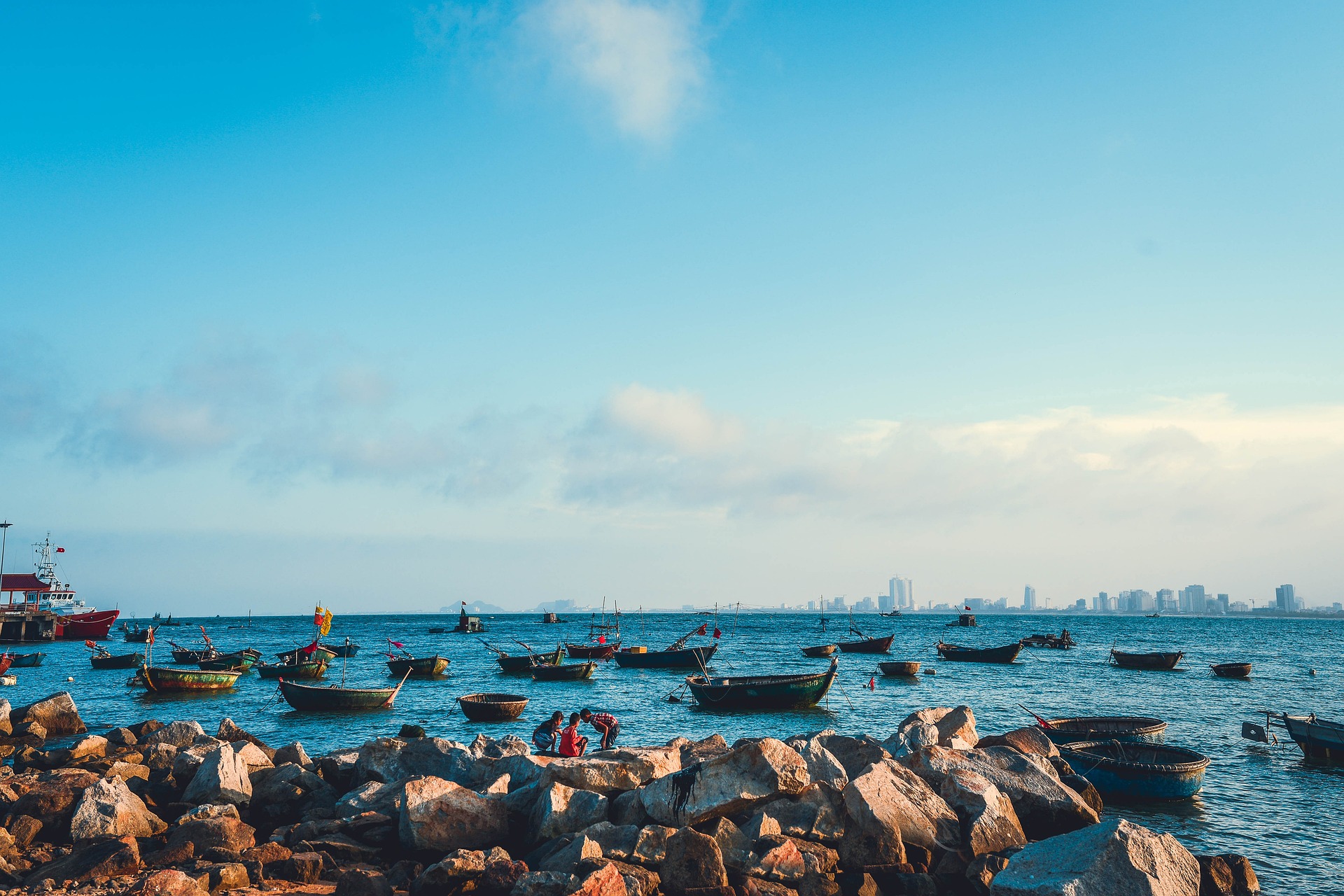 We list here the most popular in famous Da Nang tourist attractions for you enjoying Da Nang travel in 2023
My Khe Beach was recognized by Forbes magazine (USA) as one of the 6 most attractive beaches. Trip Adviser also named My Khe in the top 25 most beautiful beaches in Asia in 2021. The beach stretches for 900 m on Pham Van Dong Street in the Son Tra district. Watching the sunrise on My Khe beach, visitors have the chance to learn more about the life of local fishermen.
Non-Nuoc Beach is located in the coastal strip of Da Nang, which is about 8 km far from central Da Nang. It is not only one of the most beautiful beaches in Da Nang but one of the "most beautiful beaches on the planet" (Also recognized by Forbes magazine).
Bai Rang is still the most pristine natural beach of the Son Tra peninsula. The ocean face is clear blue, the waves gently lapping on the rocky shores.
Nam O beach still retains its original pristine beauty. The most attractive feature of this beach is the green moss-covered rock stretching along the coastline.
Bac My An beach is considered one of the most beautiful beaches in Da Nang, which has 4km in length. It owns fine white sand, a clear blue sea, and many suitable resorts for relaxation. The sea is most beautiful at sunrise and sunset.
Xuan Thieu Beach Da Nang is a pristine, natural, and clean beach with white sand, blue sea, and murmuring waves all year round. At dawn or dusk, the sea seems to put into a charming red cloak enchanting many tourists.
Son Tra peninsula
As a jewel of Da Nang travel, the Son Tra peninsula owns an enormous prime forest and beautiful beaches, including Tien Sa, Da Den, and Bai But. The road leading to the peninsula winds alongside the mountains. You can see the almost Da nang tourist attractions, such as Ban Co peak, Linh Ung pagoda, Vong Canh house, and Son Tra lighthouse.
Visiting Son Tra Peninsula, visitors can enjoy many attractive activities like scuba diving to see corals, fishing with fishermen, and admiring the city from a helicopter.
Particularly, you can visit Linh Ung pagoda, located on the top of the hill, which has the Biggest Kuan Yin Statue in Vietnam, facing the sea. In the heart of the statue, there are 17 floors. Each floor has an altar of 21 Buddha statues with different shapes, postures, and facial expressions.
Son Tra peninsula is also attractive in pristine beaches, Nestled in a very beautiful strait.
Final Words: Da Nang travel remains an attraction for visitors all over the world. For those who expect to explore its incredible city with a professional , is here to help.