Hanoi Vietnam: the tourist attraction overview
As the Capital city of Vietnam, Hanoi refers to the second largest metropolitan in Vietnam under Ho Chi Minh city (Sai Gon is another name). If Ho Chi Minh City shows a modern and dynamic lifestyle, the atmosphere in Hanoi is imbued with the nostalgic breath of the old city. Coming to Hanoi, travelers could explore the In-depth .
It is famous for the term "Hanoi 36 Streets", indicating the old Hanoi before economic reform. Today, Hanoi combines the old Hanoi with Ha Tay provinces and parts of Hoa Binh. Obviously, the new Hanoi geography is much larger and more dynamic, owning a wide range of activities and things to do apart from traditional activities solely.
Different things to do in Hanoi
The dynamic street food is the standing out thing coming to visiting Hanoi. But it is never the only thing you can do here. Visiting Hanoi, you can find a proper combination of the West and the East, indicated in each street and building. Similarly, things to do in Hanoi are also a mixture of diverse styles.
Best things to do in Hanoi as expats
As a foreign traveler, you might expect to explore activities with rich traditional values, which help you understand and enjoy the land. Check out lists here for finding the best things to do in Hanoi.
1. Free Walking tours around Hanoi
Expats taking walking tours are the best way to experience Hanoi city without unexpected expense. It is suitable for visitors who love to save money when still getting acquainted with the city. You can search for Hanoi kids, a community club of Hanoi youngers, who will be your tour guide for free in one day. They will introduce you to special places and activities to try for your .
You can donate to those local students for their enthusiasm and support, but it is not required. It is totally free of charge.
2. Food tours in the rich culinary city
You can find culinary from every part of Vietnam in Hanoi. From the Northern cuisine to the food of the Southern River region, you can taste all of them when taking food tours around the central district.
Not only restaurants, but you can also try incredible food right on the street. Street foods made from local ingredients are things you have never found in any part of the world since Vietnamese cuisine is recognized for its uniqueness and richness.
Explore more
3. Explore the new shopping world in Dong Xuan Market
Located in the middle of the Old Quarter, Dong Xuan Market is a Hanoi tourist attraction for those interested in Hanoi specialties. You will find everything you can think about in such a largest indoor Market in Hanoi. Dong Xuan market is profoundly different from other supper markets. You might know in your countries. It is a kind of trade fair, attracting booths from different sellers selling their products.
One tip here for expats is negotiation. You might bargain with sellers to minimize your expense. Don't be shine to ask for a discount.
4. Visit the Temple of Literature
Spending time walking around the temple of Literature might be a good idea. It is not only about introducing the ancient educational culture that you can enjoy a comfort zone in such a beautiful palace.
In fact, the Temple of Literature was the very first university in Vietnam, which was used as a school of ancient doctors. You will find peace inside and refresh your mind with chill moments by taking time to walk through five separate courtyards
5. Visit Hoa Lo prison
Hoa Lo prison refers to the most popular historical place in Hanoi, offering a large pool of information regarding the Vietnam war. This place detented prisoners during the United States invasion last century. Here, visitors could see grisly items, blasting the crime of war like guillotines, prison chains, or torture instruments.
6. Enjoy rooftop bars or pubs
Bars and pubs are favorites destination for the young generation when we spend the joyous juncture alongside their buddy. Despite being an old city, Hanoi sky bars attract tourists as those are great places for hangouts. You can try Skyline (located in the Old Quarter), Terraço Sky Bar, or The Summit Bar in West Lake. Take a glass of wine and enjoy the music.
7. Take a picture in Long Bien bridge bold Hanoi's breath
Built by the French colonialists, Long Bien bridge nowadays is a good place for taking pictures bearing Hanoi's breath. It is an old bridge with a railway between two motorbike lanes. Many expats choose Long Bien bridge to snap a pic of the iconic Hanoi scenery.
8. Do not forget the water puppet show
The unique art you might not find anywhere else out of Hanoi is called Water Puppets. Enjoying the show is a great way to dive into . You can find the water puppet show in Thang Long theatre, telling stories of ancient legends and myths attached to the length of Vietnam's history.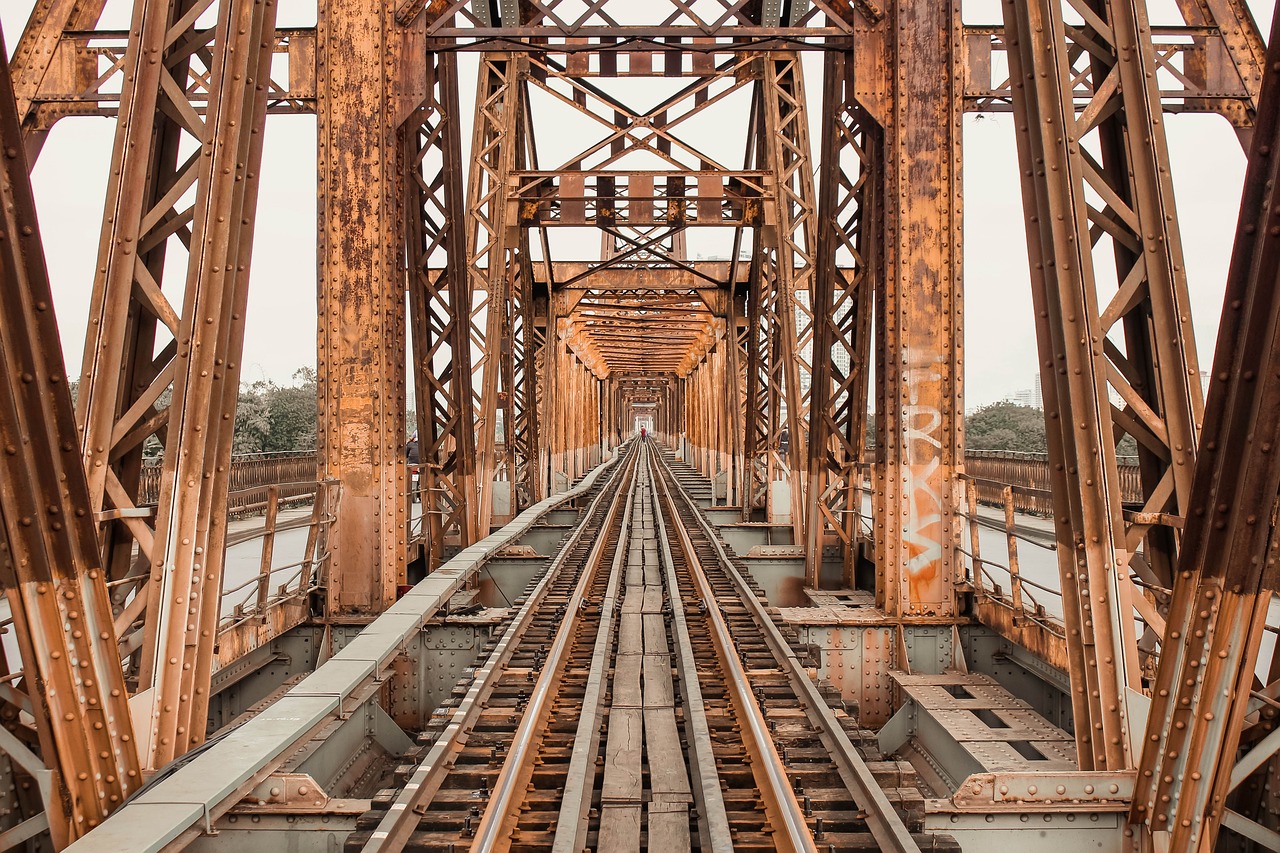 Check more
Top things to do in Hanoi as Vietnamese Travelers
1. Visit St. Joseph's Cathedral of Hanoi
One of the outstanding iconic architectures of Hanoi is called St. Joseph's Cathedral. Owning Western style, Paris' famous Notre Dame, in particular, this Cathedral is extremely charming for visitors those love taking pictures.
St. Joseph's Cathedral is located in the central district, surrounded by many facilities like coffee, hotels, restaurants, shopping street, and cinemas. Especially, You can easily find cheap rides to other tourist attractions close to Hanoi Old Quarter.
More about i
2. Taking fantastic pictures in the Biggest flower Market in Hanoi
Travelers from other parts of Vietnam prefer Quang Ba flower Market for their Hanoi trip. Quang Ba market is one of the biggest flower camps in Hanoi, providing non-limited flower types. Obviously, travelers might not engage with buying flowers, but the most attractive side of Quang Ba is its beauty forming many finds of florals. Quang Ba market refers to the Favorite place to take pictures when coming to Hanoi.
3. Bat Trang trip
Around 30 minutes traveling from the Hanoi Old Quarter, Bat Trang is the local village specializing in ceramics item production. Apart from purchasing affordable ceramic things like vases, plates, bowls, and some other things, you can ask to make some simple products yourself. It would be one of the most special attractions when coming to Bat Trang.
A typical will take at least half of a day. So make sure you prepare for the launch or at least be aware of having lunch with local Bat Trang food shops.
4. Hanoi bicycle tours
You can handily find a bicycle tour around some central districts of Hanoi. As Hanoi is the second biggest city in Vietnam, it tends to be impossible to take a bicycle across Hanoi. The ideal tour refers to be 4 central district tours by bike, crossing the Long Bien bridge to see the old Hanoi scene.
However, the tour requires a solid physical foundation for tourists that you should consider before affording any of those.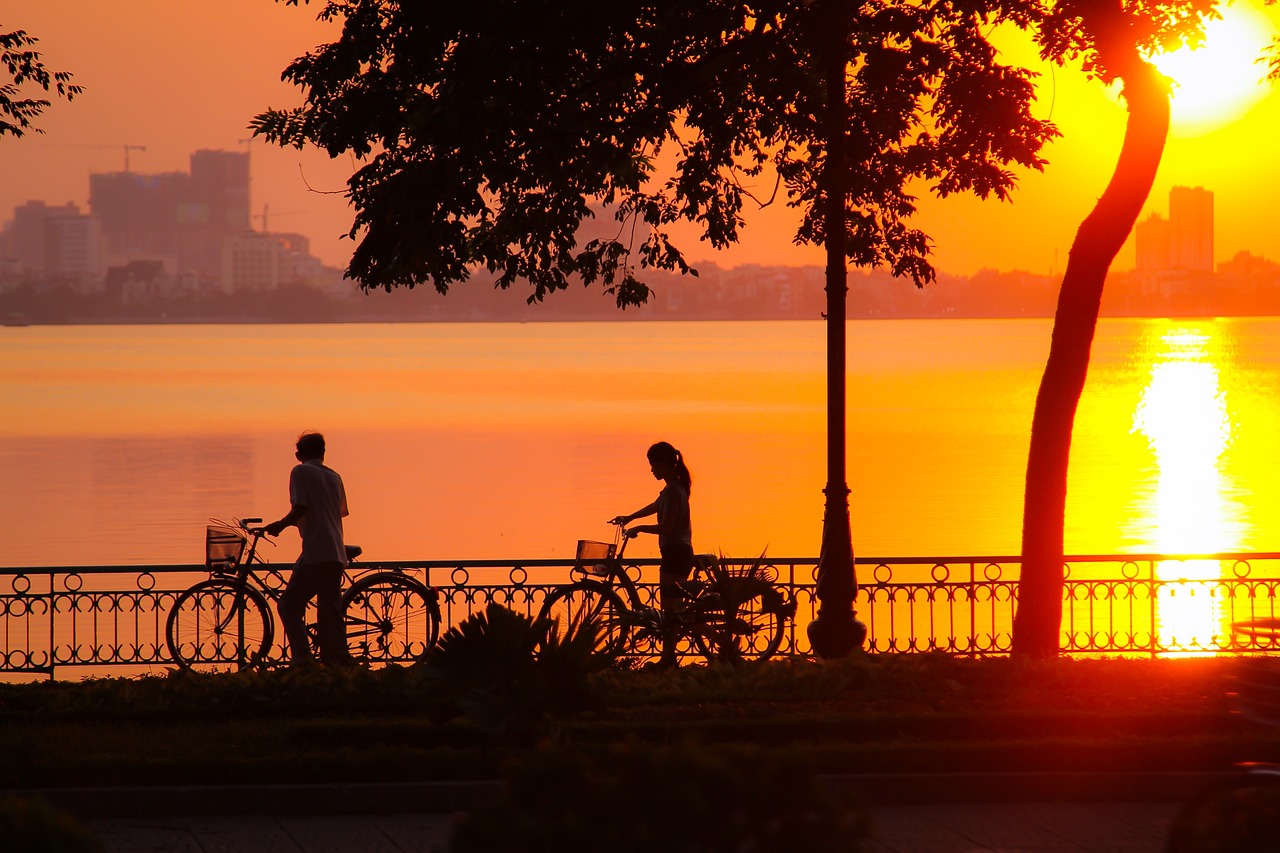 Fun things to do in Hanoi as locals
1. Enjoy Hanoi Walking Street
Commonly open on Weekends (Saturday and Sunday) every week, locals could enjoy amazing nights by walking through Hanoi Old Quarter. Here, you can find several traditional games living from Vietnamese childhood. Hanoi Walking Street also has held some live street performances from young talents like dancing and singing. It is completely free for visitors.
Having time to walk around and hangouts with friends is a good idea to enjoy city life.
2. Chill at a coffee shop in West Lake
It is easy to find amazing coffee shops on many streets of West Lake for both chilling and working. Some coffee houses follow the model of co-working space. They serve people who get bored with the office atmosphere and look for somewhere to refresh their work. Those coffee houses have large and quiet zone enough for working, especially team working.
For hanging out with friends, West Lake coffee shops also fit it. Enjoying a good coffee cup while admiring the West Lake view assures unforgettable experiences.
3. Enjoy weekends in Ta Hien Street.
Escaping from a week of working, you can come to Ta Hien Street to listen to music and have some preferred drinks. You can find the vibrant bars and pubs in Hanoi here. Weekend nights refer to the busiest time of Ta Hien when people from every corner of Hanoi go here to relax.
4. Step to the top of Hanoi
The roof of Hanoi land is on the Lotte tower, which refers to the highest building in Hanoi, including 65 floors. On top of this building, you can find panoramic vistas from an observation deck with a balcony, built entirely of glass. It is not for those afraid of heights, but you can explore the best scenery of Hanoi's night.
5. Try egg coffee on a weekend afternoon
Coffee in Hanoi is not a strangled drink, but egg coffee is produced in a completely different way from a well-beaten egg yolk mixed with condensed milk. This taste will surprise you with the potent burst of caffeine without any fishy taste of raw eggs.
Relaxing with an egg coffee cup is a chill hobby of Hanoians.
In conclusion, we understand that each tourist search for different things to do in Hanoi. Expats might love experiences with traditional and unique activities, while Vietnamese travelers looking to explore somewhere special. Otherwise, Hanoians are still demanding things to do with friends and family. As an experienced we expect the above suggestion to give you inspiring ideas of what you can do in such a beautiful city.