Myanmar has a rich history, culture, and also traditions, owing to the urbanization journey. So, when you arrive, you will see a blend of modern and out-of-date facilities and infrastructures. Pagodas appear strewn across the landscape, and Bagan is the most beautiful place in Myanmar to visit this ancient monument. They can even be seen on balancing rocks and in city centers.
While pagodas are among the most popular tourist attractions in the region, the country also has gorgeous natural landscapes and tourist-friendly . It is also a popular destination for Buddhists due to the presence of Buddhist temples. Check out our list of locations to visit in Myanmar to get a sense of what this Southeast Asian country offers.
Golden Rock - One of the most places to visit in Myanmar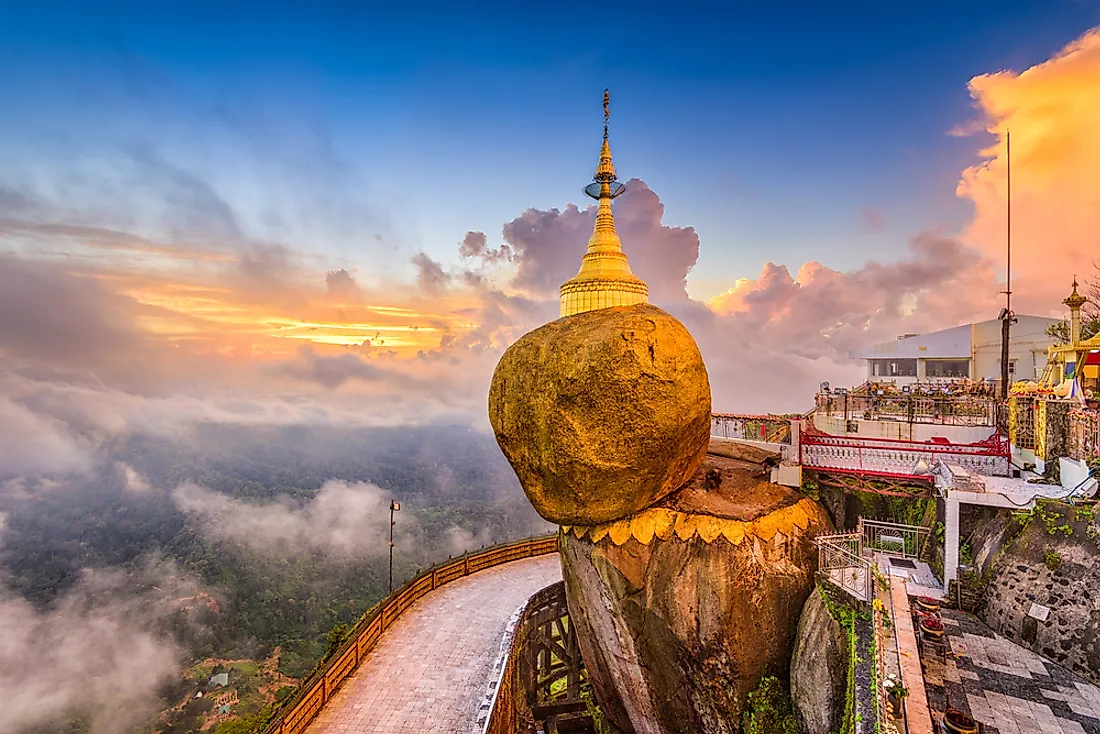 Golden Rock, known locally as Kyaiktiyo Zedi, is a wonderfully magnificent sight. It's a pagoda (Zedi) perched atop a massive rock that appears to be poised to fall off the cliff. The pagoda and the rock mountains are both covered in gold leaves. The people think that the rock, which is 1,100 meters above sea level, is held in place by a Buddha miracle.
Furthermore, the pagoda is supposed to contain a strand of Buddha's hair. It is a pilgrimage for Buddhists in Myanmar. Golden Rock is approximately a five-hour journey from Yangon and includes a lengthy trek. The pagoda complex, which comprises several viewing platforms and Buddha temples, is accessible via a staircase.
Featured Tour:
Featured Tour:
Shwedagon Pagoda - Visit Myanmar through ancient places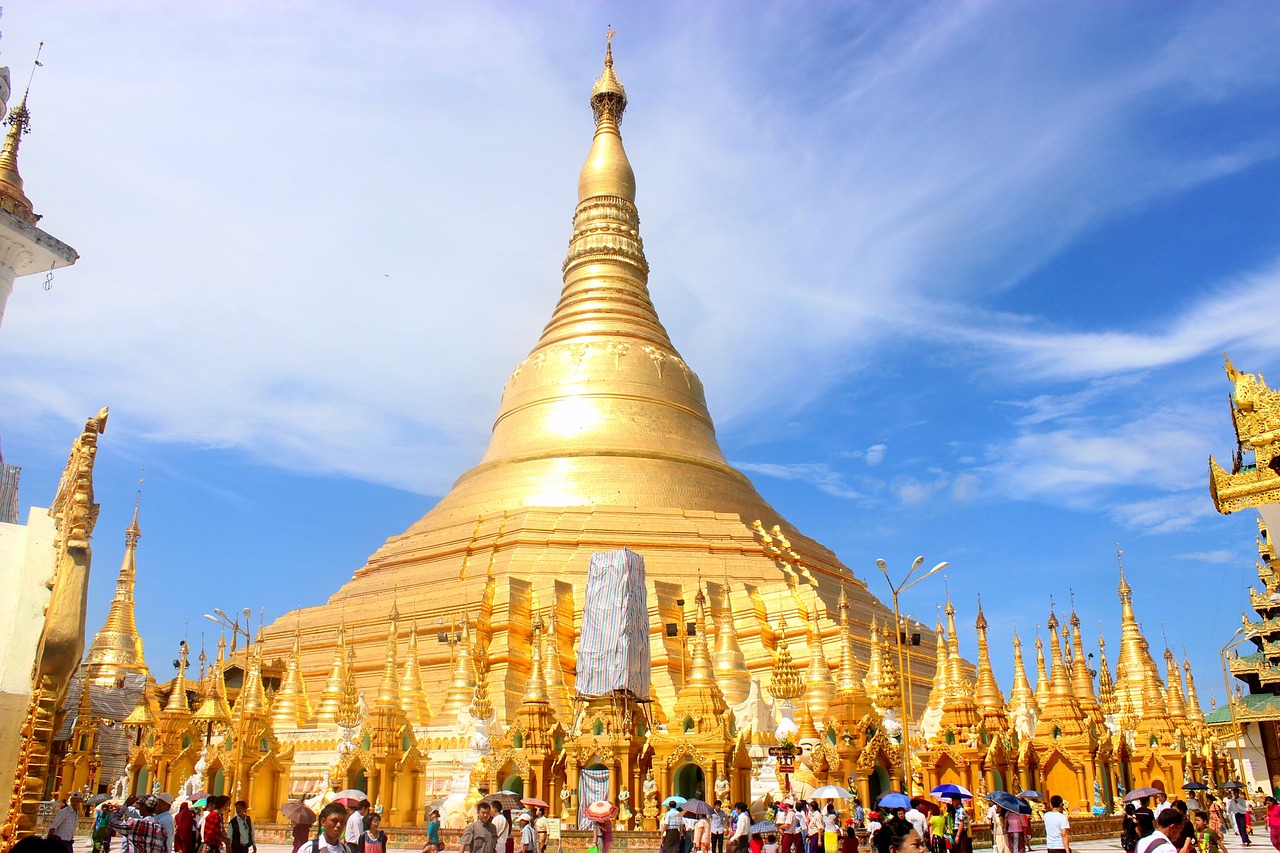 The Shwedagon or Greater Dragon Pagoda is known as Myanmar's most important Buddhist shrine because it houses a strand of Buddha's hair and other religious treasures. This 2,500-year-old pagoda is located on Yangon's Singuttara Hill. This pagoda has grown from 8 meters to 99 meters throughout the years.
The Shwedagon Pagoda is believed to be built by the Mon between the 6th and 10th centuries AD during the Bagan period. This pagoda is made of gold leaf, while this stupa is made of 4,531 diamonds. Visitors to the pagoda are expected to follow dress rules appropriately (ideally in slacks with T-shirts with elbow-length sleeves) and to enter the temple barefoot.
Shwenandaw Monastery - Outstanding Myanmar tourist places

Shwenandaw Monastery is a historic Buddhist monastery in Mandalay, Myanmar. This structure, sometimes known as the Golden Palace, is located in central Myanmar. It was formerly a part of the Mandalay Palace complex. The entire structure was formerly covered in gold, but the gold is now within.
This monastery's facade is adorned with beautiful teak carvings depicting Buddhist stories. King Thibaw Min erected the monastery in 1878. It is well-known for the teak carvings of Buddhist stories that adorn the walls and roofs. Shwenandaw Monastery, built in the indigenous Burmese architectural style, is still a prominent original structure of the actual Royal Palace today.
Taung Kalat Monastery - One of the most beautiful places in Myanmar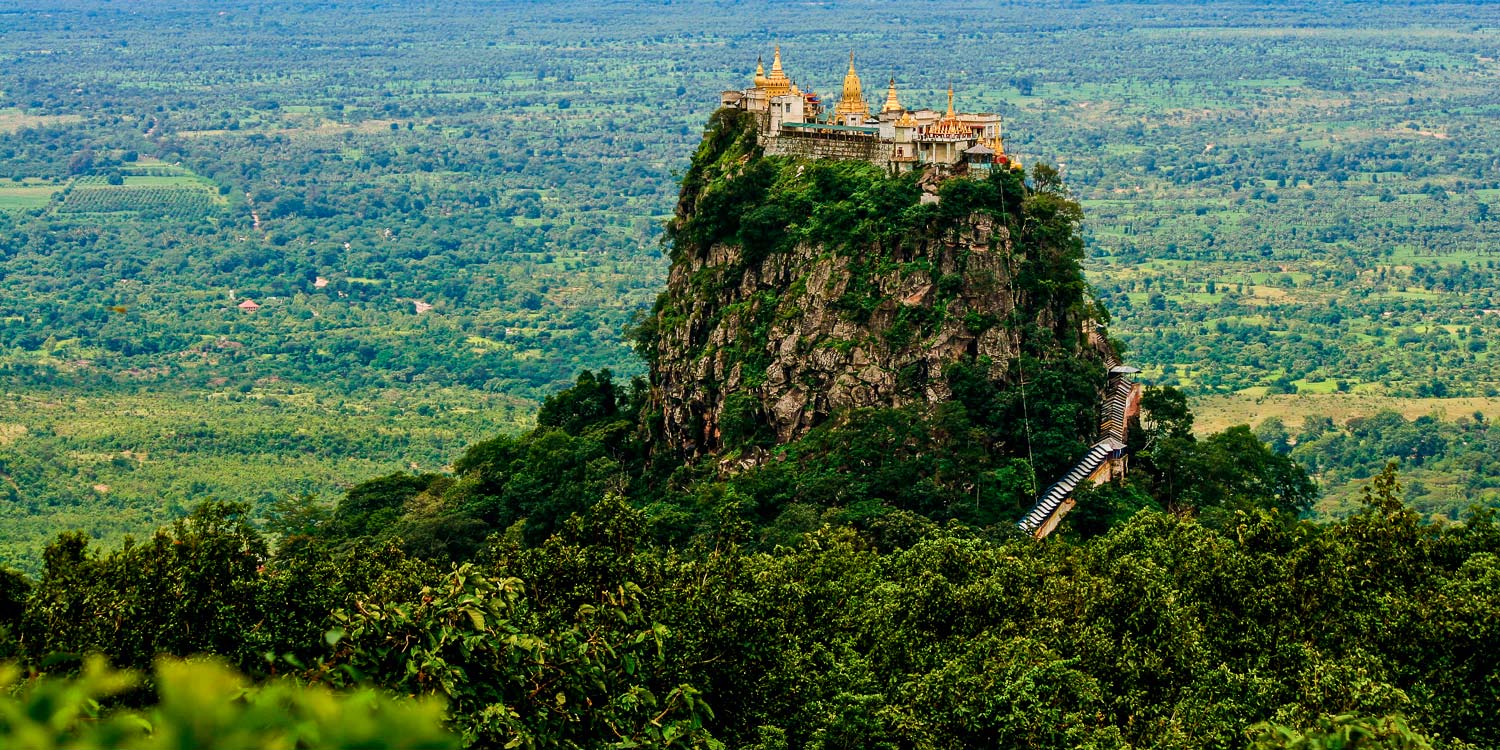 Taung Kalat is a beautiful Buddhist monastery in Myanmar located on Mount Popa. Mount Popa, located about 50 kilometers from the historic city of Bagan, is a popular pilgrimage site in the country, attracting lots of pilgrims and tourists.
Taung Kalat Monastery is perched on this volcanic mountaintop and can be seen from a distance of 60 kilometers on a sunny day. 'Taung Kalat' means "Pedestal Hill" in English. It reaches a height of 737 meters, with the monastery perched on top. It is a must-see attraction in Myanmar.
Ananda Temple - Must-experience tourist attractions in Myanmar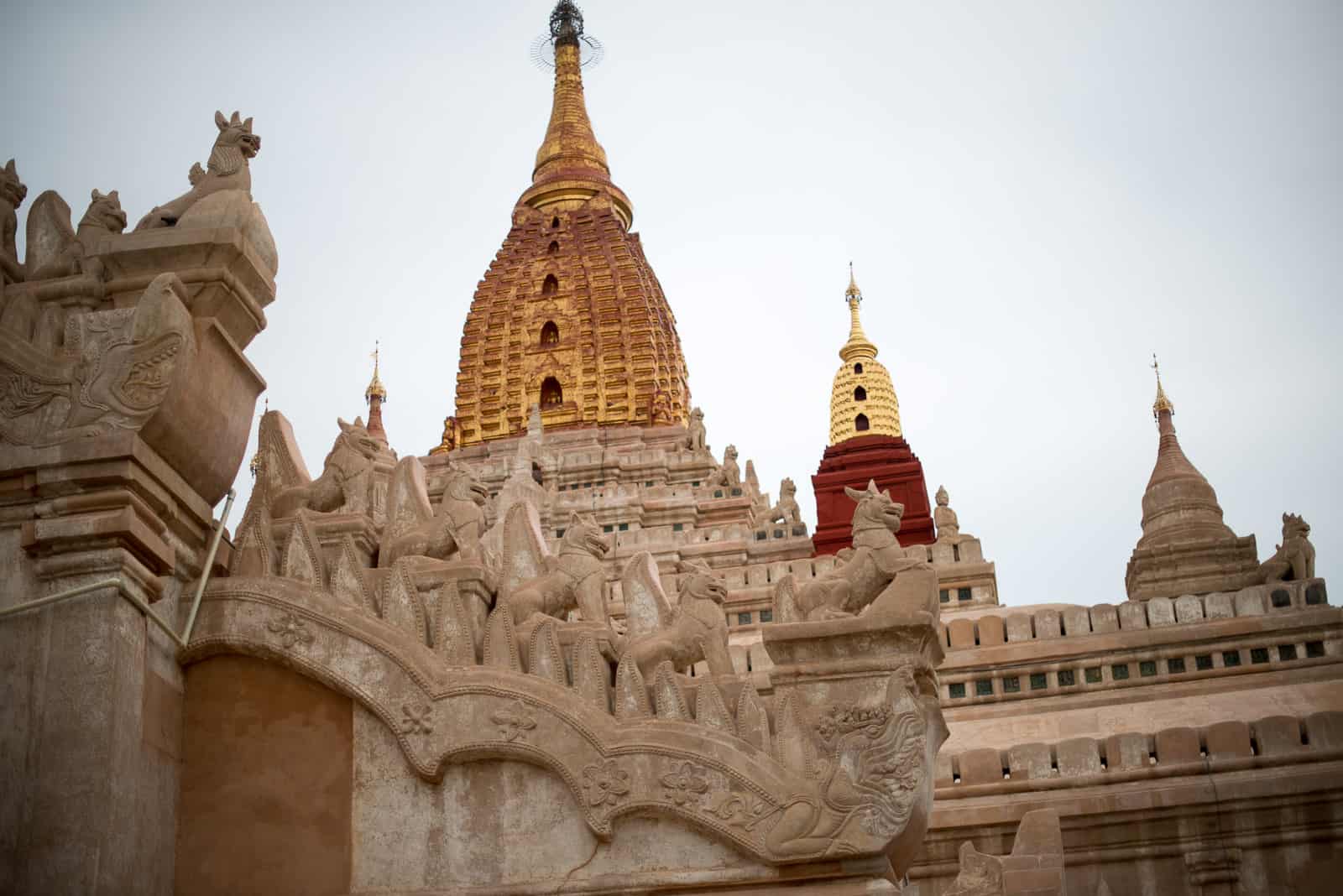 Ananda Temple is a magnificent Buddhist temple constructed in 1105 AD during the reign of King Kyanzittha of the Pagan Dynasty. It is one of Bagan's four remaining temples. The temple's layout is cruciform, with multiple terraces of a miniature pagoda with the top enclosed by an umbrella.
This Buddhist temple features four standing Buddhas, each facing a different direction. The magnificent temple is also known as the "Westminster Abbey of Burma" and was built in a blend of Mon and Indian architectural styles.
Htilominlo Temple - Have-to places in Myanmar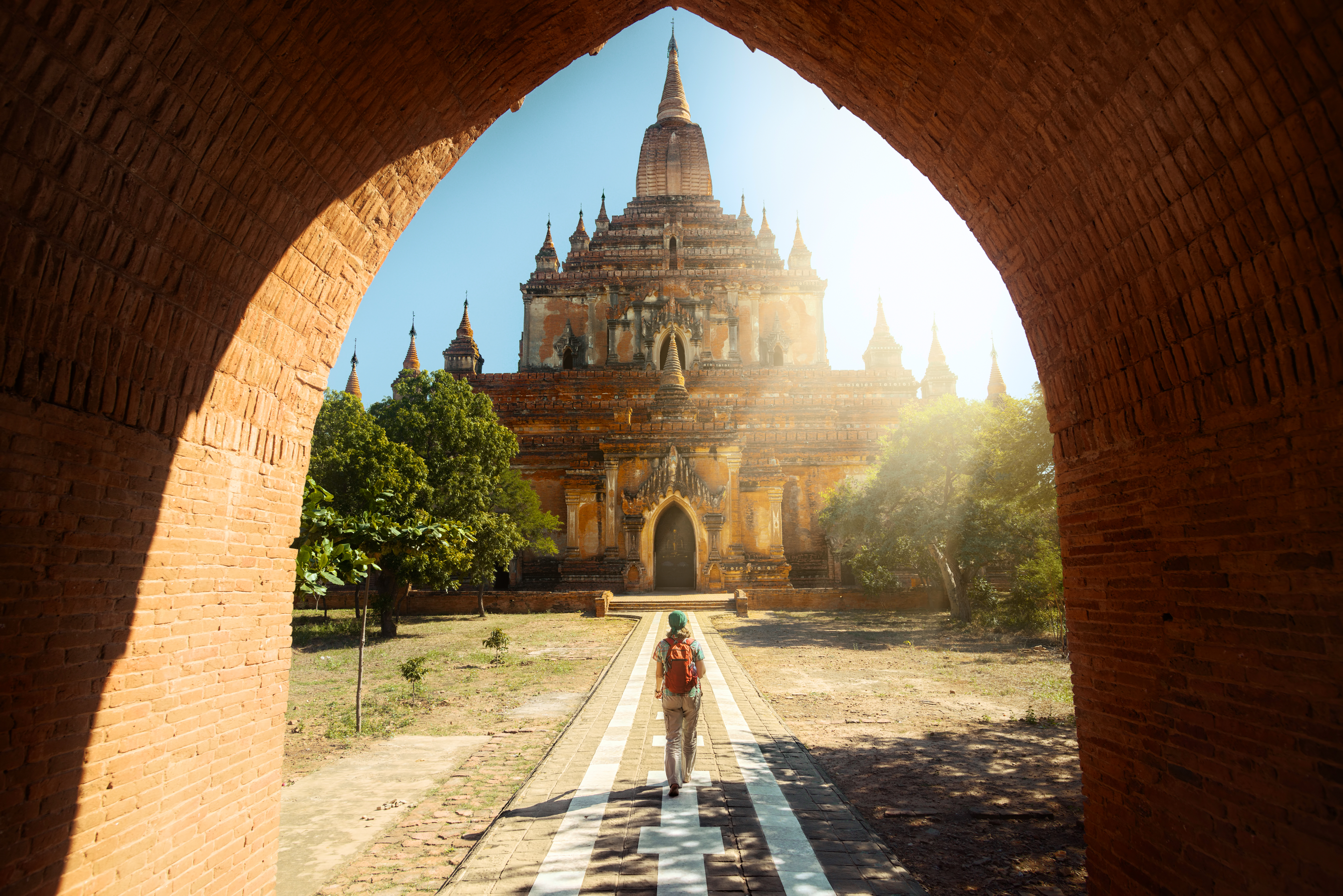 The Htilominlo Temple is a Buddhist temple in Bagan. The temple is three floors tall and 46 meters high, built during King Htilominlo's reign. It is known for its intricate plaster moldings and red bricks. On the first floor, you can see four Buddha sculptures facing different directions.
Inle Lake - Must-see places here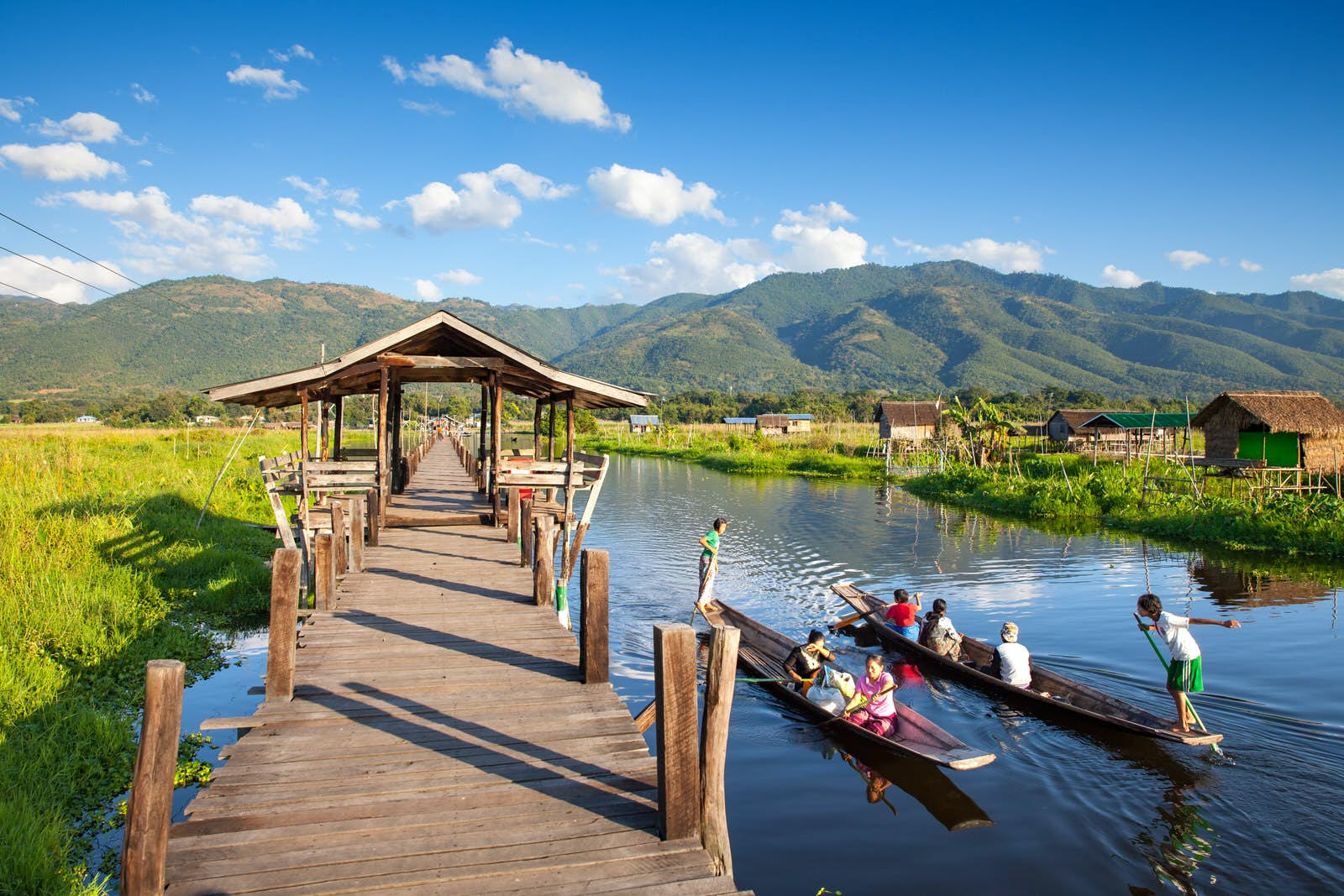 Inle Lake is a freshwater lake in the Taunggyi District of Shan State, Myanmar's Shan Hills. It is the country's second-largest lake, with an estimated surface size of 116 km2. The lake is situated at a height of 2,900 feet.
On the lake's northwestern shore, there is a hot water spring. The lake is not particularly huge, yet it is home to several common species. This lake contains about 20 kinds of snails and 9 species of fish that are found nowhere else in the globe.
Featured Tour:
Ngapali Beach - Magnificent spots in Myanmar

Ngapali Beach is a renowned Myanmar beach location. It transforms into a major beach holiday destination with its pristine, palm-fringed white sand, crystal clear waters of the Bay of Bengal, and a multitude of stylish lodging alternatives. It maintains a laid-back fishing town vibe and treats travelers with a great welcome because the residents are nice and pleasant.
Featured Tour:
WorldMate Travel: Specialist tour operators in Vietnam
As a leading in Vietnam, World Mate Travel has gained popularity among tourists due to its excellent services and fully-packaged tour combos. Expect a tour package around Southeast Asia? Contact us for more details.
Related Article: