Rock climbing in Vietnam comes up with an in that experts in exploration conquer the highest and most challenging peaks using specific skills. However, another direction of climbing tours, focusing on traveling, is becoming more popular recently.
Rock climbing in Vietnam is now considered a typical adventure tour that allows tourists to safely explore nature and conquer peaks at a moderate level suitable for their abilities.
In this article, we walk you through the impressive things when it comes to rock climbing in Vietnam or climbing Vietnam as a traveler.
Rock climbing in Vietnam: The introduction
The climbing Vietnam journey enables several activities to explore your strength, including walking, wading, climbing, and swinging through challenging terrain. It always brings intense emotions and feelings. Rock climbing in Vietnam is an opportunity to explore, challenge yourself, overcome personal limits, and appreciate nature.
The exciting thing about Vietnam bouldering
Rock climbing in Vietnam or Vietnam bouldering refers to an absolute thrill ride that will leave you feeling alive and invigorated!
This is a must-try for tourists coming to Vietnam seeking excitement and fun. From its unique blend of challenge, adventure, and breathtaking scenery, it's no wonder that rock climbing in Vietnam is so appealing to adventure lovers everywhere!
Featured article: Vietnam Adventure: Nail The Most Popular Adventure Activities In Vietnam
Not only is climbing Vietnam great for your experience, but it also challenges your muscles and keeps you refreshed after working in the office all day long. Vietnam's mountainous terrain and thousands of islands have created a series of beautiful crags for rock climbing. Due to the altitudes ranging from 7 to 23 meters, you will challenge your endurance while still feeling safe and secure.
Vietnam offers rock climbers equally interesting experiences compared to other countries like Thailand. Whether you are a beginner or a professional with years of climbing experience, Vietnam has something for you. Moreover, rock climbing is also a fantastic way to admire the landscape! From the top of the craggy cliffs, you could catch the stunning scenery below, including undeniably beautiful sunrises and sunsets.
Featured Tour:
Getting Special Outdoor and Indoor Vietnam Bouldering in Adventure tour
In terms of rock climbing in Vietnam, you can choose whether outdoor or indoor activities. While most highland destinations give exciting Vietnam bouldering activities in the genuine mountain, you can also experience indoor bouldering in some cities.
Indoor rock climbing in Vietnam is an exhilarating form of health training that has been around for a while, but it's recently become the hottest trend among adventure seekers.
You will appreciate artificial climbing walls that simulate the rugged terrain of a natural mountain. These walls feature steep slopes, inclines, and arcs that will put your skills to the test. And with sturdy handles that can withstand your weight, climbing to the top could be an easy challenge.
But don't let the indoor setting fool you - this game comes up with its fair share of danger. That's why our climbers are equipped with top-of-the-line protective gear, including seat belts, helmets, gloves, and climbing shoes. And before you even start climbing, it would be better to receive comprehensive safety training to ensure that you are totally ready.
Top 4 places for Rock climbing in Vietnam
Treasures coming from Vietnam nature indicate lots of places offering you an exciting Rock-Climbing experience. The four 4 below are the popular selections for tourists expecting both traveling and adventure.
Huu Lung climbing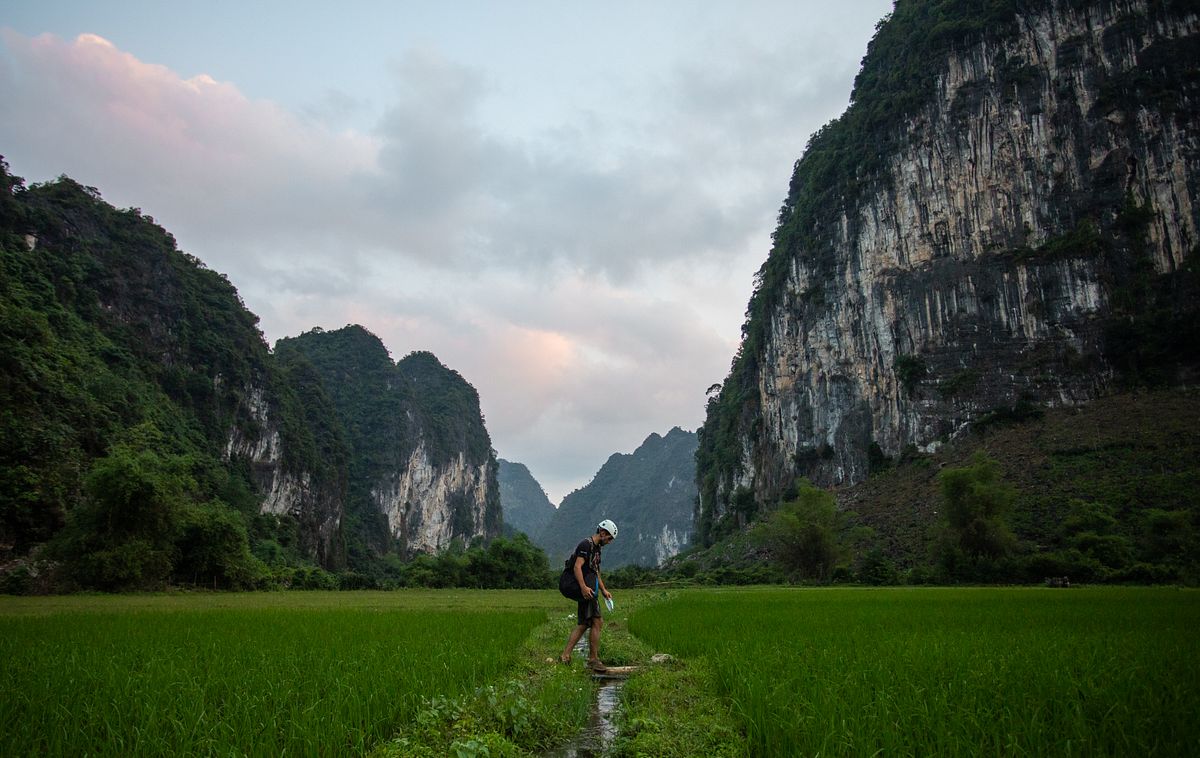 Get ready to experience the thrill of a great time in Huu Lung climbing tours, the ultimate destination for rock climbing in Vietnam!
Nestled in the heart of the Lang Son mountains, this district boasts an impressive array of breathtaking karst peaks and over 60 quality routes that cater to climbers of all levels. With new routes being bolted annually, you will be impressed with this adrenaline-fueled paradise!
Huu Lung Climbing is a tour to explore five incredible crags that will take your breath away. From the Head Wall to the Dragon Wall, these stunning formations offer unparalleled views of the surrounding landscape that will leave you in awe. And unlike other popular spots such as Halong Bay or Cat Ba, Huu Lung is an on-land destination that showcases the untouched beauty of majestic mountains and lush greenery.
Obviously, safety is always a top priority when it comes to rock climbing, and Huu Lung is no exception. But with the fitted protective equipment and an experienced guide by your side, you'll be able to tackle even the most challenging routes with confidence. And World Mate Travel Tours includes everything you need to make the most of your adventure. all you have to do is show up and get ready to experience such a special destination!
Cat Ba Climbing
Get ready for an adventure of Cat Ba Climbing! This stunning destination boasts a mountainous terrain and is a rock climber's paradise. With famous crags like Butterfly Valley, Hidden Valley, Ben Beo Harbor, and The Cave, you will immerse in an unforgettable experience.
To reach these breathtaking crags, you'll have to kayak your way there, just like in Halong Bay. But when you reach the peak, you'll be rewarded with a panoramic view of the island and the locals' way of life. And for those who crave an extra thrill, there's deepwater soloing in Ben Beo Harbor.
Cat Ba Climbing is just as affordable as in Halong Bay. So why not experience both? A full cruise tour will help you ready to embark on an epic adventure. Don't miss out on the chance to explore this incredible destination!
Rock climbing Saigon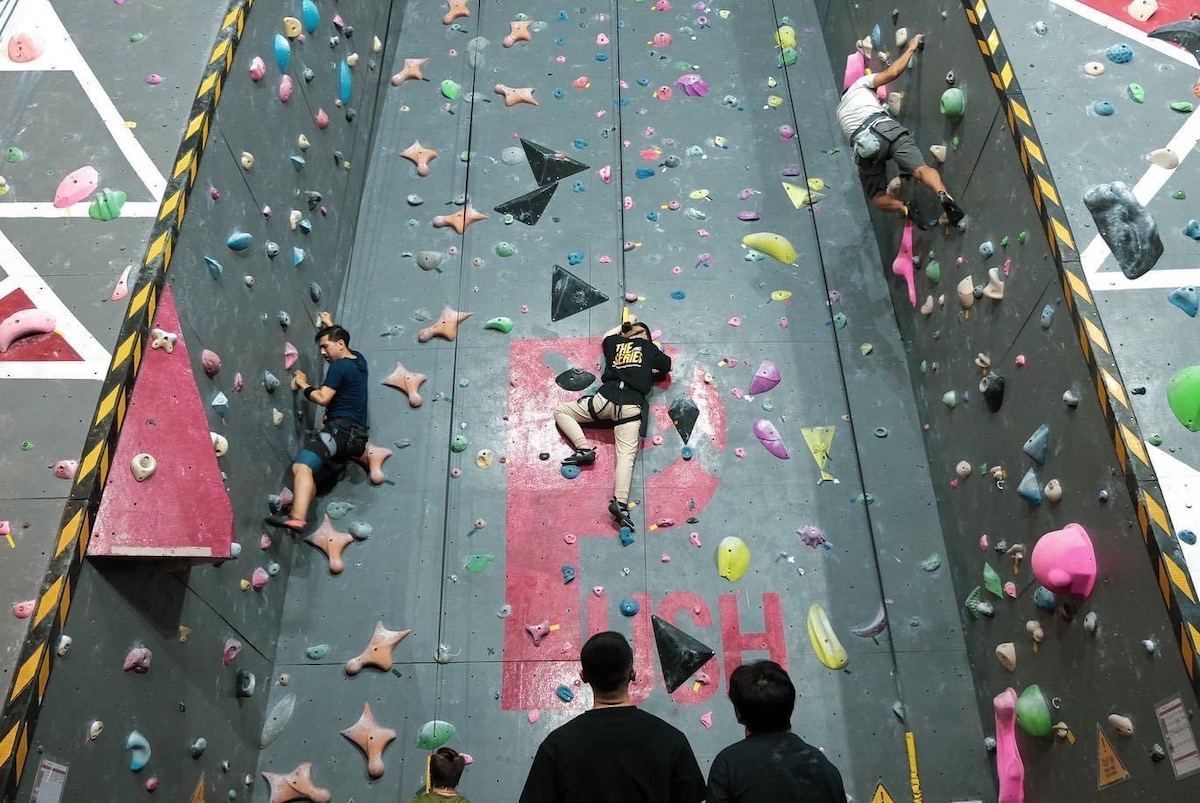 Ho Chi Minh City is bursting with gyms!
In case you are looking for something more adventurous than the same old ellipticals, it's time to take your workout to new heights. You could try to explore the great outdoors, including hopping on a bike and pedaling your way through the city, or join the early bird crew and hit up the exercise equipment in the parks.
But Rock-climbing Saigon is even more exciting! With the rapid growth of the climbing community in Sai Gon, a lot of new climbing gyms have sprung up all over the city. We can suggest some options for exploring rock climbing in Saigon:
1 Get ready to climb to new heights at X-Rock, the original climbing gym in the city! With the highest wall around, you will feel like an authentic outdoor rock climber in Vietnam. And with overhanging sections that mimic real-life climbing conditions, you will be ready to tackle any challenge. Plus, you can rest easy knowing that X-Rock is all about safety and professionalism.
2. Vertical Academy indoor facility boasts both wall climbing and bouldering, providing the ultimate adrenaline rush. Do not let the height fool you - our walls offer a range of technical difficulties that will put your skills to the test. And with routes changing frequently, you will never get bored.
3. Push Climbing refers to the ultimate destination for adrenaline junkies and thrill-seekers alike! Nestled in the heart of Saigon Outcast, this climbing wall is the perfect spot to challenge yourself and show off your skills to your friends. And do not worry if you're new to the sport - Push Climbing offers a variety of classes and events to help you get started, including heart-pumping competitions like speed climbing and crate stacking.
Featured Article: Things To Do In Ho Chi Minh City: Reavel The Secret Of Saigon
Rock Climbing Hanoi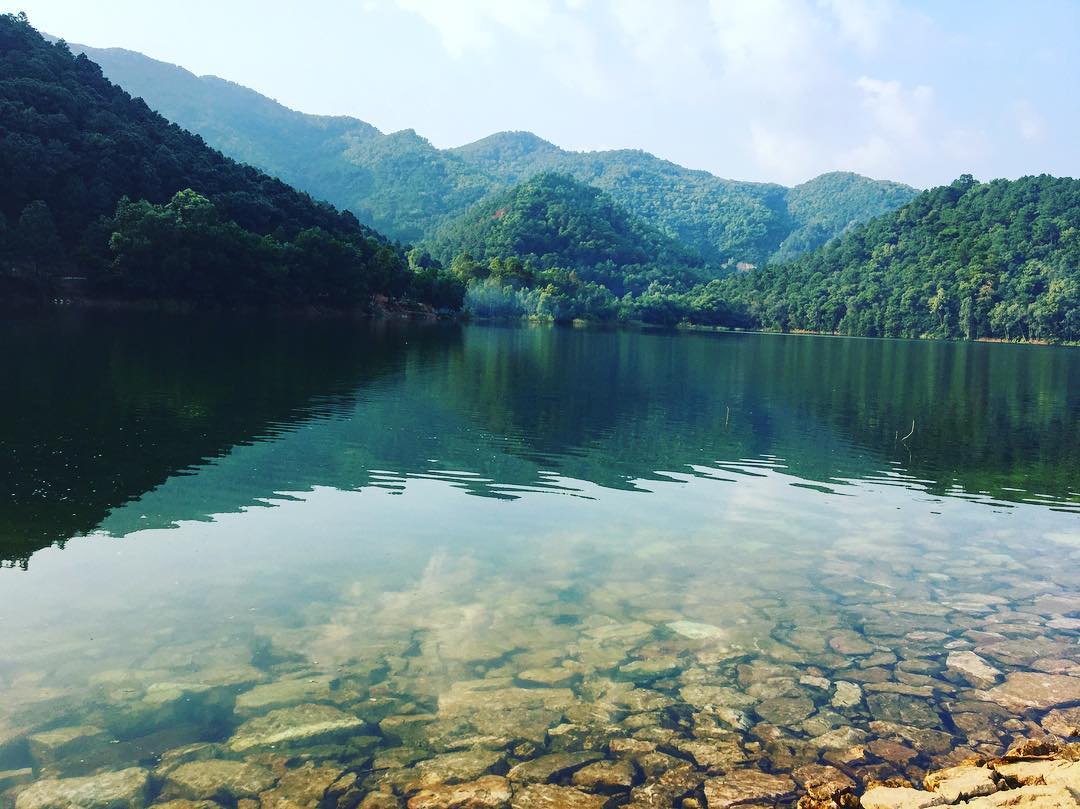 Hanoi seems to be an attractive place for rock-climbing lovers. Here you can find both joyful indoor centers for the artificial climbing wall and outdoor suburban climbing area.
1. Authentic outdoor rock climbing Hanoi
Ham Lon Picnic tour: the tallest peak in Doc Ton Mountain, located in the heart of Soc Son, Hanoi! With an estimated height of 462m, this towering mountain is a must-visit destination for all adventure seekers. Whether you are a seasoned climber or a newbie, Ham Lon Mountain offers a thrilling challenge that will leave you breathless. It's no wonder that this mountain is a hotspot for young people looking for an adrenaline rush and a fun-filled day out in nature.
Have you heard about Tam Dao? It's nestled in the breathtaking mountains of Vinh Phuc province! The terrain is divided into three mountain ranges with slopes, including Ban Thach, Thien Nhi, and Phu Nghia. Not only can you soak up the stunning scenery, but you can also get your sweat on with some epic exercise.
Tram Mountain is an incredible climbing spot near Hanoi, perfect for those short on time but still seeking a thrilling challenge. With its winding trails and breathtaking cliffs, Tram Mountain gives you a great time to enjoy the enchanting and picturesque beauty
2. Indoor climbing Centers
VietClimb on An Duong Street: This indoor climbing site is the ultimate destination for all climbing enthusiasts. VietClimb is the perfect place for both beginners and professionals with over 200m2 of space for climbing challenges.
Jump Arena: This adrenaline-pumping complex is the perfect blend of sports and entertainment, catering to all age groups. Embracing yourself to overcome your fears and scale new heights like never before.
Kinder Park: Indoor climbing is not just for grown-ups. It is an absolute blast for kids too! At Kinder Park, they got a special area just for the little babies having a blast. With artificial mountains designed for safe protection, your kids can push themselves to new heights and have a ton of fun doing it.
Vinke amusement park: This place is not just about having fun, it's also about learning and growing. Kids can run, jump, and climb to a healthier lifestyle while picking up some training skills along the way. Let's not forget about the indoor artificial climbing area - it is decored with a rainbow-colored wonderland that kids can not get enough of!
Featured Article: Are You Curious About Things To Do In Hanoi
Vietnam bouldering: Best Practices
The primary consideration for embarking on a day of Rock climbing in Vietnam through steep forest terrain is your physical health and fitness. The distance covered within a typical climbing Vietnam tour can range from kilometers, depending on your chosen places for Vietnam bouldering. As a successfully hosting hundreds of Rock claiming tours in Vietnam, we can see that the average distance is about 3 kilometers.
Maintaining a positive attitude and unwavering determination is crucial for every traveler when venturing into new mountains, even those having previously climbed experience before. Unforeseen circumstances such as weather, terrain, and health issues can arise, necessitating preparation for worst-case scenarios. Overcoming these challenges requires a strong will, persistent effort, and at times, a degree of stubbornness and recklessness to reach the ultimate goal.
Otherwise, the mountain and its topography might induce lots of potential risks. So, make sure you choose a trusted local tour operator to help you enjoy the whole journey while staying safe.