Ninh Binh province lies a cultural and spiritual treasure that awaits travelers from across the globe. Bai Dinh Pagoda, renowned as one of Southeast Asia's largest and most awe-inspiring Buddhist complexes, Bai Dinh Pagoda holds a testament to the rich history, deep-rooted traditions, and breathtaking natural beauty of Vietnam.
Join us as we delve into the cultural tapestry of Bai Dinh Pagoda, uncovering its historical significance, architectural marvels, and tranquil landscapes. This journey will not only transport you through time but also provide insights into the spiritual heart of Vietnam.
Bai Dinh Pagoda: #1 template complex in Southeast Asia
Bai Dinh Pagoda awaits your presence, where history, spirituality, and nature converge to create a truly enchanting experience. Let its grandeur captivate your senses.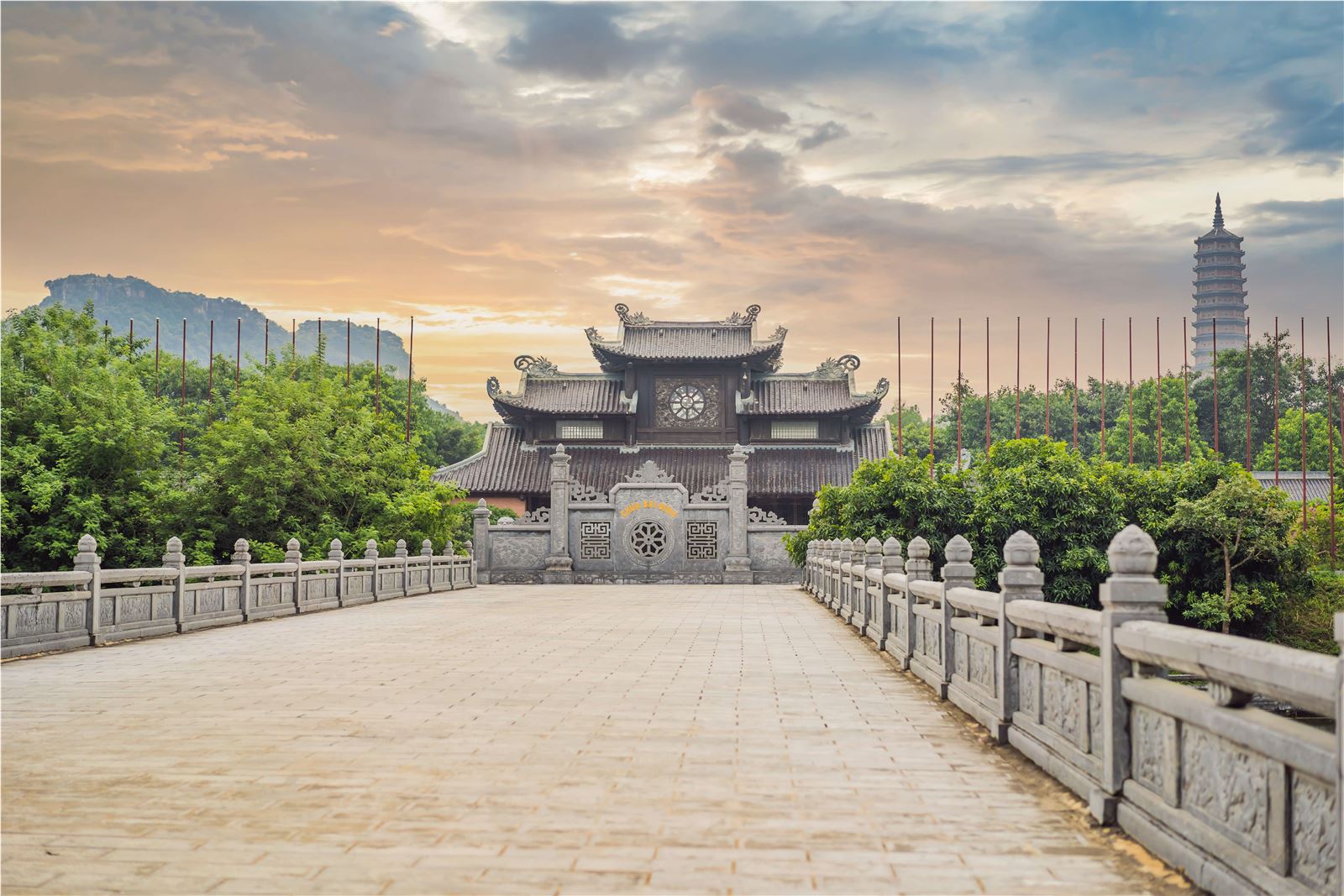 Traveling to Tran An: Thing you need to know
Bai Dinh Pagoda nestles within a sprawling 539-hectare, showing its awe-inspiring beauty. This sacred sanctuary comprises 27 hectares of the old Bai Dinh Pagoda and an expansive 80 hectares dedicated to the new Bai Dinh Pagoda.
A Roof of Splendor: Marvel at the architecture, that is the main temple, crowned by an exquisite roof. With three floors and 12 gracefully curved roofs resembling the shape of a knife's edge, Bai Dinh Pagoda is adorned with traditional comedy nose-shaped tiles. The temple's steps boast intricate stone dragons, echoing the elegant Ly Dynasty style. From the vast stone courtyard, your gaze descends to the glistening jade well below.
Serene Enclaves Amidst Beauty: Exploring Bai Dinh Pagoda, you will find yourself strolling along a tranquil corridor lined with statues of Arhats. Corridors encircling the temple grounds are interspersed with charming gardens, verdant and inviting. Among the temple's lush plantings, the Bodhi tree, a sacred symbol transplanted from revered Indian temples, graces the landscape.

A Sacred Haven for Spiritual Reflection: Bai Dinh Pagoda embodies an atmosphere of pure serenity and open space, offering an idyllic haven for Buddhist monks, nuns, and visitors alike to worship and delve into spiritual practices.

A Glimpse into History: Within the ancient Bai Dinh area, you'll uncover treasures like the Morning and Evening Caves, the Temple of Saint Nguyen, and the Temple of Cao Son God. These storied sites invite you to journey through the annals of time and explore the rich cultural heritage of this remarkable place.
Featured Article:
What makes Bai Dinh Pagoda special?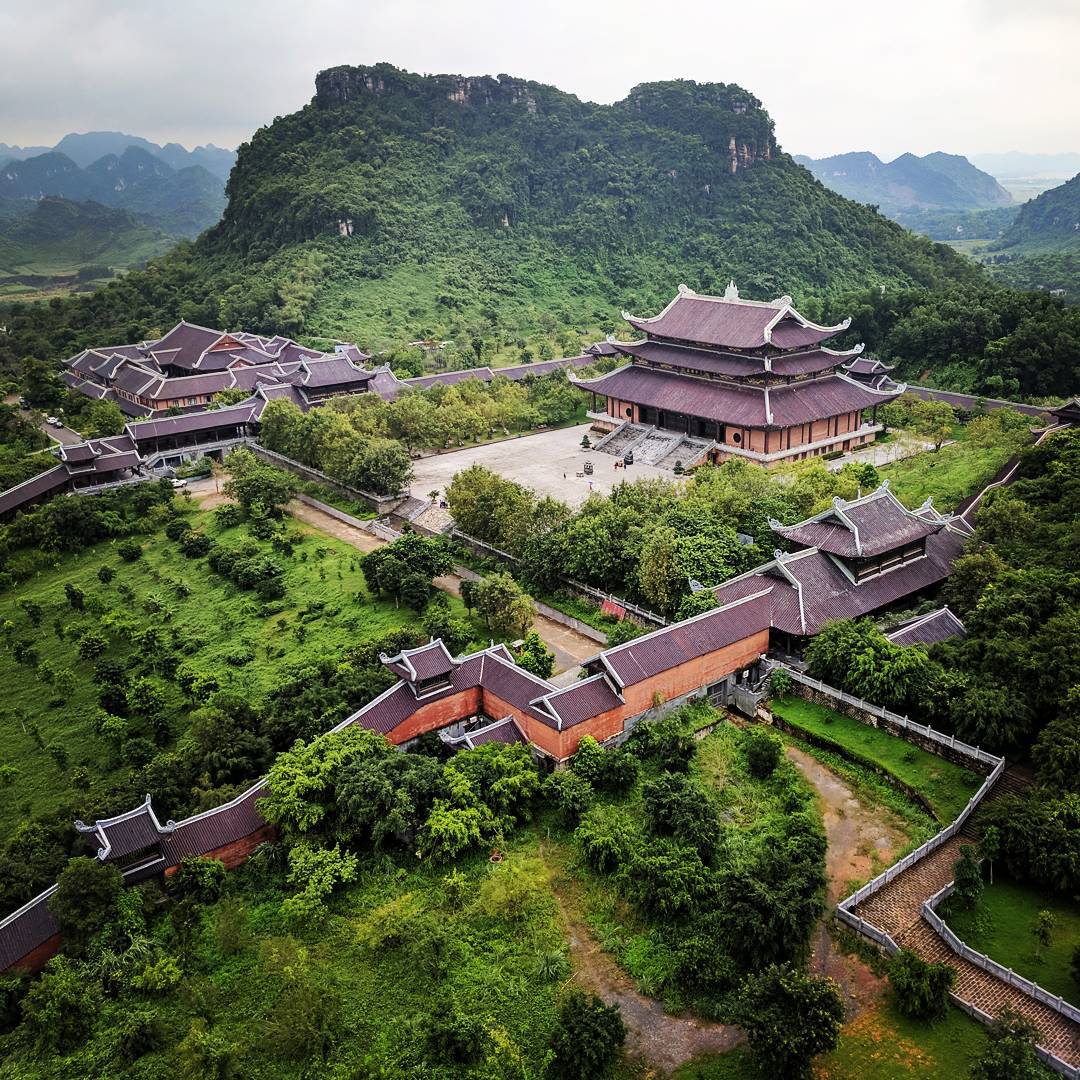 1. Temple of Saint Nguyen
Within the enchanting Bai Dinh Pagoda, you can find a captivating journey awaits at the Temple of Saint Nguyen. Beyond the fork at the pinnacle of the slope, this temple graces the mountainside, offering breathtaking views of the river below.
A splendid statue of Zen Master Nguyen Minh Khong is inside the temple. His story is one of both healing and artistry. Legend said that he stumbled upon a magnificent cave when searching for medicinal herbs on the mountainside. Inspired by this discovery, he built the temple as an homage to Buddha.
Zen Master Nguyen Minh Khong is renowned not only as a compassionate healer but also as a genius in the art of bronze casting. Throughout his life, he delved deeply into the origins of the Dong Son civilization, an ancient Vietnamese culture. His passion led him to collect antique bronzes, with the noble aim of reviving the lost art of traditional bronze casting.
2. Enchanting Well of Jade
Prepare to be enthralled by the captivating legend of the Well of Jade at Bai Dinh Pagoda. Zen Master Nguyen Minh Khong brewed a healing elixir for the king and his people. As you stand by the stone railing, which encircles a vast circular area, and gaze down from the main hall, you will see a mesmerizing sight – the Well of Jade, an exquisite jewel amidst the lush, green expanse of Bai Dinh Pagoda. The jade-green water is an impressive specialty of the largest pagoda well in Vietnam.
At the new Bai Dinh Pagoda, a treasure trove of domestic records and captivating sights await your exploration. Bai Dinh Pagoda proudly boasts an array of remarkable records:
Asia's largest gilded bronze Buddha.

The extensive Arhat Corridor is recognized as the longest in all of Asia.

The grandeur of Vietnam's largest bronze bell.

The pagoda with the largest area in Vietnam.

The most extensive collection of Arhat statues in Vietnam.
Grandeur of Vietnam's largest pagoda.

The multitude of Bodhi trees, the most in Vietnam.

The sheer majesty of Vietnam's largest Jade Well.
As you delve into this treasure trove of records and natural wonders, Bai Dinh Pagoda beckons you to explore its unique and awe-inspiring offerings. Come and be a part of this extraordinary experience that awaits you.
3. The Monumental Maitreya Buddha Statue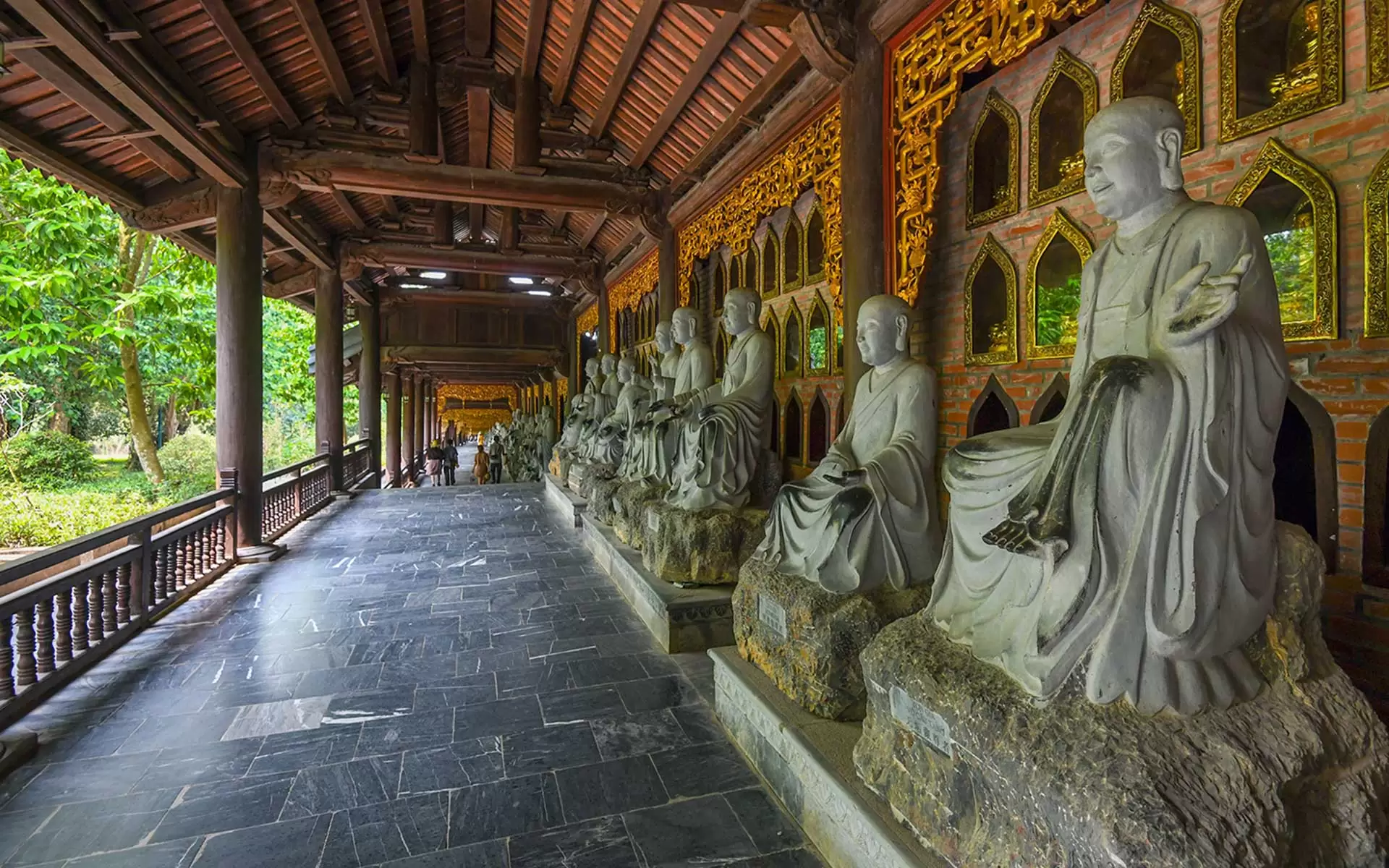 Prepare to be awe-struck by the colossal Maitreya Buddha Statue, a magnificent testament to spiritual devotion and artistic achievement. This remarkable bronze masterpiece, standing a towering 10 meters in height and weighing an astonishing 80 tons, graces the scenic hill of Bai Dinh Pagoda.
This monumental statue has earned its place in history, proudly recognized by the Vietnam Record Book - Vietkings as the biggest Maitreya statue in our country. It's not just a sculpture; it's a symbol of reverence, a testament to craftsmanship, and a sight that will leave an indelible mark on your heart.
4. Asia's Most Magnificent Shakyamuni Statue
Prepare to stand in awe of the grandeur and reverence embodied by the largest Shakyamuni statue in Asia. Serenely placed within the Dharma Master of Bai Dinh Pagoda, this colossal masterpiece stands 9.5 meters tall and 100 tons weighs. In the presence of this awe-inspiring statue, you'll undoubtedly feel overwhelmed by its majestic splendor.
5. Vietnam's Largest Bronze Bell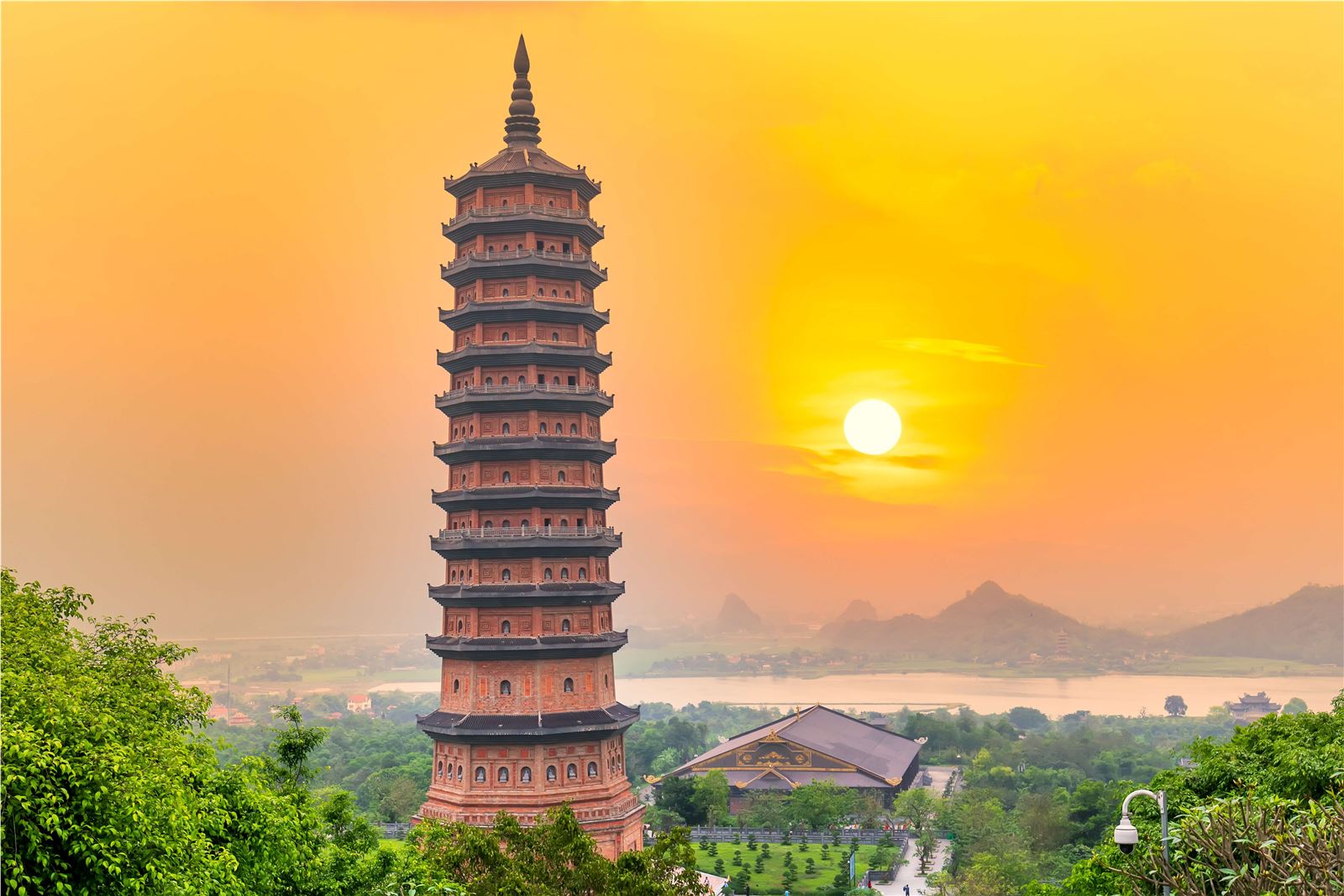 Embrace the resonating history of Vietnam's largest bronze bell, a true cultural treasure. This magnificent bell boasts a height of 5.5 meters, a diameter of 3.5 meters, and a substantial mass of 36 tons. Adorned with intricate ancient Chinese characters and adorned with lifelike floating dragons, this bell is a harmonious blend of artistry and tradition.
6. The Triumphant Trio: Three Buddhas of Past, Present, and Future
Witness the sublime representation of time with the Three Buddha statues in the Three Potentials. These majestic statues inlaid with radiant gold, illustrate the past, present, and future. Their presence is a testament to spiritual grace and artistic brilliance, earning them the well-deserved record of the largest Tam The statue in Vietnam.
Exploring Bai Dinh Pagoda with its vast expanse can be quite an endeavor. To make the most of your visit, consider focusing on key highlights such as the Temple of Tam The and Phap Chu and Southeast Asia's largest bronze statue of Buddha Tathagata, an awe-inspiring monument weighing an astonishing 100 tons.
Bai Dinh Pagoda Tour: The Complete Guide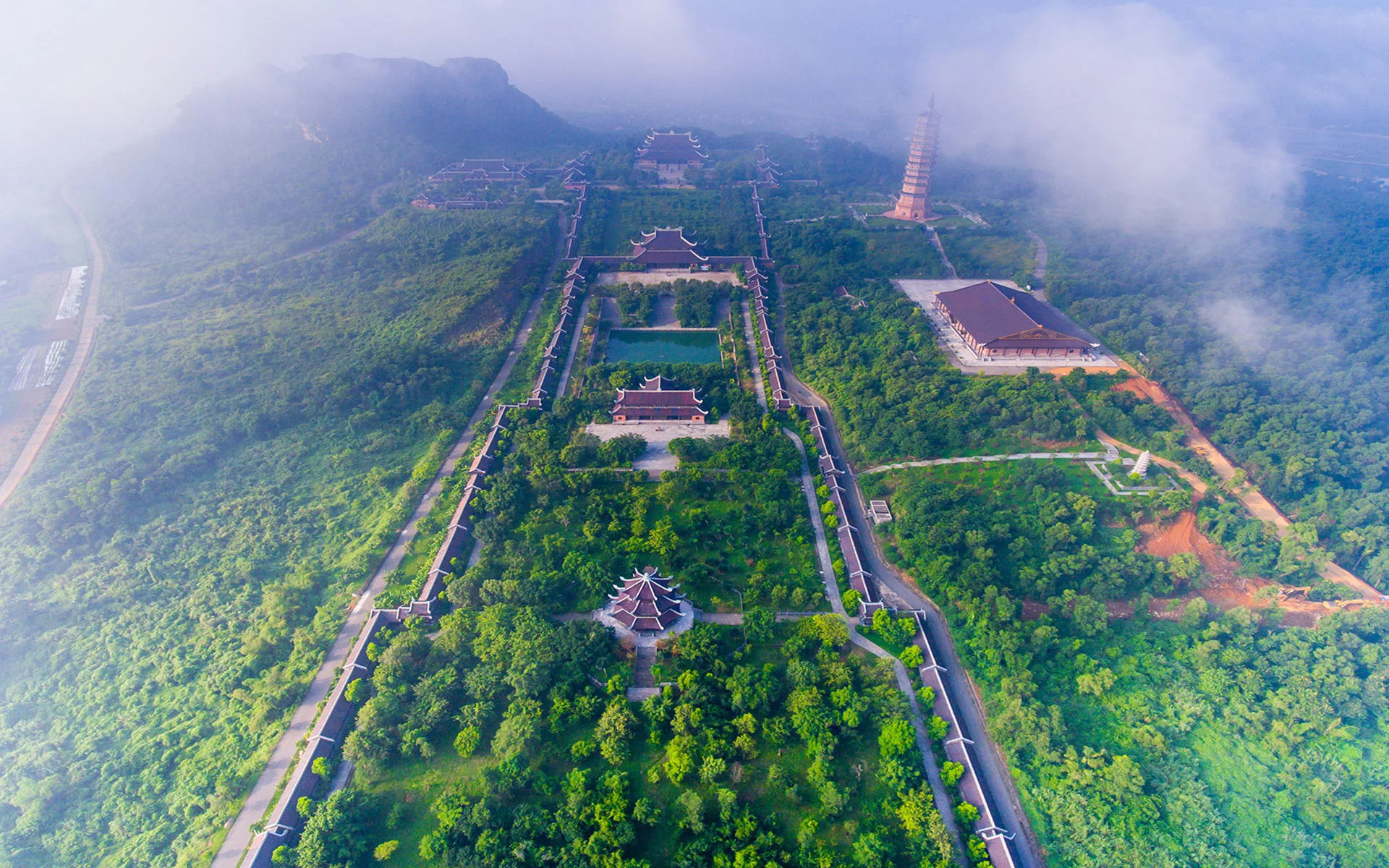 When is the best time to visit Bai Dinh Trang An
Escape to the enchanting beauty of Bai Dinh Trang An during the vibrant spring season, from Lunar January to March. This time offers the perfect blend of warm weather, cultural immersion, and festive celebrations, making it an ideal period for foreign travelers to explore this splendid Bai Dinh pagoda travel.
Embrace Springtime Splendor: Imagine strolling through lush landscapes adorned with blossoming flora and basking in the gentle warmth. It is the magic of Bai Dinh Trang An in the Vietnamese spring.

Spiritual Serenity at Pagodas: Engage in a soul-enriching experience by participating in traditional Bai Dinh pagoda ceremonies, where you can offer prayers for good luck and blessings.

Festivals Galore: Witness the heartwarming festivities in both Trang An and Bai Dinh. The Bai Dinh Pagoda Festival, which commences on the 1st day of the Lunar New Year and continues until the end of March, marks the beginning of pilgrimage festivals to the ancient capital of Hoa Lu. It's a perfect opportunity to embark on an early spring with your family to Hoa Lu, visit Bai Dinh Pagoda, and be a part of this cherished national tradition.

Plan Wisely: As the spring is undoubtedly magical, it's also the peak tourist season. Expect crowds and, unfortunately, the occasional inconveniences like overcrowding and petty theft. If you prefer a quieter visit, consider exploring Bai Dinh Pagoda during other times of the year.

Avoid the Heat and Flooding: To ensure the best experience, we recommend avoiding the months from June to September when the weather can be scorching, making long journeys tiresome. Additionally, this period coincides with the high flood season, which can limit access to the captivating caves that are a highlight of Bai Dinh Trang An.
Featured Article:
How much is the ticket price to visit Bai Dinh Trang An
Step into the expansive beauty of Bai Dinh Pagoda, an awe-inspiring haven that sprawls across a vast campus. You can opt for a convenient tram ride to the temple. You can book a tram ticket for only 30,000 VND for one way.
For those who choose to explore Bai Dinh Pagoda on your trusty motorbike, parking is available but about 3 kilometers away from the temple. We recommend taking advantage of the electric car service to conserve your energy. Parking your car or motorbike costs 10,000 VND. The entrance to the magnificent Stupa is 50,000 VND per person.
Additionally, you can explore the enchanting beauty of Trang An on a Trang An boat tour through this captivating landscape. It typically lasts over 3 hours and can accommodate 4-5 passengers per boat. Tickets are available at 150,000 VND per person.
Featured Tour:
Local rules for the Bai Dinh Pagoda tour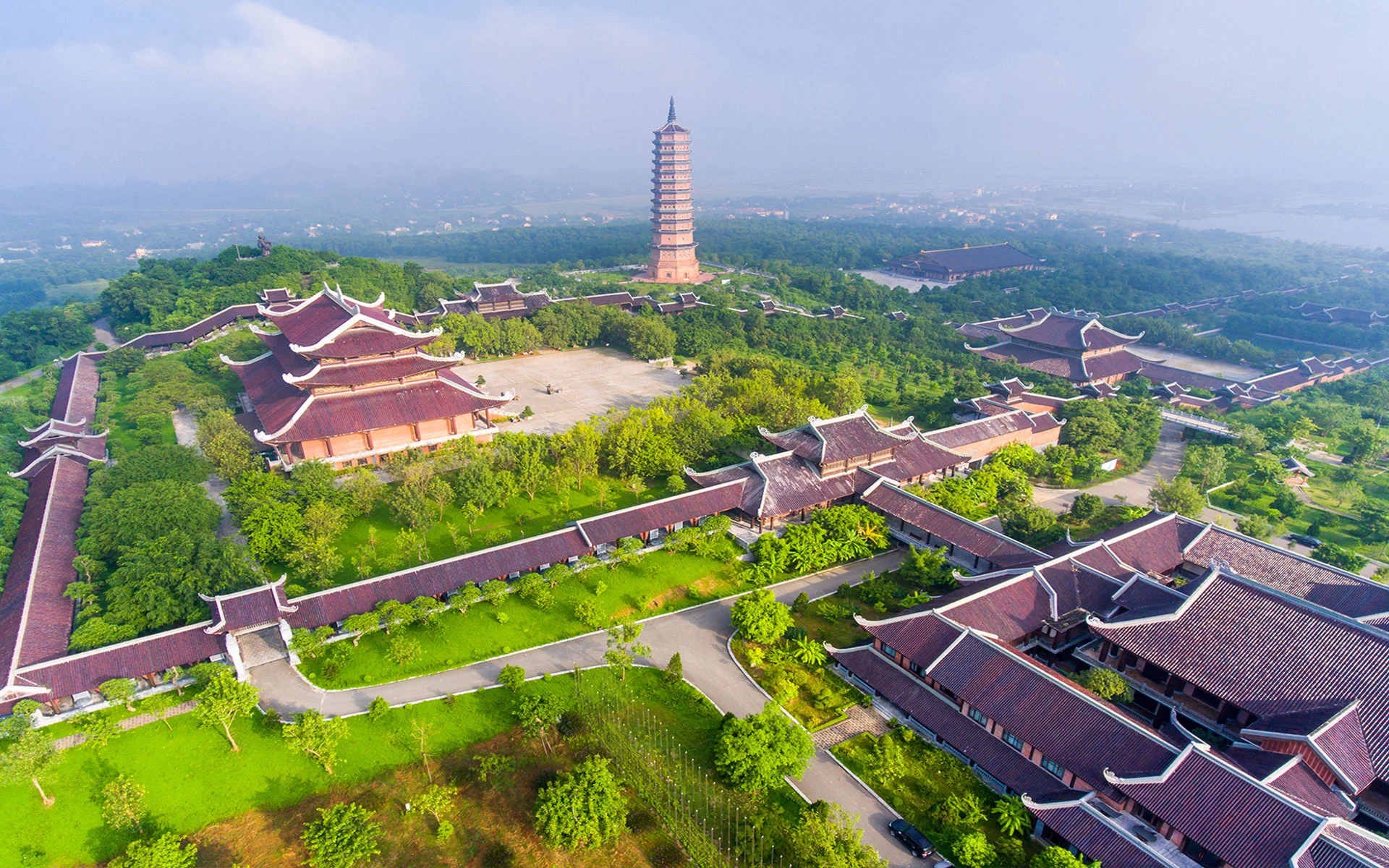 As you embark on your journey to Bai Dinh Trang An Pagoda, here are some invaluable tips to ensure a seamless and enjoyable experience:
1. Dress Comfortably and Respectfully:
Prepare comfortable sports shoes instead of high heels or delicate doll shoes to protect your feet and navigate the occasional climbs and temple visits.
Choose modest, loose-fitting attire when entering the temple. Breathable, sweat-resistant clothing is advisable, ensuring your comfort throughout your visit.
2. Shop Wisely:
Bai Dinh Pagoda is home to numerous stalls brimming with souvenirs and enticing local specialties. However, bear in mind that prices in these shops can be higher. If you plan to purchase gifts or souvenirs, consider descending to the mountain for more budget-friendly options.
3. Prepare for Light Rain:
If you're visiting during early spring, be prepared for occasional light drizzles. Pack a compact folding umbrella to stay dry and comfortable.
4. Donate Mindfully:
When visiting temples, it's customary to make donations. Avoid spending on Buddha statues that can detract from the temple's aesthetics. Instead, place your offerings directly in the merit boxes provided within the temple premises. This gesture is a beautiful way to contribute to the temple's upkeep and spiritual significance.
By adhering to these practical suggestions, you will ensure a memorable and respectful visit to Bai Dinh Trang An Pagoda.
Featured Tour:
In conclusion, a journey to Bai Dinh Trang An is a voyage of discovery, a blend of cultural richness, natural splendor, and profound spirituality. From the serene sanctuaries of Bai Dinh Pagoda to the enchanting river landscapes of Trang An as a new facet of Vietnam's heritage. If you are looking for a professional , contact World Mate Travel now. We are preparing special offers for you. Explore now