Cat Ba Island, known as the pearl in the Vietnam Gulf of Tonkin Vietnam, is a breathtaking destination that captures the hearts of travelers with its serene green beaches and stunning mountain landscapes.
Cat Ba Adventures has gained immense popularity recently and has become a top choice for travel enthusiasts during the summer season. If you wonder where this Island is located and what makes Cat Ba ventures so fascinating, look no further than World Mate Travel article, a .
Our article will provide you with all the answers you need to plan your next Cat Ba adventure.
Cat Ba Adventures: The Beginning
Cat Ba Discovery refers to an adventure the breathtaking beauty. It is an archipelago of 367 islands located off the coast of the Gulf of Tonkin. Cat Ba is located about 30km, far from the center of Hai Phong City and 150km from Hanoi. This island is a must-visit destination for any traveler visiting Vietnam.
Recognized by UNESCO as a biosphere reserve of the world, cat ba adventures assure a journey to discover rich and diverse biodiversity. It is home to prime forests on limestone mountains floating on the sea, creating a picturesque scene that will leave you in awe.
In addition to the wonder of Ha Long Bay, Cat Ba Island has become a popular tourist destination on the North Coast, attracting visitors from all over the world. To keep up with the trend, diverse tours of Cat Ba ventures have invested interns in infrastructure development and diversified tourism services to provide visitors with diverse exciting experiences.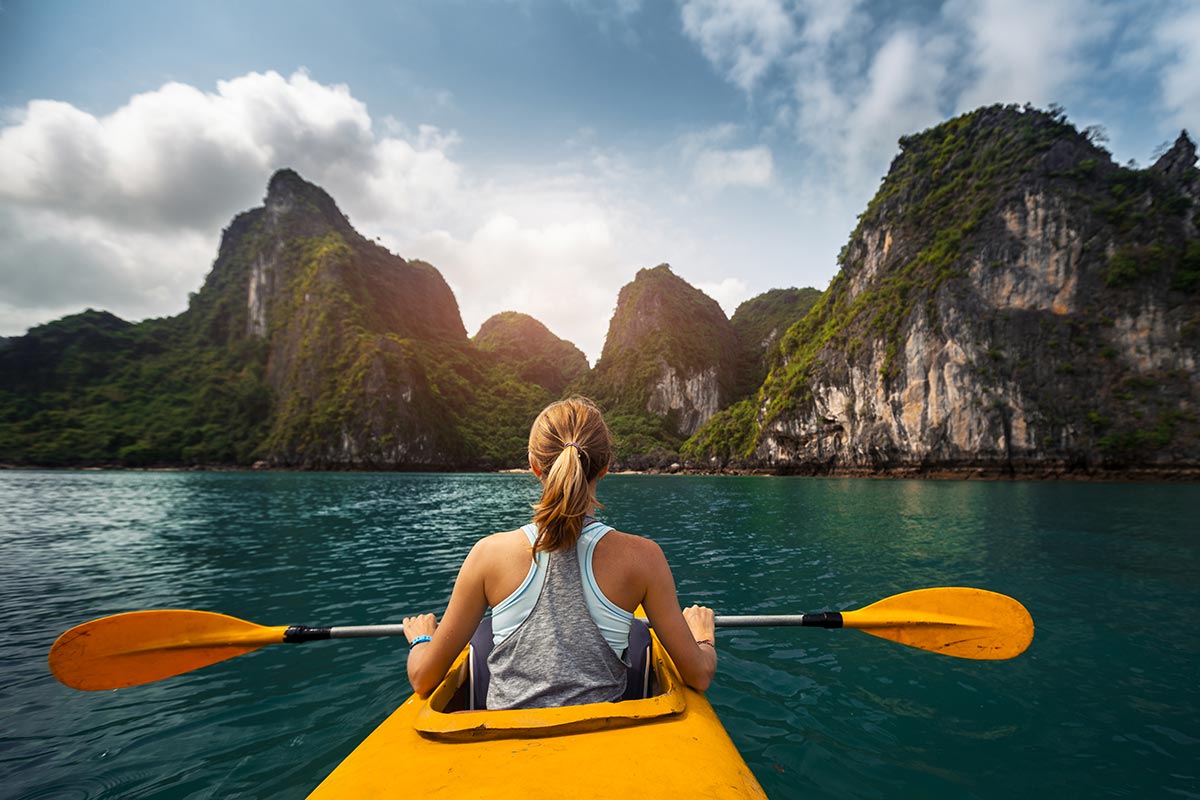 Cat Ba Ventures: The Impression of Hidden Gem
When it comes to Cat Ba Adventures, you cannot ignore the marvelous venture at Lan Ha Bay, a secret pear of the Gulf of Tonkin. You can discover the breathtaking beauty of Lan Ha Bay, connecting with a part of Ha Long Bay that shows not only magnificent scenery but also a poetic charm. With its rich natural landscape, the scenery is bold and untamed, offering a unique experience for travelers seeking a peaceful escape.
This hidden gem is a complex of over 400, both large and small islands, impressing travelers with its own pristine white sand beach. The diverse and rich ecosystem of Lan Ha Bay is a sight to behold, making Cat Ba Adventures a must-visit destination for nature lovers. Prepare to be captivated by the untouched landscapes that will surprise you.
Cat Ba Adventures on Lan Ha Bay, four distinct seasons in this destination promise its unique charm. Whether you are looking for a lively atmosphere or a peaceful retreat, Lan Ha Bay has something for everyone.
The best time for Cat Ba Ventures, including Lan Ha Bay is from April to June, when the weather is clear and sunny; and the sea is calm. It is the perfect time for sailing, swimming, and exploring the bay. Consider visiting from September to December when the weather starts the transition from autumn to winter for a more peaceful experience. This time, Lan Ha Bay is quiet and serene, making it the ideal destination for a relaxing vacation. Otherwise, you can still enjoy sea activities such as sailing, surfing, and climbing.
Cat Ba Travel and Cat Ba Ventures reviews
Every Year, Cat Ba Adventures attract millions of tourists impressed with its charms. Sine Cat Ba is a hustle tourist attraction, you might find it troubling in some ways. We share Cat Ba Ventures reviews with tips to make your journey safe, complete, and meaningful.
Be prepared for the cold weather at night. Whether you're visiting in winter or summer, it's always a good idea to bring a warm coat to avoid catching a cold.

Keep in mind that all services on Cat Ba have intermediaries. To avoid being overcharged, make sure to research and consult prices before using any service.

If you're interested in night squid fishing, be cautious of invitations from boats that can't guarantee quality service. It's important to do your research and choose a reputable provider.

Keep in mind that during holidays, weekends, and the New Year, Cat Ba can become quite crowded, resulting in higher prices and longer wait times (4-6 hours in the ferry station). To save money and avoid crowds, consider visiting during off-peak times.
Cat Ba discovery: Things to consider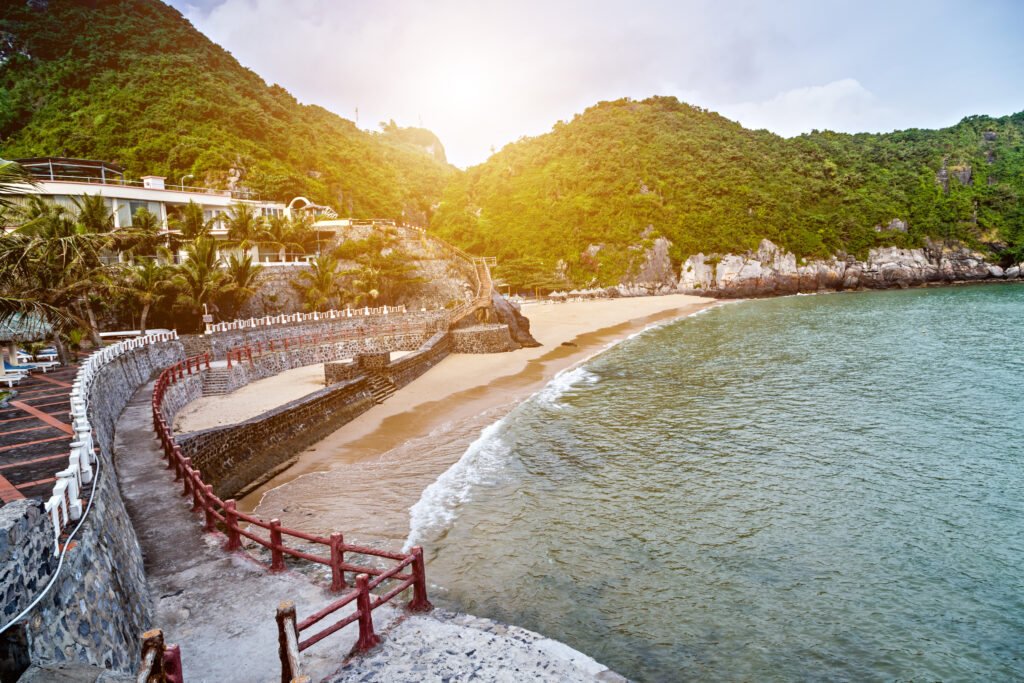 1. Monkey Island
Looking for a unique and exciting destination for your next ? Look no further than Monkey Island! This stunning island, also known as Cat Dua Island, is a must-visit for any traveler seeking a one-of-a-kind experience. With its lush pineapple fields and playful monkey inhabitants, Monkey Island is a true paradise for nature lovers and animal enthusiasts alike. However, today you might find it hard to visit Monkey Island since lots of construction projects kick off to form the future of Cat Ba Adventure.
2. Cat Dua Beach
With crystal-clear waters and soft sandy shores, this beach is the perfect place to unwind and soak up the sun. Divided into two sections, we recommend Cat Dua 2 for those seeking a peaceful and tranquil atmosphere. Cat Ba Beach offers simple yet convenient services, making it an ideal spot for travelers who prefer a laid-back and hassle-free vacation.
3. Cat Ba Night Market
As the sun sets and the night falls, immerse yourself in the lively ambiance of Cat Ba Night Market. You could Indulge in the delectable seafood, offerings and explore the colorful stalls adorned with twinkling lights. Whether you're looking for souvenirs to bring back home or gifts for your loved ones, the Night Market has it all.
4. Cai Beo Traditional Fishing Village
Embark on a journey to an ancient settlement nestled in the heart of a picturesque limestone valley. Also known as Vung O village, this fishing village is home to around 600 locals who make their living through fishing and aquaculture. To truly immerse yourself in the local way of life, we recommend exploring the village by boat. Gliding through the tranquil waters, you'll be amazed by the sight of houses perched closely together on the sea, creating a unique and inviting atmosphere.
5. Cannon Fort
While you may have initially thought of this site as simply a historical landmark, complete with tunnels, military trenches, and two massive anti-marine cannons from 1940, it's also a must-see destination for any traveler seeking a romantic afternoon experience.
6. Cat Ba National Park
Immerse yourself in a diverse ecosystem that boasts over 282 plant species and 800 animal species, both on land and in the sea. Joining the stunning green forests that thrive on limestone mountains, you can explore the vibrant coral reefs and cave systems that make up the unique coastal ecosystem.
Featured Tour:
Featured article:
Cat Ba Vision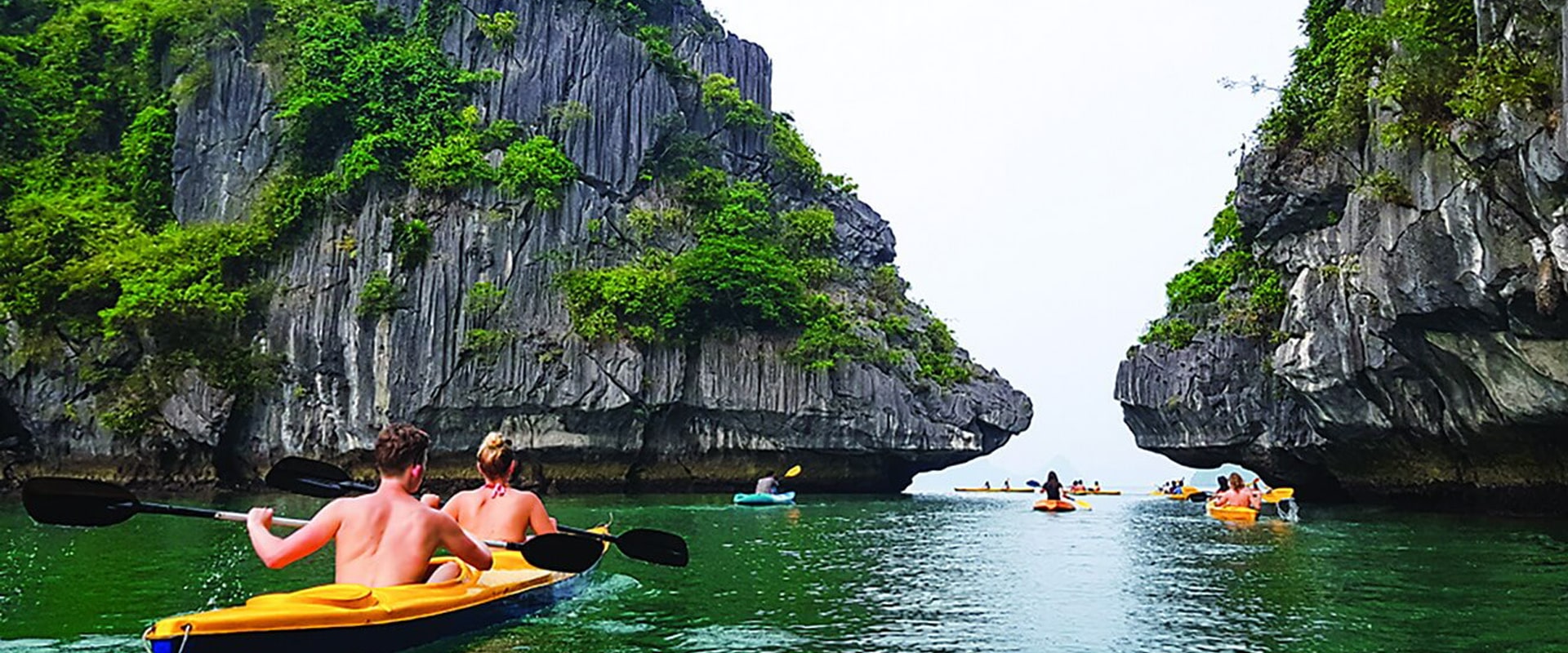 Cat Ba kayak adventures
If all things above made you interested in Cat Ba adventures and love water sports, kayaking is an adventure you won't want to miss here. Floating on crystal-clear waters, surrounded by pristine islands in the bay would be a super cool thing to do with Cat Ba Ventures, while the summer sun beats down on you.
The cool sea breeze blowing through your hair as waves crash against the side of your kayak is a unique experience. Cat Ba kayak adventures are also a terrific opportunity to capture stunning photos for your check-in life. Make sure you bring your most colorful clothes to make your photos pop. If you expect an adventurous feel, scuba diving to see the vibrant coral reefs is an activity that often accompanies Cat Ba kayak adventures. Wearing a mask or oxygen tank, you will be able to explore the underwater world and witness the beauty of marine life.
Cat Ba ventures cruise
Embark on an unforgettable Cat Ba adventure journey to Lan Ha Bay with Venture Cruise. Departing from Got Wharf in Hai Phong, you will be transported to a pristine natural wonderland in the southern region of Ha Long Bay. In which you can unwind, bask in the beauty of nature, and indulge in some much-needed rest and relaxation.
With top-of-the-line amenities, opulent accommodations, and a range of dining and spa options, the Cat Ba Ventures cruise comes along with several options for a resort experience. Imagine watching the sunset over the sea surrounded by towering limestone islands passing the test of time for millions of years would be a fantastic moment for every tourist.
In conclusion, as a hidden pearl in the Vietnam Gulf of Tonkin, Cat Ba Adventures offers a unique adventure experience for travelers. From exploring the natural beauty of the island to engaging in thrilling activities such as rock climbing and kayaking, exciting things are waiting for you on Cat Ba Island. The rich history and culture also provide a fascinating insight into Vietnam's past. If you're looking for an off-the-beaten-path destination that combines adventure, culture, and natural beauty, Cat Ba Island is definitely worth a visit.
Featured article:
Featured Tour:
Contact , a travel and tour agency with great deals and promotions today.