In the heart of Vietnam, nestled along the azure shores of the South China Sea, lies a city with a vision set firmly on the horizon. Da Nang City, a jewel of Central Vietnam, is poised to embark on an incredible transformation. With its eyes fixed on 2030, the city has set a goal: to welcome an estimated 13-14 million visitors, establishing itself as a pinnacle of high-quality tourism and service excellence not just in Vietnam but throughout Southeast Asia.
Join us on an exhilarating journey through Da Nang City, where tradition meets innovation and natural beauty embraces urban vitality. In this guide, we'll unveil the city's hidden treasures that attract you to such an incredible city. Welcome to Da Nang City, where the future of tourism is crafted today.
Secure Da Nang City for your best trip in Vietnam
The blueprint for Da Nang City's future is ambitious and visionary. By 2030, it aspires to be more than a destination; it aims to be a creative hub, pulsating with the vibrant energy of innovation and artistic expression. Da Nang city, with its stunning coastal vistas and rich cultural tapestry, envisions itself as a beacon for those seeking an experience that transcends the ordinary.
As we look ahead to 2045, Da Nang City's dreams reach even greater heights. The city envisions itself as Asia's preeminent tourist destination, a haven for high-end, eco-conscious travelers searching for both luxury and sustainability. With its sights set on hosting international conferences and festivals, Da Nang City is poised to be a global epicenter for events
Featured article:
Introduce travel heaven: Da Nang Viet Nam
Da Nang is a city in the heart of Central Vietnam, embracing three UNESCO World Heritage Sites: the ancient citadel of Hue, the lantern-lit streets of Hoi An, and the sacred sanctuaries of My Sơn. But this coastal gem is not only for preserving history; it is also a canvas of breathtaking marvels that captivate the hearts of travelers.
From the majestic (Ngu Hanh Son) to the ethereal heights of Ba Na Hill and the rugged beauty of the Sơn Trà Peninsula, Da Nang unveils its treasures in grandeur. The legendary Hải Vân Pass winds through misty peaks, offering vistas that defy time and imagination. The poetic Han River meanders through the city, witnessing centuries of stories. And then there is the iconic Han River Swing Bridge, a testament to Da Nang's engineering prowess and a source of citywide pride.
Yet, perhaps the most charming jewel in Da Nang's crown is the My Khe Beach. Revered as one of the most enchanting shorelines on the planet, its golden sands and azure waves embody the very essence of paradise.
Featured Article:
Featured Tour:
What makes Da Nang City stand out as a Vietnam attraction
Da Nang City of the bridges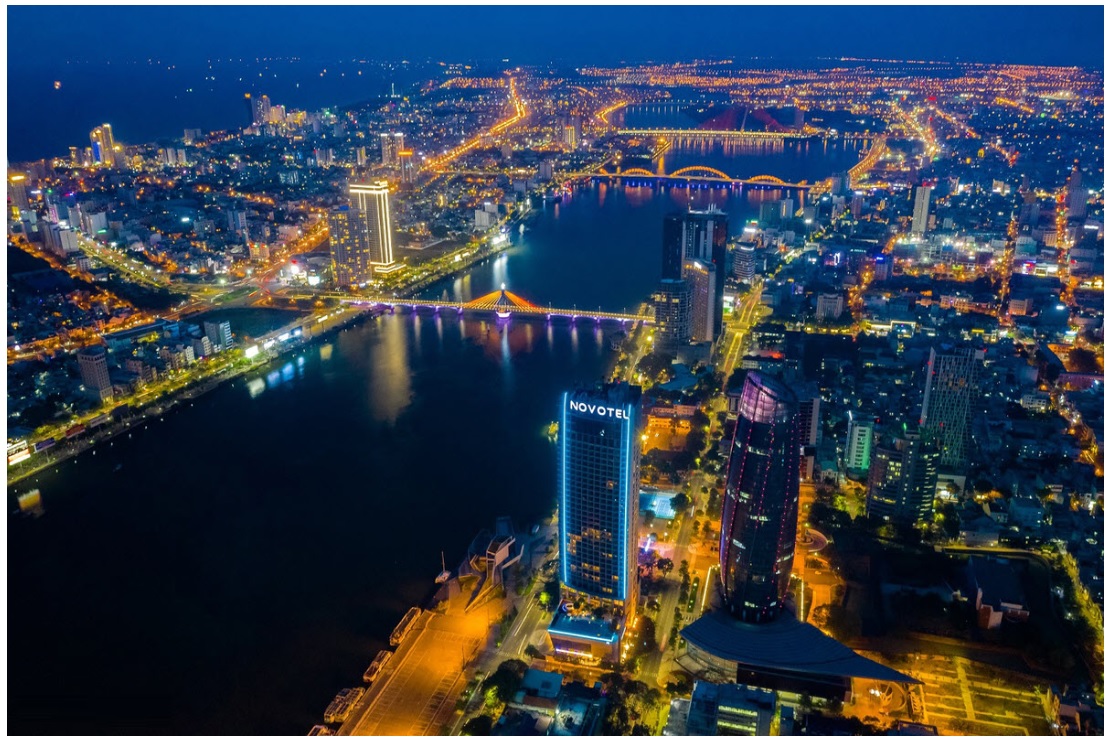 Dragon Bridge Da Nang City: Unveiled in 2013, the Dragon Bridge is a striking architectural wonder, shaped like a dragon winding across the Han River. It's a pivotal route linking Da Nang Airport to the coastal areas, symbolizing the city's progress.

Love Bridge Da Nang City: The Han River Bridge, inaugurated in 2015, is a romantic icon. Couples attach locks, symbolizing enduring love. It's adorned with heart-shaped lanterns, creating a magical ambiance in the evening.

Golden Bridge Da Nang: Atop Ba Na Mountain, the Golden Bridge, opened in 2018, offers an enchanting view of Da Nang. Its unique design features hands holding a golden ribbon over the Thien Thai garden.

Han River Bridge: The Han River Bridge, a pivotal link designed to pivot for ships, stands as an emblem of Da Nang. Its nightly transformation offers a serene view of the city.

Tran Thi Ly Bridge: Originally a railway bridge, Tran Thi Ly now serves as a crucial road link connecting both sides of the Han River. Its renovation in 2013 marked a milestone for the city's infrastructure.

Nguyen Van Troi Bridge: Built in the 1960s, this historic bridge was essential for transporting war equipment. Plans for a new, more modern bridge reflect the city's growth.

Thuan Phuoc Bridge: The longest suspension bridge in Vietnam, Thuan Phuoc, links the Hai Chau and Son Tra districts. Its illuminated nightscape enhances the view of the majestic Son Tra peninsula.

Tien Son Bridge: Connecting Hai Chau and Ngu Hanh Son districts, the Tien Son Bridge supports Da Nang seaport. Its unique design, inaugurated in 2013, symbolizes the city's aspirations.
Featured tour:
2. Da Nang Cathedral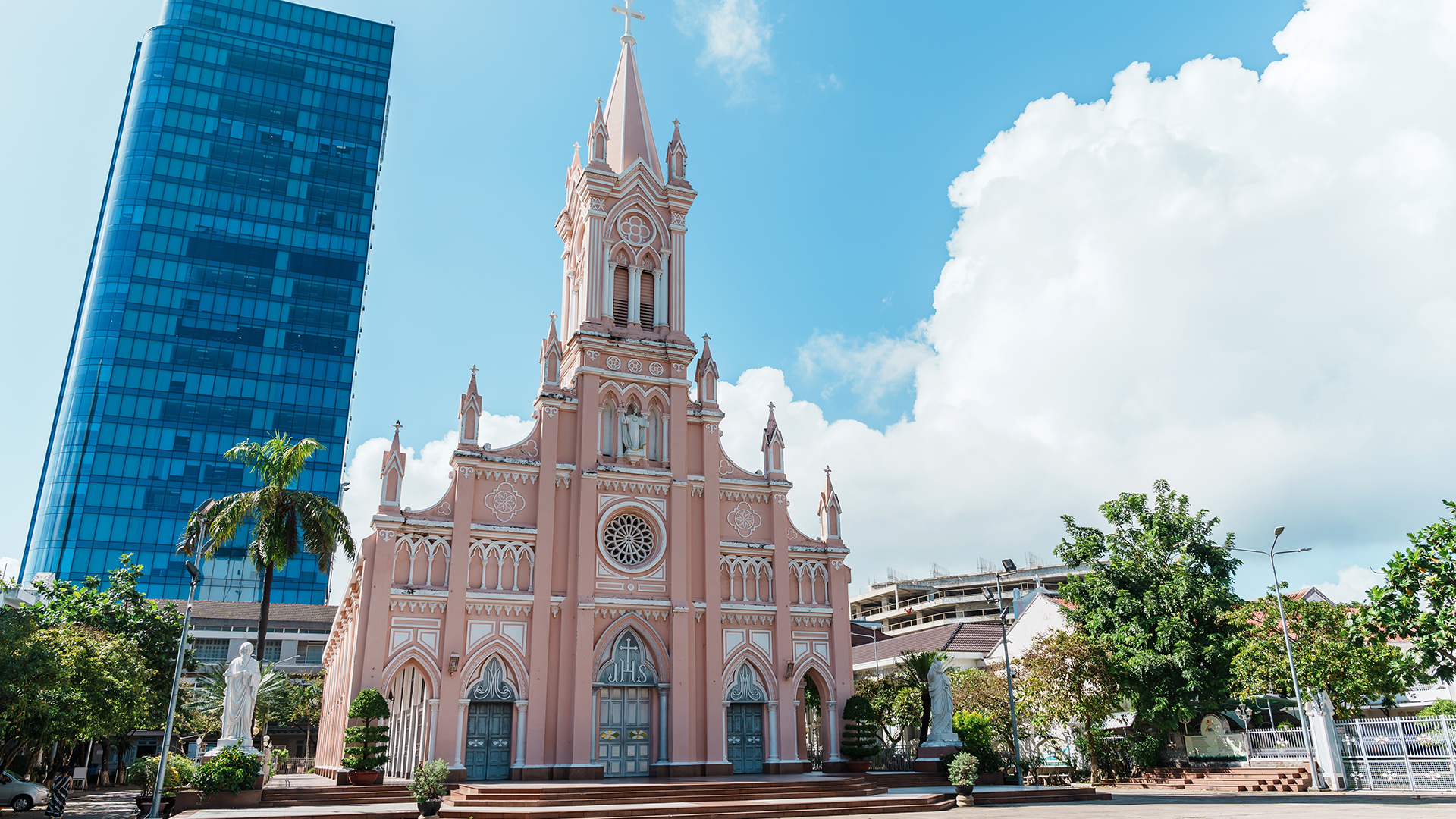 Positioned along the bustling one-way Tran Phu street, right in the heart of the city center, Da Nang Cathedral, affectionately known as the Chicken Church, is highly accessible for sightseeing. While its official name is Da Nang Cathedral, locals have taken to calling it the Chicken Church due to the prominent gray chicken statue perched atop its spire. Designed by Father Vallet, construction commenced in February 1923, and the cathedral was consecrated on March 10, 1924. It stands as a testament to the enduring legacy of the French colonial era, being the sole church of its kind in Da Nang from that period.
The cathedral showcases distinctive Gothic architecture, characterized by its soaring lines and intricately carved. Its dome-shaped roofs are adorned with graceful glass frames, and the façade forms a cross shape. Stepping inside, visitors encounter a reverent ambiance accentuated by numerous statues of deities and depictions of biblical events. It creates an atmosphere of solemnity and grandeur. It lies a grotto dedicated to Our Lady, exuding an aura of tranquility and sanctity.
3. Da Nang City Center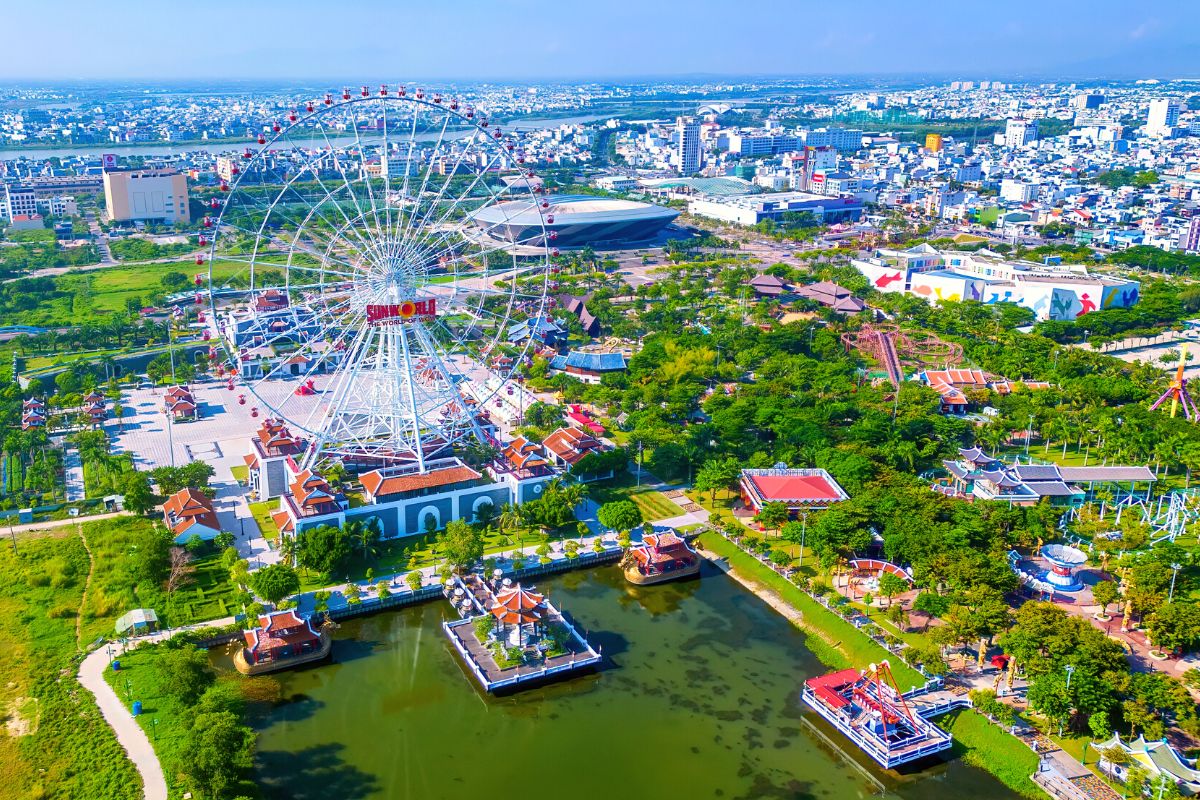 Experience the vibrant heart of Vietnam at Da Nang City Center, where rich history and modernity converge seamlessly. Wander along the picturesque Han River, where iconic bridges illuminate the night sky, creating a mesmerizing spectacle. Marvel at the architectural wonders like the Dragon Bridge and the Golden Bridge, each telling its captivating story. Indulge your taste buds in the bustling markets and savor the delectable local cuisine.
Explore the historic landmarks, including the Chicken Church, a testament to the city's colonial past. For those seeking relaxation, pristine beaches await, offering a tranquil escape. With a blend of cultural richness, natural beauty, and urban allure, Da Nang City Center waits to be discovered.
4. Ba Na Hill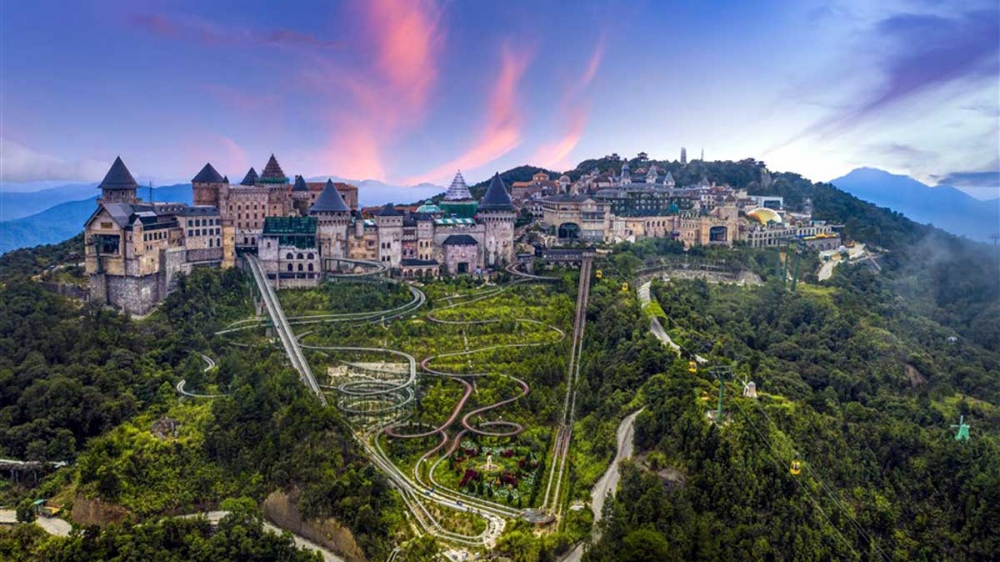 Escape to the enchanting realm of Ba Na Hill, a verdant oasis nestled amidst the Da Nang mountains. Ascend through the lush, misty forests aboard the renowned Ba Na cable car, known for its breathtaking panoramic views. At the summit, a world of wonders unfolds. Explore the French-inspired Ba Na Hills Village, with its charming architecture, cobbled streets, and bustling markets.
Marvel at the architectural marvel that is the Golden Bridge, suspended in mid-air by colossal stone hands. Delight in the Flower Garden is a riot of color and fragrance that blooms year-round. Seek thrills at Fantasy Park, an amusement wonderland for all ages. With its temperate climate, Ba Na Hill offers a refreshing respite from the heat, making it a perfect year-round destination. A visit to Ba Na Hill promises an unforgettable blend of natural beauty, cultural richness, and exhilarating adventures, making it a must-see gem in Vietnam.
Featured Tour:
5. Asian Park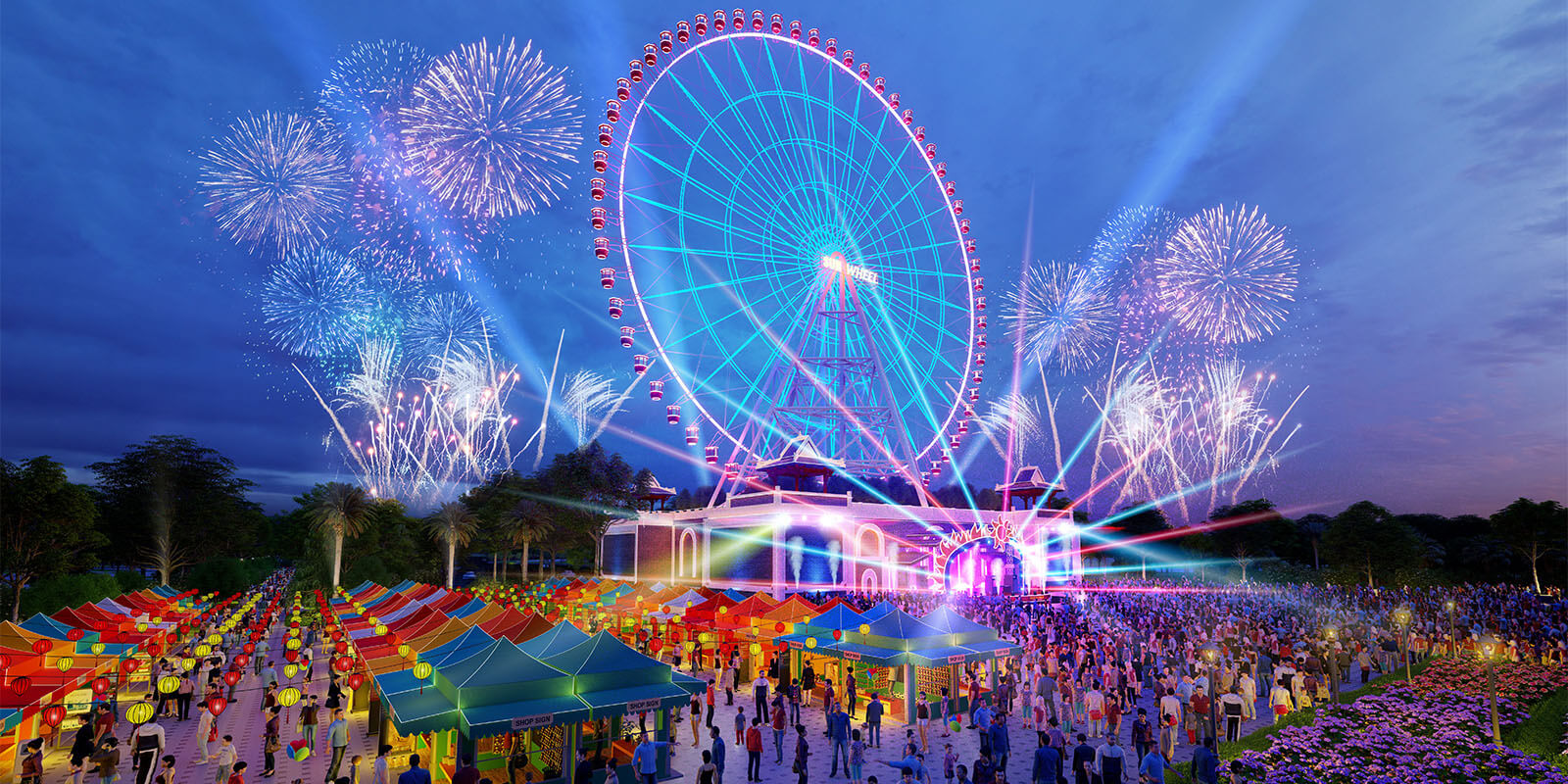 Asia Park Da Nang is a distinctive leisure and entertainment complex along the picturesque Han River, just a stone's throw away from the city center. Renowned for contemporary amusements, Asia Park also offers serene green havens for relaxation and rejuvenation. The park comes alive with a vibrant calendar of events and captivating art performances, drawing crowds of eager attendees. A visit to Asia Park Da Nang promises a well-rounded and unforgettable vacation experience in this dynamic city.
6. Helio Center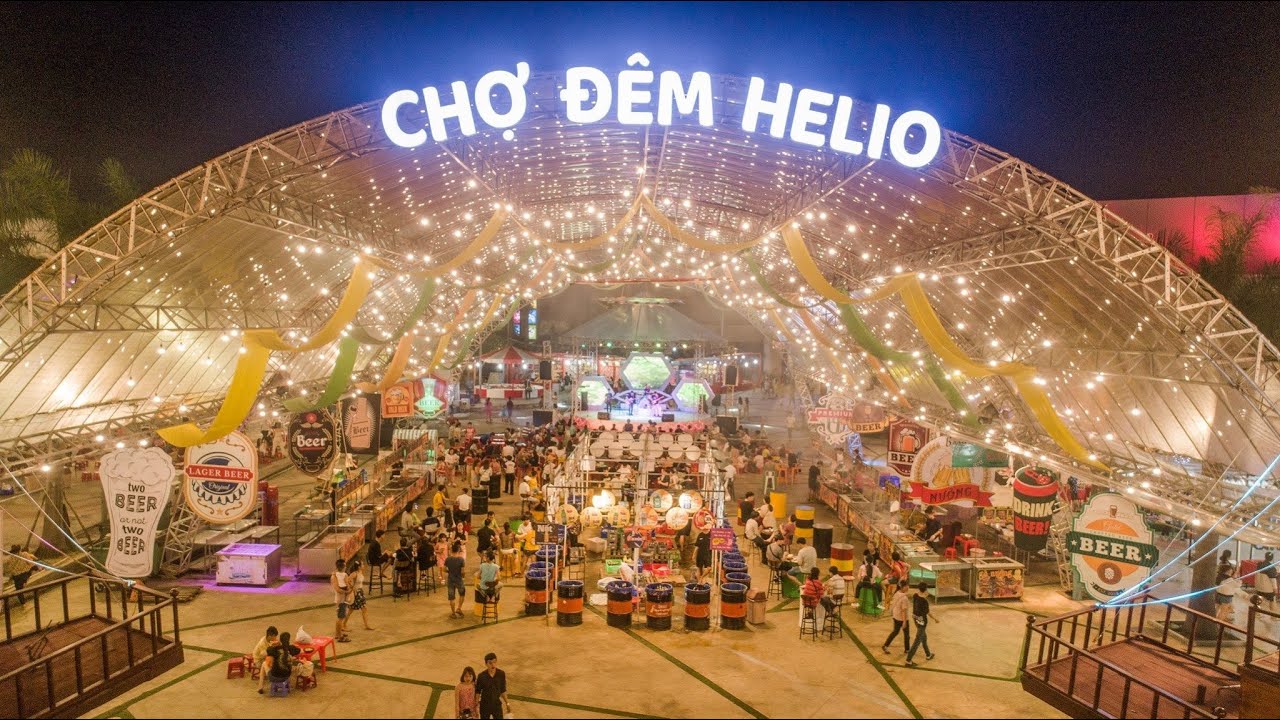 Helio Center is an expansive entertainment complex thoughtfully designed to cater to a diverse range of visitors, with a special focus on teenagers and children. With about 35,000 square meters, this multifaceted venue has garnered widespread popularity among not only Da Nang locals but also visitors from across provinces and international travelers.
The spacious ground is able to accommodate up to 10,000 guests in a single day, attesting to its widespread appeal. Whether you're seeking thrilling activities or savoring delectable cuisines from various regions, Helio Center promises an experience that will leave you and your family with lasting memories.
2. World Mate Travel Guide 2023: Da Nang Travel
Vietnam Da Nang Tour Cost
Embarking on a captivating Da Nang offers travelers an experience rich in culture but affordability. One of the most appealing aspects of exploring Da Nang is its reasonable cost. Accommodation options span a wide range, ensuring there's something to suit every budget. From cozy guesthouses to luxurious resorts, visitors can find comfortable lodgings without breaking the bank.
Transportation within the city is also budget-friendly, with options like taxis, Grab rides, and affordable local buses readily available. Moreover, exploring Da Nang's attractions requires minimal entry fees, and many natural wonders like the Marble Mountains and serene beaches come at no cost at all.
Indulging in the local cuisine is another wallet-friendly adventure. Da Nang boasts an array of street food stalls and local eateries offering delicious, authentic Vietnamese dishes at incredibly reasonable prices. Savory delights like Pho, Banh Mi, and fresh seafood are not only fresh but also affordable price.
The best time to visit Da Nang Viet Nam
Nestled between the North and the South, Da Nang City enjoys a unique blend of climates, offering visitors a taste of both worlds. The city boasts a predominantly tropical climate, with two distinct seasons each year. From January to July, bask in the glorious dry season, followed by the refreshing embrace of the rainy season from August to December. Even in winter, the occasional cold snap graces Da Nang City, though the chill is fleeting, leaving you with comfortably mild weather.
Late December to late March: Picture this - crisp, cool air, a touch of springtime magic, and prices that promise stability for both accommodation and dining. It's an idyllic time for your getaway. Remember to pack a light jacket for the evenings, as a gentle breeze might remind you that even paradise can have its chilly moments.
Early April to mid-September: As the days grow longer, so does the list of reasons to visit. This stretch marks the zenith of Da Nang City's allure, bathed in the golden glow of summer. Expect bustling streets and vibrant energy. April unfolds a spectacle of nature as the trees on Son Tra peninsula adorn themselves with a tapestry of yellow and red leaves.
Mid-September to late December: The heat recedes, giving way to intermittent rain that seldom overstays its welcome. The peak season quiets, presenting a window of opportunity for savvy travelers. Airfares, accommodations, and dining options all beckon with more reasonable prices, ensuring you get the most out of your visit.
How to get Da Nang City
For those jetting in from the bustling metropolises of Hanoi or Ho Chi Minh City, the quickest route to Da Nang Viet Nam is often through the sky. Flights, spanning a mere hour, offer a swift and comfortable journey. Prices for round-trip tickets typically range from 1,300,000 to 3,000,000 VND, contingent on the timing of your booking.
For the intrepid traveler seeking a more leisurely experience, a train ride unveils a tapestry of scenic wonders as it winds through the iconic Hai Van Pass when arriving from the North. Tickets from Hanoi or Ho Chi Minh City to Da Nang range from 600,000 to 1,300,000 VND for a one-way trip. It offers options between air-conditioned soft seats and four cozy sleeper beds. This enchanting journey unfolds over 17 to 18 hours, promising an unforgettable passage.
Driving enthusiasts will relish the adventure of a road trip to Da Nang Viet Nam. Allocate at least a week for this expedition, ensuring you have two capable drivers to share the wheel. Departing from Hanoi, an ideal start is around noon or early afternoon, with a night's respite in Nghe An. Should you set out later, a stopover in Thanh Hoa is a good option before continuing the journey towards Vietnam Da Nang the following day. Come afternoon, a break in Quang Binh offers both rest and the opportunity to explore further.
In the heart of Da Nang City, mobility is a key. Opting to rent a motorbike or car allows you to traverse the cityscape at your own pace. This service is convenient and accessible, with motorbike rentals averaging around 100,000 VND/day, and cars available at approximately 1,000,000 VND/day. Whether you seek the thrill of two wheels or the comfort of four, the choice is yours to make. Your journey begins with the keys in your hand.
Best Area to stay in Da Nang
As tourism in Da Nang surges forward, a wealth of accommodation options lines the picturesque coastal road, catering to every budget and preference. Beyond the seaside, the city center boasts diverse lodgings, from cozy homestays to modern apartments and dormitories. It's advisable to book in advance to secure your ideal spot, particularly during weekends and peak seasons.
Given the Central region's occasional nocturnal chill, guests arriving at the outset may seek refuge in self-contained rooms equipped with essential amenities like a private bathroom, water heater, hair dryer, and laundry service. Expect to find comfortable options at 4-star hotels, with prices starting from around 500,000 VND per night.
Da Nang boasts an array of renowned 5-star resorts and hotels for those yearning to touch the luxury. Among them, the InterContinental Danang Sun Peninsula Resort, Hyatt Regency Danang Resort and Spa, Pullman, Furama Resort Danang, Four Points by Sheraton Danang, Novotel, Hilton, Fusion Suites, and Danang Golden Bay Hotel stand out as exquisite choices. Prices for these opulent establishments range from 1,200,000 to 10,000,000 VND per night, promising a stay that transcends the ordinary.
Shopping in Da Nang
Shopping in Da Nang offers a delightful blend of traditional markets and modern shopping experiences. A visit to Han Market is a must for a taste of authentic Vietnamese shopping. Located in the heart of the city, it's a bustling hub where locals and tourists alike flock to find an array of goods, from fresh produce to clothing and souvenirs. The Con Market, with its extensive selection of textiles, fabrics, and local handicrafts, is another treasure trove for shoppers looking for unique keepsakes.
For those seeking a more contemporary shopping experience, the Vincom Plaza and Lotte Mart are excellent options. These modern malls house a variety of international and local brands, offering a wide range of fashion, electronics, and lifestyle products.
Da Nang is also known for its local specialties. Head to Bac My An Market to taste some of the freshest seafood in the city. The market is brimming with vendors offering lots of seafood, from crabs and prawns to fish and squid. Additionally, don't miss the region's renowned specialties like Mi Quang (a flavorful noodle dish) and Banh Xeo (savory Vietnamese pancakes).
As we conclude this immersive guide to Da Nang, we want to express our heartfelt gratitude for entrusting as your companion. We've endeavored to capture the essence of this iconic city in 2023, weaving together its rich tapestry of history, culture, and natural splendor.