Marble Mountain Da Nang or Ngu Hanh Son, often hailed as the ethereal jewel of Da Thanh beckons every traveler venturing to Da Nang. This mountain stands as a revered national historical and cultural landmark, entangled with the rich spiritual, cultural, and historical tapestry. A visit to Ngu Hanh Son Da Nang promises to immerse you in the captivating allure and serene ambiance of nature's magnificent interplay of mountains and water.
As you plan your next getaway, have you considered the wonders that await? If not, let Marble Mountain Da Nang be your destination of choice! Allow World Mate Travel to guide you through priceless tips and experiences for your Marble Mountain Vietnam adventure!
Explore the tremendous landscape in Marble Mountain Da Nang
1. Marble Mountain Vietnam: The introduction
Marble Mountain Da Nang comprises six majestic limestone peaks rising behind a sandy coastal stretch, covering an area of approximately 2000km². This renowned landscape in Da Nang boasts stunning natural beauty, replete with enigmatic caves. For many, it holds the cherished title of the "spiritual heartland" of ancient Quang, where the mountains, the sea, and rich historical, cultural, and spiritual heritage converge. Isn't that an enticing prospect?
The Ngu Hanh Son Da Nang scenic complex is located in Hoa Hai commune, Hoa Vang district – now Hoa Hai ward, Ngu Hanh Son district – a mere 8km southeast of . It offers easy accessibility due to being conveniently positioned along the Da Nang - Hoi An route.
Brimming with natural beauty and cultural heritage, Marble Mountain Da Nang is renowned for its numerous caves, pagodas, and intricate stone sculptures that adorn the landscape. Visitors can explore these subterranean sanctuaries and climb to the summits for panoramic views of the surrounding countryside and the sparkling East Sea.
The attraction is not only a significant religious pilgrimage destination but a tourist attraction, offering a blend of historical, spiritual, and natural wonders. Whether you're an avid adventurer, a cultural enthusiast, or simply seeking a serene retreat, Marble Mountain Da Nang has something to captivate every visitor.
Featured tour:
2. What makes Marble Mountain Da Nang an attractive place to visit?
The enchanting relic complex of Marble Mountain Da Nang comprises six magnificent limestone peaks: Tho Son, Hoa Son ( including Duong Hoa Son and Am Hoa Son), Thuy Son, Moc Son, and Kim Son. Alongside its breathtaking natural beauty, this destination is also home to a plethora of enigmatic caves. Among them, Huyen Khong Cave, Huyen Vi Cave, and Van Thong Cave stand as alluring attractions, captivating the hearts of curious travelers seeking to explore and immerse themselves.
Thuy Son: The Majestic Peak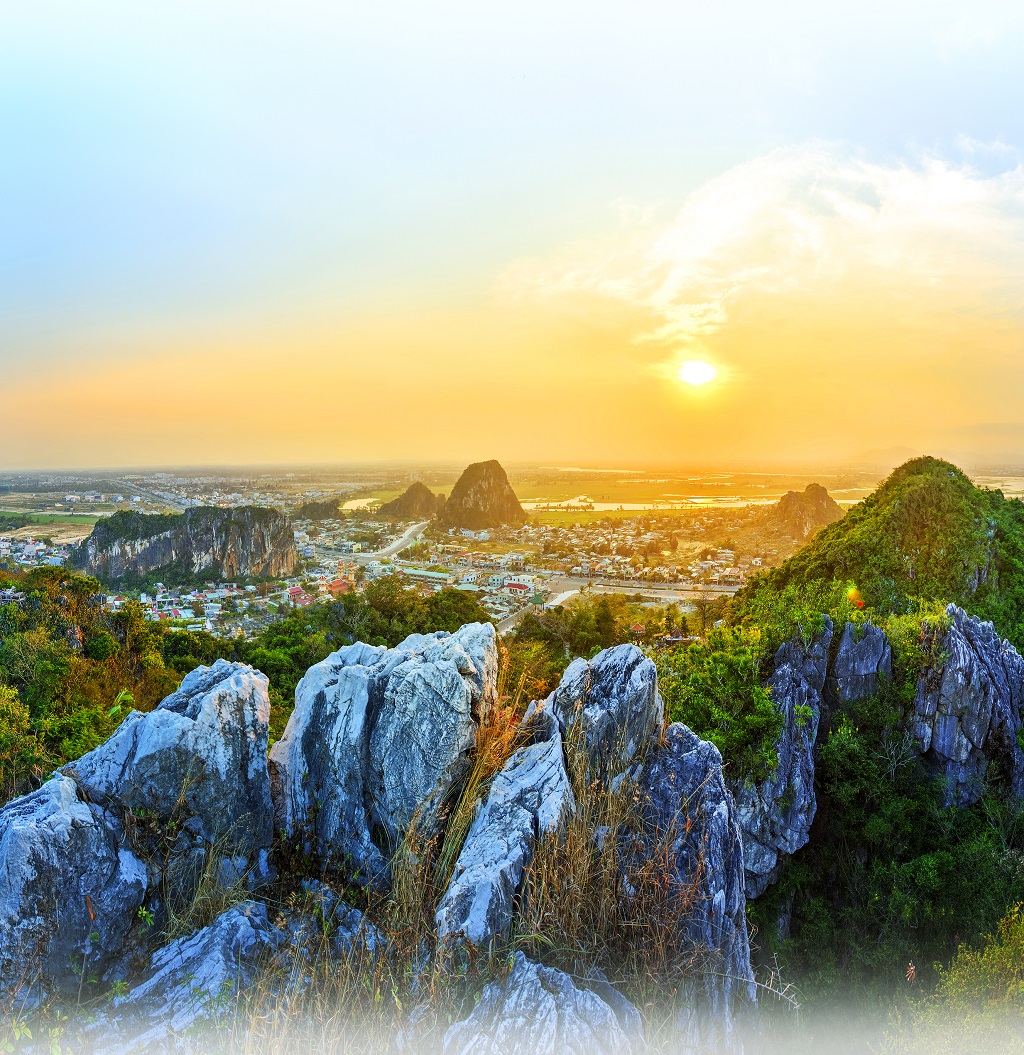 Thuy Son, the grandest among the Ngu Hanh Son Da Nang range, stands at 106 meters in height, spanning over 7 hectares. It boasts the highest number of pagodas and caves among its counterparts, each exuding its unique allure. Three peaks and three levels, reminiscent of the Dai Hung constellation, add to its celestial charm. King Minh Mang's frequent visits in the early 19th century have etched its historical significance.
Highlights:
Trung Thai: Located to the south, it features unique caves and a grand gate.

Ha Thai: The eastern peak encompasses Linh Ung Pagoda and other serene spots.
Linh Ung Pagoda: Serenity Amidst Splendor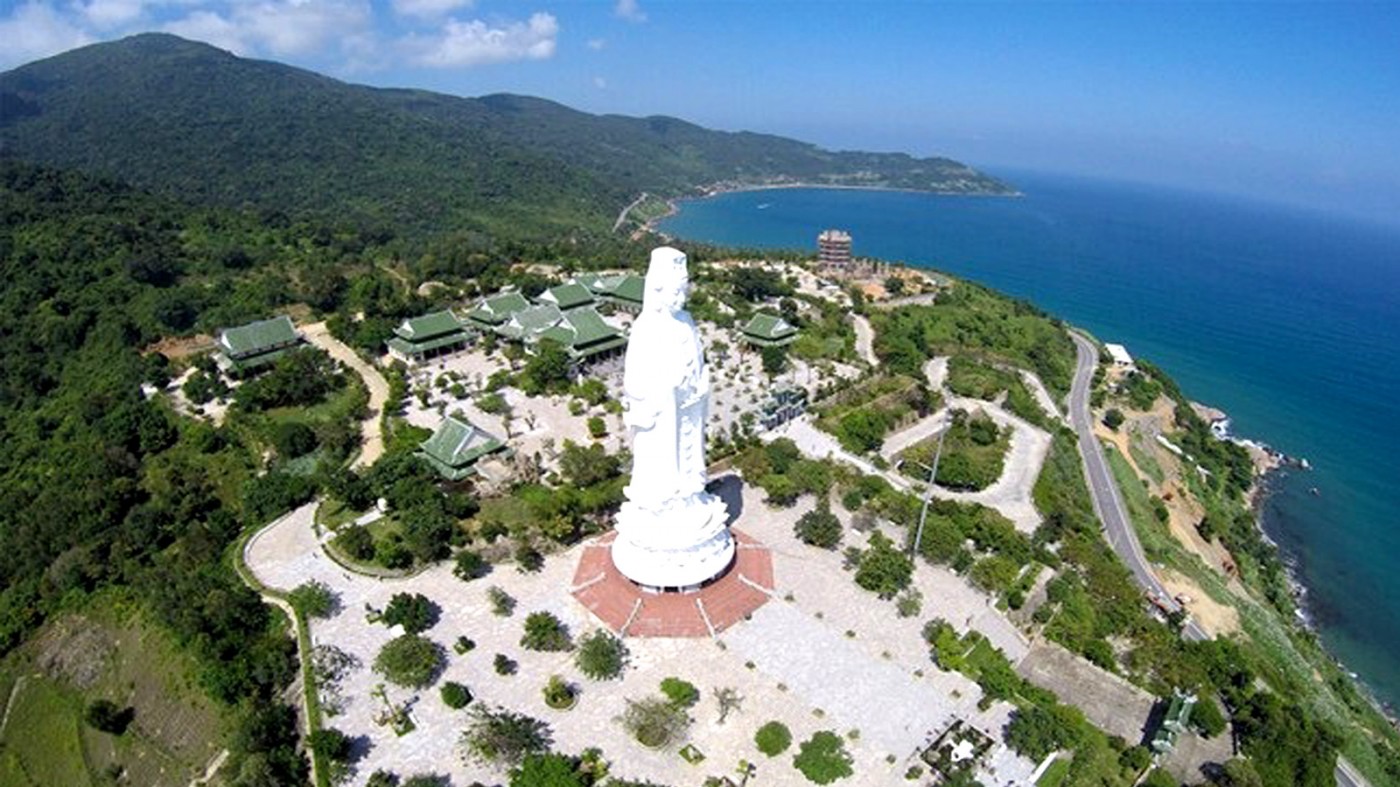 Atop Thuy Son, Linh Ung Pagoda offers a serene refuge, which covers a 10-meter high Shakyamuni Buddha statue presides, flanked by Bodhisattva Avalokiteśvara and Bodhisattva Dia Tang. This sacred space beckons spiritual seekers and offers respite from the city's hustle and bustle. A testament to time, this nearly 200-year-old pagoda exudes an ancient tranquility.
Tam Thai Pagoda: A Glimpse into Timelessness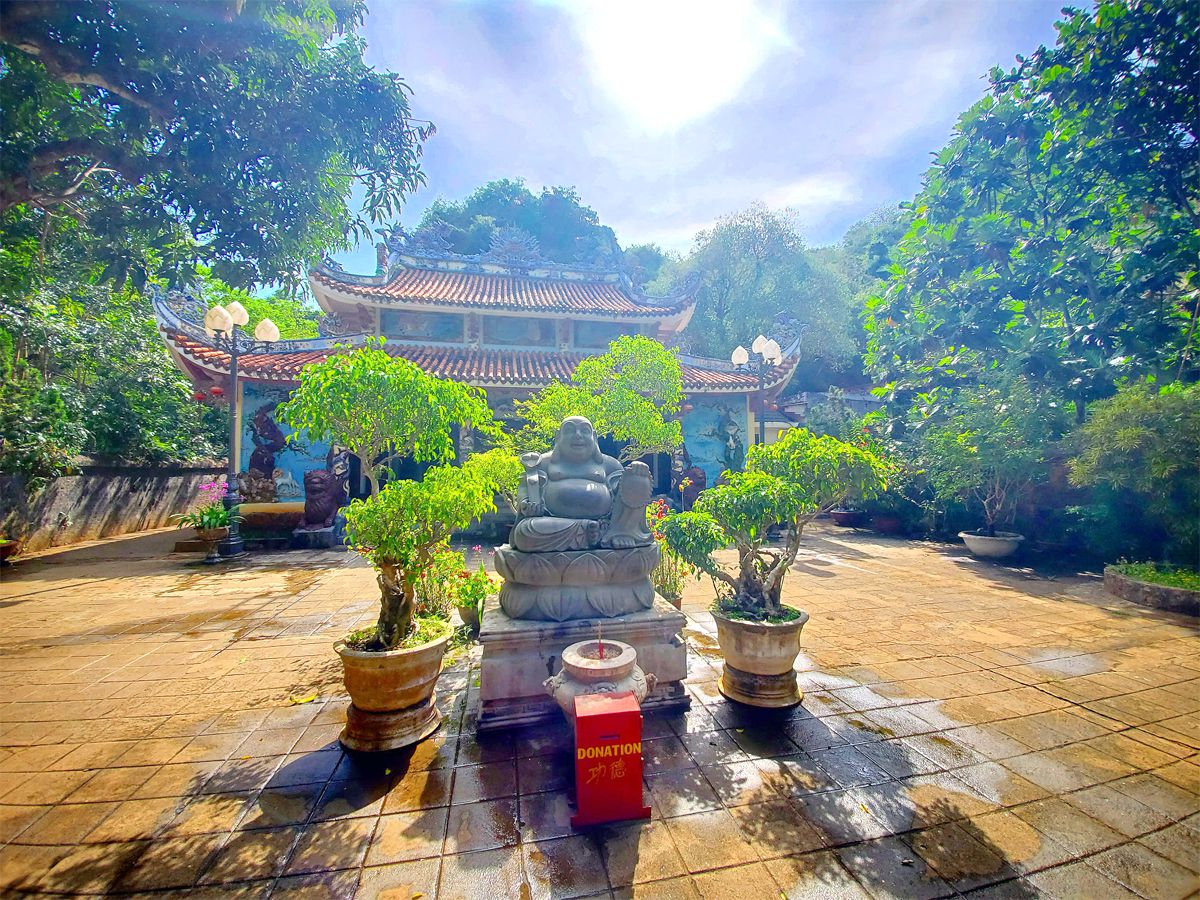 Situated in Hoa Hai ward, Tam Thai Pagoda, one of the oldest in Thuy Son, is a testament to time's passage. Accessible by 156 stone steps, it stands as a revered monument amid the Marble Mountain Vietnam.
Pro Tip: For those seeking a journey through the peaks, head to the west side of Thuy Son to find the 156 stone steps leading to the Tam Thai pagoda.
Travel Tip: From the Dragon Bridge, follow the East bank of the Han River, then turn onto Ngo Quyen Street. Continue straight to Tran Thi Ly bridge leading to Ngu Hanh Son, where Tam Thai Pagoda awaits.
Huyen Khong Cave: A Spiritual Oasis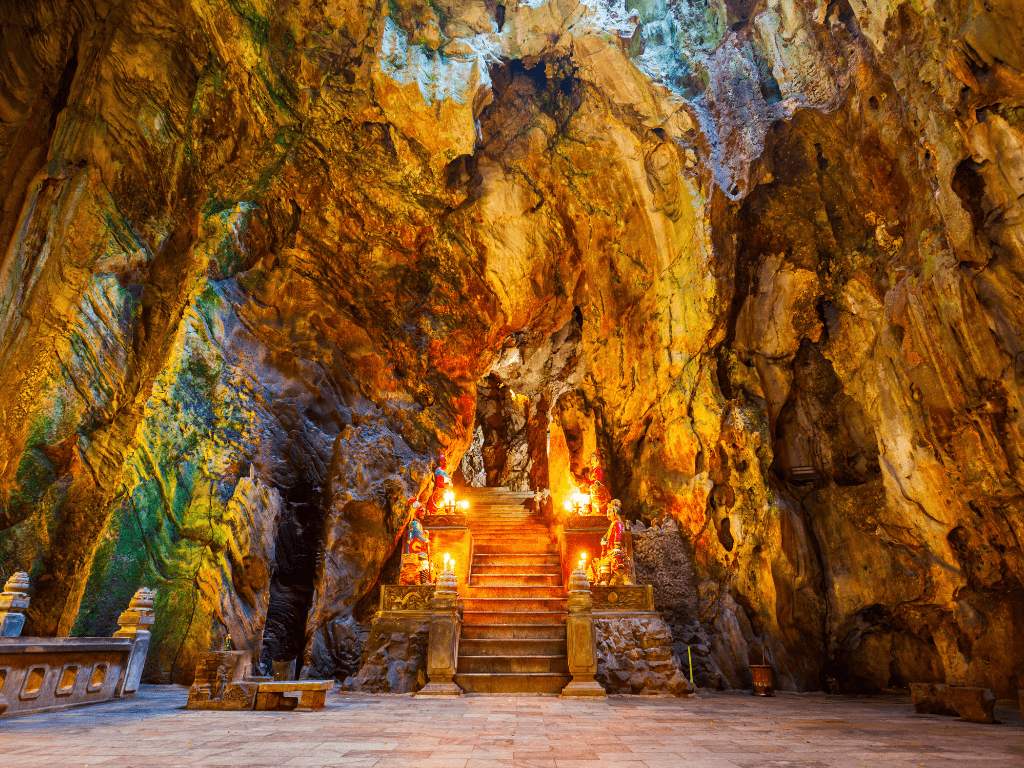 In the Ngu Hanh Son scenic area, Huyen Khong Cave is a haven for spiritual seekers amidst the sacred Marble Mountain Da Nang. This natural wonder offers a cool respite on hot days, with its round dome and five openings inviting sunlight to dance within. The entrance, marked by an archway named 'Huyen Khong Quan,' sets the tone for a sacred journey.
Visitors descend into a giant, bell-shaped chamber adorned with stunning marble formations. The cave's centerpiece is a 1960 masterpiece by artist Nguyen Chat: a towering Shakyamuni Buddha statue. Adjacent altars pay homage to Ksitigarbha Bodhisattva, Mrs. Ngoc Phi, and Mrs. Loi Phi. Trang Nghiem Pagoda together with its venerable history also contributes to the cave's spiritual richness.
Huyen Khong Cave isn't just a spiritual retreat; it holds historical significance as a resistance base during wartime. This sacred space continues to draw visitors seeking solace and insight into the heart of Da Nang.
Am Phu Cave: A Journey through Karma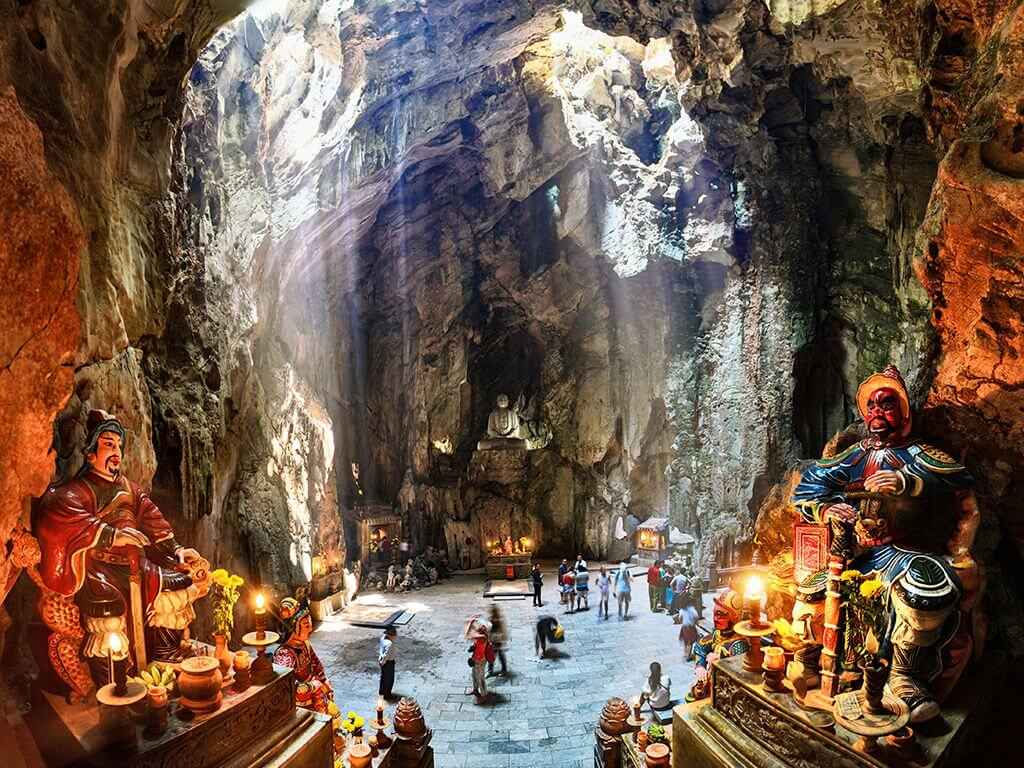 Am Phu Cave, the longest and most enigmatic in Da Nang, is a testament to the intricate dance of cause and effect. Towering stone formations mirror the Buddhist concept of karmic realms, offering glimpses into the afterlife. The entrance, flanked by symbols of Good and Evil, sets the tone for introspection.
Within the cave, visitors encounter vivid representations of karmic consequences. Good deeds lead to Thien Thai Gioi while cultivating virtue brings solace in the presence of Ksitigarbha Bodhisattva. Those entangled in darker deeds may face a descent into the 10 realms of hell, with Avici hell lurking in the cave's heart.
Master Thich Hue Hung, instrumental in the cave's restoration, underscores the importance of treading the path of goodness. Am Phu Cave serves as a poignant reminder to choose light over darkness, virtue over vice, in life's unfolding journey.
Kim Son: Where History Meets Tranquility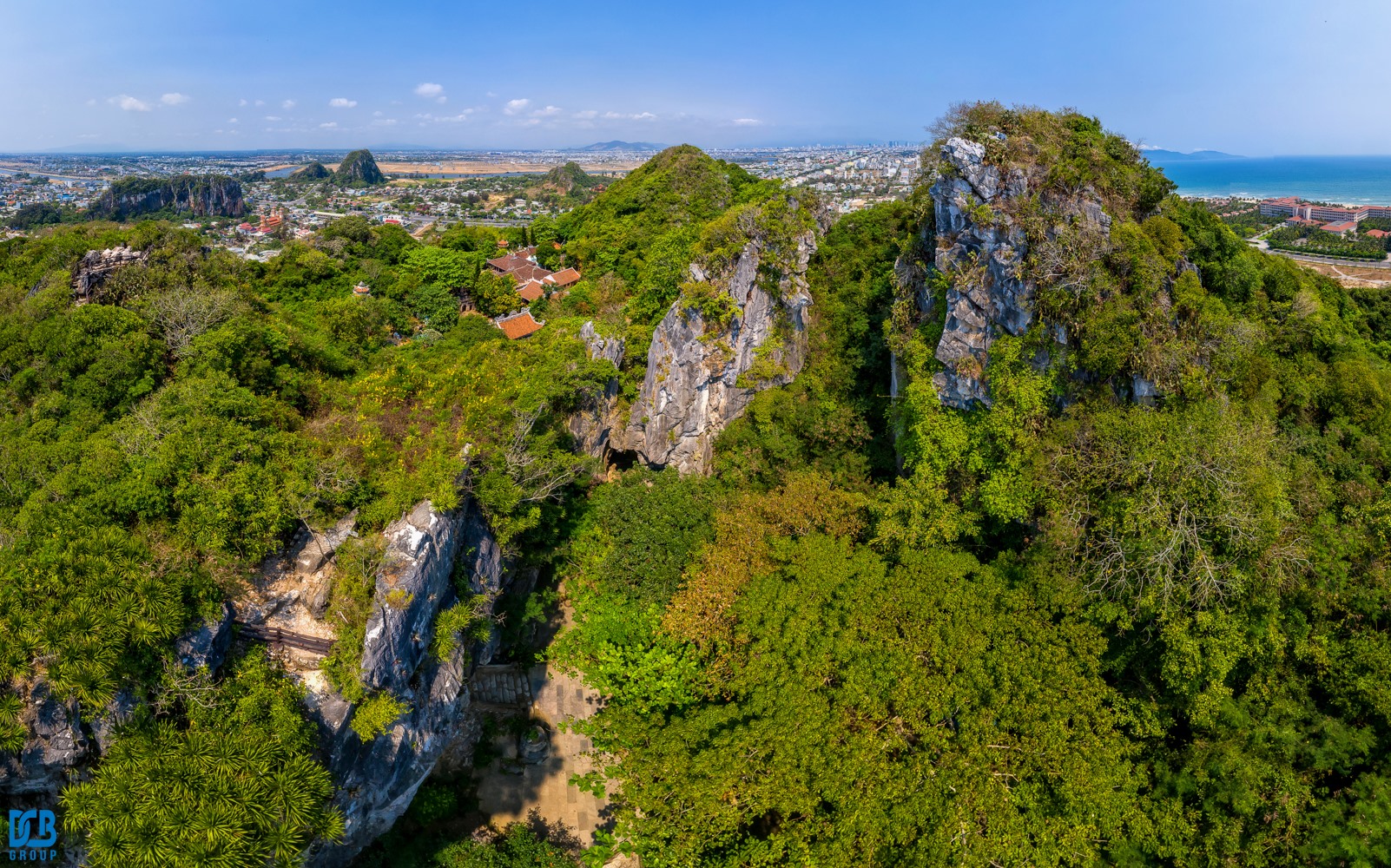 Kim Son, the most modest peak among the six, carries a rich history of kings and lords seeking solace amidst the mesmerizing scenery. Traces of the old Truong River, now transformed into fields and lakes, hint at the passage of time. Two pagodas and caves, including Avalokiteśvara Pagoda and Thai Son Pagoda, seem like spiritual sanctuaries. Avalokiteśvara Pagoda boasts a stone pagoda housing the first Buddhist museum in Vietnam, with over 200 artifacts of cultural significance spanning centuries.
Hoa Son: Yin and Yang in Harmony
Hoa Son, situated opposite Kim Son, once cradled the Co Co River. This double, linked by a natural rock line, hosts Ung Thien Pagoda. The east side, Am Hoa Son, reveals a rugged terrain and a cave, while the west side, Duong Hoa Son (known as "Ong Chai mountain"), carries echoes of a bustling river wharf in bygone eras. Linh Son Pagoda, Huyen Vi Cave along with Pho Da Son Pagoda and Cave, hold ancient wisdom within their serene walls.
Tho Son: A Glimpse into Champa History
Tho Son, lacking in conventional beauty, holds the ancient secrets of the Champa civilization. Carvings on the rocks reveal their seafaring legacy, trading routes, and cultural footprint. Surrounded by low mountains, Tho Son is home to four pagodas and an intriguing tunnel network. Long Hoa, Hue Quang, Huong Son, and Giac Hoang Vien pagodas add to its spiritual tapestry.
Xa Loi Tower: The Tower of Enlightenment
Xa Loi Tower, erected from 1997 to 2004, embodies a pinnacle of spiritual achievement in Buddhism. Named after the miraculous Xa Loi, crystallized relics believed to contain Buddha Shakyamuni's spiritual essence, this hexagonal, 7-story tower stands 28m tall. Its architecture combines Thai, Vietnamese, and Greek influences, representing profound Buddhist concepts. Each floor holds unique significance, culminating in the veneration of Buddha relics on the 7th floor.
Vong Hai Dai: Majesty Overlooking the Seas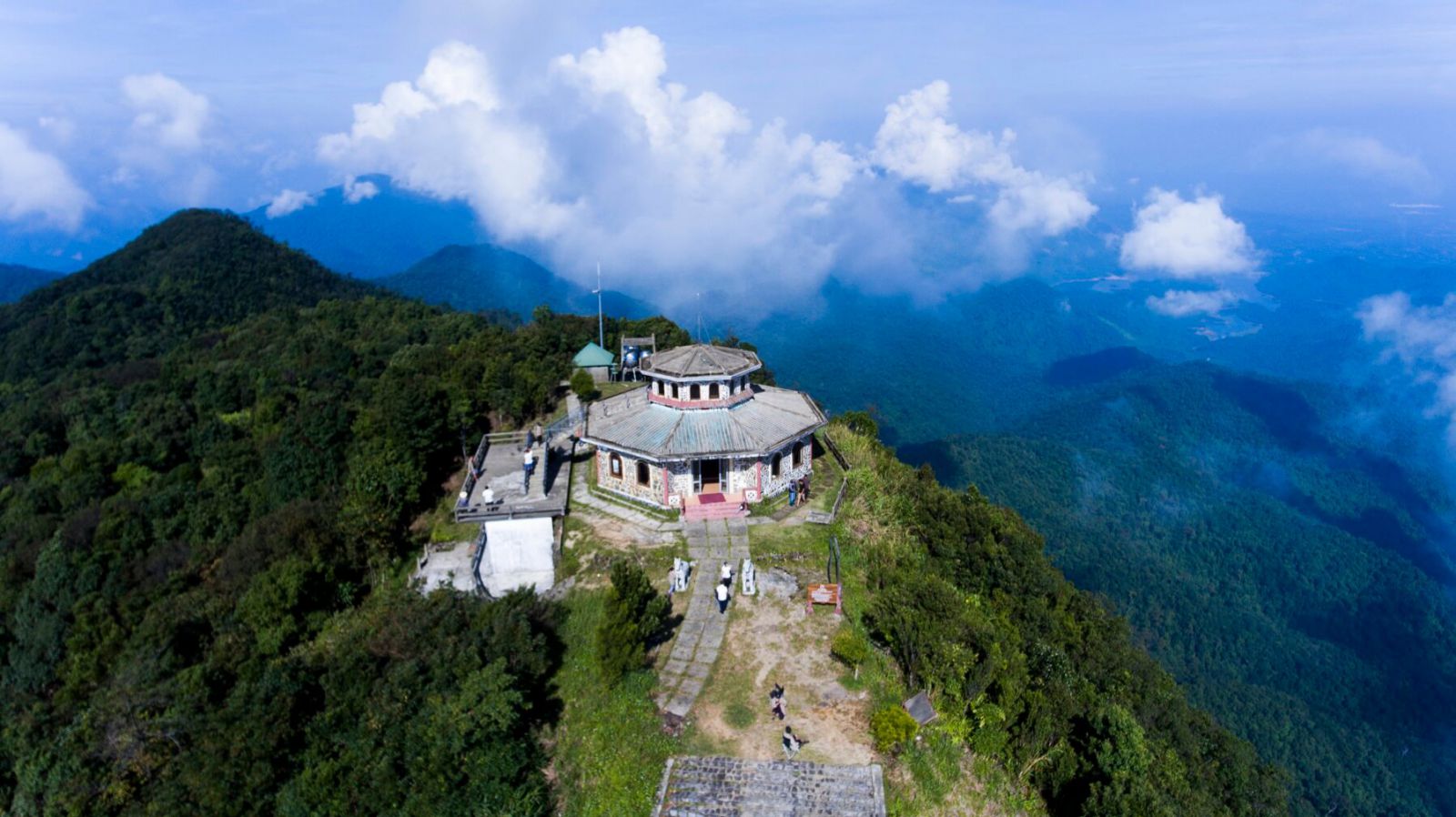 Vong Hai Dai, perched atop Ngu Hanh Son, was a favored retreat of King Minh Mang. From here, visitors can behold the vast expanse of sky and sea, with views stretching to Cu Lao Cham Island. The Co River meanders through the landscape, offering sustenance to the surrounding communities. It's a serene escape from the rigors of daily life, allowing one to bask in the natural splendor.
Vong Giang Dai: Riverside Vista
Vong Giang Dai, or the River Viewing Platform, commands a breathtaking view of the Cam Le and Co Co rivers and the whole Ngu Hanh Son complex. Its location opposite the Ancestral Church of Tam Thai Pagoda provides a sweeping perspective. With its ancient Tra Kieu stone stele, this platform offers a historical touchpoint. A quadrangular house now shelters visitors and the stele, ensuring a comfortable experience while enjoying the stunning panorama.
to Marble Mountain Da Nang: Latest Guide 2023 (updated)
Prepare to be captivated by the mystical allure of Ngu Hanh Son, a complex of six awe-inspiring limestone mountains. For the best trip ever, here are some things you need to know
Da Nang No Marble Mountain: Entrance fee
For access to the renowned landscapes and esteemed national treasures within Marble Mountain Vietnam, the following ticket prices apply:
Additionally, if you wish to explore the captivating Am Phu Cave, nestled beneath the mountains of Marble Mountains, an extra ticket of 20,000 VND per turn is required. For pupils and students, discounted rates are available:
Student Admission (Ngu Hanh Son): 10,000 VND per entry.

Student Admission (Am Phu Cave): 7,000 VND per entry.
Featured Tour:
2. Best time to visit Marble Mountain Vietnam
While Marble Mountain Da Nang can be visited all year time, the prime period is typically from early September to early October. During this time, the weather in Da Nang is pleasantly cool with fewer sunny days, creating an ideal atmosphere for exploring Marble Mountain Vietnam and enjoying various activities in the Da Thanh region.
If you opt for a visit during September or October, it's advisable to make your room reservations and book your air tickets well in advance. Those occasions are popular among tourists, so securing accommodations and flights early ensures a smoother and more enjoyable trip.
3. How to access Marble Hills Da Nang
Located approximately 11 km from the heart of Da Nang, reaching Marble Mountain Da Nang is a straightforward journey. Beginning at the iconic Dragon Bridge, follow these steps:
Head towards the East bank of the Han River.

Turn onto Ngo Quyen River Road (National Highway 14B) and head south.

As you approach the roundabout near Tran Thi Ly Bridge, continue straight onto Ngu Hanh Son Street, then follow Le Van Hien Street. This route is not only the shortest among the three options but also the easiest to navigate, with minimal turns.
Using a motorbike is a popular option, due to its accessibility and proximity to the city center. Rentals are readily available at affordable rates, typically from 100k to 150k VND/day.
For families or those preferring convenience, taxis or ride-sharing services like Grab are practical alternatives. Da Nang offers a variety of reputable taxi companies, ensuring a safe and reliable journey for you and your loved ones. Additionally, the Grab service has gained significant traction in Da Nang and is popular also.
Another budget-friendly option is the bus. Opt for the Da Nang - Hoi An bus, which operates every 30 minutes. The fare is only 15k VND per person.
Otherwise, you can choose a tour bus by booking the Marble Mountain Da Nang tour with some as World Mate Travel. We allow in tourist attractions here
4. Special notes for foreigners visiting Marble Mountain Da Nang
Attire Considerations for Ngu Hanh Son: Apart from its breathtaking scenery, Ngu Hanh Son is home to some of the most revered pagodas in Da Nang. Therefore, it is crucial to select attire that strikes a balance between comfort and modesty to show proper respect for the spiritual ambiance.
Optimal Footwear for Exploration: Ngu Hanh Son spans a vast area with a multitude of captivating attractions. Wearing a comfortable pair of sports shoes will enable you to explore more places and soak in the stunning landscapes.

Admission Information: While some attractions in Ngu Hanh Son Da Nang have an entrance fee, some places offer free access. To get accurate information, consider observing or inquiring with the attraction staff.

Accessibility Options for Thuy Son: When exploring Thuy Son, consider taking the special elevator if your group includes elderly members or young children. This option ensures a comfortable and convenient visit.

Souvenir Shopping Tips: Ngu Hanh Son Da Nang boasts stalls selling exquisite souvenirs. These make excellent souvenirs or gifts. However, you should ask about prices and engage in friendly bargaining before buying.

Navigating the Terrain: While the Marble Mountain Da Nang isn't overly steep or treacherous, the paths can be winding and narrow. Exercise caution while moving around to ensure a safe and enjoyable visit.
Guided Tours for a Comprehensive Experience: The Marble Mountain Da Nang offers a vast landscape with many captivating attractions. Whether you opt for a personal guide or join a tour group, both options promise an enriching experience, providing access to numerous points of interest.

Time Considerations and Provisions: Plan to allocate a full day or several hours to explore Marble Mountain Da Nang. Do not forget to bring along dry snacks and ample drinking water to stay energized throughout your journey.
In conclusion: Our mission is to not just show you the sights but to immerse you in the heart and soul of every destination we touch. From the marble quarries that have shaped the very essence of this place to the vibrant culture that breathes life into every corner, we invite you to embark on a voyage of discovery that will leave you with memories to last a lifetime. With World Mate Travel, your begins not just at the destination but with every step of the journey. Welcome to an experience that transcends boundaries and takes you on a truly unique path.