Chosen by countless visitors as a favored destination, Minh Mang Tomb holds immense cultural significance. To enhance your visit and provide essential insights, World Mate Travel is delighted to offer a comprehensive guide to exploring Minh Mang Tomb.
As you step into this hallowed ground, you join a journey through time, discovering the legacy of Emperor Minh Mang, known for his visionary reign. Join us as we unveil the stories, secrets, and captivating beauty within these sacred walls, inviting you to delve into a piece of Vietnam's rich past.
The Majestic Tranquility of Minh Mang Tomb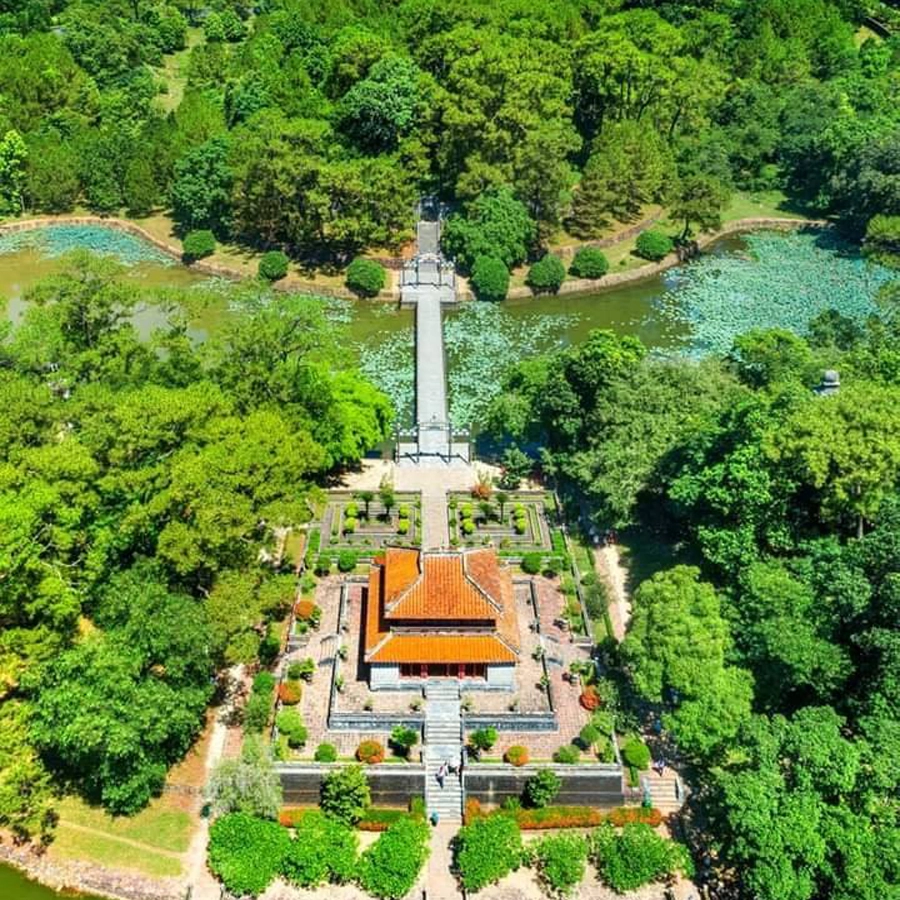 1. Minh Mang Emperor: famous King of the Nguyen Dynasty
Minh Mang Emperor was born in the name of Nguyen Phuc Dam. He is the second son of Gia Long Emperor, who became the second monarch of the Nguyen Dynasty. Revered for his significant contributions to Vietnam, contemporary historians agree to regard him as the preeminent ruler of the Nguyen Dynasty with only minor missteps in foreign affairs.
In the seventh year of his reign, the Minh Mang emperor embarked on the ambitious endeavor of establishing his final resting place. Overseeing the selection of the site and approving the intricate architectural plans, he laid the foundation for the Minh Mang mausoleum in April 1840. Tragically, in January 1841, the Minh Mang emperor fell gravely ill and passed away. The unfinished mausoleum project was diligently carried forward under the stewardship of Thieu Tri Emperor. Finally, in 1843, the Minh Mang Tomb was completed and became the eternal resting place of the Minh Mang emperor.
2. Mausoleum of emperor Minh Mang in Hue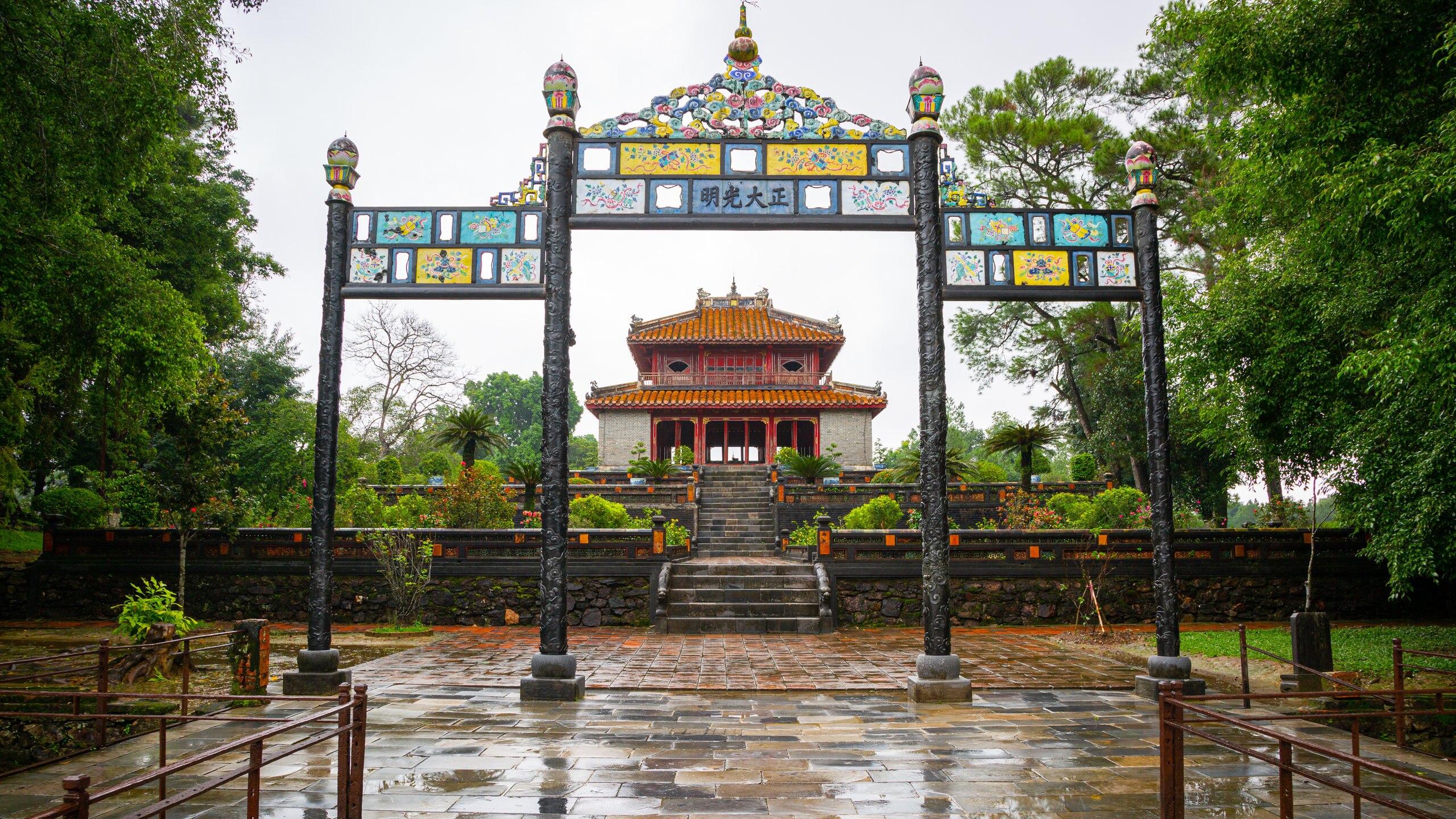 The Mausoleum of Emperor Minh Mang (or Minh Mang Tomb) is a testament to the meticulous planning. After an exhaustive 14-year search, the Minh Mang emperor settled on the picturesque Cam Khe Mountain, where the Huu Trach and Ta Trach streams converge to form the Huong River. Approximately 14 kilometers away from the heart of Hue City, along Highway 49 in Huong Tho Hue, the Minh Mang tomb is a privileged destination amid the natural splendor of mountains, rivers, and lakes.
Boasting the architecturally refined design of the Nguyen Dynasty, Minh Mang Tomb beckons travelers from far and wide to marvel at its regal magnificence. Minh Mang emperor, who assumed the throne in 1820, left an indelible mark on Vietnam's history through his visionary reforms. Seeking solace from the demands of court life and wishing for a place of reverence after his passing, he envisioned the Mausoleum.
To embark on this ambitious project, the courtiers dedicated 14 years to scouting for the perfect location. Cam Khe Mountain ultimately won their favor due to its harmonious blend of water, lush greenery, and majestic peaks. Minh Mang emperor bestowed upon it the name Hieu Son and designated it as the site for his final repose, aptly named Hieu Lang.
With meticulous attention to architectural details and rigorous scrutiny of plans and reports, construction of the Minh Mang Tomb commenced in April 1840. Tragically, Minh Mang emperor's health deteriorated, leading to his untimely passing. A month later, Thieu Tri Emperor took the throne and valiantly carried forward the construction efforts. By 1843, the monumental Hieu Lang project proved their dedication and craftsmanship.
Featured Tour:
3. The special architectures in Minh Mang Mausoleum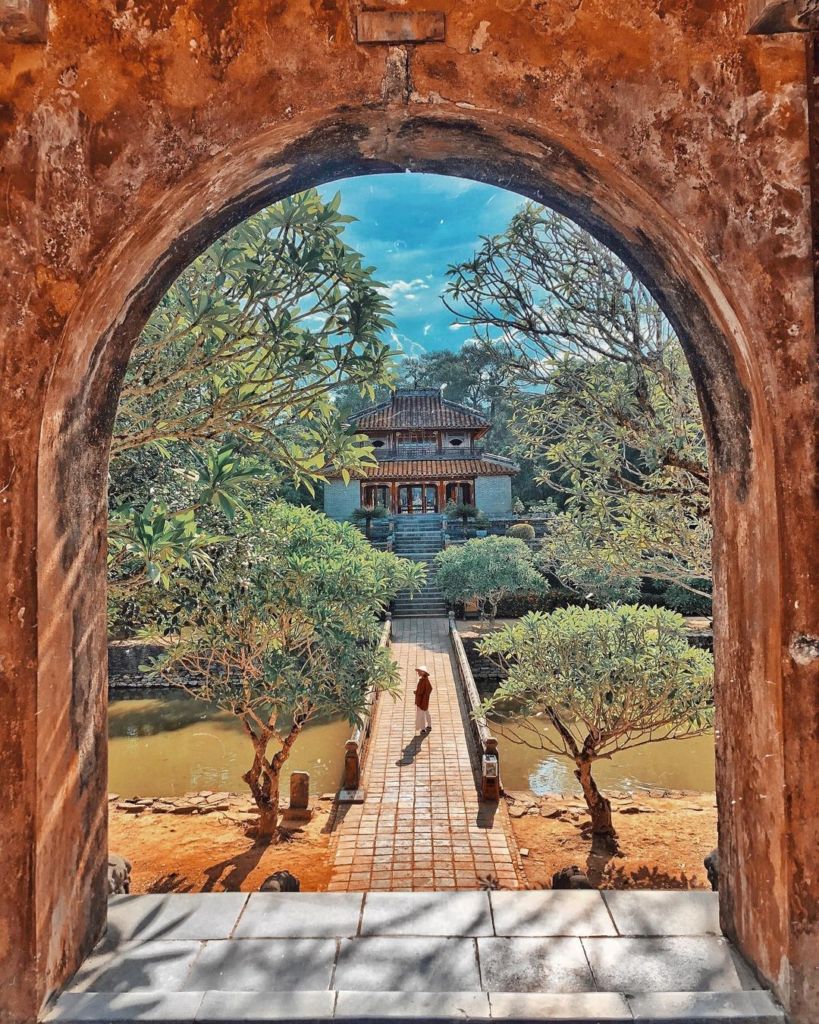 As an expansive 18-hectare expanse, the Mausoleum of Emperor Minh Mang in Hue stands as an architectural marvel, comprising a meticulously arranged ensemble of 40 structures (both grand and intimate) exuding perfect symmetry. The tomb's design artfully mimics the repose of a reclining figure, with Kim Phung Mountain cradling its head and its feet extending towards the converging river junction ahead. Trung Minh Lake mirrors this tranquility, its two halves resembling arms in a state of graceful repose.
Featured Tour:
Featured Tour:10D09N Danang / Hue / Hoian/ Dalat/ Muine/ Nhatrang Tour
A verdant tapestry of trees envelops the Minh Mang Tomb, creating a serene sanctuary harmonized by the gentle presence of rivers, lakes, and steadfast mountains. Further enhancing this picturesque setting is a fragrant lotus pond gracing the heart of the mausoleum grounds, adding a touch of fragrant elegance to this already captivating landscape.
Dai Hong Mon (The Main Gate): As the sentinel to the mausoleum of emperor Minh Mang, Dai Hong Mon is an awe-inspiring entrance crafted from lime bricks. With 24 thatched roofs and three walkways, the architecture boasts intricate motifs of carp morphing into dragons and swirling dragon clouds. Historical records reveal that Dai Hong Mon opened just once to receive the Minh Mang emperor's remains and has remained sealed ever since. Visitors pass through the flanking gates, Ta Hong Mon and Huu Hong Mon for entrance and exit.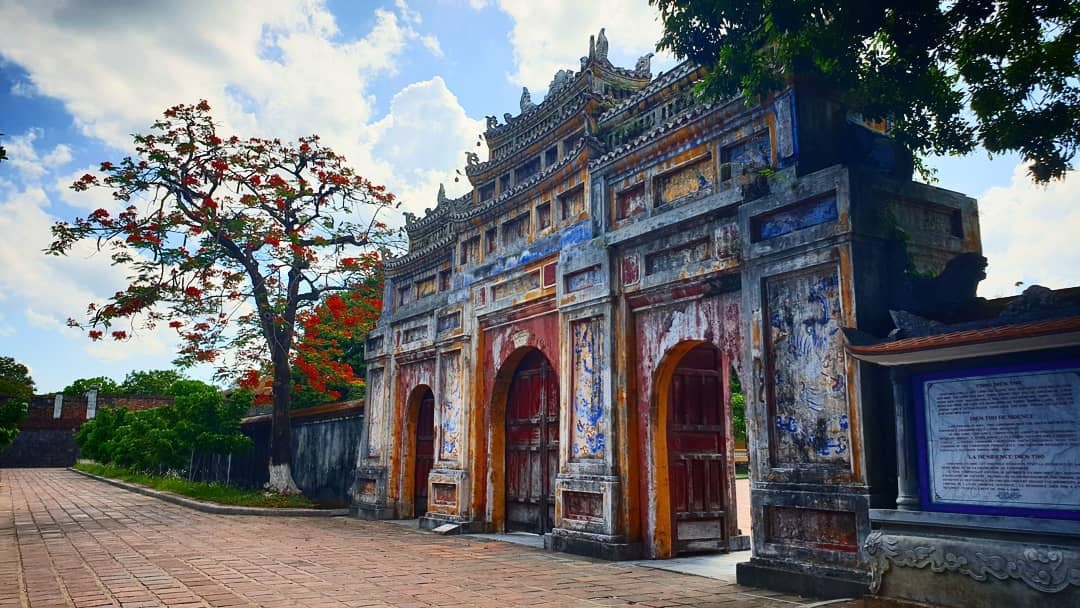 Bai Dinh (Dinh Courtyard): Beyond Dai Hong Mon lies Bai Dinh, a sprawling courtyard paved with Bat Trang tiles. Rows of stone statues of civil and military mandarins, elephants, and horses line its sides. A notable highlight is the Thanh Duc Than Cong stone stele, authored by Thieu Tri Emperor to commemorate his father's life and achievements.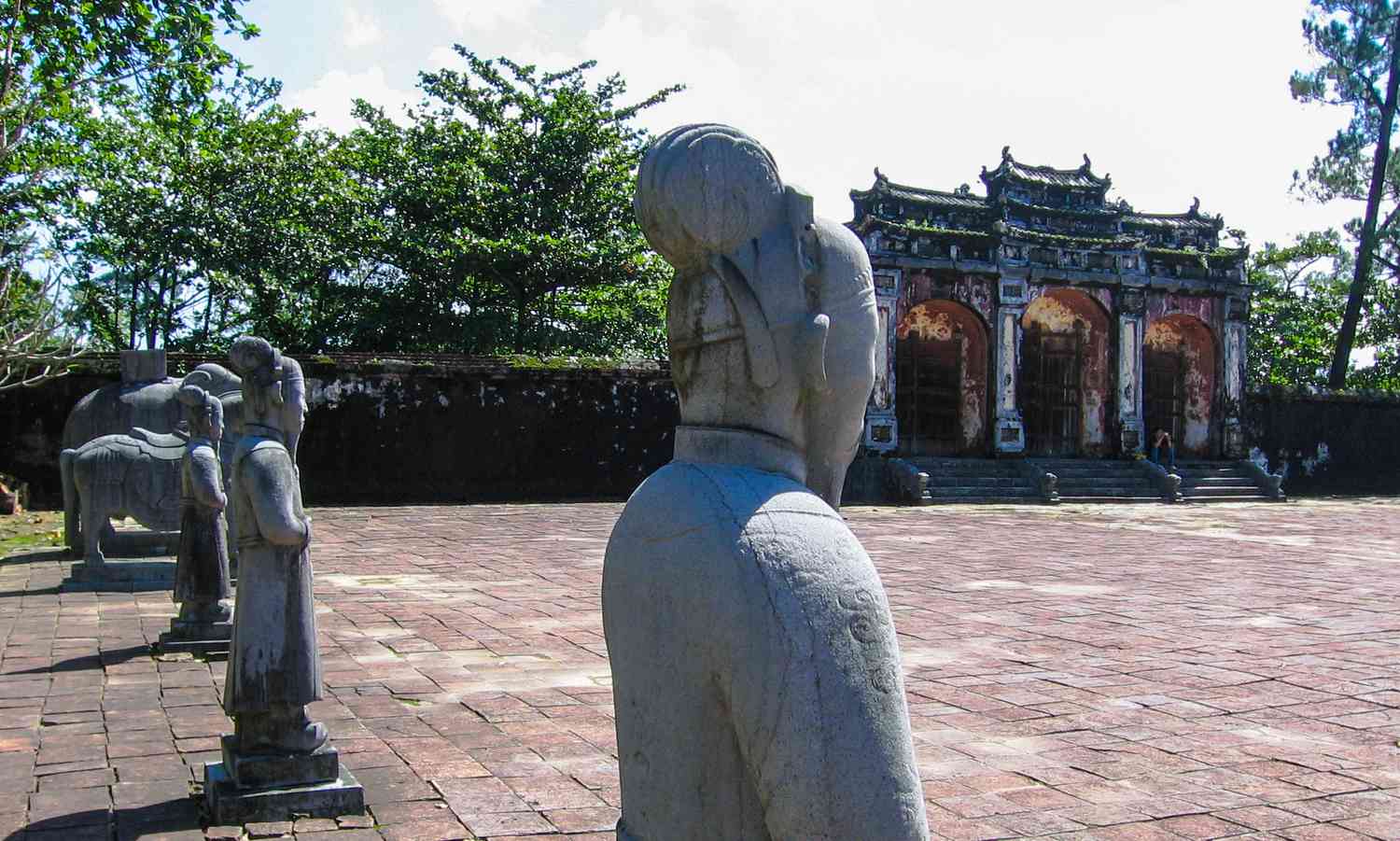 Minh Lau Pavilion (Morning Pavilion): Perched on Tam Dai Son hill, Minh Lau, or the Morning pavilion, offers Minh Mang emperor a serene sanctuary for contemplation on cool, moonlit nights. This two-tiered, eight-roofed structure exudes elegance and is steeped in Confucian philosophy and life's contemplative essence.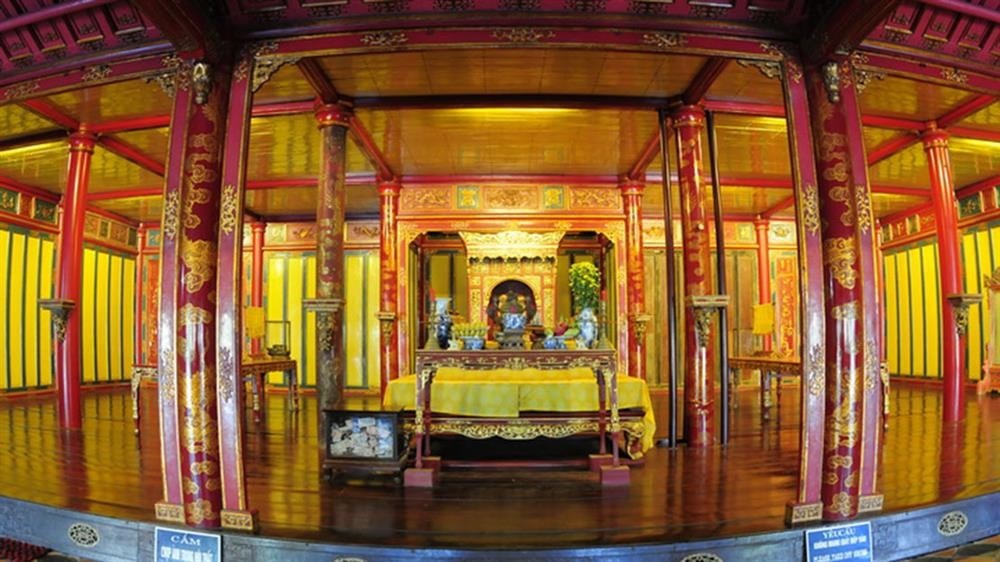 Tam Dien Area (Three Sacrificial Temples): Comprising of Hieu Duc Mon and Sung An Palace, this sacred precinct is dedicated to honoring the tablets of the Minh Mang emperor and Queen Ta Thien Nhan. Stepping into Tam Dien, one is enveloped in an ancient, sacred ambiance. A set of 17 stone steps ascends to Hoang Trach Mon, revealing a panorama of clear blue skies, fragrant trees, wildflowers, and the serene lake beauty adorned with small lotus stands.

Tan Nguyet Lake (New Moon Lake): Embracing the sun symbol of Buu Thanh, Tan Nguyet Lake is a marvel representing ancient cosmology and the forces that shape the universe.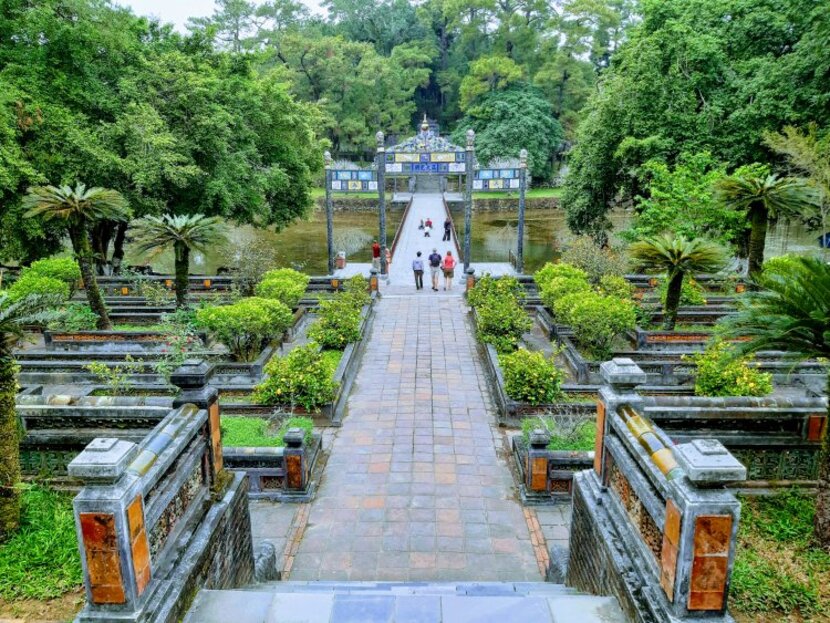 Bridge of Integrity and Intelligence: Spanning Tan Nguyen Lake, Thong Minh Chinh Truc Bridge leads the way to Lau Minh Lau. The bridge with 33 steps evokes an ancient charm that resonates with nature.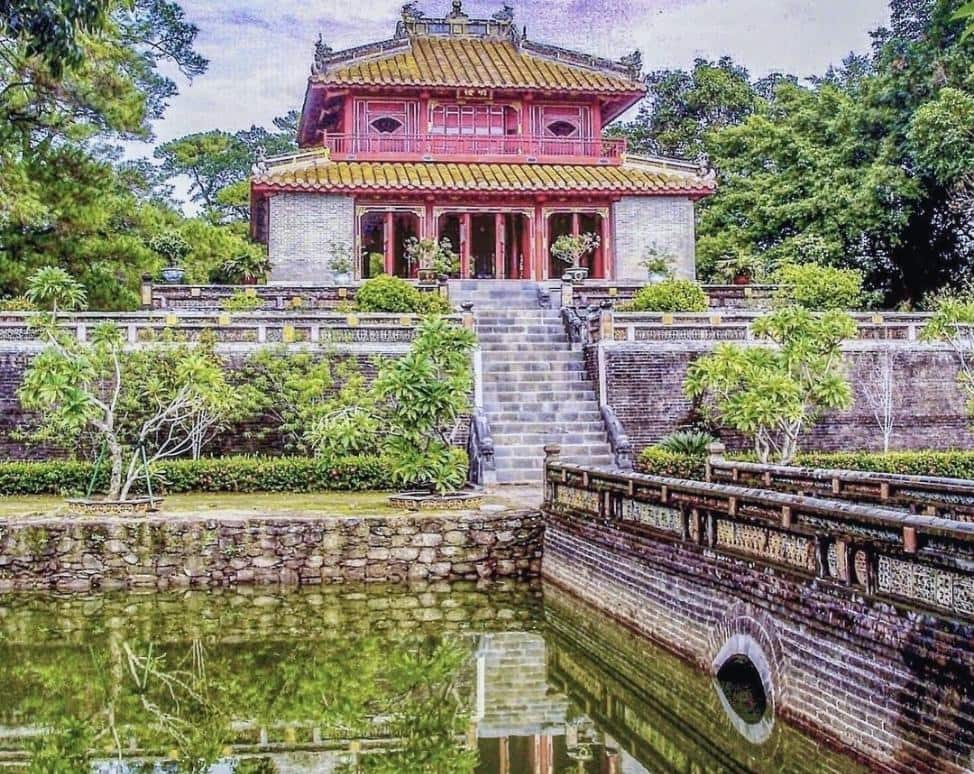 Hien Duc Mon (Gate of Benevolence and Virtue): Nestled within the Tam Dien precinct, Hien Duc Mon stands on a square plot, symbolizing the earth god. This majestic construction exudes an aura of antiquity and sanctity, inviting visitors into a historical space.
Completed Guide to Minh Mang Tomb Tour
To better prepare for your tour of Minh Mang Tomb. We got you covered with the latest completed guide, updated in 2023.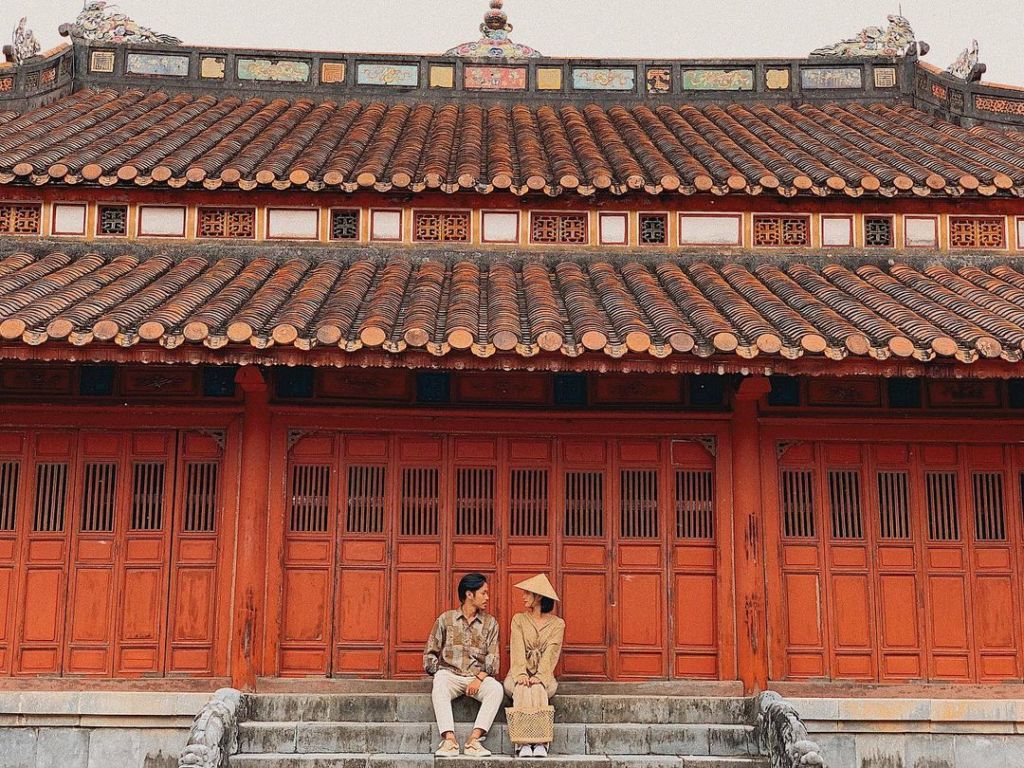 1. Best time to visit Minh Mang tomb
Experience the exquisite beauty of Minh Mang Tomb in Hue during the enchanting early spring months, typically from January to March. Revel in the cool, temperate climate, abundant sunshine, and dry weather, creating the perfect conditions for a delightful visit to this historical gem. Embrace the opportunity to explore not only Minh Mang Tomb but also the myriad other captivating relics and tourist hotspots of this ancient capital city.
2. Example of Minh Mang tomb tour
Exploring Minh Mang Tomb in Hue promises an array of captivating experiences, made even more exceptional by the opportunity to savor the local delicacies. Hue boasts a diverse culinary scene, where each dish evokes a delightful sensation.
Regarding Hue specialties, the Hue beef noodle soup, mussel rice, and Nam Pho soup cake are must-tries. Additionally, indulge in Hue sweet soup, sesame candy, and spring rolls as a taste of royal court cuisine.
While options near Minh Mang Hue mausoleum are limited, many visitors prefer going back to the city center for better dining choices. Notable spots in the vicinity include Huong Tho, Huong Tra, and Thua Thien Hue restaurants and the renowned Ba Dao for its delectable beef noodle soup.
Maximize your visit to Hue by combining Minh Mang Tomb with other iconic attractions:
Truong Tien Bridge: An emblem of Hue, it spans the Perfume River, bearing witness to Vietnam's history. Its grandeur during the day transforms into a poetic spectacle at night, illuminated by sparkling lights. Don the traditional purple Ao Dai for a picturesque stroll along the bridge.

Hue Citadel: Like the Minh Mang Mausoleum, this site encapsulates the architectural splendor of the Nguyen Dynasty. Preserved for centuries, it boasts a harmonious layout of ancient structures, offering a captivating glimpse into history.
Huong River Hue: Through the heart of the city, the Huong River exudes a serene charm. Its hue changes with the day, from verdant green to regal purple, and glimmers brightly at night, offering varying vistas for visitors to appreciate.

Khai Dinh Mausoleum: The final part of the Hue mausoleum ensemble, it serves as the resting place of Khai Dinh Emperor, the 12th ruler of the Nguyen Dynasty. It is known for its luxury and meticulous craftsmanship. This tomb, though compact, exudes grandeur, showcasing a lavish attention to detail.
You can join the Minh Mang Tomb , combined with visiting Truong Tien Bridge and Hue Citadel. Otherwise, if you prefer spiritual tourism, visiting both Minh Mang Tomb and would be a great idea.
3. Estimated cost for visiting Minh Mang tomb: Minh Mang tomb entrance fee
Prepare for your visit to the magnificent Minh Mang Tomb by securing your tickets in advance. Ahead to the ticket counter situated at the gate's entrance. Here are the Minh Mang tomb entrance fees for exploring this historical site:
- Adults: 100,000 VND per visit
- Elderly individuals: 50,000 VND per visit
- Children: 20,000 VND per entry
Plan your visit between 7:00 AM and 5:30 PM, any day of the week, from Monday to Sunday, to immerse yourself in the splendor of this awe-inspiring Minh Mang Mausoleum.
4. Local rules when accessing Minh Mang Tomb
Embracing the serene ambiance of Minh Mang Hue Tomb, a hallowed site of reverence, calls for a few important considerations:
Attire: Opt for modest, respectful clothing that neither reveals nor offends, paying homage to the sanctity of the place.

Conduct: Preserve tranquility by refraining from loud voices, moving and speaking in hushed tones, ensuring a peaceful atmosphere.

Respect for the Heritage: Adhere to the established rules of tourism management, demonstrating reverence for the architectural wonders and refraining from touching artifacts.

Environmental Care: Uphold cleanliness by disposing of litter thoughtfully, preserving the internal environment's pristine beauty.
We hope this guide provides you with adequate information for your chosen Tombeau De Minh Mang tour. For more customized tours and promotions, you can contact World Mate Travel, the , for additional requirements. We offer professional tour guides for every destination you expect to visit.