As a destination that seems plucked from a dream, the Khai Dinh Tomb lies a gem that beckons every traveler's heart. In the tapestry of Hue's rich cultural heritage, Khai Dinh Mausoleum is a testament to the heights of architectural finesse and artistic beauty.
Visiting Khai Dinh Tomb is not only a journey through history but a voyage into a world of intricate design and refined craftsmanship. Join us with the to explore this splendent destination, where the very essence of Hue's allure is etched in stone.
Welcome to Khai Dinh Hue Mausoleum, where dreams of a distant past come to life.
Khai Dinh tomb: Unmissed destination when traveling to Hue
Embark on a journey to discover the crown jewel of the Nguyen Dynasty's architectural legacy - the awe-inspiring Khai Dinh Tomb in Hue. Its beauty transcends borders, leaving an indelible mark on the annals of global architecture. Brace yourself for an extraordinary adventure as you step into the world of Khai Dinh Tomb - a magnetic allure for travelers exploring the vibrant tapestry of Hue's history.
Featured Tour:
Khai Dinh emperor (Khai Dinh) the introduction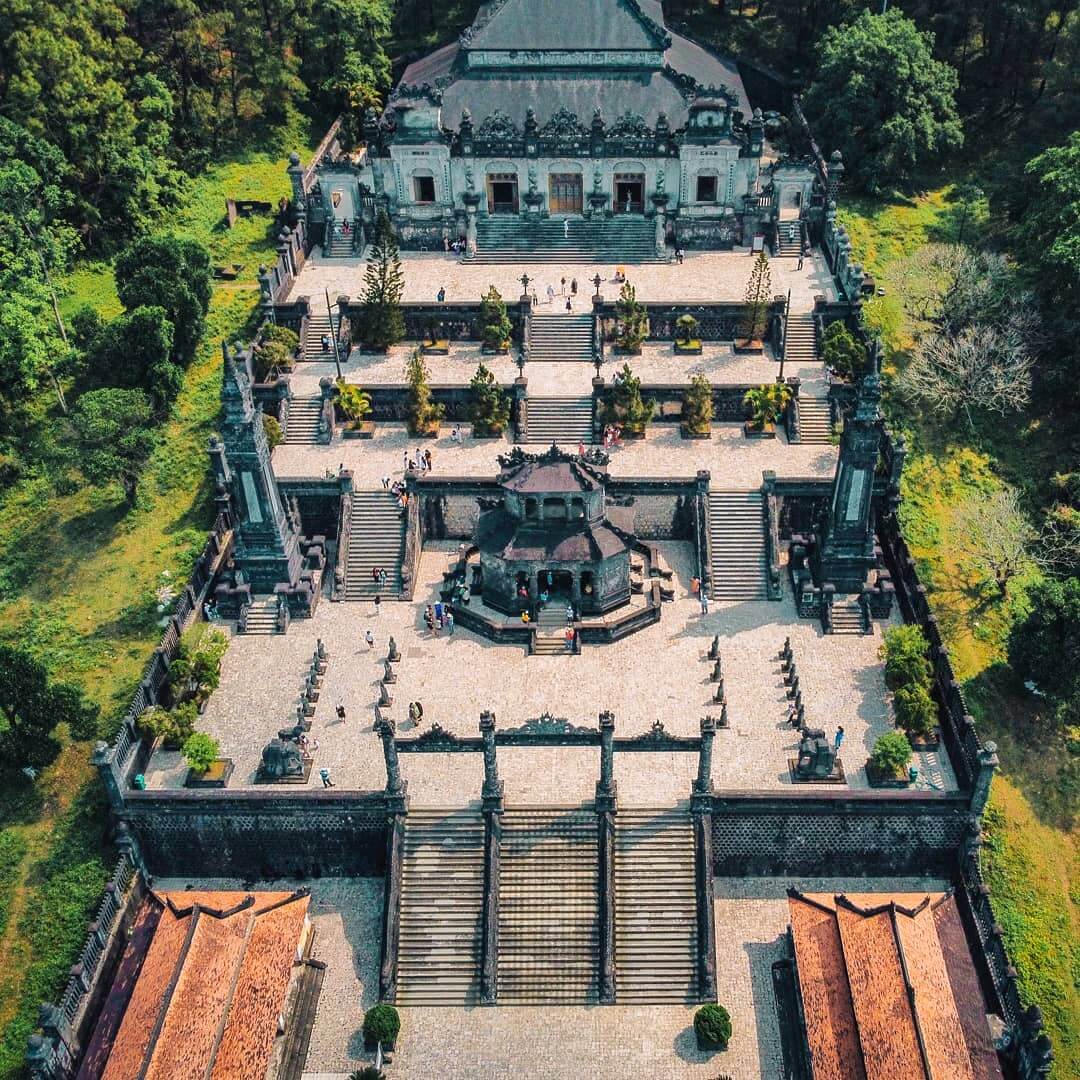 Embark on a journey into the legacy of the Khai Dinh emperor, the 12th monarch of the Nguyen Dynasty, and the visionary behind the extraordinary Khai Dinh Tomb. The Khai Dinh Tomb refers to his foresight and a model of artistry and reverence.
Perched on the majestic Chau Chu Mountain, a mere 10 kilometers from Hue's vibrant heart, this architectural marvel bears witness to a decade of meticulous craftsmanship. From the aspirations of the Khai Dinh emperor, construction commenced on September 4, 1920, culminating in a breathtaking creation that still captivates visitors today.
The Khai Dinh emperor dispatched emissaries to distant lands. From France, they brought forth iron, steel, cement, and tiles, while China and Japan contributed porcelain and glass, lending an air of international splendor to this regal endeavor.
Featured Tour:
Mausoleum of emperor Khai Dinh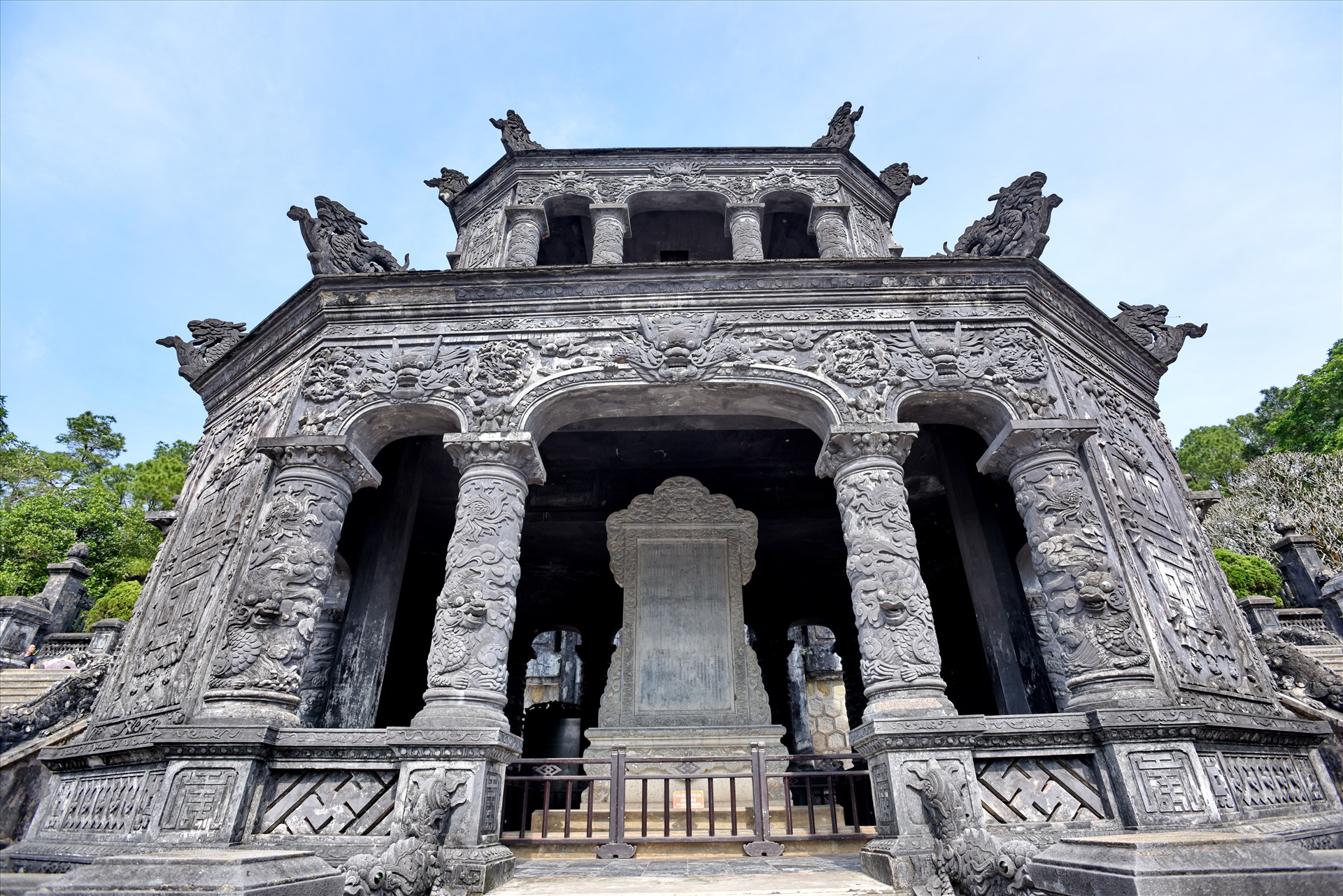 The Khai Dinh Tomb may not be spacious, spanning a mere 117m x 48.5m. This splendid mausoleum of emperor Khai Dinh, dedicated to Khai Dinh Emperor, stands as a testament to the fusion of Eastern and Western influences, resulting in a masterpiece of delicate design and opulent splendor.
Step into a world where history and culture intertwine, where every stone tells a story of meticulous craftsmanship and cultural exchange. As you ascend the 127 steps, your journey unfolds through the Tam Quan gate, the Nghi Mon, and the Bai Dinh yard. Above, two floors await, each a testament to architectural finesse, separated by precisely 13 steps, culminating in the grandeur of the Thien Dinh Palace at the zenith.
The story of Khai Dinh Tomb is more than its architectural brilliance. It is a living testament to the vibrant interplay between Vietnam and the Western world, a repository of historical, cultural, and artistic treasures.
Attractions inside the tomb of Khai Dinh
A visit to Khai Dinh Hue Mausoleum promises a delightful immersion in a treasure trove of unique architectural marvels, offering both exploration and memorable photo opportunities
Tam Quan Gate: Gateway to Majestic Splendor: Your journey through the mausoleum of emperor Khai Dinh begins at the awe-inspiring Tam Quan Gate. As a sentinel to the surrounding mountains and forests, this gate boasts a majestic architectural design. Ascend the first 37 steps, and you will find yourself lost in a realm where Hindu influences seamlessly meld with ancient Vietnamese craftsmanship, as evidenced by the ornate pillars that grace this entrance.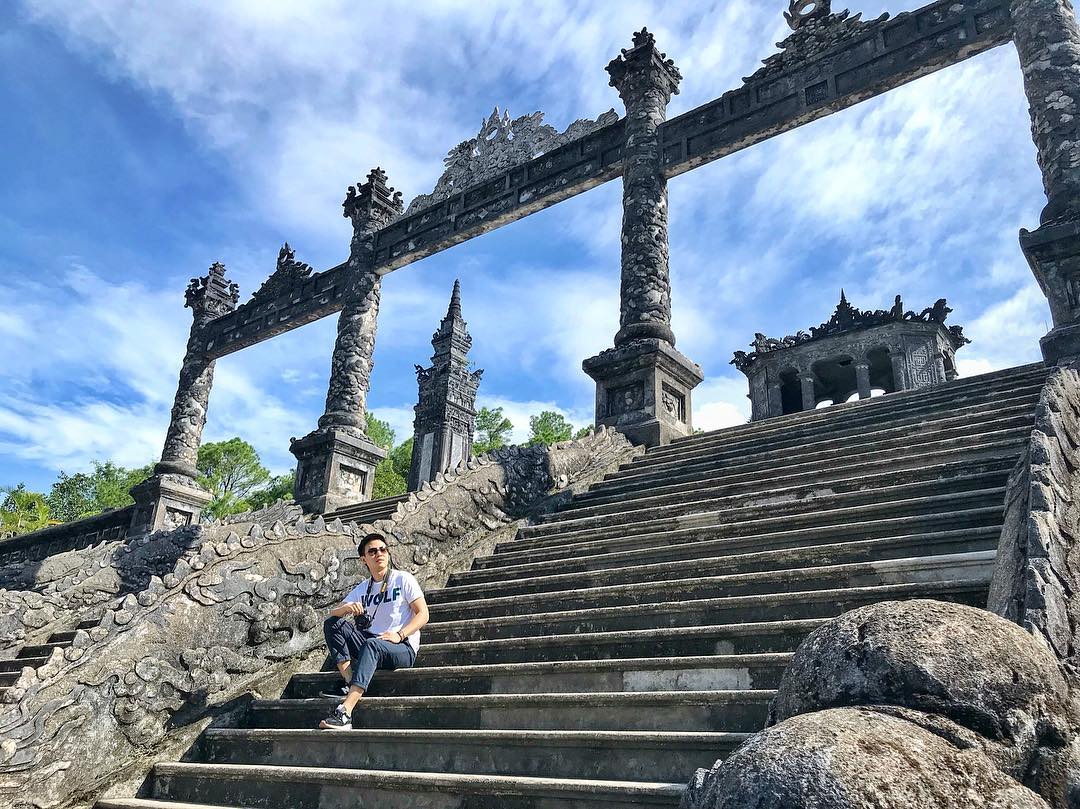 Nghi Mon and Bai Dinh Yard: A Symphony of Statuary Grandeur: Continuing from Tam Quan Gate, ascend 29 more steps to the Nghi Mon area and Bai Dinh Yard. Here, you will be greeted by life-sized statues of courtiers and soldiers, arranged in symmetrical rows. Each figure is a testament to the artisan's skill, carved with exquisite precision and adorned with intricate patterns that captivate the senses.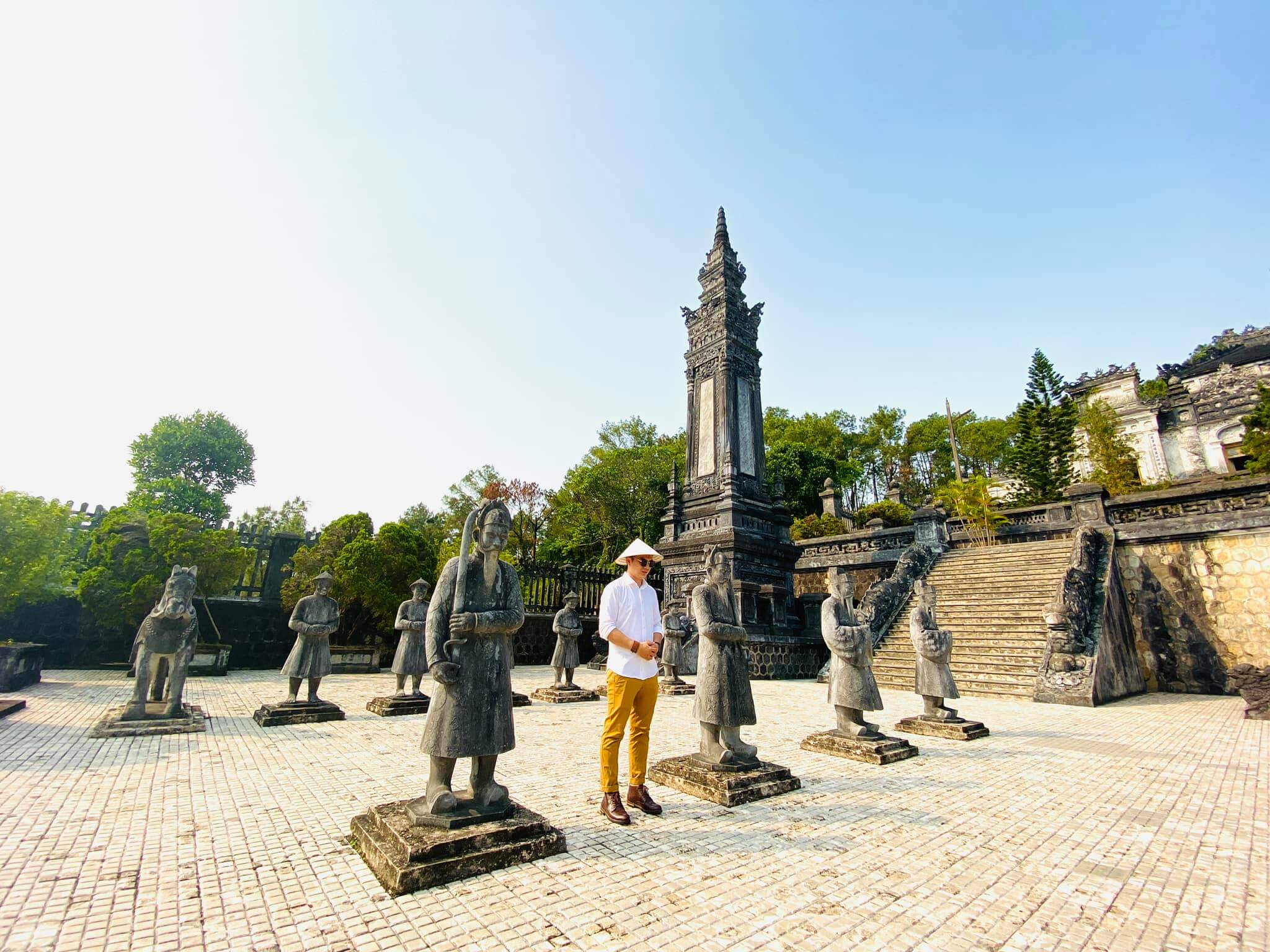 Thien Dinh Palace: At the Pinnacle of Majesty: Nestled within the heart of the Khai Dinh Mausoleum, Thien Dinh Palace awaits on the third and fourth transition floors. This sacred space, where King Khai Dinh rests, graces the mausoleum's zenith—the lofty fifth floor. Visitors are enveloped in an atmosphere when stepping inside. It presents King Nguyen Khai Dinh's creativity, innovation, and deep affinity for the rich hues of turmeric.
Khai Thanh Palace: Architectural Opulence Unveiled: Within the confines of Thien Dinh Palace lies the resplendent Khai Thanh Palace, the resting place of King Khai Dinh's altar and body. The architecture here is a testament to craftsmanship, with a profusion of meticulously crafted decorative elements. At its heart lies the Buu Tan, a one-ton marvel of reinforced concrete, possessing an air of grace and refinement that belies its robust construction.
The Bronze Majesty: King Khai Dinh in Splendid Repose: Distinguished from other mausoleums in Hue, the Khai Dinh Mausoleum proudly houses not one, but two life-sized bronze statues of Kai Dinh Emperor. This distinctive feature speaks volumes about the mausoleum's departure from convention, embracing a design ethos entirely its own. It's a testament to the mausoleum's unique character and an experience that sets it apart.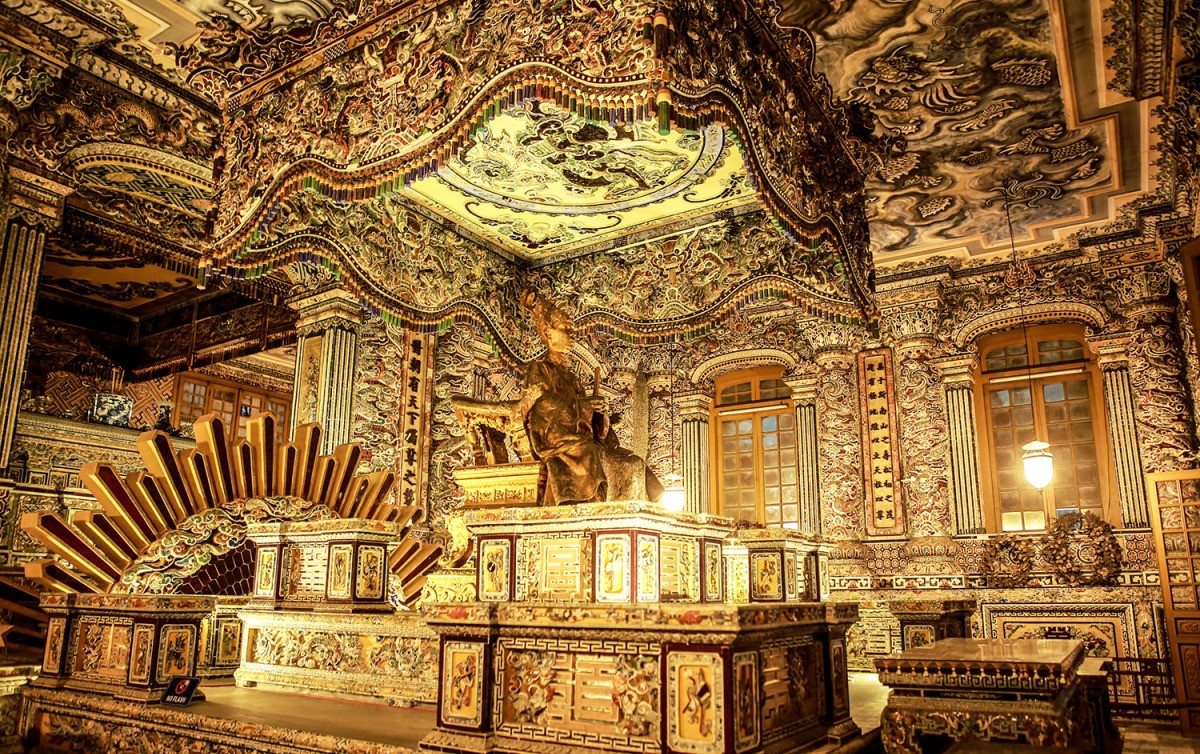 Visiting Khai Dinh tomb: Completed Guide 2023
1. Best time to visit Khai Dinh tomb
The prime time to explore the mesmerizing mausoleum of emperor Khai Dinh is during the months of January and February. During this period, the weather graces visitors with its pleasant embrace, creating an ideal backdrop for sightseeing, photography, and immersive experiences. The atmosphere is just right for both strolling through history and capturing the essence of this virtual living museum. Mild temperatures ensure that your explorations meet comfort and ease.
Moreover, during select holidays and the New Year celebrations, Khai Dinh Mausoleum extends a warm invitation to all, offering complimentary access. If you find yourself in Hue during these special occasions, seize the opportunity to add this captivating attraction to your itinerary. Allow yourself to delve into the rich history and cultural tapestry that the mausoleum of emperor Khai Dinh unfurls. It's a journey that promises not only discovery but also a deep connection with the soul of Hue.
2. Khai Dinh tomb entrance fee
Opening Hours: Discover the wonders of Khai Dinh Mausoleum from 7:00 AM to 6:00 PM, allowing you ample time to immerse yourself in its beauty and history.
Admission Fees (2023 Updated)
Adults: 100,000 VND

Children (7-12 years old): 20,000 VND

Children (under 7 years old): Free
3. Khai Dinh mausoleum tour: Suggested transportation
Embark Khai Dinh tomb by Car or Motorbike
Whether you opt for the convenience of a car or the exhilarating freedom of a motorbike, the journey promises to be a memorable experience. For those seeking a liberating and comfortable experience, a motorbike is highly recommended. As you traverse the road leading to the tomb of Khai Dinh, the scenic beauty that adorns both sides of the path will leave you in awe. Head towards Highway 49 from the heart of the city, then follow the well-placed signs that will lead you to your destination.
Embark Khai Dinh tomb by Bus
Bus is an excellent option for the savvy traveler looking to maximize both savings and sightseeing. This mode of transport offers an economical, secure, and leisurely way to absorb the surroundings. Your journey begins with the southern bus route to Dong Ba Market Station - Tuan Market. This route conveniently includes a stop right at the doorstep of the mausoleum of Emperor Khai Dinh, ensuring a seamless and direct arrival.
Embark Khai Dinh tomb by tour transport
For tourists booking a or to Khai Dinh Tomb, the tour travel agency is responsible for covering means of transformation to match the tour schedule. It is critical for those who expect to enjoy the tour without much preparation. Your car will grab you right in your accommodation and give you a ride to Khai Dinh Mausoleum with a ready entrance ticket.