Is it safe to travel during pregnancy? It's critical to think about the instructions for pregnant women. Let's explore the things of traveling while pregnant.
Whenever pregnant travelers go, you should definitely find out what healthcare infrastructure and facilities are at the scheduled destinations for any medical support. Also, tourists should take their maternity medical records; therefore, they can provide doctors with any relevant information if required.
Can pregnant women travel in flight? This question might surprise lots of tourists. As a leading in Vietnam, World Mate Travel will guide your ultimate guide for traveling while pregnant (update 2023).
Featured Article:
When traveling while pregnant: Can pregnant women travel in flight?
Some females avoid traveling in the first 12 weeks of their pregnancy for vomiting and being tired in the early pregnancy stages. Besides, miscarriage risk in the first three months is often higher compared to others, whether you are traveling or not.
In addition, traveling during pregnancy, especially in the final months of pregnancy, can be uncomfortable. Thus, many females state that the best time for traveling while pregnant or taking a vacation is mid-pregnancy, from 4 to 6 months.
Featured Tour: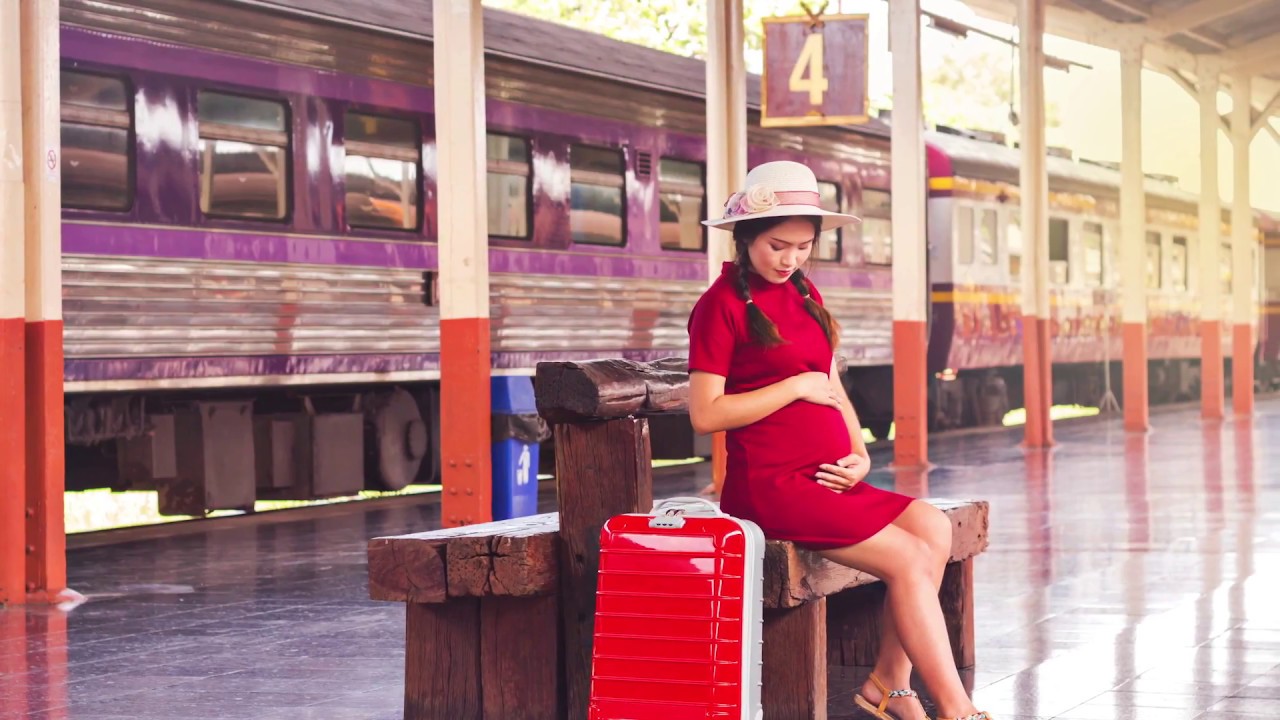 Revealing the question "Can pregnant women fly?"
Flying is not harmful to pregnant women's health and their babies; however, they need to see a doctor or check-up for any health issues before they take a flight. Thus, the answer to the question "Can pregnant women fly?", is absolutely yes. And they need to follow some guidelines.
Each airline will have a different policy for female guests traveling while pregnant. Some airlines allow guests traveling while pregnant for no more than 36 weeks; whereas some of them only accept females no more than 32 weeks if they are carrying twins. Guests need to check with the airline for policies on this.
In particular, the airlines can ask for a document from the doctor that confirms females' health issues and pregnancy complications. Travelers might have to pay for the letter and wait some weeks before traveling.
Is it safe to travel while 2 months pregnant?
Travel on air before the 36th week of pregnancy periods will be safe for most guests who might not deal with any pregnancy issues. However, if you get pregnant, it is critical to discuss your healthcare service providers before flying. Your doctor might suggest that you can be worse owing to air travel, or they may need emergency care.
Additionally, some airlines might not allow pregnant women on international flights. Therefore, you should check the airlines before booking. Most airlines do not allow pregnant passengers to fly after 36 weeks of pregnancy. In short, the best time to travel by air can be in the second trimester since the risks of pregnancy emergencies will be the lowest at that time.
Featured Tour:
Remember what you should do before flying:
Drink fluids: A low level of humidity on the flights can cause a lack of hydration.
Do not use gassy foods and drinks before flying: Gases can be expanded in the flight, making passengers uncomfortable.
Research on medical care: It is good to prepare how you can get obstetric care during your flight. Passengers should bring copies of medical records in case they need to.
Blood clots during your air travel
Air travel raises the risks of blood clots, which is a condition of venous thrombosis. Since the risk for pregnant passengers is higher. It is better to walk along the aisle during the flight. Generally, it is best to avoid wearing tight-fitting clothes since it can hinder blood flow.
Can you travel while pregnant? Complete Guide
Packing for pregnancy problems
Packing for pregnancy periods is seemingly challenging for many females who get their first baby pregnant. When traveling while pregnant, passengers need to prepare a packing list. Besides, make sure the suitcase is easy to carry and does not try to overpack.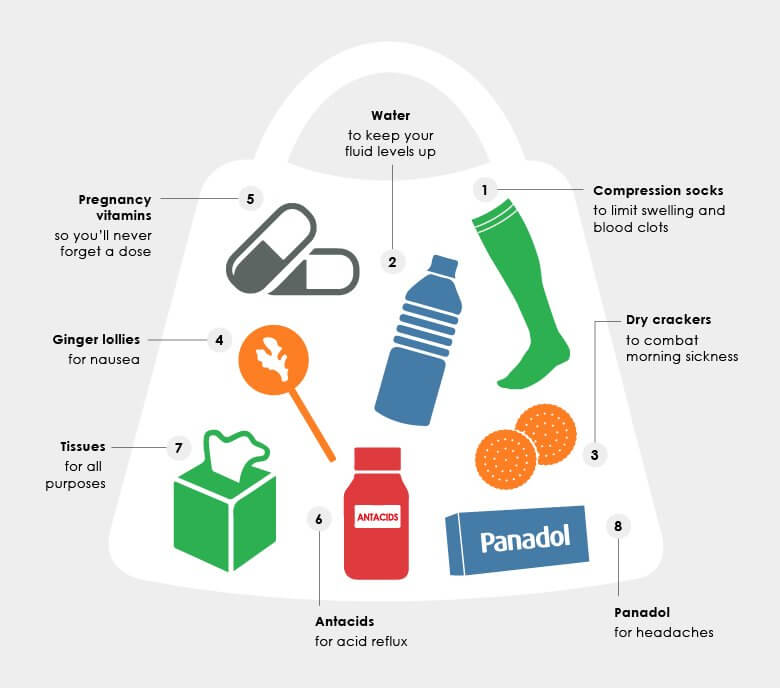 Travel during the first trimester
Do you know the regulations for passengers traveling while pregnant, especially in the first trimester? Here, we have got the answer. When speaking to doctors, most of them say it is safe to travel while pregnant in the first trimester.
How to handle morning sickness when traveling: here are some helps:
Try to avoid any strong smells.
Bring anti-nausea aids such as ginger lollies and peppermint tea.
Prepare medical treatments.
Keep yourself hydrated.
Keep active during your flight.
Fly during the second trimester.
For many females, the second trimester (13th - 27th weeks of pregnancy) will be a great time to relax before welcoming a new baby. During this period, your energy will be higher compared to others. Besides, the bump can be more visible, making it easier to take a seat on a train or a bus.
Go on a plane in the third trimester
Different airlines will have distinct pregnancy policies. Here are some essential things:
Flight less than four hours: Most airlines will allow passengers to travel until the end of the 40th week for a single pregnancy and the 36th week for multiple pregnancies.
Medical records: Passengers are required to bring doctor's notes.
Flights are about four hours or over. Most airlines allow travelers to travel until the end of the 36th week for single pregnancies or 32 weeks for twins or more pregnancies.
Medical records: Most travelers need to prepare medical clearances.
Travel Insurance
If you are traveling while pregnant, what will cover you and your growing bump? Here are what will be included:
Medical expenses: If you require medical care, the policy will protect you. However, it does not always happen to the newborn baby.
Flight cancellation: Sometimes, you have to cancel your flight due to family emergencies or pregnancy issues.
and much more. Here is what is not included:
Gestation: The accepted number of weeks passengers are allowed to travel while pregnant, is around 20 to 32 weeks. However, the standard pregnancy period is the 26th week. Thus, if you travel over the time permitted, you will not be protected according to travel insurance protection.
Multiple babies: Covers will be restricted if you are carrying twins or multiple babies.
Advice from World Mate Travel, the leading travel and tour agency in Vietnam
Traveling while pregnant will be safe if you follow the doctor's notes and also are protected when following the travel insurance protection. Do not be afraid of traveling while pregnant. Besides, the best time for passengers traveling while pregnant is from the 20th - 32nd weeks of pregnancy. Hoping that as a , World Mate Travel has provided you with essential tips for your flight.