With its cultural value and iconic architectural design dating back to the 17th century, Thien Mu Pagoda is one of the most have-to-visit places in Hue.
As one of the most ancient pagodas in Hue, Thien Mu was constructed in 1601. Through many destructions and rebuilding, this pagoda is an essential historical monument that retains its iconic architectural design with culture-based values.
With magnificent landscapes around, Thien Mu Pagoda refers to the most stunning ritual pagoda for the image of an ancient citadel. Besides, it helps conserve many incredible historical treasures and iconic design architects such as Phuong Duyen Tower, Nguyen Communal Hues, and also stone steles of other Emperors.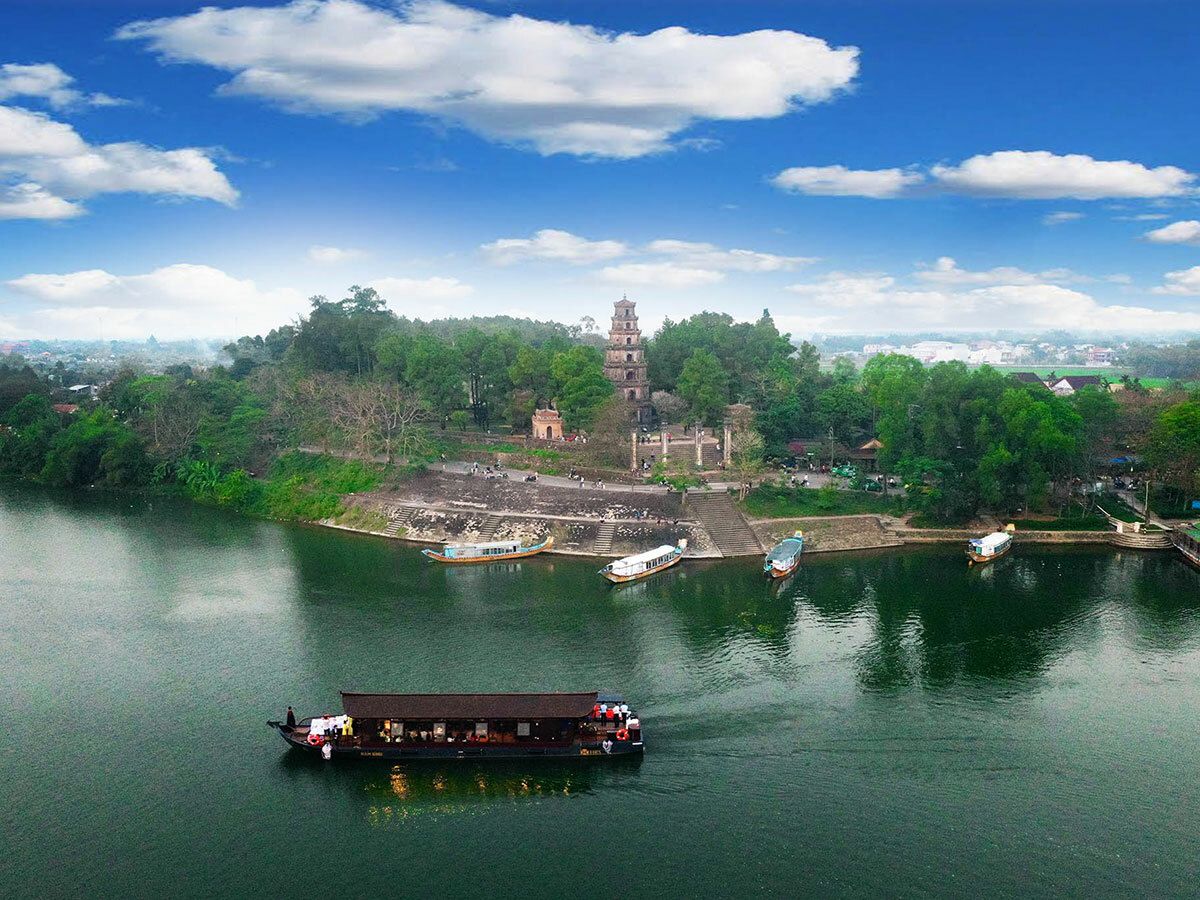 I. About Thien Mu Pagoda: Location & Legend
1. Location: Ha Khe Hill in An Ninh Thuong Village, Kim Long Ward. Recently, Thien Mu Pagoda has been covered by a lush green pine jungle and magnificent flowers and ornamental plants. Travelers could explore the pagoda to watch the praying part of the monks and contemplate the romantic sunset along the Perfume River.
2. History and Legend
In 1601, the first lord of the Nguyen Regime in "Dang Trong" (literally Southern Vietnam), Lord Nguyen Hoang and his army moved to the South to live. Lord Nguyen Hoang realized a tiny hill that looked like the shape of a dragon that turned its head when he was riding the horse along the Huong Riverside. There is also a harmonizing combination between rivers and mountainous areas named Ha Khe Hill. According to the myth, a mystery elder woman wearing red and green clothes on the hill at night told locals that a Lord was coming and constructing a pagoda for prosperity.
When hearing the myth, he built a pagoda on the hill overlooking the Perfume River called Thien Mu (meaning Heaven Lady).
Thien Mu Pagoda was constructed in 1601. After completing this, Lord Nguyen Phuc Tan renovated Thien Mu in 1665. Besides, Lord Phuc Tan ordered a big bell called Dai Hong Chung in 1710.
Then, in 1714, the ancient pagoda was restored at a larger scale and included a great deal of architectural design, such as the Thien Vuong temple, Tang King Pavilion, and a spacious house to execute religious meditation. However, many of them no longer exist nowadays.
In 1904, the pagoda was damaged aggressively by a storm. Thus, many buildings or a part of construction were destroyed.
Related Article:
Related Article:
3. How to get to Thien Mu Pagoda
A 5-kilometer drive from Hue city center, Thien Mu Pagoda is quite easy for travelers to arrive. Visitors can reach Thien Mu Pagoda by motorbike, bicycle, car, or taxi. Among them, the best way is to take a dragon boat that you can buy a ticket at Toa Kham pier, floating along the Perfume River to get to the Thien Mu Pagoda.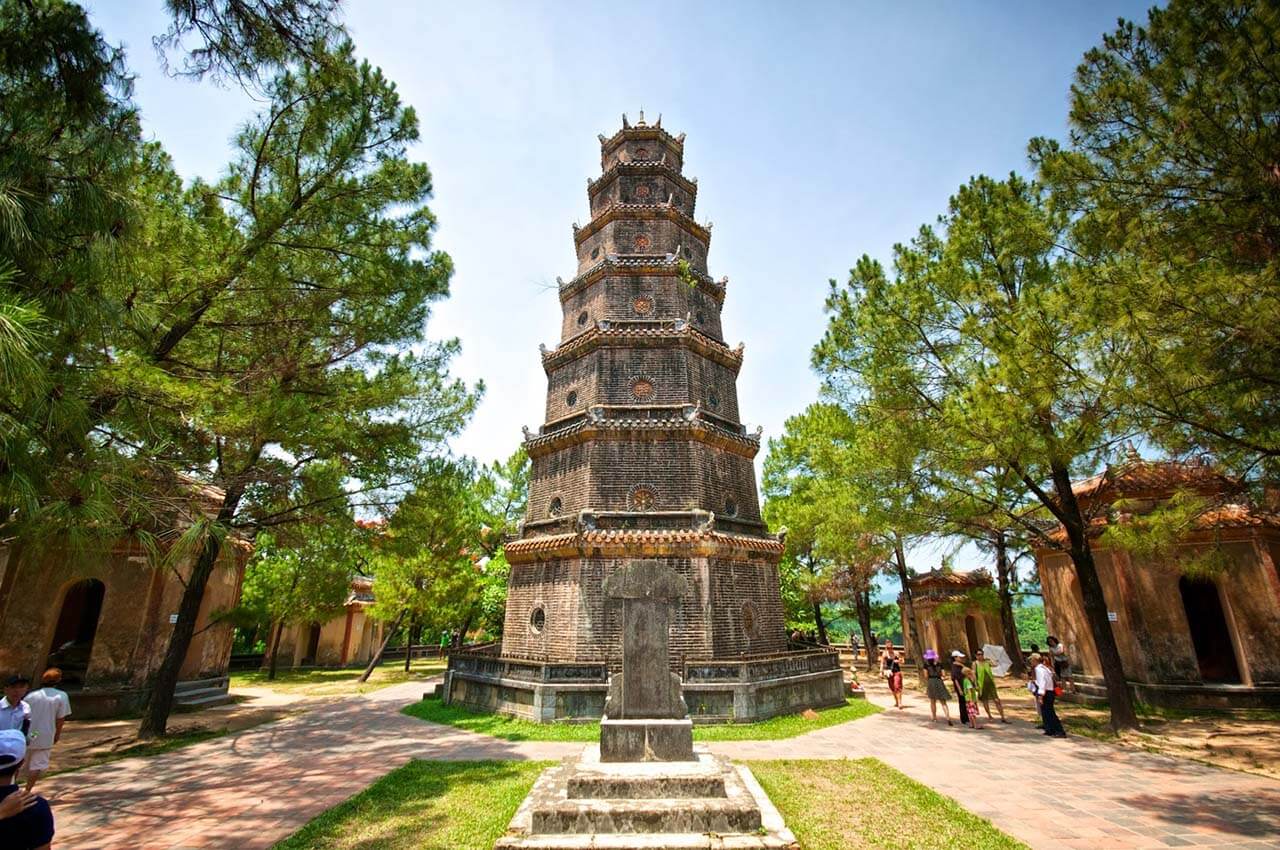 II. Thien Mu Pagoda facts that you might know:
1. Thien Mu pagoda entrance fee
● Google map location: Thien Mu Pagoda
● Opening hours from 8 am to 6 p.m., every day.
● Entrance fee: None
2. Thien Mu pagoda dress code
As a sacred place, you should dress respectfully upon exploring the pagoda. Besides, it is better to avoid putting on short skirts or tank tops and also try to keep silent and respect these historical and cultural values of the pagoda. Moreover, please note to take off your shoes when entering the inside area of the pagoda.
III. Highlights of Thien Mu Pagoda: 400 years old pagoda
1. Impressive architectural design
In terms of architectural highlights, Thien Mu Pagoda features various iconic constructions, such as Phuong Duyen Tower, which was erected in 1884 by Emperor Thieu Tri, and it is also an unofficial iconic place of Hue city. Additionally, this tower has seven stories, about 2 meters in height, and is used to dedicate to the Buddha. It can be said that it is Vietnam's highest stupa and also the symbol of folk music and traditional Ca Dao, one of the classic musical styles of Vietnam related to Hue.
On the left of Phuoc Duyen Tower, there is a pavilion hanging a big bell, called Dai Hong Chung. It was carved in 1710 by Lord Nguyen Phuc Tan. This bell is also well-known for its ideal size, with a height of 2.5 meters and a weight of about 3285kg. It is considered one of the most outstanding achievements of the 18th century.
On the right of Phuoc Duyen Tower, you can see a pavilion consisting of a stela dating back to 1715. It is carved based on the back of marble turtles which symbolizes longevity, with a height of 2.85 meters.
Moreover, there are also lots of famous works of art in the pagoda, for example, the Dai Hung shrine, which is the main hall showcasing impressive and magnificent architectural styles. You might not know that it was a shelter for several precious antiques, such as the bronze gong cast (1677) and the wooden gilded with Lord Nguyen Phuc Chu (1714).
Related Article:
Related Article:
Related Article:
2. Historical importance of Thien Mu Pagoda
With its impressive architectural value, Thien Mu Pagoda also carries out the feature of great historical importance. In the summer of 1963, Thien Mu pagoda and other parts of the South of Vietnam were a hotbed where anti-government organizations protested.
According to history, the Buddhist majority of South has been discontented with President Ngo Dinh Diem since 1955. The authority Ngo Dinh Diem had presented great favoritism related to Catholics and also great discrimination against Buddhists and also public services and government support.
Discontenting with Ngo Dinh Diem did explode a mass protest in Hue as well in 1963, particularly during the summer when nine Buhhists died under the hand of Ngo Dinh Diem on Vesak. During those historical days, Thien Mu Pagoda became the main place for Buddhist actions and movements and also was the place of rising strikes and protests.
Recently, Thien Mu pagoda has been covered by a bulk of flowers and ornamental plants. Surrounding areas are lush garden stretches with tranquil and romantic pine forests.
Featured Tour:
IV. Explore 5 places that can be missed when visiting Thien Mu Pagoda
1. Dai Hung Palace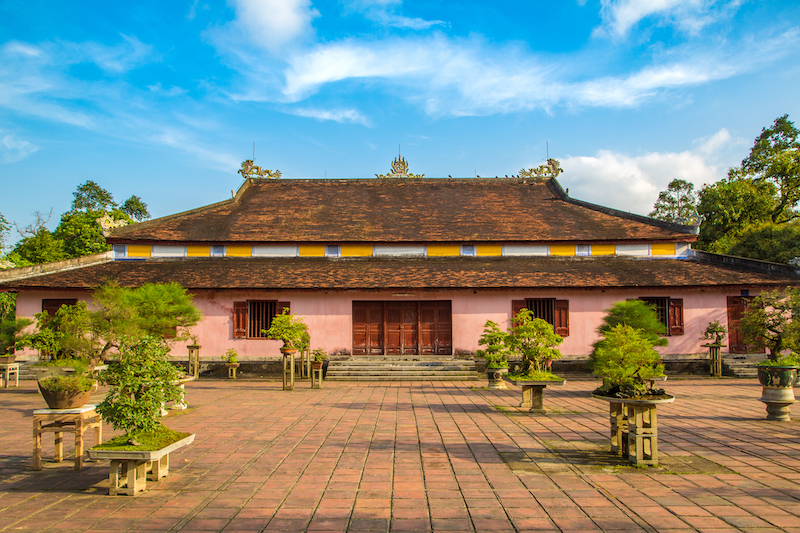 This palace features impressive architecture, which is the major sanctuary of Thien Mu Pagoda, utilized to worship the Buddha of Maitreya. Besides, dating back to 1974, Dai Hung Palace is home to an incredibly delicate bronze bell demonstrating the sun and the moon.
2. Phuoc Duyen Tower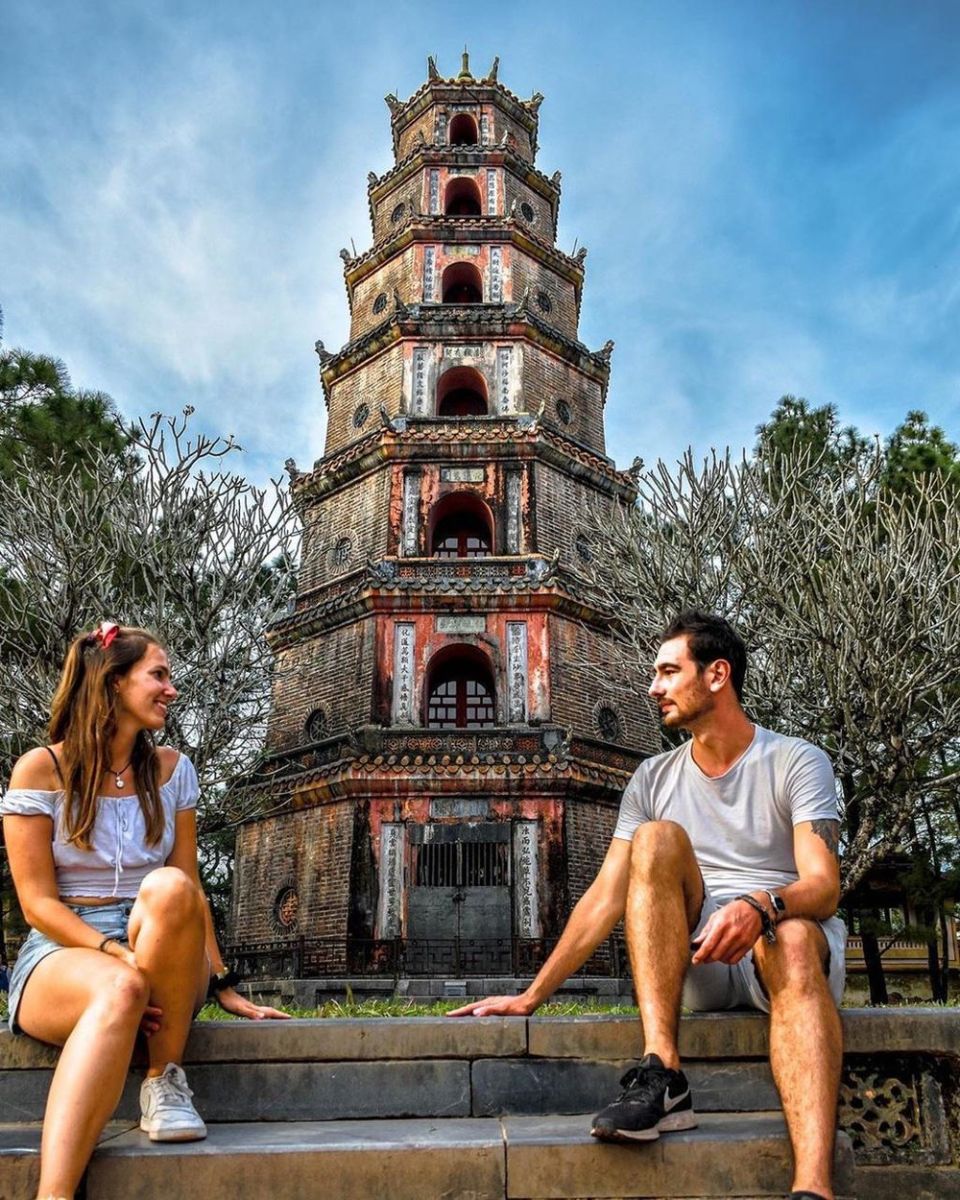 As the most distinctive architecture in the Thien Mu Pagoda area, Phuoc Duyen Tower shows its design with 21 meters of octagonal tower featuring seven floors. You will see two quadrilaterals on the two sides of the tower with two steles during the Thien Tri period.
3. Tomb of Venerable Thich Don Hau
As the most well-known abbot around Thien Mu Pagoda, Venerable Thich Don Hau devoted his life to Buddhism development in Vietnam. Furthermore, he got respect from locals for joining in public activities to help people who needed help. After he passed away, locals buried him under the tower situated at the end of the campus to represent the gratitude of various revered monks.
4. Dia Tang Palace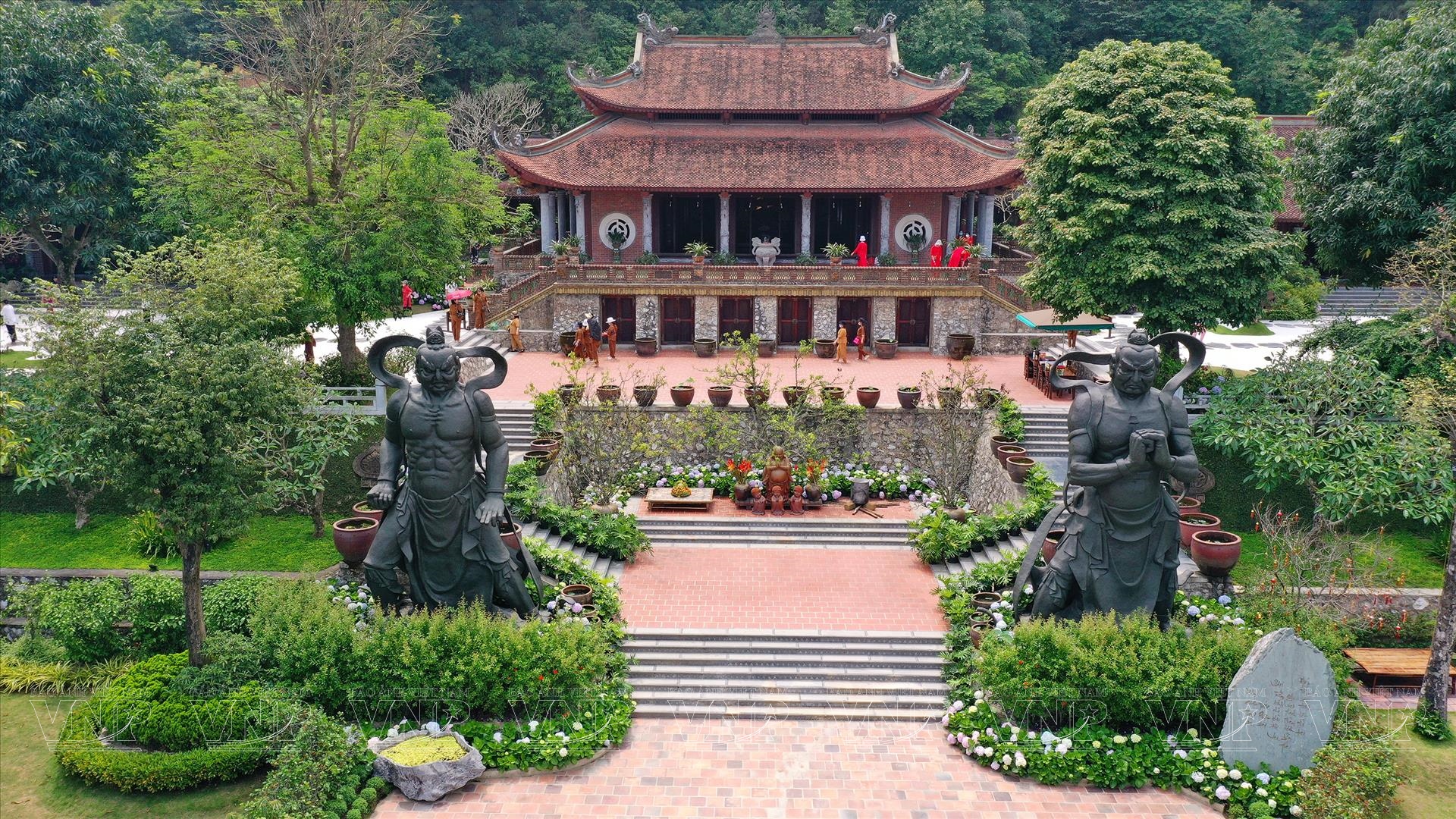 As located behind Dai Hung Palace, Dia Tang Palace has a large and lush garden. When entering Dia Tang Palace, you can see many magnificently carved interiors. Moreover, there are lots of altars with engravings and precious artifacts, including paintings and mental bells within the palace.
5. Tam Quan Gate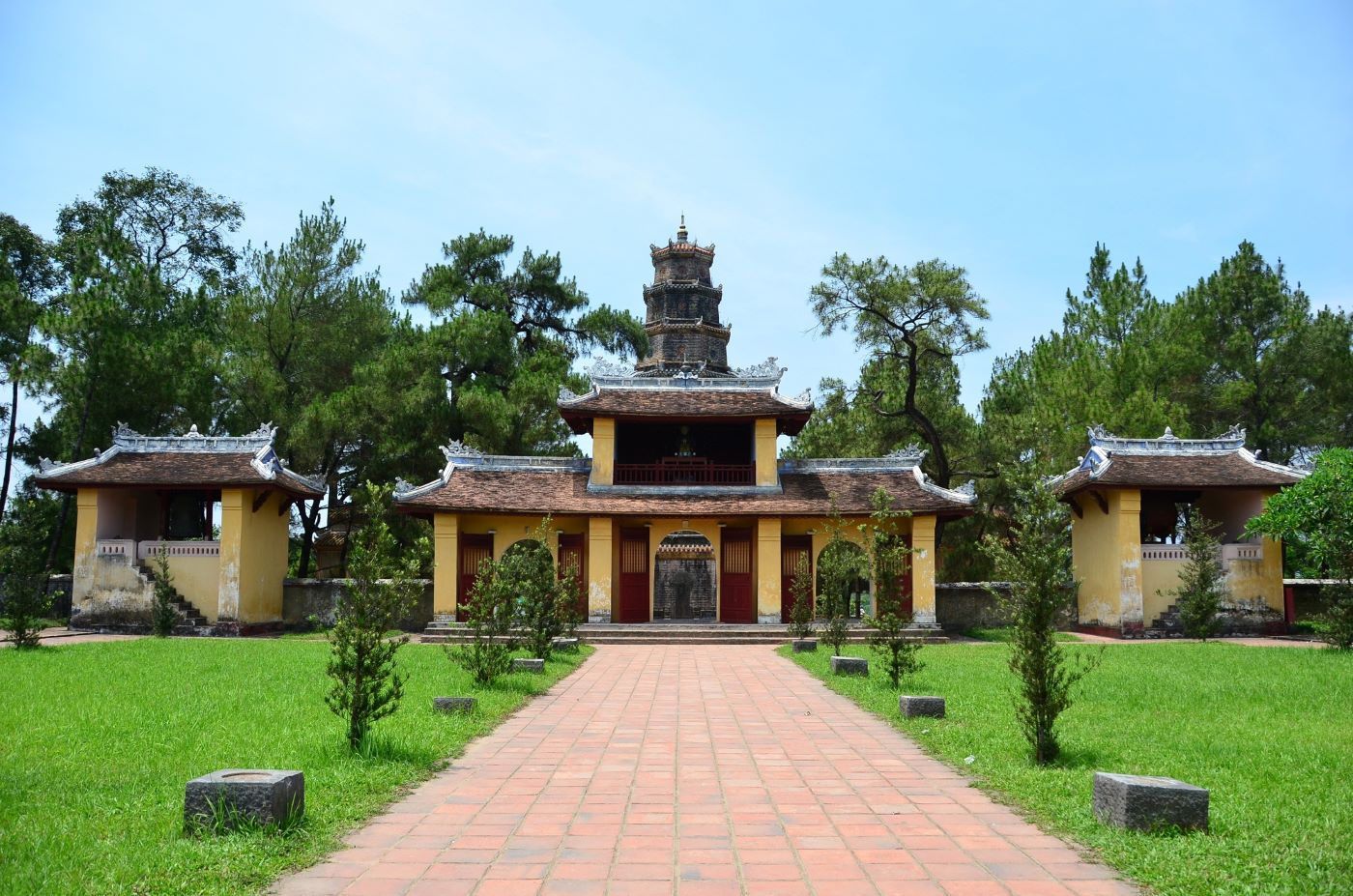 Considered the main entrance of Thien Mu Pagoda, Tam Quan Gate is a remarkable feature of the relic site. Tam Quan Gate features a two-story structure with eight top roofs, wooden floors, and brick walls.
V. Why choose WorldMate Travel as a trusted tour operator company in Vietnam for your trips
Thien Mu Pagoda is a must-explore attraction in Hue Vietnam, due to its extraordinary culture and remarkable architectural designs. As a trustworthy , World Mate Travel offers several tours and packages across Vietnam and other Southeast Asian countries. If you are looking for , contact us for more information.