Located in a 20-hectare area, the Royal Tu Duc Tomb is the most common, impressive, historic, and remarkable mausoleum in Hue, Vietnam's old capital.
Emperor Tu Duc had a strong like-mindedness for arts and poetries, which inspired him to construct a magnificent mausoleum of Emperor Tu Duc. After years to years, this landmark is still the most ideal and impressive compared to other royal mausoleums across Vietnam.
Your memorable journey to the ancient city of Hue can not be complete if you do not visit the Tu Duc Royal Tomb. Encountering in a lush pine jungle, The Tomb refers to Emperor Tu Duc as a final resting and tranquil place where all the myths of the emperor's life were buried. Read more information to explore this amazing monument and see what is life beyond the gate.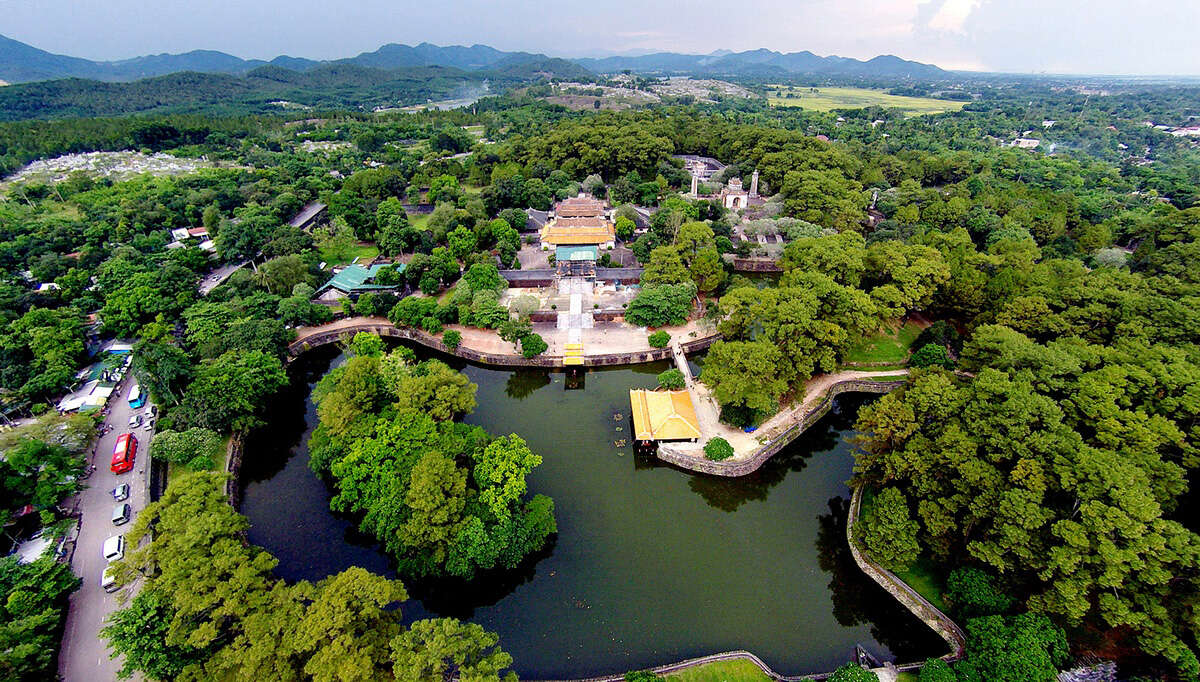 I. Tu Duc Tomb: An overview & its history
The myth of Tu Duc Tomb is related to a wide range of historical events. Tu Duc Tomb was built in 1864 with over fifty thousand workers who participated. During this time, the mausoleum of Emperor Tu Duc was named after Van Nien Co. A story told that people constructed the Tu Duc Tomb within 6 years. Additionally, more than thousands of soldiers have to work and build from day-time to midnight. However, their daily lives were hard to imagine. There was not enough food and clothes for them, and even they were beaten with rods. This labor scene brought an image of indignation in the minds of the labor forces.
After two years of construction along with the oppression of the people who had to build the tomb, there was a rebellion of constructors against the mausoleum of Emperor Tu Duc. This rebel was from three gates, including Hien Nhon Hoa Binh and Chuong Duc. However, it failed and it was obvious to see that it was immersed in a pool of blood.
Actually, after the event, the Tu Duc Emperor changed its name from Van Nien Co to Khiem Cung. In 1873, Tu Duc Tomb was successfully constructed when Tu Duc King still lived there for over 10 years before he passed away.
Featured Tour:
II. Temple Tu Duc's architecture
After taking the enthronement in such a complicated situation in the country, the Tu Duc Emperor had a strange personal life since he was not able to have a child. Besides, Tu Duc King ordered the use of a larger area for compensation to capture his sorrow. Therefore, he also put his heart into this tomb. As a sequence, Tu Duc Tomb has a total space of about 12 hectares, 10 times bigger than the Gia Long Tomb.
The architectural design of the Tu Duc tomb includes around 50 different shapes of buildings scattered in clusters. Besides, all the constructions around the Tu Duc tomb are sculptured based on the word "Khiem", meaning modest in English.
Related Article:
Related Article:
1. An ideal place for worshiping
Bat Trang lies on the walkway starting at Vu Khiem Gate and directs to the front of Khiem Cung Gate and the wind direction around Tu Duc tomb. Along the Vu Khiem Gate and Son Than shrine, which is a ritual temple for visitors, this is also the resting and relaxing place for the Tu Duc Emperor.
The first construction is the Chi Khiem Chamber which is lying on the left, which is the place for worshiping wives of Tu Duc Emperor. After stepping over 3 walks, travelers can see Khiem Cung Gate, a two-story building along with Luu Khiem Lake.
2. Center tomb area
The tomb area in the first place behind the worshiping location is named after Bai Dinh, with two-row statues to act as the place for the King to go across the globe.
II. Outstanding features of Tu Duc Royal Tomb
Tu Duc Tomb was named after Van Nien Co (literally Palace of Eternity). Thousands of slaves worked from dawn until midnight under inefficient conditions such as weather, physical health, and more, leading to a huge rebellion to construct the royal tomb for the Emperor.
After the strikes, the royal court criticized the Tu Duc Tomb construction. Tu Duc was renamed several tombs to Khiem Cung (It means the Palace of Modesty). Recently, all the architectural buildings in a complicated setting are related to the word "Khiem" or "Modest" in another language of English, in particular. Although it can be stated that the construction went through a notorious history, the Tu Duc tomb in Hue is a sight that is worth visiting and consists of major parts:
Featured Tour:
1. Luu Khiem Lake & Tinh Khiem Islet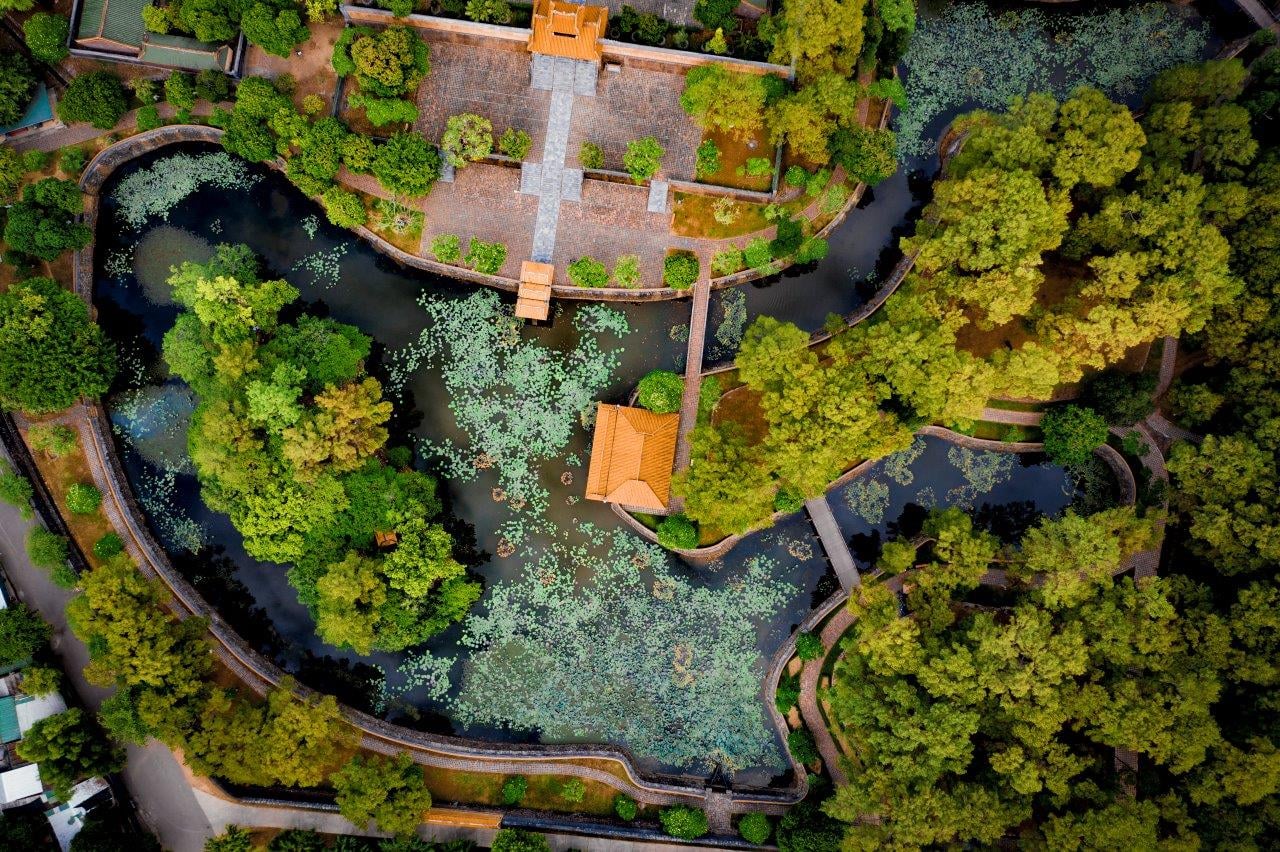 To visit Tu Duc's tomb, travelers have to step along the brick-tiled walkway, which starts at Vu Khiem Gate. Besides, it leads to the way to access Khiem Cung Gate. You can see a lake called Luu Khiem in front of Khiem Cung Gate. Starting from a small waterpath or stream, this artificial lake was supposed to be the lake of the Emperor as a source of merit. In the summertime, the waterpath is surrounded by its pink lotus shades. There is a myth that this is the most beautiful place in Vietnam to contemplate the true beauty of the national flower.
Travelers can see another place, Tinh Khiem Islet in the heart of the lake. The Tu Duc Emperor planted lots of impressive species of flowers on this small island, and some of them are still blooming nowadays. Luu Khiem Lake is home to Du Khiem as well as Xung Khiem pavilions in which the King immersed himself in a pure pastime such as playing chess, tasting tea, and reading books.
Featured Tour:
2. Palace of Hoa Khiem
Along through Khiem Cung Gate, visitors can also see the Hoa Khiem Palace. As it served as the working place of the Tu Duc Emperor, it was an ideal place for people to worship the Emperor and his wives. Besides, Phap Khiem Vu and Le Khiem Vu are both sides of the houses for a wide range of servants to relax and rest.
3. Luong Khiem Temple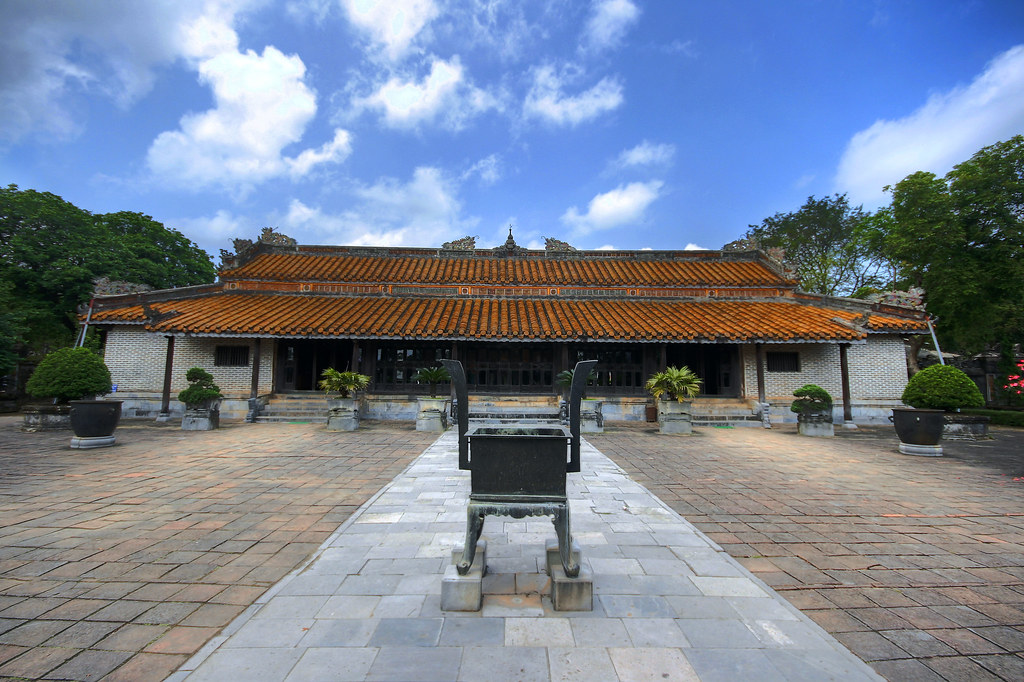 Luong Khiem temple is a place for Tu Duc to dedicate his mother, Empress Dowager Tu Du. Moreover, the right side of the temple is the On Khiem chamber, which stores the Tu Duc Emperor's possessions.
4. The ancient theatre of Minh Khiem
The ancient theater was the true architectural highlight of the Tu Duc tomb named Minh Khiem. The lake is the reflection of the Tu Duc Emperor's poetic mind and soul. Regarding its architectural design, all pillars were sculptured based on details, and the ceiling was carved with the symbols of the sun, moon, and stars.
5. Center Tomb area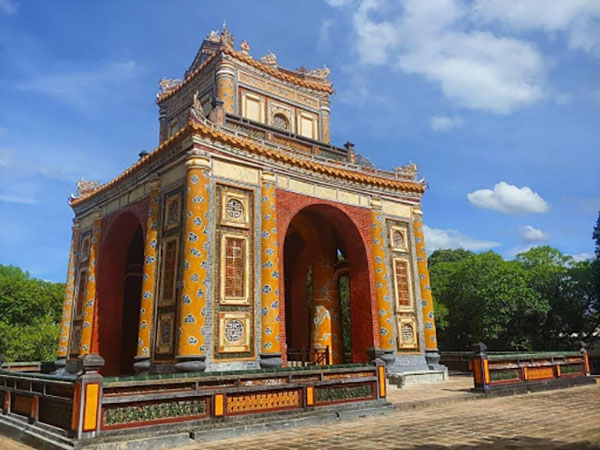 The first place, Bai Dinh, is located on the right of the worship. This place stands out from other statues, which were supposed to serve the Emperor along with his journey to the time he passed away.
After Bai Dinh, travelers go to Bi Dinh place, featuring the handwriting of the Tu Duc Emperor, about 20 tons of stele carved in particular. You know what, this is Vietnam's largest stone stele. Besides, all achievements and falls of Tu Duc King are stored on the plaque.
The central part of the tomb was built from three-floor stones. According to the legend, when the Tu Duc Emperor passed away, the grieving crew continued cruising down Luu Khiem Lake and let him relax in a secret place. All servants also were executed to keep the secret of the Emperor's remains after burying the Emperor. Therefore, the mystery of the King's resting place would go down with all.
IV. How to get to the Mausoleum of Emperor Tu Duc
Only a 6-kilometer drive from the city center of Hue, Tu Duc tomb is pretty easy to access. There are some ways to get there:
Hiring a motorbike is suitable for those who want to explore tranquil streets on their own, and this is the ideal option. Go to Hue Railway station and then move to Bui Thi Xuan Street, turn left to Huyen Tran Cong Chua Street. Finally, tourists can access Tu Duc Tomb after about 20 minutes.
Grabbing a taxi will be another option. You should go with reputation taxi-providing companies like Mai Linh or Xanh SM or book your rides with technological taxi providers.
Traveling by boat is an optimal option for you to visit Tu Duc Tomb and Thien Mu Pagoda. However, travelers might walk around one kilometer to reach the tomb entrance.
Featured Tour:
V. Tips on exploring Tu Duc Mausoleum: Advice from our Vietnam travel agent
Here are our tips for you in order to discover Tu Duc Mausoleum from a 's advice. Tu Duc tomb is expanding in 12 hectares. Therefore, you should put on comfortable clothing and shoes to walk. Besides, you had better bring sunglasses and a mini-fan in the hot weather, particularly from April to August. Additionally, you can bring umbrellas or raincoats that depend on the weather, especially between October and February.
In conclusion, Tu Duc Tomb refers to a spacious park that enables tourists to immerse themselves in nature. You can feel there is no straight line or any angular; however, there is a harmonious winding instead of that. Lots of people consider it an iconic elegant beauty that features Confucian styles as well as the romantic poetry of the Tu Duc emperor. If you want to explore more about other ionic and cultural places like Tu Duc tomb, you can contact us to get more information.