Located in the central part of Vietnam, Hue imperial city features UNESCO-recognized outstanding cultural heritage and impressive architectural design.
Are you passionate about culture and architecture in Vietnam or looking for a peaceful escape from bustling cities? Hue can be an ideal place for you. Despite rapidly innovating urbanization around Southeast Asia, Hue imperial city still enchants travelers with magnificent landscapes, a peaceful atmosphere, and impressive highlights of UNESCO-recognized cultural values.
The blog here will provide you with essential details that you might not know about Hue Imperial City before planning the trip here.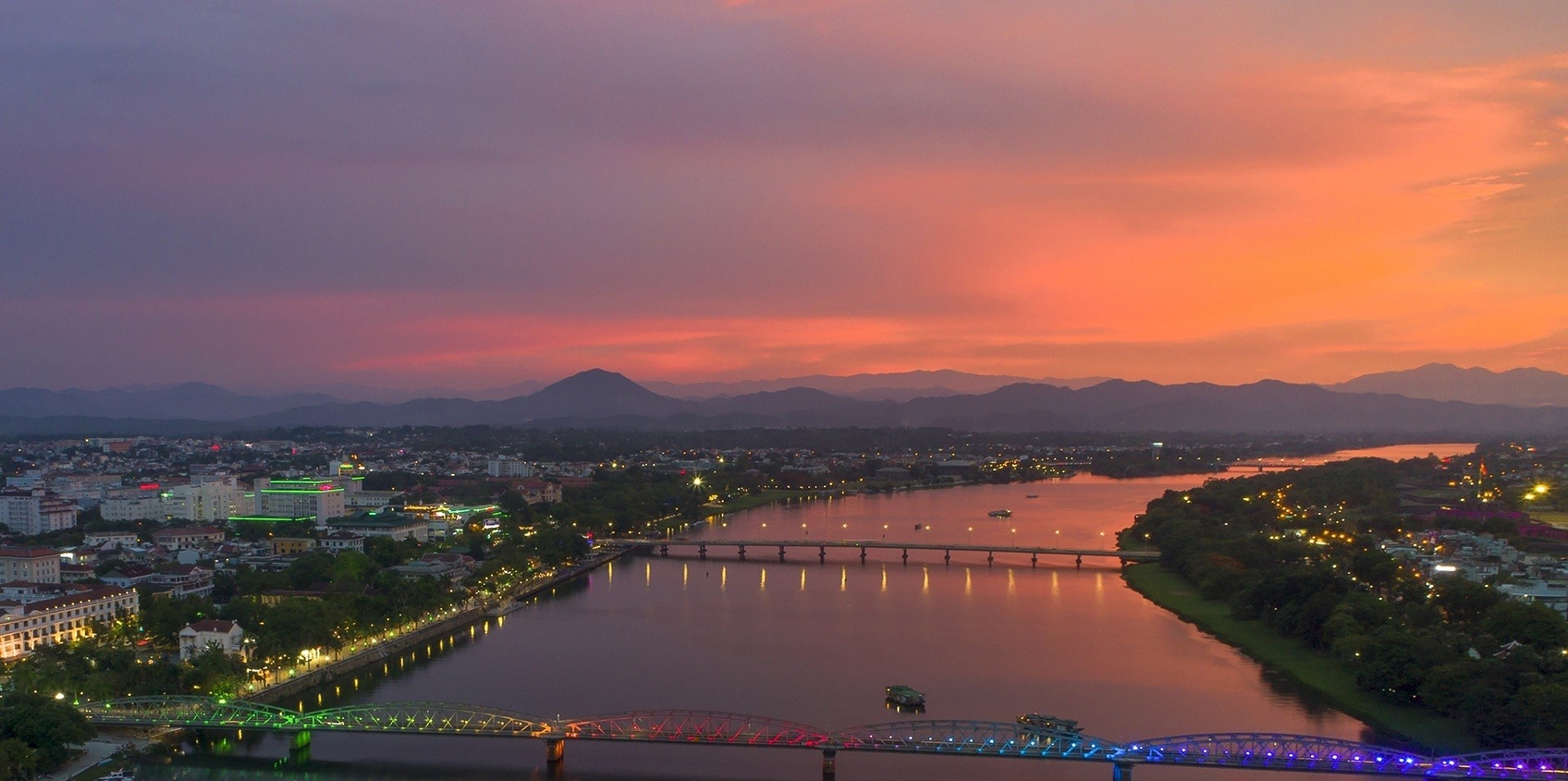 I. About Hue Imperial City
1. Location
Lying in the central part of Vietnam, Hue imperial city is the capital of Thua Thien Hue Province as a coastal part sharing borders with Quang Tri Province to the North, Quang Nam Province, and Da Nang City to the south. With an area of 80 kilometers along the Perfume River, Thua Thien Hue province affords convenient transportation routes with Phu Bai International Airport and the main trans-Vietnam train.
Featured Tour:
Featured Tour: 5D4N Exquisite Danang / Hue/ Hoian / Bana Hill Tour
2. History of Hue Citadel
Hue Citadel was originally part of the Kingdom of Champa before the Vietnamese occupation. It started its long-lasting history as a feudal city after being ruled by the Nine Nguyen Lords from 1687 to 1775. After that, the Tay Son brothers took over Hue, and it remained the chief capital from 1788 to 1801. After the collapse of the Tay Son Regime, Emperor Gia Long of Nguyen Lords recaptured the Hue citadel from 1802 to 1945 to unify the Vietnamese monarchy.
In the Vietnam War, the Battle of Hue would be a part of the Tet Offensive (1968). Besides, Hue was seriously damaged owing to the proximity to the wide border that would separate the South and the North.
Throughout many centuries, Hue Imperial City was still the cradle of power and revolutions, which experienced the Vietnamese's feudal past and massive suffering in the wars. Currently, Hue remains significant as the center of tourism, education, and ritual religion in the central part of Vietnam.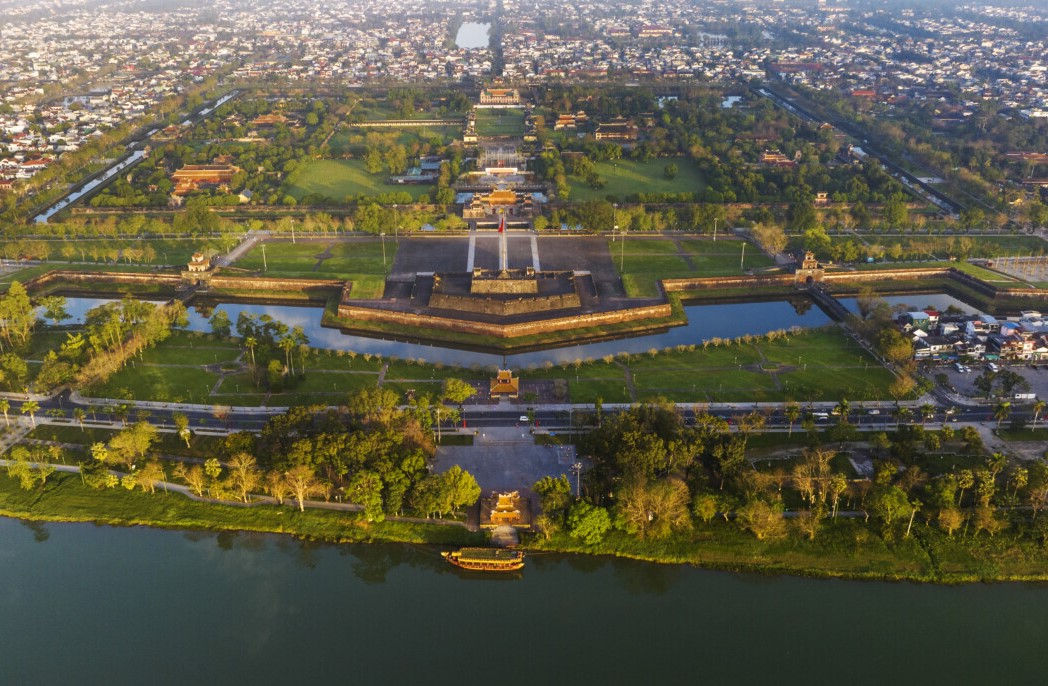 II. Which is the best time to visit the Hue Imperial Citadel?
As you might know, the weather in Hue is a tropical monsoon climate all the year.
January - April: The average temperature is around 22 - 25oC. It is pretty dry from February to April, which makes it the most suitable time to take part in outdoor activities. In particular, you can visit Hue during the Lunar New Year and Hue's Festivals to enjoy significant culture-based events organized every two years.
May-August: This is the summertime in Hue and the temperature is about 30 - 38oC. It is favorable to enjoy indoor activities like visiting temples, pagodas, and traditional markets.
Mid-August to September: It is about 18 - 20oC, and it will rain in Autumn. It will be suitable for those who want to avoid crowds.
October to December: There will be flooding and rainfall at this time, so it is not a suitable time for exploring Hue.
III. How to get to Hue Imperial City
As Hue is easily accessible, you can travel to Hue from Ho Chi Minh, around 1100 kilometers to the Northern part. Starting from Hanoi, it takes around 700 kilometers to the Southern part, while Da Nang City is just 100 kilometers close to the city center. Here are our suggestions:
Flight: There are various domestic flights from Ho Chi Minh City, Hanoi, or Da Nang City to reach Phu Bai International Airport in Hue for you to choose from. It is about 15 kilometers away from the airport.
Train: This city is an ideal stop on the north and south railway that links Hanoi and Ho Chi Minh City. This way will be an ideal option for travelers to enjoy spectacular landscapes along the way with air-conditioned, soft, or hard seats at reasonable prices.
Bus/Coach: This is the longest or cheapest way from Da Nang to Hue, about 2.5 hours of driving, 13 hours from Hanoi, and 25 hours from Ho Chi Minh City.
Motorbike: You can use a motorbike from Da Nang City to Hue Imperial City, taking 3 hours of riding to Hue by following the coastal beach of National Highway
IV. Hue Imperial City entrance fee:
Address: 23/8 Street, Thuan Hoa Ward, Hue, Thua Thien Hue Province.
Opening hours: from 8 AM to 5:30 PM, every day.
Entrance fee (updated in 2022):
Ticket fee: VND 200.000/pax (accessing to the Imperial City)
Tickets for the Imperial City, , , and : VND 530.000/pax.
Full ticket: VND 580.000/pax to visit the Complex of Hue Imperial City.
Featured Tour:
V. Remarkable places during your trip to Hue Citadel
1. Ngo Mon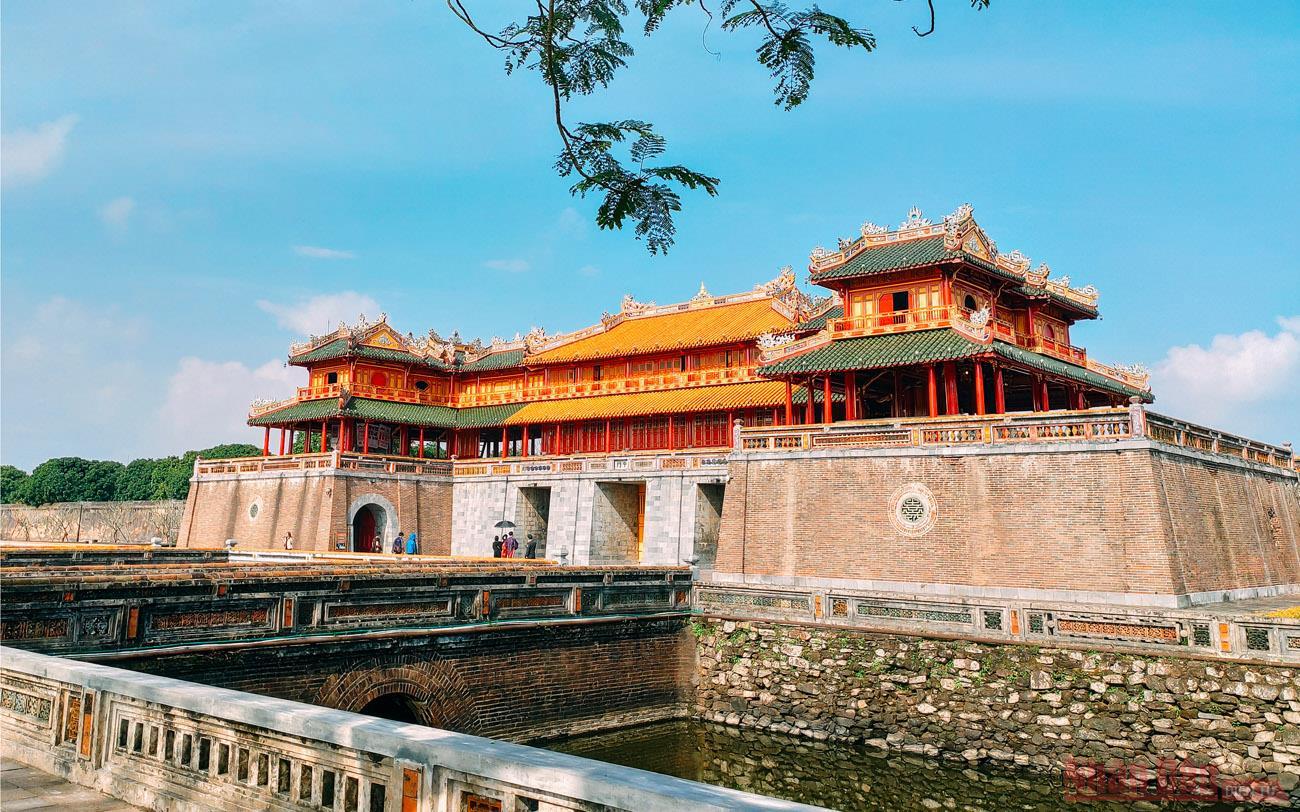 Hue Citadel is surrounded by the trench, including thirteen gates for travelers to explore the whole area of Hue Imperial City; however, locals and tourists can mainly get in through four gates, such as Ngo Mon, Hien Nhon, Chuong Duc, and Hoa Binh gates. Back in feudalism, the Ngo Mon Gate was exclusively employed by the Emperor. Others needed to go with other gates. Nevertheless, Ngo Mon Gate is open to all tourists and even horses and elephants.
2. The Nine Holy Cannons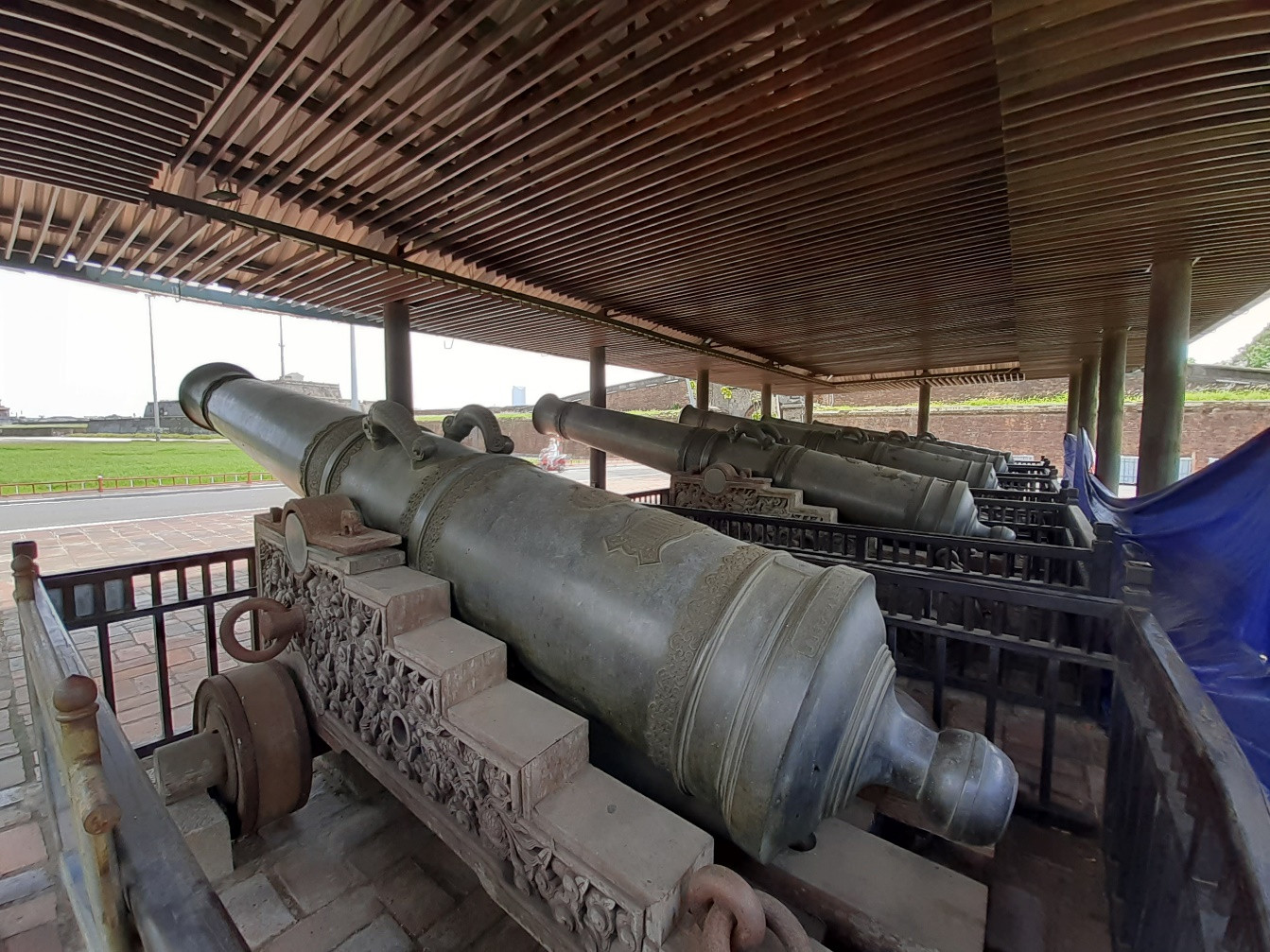 The Nine Holy Cannons (literally Cua Vi Than Cong in Vietnamese) is named after the nine cannons by Gia Long King, which were used to decorate and retain their importance among many cannons in the Nguyen Dynasty.
Legend states that the Tay Son Dynasty and King Gia Long sequestered bronze spoils to make it melt down and then cast 9 cannons. Each cannon has its meaningful value and weight engraved on its body and its name on the tail. For meaning, there are four cannons representing 4 seasons (Spring, Summer, Autumn, and Winter) and 5 natural elements including Metal, Wood, Water, Fire, and Earth.
3. Thai Hoa Palace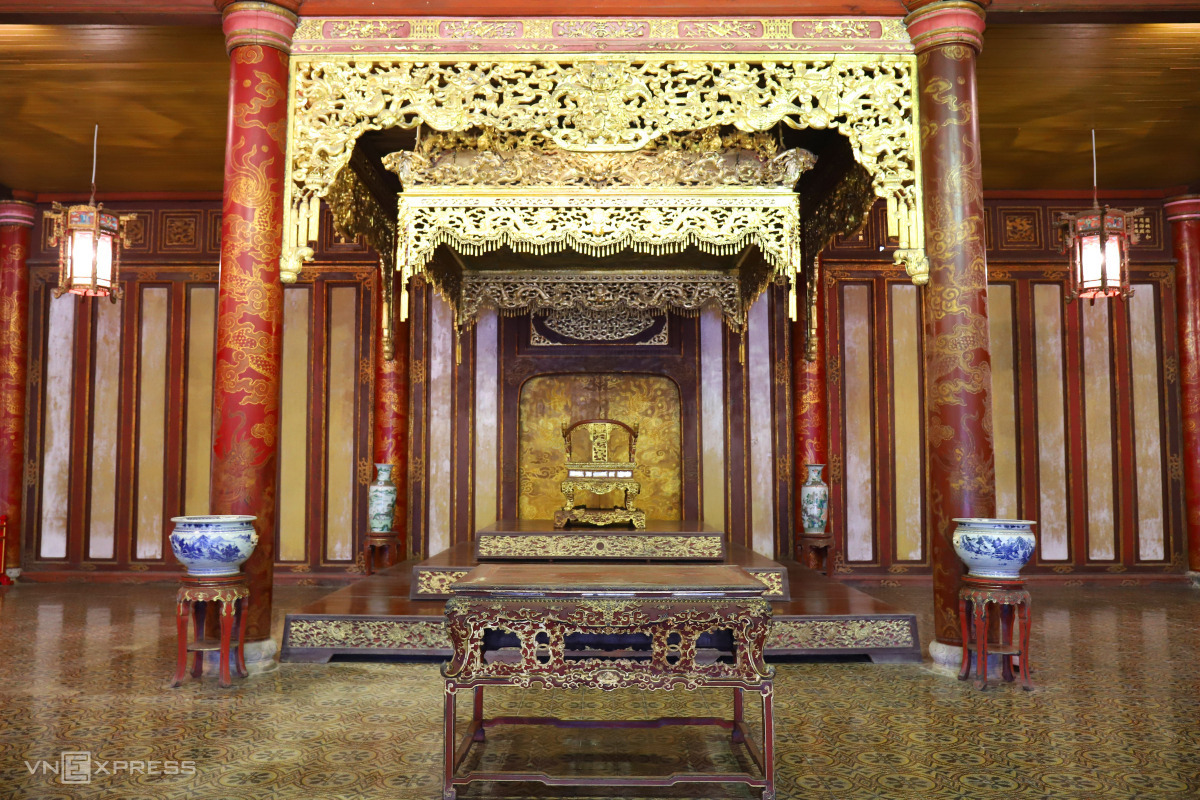 As recognized by UNESCO as the , Thai Hoa Palace will be one of the iconic symbols of the Hue Citadel. It was made of wooden materials which witnessed the royal life with lots of cultural, historical, and artistic activities.
In the 1940s, most parts of Thai Hoa Palace were seriously ruined. However, it was reconstructed for spiritual purposes. As you explore the palace, travelers can find a peaceful corner to relax or sit down and enjoy the atmosphere.
Featured article:
VI. Discover the best things to do in Hue Imperial City
1. Strolling down the citadel to explore the historical capital
Hue City is home to poetic beauty and was also selected as the former capital of the Nguyen Regime as the last loyal empire in Vietnam for over 140 years from 1805 to 1945.
When the flag of Vietnam is raised, locals and tourists gather around the gates to get to the imperial city. Go around and you will hear the audio to explain the myth of the Nguyen Dynasty and other interesting historical stories about these sacred areas. Besides, tourists can have a chance to listen to the amazing stories while contemplating stunning architectural styles that will reflect the feudal patterns and oriented-based philosophy of Vietnamese people.
2. Exploring another version of Hue Citadel at night
When the night comes, Hue Imperial City shows another vibe of the city. Particularly, on holidays such as National Reunification Day of April 30th and May Day, this palace will be a suitable place for tourists to explore and understand more about ancient royal rituals and art performances.
3. Tasting Vietnamese tea in Thai Hoa Palace
As a fabulously granted garden in Hue Imperial City, Thai Hoa Palace enables tourists to explore an ideal stop-over with lots of attractive things and corners to explore. Besides, you can take time to enjoy a cup of hot tea and enjoy the delicate and elegant flavors of significant Vietnamese tea.
Why select WorldMate Travel as a Trusted Local ?
Hue Imperial City is worth exploring and taking your time here. You can probably easily fall in love with the cultural and historic beauty of the ancient land. Contact WorldMate Travel to get more information related to such magnificent and ancient places like Hue Imperial City and book a trip to Hue.