When discussing the historic heartland, you cannot ignore the stunning Van Long nature reserve in Ninh Binh. Known as an enchanting masterpiece of unspoiled nature, Van Long Nature Reserve was handpicked by the renowned film production Legendary Entertainment, as the backdrop for the blockbuster "Kong - Skull Island." The vivid imagery showcased the beauty, promptly propelling Van Long into the spotlight for travelers.
When you search for a fresh destination brimming with unforgettable encounters on your forthcoming Ninh Binh adventure, Van Long Natural Reserve will be a great option.
Van Long Nature Reserve: The Completed Guide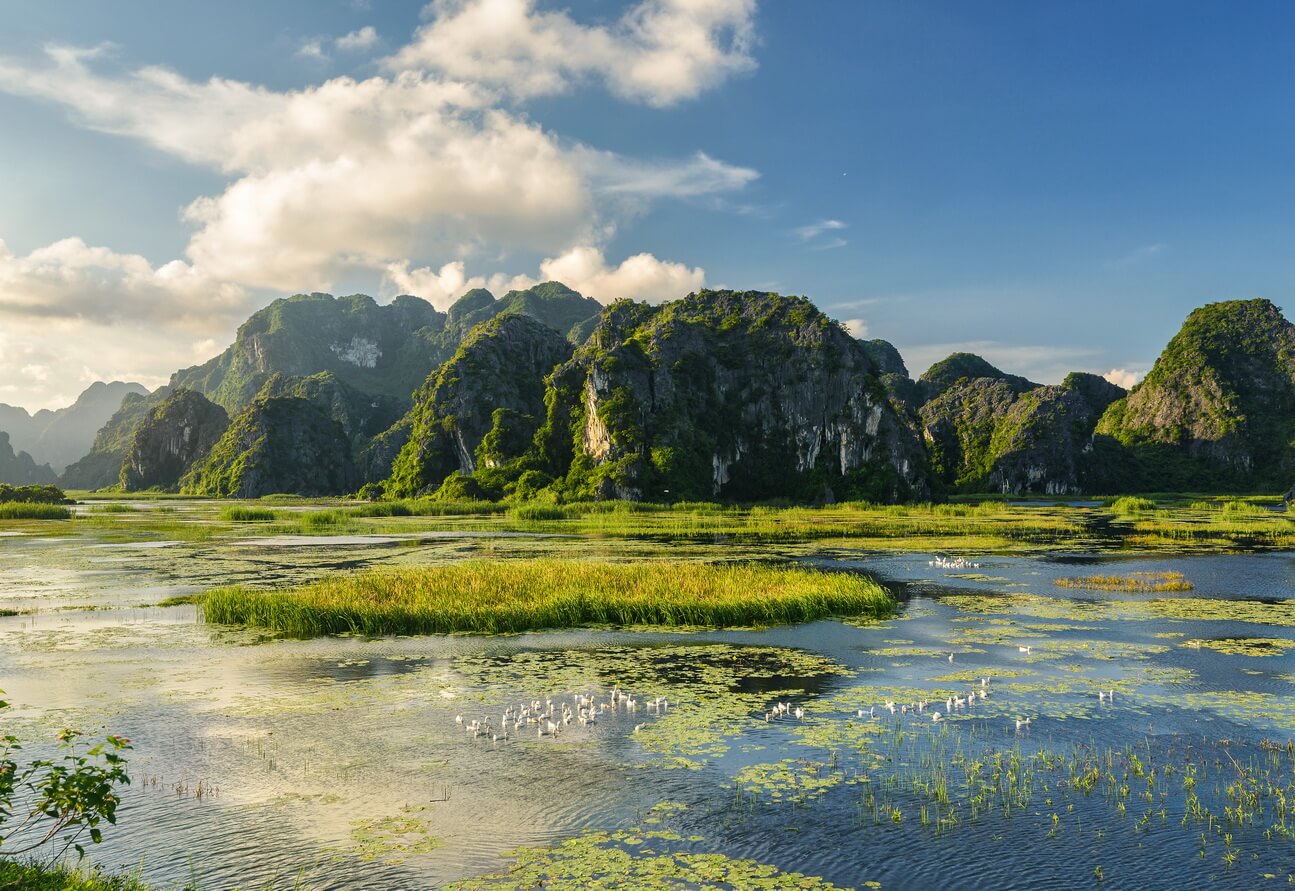 1. Introduce Van Long Vietnam
Located in the heart of Gia Vien district, Ninh Binh province, just 80 kilometers from Hanoi, Van Long Nature Reserve lies the enchanting area. Spanning an impressive 3,500 hectares, it proudly claims the title of the largest wetland nature reserve within the Gulf of Tonkin, boasting a rich and utterly unique ecosystem. Within these serene confines, you will encounter a treasure trove of rare flora and fauna, including the elusive white-rumped langur, a species so precious it finds a place in the revered Red Book of endangered species.
Van Long Lagoon climate is a perpetual source of rejuvenation, offering year-round freshness. In the summertime, Van Long Ninh Binh dons its most splendid attire. A sea of golden-hued, ripe rice fields stretches as far as the eye can see, while the lagoon surface mirrors the tranquil sky like an expansive, crystal-clear-looking glass. Encircled by limestone mountains of varying shapes and sizes, the Van Long nature reserve is adorned with an intricate cave system featuring ever-mesmerizing stalactites.
Van Long Nature Reserve paints a vivid, multi-hued canvas as a masterpiece bestowed upon this land by the hand of nature itself. Van Long Ninh Binh awaits your discovery, promising an unforgettable experience in the heart of pristine Vietnam.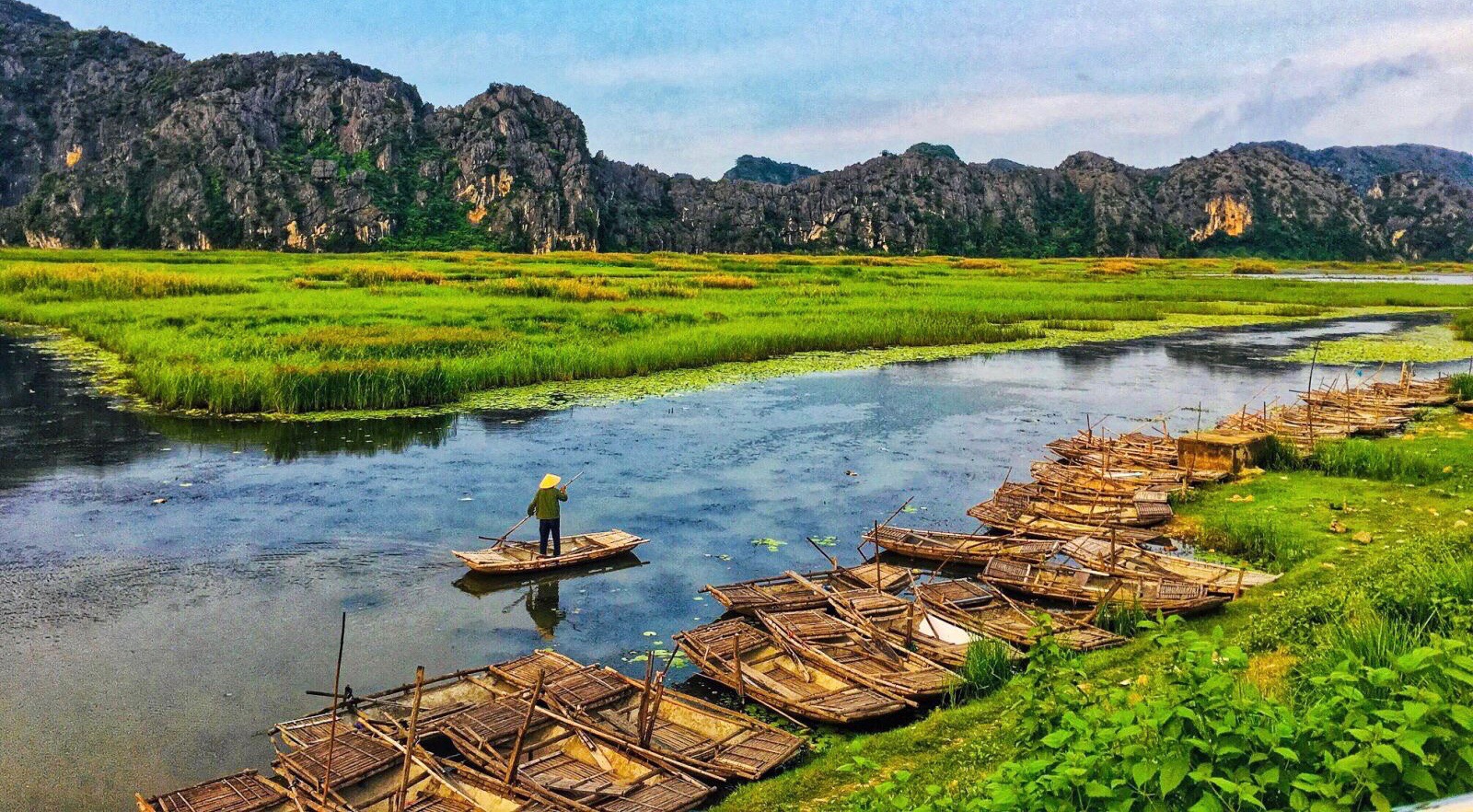 Featured tour:
2. The Critical thing in Van Long Ninh Binh
Van Long Ninh Binh Boat tour
Embark on a serene voyage aboard charming small boats and instantly find yourself captivated by the unspoiled allure of Van Long Ninh Binh's flooded lagoon. As you navigate through this picturesque landscape, the grandeur of the rolling mountains complements the sensation of gently gliding on pristine blue waters. Beneath the surface, vibrant moss and algae create an underwater tapestry reminiscent of a coral reef. The transparency of the water allows for a poetic panorama, revealing the interplay of clouds, sky, and mountains.
The lagoon is ensconced in swaying sedge grass and reed beds, harmonizing with the gentle breeze. In the distance, elegant white storks, fiery red storks, and a diversity of avian species gracefully soar through the air, scanning for their next meal. The early morning and late afternoon present enchanting spectacles as the luminous sunrise and sunset cast their mesmerizing reflections, stirring the hearts of countless travelers.
Van Long Nature Reserve: Explore Caves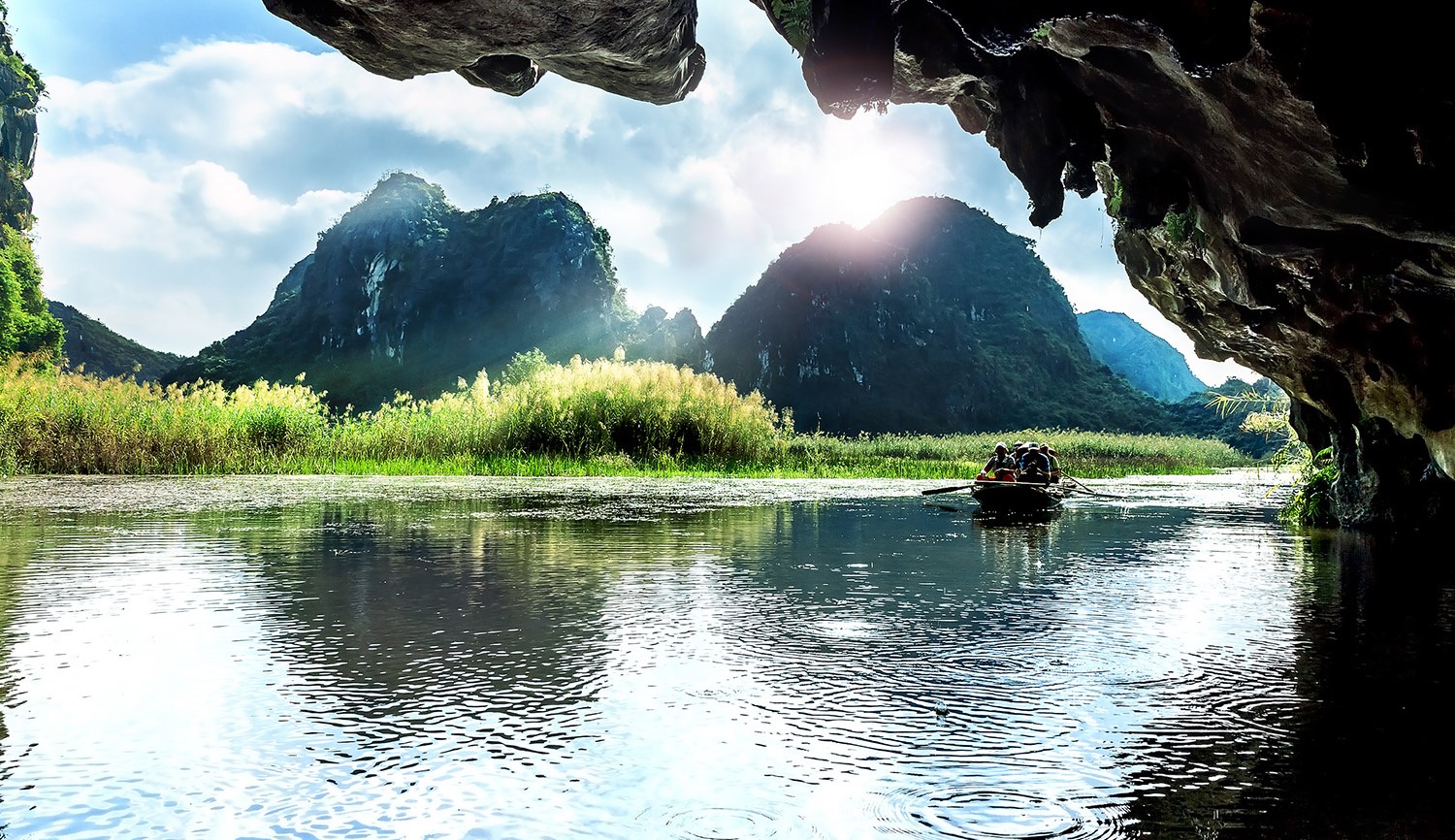 When venturing into Van Long Ninh Binh on your own, a must-not-miss experience is the exploration of Van Long Nature Reserve's extraordinary caves adorned with an array of uniquely shaped stalactites. Within the limestone mountains, these caves also serve as habitats for wildlife.
Among the notable caves, Ca Cave stands out as one of the largest and most captivating caves in Van Long Nature Reserve. It boasts a distinctive feature, comprising both a floating section and a partially submerged part, offering visitors a visually stunning panorama. As its name suggests, the cave is also home to various fish species. A van-long nature reserve boat ride is required to access this site, where you can capture stunning moments through your lens.
Spiritual journey amidst the beauty of Van Long Ninh Binh
Within the expansive Van Long lagoon area, nestled on rugged mountains, lies a complex of temples awaiting your exploration. Temples and pagodas like Thanh Mau, King Dinh Tien Hoang, Dich Long, and Thanh Son emanate an aura of antiquity, each carrying a trove of captivating historical narratives that await you to discover.
The breathtaking spectacle of a sunset over Long Van lagoon in Ninh Binh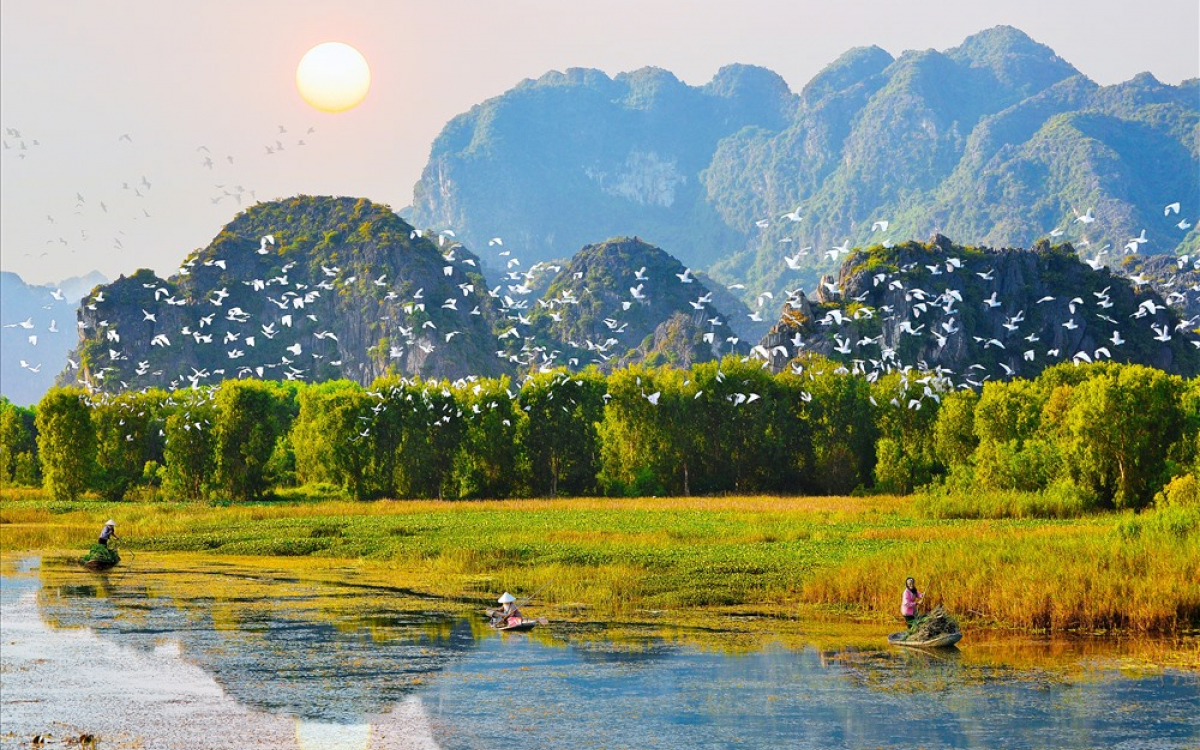 As you venture to Van Long Lagoon in the late afternoon, make sure to carve out a moment to witness the mesmerizing sunset from within the caves. It is an experience that promises to etch itself into your memory forever!
Van Long Nature Reserve Tour: What you need to know
1. Best time to visit Van Long Nature reserve
Van Long Lagoon in Ninh Binh beckons with its diverse ecosystem and lush vegetation, making it a captivating destination year-round. For those yearning to witness the enchanting lotus season, plan your visit in the summer months of May to June. This time, the entire space is adorned in a breathtaking pink hue, offering the perfect backdrop for a vibrant and unforgettable photo collection. Summer actually unveils the splendor of Van Long Natural Reserve.
Alternatively, consider exploring during the dry season, which spans from November to the following April. This period offers an opportune time to revel in the beauty of the local flora and fauna as flocks of birds return to nest. It's recommended to steer clear of the rainy season, as the overcast weather may not be conducive to experiencing the full Van Long nature reserve tour.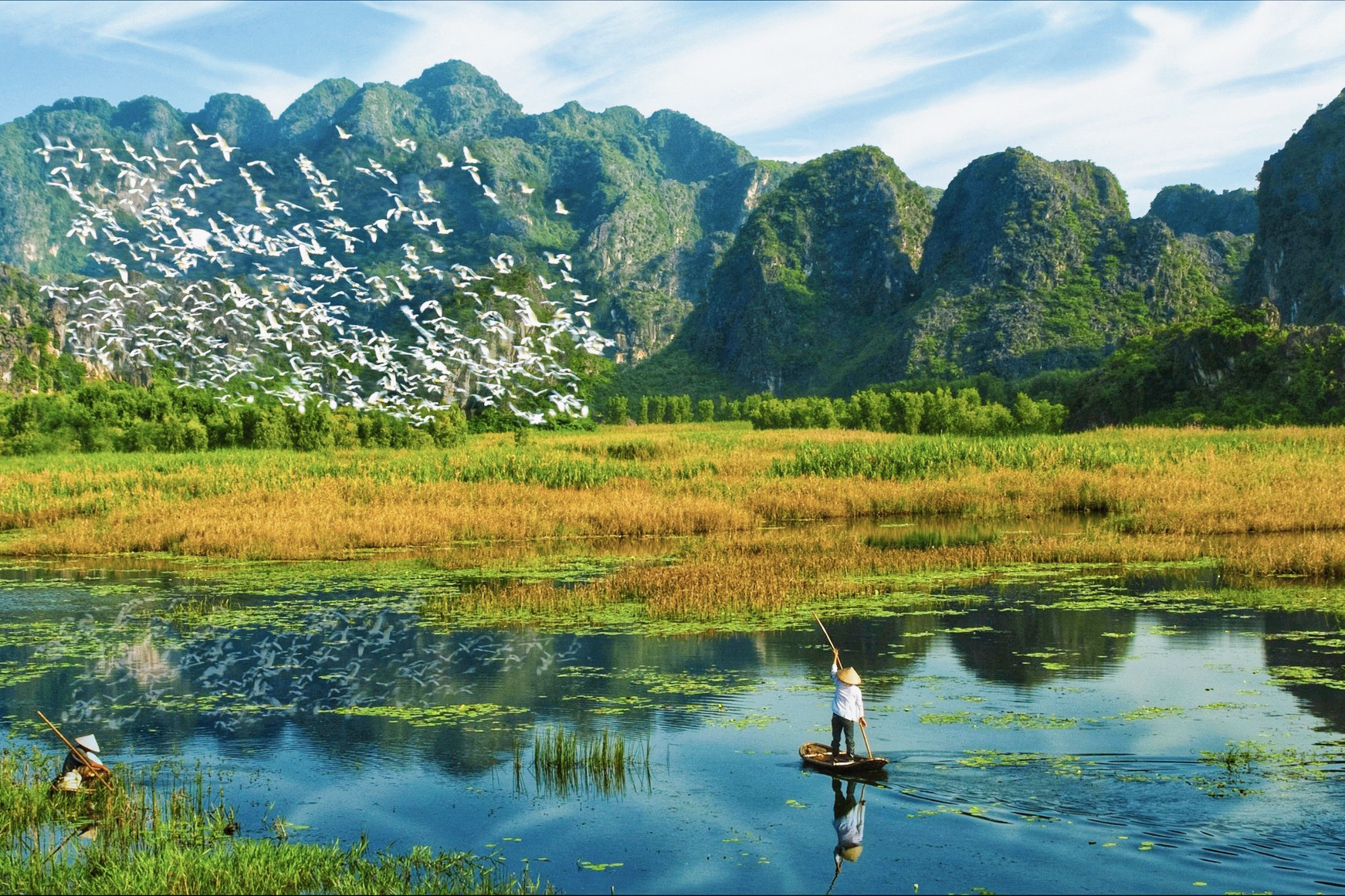 2. How do you access Van Long Nature Reserve?
Just under 100 kilometers away from Hanoi, the journey to Van Long Lagoon is remarkably accessible. Various transportation options await you, including trains, buses, self-driven cars, and motorbikes. While train and passenger car services opt for a self-driven vehicle, providing a more flexible and autonomous travel experience.
Embarking on this route, you'll trace the path of the National Highway 1A, passing through Ly Palace and reaching the pivotal Gian Khau junction. From there, a left turn leads you on a scenic route through Nho Quan to Gia Van commune in Gia Vien district. Along this route, you'll encounter a dike, and nestled at its foot lies the picturesque Van Long Lagoon, awaiting your exploration.
By Bus: Many travelers opt for passenger buses when journeying to Ninh Binh. You can take a bus to to reach Van Long Nature Reserve. From there, you can easily arrange a taxi or motorbike taxi to your final destination, saving you time and effort.

By Motorcycle: The distance from Hanoi to Van Long lagoon is a manageable 80 kilometers, with a straightforward route. It makes traveling by motorcycle a viable option. Boarding from Giai Phong Street in Hanoi, pass through Giap Bat bus station and cross Phu Ly bridge to Ninh Binh. The journey to Van Long Lagoon takes approximately 2 hours by motorcycle.

By Train: Taking the train is an excellent choice for optimizing travel time. Train tickets from Hanoi station to Ninh Binh range from 60,000 to 120,000 VND. Upon arrival in Ninh Binh, you can easily book a taxi or motorbike to transport to Van Long Lagoon.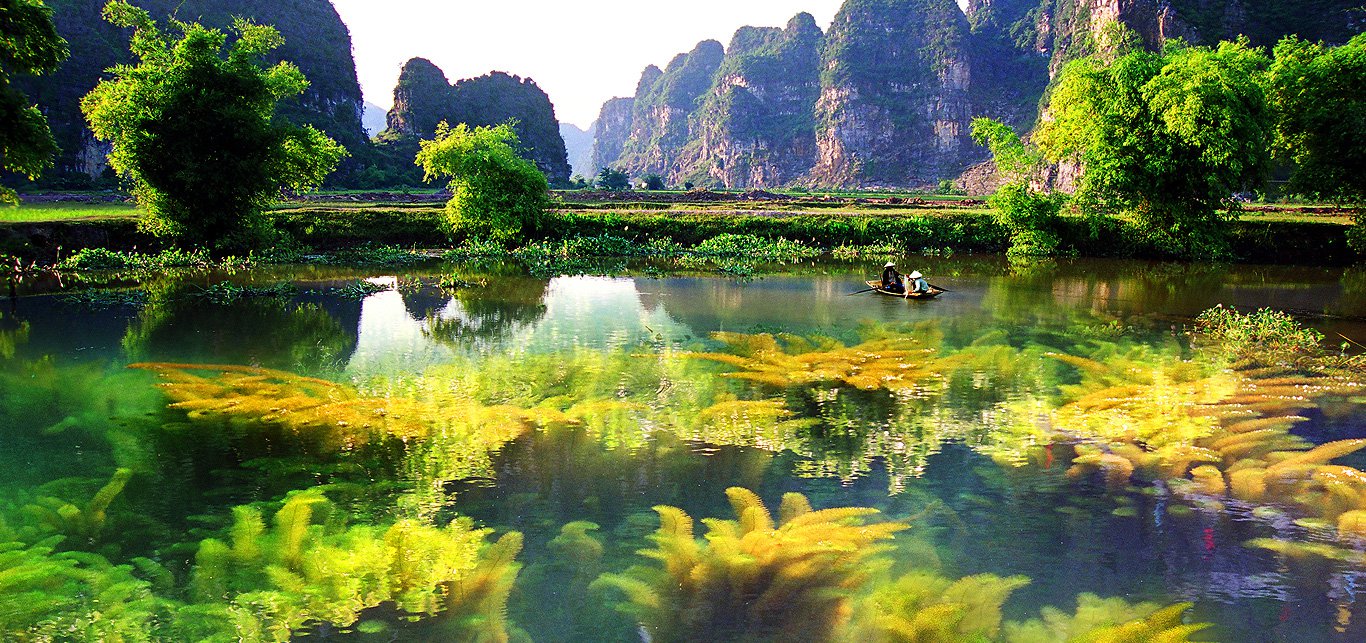 3. Guide on Van Long Nature Reserve Tour itinerary
Nestled in a picturesque valley, enveloped by awe-inspiring limestone formations on all sides, Van Long Wetland stands as a captivating eco-tourism gem. For an unforgettable experience, plan your visit in the afternoon to watch the graceful return of birds to their nests. The destination is conveniently located just 15 minutes away from the Ninh Binh Hidden Charm Hotel by motorbike or car.
Discover the essence of Van Long Lagoon, Ninh Binh, through two captivating activities that should not be overlooked: a serene boat ride around the lake and exploring its enchanting caves. Upon arrival, you could rent a boat for a memorable excursion. For approximately 1-2 hours, the Van Long nature reserve boat ride promises an immersive and enjoyable experience. What adds to the charm of this adventure is the warm hospitality of the locals, who are known for their friendliness and welcoming nature!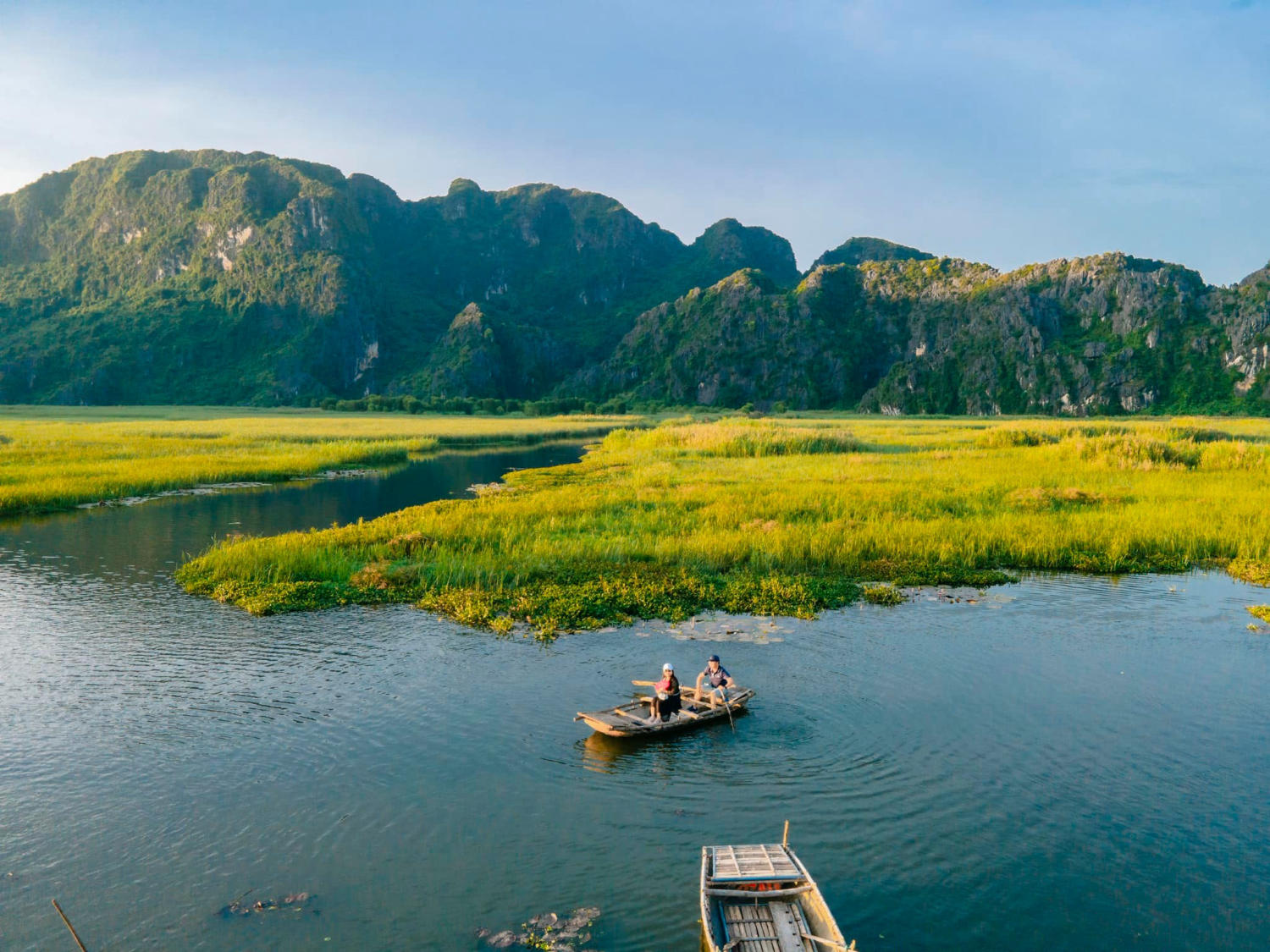 Here are the ticket details:
- Admission Fee: 20,000 VND per person
- Boat Ride: 60,000 VND per boat (accommodating up to 2 people)
Ninh Binh boasts an abundance of diverse tourist attractions and scenic spots, providing several options for exploration. Besides the enchanting Van Long lagoon, there are several other captivating destinations within close proximity. Here are some noteworthy attractions with their respective distances for your reference:
Kenh Ga Hot Springs: Just 11 kilometers away from Van Long V
Hoa Lu Ancient Capital, Ninh Binh: A mere 17 kilometers away
: Approximately 19 kilometers away
: Situated 20 kilometers away
: A short 25 kilometers away
Each of the tourist attractions promises unique charm and cultural significance, ensuring a rich and varied experience for travelers.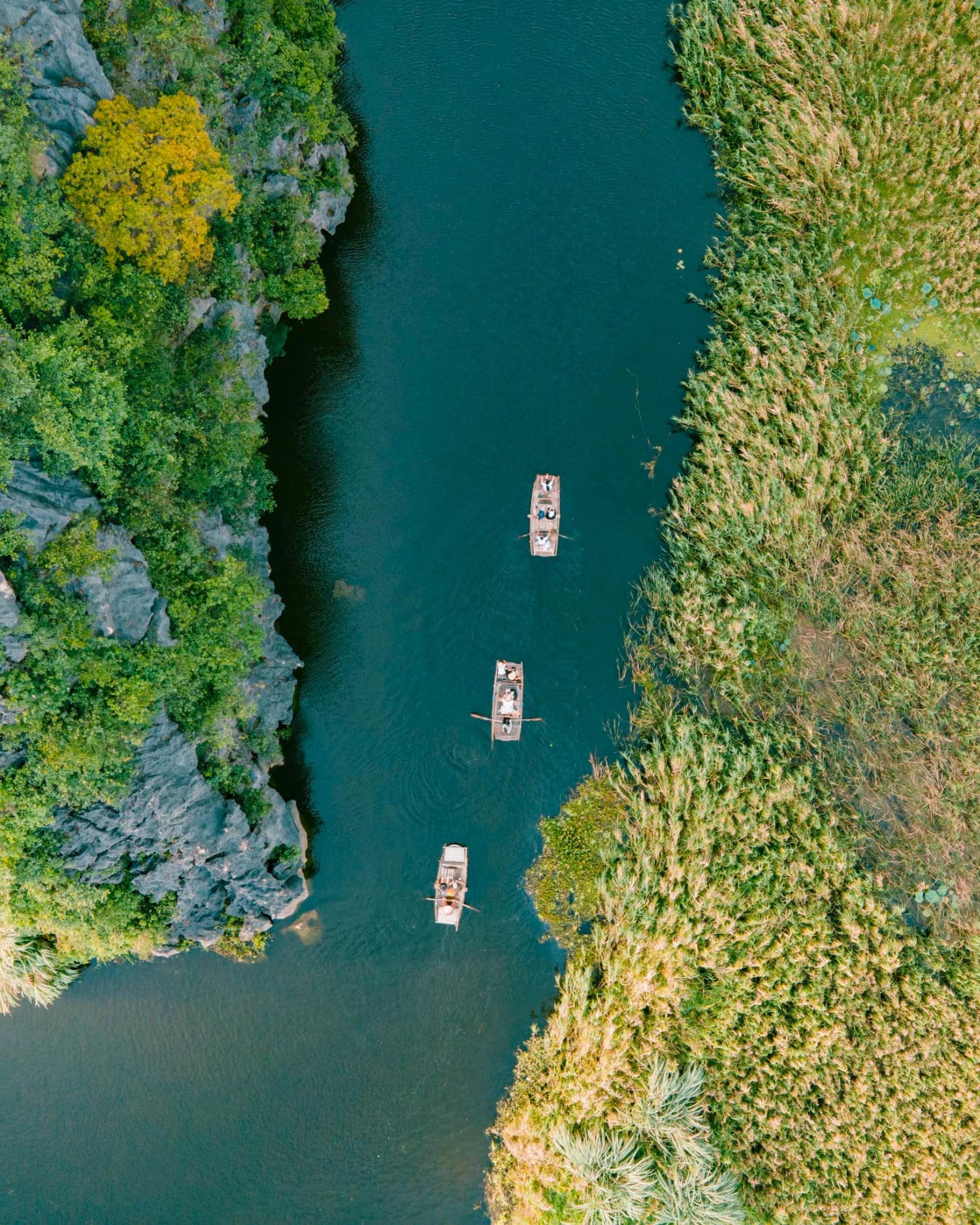 For the experience at Van Long Nature Reserve, contact World Mate Travel, a . We are a trusted having 10 years of experience in operating the Van Long Ninh Binh Tour. We offer for your unique requirements.