Capture a taste of ancient spaces in Southeast Asia on your memorable trip to Cambodia. Tourists can see the Khmer empire indulging in magnificent landscapes, pristine beaches, and temples. The best places to visit in Cambodia appeal to travelers with distinguished interests.
Traveling to Cambodia best places, tourists can feel a mix of ancient and new architectural styles. Besides, all those things will leave you in total surprise whether you visit an iconic Angkor temple or the sophisticated capital Phnom Penh. As the renowned , WorldMate Travel shows you critical guides to the best places to go in Cambodia.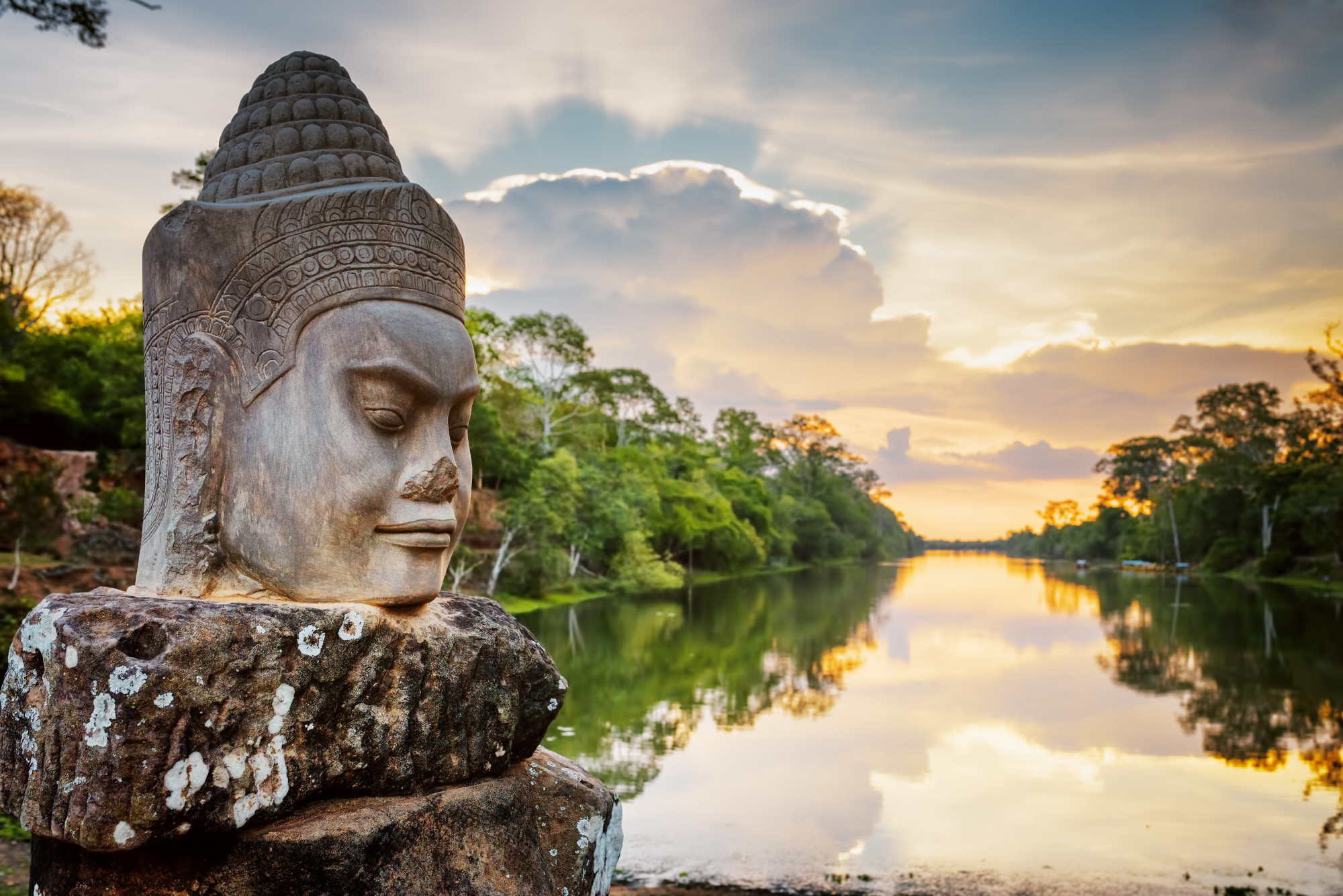 1. Phnom Penh - Cambodia must see on your trip
Phnom Penh retains its charm as the capital of Cambodia with various palaces and wats. You can see one of the best places to visit in Cambodia, Phnom Penh in conjunction with three rivers: the Tonle Sap, the Mekong, and the Bassac Rivers.
French colonial houses are located on the roadside pagodas and make Phnom Penh become the top best places to go in Cambodia. Tourists can see unique Khmer artifacts at the National Museum nearby. Besides, you can visit the Phsar Reatrey to buy handcrafted souvenirs.
2. Angkor - Recognized by UNESCO World Heritage Site
The Angkor Wat temples situate in Angkor, recognized by UNESCO World Heritage Site. The tourist attraction pulls a huge crowd since it is a place where people took various movie shots of Lara Croft and the Tomb Raider movie. At 650 feet wide, Angkor Wat has a stone gateway with guardian lions, a seven-headed naga, and the Mt Meru tower. Ancient people used about 300,000 workers and 6,000 elephants to construct the Angkor Wat whose sandstone blocks were brought from the holy mountain of Phnom Kulen. Therefore, Angkor is one of the best places to visit in Cambodia. Remember that the magnificent Ta Prohm Buddhist temple makes it an ideal place to capture shots during your trip.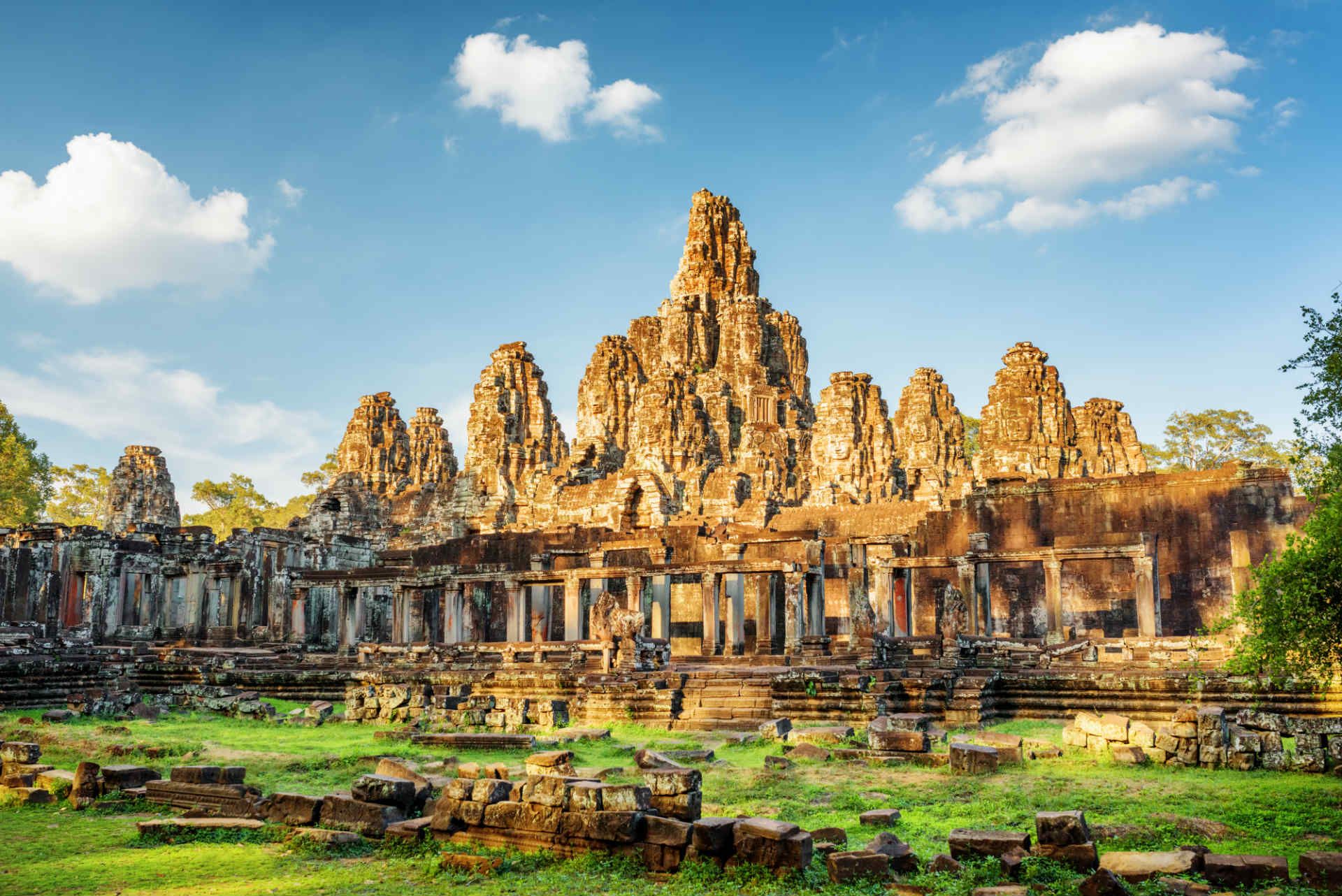 3. Koh Tonsay: Rabbit Island is Cambodia beautiful places
Among the best places to visit in Cambodia, tourists can visit Koh Tonsay for its pristine beaches and white-sandy seashores. This Cambodia beautiful place provides an ideal break from the hustling and bustling lives. You lie down on the seashore to enjoy a peaceful abode with coconut palms and fresh air.
There are lots of things to do in one of the best Cambodia beautiful places - immerse yourself in a hammock of the sandy beaches. With more than 600 meters in length, Koh Tonsay is a place for tourists to take part in swimming, tasting mouth-watering local seafood, and interacting with the locals. Thus, Koh Tonsay has become one of the best places to visit in Cambodia.
4. Go to the central market of Cambodia best places
When visiting a destination, shopping is one of the must-try experiences. Among various markets, the Art Decoration Market is an option for travelers. Visiting the local market will surprise you with item ranges. The best places to visit in Cambodia were built in 1937 and were a marketplace for the local traders at that time.
Besides, the architecture here is something that surprises travelers during your Cambodian trip. Thus, going around the central market here is one of the best places to visit in Cambodia. Since tourists can understand more about local lives and cultures through the market.
Featured Tours:
5. Tonle Sap Lake - Cambodia famous places for your trip
The Tonle Sap Lake is one of the best places to visit in Cambodia for your trip here. Tourists can enjoy the freshwater bodies of Tonle Sap Lake. Cambodia famous places will stretch across the northwest of Cambodia. Besides, there are many floating villages surrounding the lake so you can see a myriad of migratory birds, species of fish, crocodiles, and so on.
In addition, tourists can have a chance to get an understanding of the tranquil villages in Kompong Phluk and Kompong Kleang along the lake.
6. Kep - Cambodia best places to visit with tranquil beaches
Ideal locations, serene beaches, and locals here make Kep become one of the best places to visit in Cambodia. Tourists can take a lazy stroll down the white sandy seashores of Kep Beach. Enjoy the fresh air and taste finger-licking crabs at the Local Market while lying on the umbrella trees.
Additionally, travelers can take a walk in the Kep National Park. You can be indulged in waterfalls, and exclusive monkeys, and watch the Stone House and Little Buddha.
Featured Tours:
7. Enjoy the Space of Casinos at Poipet - The best places to go in Cambodia
When coming to Cambodia, you can not miss visiting the land of casinos, Poipet. Tourists enjoy the nightlife of Cambodians at the interesting casinos and karaoke. Besides, you discover the beer gardens and taste Khmer coffee at local shops. Travelers can visit the Kingdom Gate at the border between Thailand and Cambodia, which is an embodiment of Cambodian architectural styles.
8. Visit the Royal Sword of Preah Khan
Among the best places to visit in Cambodia, exploring Preah Khan is an ideal option for all tourists. The place is located northeast of Angkor Archaeological Park. Besides, it is an imprint of the sophisticated history and culture of Cambodia. Coming to Preah Khan, you can understand more about cultural and architectural aspects here compared to other Southeast-Asian countries.
9. National Museum of Cambodia for worth-experiences
Last but not least, the National Museum of Cambodia is one of the best places to visit in Cambodia. The national museum is home to the finest Khmer sculpture. If you are a history lover, you can not miss a chance to explore one of Cambodia best places. Tourists will see an ancient museum including a bronze Vishnu statue. Besides, you can take a look further into the museum. You will contemplate the ancient Angkorian structures and pieces of cultural aspects here.
Featured Tours: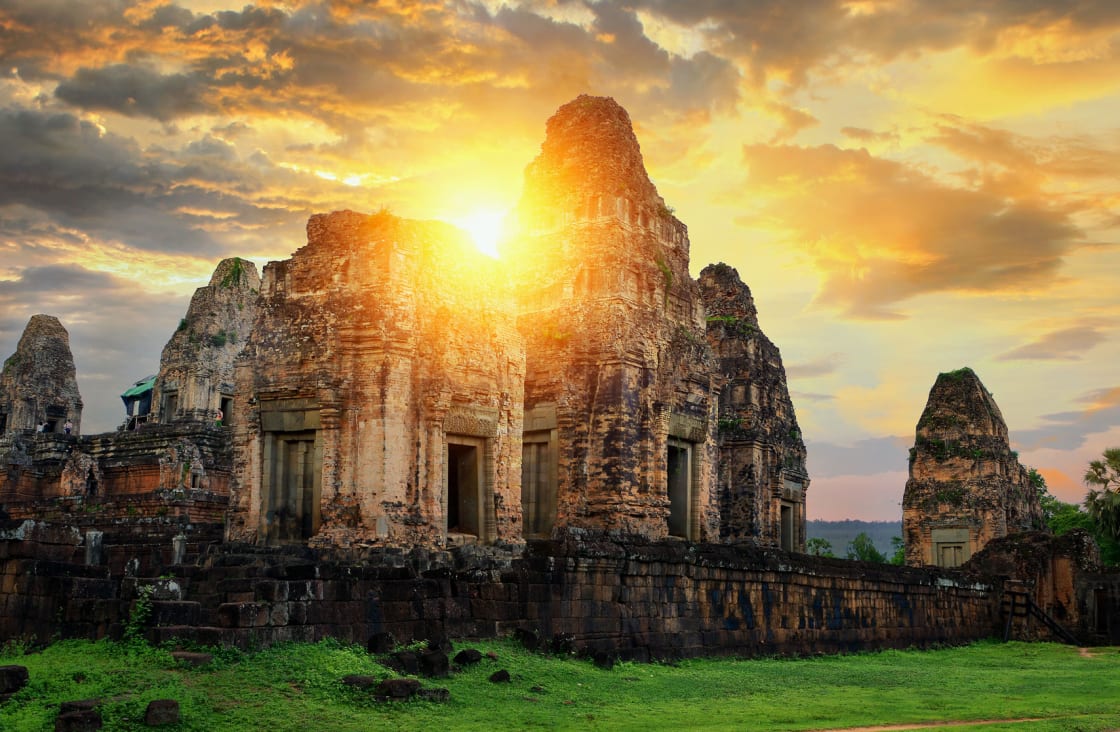 The Wrapping Up
Explore ancient Southeast Asia on your vacation in Cambodia with us, the leading . Tourists can touch the ancient and modern cultural aspects of Cambodia. Bordered by Thailand and Vietnam, Cambodia is an ideal place for sophisticated culture and history. If you plan to visit Cambodia, contact us for more memorable and tailor-made tourism activities.